If you're in a rush and want to find out what the best 2 room tent for camping is, we recommend the REI Co-op Skyward 6 tent.

If you plan on camping with a group of people, chances are you enjoy spending time with them. After all, you'll be seeing a lot of each other for the extent of your trip, especially if you decide to share the same tent.

Now, introverts, let's be honest here. Does the prospect of spending a weekend with no privacy sound appealing to you? Yeah, I didn't think so. Even many extroverts will feel the same way, which is why the best two room tents for camping can be such a lifesaver. Not only will there be enough space to house everyone comfortably, you'll also have access to a room divider to create some separation between you and everyone else.
In this article, we'll be reviewing the following 2 room tents for camping:
Size
By nature, 2 room tents are going to be larger than your "average" tent. After all, they have to be big enough to create 2 rooms! For example, all of the shelters we've reviewed below are at least 6 person tents, with several 8 person tents scattered around as well.

This size lets you separate members of your party, giving you more room to spread out and stash your gear. And since there are multiple rooms, it's a great opportunity to give kids their own space while retaining some modicum of privacy for yourself.

Otherwise, a 2 room tent can be nice to have if you want to create a bedroom with a separate living area. Just because most of the shelters can house up to 8 people doesn't mean you have to cram that many inside. Enjoy a camping trip with your significant other, and transform it into a glamping experience with an air mattress, table, and chairs. The options are practically endless with a tent this size.
Weight
Since 2 room tents for camping tend to be on the larger side, you'll find that they weigh more than your average shelter. For this reason, I think it goes without saying that backpacking is out of the question. On top of that, you may find that short hikes from the car to the campsite are also too strenuous. Many of these shelters weigh in excess of 20 pounds, which can be quite the burden unless you have some muscle on your side.

At the same time, there is some correlation between weight and durability, which we'll talk about next. Heavier materials tend to be more stable and last longer, so you may need to make a compromise somewhere.
Durability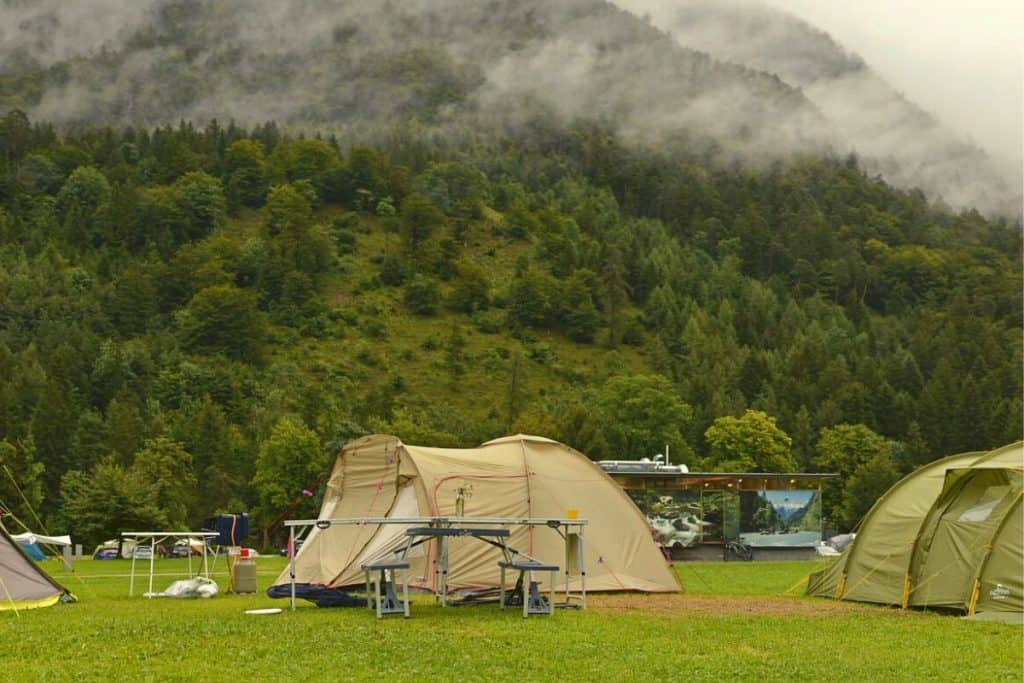 There's no use spending several hundred dollars on a tent if it's not going to hold up well a few years down the road. You need a shelter you can depend on, and part of that is going to come down to how well you take care of it. The other part, though, is based on the materials and design of the tent itself.

We'll start by looking at the poles. Here, you really have three different materials to choose from: steel, aluminum, and fiberglass.

Steel is the strongest, most durable pole material that you'll find, but it's also the heaviest. You'll often find it used in larger structures that need a little more support, as well as in cabin tents, since their vertical walls make great sails.

Aluminum is my personal favorite, since it's lightweight, strong, and relatively inexpensive. Overall, it's a well-balanced material that's good for most circumstances, and it doesn't come with many flaws.

From a durability standpoint, fiberglass is about the worst thing you can get. While it might be the cheapest, it's not lighter than aluminum, it's prone to splintering and breaking, and can't be used in cold temperatures. It's the most fragile of the bunch, but it can work well for weekend warriors who only like to spend some time in nature a couple times during the summer.

You've also got the fabric itself to consider. For this, you'll want to take a look at the denier of the material, which is an indication of how thick the individual fibers are. The higher the denier, the thicker the thread, the more durable the material. I like to get tents that have a denier of at least 60, especially on the floor, since that's the area that will take the most abuse.
Waterproofing
In reality, tents are good for two things – protecting you from the weather and keeping the critters away. That's why we're going to talk about waterproofing, since it relates to 50% of a tent's job in the first place.

On most shelters, the rainfly and tent floor are coated in a waterproofing substance. The seams are taped, and everything has been thoroughly sealed. If you've found yourself a good tent, you should be able to survive torrential downpours or rain showers that go on for days without getting wet on the inside.

However, there are some bad eggs to look out for. Sometimes you just get unlucky with a faulty tent that had a problem during the manufacturing process. Other times, the tent was water resistant instead of waterproof, giving you an inferior amount of protection to begin with.

Many cheaper tents cut corners with waterproofing, which is why I usually suggest buying from a specialized retailer like REI. You'll pay a little extra up front, but in the long run, the better quality will be worth it.
Tent Layout
Compared to other shelters, multi room tents can come in all shapes and sizes. Some are just one big tent that can be split into multiple rooms using a divider, while others are actually two tents that can be put together.

Each have their pros and cons to consider. For example, a 2 room tent that consists of two separate tents will take a little longer to setup, but you also get a little more separation between the living spaces.
Ease of Setup
Large tents can be notoriously difficult to set up, especially by yourself. If this is a concern of yours, you may want to get something a bit easier to put together, like the Core instant cabin tent. This style of shelter can typically be put up in a matter of seconds, even if you're the only one working on it.

Otherwise, it's not like the others are necessarily difficult to pitch. It just might take 20-30 minutes to get the job done, especially if you've never done it before. With a friend to help and a little knowledge under your belt, all of the tents below are fairly simple to setup.
Best 2 Room Tents for Camping – Reviewed
Best For: Car Camping
Pole Material: DAC MX
Tent Material: Polyester
Weight: 24 Pounds
Peak Height: 78 Inches
Number of Doors: 1
Comes with Footprint: No
Pictures really don't do justice to The North Face Wawona 8 tent. The sheer size of it can't be captured in a photo, so it's difficult to fully appreciate the 78 inch peak height, and 112 square foot layout unless you see it in person. As a two room tent with a divider straight down the middle, you'll have a lot of room for creativity in how you set things up.

It's not just the interior of the tent that's massive, though. The vestibule is also one of the largest that I've ever seen, covering enough space to keep your gear dry, with room left over for you to set up some camping chairs and a dinner table. If you felt like it, you could even put a stove or a grill out there to do some cooking on rainy days.

In terms of water resistance, I have nothing bad to say about this tent either. The quality is exceptional, and even during a daylong deluge, you shouldn't experience any leaks. When everything is properly staked out and secured, nothing short of a hurricane should be able to disrupt your camping trip.

Despite being so large, it's fairly easy to setup. If you have a history working with tents, it will probably take you about 20 minutes to put together on your first attempt. The giant windows and mesh roof provide sufficient ventilation to keep the interior reasonably cool during the summer, keeping the rainfly off on cloudless nights is a great way to view the stars before going to sleep.

Pros:

– Spacious
– Weather resistant
– Easy to put together
– Well ventilated
– Tall peak height
– Massive vestibule

Cons:

– No footprint
Best For: Car Camping
Pole Material: Aluminum
Tent Material: Nylon
Weight: 15.5 Pounds
Peak Height: 78 Inches
Number of Doors: 1
Comes with Footprint: No
If you've ever owned a 4 person tent, or something smaller, there's a high likelihood that you had outdoor storage in the form of vestibules. However, as tents get bigger, vestibules become less and less common, until you're stuck with no outdoor storage options at all. This is one of my biggest gripes with large tents, because I never enjoy bringing my muddy boots and dirty gear into the space where I'll be sleeping, even if the interior is more spacious.

The REI Skyward is one of the few outliers, offering sufficient outdoor storage space, despite being a 6 person tent. There are quite a few mesh pockets on the inside as well, for you to house items like your phone, a few snacks, or other personal belongings.

With a 78 inch peak height, the majority of you won't have any trouble standing straight and tall. Considering the ceiling is made out of mesh, the tent will feel bigger than it already is when you have the rainfly off. These mesh panels improve ventilation, and give you the opportunity to look at the stars on cloudless nights. When bad weather rolls around, just throw the rainfly on top for complete protection against anything short of a hurricane.

Despite being so large, it's a surprisingly easy tent to setup by yourself. It's unfortunate that a footprint doesn't come included with the shelter, since you'll want one to help extend the life of your tent and prevent water from seeping in through the floor. REI does sell the footprint separately, otherwise you can also get a little handy and make your own groundsheet.

Pros:

– Easy to set up
– Skylights
– Well ventilated
– Good in bad weather
– Tall peak height

Cons:

– No footprint
Best For: Car Camping
Pole Material: Aluminum
Tent Material: Polyester
Weight: 48 Pounds
Peak Height: 80.7 Inches
Number of Doors: 4
Comes with Footprint: No
It's big, it's heavy, and it's expensive, but the Snow Peak Land Lock tent sure is awe-inspiring. With 273 square feet to its name, this beast is larger than some New York City apartments! Is that a little overkill for a 10 person tent? Not necessarily, depending on what you want to get out of the shelter.

Set it up as a base of operations for work, fishing, hunting, or some other outdoor recreational use. The tent divider will allow you to maintain separation between your living space and your working space, if that's how you intend to use the tent. It's a little bit of a hassle to put together, but that should come as no surprise, given how large it is.

Water resistance and ventilation are more than sufficient for comfort and protection. There are some pretty large windows along the length of the tent that let in a nice breeze, and you can completely open up one end of the shelter for additional airflow. This opening also creates an easy way to come and go without the need to zip and unzip the main door.

Considering the size of the tent, you'd think it would weigh more than 48 pounds. However, the aluminum poles help cut back on the weight, allowing one person to carry it short distances. I'd still recommend making it a two-person job, though, so you don't hurt yourself. When it's all said and done, the tent packs down to the size of a cooler, easily fitting inside most vehicles.

Pros:

– Great for glamping
– Incredibly spacious
– Well ventilated
– Versatile two room tent
– Packs down well

Cons:

– Heavy
– Expensive
Best For: Car Camping
Pole Material: Steel
Tent Material: Polyester
Weight: 32 Pounds
Peak Height: 80 Inches
Number of Doors: 2
Comes with Footprint: No
Coleman has been pumping out camping gear for decades, and while I don't always have faith in the quality of that gear, there are some good eggs in the mix. The WeatherMaster is one of them, covering all of the essentials that you would hope to find in a two room tent. In the main tent body, you can squeeze in two queen mattresses with minimal room to spare. Or keep it to one bed in the enclosed room and pop a cot out in the screen room for a fun camping adventure.

The screen room is fairly protected from the elements, though some water will pool around the edges during a rainstorm. In the main room, you won't get any of that, since it's completely sealed off from the outside.

Coleman is also one of the few brand that makes tents that have a hinged door, which is a handy feature that you'll find on the WeatherMaster. Just like a door that you might have back home, this style of entryway opens and closes on a hinge, and usually has some sort of velcro to keep it secure. If you don't think you'll be coming or going for awhile, you can zip it closed as well. Since the door maintains its shape, you won't have to deal with loose, saggy fabric that hangs awkwardly or gets caught in the zippers. Considering this is a pretty big complaint among most tent owners, the hinged door is definitely worth it.

With a peak height of 80 inches, you can say goodbye to stiff necks and awkward wardrobe changes, as pretty much all of you will be able to stand inside comfortably. The vertical walls really open up the horizontal space as well, allowing you to push your gear right up against the sides of the tent. Held up by steel poles, the durable, Polyguard fabric shouldn't have any trouble lasting for many years to come, so you can get a lot of life out of this two room tent.

Pros:

– Very roomy
– Tall center height makes it easy to stand straight
– Welded seams
– Steel poles
– Separate floorless screen room

Cons:

– Doesn't protect against heavy rain very well
Best For: Car Camping
Pole Material: Steel
Tent Material: Polyester
Weight: 30.5 Pounds
Peak Height: 78 Inches
Number of Doors: 2
Comes with Footprint: No
One of the more budget friendly options on our list, the Core 9 person instant cabin tent is a surprisingly good deal for the price you'll pay. As the name suggests, this is a two room instant cabin tent, which means setup is going to be a breeze. Simply unroll the tent, lock the elbow joints, extend the telescoping poles, and bam…shelter complete. It's still a little clunky to do alone, so I'd recommend enlisting the help of a friend or family member to make your life easier.

Despite saying it can sleep nine people, I wouldn't try it if I were you. It would be a tight fit any way you slice it, leaving no room for any personal belongings or camping gear. Instead, I'd suggest you cap the population at six people, and enjoy having a little extra room to yourself.

Thunderstorms coming your way? Not a problem. Leaks are the last thing you'll have to worry about in this tent. It holds up well in both strong winds and heavy rain, with plenty of windows and doors for ventilation. That being said, even hot summer days won't be able to wear at you as intensely as they normally would.

We've talked about how easy the setup is, but how about tearing it back down again? Well, with a bit of practice, you should be able to manage it within the span of 15-20 minutes. This is roughly the same amount of time it will take to set it up as well, when you factor in how long it will take to guy it out, stake it down, and complete other miscellaneous tasks. The tent comes with an expandable carry case, making it really easy to slide the tent inside when you're ready.

Pros:

– Weatherproof
– Instant cabin tent
– Great ventilation
– Simple to tear down
– Expandable carry case
– Good amount of space for a two room tent

Cons:

– Prone to ripping with heavy, aggressive use
Best For: Car Camping
Pole Material: Aluminum/Fiberglass
Tent Material: Polyester
Weight: 43.32 Pounds
Peak Height: N/A
Number of Doors: Depends on the number of tents
Comes with Footprint: No
I have a confession to make… This isn't actually a multi room tent. Instead, it's two tents that can be combined into one, if you'd still like to have that connection without sacrificing your personal space. The three person tent has one connection point for you to attach another compatible shelter, while the six person tent has three connection points.

Zippers ensure the tents stay connected, and waterproof flaps work to keep rain from entering. The welded floors and inverted seams pair nicely with the rainfly to keep you safe and dry in bad weather, and the tent itself should be able to withstand wind gusts up to 35 miles per hour. Certainly not the most impressive stats I've ever seen, but it gets the job done without fail in most circumstances.

The Coleman connectible tent bundle might not have an instant setup, but that doesn't mean it will be difficult to put together. Both the poles and hubs are pre-attached, making setup quick and simple. With that in mind, this is a job that you could easily do by yourself, especially if you go with the three person tent style.

Electrical ports come standard in all the tents, allowing you to feed in an extension cord from your camping generator outside. Or, if you're lucky enough to be a campground that supplies power, you can connect your electronics to that as well.

Pros:

– Connectible tents
– Waterproof
– Fast setup
– Lots of windows
– Electrical port access

Cons:

– There will always be at least a little rain leakage between modular tents
Best For: Car Camping
Pole Material: Fiberglass
Tent Material: Polyester
Weight: 26 Pounds
Peak Height: 78 Inches
Number of Doors: 2
Comes with Footprint: No
The Wenzel Klondike might be a two room tent, but not in the same way as many of the other products in our review. While others make use of a room divider to segregate the interior of the shelter, the Klondike is quite literally two rooms. One consists of the main tent body, while the other is simply the attached screen room.

I find that the separate rooms are incredibly useful in their own right. The main body is perfect for weather protection and privacy, while the screen room is a fun living space for you to set up some camping chairs and a cot. On hot summer nights, it's the perfect place to catch the breeze, and depending on where you are, you could catch a glimpse of the stars as well. Since the tent doesn't come with vestibules, you can also use the screen room as a sort of mud room. There's nothing better than keeping your dirty gear in a protected space that's separate from the place that you sleep.

With the rainfly off, the sky will open up before you, regardless of which room you're in. As such, ventilation will be the least of your worries. Unfortunately, when the rainfly is on, the enclosed room has a tendency to get a little stagnant. You'll get excellent weather protection, but it does come at a cost.

Overall, it's simple to put together and take apart, and it's an agreeable weight, considering how big it is. With such a high peak height, folks like me who are taller than 6 feet won't have to slouch when walking around inside either. Despite the room for improvement in some areas, it's a solid tent that would be more than enough for the average camper.

Pros:

– Simple setup
– Good circulation
– Offers nice spatial separation
– Helpful directions
– Waterproof

Cons:

– Can get hot inside
At Untamed Space, we're passionate about helping you have the best camping experience possible. Our team of experts have experience camping and backpacking all over the world, allowing them to provide insightful and relevant content to guide you in your outdoor pursuits.

All of our reviews are based on a combination of firsthand experience, extensive research, and an analysis of customer feedback. We are an independent website and do not receive payments or incentives from manufacturers to promote their products, and we continuously update our content to provide new information based on product availability. Wherever you are in your journey, whatever gear you're searching for, you can be sure to find unbiased and up-to-date reviews for all of your needs.
FAQ
How to Choose the Best Two Room Tents for Camping?
A two room tent is often just a normal tent that has a room divider to split the interior into sections. Ideally, you'll be able to remove the divider if you don't want it up, but not all tents give you the option to do this. Aside from that, you'll just want to look for the standard features, like weatherproofing, ventilation, durability, and ease of setup.
Do You Need a Footprint for a Two Room Tent?
In my opinion, you need a footprint for any tent. The only reason I wouldn't bring one is if I'm backpacking and don't want to carry the weight.
Final Thoughts
Sometimes we go camping to escape from it all. Other times, we treat it as family bonding time. In some cases, it's a hobby shared by friends with a mutual love and respect for the outdoors. Whatever your reason, there are few things more important than shelter when you're camping. And if you happen to be sharing a tent with family or friends, you'll quickly understand the value of privacy and separation as well.

The best two room tents for camping will give you space for some alone time, even if it's only in the form of a thin, synthetic divider. But you should also pay attention to other important traits, like weatherproofing, durability, ease of setup, and ventilation. That being said, we took all of those factors into consideration, and believe that the REI Co-op Skyward 6 tent does it best.
---
Related Posts: