It's the little things that count. When I'm away from home for an extended period of time, I don't miss sleeping in my own bed as much as I miss brewing myself a nice cup of tea or grabbing a mocha from the coffee shop. Sitting out in the wild, it's hard not to crave these seemingly insignificant comforts that we indulge in during the day. Fortunately, you don't have to count down the days before your next hit of caffeine anymore – keep reading to discover some of the best tools to make some camper's coffee!
In this article, we'll be reviewing the following coffee makers:
Methods
Perhaps something only a true coffee connoisseur would know, there's actually more than one method to make coffee. Immersion, percolator, drip…these are all terms you might not have heard before if you're purely a Keurig user. And while I enjoy the convenience of popping in a K cup and letting the machine take care of the rest, unfortunately this isn't a very practical option when you're out in the wilderness.

So what's the difference between these methods and which is better to take with when you want to go camping? Let's break them down one by one to determine the best option for you when you're trying to make some campfire coffee.
Immersion
The immersion technique is similar to how you would make tea. You put your coffee grounds in hot water, let it steep for a few minutes, and then filter the liquid so you don't have any grit swishing around. As you might have guessed, the French Press is the most common example of a product that uses immersion, and makes for a great camping companion because of how compact it can be.

Never used a French Press before? Don't worry, it's a lot simpler than it looks. All you have to do is put your favorite coffee grounds in the cannister and pour hot water over them. The plunger, which is attached to the lid, is placed on top but not pressed down quite yet, as you need to let the grounds steep for a good 4 minutes. Once enough time has passed, press the plunger down. This will push the fluid through the mesh filter, straining out all of the grounds until there's nothing left but smooth coffee.

The amount of coffee grounds you put in the canister and the length of time you allow it to steep will affect how strong and flavorful it is. Letting it steep for 4 minutes before filtering is a good baseline, but it never hurts to experiment to find out what you like the best.
Percolator
The method that fascinates me the most, percolators use steam to their advantage as they create your brew. Considered by many to be old fashion, percolators have mostly gone out of style with the introduction of automatic coffee makers. However, when it comes to making coffee outdoors, you'll be hard pressed to find something better.

Percolators have an interesting setup. First, you fill the container with water, and then you place a thin pipe vertically in the center, making sure the water level isn't higher than the top of the pipe. A basket that doubles as a filter is put on top of the pipe and filled with the coffee of your choice. Some percolators are electric, so you would just flip a switch as this point, while others are designed for the stovetop. For camping purposes, take the stovetop version and place it over the fire to heat the water.

As the water temperature rises, steam will push the water up through the vertical pipe and into the basket filled with coffee grounds. The water will then seep back down to where it was before, and continue this cycle of percolation (constantly being infused as it makes pass after pass through the coffee). Timing is important in this process, since the longer you leave it going, the more infused it will become.
Drip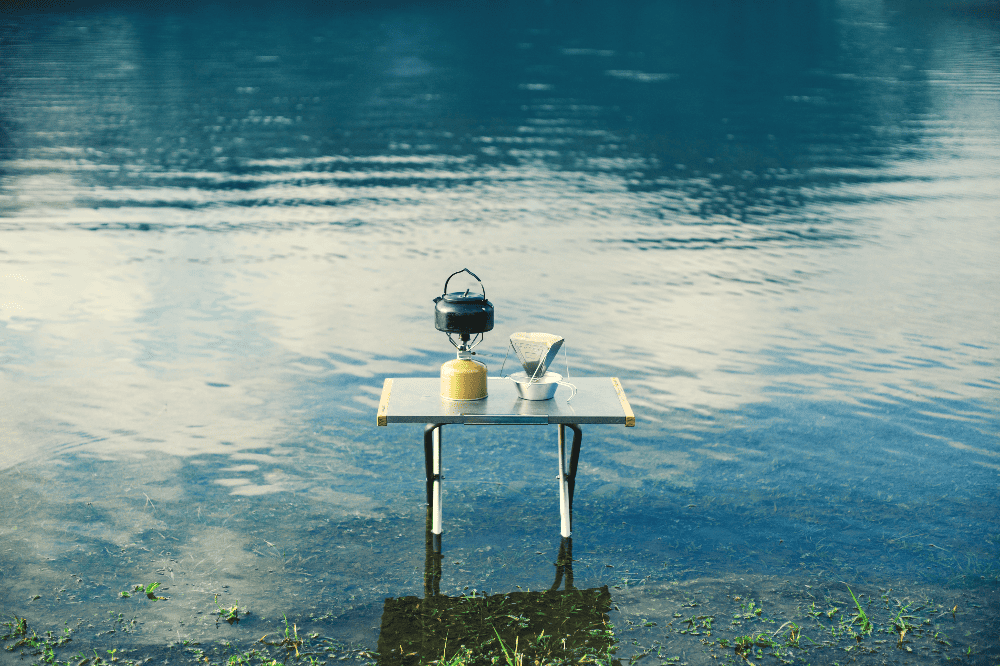 If you have a coffee maker at home, chances are it uses the drip method. Also known as the pour over, this is when hot water is slowly drizzled over the coffee grounds, becoming infused as it passes through. When you're out in nature, obviously you can't bring an actual coffee maker with you, so you'll have to take care of it by hand. This is where the difficulties might come in.

While this method requires very few items (a filter, a dripper, and something to heat your water in), it does take a little bit of skill to get it right. You'll have to fit your dripper over a mug, and place the filter inside, making sure it isn't bunched up since this can cause problems. Once you start pouring, the water becomes infused as it passes through the grounds and into your cup. But be careful! Pouring in one area for too long can mess up the flavor, so you'll have to pay close attention, making sure you keep it nice and even across the entire surface area.
Camping Coffee Maker Comparison Table
Best Camping Coffee Maker Reviews
Type: Percolator
Material: Stainless Steel
Weight: 2 Pounds
Capacity: 9 Cups
A percolator designed for outdoor use, the Bozeman is an all around powerhouse. Aside from the rosewood handle and glass top, the entire body is made out of stainless steel – no plastic to worry about breaking or degrading. While it is meant for outdoor use, don't feel like you can't use it at home either. The coffee pot has a really nice, sleek look that would go well in any kitchen if you're hoping to get more use out of it than purely while camping.

This particular product can hold up to 9 cups. And while no filter is technically necessary, it does come with a few if you want extra protection against any unwanted grit entering your drink.

Coletti was started by a military chaplain who wanted to help others around the world that are being persecuted because of their religion. Because of that, all profits from this company go to various charities and organizations to help make this a reality. So when you buy yourself a nice percolator to use on your next camping trip, you can feel satisfied knowing that your money also went to a good cause.

Pros:

– No plastic
– Versatile unit
– Specifically designed for outdoor use
– Nice size
– Money goes to a good cause

Cons:

– The holes in the built in filter are a bit wide, but putting in an additional filter can solve this
Type: French Press
Material: Stainless Steel/Glass
Weight: 2.3 Pounds
Capacity: 8 Cups
By nature, a good French Press is very user friendly and great for when you don't have access to anything other than hot water. They're compact and you don't have to try and keep track of multiple moving parts, making them ideal for a few days outside. However, the Coffee Gator is a little different than your typical French Press.

Made from stainless steel, it'll keep your beverage warmer for longer when compared with a product made from glass. This also makes it more durable, which is something you definitely don't want to overlook if you plan on bringing it camping. Double filtered so you have a nice, smooth drink, the design of this coffee maker also gives you a rich flavor that's significantly better than any instant coffee you might have taken with you on the trail in the past.

If you're wondering where you're going to store your coffee grounds prior to brewing, wonder no longer. The Coffee Gator comes with a separate container designed just to hold your beans, so you have a simple and convenient place to store them.

Pros:

– French presses are easy and portable
– Stainless steel is more insulated and durable
– Double filtered
– No plastic
– Extra container just for your coffee beans/grounds

Cons:

– No viewing port
– Edge of mesh screen can fray and poke you
Type:

Pour-Over

Material:

Plastic

Weight: 

1.6 Ounces

Capacity: N/A
We can't cover the French Press and percolator without looking at a product designed for the pour over method. For convenience sake, the Primula Brew Buddy is one of the best camping coffee makers (it's basically just a filter in the form of a funnel) so finding space in your pack should be the least of your concern. Just remember that you'll still need something you heat and pour you water!

The mesh is ultra fine, so no grounds pass through into your drink. The design also would make it possible to brew a cup of tea, if you'd like to have that instead. Dishwasher safe, it's incredible easy to clean, and the best part is that you don't need to keep buying disposable filters.

Just be careful when it comes to the actual process of brewing your coffee. The pour over method can be great for getting a flavorful cup of joe, but if you don't pour correctly, you'll be in for a disgusting surprise. Never pour in just one spot – instead, drizzle the water evenly over all of the grounds.

Pros:

– Cheap
– Easy to clean
– Can serve as a method for steeping tea
– Portable

Cons:

– Requires some skill
– The mesh basket dangles pretty far into your cup
Type: Pour-Over
Material: Stainless Steel/Glass
Weight: 0.9 Pounds
Capacity: 3 Cups
Another one by Coffee Gator, we couldn't just review a minimalistic pour over option without covering something a bit more refined. With a laser cut, mesh filter, you can say goodbye to the single use filters you're probably used to using by now. And the best part is that the mesh doesn't dangle into the liquid! If you read the review on the product directly above this one, you'll understand why I say that.

Unfortunately, it is made out of glass, so it's a bit more fragile than some of the other options listed in this article. However, for any of you looking to car camp, chances are this won't be too big of a concern for you. Though this product is relatively foolproof, don't forget about the proper way to make coffee using the pour over method. Drizzle evenly, wait for it to seep through the filter, and enjoy!

Pros:

– Convenient all in one design
– Mesh filter/no single use filters required
– Filter stays well above the liquid
– The pour over method makes one of the best cups of coffee

Cons:

– Glass body
– A bit of a learning curve to use properly
Type: French Press
Material:

Aluminum

Weight: 

0.8 Pounds

Capacity: 3.2 Cups
A French Press when you need it to be, a regular cup when you don't, Widesea's coffee pot is a fantastic multipurpose tool. And when you're out camping, the word "multipurpose" should make your ears perk up. With this product, the "press" part of the French Press is removable, meaning you can use the mug for normal drinking, cooking, and eating.

Made out of aluminum, the cup is lightweight and doesn't take up much room in your pack – the press is stainless steel, so it won't rust or break. This also means that it's safe to put on a butane stove if you need to make a meal, or if you'd like to heat up some water or other liquid.

It is smaller than many of the other options listed in this review (it holds 30 ounces), but honestly, I find this size to be better suited for camping anyway. You aren't going to want a larger setup taking up room inside your backpack anyway, and if you want more than one cup of coffee, it's a small hassle to make another one compared to dealing with a clunky apparatus.

Pros:

– Small and lightweight
– Removeable press
– Multipurpose for eating and drinking
– Aluminum and stainless steel construction
– Plunger separates from lid

Cons:

– A little hard to clean
At Untamed Space, we're passionate about helping you have the best camping experience possible. Our team of experts have experience camping and backpacking all over the world, allowing them to provide insightful and relevant content to guide you in your outdoor pursuits.

All of our reviews are based on a combination of firsthand experience, extensive research, and an analysis of customer feedback. We are an independent website and do not receive payments or incentives from manufacturers to promote their products, and we continuously update our content to provide new information based on product availability. Wherever you are in your journey, whatever gear you're searching for, you can be sure to find unbiased and up-to-date reviews for all of your needs.
Final Thoughts
Being able to make the perfect cup of coffee while camping is a luxury many of us crave. But for most, the idea feels difficult at best and completely out of reach at worst. I mean, it's not like there are many places to plug in your coffee maker outside, right?

Fortunately, you still have plenty of options that will allow you to make the perfect brew, even when you're far from civilization and its technological perks. Whether it's the pour over method, a French Press, or a percolator, there are plenty of ways to work around the lack of electricity. Determining the best camping coffee maker is entirely dependent on your own taste in coffee and the type of setup you're looking to have. For us, that means going with the Coffee Gator French Press.

The stainless steel design not only adds to the durability of this product but also keeps your drink warm for longer. The plunger is made with a dual filter screen to prevent sludge from passing through, which is a common pain point when it comes to using this method to make coffee. And if that wasn't enough, it comes with it's own separate container for you to securely store your coffee beans or grounds.
---
Related Posts: