When I first started climbing over a decade ago, I thought, "Climbing shoes? Who needs them!" And I stubbornly refused to wear any for several years. As I became more obsessed with the sport and continued to get stronger, I managed to on sight a few 5.10 routes in my street shoes, which is something I am both proud and embarrassed to say.

However, somewhere along the way, my curiosity got the best of me. I saw that most of the gym members wore these special shoes, and all of the professional climbers did too. For the first time in all those years, I found myself thinking that maybe I had been missing out on something really important, so I went and bought my first pair. Needless to say, it changed my world, and I haven't gone back.

The best rock climbing shoes might not be the most comfortable things you've ever worn, but they'll give you the confidence to put weight on your feet no matter what you're climbing. From slabs to overhangs, we'll help you find the right shoe for your next climb.
In this article, we'll be reviewing the following rock climbing shoes for beginners:
Size
Climbing shoes are different from what you normally wear in a number of ways, including the way that they fit. This is an area where a lot of people go wrong because they value comfort over function, perhaps not realizing that climbing shoes are supposed to be on the tighter side. Your foot should feel compressed, almost to the point of pain, but not so uncomfortable that you can't function properly.

The reason why climbing shoes need to fit so tight is because your foot shouldn't be allowed to shift around at all. Any motion within the shoe can throw off your accuracy when it comes to foot placement, and that can be a detriment to your climbing. As a rule of thumb, I buy my climbing shoes at a smaller size than my street shoes, but different people have different preferences.
Shape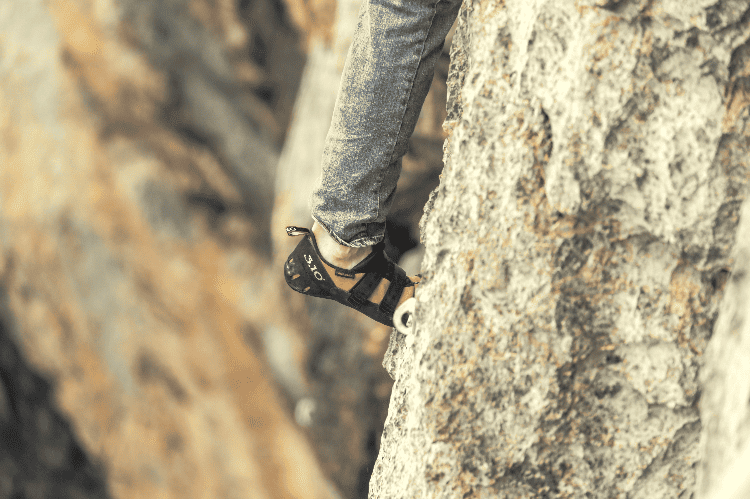 And by shape, I mean the amount of curvature found in the bottom the shoe. Some are completely flat, while others curve sharply, almost to the point where your toes face completely downward. There are a few reasons for the different styles, so let's take a look at what purpose each of them serve.
Neutral Shoes
The classic flat bottom, these are attractive to new climbers because they're the most comfortable to wear. There's a lot of surface area, making them great for climbing slabs, especially if you plan on smearing for most of your footholds. The tip of the shoe is okay for smaller pockets, but in general, these are designed for vertical walls, as opposed to more overhung routes. Many 5.10 climbing shoes are great for this purpose.
Aggressive Shoes
You'll recognize these when you see them. There's a severe arch, forcing your toes to curl downward into a sharp point, which makes them a great option for overhangs. And because they're made with a rubber sole that's harder than flat climbing shoes, the toe won't curl back up when you're trying to push off. This allows you to get more power from your feet, which is an obvious benefit, especially on more dynamic routes.

The downside, however, is how painful these shoes can be to wear for any significant amount of time. The sharp angling and stiff material makes it a nightmare to wear for very long, causing most people to avoid using them when they should. If you can get over the discomfort, though, they make an excellent addition to your climbing arsenal.
Additional Considerations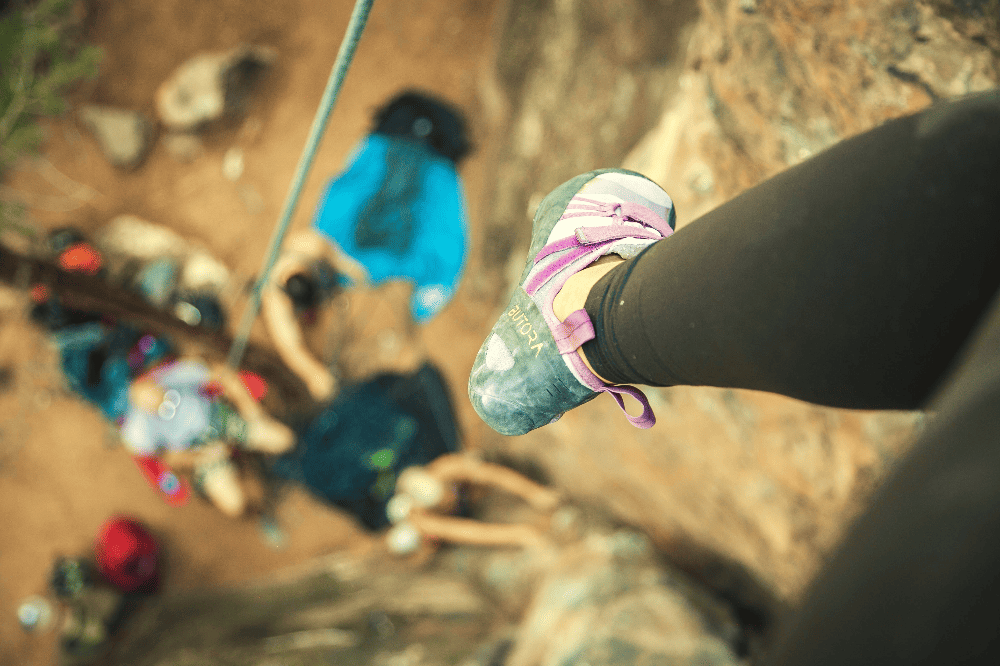 Aside from the size and shape of your shoe, there are a couple of other things you might want to keep in mind before buying. First, there's the never ending debate about which is better: laces or velcro. Many of my climbing friends swear by laces because of how easy it is to customize the way they fit, while others (myself included) prefer velcro because of how easy it is to take on and off. It's a personal preference at the end of the day, but something worth considering before you purchase your next pair of shoes.

Another factor worth checking into is the type of rubber your sole is made from. Harder rubber is great for pushing off powerfully from the wall because of how solid it is, but it lacks sensitivity when it comes to being able to feel what you're stepping on. Softer rubber is the exact opposite: not as good for powerful moves, but you're able to feel the rock better and get more accurate foot placement because of it. Again, personal preference, but be aware of what you think you'll value more when you're buying your next pair.
Best Climbing Shoe Reviews

Alright, perhaps I'm a little biased when it comes to these shoes, but that's because I like them so much. Scarpa is one of my favorite brands for climbing shoes, and my pair of Origins are by far what I climb in the most.

The flat bottom design is so comfortable that I often forget to take them off when I'm in between climbs at the gym. I'm also a huge fan of the 2 velcro straps, because of how quick and easy they are to take on and off. My first pair of shoes had laces, and while they did the job just fine, I wasn't fond of having to tie and untie them every time I did a route. I also find the the rubber is stiff enough where I can toe in to a smaller edge with comfort, but it's flexible enough where I have no trouble climbing sandstone slabs in Utah.

I have heard people complain about how quickly they wear out, though. While it's true that certain shoes last longer, I've had my pair for over 2 years and don't have any noticeable damage. At the end of the day, it mostly comes down to how well you take care of them.

Pros:

– Break in quickly
– Very comfortable
– Convenient velcro straps
– Good for slabs and slightly overhung routes
– On the affordable side

Cons:

– Wear out a little faster than some other shoes
While these aren't shoes that I've personally worn, one of my climbing buddies absolutely loves his pair of Black Diamond climbing shoes. He's 6'5″ and has a massive shoe size, so he needed a pair that could stretch a little to accommodate his large feet – the Momentum does just that.

Similar to the Scarpa Origins, these shoes have a flat bottom that makes them great for beginners or slab climbers. Like I mentioned earlier, I like the velcro straps over laces, so that's another point for these shoes, in my opinion. These shoes do run a little small, but don't get them too large either – I'd go up a half size from your streets shoes at most. They will stretch out a little with time, so if they feel pretty tight at first, you probably got the right size.

Pros:

– Good quality material
– A nice option for people with larger feet
– Flat, comfortable bottom
– Perfect shoe for beginners
– Velcro straps

Cons:

– I have noticed that the rubber isn't as grippy as other shoes

The first climbing shoes I ever wore, the Tarantulaces have a special place in my heart. They're a well-balanced shoe, not too hard, not too soft, slightly curved but not enough to cause any discomfort. Though not the best for smearing, they are a terrific option if you're looking to climb a route with a lot of hooking and edging. The rubber is extremely sticky, so you'll feel a lot more confident putting your weight on smaller footholds, and the laces allow for a lot of customization when it comes to how tight you want them.

Getting the correct size can be a challenge, though, so I recommend going to a store if you want to buy these. That's what I did, and I can tell you right now, I would've gotten the wrong size if I ordered them online. Granted, it was my first pair of climbing shoes so I didn't know what I was doing, but they're still a bit more fickle than the Black Diamond Momentum shoes.

Pros:

– Nice beginner shoe for those looking to try something a little more aggressive
– Laces offer a more customized fit
– Sticky sole and rand
– Nice, mild curve for edging and hooking

Cons:

– Getting the correct size can be a headache
– Easy to wear them out quickly

Back to Scarpa for a more aggressive climbing shoe. As you can see from the picture, the Vapor V is moderately downturned, making the shoe look something like a hook. This will help you get a good grip on smaller pockets, and find purchase on tiny foot chips.

The shoe itself might look pretty aggressive, but trust me when I say this is still well within the bounds of moderate. Also, one of the reasons why I like Scarpa so much is because the shoes tend to fit my wider foot better than a lot of other brands. As you get into the aggressive shoe styles, this is even more important to take into consideration.

The toe box is hard rubber, which is nice to have when you're trying to get power from your legs. However, it does decrease the amount of sensitivity you feel in your toes, making it hard to feel where exactly you're putting your feet.

Pros:

– Great for heel hooks and edging
– Secure and sit nicely
– Good option for wide feet
– Hard rubber works well for getting power on the wall

Cons:

– Takes some time to break in and get used to

A classic in the climbing world, I can't even tell you how many people I know who have worn these shoes at least once. Miura's are well known for being a shoe that can do it all, and they certainly live up to their reputation.

While not what many would consider "aggressive," Miuras perform similarly to shoes like the Scarpa Vapor due to their stiff and narrow toe box. And because they aren't severely curved, the still make a great slab shoe, if that's the sort of thing you'd like to use them on. They may not be the best for any specific type of climbing, for for a jack of all trades, you can't do better than a Miura.

Pros:

– A shoe that gets the job done for any type of climbing
– Laces help customize the way they fit
– Comfortable, for a downturned shoe
– The back doesn't dig into your heel

Cons:

– Toe box is a bit too high, creating an odd pressure point
– Good for most things, but not really "great" for anything
At Untamed Space, we're passionate about helping you have the best camping experience possible. Our team of experts have experience camping and backpacking all over the world, allowing them to provide insightful and relevant content to guide you in your outdoor pursuits.

All of our reviews are based on a combination of firsthand experience, extensive research, and an analysis of customer feedback. We are an independent website and do not receive payments or incentives from manufacturers to promote their products, and we continuously update our content to provide new information based on product availability. Wherever you are in your journey, whatever gear you're searching for, you can be sure to find unbiased and up-to-date reviews for all of your needs.
Final Thoughts
The process of finding the right climbing shoes is a very personal journey. We all have different styles, and different features that we prioritize more than others, so we need different shoes. Because of that, it feels unfair to label any of the shoes in this review as "the best," since they all excel in their respective areas. However, if I had to pick, I would continue to use the Scarpa Origins as my go to climbing shoe for a number of reasons.

From a comfort level, I've never had a pair of climbing shoes better than these ones. They're great for my wide feet, and I've never had any discomfort from the back of the shoe digging into my Achilles tendon. If you're concerned about versatility, I've used them on sandstone in Utah, granite in Colorado, and limestone in Minnesota and have absolutely no complaints about how well they've managed each situation. They may not be the best option for severe overhangs, but for a beginner/intermediate shoe, I can't recommend them enough.

Looking for more info on climbing shoes and how to take care of them? Check out our guide!
---
Related Posts: