If you're in a hurry and want to find out what the best canvas tent is, we recommend Glamcamp's canvas tent.

Walk into a backcountry outfitter store, and you're bound to find tents lined up as far as you can see. Big, small, cabin, dome, nylon, polyester…we've seen them all at one time or another. But what about the original tent that served humanity for thousands of years before recreational camping became popular? That's right, I'm talking about canvas tents. You might think they're a relic of the past and impractical for modern use, but in this article, I'm going to challenge you to reconsider. You might be surprised after you check out some of the best canvas tents currently on the market.
In this article, we'll be reviewing the following canvas tents:
History
Canvas has a rich history, dating back thousands of years. The first known record of it being made was in China about 3,000 years ago, woven together from hemp. In fact, the name "canvas" originated from the material it was originally created from: cannabis. Over a thousand years later, India started making it from cotton, and that's been the primary source used ever since.

Best known for their use in wars, canvas tents were the mobile homes of soldiers pledging allegiance to Rome as the legions took control over Europe and beyond. Those fighting in the American Revolution and Civil War also lived in canvas tents, as did certain Medieval armies. If any of you were in the Boy Scouts a few decades ago, you probably spent quite a bit of time in canvas tents that were made as a result of wartime surplus.
Canvas vs Polyester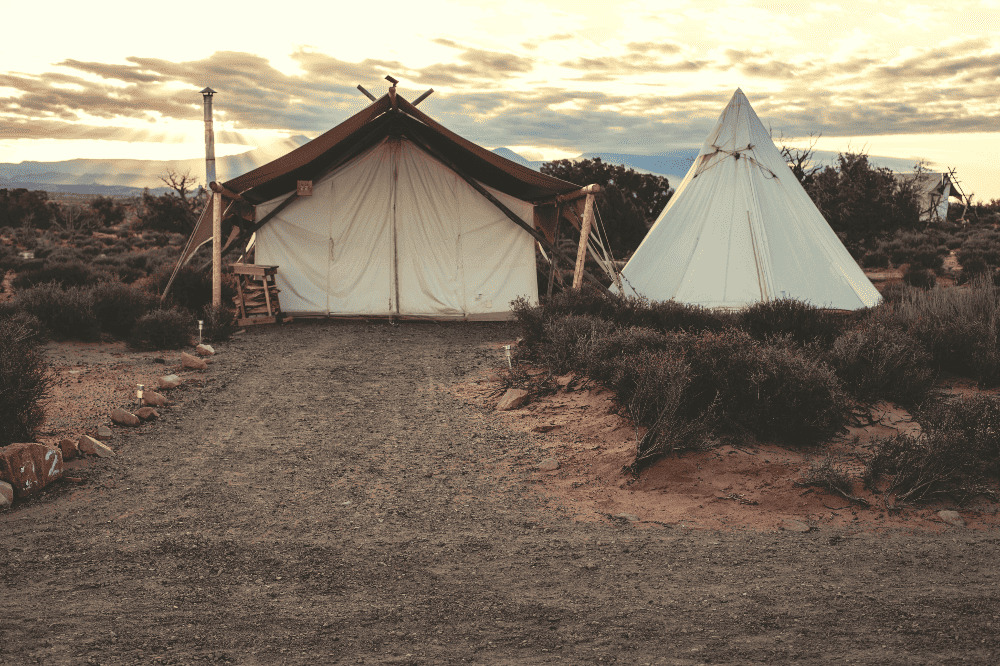 So why go with a canvas tent over the more popular polyester? Well, there are a number of reasons why you should, and a number of reasons why you shouldn't. Canvas is well known for its durability, but beyond that, it's also second to none in terms of breathability and insulation. Whereas polyester requires vents in order to promote good air circulation, canvas allows for sufficient airflow without any of these additions, because of its looser weave.

But despite the many pros, there are also a few issues that need to be addressed. First, canvas is significantly more prone to starting on fire than polyester. Cotton lights up very easily, which is why you need to be conscious about how close you pitch your tent to a firepit, and make sure there's a good coating of flame retardant on it.

Second, canvas is prone to mold and mildew growth if you don't take care of the tent and clean in properly. Obviously this is not only a health concern for you, but will also wear your tent out much faster. If you don't mind a little extra maintenance, though, canvas will treat you as well as you treat it. At the end of the day, it is still the superior material for car campers who take good care of their gear.
Strength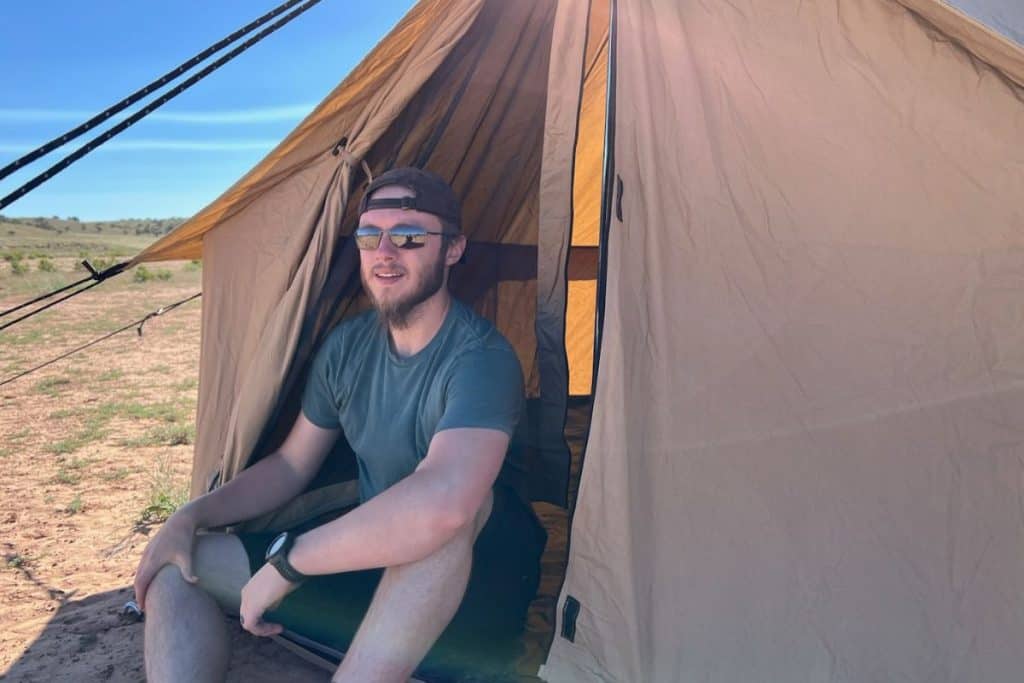 In previous generations, the durability and strength of canvas tents were iffy at best. Due to low thread count and the use of coarse materials, tents were often left with plenty of minute openings that were just large enough to let rain and snow pass through on occasion. However, since polyester and nylon weren't popular tent materials yet, recreational campers would have to make do with what they had.

Today is a much different story, with canvas being (arguably) the most durable tent material out there. With a higher thread count and different weather repellants added, canvas makes some of the sturdiest tents on the market. Of course, it can't all be good. There's a reason why very few serious campers and backpackers have canvas tents, the most important being the weight. Nylon and polyester and incredibly light compared to canvas, making them optimal for storing and carrying. Aside from a handful of options, you would probably regret buying a canvas tent if you plan on doing anything other than car camping.
Modern Canvas
As mentioned before, modern canvas tents make for some of the most durable options out there. However, in addition to an increase in weight, there's also an increase in size to account for. Most tents made from this material are massive, suited for groups of 4 to 12+ depending on which tent you go with. Because of this, they aren't optimal for solo campers or smaller groups, unless you're looking to have a lot of extra space.

On the flip side, they make a phenomenal living area for larger groups who plan on staying close to the same place. Families can comfortably enjoy long outings with comfort typically found while glamping. And given how durable canvas is, whatever tent you get will probably last most of your life or beyond.
Best Canvas Tents – Reviewed
Best For: Car Camping
Weight: 68.3 Pounds
Peak Height: 78 Inches
Number of Doors: 2
A good sized shelter, Teton's Sports Mesa cabin style canvas tent is a nice option for families and groups who plan on playing rough with this shelter. Frequently used by hunters, the floor is thick and designed for a lot of foot traffic and equipment to be set up inside. The tent is as sturdy as a rock, even in high wind and extreme weather, so you can feel comfortable hunkering down for extended periods of time.

Perhaps surprisingly, this tent is pretty easy to put together by yourself, despite its larger size. Altogether, it weighs about 80 pounds, which is quite heavy, but can be separated into the tent portion (45 pounds) and the poles and stakes. If you're by yourself, you might need to make a handful of trips to carry it to your campsite or into your car, but it's definitely doable.

Pros:

– Material is very durable
– Large awning coming from the front of the tent
– Easy setup
– Extra wide doors

Cons:

– Doesn't come with the greatest tent pegs
Best For: Car Camping/Glamping
Weight: 51 Pounds
Peak Height: 89 Inches
Number of Doors: 2
If glamping is something that you've always wanted to do, but you never liked the idea of going to a resort to do it, Whiteduck's tent is the right fit for you. Styled after a yurt, this 4 season tent has all of the features that canvas is known for, including breathability, insulation, and durability. The canvas is made from 100% cotton, and has been treated to resist water and mildew buildup. It also includes a sewn in groundsheet that provides more of a barrier against the cold ground and prevents condensation.

You can also fit one of those fancy canvas tent stoves in here, as it has a special flap designed to withstand extreme heat and resist melting when it comes in contact with the stove pipe. It's still a good idea to have a welding blanket under and around the stove, though, just as an extra precaution.

Pros:

– Sewn in ground sheet
– Waterproof and fireproof (depending on which one you buy)
– Stove compatible
– Breathable

Cons:

– Though it breathes well, it could use something more to help it shed heat better
Best For: Car Camping/Glamping
Weight: 55.5 Pounds
Peak Height: 98 Inches
Number of Doors: 1
Another yurt style tent, Teton's Sports Sierra is similar to the last tent on this lineup, but also quite different. With 2 in 1 technology, you can either use the tent as you would any other, or you can convert it into a canopy. In the latter, most of the roof stays in place, held up by the center pole and guy lines, but the walls can be taken down to provide an open air effect. If it's a nice day and you'd like to feel like you're outside without losing protection, the canopy is a great option to take advantage of.

The heavy duty, welded floor will keep water from coming in the bottom, while the reinforced seams will make sure you stay dry everywhere else. If you had a canvas tent many years ago, you might remember that it would leak a little bit if you bumped into it. Not the case with Teton's tent. The canvas itself has been thoroughly treated for all types of weather, and will keep the elements where they belong, regardless of what you touch.

Pros:

– 2 in 1 canopy or tent
– Access ports for power
– Holds up in extreme weather
– One person can set it up easily

Cons:

– The actual size of the tent is a little smaller than advertised
Best For: Car Camping/Glamping
Weight: N/A
Peak Height: 113 Inches
Number of Doors: 1
A mini house in a lot of ways, Whiteduck's outdoor canvas tent is the embodiment of what every kid dreams of playing in. With a large, sloped roof, rain and snow will slide right off. If it's windy, the tent comes with an additional buckle fastening system on the inside and outside to make sure you don't tip over or fly away. If that isn't secure enough for you, the triangular windows have three layers for added durability, and can be firmly fastened with its heavy duty velcro.

The tent itself is very large, and while that's great if you're trying to accommodate a big group, it can be a hassle to set up. Expect it to take 2 or 3 people to get everything ready and livable. While it might seem like a lot of effort, once you have all the pieces in place, the spacious and comfortable atmosphere will make you feel like you're back home.

Pros:

– Aluminum frame
– Stove compatible
– Sod cloth
– Side walls are 5 feet high
– Weatherproof and UV resistant

Cons:

– Difficult to set up
– Expensive
Best For: Car Camping/Glamping
Weight: 75 Pounds
Peak Height: 98.4 Inches
Number of Doors: 1
Glamcamp's canvas tent is really nice because, as a bell tent, it only has one pole to worry about! It's one of the oldest methods of creating a tent, and for good reason, since it's incredibly sturdy and weather resistant. All you have to do is set your pole straight up, and stretch the canvas out around it in a classic yurt style.

What I especially love about this tent in particular is its ability to function without walls. If it's a nice day and all you want is a massive roof over your head, you can easily take down the walls around you and enjoy the nice breeze and freedom of the outdoors. Part of this setup includes a separable floor that you can unzip from the walls, so you can keep the dirt out of your sanctuary while maintaining the open air effect.

Pros:

– Separable floor
– Stove compatible
– Bell tent design
– Large and spacious
– Weather resistant

Cons:

– Door entrance is a little low for taller folks
– Doesn't always come with instructions
Best For: Car Camping
Weight: 30 Pounds
Peak Height: 79 Inches
Number of Doors: 2
A cute teepee style canvas tent, this shelter by Dream House is one of the smallest that we've talked about in this list. Considering how hard it can be to find a canvas tent of this size, I actually find the 3 person capacity to be a nice benefit of this particular product.

The smaller stature also makes it easier to carry and move from place to place. Though it's still a bit heavy at 26 pounds, that's a big improvement over some of the others that hover closer to 75 pounds! With the reduction in weight, you'll find that you can bring this tent into more remote locations without breaking your back in the process.

On the top, you'll find a vent on each of the 4 sides of this shelter. These alone create an adequate amount of airflow, but if you'd like to open things up even more, there are also 2 doors on each side of the tent. These entryways are massive, and have a mesh screen that you can either zip or unzip depending on the weather and bugs.

Despite the large size, it's pretty easy to put together, and it does a great job of keeping the water out. However, at the place where the 4 poles intersect at the peak of the tent, the seams are weaker due to the structural design. In heavy rain, this might mean that water will leak in through the top, though overall, this shouldn't be too big of a problem.

Pros:

– Small and relatively lightweight
– Well ventilated
– Massive doors
– Easy to put together
– Can comfortably fit a full-size mattress

Cons:

– Structural weak point where the 4 poles intersect
Best For: Car Camping/Glamping
Weight: 83 Pounds
Peak Height: 120 Inches
Number of Doors: 1
Another big guy optimized for comfort, Danchel's canvas tent is a great option for glamping with the whole family. The downside is that it weighs a whopping 83 pounds, but the tradeoff is top tier comfort for up to 6 people.

On the inside, you'll find 2 stove jacks, allowing you to cook and keep the space warm, without worrying about ventilation problems. During the warmer months when the weather is nice, I'd suggest you roll up the bottom quarter of the canvas to open things up a little more. If you're feeling really ambitious, you can even roll back the entire front half of the canopy! This leaves you with plenty of space that's still sheltered against the sun and the wind, while fully exposing you to the beauty of your surroundings.

The tent comes with a heavy-duty PVC groundsheet that is puncture resistant and holds up well against wear and tear. Once you toss some blankets and pillows (or an entire bed!) into the mix, you've got yourself a homey space that's perfect for relaxing.

Pros:

– 2 stove jacks
– Large interior space
– Ability to roll up the bottom of the tent, and the front half of the canvas
– Heavy-duty groundsheet
– Well ventilated
– Waterproofing holds up well

Cons:

– It's a cheap option, so you get what you pay for
– Windows need to be closed when it rains, which can steam up the inside pretty fast
At Untamed Space, we're passionate about helping you have the best camping experience possible. Our team of experts have experience camping and backpacking all over the world, allowing them to provide insightful and relevant content to guide you in your outdoor pursuits.

All of our reviews are based on a combination of firsthand experience, extensive research, and an analysis of customer feedback. We are an independent website and do not receive payments or incentives from manufacturers to promote their products, and we continuously update our content to provide new information based on product availability. Wherever you are in your journey, whatever gear you're searching for, you can be sure to find unbiased and up-to-date reviews for all of your needs.
FAQ
Most modern tents make use of synthetics, like polyester and nylon, in their wall construction. However, a few are still made out of canvas, which is plain woven cotton. These are typically found in the shape of a bell or cabin tent, which are larger structures than your typical camping tent.
Do Canvas Tents Need to be Stored Dry?
Because canvas is made from organic materials, it's much more susceptible to mold and mildew. As such, it's important that you always store canvas in a dry location.
What is the Best Canvas Bell Tent?
There are quite a few different types of canvas bell tents out there, but we think the best is Glamcamp's canvas tent. It's easy to setup, has a detachable floor, and is about as weatherproof as you can get it. It's a solid shelter that will last you for many years to come.
The Winner
While some might view them as relics, canvas tents are still very useful for modern day camping. They're more durable, breathable, spacious, and soft compared to many other tents that you'll find at the store, and a great product to help you create your own glamping experience. While they do come with their own drawbacks, like their weight and difficulty when it comes to cleaning, many have enough features that are beneficial to certain types of camping that it's worth the extra hassle in other areas.

Glamcamp's canvas tent was the winner for us because of its easy setup, separable floor, and weather resistant material. At the end of the day, you want something that's spacious and comfortable without compromising on safety and convenience, and this tent does just that. Even in strong wind or other extreme weather conditions, this tent is solid as a rock and will have your back for many, many years.
---
Related Posts: