Missed Part 3? Check it out here!
Trekking: Day 1
Leaving Chame
The next morning started off well. Each of us had our own Nepali companion/translator that would stay by our side through the course of our trek, so we took some time to get to know them better before we headed out. Breakfast was made, and we all refilled our water supply from a faucet out in the courtyard of the house. It was a beautiful, clear morning, and the mountains were shining brightly in the distance. For the first time since arriving, it actually felt like we were here.

And it was incredible.

My guide, Kumal, came to stand beside me with a bright smile on his face. He was a shorter, somewhat pudgy man, but his jovial personality was contagious. The pink baseball cap on his head only added to the effect.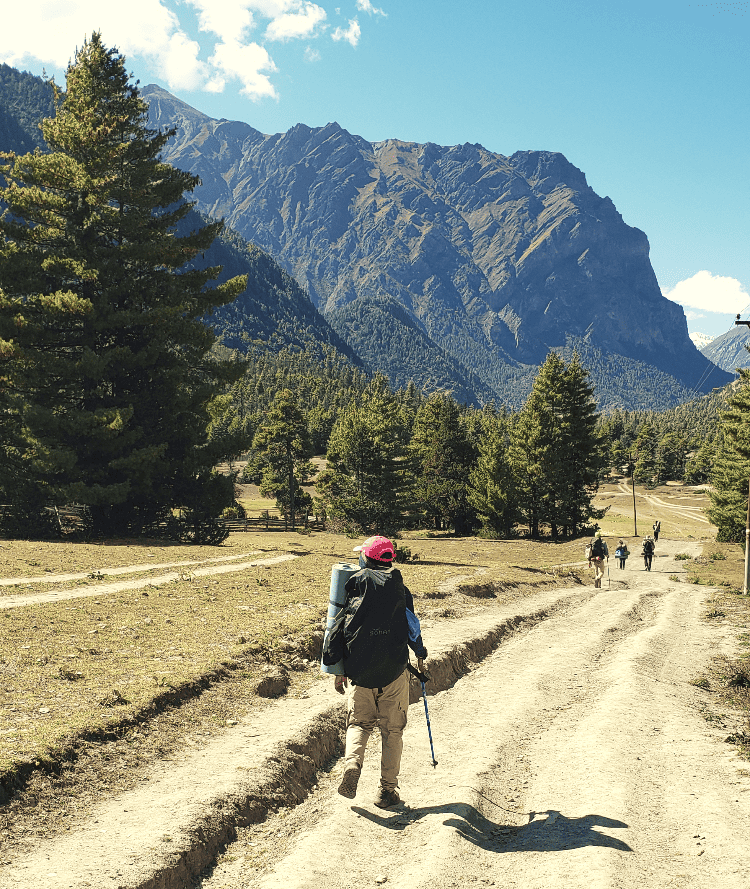 The rest of the group trickled out of the house, and after thanking the owners, we set off down the road again. Lokendra told us that since we arrived in Chame a day later than expected, we would need to make up that time on our hike today. It sounded foreboding when he said it, but with the bright sunshine and sparkling river, how bad could it be? This place was an outdoorsman's paradise.

Mile after mile passed, and the road maintained a continual upward tilt. Kathmandu had an elevation of about 4,600 feet, whereas Chame was significantly higher at 8,700 feet. Little did we know that our destination for the day, a little hamlet called Ghyaru, would be located at 12,000 feet. In fact, the breakfast that I enjoyed that morning would be the last meal my body would allow me to enjoy before returning to Kathmandu. The altitude sickness would see to that.

However, at the moment, I was blissfully unaware of all of which was in store for me. Instead, I was rather enjoying the day, as I sat on a low wall while eating a few apples. We had stopped in Telekhu, an apple orchard village that boasted the most modern looking structures I had seen since entering the mountains. Not only that, they had 3 spigots to refill our water and sold apples to trekkers passing through. The village was quietly impressive; and the apples were quite delicious.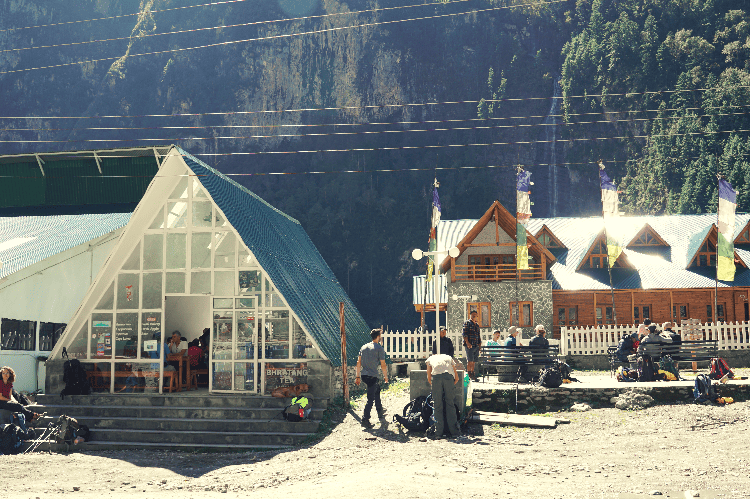 Now that we had once again replenished our water supply and were able to put some food in our stomachs, we were in good spirits as we continued on. The road kept angling upward though, and soon we came to another swinging bridge that needed to be crossed in order to get over the river. Thankfully, this one was actually intact.

While still a little wobbly, I think everyone enjoyed this crossing a lot more than the last one. The views were fantastic, and many of us couldn't resist taking a couple of pictures, including our guides.
Upward Through the Pine Forest
The scenery changed dramatically once we made it to the other side. The trail now shot upward at a much steeper angle, and the entire area was completely taken over by a giant pine forest.

What had started as a leisurely, low grade hike up the mountain had turned into endless switchbacks going straight up the side of the mountain. Although eventually, it looked like the people responsible for making the switchbacks got tired of the method, and decided to turn it into one, straight trail going up.

For me and my group, who hadn't had a chance to acclimate sufficiently, this portion was a living hell. It was difficult to breathe, and suddenly my pack felt like it weighed 60 pounds. Every step was a struggle, and it was all I could do to keep myself moving forward. If I stopped here, I knew I wouldn't want to get up again for a long time.

It felt like an eternity before the ground started leveling out again. We took this opportunity to take a break, and dig into the snacks that the owner of the house in Chame had prepared for us. A few dry crackers and a sugar drink never tasted so good, despite being a little difficult to swallow.

As much as I would've liked a longer break, daylight was burning, and we had 2 day's worth of hiking to get done. There was no time to waste.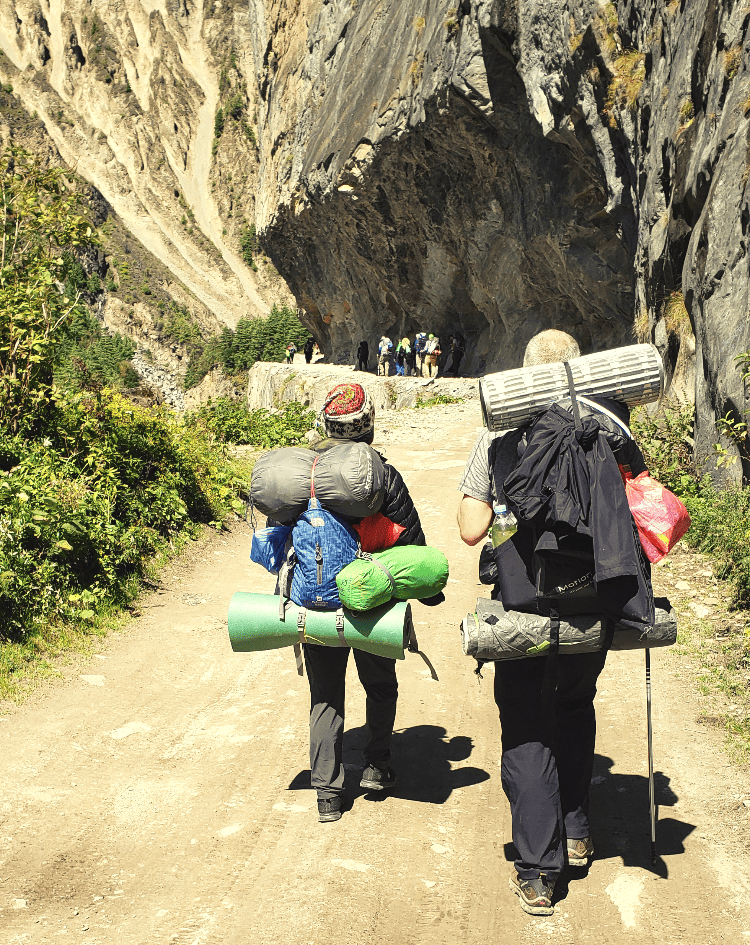 While the trail wasn't quite as steep as it was in the pine forest, it was still more difficult than when we first left Chame. Over time, we passed rivers, cliffs, and plains, before making it around a mountain just to see a larger one in the distance. All the while, we continued our ascent until we finally reached a flat expanse of land.

If we had been on schedule, this is where we would've spent the night. However, given our present circumstances, the best we could do was take a short snack break before continuing on up the mountain.
Upper Pisang
The path soon split to the right and to the left; we took the pathway on the right. This would lead us toward Upper Pisang, instead of Lower Pisang, which is where we would go through on our way back. For some time, the route remained gloriously flat, and soon we saw the sight of Upper Pisang sitting majestically on a hill in the distance.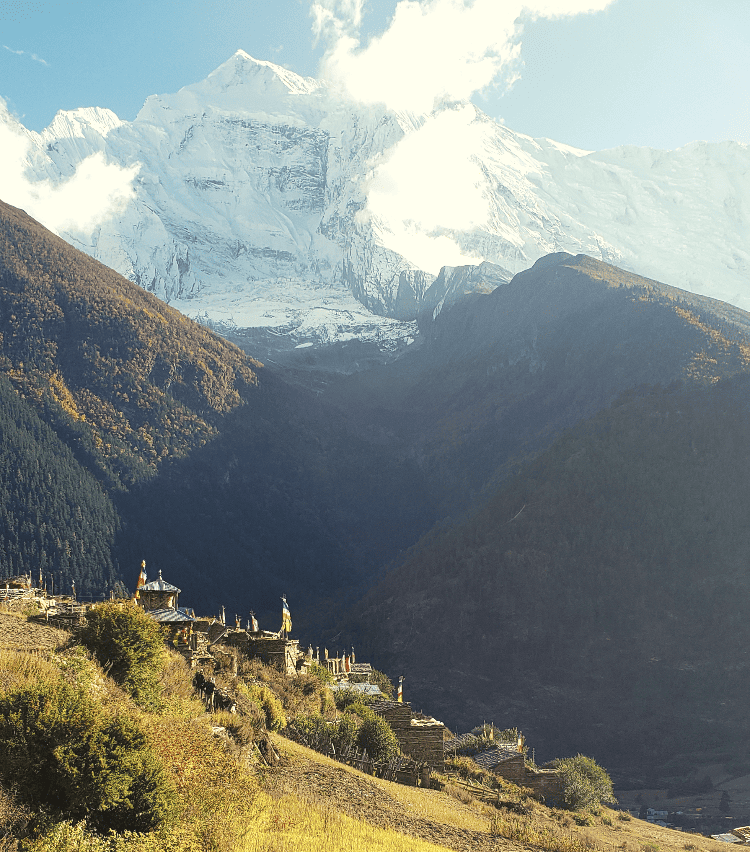 Sadly, our group didn't have much time to spend in this town, as the sun was dipping dangerously low on the horizon. It would undoubtedly be dark in another hour or two, and I didn't know how far we had left before reaching Ghyaru. Still, I managed to have a brief chat with an older man who ran a hotel in this town. In his parting words, he told me that if I ever came back, he would let me stay for a week at no charge, and would even provide the food. Even though I doubted he would remember me when I came back, it was still an exceptionally kind offer.

A second wind came over me as we left Upper Pisang and continued along the river. The dying light shimmered off the river water, and beautifully illuminated the tree canopy, taking my mind off of how tired I was at that very moment. After rounding a bend, the trees cleared away, and a mountain loomed in front of us. Lokendra pointed to the very top, and said, "That is where we will camp."

Feeling like I had been sucker punched, all of the excitement and wonder of the moment faded away into despair. The sun was slipping under the mountain peaks, we had been hiking for the last 10 hours, I was nauseated, tired, and cold… and now we had to scale this mountain? It would be an increase of several hundred feet in elevation, and it would be completely dark well before we got to the top.

This was a nightmare.

But what choice did we have? It wasn't like there was any place for us to set up camp here. So with the faint speck of a village at the top of the mountain guiding our way, we pulled out our headlamps in preparation for the final leg of our journey.
Shortcut from Hell
We crossed another swinging bridge that led to the base of the incline. There was a noticeable switchback that meandered all the way to the top, but there was also a fainter trail that went in a straight line and shot up the rock face. This was yet another "shortcut," and in typical fashion, Lokendra suggested we use it.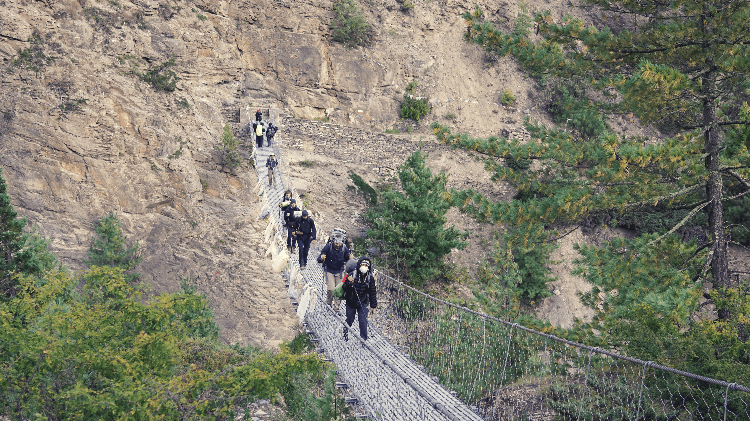 We weren't in any condition to resist his suggestion, but we quickly learned that we weren't in any condition to follow it either. The shortcut offered the most direct path, yet was also incredibly steep, and so it proved itself to be quite the hurdle. Given our current elevation and the fact that we weren't fully acclimated, the best we could do was take 10-15 steps before needing a minute long break.

Darkness descended quickly, and a nasty chill came with it. My heart was beating faster than it ever had before, even when I wasn't moving, and the contents of my stomach threatened to make an appearance. After 2 hours of this, my mental fortitude was starting to break, and it was getting more and more difficult to carry on. For one of the first times in my life, I genuinely would have preferred death.
False Hope
The buildings that we had seen from the base of the mountain appeared, causing us to revive a little. However, that quickly changed when we realized that we had been mistaken about one important thing: this wasn't actually the hamlet. Instead, it was just a few outbuildings that looked abandoned, while our real destination remained farther up the mountain.

At this point, I was numb to the world. I was fairly certain that the mountain could fall on me, and it wouldn't have much of an effect on my mental state. So as someone who had gotten used to going with the flow over the course of the last few days, I kept my feet moving at the same consistent pace that had gotten me this far.

As with all things, if you keep moving, you'll reach your goal eventually. And after the most miserable couple of hours I've ever experienced, the first houses of Ghyaru drew near. Still dead inside from what I had just been through, I wasn't able to feel as happy as I normally would have, but a small glimmer of joy lightened my feet somewhat. That is, until I saw where we would be setting up camp.

A few other members of my group had already arrived and were unrolling their tents on a narrow strip of land. There was a house on one side, a pile of manure on another, and the sheer edge of a cliff on the final side. The "campsite" was so narrow that once someone set their tent up on it, getting around to the other side would be far too dangerous. The tent stakes for my tent were already angled over the edge of the drop-off, and it would be a long fall if someone made a wrong move trying to get around it.

My sleeping bag was quickly unrolled, and I barely managed to take my boots off before sliding inside. Almost instantly, I fell asleep surrounded by cow dung and the sheer edge of a cliff.