Missed Part 5? Check it out here!
Trekking: Day 4
The morning was once again quite chilly, but pleasant all the same. The sun was slowly rising over "Half Dome," and once the rays of light struck our tents, the frost on them began to steam. It was an enrapturing scene that never grew old.

Someone started the fire again, and we took this time to burn any trash that had accumulated, since there weren't exactly trash cans anywhere we went. I stared at all of the plastic wrappers melting while sipping on my tea – a morning routine that I was going to miss once this trip was over. Never had I tasted black tea that was this rich and flavorful. It was one of the small pleasures that could be found in this remote part of the world, and I savored every cup.

We didn't have as far to walk today, so we took our time eating breakfast and breaking camp. It was a luxury that we hadn't experienced in a long time, and in a way, it solidified the feelings of nostalgia that had been growing stronger. This place had started to feel more like home than I ever thought it would. I knew that my time in this peaceful place was limited, and a wave of sadness briefly came over me.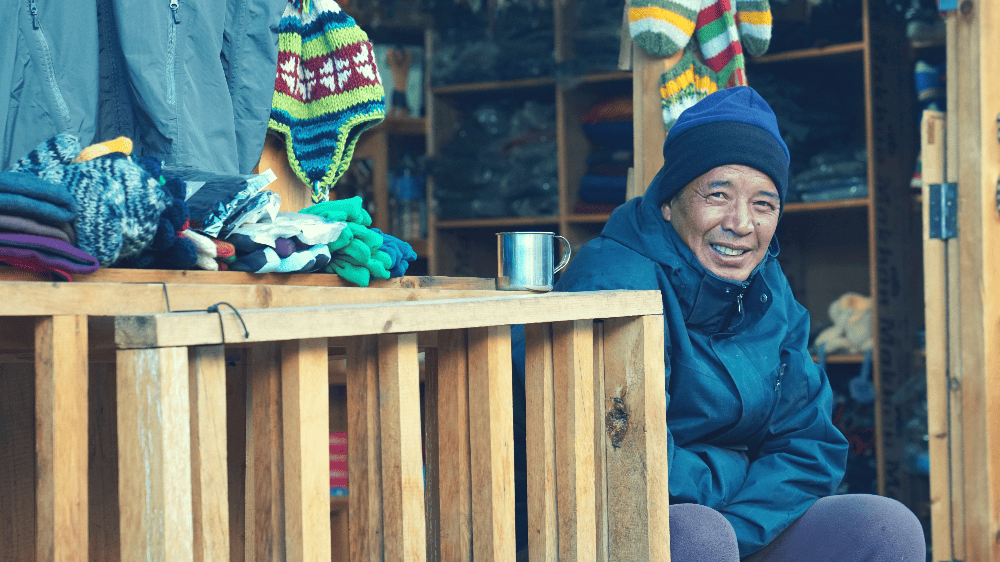 I would miss this place, and the people that I had gotten to know over the last several days. We had become a family forged through the joy and hardship of our shared experiences, and this mountainous wonderland had become our home. In only a few short days, we would wake up from this dream to return to our "normal" lives. But I didn't want to go back to that life.
I didn't want to settle back into the rat race of work, eat, sleep, repeat. That endless cycle wasn't what life was about, and in many ways, it was hard to even think of it as "living." How many people fell into this trap – this false sense of security? How many people would love to see what my eyes were taking in, and had the means to do so, but never took a step out of their comfort zone? How many regrets would they keep piling up? That wasn't the way I wanted to live my life, and I wanted to help others who felt the same way.

This tranquil, sought-after reprieve came to a close as the last of the group's supplies were packed away.
Downhill to Chame
We were off – the trail's scenery now familiar as we made the final trek back to Chame. Unlike the way out, though, this direction was all downhill.

We passed through the ceaseless pine trees that before had drained so much of our energy reserves. Now, we were practically running down the trail as we passed other trekkers struggling to make their way up. The swinging bridge at the bottom of the hill was swiftly at our backs, and before long, the apple orchard came into sight again. There, we restocked on water and had a quick snack before continuing on.

It was strange witnessing sights again that were unfamiliar only a few days ago. Back then, everything was fresh and exciting, though the element of the unknown was a little unnerving. But now it was like I had lived here my entire life, smiling and saying "Namaste" to all of the locals we encountered. I had a good grasp of the language basics, the villages were no longer strange and unfamiliar, and contentment filled me in a way I had never experienced before. It was, without a doubt, the most pleasant day so far.
Hot Springs!
The outline of Chame came quicker than I expected, as it was still early afternoon. We made our way back to the owners who had let us stay in their home on the first night, and dropped off all of our gear there. This town was special to many backpackers making their way through for one reason: it was a hot spring town.

On the other side of the river, hot water flowed from under the mountain and into a special area that had been sectioned off for people to bathe and relax. After a long time on the road, we all figured it wouldn't hurt to treat ourselves to a little spa action.

As someone who didn't bring a swimsuit and didn't feel like getting my undergarments wet, I contented myself with soaking my legs and feet. Other members of the group went all in, taking the time to soak their entire body. The water temperature was perfect, probably hovering around 102 degrees Fahrenheit, and the raging river flowed by us on the other side of the stone wall. It was truly an incredible oasis.

After time spent enjoying the spring, we dried off and made our way back to the house. The entire group excitedly discovered that dinner was already being prepared. And it wasn't just any dinner…

It was chicken and fries.
A Dinner to Remember
The owners of the house and some of our Nepali companions were busy peeling potatoes and sectioning off large chunks of chicken. They only had a gas burner and giant wok, but they somehow made it work while creating large batches of food for all of us. It was a sight that almost brought tears to my eyes.

Children ran around, playing with each other, while the members of our group chatted and patiently waited for the food. Unlike many of the Nepali meals that we had eaten so far, which tasted good but didn't smell appetizing, the deep fried chicken and potatoes had an incredibly mouthwatering aroma. My stomach growled as I thought about how long it had been since I last ate a substantial meal.

Everything had been laid out buffet style, and we all formed a line to grab our dinner. Without a doubt, it was the best thing I had eaten in over 5 days, and from the looks on the other's faces, I knew I wasn't the only one to feel this way. All of us went back for seconds, if not thirds, filling our stomachs with more food than we had taken in over the last several days combined.

Our time was filled with laughter and camaraderie, all of which did my heart good but also made it ache. The next day we would leave for Kathmandu, and shortly after, we would head home.

I didn't want to go home.