Camping can be a fun way for you to spend time with your family. But if there are a lot of members in your clan, it can be hard to squeeze everyone into a single shelter comfortably. Perhaps you've had to split things up in the past, putting yourself in one tent while other members of your group are spread out among a couple other shelters.

With a 10 person tent, you won't need to split up the family anymore. Most are able to fit 4 queen mattresses inside, and you'll still get some privacy thanks to the (typically) included room dividers. To help you find the best 10 person tent for you, we've reviewed some of our favorites below.
In this article, we'll be reviewing the following best 10 person tents:
Capacity
There are a couple of "make it or break it" features that all tents need to have. They need to be waterproof, hold up under strong winds, be at least reasonably easy to pitch, and have enough durability to last you several years to come. We'll talk about all of those in a little bit.

But one particular feature often gets overlooked, especially by those who are new to the camping scene – capacity. It's common for people to take a tent at face value, believing that a 10 person tent will actually house 10 people comfortably.

Unfortunately, that's rarely the case.

You see, most tent manufacturers are trying to cut back on the weight of a tent as much as possible. Since you have to carry your shelter and piece it together, this is a mostly appreciated sentiment, especially when you have a large, 10 person tent. However, in their efforts to cut back on weight, the manufacturers have to shave off as much material as they can. This usually equates to an uncomfortably small shelter, if you're trying to fill it to max capacity.

Now, before you think that all these tent brands are participating in false advertising, I want to make it clear that you can fit 10 people in a tent like this. However, you'll have to be prepared to squeeze yourself into an 18 inch wide rectangle. If that sounds uncomfortable to you, I'd suggest keeping your party size to 8 people or less.
Center Height
Center height refers to the distance from the ground to the center point of the roof on the tent. It's typically the tallest point in any given shelter, which is why you may also hear it called the peak height.

Once you start entering the realm of 6 person tents and bigger, you'll find that the center height is usually taller than 6 feet. In fact, none of the tents that we've reviewed have a center height lower than 6.5 feet, so there will rarely be an occasion where one of you can't comfortably stand up straight inside.

It's a useful thing to keep in mind, especially if you plan on changing clothes or moving around a lot inside the tent. Being able to stand straight and stretch out is quite the luxury, but remember, tall tents aren't without their flaws. After all, you still have to set it up, and figure out how you're going to secure the rainfly on top of such a tall shelter!
Weight
No one gets a 10 person tent so they can bring it on a backpacking trip. Not only are they too large to fit inside a backpack, they're also far too heavy to carry long distances, even if you spread out the weight between a couple people.

The tents that we've reviewed typically fall between 30-40 pounds, though there are a couple outliers that fall on either side of that range. Depending on your level of fitness, you may require some help transporting it to your campsite, but that's what friends are for, right?
Durability
When we talk about the durability of a tent, we really need to look at two particular areas: tent material and poles.

Typically, you can get a good sense of the durability of the tent fabric by looking at its denier. The higher the denier, the thicker the individual threads are that make up the material, increasing the overall durability. In general, you'll want to make sure the fabric being used is at least 60d, to ensure a sufficient level of toughness and abrasion resistance.

Poles come in all shapes and sizes, but broadly speaking, you only have three options when it comes to materials. Steel is a fairly common pole material that's used in larger tents, simply because it's the strongest and most durable. When you're trying to support something as large and heavy as a 10 person tent, steel is an obvious choice to go with.

Fiberglass is frequently used in off-brand tents, as it is the cheapest material that you can get. While it's great for people on a budget, it's not my favorite, due to its tendency to splinter and break. From a durability perspective, this is the worst option to get.

And finally, aluminum will occasionally make an appearance in shelters this large. It's lightweight, inexpensive, and strong, making it my favorite pole material overall. However, it's used infrequently in larger tents because it does lack some of the strength that you'll find in steel.
Rooms and Dividers
The great thing about 10 person tents is that they allow for a substantial amount of privacy. Most come with at least one, if not two, dividers that can be used to separate the tent into multiple rooms. It's a handy feature for parents who want some space between them and their kids, or for friends who don't want to sleep side by side. You could also use it to create a specific room for sleeping, allowing you to have some separation between the living room and the bedroom.
Seasonality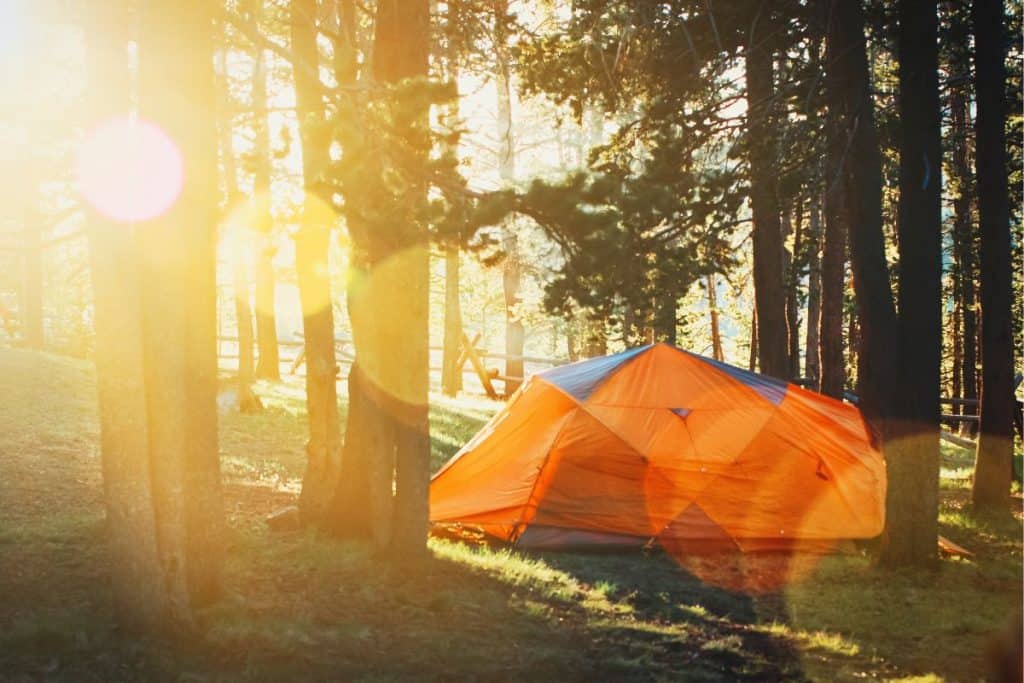 By nature, all of the tents in our list are considered three season – meaning they should only be used across Spring, Summer, and Fall. They're not very insulative, so they won't retain heat during the winter, and they're not strong enough to withstand the weight of heavy snow piling up on the roof.

On the other hand, most of them are very breathable, allowing you to stay somewhat cool on those hot summer days. When it's warm out, the last thing you want is a shelter that traps heat, so they work well for the time of year they were designed for.
Shape
We have a decent mix of both cabin and dome tents in our review. Each have their own pros and cons, which really come down to personal preference.

For example, cabin tents sport vertical walls, which really allow you to maximize the amount of space that you get. Mattresses, cots, and tables can be shoved up right against the wall, thanks to the 90 degree angles. However, because the walls are vertical, you may find that they catch more wind than you bargained for. It's really important to properly stake out any tent, but even more so with the cabin design.

On the other hand, dome tents tend to have a greater amount of floor space in general, and the sloped walls are more aerodynamic. At the same time, they tend to have lower center heights as well, giving you less usable space overall.
Ease of Use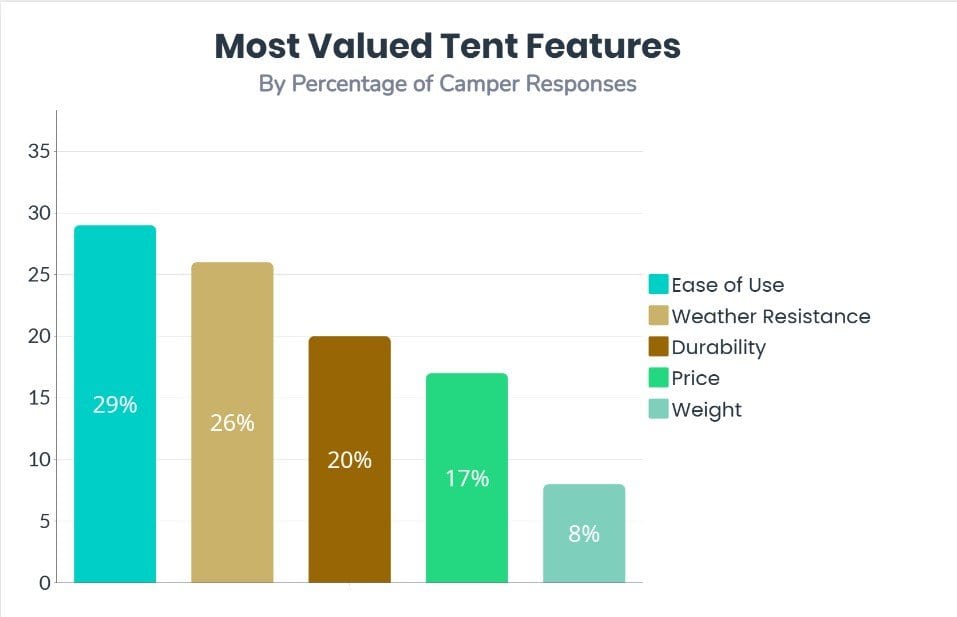 In a recent survey that we conducted, the majority of participants said that "ease of use" was the feature that they valued the most. It's not hard to understand why, since we're all creatures of convenience, and certain tents are notorious for causing trouble during setup.

Now, overall, we've certainly reviewed several tents that have your standard collapsible pole system. In practice, it works fine, but you'll definitely want a helping hand when it comes to pitching a 10 person tent. That is, assuming you actually want to have your shelter ready to go in under 20 minutes.

On the other hand, something like the Coleman instant tent will quickly become your new best friend when it comes to speed and ease of setup. Sure, it's not going to go up in the 1-2 minutes advertised, but you can still pitch it in half the time it would take to put together a traditional tent. In bad weather, you'll be glad you splurged a little on this feature.
Best 10 Person Tents Comparison Table
Best 10 Person Tents – Reviewed
The Northern Breeze is such an unconventional design, but I really love what Eureka did with it. As you might have picked up from the name, you won't struggle to catch a breeze in this tent, and condensation is practically a thing from the past. Since it is a 10 person tent, all the ventilation is nice to have to keep the interior cool and airy, as a way to counteract the body heat of so many people. Considering all the walls are mesh, the tent feels bigger than it actually is, allowing you to catch your breath when you're stuck inside.

With a front awning that can easily be propped up, you've got yourself a convenient space to host large get-togethers. You'll notice that the mesh doesn't hide very much, and I can understand if you're not too keen on sleeping in such an exposed environment. Don't worry, though, on every side is a "real" wall that can be unrolled to create some privacy and protection against the wind and rain. They're very effective and simple to use, which is great for when you want to have a stargazing tent one moment, and a fully enclosed sleeping area the next.

But really, one of my favorite features has to be the sheer size of the tent. It's a staggering 9 feet tall, with a full 100 square feet of interior floor space. It's one of the few tents where I can confidently say that you could comfortably fill it to max capacity, and perhaps still have room to spare.

Pros:

– Very tall peak height
– Spacious interior
– Open concept
– Convenient front awning
– Superb ventilation
– Weatherproof

Cons:

– A little lacking in durability
It's not every day you come across a tent without poles. But hey, who needs them when you've got the Zempire EVO TL V2 tent? With an inflatable frame (yes, you read that right), it's practically as good as an instant tent when it comes to ease of setup.

The EVO TL comes with a double action pump that attaches to a single inflation point. Once you've hooked it up, it only takes a couple dozen pumps before the tent is fully inflated, leaving you with a surprisingly simple alternative to the traditional pole system. There are some stabilizing brow poles that keep the tent from twisting in strong winds, but you won't have to worry about putting those in place. Everything comes pre-attached, including the rainfly, so you just have to unroll and inflate it.

Unfortunately, this means that you can't take the rainfly off to get a view of the night sky. You'll have to pop over to one of the many, giant windows that are spread out around the shelter in order to peak outside. These windows also help significantly with ventilation, providing quite the cross breeze that makes those stifling summer days more bearable.

When it's time to head out, packing up the tent is a lot easier than it looks. While there's only one point of inflation, there are multiple points of deflation, speeding up the process and preventing air bubbles from getting trapped in certain places.

Pros:

– Fast setup
– Waterproof
– Plenty of interior space
– Large gull wing awning
– Easy deflation
– Well ventilated

Cons:

– Price
Coleman has been a household name for several decades, and it's not hard to see why. Despite lacking some of the qualities found in name brands, like Nemo, Marmot, and Big Agnes, Coleman is known for making reliable products that are affordable.

Like the instant tent by Coleman that we mention later in this review, the WeatherMaster has a hinged door. It's a fairly uncommon design mostly found in Coleman products, but it's a very handy feature to have on a large tent like this. What makes hinged doors special is how closely they emulate the doors that you'd find in your own home. It makes it a lot easier to come and go as you please, without worrying about zipping and unzipping every time.

Unlike the Coleman instant tent, however, setup will take about 20 minutes. However, that doesn't necessarily mean that you can't do the job by yourself. Especially with a little practice under your belt, the WeatherMaster is a very intuitive tent with well-marked poles and sleeves. If you're shorter than 6 feet, it might be a little challenging to throw the rainfly on top, but certainly not impossible.

Living up to its name, bad weather won't even make it sweat. The rainfly fits snugly over the top of the tent, but that doesn't mean that water can't leak in, if there's a strong crosswind blowing rain in sideways. Should you find yourself in a situation like this, don't worry, you'll only get a couple drops here and there. Toss a towel underneath the area, and you'll be all set.

Pros:

– Great in bad weather
– Intuitive setup
– Hinged door
– Tall peak height
– Affordable

Cons:

– A little lacking in durability
When the rainfly is off, the Core 10 person cabin tent is about as bright and airy as you can get on a tent this size. With a peak height over 7 feet tall, it's a very spacious design that makes the interior feel bigger than it actually is.

And don't get me wrong, the interior is still quite large, any way you look at it. With 140 square feet of floor space, it's actually one of the largest 10 person tents that we've reviewed here. You'll easily be able to fit 4 queen mattresses inside, and still have a little room to spare when you're done.

But the real kicker is the clear and panoramic view that you'll receive when you lay down at night. In terms of stargazing tents, there are few that are better suited for it than this one. When the rainfly is off, the entire roof of the tent opens up to the sky above, giving you a fairly unobstructed view.

However, if it does start to rain, you can quickly toss the rainfly back on and stay well protected. The shelter isn't prone to leaking, and it holds up pretty well in strong winds too. With a two-door design, it's easy to get in and out without disturbing your fellow roommates, especially during late night bathroom runs.

Pros:

– Polyester material for added durability
– Mesh ceiling for ventilation
– A door in the front and back
– Dividers to create rooms
– 1 year warranty

Cons:

– On rare occasions, a pole may break
A shelter specialized for convenience, the Coleman instant cabin tent is perfect for people who don't feel like taking half an hour to pitch their tent. While it is a bit small for 10 people, I understand that many of you are never planning on getting your guest list up that high to begin with. So, for a family of 4-6, you've got a comfortable place to live that can be pitched in under 5 minutes.

On top of that, you get Coleman's dark room technology thrown into the mix. It's a helpful feature because, if you're a late riser like me, you understand the pain that comes with camping. As soon as the sun rises, there's almost nothing to stand between you and those early morning rays, unless you managed to find a few well-placed trees. A blackout tent like this works wonders when it comes to keeping the inside of your tent dark, making it so much easier to sleep past 7am.

This tent also has a hinged door, which is modeled after the type that you probably have in your home. Say goodbye to floppy fabric that snags every time you want to zip or unzip the tent door. For late night bathroom runs, the convenience that comes from having a hinged door is priceless.

With enough interior space to fit 4 queen mattresses, you can also create your own private sanctuary that's separate from the rest of the tent. Just hang the included room divider to partition the interior into two different living spaces.

Pros:

– Dark room technology
– Spacious interior
– Plenty of headroom
– Instant setup
– Vertical walls

Cons:

– Waterproofing could use some work
Every time I look at UNP's 10 person tent, I can't help but think of a space capsule. Especially when the rainfly is off, there are few tents that provide a more clear and open view of the sky above. It's a very open design that keeps the space well lit, making it feel like the interior is even larger than it actually is.

And at 78 inches tall, it's certainly not a small tent, though it is a bit shorter than many of the other shelters we've talked about so far. The amount of usable space is also reduced by the tapered edges and sloped walls, but you could still comfortably fit about 6 people inside.

While it is fairly water resistant, it's not good enough for me to feel comfortable using it as is. Definitely invest in some waterproofing spray, and give the tent a thorough coating on all sides. Given the shape of the tent, though, it does hold up pretty well in stronger winds, so it's unlikely that you'll experience a broken pole.

The instructions aren't very clear, and the included tent stakes are fairly useless, but it won't be too hard to pitch the shelter if you've ever gone camping before. While UNP made a fairly mediocre tent overall, it is a great value for the price that you'll spend on it. If your family only likes to go camping a couple times a year, this is a great tent to get to meet your needs without breaking your budget.

Pros:

– Affordable
– Mesh ceiling is great for stargazing
– Water resistant
– Fairly aerodynamic
– Good internal storage options

Cons:

– Lacking in durability
– Poor setup instructions
Another tent with amazing ventilation, the Ozark Trail 10 person tent has a pretty similar design to the shelter by UNP mentioned above. However, you still get about 13 extra square feet in the Ozark Trail, which is a pretty significant amount. While the sides are still sloped, the headroom doesn't decrease too severely, making it possible for most people to walk through the entire tent without slouching.

There are two dividers that can be used, separating the tent into three different sections. Each section has its own entrance, so separate groups of people can come and go without infringing upon anyone else's space in the tent. Just bear in mind that the dividers can be easily pushed aside, so your privacy could be invaded rather easily, if anyone had a mind to do so.

Unfortunatey, the zippers do get stuck pretty easily, so you will have to play around with them every time you come and go. However, the tent itself holds up great in bad weather, and offer more than enough ventilation to keep everyone comfortable. All the airflow also works to prevent the buildup of condensation, which would accumulate quickly with so many people breathing inside the tent.

It's a good value tent for the amount of money that you'll spend on it. While it isn't going to be as durable as other, more expensive options, it's still a good choice for an affordable 10 person tent that can house the whole family.

Pros:

– Affordable
– Two room dividers
– Three doors
– Plenty of ventilation
– Large amount of floor space
– Electrical port access

Cons:

– Sticky zippers
– Takes awhile to setup
A nice cabin style tent, the Columbia Mammoth Creek goes up in a flash. The instruction manual is fairly detailed, and once you've got some practice under your belt, it would be a simple task to set this tent up in about 10 minutes.

With vertical walls, the Mammoth Creek makes it easy to shove mattresses right up into the corners. It's a good thing too, since there's less floor space on this tent when compared with many of the other shelters in this review. Still, with 140 square feet to work with, you could do worse.

I'm not very impressed with the waterproofing on it, though it will be fine in light rain. To keep yourself from getting water in the living space during torrential downpours, though, you'll want to give it a good coating of waterproofing spray. The bathtub floor does do a good job of keeping water from seeping in from the ground, but I'd still recommend getting a footprint to stick under the tent. It will act as another layer of protection against water, and act as a first line of defense against abrasions, extending the life of the tent.

Ventilation is more than sufficient to keep the shelter cool and aired out. The windows have pretty flamboyant hoods that keep the rain from seeping in, allowing you to keep the air moving, even in bad weather.

Pros:

– Window hoods
– Easy setup
– Bathtub floor
– Vertical walls
– Great ventilation

Cons:

– Not very waterproof
At Untamed Space, we're passionate about helping you have the best camping experience possible. Our team of experts have experience camping and backpacking all over the world, allowing them to provide insightful and relevant content to guide you in your outdoor pursuits.

All of our reviews are based on a combination of firsthand experience, extensive research, and an analysis of customer feedback. We are an independent website and do not receive payments or incentives from manufacturers to promote their products, and we continuously update our content to provide new information based on product availability. Wherever you are in your journey, whatever gear you're searching for, you can be sure to find unbiased and up-to-date reviews for all of your needs.
FAQ
How Many People Can You Fit in a 10 Person Tent?
In a standard 10 person tent, it certainly is possible to fit 10 people, though they'll likely be pretty uncomfortable. But don't feel like you need to fill it to max capacity. A 10 person tent is really ideal for 6 people or less, especially if you value space and privacy.
What is the Best Tent for a 10 Person Camping Trip?
When you're packing so many people into a tent, you have to pay extra close attention to some of the finer details. Will everyone fit? Is it ventilated enough to stay cool and condensation free? How's the waterproofing going to hold up in bad weather?

The Eureka Northern Breeze screenhouse is the best tent for a 10 person camping trip because of its size, liberal use of mesh, and superior waterproof coating.
What are the Benefits of a 10 Person Tent?
The sheer size of a 10 person tent is the largest benefit, simply because you'll be able to fit the whole family under one roof. Gone are the days of splitting mom and dad into one tent, and shoving the kids in another. Now you can all spend time together, while still having separate rooms, thanks to the included room divider/s.
Final Thoughts
When you're camping with family, it's always nice to be able to keep everyone under one roof together – especially if you have kids you want to keep an eye on. Perhaps you don't have 10 people that need shelter, but even so, the best 10 person tents are great for smaller groups as well. They really allow you to spread out, have extra space to put your gear, and give you that glamping experience that will keep everyone happy and comfortable.

Looking at all of the tents objectively, we believe the Eureka Northern Breeze screenhouse does it best. With a very tall peak height and large floor plan, giving your group enough room won't be an issue. It's also one of the best for ventilation, since all of the walls are made of mesh. However, as soon as a storm starts rolling through, the waterproof outer walls come down in a flash, securing the inside of the tent against the elements.
---
Related Posts: