Home » Camping » Shelters » The Best 12 Person Tents in 2022

If you're in a rush and want to find out what the best 12 person tent is, we recommend the CORE 12 Person Instant Cabin Tent.

Camping is a hobby that's loved by many, offering a chance to disconnect from technology, and reconnect with people and nature. Many families enjoy setting up at a campsite, sometimes sharing the space with extended relatives or friends, while cooking up some barbeque on the grill or making s'mores around the campfire.

With such a large group, though, it can be difficult to find a shelter big enough to house everyone comfortably. That's why we've taken a look at some of the best 12 person tents that will let everyone spread out with room to spare.
In this article, we'll be reviewing the following best 12 person tents:
Weight
Weight is mostly a concern for backpackers who don't like the thought of lugging 30 pounds on their back all day. And when it comes to 12 person tents, you most certainly won't be backpacking with one…I hope. Even so, who wants to go through the effort of transporting something that weighs as much as you from the car to the campsite? Not me, no sir.

Which is why it's important to know what your tent is made from. For example, what type of fabric are the walls? Nylon is a crowd favorite because it's light and durable, so it's one of the more common materials found in tents of all sizes. Canvas, on the other hand, is thick and heavy. Incredibly durable and homey, it's a popular option for larger tents, though it's a big pain to transport.
Size
This is what it all comes down to, really. I can only imagine that you're looking for the best 12 person tent because you plan on sheltering a lot of people. And let's face it – just because a tent says that it was made for 12 people doesn't actually mean that it was! That is, unless you enjoy being squished together without a shred of personal space.

Before you make your final decision, it's always worth looking at the square footage of a tent when determining if it will work for you. In general, I find that 18-20 square feet per person is enough to get comfortable with room to spare for you and your gear. You can certainly get away with 15 square feet per person as well, though it will feel much tighter.
Waterproofing
Tents are meant to keep us protected from the elements, right? In which case, finding a weatherproof shelter should be high on our priority list. At the end of the day, you might be able to fit all the members of your party under one roof, but that doesn't mean much if you get wet the moment the rain starts falling. If that were the case, just save yourself a couple hundred bucks and forgo the shelter!

Of course I'm exaggerating a little bit, but there's no denying that some tents just don't cut it when it comes to keeping the elements where they belong. So when you're choosing your shelter, remember the difference between waterproof and water resistant.

Water resistant materials will deflect moisture up to a point – but in heavy downpours, or deluges that seem to go on forever, water will eventually get through. However, something that's waterproof completely block out all moisture, no matter how bad it gets. Ultimately, this is what you want, and what every high quality tent should have.

If your tent is water resistant, instead of waterproof, there are ways for you to manually coat the outside walls with a waterproofing substance. But at the end of the day, I'd stills suggest going with a waterproof tent. It'll save you time spent on waterproofing it yourself, and a lot of headache later on when you find yourself in a rainstorm.
Durability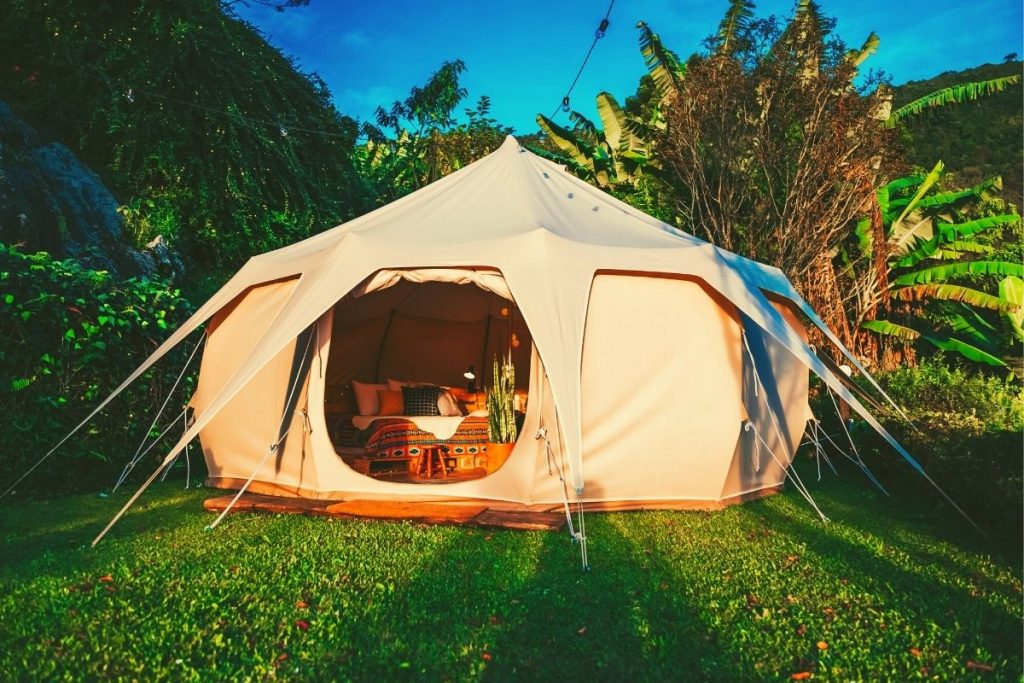 The wilderness isn't the gentlest place to be. Jagged edges, branches, and unfortunate accidents that can leave tears and holes where you don't want them to be. Sometimes these factors are unavoidable, no matter how cautious you are, which is why your tent's durability is so important.

With that in mind, let me introduce you to denier – a term that you may have never heard before unless you spend a lot of time around fabric. Essentially, denier is a way to describe the thickness of a fiber or thread. The higher the denier, the thicker and tougher the material will be, making it more durable than something with a low denier. As you might expect, it's always better to find a tent that has a higher denier when possible.
Ventilation
Ventilation is one of those features that I can't stress the importance of enough. Especially when you're planning on housing so many people inside of one shelter, having a sufficient network of windows and mesh openings is crucial. Without it, not only will it become unbearably stuff inside, but you'll also suffer from extreme condensation buildup.

When there's little or no airflow to whisk it away, the moisture in your breath (or the humidity in the air) will build up on your tent walls and ceiling in the form of condensation. Without a way to minimize this effect, you run the risk of having walls that become oversaturated. They'll start to sag, and if you're lucky, you'll only have a few drops of water fall on you from time to time. However, if you get caught in a rainstorm, it's possible that you'll start to leak like crazy.

Open windows and doors are ideal for airflow, but if it's chilly outside, you probably don't want to open up your tent that much. That's why it's always good to find a shelter that has a few ground or roof vents built in, for those days when you don't feel like letting heat escape.
Best 12 Person Tent Reviews
Best For: Car Camping/Glamping
Pole Material: Steel
Tent Material: Canvas
Weight: 109 Pounds
Peak Height: 134 Inches
Number of Doors: 1
Comes with Footprint: No
We'll start this list off with a unique canvas tent that will easily transform your campsite into a glampsite. A yurt style tent, Tetons Sport's Sierra is a canvas powerhouse that can easily accommodate up to 12 people. Looking to have an open-air style family get together? Just remove the floor and the walls to convert it into a canopy that's help up by the center pole and some guy lines. You can even keep the floor attached and remove the walls, if you don't want to get your feet dirty.

For those of you who had a canvas tent many years ago, you may remember that they had a tendency to leak a little if you bumped into them. Thankfully the technology has come a long way since then, as the Sierra will keep you dry, regardless of how heavy the rain is coming down. With a heavy duty welded floor and reinforced seams, you won't have leaks anywhere inside of this 12 person tent.

Despite the large size, and substantial weight of the shelter, it's surprisingly easy to set up. By yourself, you could probably get the job done in about 15 minutes with some practice, but who wants to do it alone? After all, it is about 100 pounds!

Pros:

– 2 in 1 canopy or tent
– Access ports for power
– Holds up in extreme weather
– One person can set it up easily

Cons:

– The actual size of the tent is a little smaller than advertised
Best For: Car Camping/Glamping
Pole Material: Aluminum
Tent Material: Polyester
Weight: 31 Pounds
Peak Height: 110 Inches
Number of Doors: 2
Comes with Footprint: No
You'll find that there are a lot of unique options available when you're trying to shelter so many people under the same roof. The Eureka Northern Breeze may not be what you initially had in mind for a 12 person tent, but I think you'll find that it's more than suitable for the job.

As you can tell from the picture, this tent provides one massive room that's completely enclosed by mesh walls. I love how it really opens things up, making you feel like there's more space than there actually is – which is exactly how you want to feel when you've got a lot of people packed in there! The front awning can also be propped up to create additional space that's sheltered from the sun and the rain.

If you don't like feeling so exposed to the world when you sleep, or if weather starts to take a turn for the worse, there are "real walls" that you can unroll to cover the entire tent. You'll find that they're very effective at protecting you from the rain, and they're easy to put in place or roll back up again.

The peak height of this shelter is a little over 9 feet, providing plenty of headroom no matter how tall you are. With 144 square feet of space inside, it could get a little tight when you're trying to sleep 12 people, but it's certainly doable.

Pros:

– Fairly lightweight, considering the size (31 pounds)
– Highly ventilated
– Large awning
– Holds up well in bad weather
– Pretty easy to set up despite the size

Cons:

– Somewhat of a tight squeeze for 12 people
Best For: Car Camping
Pole Material: Steel
Tent Material: Polyester
Weight: 51 Pounds
Peak Height: 80 Inches
Number of Doors: 2
Comes with Footprint: No
Large tents can be bulky and cumbersome, especially when it's time to unroll them and put them together. Oftentimes, you may need the help of another person just to finish the job in under half an hour! But what if I told you that the CORE 12 person tent could be pitched in 2 minutes or less, and you could do it all by yourself?

That's the beauty of an instant tent, and it's a welcome feature on a shelter like this one, which boasts 180 square feet. On the inside, you'll find two different room dividers, so you have the option to split the interior into three separate living spaces. This is great for a little extra privacy while sleeping (if you had three families, they could each have their own living space), or if you want a way to quickly create a changing room.

The interior height is 80 inches, which should be high enough to accommodate anyone short of a professional basketball player. Ground vents draw in cool air, while the ceiling mesh allows hot air to escape, keeping a good cycle of airflow moving through the tent. Perfect for warm days when the body heat of 12 people is starting to get a bit suffocating!

Pros:

– Instant setup
– 80 inch peak height
– Two room dividers
– Well ventilated
– Waterproof

Cons:

– The mesh is a little flimsy
Best For: Car Camping
Pole Material: Aluminum
Tent Material: Polyester
Weight: 60 Pounds
Peak Height: 96 Inches
Number of Doors: 1
Comes with Footprint: No
Like the CORE 12 person tent, the Bushnell Shield is another really convenient instant tent. It may take you a little longer to figure it out in the beginning, but after a few trials runs, it shouldn't take any longer than 5 minutes to set it all up. Just unfold everything and extend the leg poles until they click into place – doesn't get any easier than that!

With 198 square feet of room, it's one of the largest tents that we've talked about so far in this review. You'll definitely feel the extra breathing space when it's time to pile in at the end of the day. Each person will have 16.5 square feet for them and their gear, when filled to max capacity.

The rainfly is completely waterproof, but aside from that, you could also say that it's sunproof. With heat shield technology, the silver lining in the rainfly prevents UV radiation from entering the tent, and it works to keep the space cooler and darker. When paired with the ground vents, you shouldn't have any trouble keeping the inside of your shelter at a reasonable temperature with good airflow.

Pros:

– Instant setup
– Spacious interior
– Two dividing walls to create separate rooms
– Heat shield technology in the rainfly
– Ground vents for airflow

Cons:

– The seams may leak a bit
Best For: Car Camping
Pole Material: Fiberglass
Tent Material: Polyester
Weight: 24.3 Pounds
Peak Height: 72 Inches
Number of Doors: 2
Comes with Footprint: No
While I doubt the claims that the CAMPROS 12 person tent can be used all year (even in winter), I can't deny that it is a durable tent. High winds or heavy rain? You'll be as snug as a bug in a rug through it all. The tent fabric itself is also made with a higher denier that you'll find in a lot of other products this size, letting it withstand a lot more abuse before you'd see any rips or tears.

Unfortunately, it's not an instant tent, so it does take some effort to put it together. The process is simple though, and if you have a couple extra hands helping you out, it can still be done in under 15 minutes. And unlike the Sierra canvas tent that we talked about earlier, which weighs about 100 pounds, this camping tent somehow managed to stay under 25 pounds.

On the inside, you'll find that there's an interior height of 6 feet, which is a little lower than other options. As someone who's 6 feet myself, I can say that you'll need to hunch over a little bit if you're a tall person. I haven't found it to be too big of a problem, though, as it's still possible to move around freely without the need to crawl or squat.

Pros:

– Durable
– Weatherproof
– Lightweight, considering the size
– Large mesh doors and windows
– Wall dividers

Cons:

– A slightly low ceiling height
Best For: Car Camping
Pole Material: N/A
Tent Material: Nylon
Weight: 44 Pounds
Peak Height: 90 Inches
Number of Doors: 1
Comes with Footprint: No
A popular camping brand, especially for those just starting out, it was inevitable that Coleman would make this list. I'm not always a huge fan of their work, but the Skylodge 12 person tent was too good to pass up.

With an interior space of 190 square feet, you'll be able to squeeze four queen size air mattresses inside, with some room to spare. The peak height is also just over 7 feet, making it possible to walk around or change clothes without needing to hunch over. On top of that, you'll even find a screened in room that provides extra space to store your gear, or allow you to lounge around and enjoy the view. You could even throw your sleeping bag out there to enjoy the breeze while you sleep.

One of my biggest complaints about 12 person tents in general is that they don't seem to be as good at keeping water out. While it's not perfect, the Skylodge does do a phenomenal job at keeping moisture away, utilizing a tub style floor and waterproof walls. And with plenty of windows and a ground vent, you won't have to worry about it raining inside either (aka, condensation buildup).

Pros:

– Spacious interior
– Tall peak height
– Good waterproofing
– Lots of windows
– Giant door

Cons:

– A little tricky to put together
– Somewhat flimsy
Best For: Car Camping
Pole Material: Steel/Fiberglass
Tent Material: Polyester
Weight: 38 Pounds
Peak Height: 84 Inches
Number of Doors: 2
Comes with Footprint: No
The Eureka! Copper Canyon tent is a cozy option that's perfect for 3 season campers. In truth, this shelter is durable enough for use in the early or late winter months as well, though some cold air will seep between the rainfly and the roof. At the very least, you would probably stay warm with how tightly packed the 12 of you would need to be in order to fit.

Which brings me to one of my biggest complaints – the size. At 168 square feet, it's one of the smaller 12 person tents in this review, barely able to squeeze in the marketed capacity. I'd much rather use this with half as many people, splitting everyone up with the built in room dividers. Ultimately, I know that's what many people do with a tent this size anyway, so if that was your original plan, you'll probably love it!

The frame is a sturdy mix of steel and fiberglass, maintaining durability without making it ridiculously heavy. There are also plenty of windows for ventilation, and a waterproof rainfly and tub floor to keep rain from entering no matter how bad it gets. On the inside, you'll also find plenty of storage opportunities, and a place to hang your lantern on the ceiling. There are even two cutouts that allow you to bring some electricity into your shelter, completing your "glamping" experience, if that's what you're looking to do.

Pros:

– Power cutouts
– Waterproof
– Strong and durable
– Room dividers
– Well ventilated

Cons:

– On the smaller side
FAQ
What Size Tent Do I Need for 12 People?
In general, it's nice to give each person about 20 square feet of room at a bare minimum. That way, they still have a little space to stretch out into, and perhaps even have some left over for their gear.

However, it's always nice to be more generous with the interior space, so I believe 300-350 square feet is a good place to fall. That way everyone can have a bit more privacy, all while leaving plenty of extra room for their belongings.
How Heavy is a 12 Person Tent?
There's a varied weight range when it comes to 12 person tents. However, most seem to fall between 30-50 pounds, with a few outliers landing on either side of that.
How to Choose the Best Family Camping Tent?
Every tent that you purchase should be durable and weatherproof – even more so if you're going to be housing your family inside of it. Make sure your tent is fully waterproof, and that the structure won't collapse in stronger winds. It's also important to have enough space inside to comfortably fit all of your family members, along with any extra toys or items that your kids might want to bring along.
Final Thoughts
Camping with a large group of friends and family can be fun, but not if you're all piled on top of each other at bedtime! Finding a large tent that can fit everyone can be hard, especially when you don't want to compromise on durability or weather resistance.

That's why we thought the CORE 12 person instant cabin tent did it the best. Not only is it an instant tent, so setup is ridiculously easy, but it's also got a tall peak height and plenty of square footage. The room dividers let you split up the inside into three different rooms, if that's what you want, otherwise you can keep it open as one giant living space. And with ground vents that create good airflow, it won't be suffocating inside, even when you're camping in the summer heat.
---
Related Posts: