If you're in a rush and want to find out what the best 4 person camping tent is, we recommend the REI Co-op Base Camp 4 Person Tent.

A good tent is the cornerstone of your camping experience. The more people you add, the harder it is to please everyone, and the more important it is to have a shelter that can keep everyone comfortable and happy. Whether you want something roomy just for you and a friend, or need somewhere to house the whole family for a weekend, we've covered some of the best 4 person tents for you to look through.
In this article, we'll be reviewing the following 4 person tents:
Insulation and Vents
As it is with all tents, staying well insulated is key to a pleasant holiday out in nature. As you might expect, this is more important during the winter months, simply because it's a time of the year when you can't afford to let heat escape. However, don't let this fool you into thinking you'll be okay during the summer. Depending on where you are in the world, nighttime can get surprisingly cold, even if it was hot during the day. Mountain campers should be especially wary, since temperatures can fluctuate sharply once the sun rises or sets.

Along with insulation, make sure your tent isn't lacking when it comes to ventilation. Without it, moisture from your breathing and the humidity can accumulate on your tent ceiling, dripping down on you while you sleep. Keeping good air movement inside your shelter helps prevent the accumulation of this condensation, allowing you to stay drier during the night. Otherwise, you'll make good use of the waterproof shell on your sleeping bag!
Guylines
Guylines have to be the piece of gear I see campers skipping over most frequently. And the thing is, you don't have to use them very often depending on how bad the weather is that day. But what are they, and how do you know when to use them?

If you look around the outside walls of your tent, you'll probably notice at least one loop on each side. These are places where you'll attach your guylines. One end of the line is just like a normal string – slip it through the loop on the tent, and tie a knot to secure it. The other end will look something like a mini lasso, which is what you'll drive a stake through to secure it to the ground, once you've pull it taut.
Weight
Generally speaking, shelters of this size will be used as car camping tents, so weight won't be as big of a concern. However, some of you may decide to go backpacking with them anyway (I have before), in which case you'll want to start counting your ounces now.

What type of fabric is your tent made out of? Nylon is light and durable, making it the most commonly found material in tent design. Polyester is a nice option too, in case you have your eye on one made from this.

Your tent poles also take up quite a bit of your shelter's overall weight, which is why I like to go with aluminum. It's a light and durable metal that won't splinter in cold temperatures like fiberglass is prone to do. Again, for warm weather car camping, this is entirely up to your discretion, as weight and pole type will have less impact on you.

4 person cabin tents are a bit rarer, but handy if you need a little extra space for you and your posse. Remember, though, they tend to be on the heavier side because of the added material and strength needed to keep the weather from wrecking it. With that being said, these aren't really great to be used as backpacking tents.
Water Resistance
We sleep in tents so that we can stay protected from the elements, right? In that case, shouldn't a weatherproof product be high on our priority list? Ultimately, it doesn't matter if the tent is big enough to accommodate everyone if you end up getting soaked in a light rain anyway. You might as well save yourself a couple hundred bucks and go without a shelter!

Obviously, I'm slightly exaggerating, but it's true that there are good number of tents out there that don't do a good enough job at keeping unwanted things on the outside. When choosing a shelter, keep in mind the difference between waterproof and water resistant, as there is a pretty significant difference.

When something is water resistant, it will deflect moisture up to a point – but in heavy downpours, or showers that don't seem to want to stop, eventually they'll let the water through. Waterproof, on the other hand, means that your tent should be able to protect you no matter what deluge is coming your way. This is what you want to find, and if your tent isn't waterproof, there are ways for you to manually coat the outside walls with a waterproofing substance. Always go with a waterproof tent, and save yourself a lot of headache later on when you find yourself in a rain storm.
Durability
Nature is a rough place to be, especially for your tent. There are plenty of jagged edges, poking branches, and unfortunate accidents that can leave tears and holes where you don't want them to be. Aside from being extra cautious, sometimes these things are unavoidable, which means your tent's durability is going to play an important role in the pleasantness of your getaway.

This is where a fabric's denier comes into the picture. Denier is just a fancy word that describes the thickness of a fiber or thread, which means that the higher the denier is, the thicker and tougher the material will be. When possible, it never hurts to find a tent with a higher denier.
Gear Storage
As you start to look at tents with a larger capacity, gear storage starts to become an even bigger factor to consider. With a 4 person tent, you'll probably be housing between 2-3 people, each with their own set of belongings that they don't want anyone else to touch!

To keep your tent free of clutter, look for options that have a gear loft and mesh pockets around the walls. It's also worth getting something that has a few gear loops for you to hang a lantern or a tent fan as well. These things might seem minor, but trust me when I say you'll be grateful for the storage space.
Seasonality
If you want to go winter camping with your 4 person tent, you'll be disappointed. Most of these shelters don't have the proper tent material or pole material to withstand the harsh conditions found in winter. Fiberglass poles, in particular, spell disaster in colder temperatures.

The majority are designed for three season car camping in warmer weather, though you could get away with some fair weather temperatures as well (40-60 degrees Fahrenheit).
Price
And of course, we can't talk about camping gear without mentioning one very important factor – price. High-quality, cheap tents are hard to come by, so you may have to settle for a more expensive tent. And when I say expensive, I mean something around the $400 mark.

That's not to say that they're all like that, though. If you're looking for a budget camping tent, something like the Eureka Copper Canyon will be one of the better fits for you. However, there is a distinct correlation between expensive tents and superior quality, so that is still the route I would recommend taking.
Best 4 Person Tent Reviews
Best For: Car Camping
Pole Material: Aluminum
Tent Fabric: Polyester
Weight: 17 Pounds
Floor Area: 59.7 Sq. Feet
Peak Height: 60 Inches
Number of Doors: 2
Comes with Footprint: No
A solid product by REI, the Base Camp 4 is what we consider to be one of the best camping tents in our lineup. It's a good size, with large doors on each side for easy entry and exit, so you won't have to step over anyone while they're relaxing. Unless, of course, you're stuck in the middle.

There are two roof vents and a ground vent that help to create a "chimney effect" as a deterrent to condensation. It also comes with a full cover rain fly that provides sufficient weather resistance, and the vestibules are big enough to accommodate skis or other large items. As is standard in my tents nowadays, the Base Camp 4 also has plenty of internal gear loops and pockets for you to store the items that you'd like to keep close by. This includes a few gear lofts found in the corners of the ceiling.

Unfortunately, despite sporting some high-quality, lightweight aluminum poles, it is quite heavy, weighing in at 16 pounds, 14 ounces. This won't be a huge issue if you aren't planning on carrying it far, but it's definitely not something you could bring on a backpacking trip. Additionally, you'll need to purchase the footprint separately, if it's something you'd like to have.

Pros:

– Large doors
– Good ventilation
– Nice internal storage options
– Full coverage rain fly with big vestibules
– Abrasion and puncture resistant floor

Cons:

– Quite heavy
– Footprint sold separately
Best For: Car Camping
Pole Material: Aluminum
Tent Fabric: Polyester
Weight: 9 Pounds
Floor Area: 52.7 Sq. Feet
Peak Height: 61 Inches
Number of Doors: 2
Comes with Footprint: No
Marmot is a brand loved by many, as they're known for creating high quality products. The Tungsten 4 person tent, in particular, is a great example of a well-designed shelter that will meet your needs on your next camping trip.

To start, it's about 8 pounds lighter than the REI Base Camp tent discussed above, coming in at 9 pounds. Still not light enough to be used as a backpacking tent, but those extra pounds make a difference when you're carrying it shorter distances too. But don't be fooled…even though there's less weight, it doesn't mean that there's less room inside. Sure the floor space is the smallest out of any tent in our review, but Marmot made sure to make the tent walls steep in order to maximize the room that you do have.

But what about the doors? We all know how hard it can be to get in and out of certain tents. It's a struggle that you don't need to face anymore with this tent, when you consider the two, large "D" doors on each side. Overall, it's well insulated, keeps the rain out, has good ventilation, and is easy enough to setup when you're by yourself.

Pros:

– Spacious tent
– Large doors
– A decent weight
– Headlamp pocket so you can light up the tent
– Easy to set up

Cons:

– Large, bulky poles
Best For: Car Camping
Pole Material: Aluminum
Tent Fabric: Polyester
Weight: 13 Pounds
Floor Area: 58 sq. feet
Peak Height: 68 Inches
Number of Doors: 2
Comes with Footprint: Yes
I must admit, the Wawona is a pretty odd-looking tent, especially when compared to many of the others that you'll find out there. But even so, I think you'll be pleasantly surprised to learn about some of the unique features that The North Face put into this product.

It's a little hard to tell based off the picture, but the Wawona is actually fairly tall. So tall, in fact, that if you're 5'8″ or shorter, you can stand straight up inside without having your head touch the ceiling. This makes it an attractive option for families with kids, or anyone who likes being able to stand inside their shelter without hunching over uncomfortably. And with 58 square feet of floor space, there will be plenty of room to spread out horizontally as well.

The double wall construction makes for excellent insulation, and the large mesh door brings in a nice breeze to clear out any condensation that might build up. The footprint is also included, so you don't have to go through the hassle of buying one separately, or trying to make your own.

Pros:

– Massive height and comfortable amount of space
– Easy to put together
– Large mesh door
– Footprint included
– Plenty of internal storage options

Cons:

– Considering the size of the tent, buying more heavy-duty stakes is a good idea
Best For: Car Camping
Pole Material: Steel/Fiberglass
Tent Fabric: Polyester Tafetta
Weight: 20 Pounds
Floor Area: 64 Sq. Feet
Peak Height: 84 Inches
Number of Doors: 1
Comes with Footprint: No
There are some features that every good tent should have built in. It has to keep the rain and bugs out, it has to stay upright and stable in high winds, and it has to be insulated to help you stay warm. These are the essentials that you should never compromise on when you're looking for a shelter to house you, your friends, or family.

And then there are some things that are unique to a certain style, like the Eureka Copper Canyon 4 person tent. More so than many other tents listed in this review, this piece of gear was designed to be strong and comfortable, but not very portable. With the tall walls that cabin tents are known for, you'll be able to stretch out inside, even with a couple other people in there with you. It's also the optimal style for putting in an air mattress or camping cot to sleep on.

The frame is sturdy, thanks to the 4 steel/fiberglass poles helping it to maintain its shape. We all know how heavy steel is, which is why this tent weighs in at 20 pounds, 4 ounces – quite heavy any way you look at it. But the weight and durability of steel helps to keep your shelter rooted in place, as a fortress against heavy wind and rain. Unfortunately, due to the addition of fiberglass in some of the poles, it's not really suitable for cold weather camping. The fiberglass will be far more likely to snap or splinter, ruining your tent in the process.

Pros:

– Really solid structure
– Cabin style tent
– Lots of space, and enough room to easily put in an air mattress
– Built in powerport, so you can run an extension cord inside
– Easy to set up

Cons:

– Thin tent floor material
– The included stakes are basically useless
Best For: Car Camping
Pole Material: Aluminum
Tent Fabric: Polyester
Weight: 20 Pounds
Floor Area: 69.4 Sq. Feet
Peak Height: 80 Inches
Number of Doors: 1
Comes with Footprint: No
I'm all about keeping things simple and efficient. There are plenty of tents out there that have more poles than you can count, unclear instructions, and are so clunky that you need more than one person to set it up properly. This is especially true for the bigger tents.

Nemo cut down on all the moving parts in their Wagontop 4 person tent – no small task for a tent that's almost 7 feet tall! With a floor space measuring a whopping 69 square feet, it's a single wall design with only two aluminum poles that are part of a hub set. Simple and easy, with no chance of tearing a hole in the fabric sleeve when you're trying to piece everything together.

If you decide to get this tent, don't be surprised when it comes without a rain fly, like I was when I first saw it. The reason it doesn't have one (you can't even buy a compatible rain fly separately because it doesn't exist) is because, frankly, it doesn't need one. Water will easily roll right off the canopy, since it's been thoroughly coated with polyether urethane. Superior water resistance without the hassle of throwing on a rain fly sounds like a pretty good deal to me!

On the sides of the tent, the massive mesh windows provide an excellent view of your surroundings without exposing yourself to mosquitoes or bad weather. They're also great for circulating the air, preventing condensation from building up.

Pros:

– Simple and sleek hub set
– Massive windows
– Standing room
– Easy to put together

Cons:

– Because it's a big tent, it's a wind catcher – make sure to guy it out properly
– Water may pool in the window flaps when it's raining hard
Best For: Car Camping
Pole Material: Duralumin A6061
Tent Fabric: Polyester
Weight: 24.3 Pounds
Floor Area: 77.3 Sq. Feet
Peak Height: 73 Inches
Number of Doors: 4
Comes with Footprint: No
The Snow Peak Alpha Breeze is such a large tent, I'm amazed they can even classify it as a 4 person shelter. With a peak height coming in just over 6 feet, a massive living space, and four doors for easy access, this puts some 6 person tents to shame.

All of the openings really help with airflow, making this a great option for family camping trips in the summer. You'll be able to get a refreshing breeze that will help you stay sane in the sweltering heat, and all of the air movement will reduce the buildup of condensation as well.

On the other hand, when inclement weather appears in your neck of the woods, the Alpha Breeze seals up nicely. The waterproof rain fly is effective and can be attached quickly if a popup shower appears overhead during the night. All of the seams are sealed, and shouldn't have any trouble keeping the water out, even in torrential downpours.

Overall, despite being such a large tent, two people can set it up quickly. Even if you're by yourself, you'll find that it's possible to put everything together in under 15 minutes with a little practice under your belt. Once it's all set up, prop up the awning with the included poles, pull out your camping chairs, and enjoy a relaxing evening in the great outdoors.

Pros:

– Easy setup
– Very spacious
– Plenty of ventilation
– Waterproof
– Tall peak height
– Included awning

Cons:

– Guylines can be a little quirky
Notable Mentions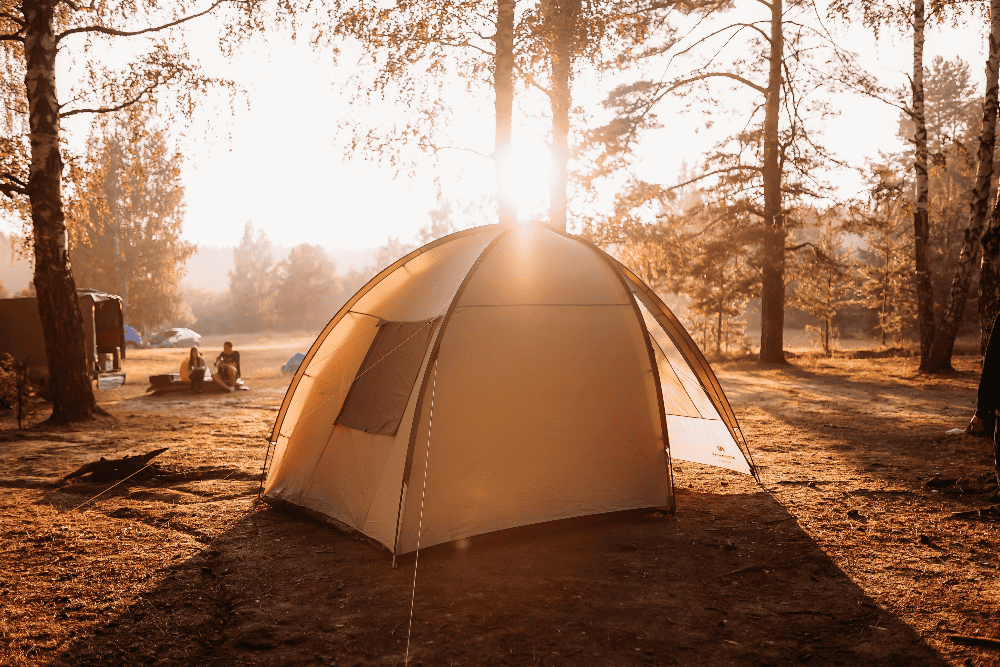 We know there are more 4 man tents out there that will get the job done than what we've listed above. To cover a couple more that are worth checking out, but didn't quite cut it for the list, take a look at these notable mentions.
Best For: Car Camping
Pole Material: Fiberglass
Tent Fabric: Polyester
Weight: 9.8 Pounds
Peak Height: 59 Inches
Number of Doors: 2
Comes with Footprint: No
The Coleman Sundome 4 person tent is one of the most popular 4 man tents on the market. In fact, this was actually the first tent I ever used! It's a good shelter for beginners, and those who don't plan on doing anything too strenuous with it (including use in heavy storms). Coleman's tents are certainly renowned for their quality, but I can also think of plenty of others that do better in some of the more technical aspects. At the very least, it's a good Amazon 4 person tent for those who need something reliable in a pinch.

Again, at the entry level, the Coleman Sundome 4 person tent is a nice, budget friendly option. It's roomy and well insulated with plenty of storage options on the inside, and despite the larger size, it's not too difficult to put together with a little practice. My dad and I would backpack with this tent, and split the weight between us (I would take the poles and stakes, he would take the tent body). It's a setup that worked well for us, and something I would recommend doing if you plan on trekking with such a large shelter.

Pros:

– Reliable
– Versatile
– Comfortable interior
– Great storage
– Well insulated

Cons:

– Bulky
– Stakes are a bit flimsy
Best For: Car Camping/Backpacking
Pole Material: Aluminum
Tent Fabric: Polyester
Weight: 6.5 Pounds
Peak Height: 56 Inches
Number of Doors: 1
Comes with Footprint: No
I'm honestly surprised that Kelty tents don't seem to be more popular than they are. I've reviewed quite a few in different articles, and have rarely had anything bad to say about them – as you might expect, the same is true for the Kelty Late Start 4 person tent.

For a 4 man tent, it's a pretty light option, coming in at a little over 7 pounds. Whether or not you can actually fit 4 people inside of it, though, is a different matter altogether…but then again, I've never been a fan of feeling like a sardine packed in a can with my friends or family. It's a 3 person tent at best, unless you've got kids with you, making this one of my biggest pain points. Also the fact that there are no opening for ventilation on the rain fly, as I'm something of a stickler for adequate air movement.

You really can't complain about any of the other specs though. If you don't mind the smaller size and lack of ventilation in the rain fly, Kelty tents are great options for both new and veteran campers.

Pros:

– Lightweight
– Waterproof
– Easy to setup
– Portable
– Decent storage options

Cons:

– A bit small
– Ventilation isn't that great
At Untamed Space, we're passionate about helping you have the best camping experience possible. Our team of experts have experience camping and backpacking all over the world, allowing them to provide insightful and relevant content to guide you in your outdoor pursuits.

All of our reviews are based on a combination of firsthand experience, extensive research, and an analysis of customer feedback. We are an independent website and do not receive payments or incentives from manufacturers to promote their products, and we continuously update our content to provide new information based on product availability. Wherever you are in your journey, whatever gear you're searching for, you can be sure to find unbiased and up-to-date reviews for all of your needs.
FAQ
How Many People Can You Fit in a 4 Person Tent?
We all know that tent capacity can be misleading. The product might say it's a 4 person tent, but in actuality, it can only (comfortably) fit 3 people! Generally speaking, you can assume that most 4 person tents will sleep two adults and two children in a shoulder to shoulder arrangement.
What is the Best 4 Person Tent?
Ultimately, it boils down to personal preference and what you'll be using it for. However, the REI Co-op Base Camp 4 person tent meets most of our requirements that we look for in a high quality shelter.
How Much Does a 4 Person Tent Weigh?
As a general rule of thumb, your tent should weigh between 2-3 pounds per person. That means a 2 person tent should weigh up to 6 pounds, a 3 person tent should weigh up to 9 pounds, and a 4 person tent should weigh up to 12 pounds.
The Winner
When camping, there are few things more important than making sure your shelter is up to snuff. Too many times, what was supposed to be a pleasant holiday out in nature turns into a nightmare because the tent leaks, the poles break, or it feels like you're sleeping in an oven.

All of the tents in this review are impressive in their own way, and suitable for a wide variety of needs. However, the tent we believe checks the most boxes that we look for is the REI Co-op Base Camp. It's not as tall as some of the cabin style tents we mentioned above, but that also means that it's the better choice in bad weather. The ventilation is fantastic, and it comes with two large doors for easy access. Easy to set up, and a tank in the rain, it's what we'd go with when picking the best 4 person tent.
---
Related Posts: