If you're in a rush and want to find out what the best camping table is, we recommend the Coleman Camping Table.
Tree stumps, flat rocks, the ground… We've all used whatever was convenient and close at hand to place our gear or eat our food. It can work just fine, and is almost preferred in some cases, but there's no guarantee that you'll be lucky enough to find that perfect place to eat off or cook your food. For those times when you don't feel like taking that risk, we're going to check out the best camping tables to suit your outdoor needs.
In this article, we'll be reviewing the following tables:
Types of Tables
Camping tables can vary drastically, depending on what kind of functionality you're looking for. We'll start off by taking a look at the 3 different types of tables you can choose from, and why you would use them.
Cooking Table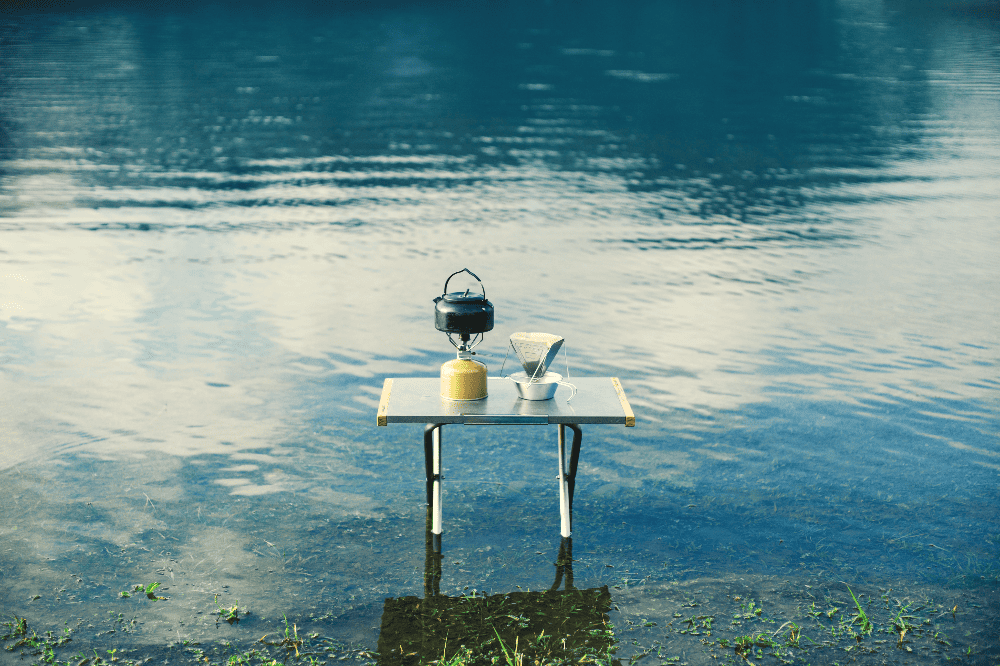 The most impressive out of all the tables, these are designed for a very specific type of camper. As the name implies, this is what you'll want if you plan on doing a lot of cooking outdoors. Honestly, I know of people who even use these in their own home as a mini kitchen!

Typically, these tables have multiple "tiers" to them. They usually aren't just one flat surface like you might be used to with a normal table, but instead have multiple smaller tables that are all attached together. They often rest at different heights, and allow you to carry a portable grill or other cooking equipment. While they can be heavy and on the expensive side, they really are quite convenient if you plan on doing a lot of meal preparation while you're outdoors.
Dining Table
Again, as the name implies, this kind of table is best suited for dining. Generally taller and longer than your standard utility table (which we'll get to shortly), dining tables are optimal for eating. There's usually plenty of room to stretch your legs and sit comfortably, and most that I've come across can seat 6 people very well. If you're lucky, you might even come across one that has chairs built into it for that slick and efficient functionality.
Utility Table
Unlike the last two, utility tables are versatile enough to carry with you on backpacking trips as well. Small and light, these are designed to keep a few of your belongings raised off the ground. Because of their portable structure, these tables make a great addition to a trekker's checklist, and they also tend to be the cheapest out of all the options.
Size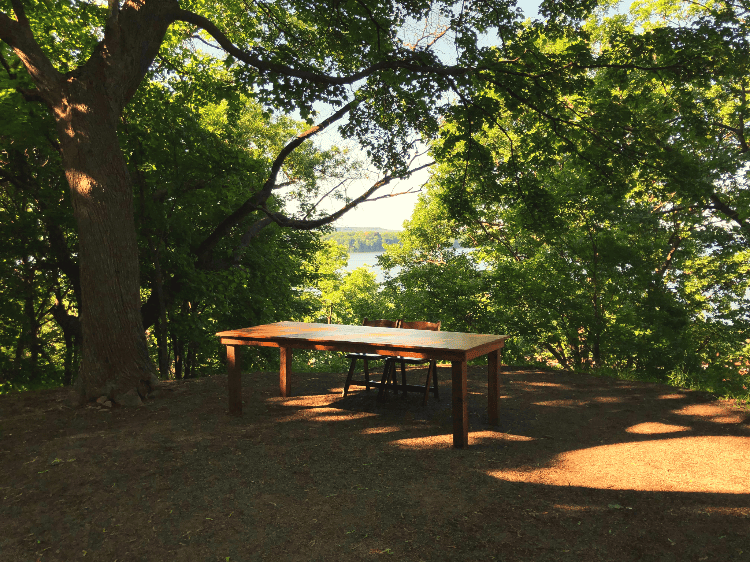 Honestly, this is something that you should take into consideration with any gear you plan to bring on an outdoor trip. For those of you who don't plan on doing more than car camping, this is less important since all you have to do is move the item a few feet from your car. However, backpackers need to be especially conscious about the size of their gear because it will be resting on their back for many long hours. As I mentioned above, utility tables are really the only type suited for trekking because of how small and light they tend to be. Still, not all of them are the same size, so make sure you do check those stats thoroughly and decide how much you're willing to compromise.
Materials
Tables come in a wide variety of materials, depending on what type you end up going with. Most utility tables are made out of aluminum for a lighter, durable frame that makes it ideal for portability. Some tables are made out of a mix of metal and fabric, usually polyester, while others have wood features included. I would be a little more wary of wood tables, simply because of how often it will be exposed to the elements. Even when it's well treated, the wood can still retain a little water, which may make it start to rot over time if you aren't careful.
Camping Table Reviews

No better way to start off the list than with this monster of a camping table for grilling. While the product description could use an update (some of the materials and accessories listed are incorrect), that doesn't detract from the overall value of this cooking table.

The tabletops are made out of laminated particle board, not the advertised aluminum. They're still incredibly heavy duty and should last you for a long time, just not quite as long as aluminum. Even so, there's plenty of space to prep your food, and clean up is very easy to do. The polyester lockers are quite sturdy, and offer substantial room to store any food items or equipment that you want to bring with you.

Since not all portable grills or stoves come with windshields, it can be difficult to retain heat to cook your food on a gusty day. Nice C's table comes with a removable steel barricade that blocks the wind on most sides, so you can start eating faster and keep your food hotter.

Pros:

– Lots of room for storage
– Comes with a wind shield
– Durable polyester canvas
– Very sturdy design
– Fairly easy to put together

Cons:

– Some of the tabletops are made out of particle board, not aluminum

There's nothing quite like wood when it comes to buying an attractive table. And what better wood to get than something as beautiful and strong as bamboo? KingCamp's bamboo dining table is one of my favorites not just because it looks so good, but also because it's one of the more functional tables that I've come across. The surface of the table is large enough to accommodate 6 people, and sturdy enough to support up to 175 pounds.

Sometimes it's nice to have a table with an adjustable height, and that's just what KingCamp had in mind when designing this product. With three different heights available, you'll be able to easily adjust it to meet a variety of needs.

It also folds up well, and has a convenient handle to carry it around with. It claims to be UV and water resistant as well, but since it's wood, you'll want to take extra good care of the tabletop. Water resistant is not the same as waterproof, so try not to use or store it in a place where it might be exposed to an excessive amount of water. This could make the material rot or fade, and decrease the longevity of the table.

Pros:

– Adjustable heights
– Beautiful design
– UV and water resistant
– Stable frame

Cons:

– Handle is a bit flimsy
– Wood table top requires more maintenance

A great all around utility table, Coleman's camping table works well for those of you who don't care as much about style as you do functionality. Coming in at 10 pounds, I'll leave it up to you to determine if it's worth it to take with you on a backpacking trip. Personally, I believe it's too heavy, but it's all about individual preference.

The top is made out of aluminum for a durable, easy to clean material. The rest of the table is made out of steel, which means it should last you for a long time. Setup is also pretty easy, as there are minimal pieces that you need to be concerned about. The tabletop is made out of aluminum slats that come rolled up for easy storage, and can easily be snapped into place on the steel frame. You can seat up to 4 people (one on each side of the table), though it may be a little cramped and you won't have a lot of individual table space. Ultimately, it serves its purpose well, and is a dependable option for those of you who aren't looking for too many fancy features in a table.

Pros:

– Very durable
– Stores well
– Easy to transport
– Weather resistant materials
– Can hold a good amount of weight

Cons:

– Legs don't lock into place

Another good option for those of you who want to do some cooking in nature, Campland's folding cooking table has all of your needs covered. Folding up neatly into a handful of individual parts, you can easily carry the whole set in its carry case. The advertised weight is 10 pounds, which is incredibly light, but sadly this seems to be an error. It's actually almost twice as heavy, coming in at about 19 pounds, which still isn't terrible for a cooking table. For some of you it might be a deal breaker, but a little grace for the marketing team is never a bad idea for an issue like this either.

The metallic parts of this table are all made out of aluminum, which contributes to its relatively lightweight structure. The rest is made out of canvas, to offer a sturdy, weatherproof barricade to store your food or other items in. For the sake of heat retention, a metal windshield does come with the table for you to put up while cooking. There's plenty of storage in the lockers, and a few different tabletops for you to work with while preparing your food, making this an ideal folding aluminum table.

Pros:

– Easy to fold up
– Comes with a wind shield
– Relatively lightweight
– Lantern holder
– Ample carry bag

Cons:

– Material is a bit flimsy

This tiny titan by Trekology doesn't offer very much surface area or height, but it sure does outperform in every other area. Extremely light (coming in at just under 2 pounds), it's one of the few tables on this list that I actually feel comfortable recommending for backpackers to take with them.

Both the tabletop and the frame are made out of aluminum, which contributes to its lightweight nature. However, it also means that it resists weather well, and is easy to wipe down and clean up if you get it dirty. And as someone who enjoys dark, neutral colors, the metallic coloring on the table surface is a welcome bonus over the standard, silver aluminum.

This table packs down well enough to take with you anywhere, whether that's trekking, canoeing, or driving. Setup is also quite simple, as it only takes a minute or two to snap all of the pieces in place. The feet are made out of rubber, so they'll grip any surface and stay durable enough to withstand any terrain.

Pros:

– Small and light
– Sturdy aluminum frame and tabletop
– Resists the weather
– Easy to wipe down
– Rubber feet for stability

Cons:

– Too small to hold very much
– Can't hold very much weight
At Untamed Space, we're passionate about helping you have the best camping experience possible. Our team of experts have experience camping and backpacking all over the world, allowing them to provide insightful and relevant content to guide you in your outdoor pursuits.

All of our reviews are based on a combination of firsthand experience, extensive research, and an analysis of customer feedback. We are an independent website and do not receive payments or incentives from manufacturers to promote their products, and we continuously update our content to provide new information based on product availability. Wherever you are in your journey, whatever gear you're searching for, you can be sure to find unbiased and up-to-date reviews for all of your needs.
Final Thoughts
Having a nice, level place to eat at and set different items is a luxury when you're camping. The ground works sometimes, unless it's uneven or rocky, but there's nothing better than having a legit table to gather around and enjoy the outdoors. The types of tables available for you to use, including those listed in this review, are all very different. Saying that one is better than another isn't fair to your individual needs, so ultimately it's up to you to decide what you like the best based off the information provided. Personally, we liked Coleman's camping table as something that's versatile and can be used for a variety of situations.

I don't cook enough outside to warrant buying a cooking table, but some of you might prefer it over something else. Dining tables are useful for certain types of outdoor folks and not others. There is no right or wrong answer, as long as it fulfills the purpose that you need it for. We liked Coleman's table because it's large enough to comfortably seat 4 people, but small enough to carry easily. The aluminum tabletop is a breeze to clean and more weather resistant than a lot of other materials. Not only that, but it also can hold a good amount of weight, and isn't as expensive as a lot of other tables for the same quality.

Need a place to sit, now that you've found your camping table? Check out the Portal Tall Slacker Trail Stool!
---
Related Posts: