For backpackers and car campers alike, rain can dampen the mood and soak your clothes and gear, potentially ruining an otherwise great day. Unfortunately, though, controlling the weather isn't possible, and forecasts can be hit or miss, so it's necessary to take measures into your own hands. Backpacks are slightly water resistant by themselves, but if you want to really protect yourself, you'll want to get yourself a backpack rain cover. We've laid out a few of the best ones for you to look through, so you can be prepared the next time you're caught in troublesome weather.
In this article, we'll be reviewing the following backpack rain covers:
Waterproof
It might sound like a no brainer, but making sure your backpack cover can withstand the most torrential downpours is essential. There are different levels of water resistance and water repellence, and not all backpack covers are made equal in the regard. Some are good enough to handle the worst rain storm you'll ever find yourself in, while others would struggle to keep your belongings dry in a light rain shower.

It's important to know the difference between water resistance and water repellence as well, since their meanings aren't the same, but often get used interchangeably. Something that's water resistant will keep you dry up to a point – it was designed more for light showers than heavy downpours. While better than nothing, it would still be in your best interest to try and escape the rain as soon as possible, instead of trusting the material to keep everything dry.

The best backpack rain covers are going to be water repellent, which means your gear should stay dry even if you got caught in a monsoon. Usually coated with a substance to help block out water, there should be almost no situation you find yourself in where your belongings would get wet if you had a backpack cover like this. Obviously most people prefer this type of material, but unless you're spending time in a notoriously wet area, you could easily get by with nothing more than a water resistant cover.

Read More: How to Choose a Backpack for Your Next Trek
Security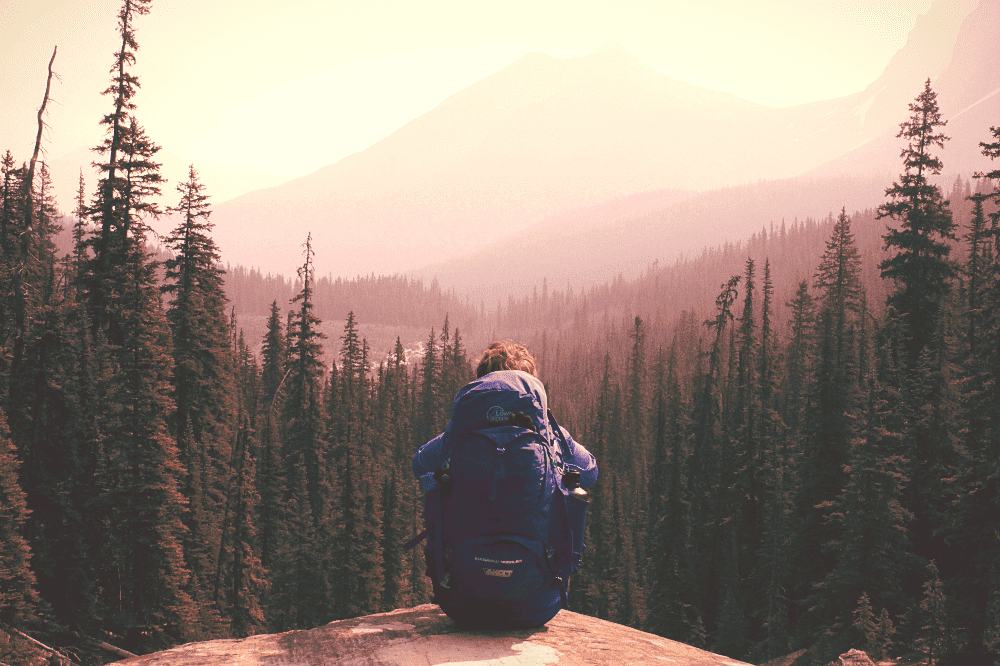 By security, I don't mean the backpack cover's ability to keep out intruders. What I'm referring to is the cover's ability to firmly stay on your backpack without sliding off, regardless of what the weather is throwing at you. Most covers come with an elastic rim that wraps snugly around your backpack to keep it in place. However, elastic can slip off, especially with a good amount of jostling and rubbing against your body or other objects.

Straps and buckles are a much better option, especially when used together with the elastic rim. With these attachments, there's almost nothing that would be able to make the cover come off of your pack. Making sure you find a product that doesn't dig into your back as you walk is also important, as sometimes the buckles can touch and press against your body, making for a more uncomfortable hike.
Packability
Obviously you won't be using your backpack cover all the time, which means you need to find a way to store it when it's not in use. Being able to take it off and put it on easily is part of the equation, but finding something that can pack down into a small size is more important. After all, space is limited in your backpack, making every square inch precious.

Some come with their own carrying case for easy storage. If you'd like, it's usually pretty easy to attach a carabiner to these cases, so you can clip it to the outside of your pack. That way, it's not only accessible when you need it most, but it also doesn't take up any space on the inside. I find this to be one of the best ways to manage the slightly bulky backpack rain cover.
Best Backpack Rain Cover Reviews
An absolute beast, the Evotopf backpack rain cover will protect you from more than just the rain. Sun, sand, hail, and any other element doesn't stand a chance against its sturdy design. The material is waterproof, UV resistant, and tear resistant, meaning durability should be the least of your concerns, as you should be able to leave it exposed to the elements without damaging it too much.

In addition to the elastic rim, there is a buckle strap at the top of the cover that attaches around the arm loops, securing it to your pack. It's conveniently out of the way, so when you have it clipped together, it won't push or rub uncomfortably against your back or shoulders. If that isn't enough to seal the deal, this cover also comes with its own carrying case (with a carabiner) to easily attach to the outside of your pack. Or inside, if you have the room to spare.

Pros:

– Waterproof
– UV and tear resistant
– Elastic rim with buckle for security
– Carry case with carabiner

Cons:

– Would be nice to have a buckle at the bottom too
– Be careful with sizing
Don't be scared off by the bright, neon orange color (it does come in other colors too). The initial product photo might make you cringe a little, if you're like me and don't like flashy colors, but in terms of functionality, the Youcan backpack cover is more than sufficient.

The material is double layered for added protection. The outer layer resists tears and damage done by the sun, sand, and rocks, while the inner layer is waterproof. Whether it's snow, rain, or fog, moisture will have a hard time slipping through this cover. It also comes with a buckle to wrap around the arm loops of your pack for extra security, resting more in the middle of the cover. The carry case for this cover is also waterproof and tear resistant, so you can feel comfortable keeping it clipped to the outside of your pack where it will be exposed to the harsh elements.

Pros:

– Double layered
– Water and tear resistant
– Buckle strap for security
– Waterproof carry case

Cons:

– Not heavy duty enough for use during heavy rain across multiple days
Osprey is a well-loved brand, known for making high quality backpacking gear. Their ultralight pack cover is no exception, bringing together everything we want in a shield for our backpack – full coverage, waterproofing, and style.

As you can see in the photo, the cover will wrap around your pack nicely, as long as it fits within the 30-50 liter range. I think they have a pretty cool looking logo, so having it displayed on the back doesn't bother me at all. Paired with the mid-tone gray, I think the cover looks pretty sleek.

It's a bit more expensive than your run-of-the-mill backpack rain cover, but I think the extra $10 is worth it. The material is high quality and waterproof, and there's even a blinker light attachment so you can make yourself even more visible (blinker light not included).

Pros:

– Sleek design
– Full coverage
– Waterproof
– Blinker light attachment
– Hip belt and harness attachment

Cons:

– The actual weight is a couple ounces heavier than advertised
Okay, so we've talked about a couple of products that have buckles to help them stay attached to your pack. But each of them only had one buckle, where as Joy Walker's backpack cover has two. Needless to say, when both are clipped around your backpack, it's not going anywhere! This would be great if you plan on visiting an area that's notorious for high winds, or if you have a history of losing your backpack cover.

For a really heavy duty construction, the material is triple layered to prevent anything from passing through. The outside is abrasion and rip resistant, while the inner layers are both waterproof for added protection against the weather. Same as the last couple products, it comes with its own carrying pouch for easy storage, both inside and outside of your pack.

Pros:

– Double buckled for added security
– Triple layered to block out anything thrown at you
– Waterproof and tear resistant
– Carrying pouch

Cons:

– Fits a bit tight
We all know how well a duck's back can shed water, so it's only fitting that REI would name their product after this bird. This particular backpack rain cover is the medium size, which is designed to fit 50-65 liter packs. If you need something bigger or smaller, they do have options ranging from extra small to extra large as well.

The silicone coated polyester doesn't let any moisture through, even in the most torrential rainstorms – I've heard of some people using this product in a tropical storm, and it still kept their gear dry! However, should any water happen to find its way inside, there's a convenient drain hole at the bottom of the cover that provides a way for trapped moisture to escape.

In the even that it gets dirty, you can easily toss this cover in the wash and clean it right up. The hip loops that keep it in place are convenient and work well, and the bottom of the cover is abrasion resistant. Overall, it's hard to find anything to complain about with this backpack rain cover!

Pros:

– Comes in multiple sizes to perfectly accommodate your pack
– Lightweight and packs down easily
– Drain hole to release trapped moisture
– Very waterproof
– The bottom is abrasion resistant
– Made from sustainable materials

Cons:

– None found at this time
Bringing together all of the best points from its predecessors listed above, the Frelaxy backpack cover makes it hard to find any complaints. With a dual buckle, the cover will not only stay attached during rough weather, but also hugs the backpack tightly for maximum coverage. The triple layer protection will make you feel like an umbrella is hugging your gear, forcing all of the water to roll right off without getting anything inside wet.

But what I really love is the customer service. Got a faulty product? They'll ship you a new one for free until you're completely satisfied. Accidentally got the wrong size? They'll send you the right size for free. Just not happy with the product overall? 100% money back guarantee. Basically, you can't go wrong, even if you don't like it or it doesn't fit properly.

Pros:

– Dual buckle
– Triple layer protection
– Waterproof, ripstop nylon material
– Lightweight, coming in between 2.2-3.6 ounces depending on size
– Handy carry case

Cons:

– Takes a little time to put on
– Buckles may dig into your back a little
The name of this product should already tip you off to one of the pros: it's a 2 pack. Why is that better, you might ask? Well, because it's a 2 pack…that costs the same as any of the other items listed in this review.

You might be thinking that it must be inferior since it's so cheap, and you would be partially correct. It certainly doesn't have dual buckles (but it does have one across the middle), and it's not triple layered for protection (though it does have 2 layers), but it will still do the trick in a rain shower. Not something I would take with me into a hurricane by any means, but for what most of you need a backpack cover for, it'll do the trick.

The reflective strip on the back is a nice addition, though I personally would have no use for it. Honestly, the only thing that makes the cover stand out is the price, so if that's something that's important to you, you'll have a hard time finding something else this cheap that still is water resistant.

Pros:

– Cheap!
– You also get 2 of them when you order
– Reflective strip
– Buckle strap for when it gets windy

Cons:

– Because there's only one strap, it's more prone to moving around a bit
– Online sizing can be a challenge
At Untamed Space, we're passionate about helping you have the best camping experience possible. Our team of experts have experience camping and backpacking all over the world, allowing them to provide insightful and relevant content to guide you in your outdoor pursuits.

All of our reviews are based on a combination of firsthand experience, extensive research, and an analysis of customer feedback. We are an independent website and do not receive payments or incentives from manufacturers to promote their products, and we continuously update our content to provide new information based on product availability. Wherever you are in your journey, whatever gear you're searching for, you can be sure to find unbiased and up-to-date reviews for all of your needs.
Final Thoughts
Most camping backpack covers are already water resistant to some degree. A light rain won't necessarily be enough to soak through, but anything beyond that…well, good luck. Weather is unpredictable and likes to follow the "when it rains, it pours" mentality, meaning you should probably be prepared for when that happens.

That's why we like the REI Co-op Duck's Back rain cover. It comes in several different sizes, so you can get the perfect fit for your pack, and it's incredibly compact. While the material might be thin, the bottom is abrasion resistant with a drain hole, while the cover itself is completely waterproof. Whether in a monsoon or sandstorm, this rain cover will have your back through it all.

Looking for a waterproof tent to go with your new rain cover? We've laid out the best in our review, right here!
---
Related Posts: