If you're in a rush and want to find out what the best backpack solar panel is, we recommend the FlexSolar Portable Solar Charger.

Without a doubt, backpacking is one of my favorite ways to enjoy nature. There's just something so satisfying about carrying all of your personal belongings on your back, knowing that you can travel anywhere and always have everything you need.

Even so, you can only carry so much, and eventually your phone and other electronics are going to run out of power… Or will they?

With the best backpack solar panel, you can infinitely extend the life of your phone, as long as you have enough sunlight. Here are some of our top picks that we recommend for your next expedition.
In this article, we'll be reviewing the following best backpack solar panels:
Weight
Generally speaking, weight reduction is going to be your primary concern when backpacking. Since all of your gear is going to be on your back, you don't want your pack to get too heavy, otherwise your shoulders and hips are going to be suffering. Not to mention, your backpack itself might not be able to handle the weight, depending on how full you load it.

The best backpack solar panel is going to weigh less than 2 pounds, to help you keep your load as light as possible. However, if you find that you can manage a couple extra pounds, we have listed some solar panels below that are closer to 5 pounds. These are going to be much more powerful, and well worth the weight, if you can afford to carry them.
Number of Charging Ports
How many cords can you plug into your solar panel? If you're by yourself, it won't be a big deal if there's only one charging port. However, if you're trying to bring power to a number of people, it might be nice to charge more than one phone at once.

Aside from the number of ports, it's good to know what types of outlets you're getting as well. Is it only USB? Or can you do AC or DC as well? Most backpack solar panels are too small to accommodate anything other than USB, but there are some out there that have a variety of options. That being said, you're probably not going to carry anything with you that requires an AC/DC outlet anyway. These sorts of electronics tend to be too heavy to carry on a backpacking trip, so USB should be all that you need.
Charging Speed and Capacity
Charging speed and capacity are some of the finer details that can be points of delight or frustration depending on the product (and who you ask). Since we're looking at solar chargers, the panel/battery will charge faster when exposed directly to the sunlight. Conversely, if you're constantly in shady places, or there's heavy cloud cover, it's going to be hard to accumulate any power. Many of the smaller chargers aren't able to absorb much energy from the sun because of their low wattage, making it take longer to refill the battery. At the same time, the batteries on these models are usually much smaller to begin with, so it still won't take very long to recharge.

Speaking of smaller batteries, that's another factor that you'll have to contend with. These backpack solar panels aren't exactly as impressive as a power station, and sometimes the batteries are small enough to make you question whether it was worth it to buy a panel to begin with. Some models will barely charge your phone halfway, and that's when the solar battery itself was fully charged! We've done our best to avoid these products in our review, but it doesn't hurt to read up on the specs and comments before buying.
Resistances
It doesn't matter what it is, camping gear is going to get roughed up sooner or later. Whether you let it get caught in the rain, accidentally drop it, or bump it against something sharp, even your backpack solar panel needs to be durable.

Most solar panels are at least somewhat water resistant, but it's never a good idea to expose such sensitive equipment to the elements. A light drizzle might be okay for a few minutes, but as soon as it looks like a serious rain shower is about to come through, you'll want to pack the panel away. It's not like it will be doing you any good anyway!

Some models are also shockproof, which means you can drop them a fair distance and they'll still be functional. Obviously, I wouldn't recommend testing this claim, but if you're a somewhat clumsy person, a sturdy solar panel might just be what you need.
Accessories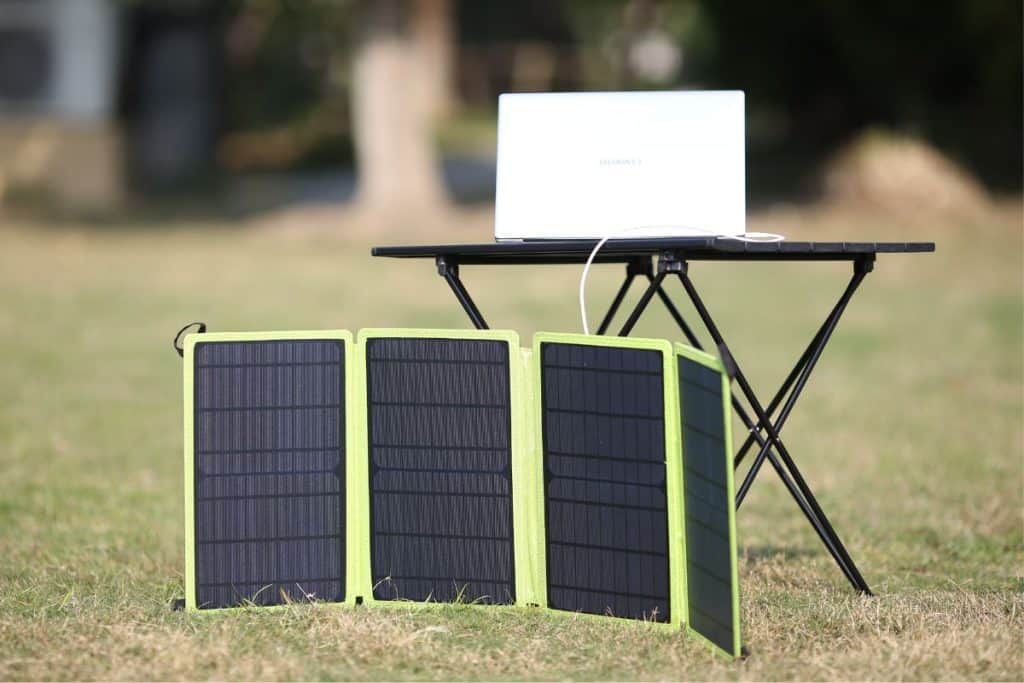 Different backpack solar panels have different ways that they can be used. Some will quite literally hang from your backpack while you hike, catching the sun's rays in the process, while others need to be set down and propped up.

For example, the Goal Zero Nomad comes with its own kickstand, and is best used when you're planning on staying in place for a few hours or days. On the other hand, pretty much all of the other solar panels in our review can be hung from your backpack. This makes them a little harder to use when you're stuck in one place for an extended period of time, but with a little creativity, it's not impossible.
Best Backpack Solar Panel – Reviewed
External Charge: USB
Materials: Nylon
Weight: 1.1 Pounds
A solar panel with a kickstand, the Goal Zero Nomad 10 is ideal for a wide variety of outdoor activities. Whether you're backpacking, car camping, kayaking, or canoeing, the Nomad is a great way to bring power to your dying electronics.

At 1.1 pounds, it's one of the lighter backpack solar panels in our review, but I know that some of you will still cringe at the weight. Frankly, I don't blame you if you feel that way, since I recognize that every ounce quickly adds up when it's resting on your back. At the same time, it's the price you pay when you decide to bring a solar panel. And as far as panel weight goes, you could do much worse.

In term of charging power, the Nomad actually does a pretty good job. In good sun, you should be able to fully recharge your phone in about three hours. If you're trying to max out your power bank as well, that's going to take longer, but it still should be doable within a day – maybe two, depending on how empty it is.

You may find some reviews stating that the Nomad doesn't stand on its own without folding shut, but that's not entirely true. With a gentle touch and proper positioning, this solar panel won't have any trouble staying upright on its own.

Pros:

– Decent weight
– Charges quickly
– Pretty reasonable price
– Weather resistant
– Good for a variety of activities

Cons:

– May overheat in certain conditions
External Charge: USB
Materials: Polymer
Weight: 1.25 Pounds
With hooks for your backpack, the Big Blue solar charger is a true backpack solar panel. All you have to do is grab a couple carabiners, slip them through the eyelets and onto your pack, and you're good to go! It's a super convenient way to get power from the sun to charge your phone while you're hiking. And, as a 28 watt charger, it's quite a bit more powerful than the Nomad 10 mentioned above.

In case there's any confusion, the Big Blue charger does not come with a battery. That means that all of that solar power is useless unless the panel is actively connected to a phone – none of it will be stored for later. This is pretty standard across all backpack solar panels, since including a battery would significantly increase the overall weight of the product.

The stitching, velcro, and materials in general all seem to be high quality. I wouldn't be too concerned about long term durability, even after putting it through several hundred miles of trails over the years. Just remember that this solar charger is only compatible with smartphones and portable power banks. If you need to charge a laptop or an iPad, this isn't going to get the job done.

Pros:

– Great charging ability
– Fairly compact
– Lightweight
– Durable
– Can be attached to a backpack

Cons:

– A tad bulky
External Charge: USB, DC
Materials: Polymer
Weight: 2 Pounds
The FlexSolar portable charger might look similar to the one we just looked at by Big Blue, but it's actually quite different in a couple notable ways. For starters, not only is it able to charge via USB, but it has a DC outlet as well. This particular outlet is a 19 volt, which opens up some doors in terms of how you can use the accumulated solar energy.

What's rather surprising is that the FlexSolar charger and the Big Blue charger are almost identical when it comes to weight and price, though the FlexSolar is a bit heavier. So when it comes to "best bang for your buck," I'm tempted to say that FlexSolar wins that competition without breaking a sweat.

Overall, there's very little that this little charger can't power. The USB connection is compatible with phones, tablets, fans, cameras, and laptops, while the DC outlet works with refrigerators, air pumps, and other small appliances. Not that you'll be carrying any of these on a backpacking trip, but it's a handy feature nonetheless. After all, you never know when you might need power back home, in case of an electrical outage.

The FlexSolar also comes with an IP67 rating. Translated, that means that it holds up really well in wet conditions, which means that you don't have to stop using it during freak showers. During extended periods of rain, I'd still recommend storing it somewhere dry, but it's not necessary to keep the panel functional.

Pros:

– Waterproof
– Comes with a DC outlet
– Lightweight
– Affordable
– Versatile

Cons:

– The wattage is a little less than advertised
External Charge: USB
Materials: Canvas
Weight: 1.44 Pounds
The Nekteck solar charger is exactly what you need when you have multiple devices to charge at once. With two outlets, you can double up your electronics, making full use of the sun while you have it. However, when trying to charge two devices at once, just know that it's going to take longer for them to get to full power. The wattage might be better than average on the Nekteck solar charger, but that doesn't mean that it's good enough to power both phones in under four hours.

I like that this charger has an IPX4 water resistance as well, though it's inferior to the FlexSolar panel mentioned above. Still, the amount of resistance provided will be more than enough to see you through light showers until you have a chance to stop and put it away inside your pack. I also appreciate the fact that this panel has decent heat resistance as well, preventing the battery from overheating too quickly. I wouldn't leave it out in the sun longer than necessary, but you'll get some good life out of it before it needs to cool down.

If you're concerned about receiving the proper voltage to your devices, the FlexSolar comes with Smart IC technology. This is a chip that detects the best charging requirement for your devices, and works to stabilize the voltage as well. It's a handy feature that provides peace of mind, if you're concerned about frying your phone with too much power.

Pros:

– Water resistant
– Decent heat resistance
– Voltage stabilization
– Fairly quick charging
– Can charge two devices at once

Cons:

– Awkward placement of USB charger
External Charge: USB, DC
Materials: Oxford Cloth
Weight: 4.9 Pounds
The Tenergy panel is here more as an honorable mention for people who don't mind the extra size and weight that it brings. It's quite a bit bigger than all of the other panels mentioned in this review, and it weighs a shocking 4.9 pounds. On its own, that might not sound like much, but to a backpack, it might as well be 20 pounds.

Still, I thought it was worth mentioning because I do believe that some of you will find it appealing. The weight is excessive, but only if you plan on trekking 15 miles a day for three straight days. I see the Tenergy panel as a great source of power for shorter backpacking trips where the extra weight is more manageable. Despite being about four inches wider than the other panels in this review, you could hang it from the outside of your pack with some creativity. But overall, I would recommend keeping it packed away until you reach your campsite. The panels can be propped up on the ground to catch the sun's rays, charging your electronics quickly and efficiently.

There are a couple of USB plugins on the back of the panels, in addition to a DC outlet. It's pretty easy to charge multiple devices at once, though you will notice a slower charging speed as a result.

The Oxford cloth on the outside of the panels is both durable and water resistant, which makes it perfect for outdoor use. Even so, I'll mention it again: I recognize that this isn't what most of you would consider a backpack solar panel, due to its size and weight. Still, depending on the situation, I see it as a valuable addition to your camp setup, especially if you can afford to carry the extra bulk and weight.

Pros:

– Powerful
– Weather resistant
– Both USB and DC outlets
– Can charge multiple devices at once
– Has its own kickstand

Cons:

– Large
– Heavy
At Untamed Space, we're passionate about helping you have the best camping experience possible. Our team of experts have experience camping and backpacking all over the world, allowing them to provide insightful and relevant content to guide you in your outdoor pursuits.

All of our reviews are based on a combination of firsthand experience, extensive research, and an analysis of customer feedback. We are an independent website and do not receive payments or incentives from manufacturers to promote their products, and we continuously update our content to provide new information based on product availability. Wherever you are in your journey, whatever gear you're searching for, you can be sure to find unbiased and up-to-date reviews for all of your needs.
fAQ
Are Solar Panels Worth It for Backpacking?
Backpacking solar panels aren't for everyone, but there's definitely a market for them. Depending on how long you're going to be away from a power supply, they can definitely save the day when your electronics start to get low batteries.
Do Solar Panels Take Up Space in Your Backpack?
Many backpack solar panels can be hung from the outside of the pack by using carabiners. It's an effective way to expose them to the sun, and it keeps them from taking up space inside of your pack. However, in the case of bad weather, you will have to protect them. Because of that, it's always good to make space inside of your pack, in case you need to keep them safe from the elements.
Final Thoughts
There are a number of different ways to bring electricity to your campsite, but most of them involve super heavy generators or power stations. While they work great for car camping, they're completely useless for backpacking trips. I mean, who could carry a 30 pound generator up a mountain? Who would even want to?

While backpackers might think they're out of luck, this is where the best backpack solar panels come in. Small, lightweight, and efficient, they allow you to catch the sun's rays and convert it into a power source for your phone and other small electronics. And when it comes to the best solar panel, we believe that FlexSolar takes the cake with theirs.
---
Related Posts: