If you're in a rush and want to find out what the best blackout tent is, we recommend the Coleman Skydome camping tent with dark room technology.

Rising with the sun is a camping novelty, and something that some people actually look forward to. And then there are some of us who think waking up at 6am is an unholy ritual that's better left for workdays, not for vacations.

However, if you have trouble sleeping with an eye mask on, don't worry, there's still an option available to you. The best blackout tents are able to block between 90-99% of incoming light, and we've reviewed some of our favorites down below.
In this article, we'll be reviewing the following best blackout tents:
Are Blackout Tents Actually Dark Inside?
My wife is really sensitive to light. Normally she's a heavy sleeper, but the moment the sun starts peeking through the window, she wakes up right away. We've invested in various curtains that are supposed to block light, but even then, they don't block everything. Those early morning rays that slip through to dimly illuminate our room are still enough to rouse her from a deep sleep.

Perhaps she's a special case, but I'm sure there are some of you who deal with similar struggles. And when you find yourself in a tent, that thin material does almost nothing to darken the inside of your shelter. You can try to position yourself under some trees for shade, but unless you have a blackout tent, chances are you'll still wake up with the sun anyway.

But here's the real question: do blackout tents actually keep things dark inside? You'll be disappointed if you think it'll be pitch black during the middle of the day, but these tents really do work. Depending on what type of fabric it's made out of, the walls are able to diffuse and absorb between 90-99% of all incoming light.
Brand
If you do a quick google search for "blackout tents," you'll find that there aren't many brands that make them. Coleman is going to be the most popular and well-known, by far, though there are a few lesser known companies that make them as well. Unfortunately, many of these just aren't worth it, so I'd suggest sticking with Coleman here. They've got quite a few in their lineup that are worth looking at, many of which we've reviewed below.
Size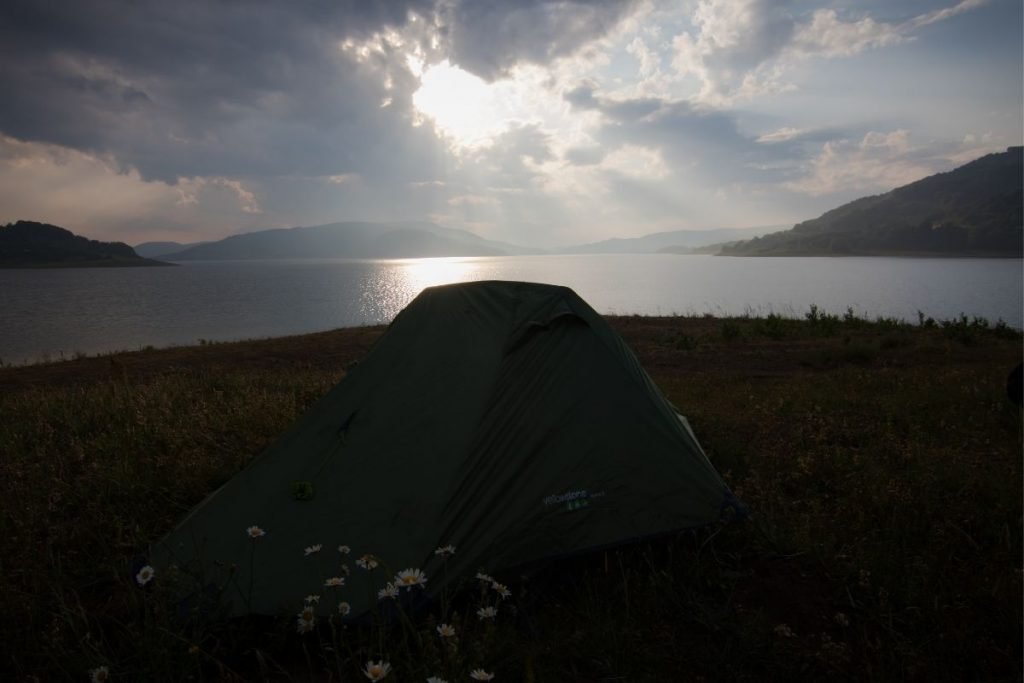 Since there aren't too many companies that make blackout tents, you won't have as much flexibility with size. For example, you might as well give up if you want to find a dark room backpacking tent, because you just won't find any on the market.

Most often, dark room tents will land somewhere in the 4-6 person capacity. If you have more people than that, you can always buy two tents – if you have less, there's more room for you to spread out! It's a good size range to accommodate the most amount of campers.
Ventilation
Even if you love the dark room technology, you'll still hate the tent if the ventilation isn't up to snuff. Airflow is what will help keep you cooler on those hot, stuffy nights, but even more importantly, it works to prevent the buildup of condensation.

On humid nights especially, the moisture in your breath will accumulate on the ceiling of your tent. If it continues to grow, little droplets will form, eventually falling like rain once they get big enough. You'll wake up wet and uncomfortable, which is why ventilation is such an important factor to consider.
Setup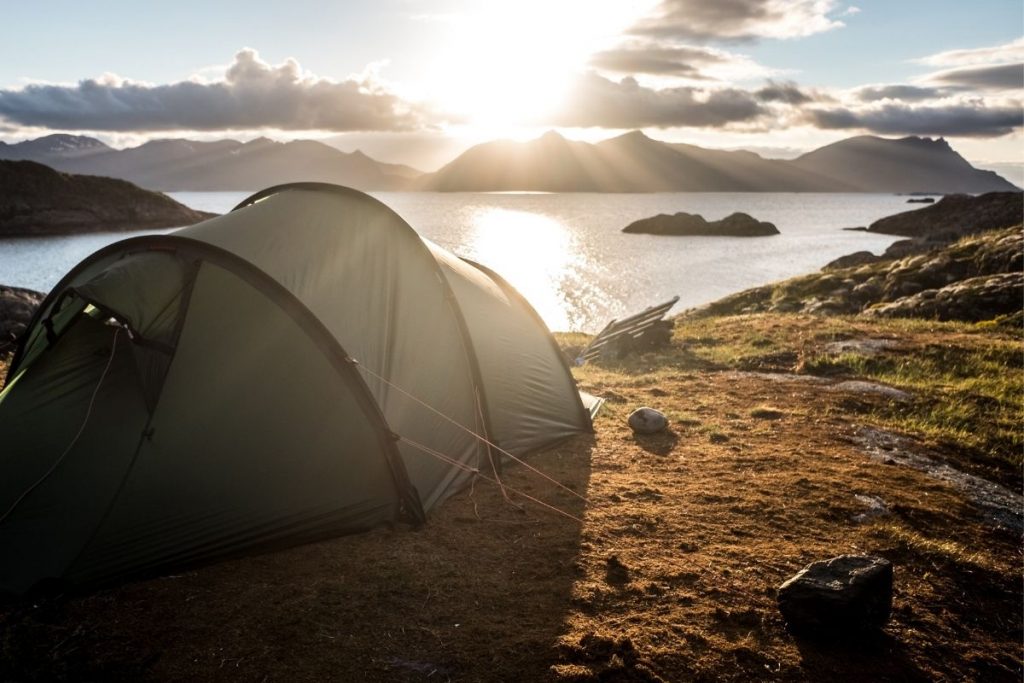 Tents can be a hassle to put together, especially if you've got a 6 person tent or something larger. A good way to get around this is by enlisting the help of a friend, and by practicing a lot in your backyard, but even so, simpler is always better.

None of the tents we've reviewed are too hard to setup, but some are definitely easier than others. Specifically, the instant tent is a breeze, and well worth the money just for that feature alone. However, there are pros and cons to everything, so we still recommend you do your due diligence to make sure you get what you actually need.
Waterproofing
Your tent might be able to block out light, but can it do the same for the rain? Most blackout tents are made by Coleman, and unfortunately, Coleman isn't as concerned about quality when compared to brands like Marmot and Nemo. That's not to say that they're bad; however, I would still suggest giving the tent a good coating of waterproofing spray before you use it.
Storage
You'll have your gear, and your friends and family will have their gear. It adds up quickly, so it's nice to have a dry, secure place to store everything so it stays out of your way. Vestibules are great for outdoor storage, but they're harder to come by in the larger tents. Internal pockets and loops are perfect for hanging a lantern, stowing your phone and wallet, or getting other objects, like bear spray, off the floor.
Durability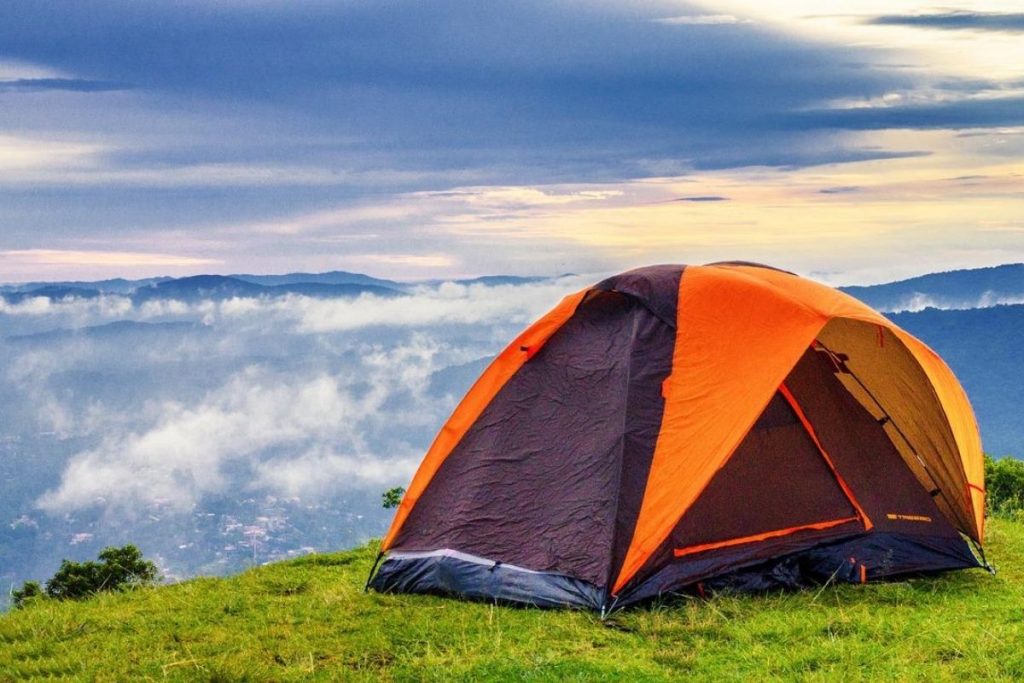 If you're going to dish out a few hundred bucks for a tent, you'll want to make sure it will last awhile. The material should be strong and resilient, especially when it comes to the floor of your tent. This is the area that's going to take the biggest beating, between getting rubbed on rocks, getting dragged through the mud, and bearing the weight of you, your friends, and all your gear.

Denier is a good spec to look at when it comes to durability. The higher the denier, the thicker the thread size that was used to make your product. Thicker usually means more durable, so I'd aim for something that falls within the 100-150 denier range. You don't want to go too high with it, though, otherwise the tent will become too heavy and hard to manage.
Are Blackout Tents Worth It?
So, are blackout tents worth it? Considering how hard they are to come by, you might be scared to try something different. However, if you truly have a hard time staying asleep when there's light shining on your face, then there's no worthier investment than this.

Darkroom tents do lack a bit of versatility (as in, you can't carry them long distances), but they're great for car campers. It's also worth mentioning that it will be dark in your tent all day, so you may need to open some doors and windows to let light inside.
How to Blackout Your Own Tent
The point of this review is to share with you some of the best darkroom tents out there, but I'd be remiss if I failed to mention that you can do this yourself. Do you own a tent that you like, or have your eye on one that isn't already blacked out? If so, it's not too hard to DIY your own darkroom shelter.

Blackout liners are one of the most popular ways to darken a tent. You can find them online or at many camping stores for a reasonable price, though you may want more than one of them. After all, the more you layer on the fabric, the darker it will be inside the tent.

But really, layering any sort of fabric (tarps, towels, or black garbage bags) will help get the job done. And if you want extra shelter against those morning rays, face your tent to the west and pitch it in a shady area.
Best Blackout Tent Reviews
Best For: Car Camping
Pole Material: Aluminum
Tent Material: Fabric
Weight: 42 Pounds
Peak Height: 79 Inches
Number of Doors: 1
Comes with Footprint: No
Here we have Coleman's instant cabin tent – a shelter that's large enough to house 10 people with a modicum of comfort. With such a big tent, you might think it would be quite the hassle to put it together. However, that's where the "instant" feature comes in, whittling down a 40 minute job into a 3 minute job.

Obviously, you've got the dark room technology as well. We've already talked about why this is great for folks who want to sleep in past sunrise, but there is another pretty notable perk as well. By keeping the inside of the tent darker, you'll also be keeping it cooler, which can be a life saver on those hot, summer days. Mix that with some good ventilation, and you've got yourself a pretty comfortable place to relax when it's scorching outside.

On the more technical side of things, this is a hinged door tent, which means the door opens and closes the same way your doors back home do. It provides an easier way to get in and out of the shelter, and offers something of a homey touch. Additionally, there's enough space inside for 4 queen size mattresses, and there's a room divider to create some privacy.

Pros:

– Dark room technology
– Spacious interior
– Plenty of headroom
– Instant setup
– Vertical walls

Cons:

– Waterproofing could use some work
Best For: Car Camping
Pole Material: Fiberglass
Tent Material: Nylon
Weight: 10.96 Pounds
Peak Height: 56 Inches
Number of Doors: 1
Comes with Footprint: No
A standard Coleman design, the Skydome is the "everyman's" tent of choice for recreational use. Is it waterproof? For the most part, though I'm not sure I would trust it in constant, torrential rain. It's pretty solid in windy conditions as well, but I certainly wouldn't want to use it when there are intense, straight-line gusts. My point is that it was meant for car camping, not for climbing Everest, and it does its job wonderfully.

As a tall guy myself, I love the added room that the near-vertical walls provide. The oversized door is also a bonus, especially when you're trying to haul your gear in and out of the shelter – not to mention when it's time to use the bathroom in the middle of the night.

The pre-attached poles do make it easier to setup, but I think Coleman is being a little dishonest when they say you can pitch it in 5 minutes. From my experience, I'd say 10-15 minutes is a much more reasonable number. When you pair that with the simple design, making it very easy to put together in low light, I have little to complain about with this tent.

Pros:

– Oversized door
– Near vertical walls
– Simple to put together
– Fairly spacious interior
– Blocks 90% of incoming light

Cons:

– I wouldn't call it storm proof, but it gets the job done
Best For: Car Camping
Pole Material: Steel
Tent Material: Polyester
Weight: 17 Pounds
Peak Height: 68 Inches
Number of Doors: 1
Comes with Footprint: No
One of the few non-Coleman blackout tents, the Ozark Trail is a good sized cabin tent that supposedly sleeps 6 people. But as we all know, you can rarely fit the marketed number of people inside a tent… Count on being able to squeeze in 5 people comfortably with this one.

The darkroom technology works great at blocking sunlight, letting you sleep in longer, while providing a cooler hidey hole to escape from the beating sun. However, if you do want to brighten up the interior of the tent, there is an easy way to do so. Several skylights are built in, so you can roll back the fabric to let in your desired amount of brightness. And at night, keep one or two open so you can gaze up at the stars as you fall asleep.

It doesn't come with any fancy pre-attached poles or instant setup, but once you know what you're doing, it's easy to put together in under 10 minutes. The poles are also made out of steel, so durability should never be a problem in that regard. Just know that the weight may be a problem if you're by yourself, and have trouble lifting 20 pounds.

Pros:

– Durable
– Good in the wind and rain
– Darkroom technology is effective
– Several skylights
– Good ventilation
– Electrical port

Cons:

– A little more storage space would be nice
Best For: Festival, Car Camping, Backpacking
Pole Material: N/A
Tent Material: Polyester
Weight: 6 Pounds
Peak Height: N/A
Number of Doors: 1
Comes with Footprint: No
Looking for true simplicity? Coleman's blackout popup tent is an ideal choice for those of you who want a shelter that's easy to setup. In fact, it's so easy to put together that it will only take about two seconds. Literally. Of course, you'll still have to take the time to stake it down, but that's the easy part. And when you're ready to put it away again, simply fold it up like an accordion, flip it on one end, and turn it over onto itself.

I also like this style, because it's one of the few times you'll find a darkroom tent that comes in a smaller size. I'd suggest getting the 2 person style for solo expeditions, just because it is on the tiny side – the 4 person tent can comfortably hold a couple people and their gear. Just be aware that there is no outdoor vestibule for you to stash your boots and pack, so everything will have to come inside with you. If you want it protected, that is.

Popup tents usually have a bad reputation when it comes to durability and waterproofing. Which is understandable, since you probably think of flimsy shelters that children play in when you imagine a popup tent. However, this is the adult version, which means it will take great care of you in poor weather. All of the seams are well sealed, and the material itself is pretty waterproof.

Pros:

– Sets up in 2 seconds
– Folds back down again pretty easily
– Provides a nice blackout option for solo campers
– Pretty durable
– Good in wind and rain

Cons:

– Difficult to get proper ventilation
Best For: Festivals, Car Camping
Pole Material: Steel
Tent Material: Polyester
Weight: 45 Pounds
Peak Height: 84 Inches
Number of Doors: 2
Comes with Footprint: No
The Coleman Octagon is one of my favorite shelters developed by this brand. It's called a festival tent, but don't let that fool you into thinking it's flimsy or difficult to put together. While it is a car camping tent, mostly because of its large size, it's got all the bells and whistles that would allow it to survive in more rugged environments as well. Despite the vertical walls, it does a great job at deflecting the wind and keeping unwanted water out. The floor material is also thick and sturdy, so you can feel confident about getting a few solid years out of it.

The darkroom technology is obviously one of the shining features of this tent, but beyond that, I can't get over how spacious the interior feels. It has a 7 foot peak height, so no matter how tall you are, you can comfortably stand straight up while walking around. The vertical walls only add to this effect, and they really allow you to make the most out of the space. Since they are vertical, you can slide your cot or mattress right up against the wall, maximizing the amount of space you have inside.

However, tents with vertical walls do have one problem – they make great wind catchers. Acting like a sail, it would be easy for your tent to fly away if you don't stake it down properly. Even if you do lock it down securely, you still run the risk of a strong wind gust snapping your poles, due to the strain put on them.

The Octagon isn't immune to these issues, but Coleman did take plenty of steps to give it some help. With steel poles and a rounded design, the frame of the tent is very sturdy and fairly aerodynamic. Just be aware that the hinged door will still rattle a little bit when hit with strong gusts, so I'd suggest zipping it up when you're not using it frequently.

Pros:

– Spacious
– 7 foot peak height
– Structurally sound
– Waterproof
– Room divider
– 6 windows and mesh roof make for excellent ventilation

Cons:

– The velcro on the hinged door doesn't like to stay secure in high winds
Best For: Car Camping
Pole Material: Fiberglass
Tent Material: Polyester
Weight: 11 Pounds
Peak Height: 51 Inches
Number of Doors: 1
Comes with Footprint: No
When the tent is called "the blackout," you know it's going to be good. And it's true that when it comes to sheer sunlight blocking power, you really won't find anything better than this tent. However, let's take a look at what you sacrifice for this blackout technology in the process.

In order to prevent 99% of all light from entering the shelter, you have to minimize the number of openings that lead to the outside. But fewer openings don't just mean less light – they also mean less airflow. Ventilation is going to be a huge problem here, and you'll probably find it to be unbearable on those hot summer days. I've heard some people refer to this sort of tent as a "black garbage bag on poles," and unfortunately, that's a pretty accurate description for how it will feel.

The good thing is that it's perfect as a darkroom tent, and very insulative in cooler temperatures. If you wanted to go camping with it in the spring or fall, when it's not scorching outside, I think you'd find the experience quite pleasant.

Pros:

– Blocks 99% of light
– Insulative
– Easy to setup
– Can withstand very bad weather
– Nice porch area

Cons:

– Gets very hot inside
– Poor ventilation
At Untamed Space, we're passionate about helping you have the best camping experience possible. Our team of experts have experience camping and backpacking all over the world, allowing them to provide insightful and relevant content to guide you in your outdoor pursuits.

All of our reviews are based on a combination of firsthand experience, extensive research, and an analysis of customer feedback. We are an independent website and do not receive payments or incentives from manufacturers to promote their products, and we continuously update our content to provide new information based on product availability. Wherever you are in your journey, whatever gear you're searching for, you can be sure to find unbiased and up-to-date reviews for all of your needs.
FAQ
What is the Best Blackout Tent for Camping?
Coleman is dominating the market when it comes to blackout tent. But of the products that they've created, our favorite has to be the Skydome with dark room technology.
How Does Blackout Technology Work in a Tent?
Blackout tents make use of a special fabric that diffuses or absorbs the incoming sunlight. That's why, despite keeping the inside of your tent dark, blackout tents don't necessarily keep it cooler.
Why Choose a Coleman Blackout Tent?
Coleman is practically your only option when it comes to blackout tents, so you don't have much choice. But even so, it's not like they make bad tents. After all, Coleman has been around for decades, creating reliable and affordable products for campers of all skill levels.
Conclusion
Sleeping in is a luxury, and when you're taking a break from the rush of day-to-day life, it's probably one of the things you're looking forward to the most. However, the sun often has different plans, hoping to rouse you in the wee hours of the morning.

The best blackout tents can help solve this problem by limiting the amount of light that makes it into your shelter. However, it's still a tent, so there are standard features that you should look out for in addition to the dark room technology. Overall, the Coleman Skydome camping tent is what checked the most boxes for us, offering an impressive amount of light blocking capabilities. But on top of that, it's spacious, easy to setup, and durable enough for most recreational use. For the weekend warriors who want to catch a few extra winks, you won't find much better than this.
---
Related Posts: