Unlike roped climbing, bouldering doesn't offer much in the way of protection. There's no harness, no rope, no anchor, and no belayer to keep you safe if you happen to peel off the wall. On the contrary, with bouldering, all you have are your shoes and perhaps a chalk bag, neither of which mean much if you fall. And while there are some locations that offer a flat, rock free landing space beneath you, many bouldering locations are full of jagged rocks and objects that could cause serious harm if you landed on them.

To prevent injuries like this from occurring, bouldering crash pads were developed. They will be your single greatest ally to help you avoid severe, and potentially fatal, injuries while bouldering.
In this article, we'll be reviewing the following bouldering crash pads:
Weight
The unfortunate thing about crash pads is that you have to carry them wherever you go! That means if you're traveling several miles to visit a boulder, you'll have to lug the pad the whole way. Hopefully you have a climbing buddy to help carry any snacks and drinks you're bringing with you, otherwise you'll be sweating long before you even reach the boulder.

Because you're bouldering, you can save yourself the hassle of carrying your harness, rope, quickdraws, and other equipment that adds up in weight. However, that doesn't mean you should totally neglect the weight of your crash pad either, as they tend to exceed 10 pounds. And when you're walking for awhile, trust me when I tell you that every pound counts, and you'll be glad you went with the lighter option.
Crash Pad Construction
Not all crash pads are created equal, both in their construction and the materials used. However, there are a few points that stay pretty consistent across all pads, including the use of both closed cell and open cell foam.

To put it in perspective, closed cell foam has trapped air pockets that are surrounded by solid material. Air and water won't be entering or leaving the pad, increasing stiffness and the overall weight distribution. It works well for shock absorption, but as you might expect, it wouldn't be very comfortable to land on something that firm.

Open cell foam, on the other hand, lets air flow in and out of the structure. By itself, it would lack the support and weight distribution qualities needed to keep you from injury, but without it, you'd feel like you were falling onto a rock. It's the mix of these two foam types that creates an ideal crash pad for you to land on safely.
Number
One crash pad is definitely better than none, but sometimes even that may be inefficient. While some boulder problems may go straight up and down (allowing the crash pad to cover the amount of ground you're at risk of falling on), other problems encompass a vast amount of space. From overhangs to traverses, a single pad is definitely not enough to keep you protected, if you plan on doing the whole problem at once. If you have a partner, they may be able to slide the pad around to keep it under you, but this can be a hassle and might not always be possible.

While you might find a few boulder problems that only require one crash pad initially, chances are you'll come across an area that will demand more substantial protection. At the very least, it's good to have 2 crash pads on you when you're bouldering, in case you come across a project that spreads across a good amount of horizontal space.
Cushion
It's the whole reason you want a crash pad in the first place, right? It doesn't do much good if it's not enough to sufficiently break your fall. Most will be able to absorb the impact from a 2 foot fall, but what about when you're 9 feet above the ground? Or worse yet, if you're high ball bouldering? Falling from that kind of height isn't going to feel good any way you spin it, but some pads are definitely better at taking the impact than others.
Falling Technique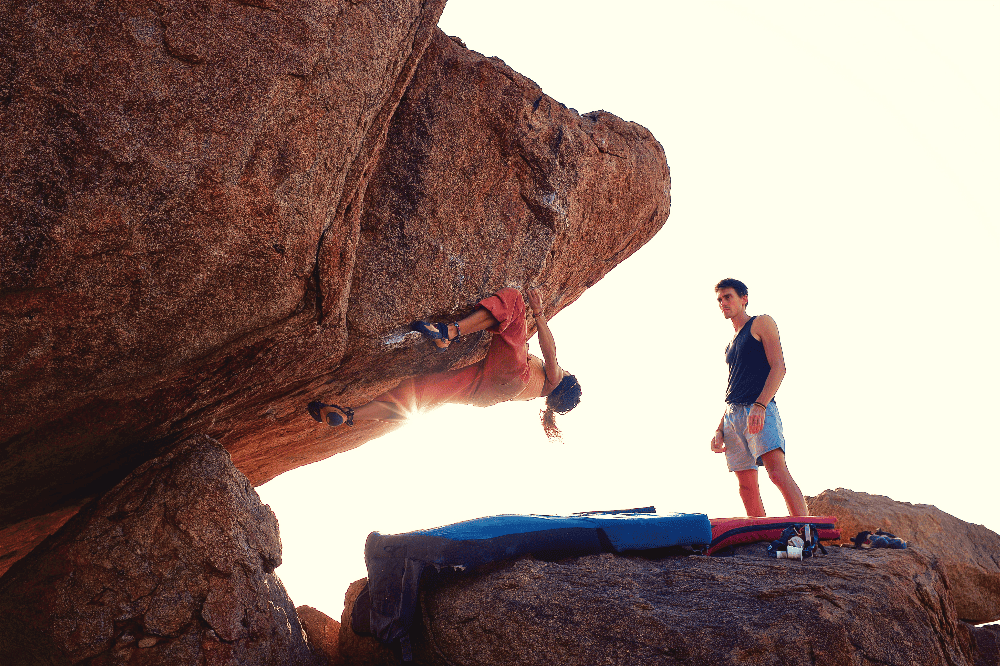 It's worth mentioning that bouldering crash pads aren't enough to keep you from injury by themselves. They may offer a softer place to land, but if you fall badly, you'll still hurt yourself. That's why it's important to learn proper falling techniques, so you can confidently attempt various boulder problems without fear of falling from a significant height.

Above all else, never reach for the ground when you fall. If you put your hand down to brace yourself, much of the impact will be concentrated on your wrist, potentially breaking it. This goes for many of your other joints as well, so the best way to land is on your back. Tuck your chin into your chest to keep your head from hitting the ground, and slap your arms out on either side of your body to help absorb the impact. In the event that you fall with your chest facing the ground, try to land like you're entering the plank position. The balls of your feet and your forearms should hit the ground first and keep you suspended.

Oh, and don't forget to avoid falling on your head!
Best Bouldering Crash Pad Reviews
The Mad Rock crash pad is a great product…for a specific type of person. At 5 inches thick, made from a combination of open and closed cell foam, it will most definitely cushion your fall enough to prevent injury. However, it is a bit firmer than other pads, meaning it might not be as comfortable of a fall as some of you might like. If you don't weigh very much, dropping on the pad might feel like a belly flop, but for those of you who are on the heavier side, it's a great product to keep you from sinking too deep into the pad when you fall.

The additional firmness does contribute to its durability. As something that's meant to be dragged around and rest on potentially sharp rocks and objects, durability is one of the most important factors to look out for, in addition to safety.

Pros:

– Very durable
– The firmness is nice for big falls
– Good size
– Relatively cheap

Cons:

– Not ideal for light climbers, or those who don't like extra firm pads
A lot of my climbing gear is from Black Diamond, and for good reason: it's usually really good quality. The same can be said for the Circuit crash pad, and the aqua blue design is one of my favorite colors out of any crash pad I've found. If blue isn't your thing, though, it does come in a variety of other hues, including hot pink and lemon grass.

Color preference aside, it's hard to find a better crash pad for the price you can get this one for. When closed, it's very secure and easy to carry. It folds along a hinge, so it's simple to open and close, and the shoulder straps are comfortable during long hikes with it on your back. The square corners make it easy to pair it with additional pads for greater protection as well, and the material is fairly water resistant in case you get caught in the rain. This also means that if you get it dirty at all, it's easy to clean too.

Pros:

– Easy to carry
– Water resistant
– Good shape
– Simple to pack up and store

Cons:

– It feels a bit small next to the boulder
Metolius really put a lot of thought into their Session II crash pad, especially in the realm of mobility. It's quite light, coming in at about 9 pounds, which is noticeably easier to carry long distances than the Mad Rock pad listed above. It also comes with 4 built in drag handles, for easy maneuvering around the ground. This is especially helpful if you have a partner willing to drag the crash pad around to keep it under you while you climb.

The shoulder straps are padded, and it even comes with a waist belt for extra security. But the feature that put this product above and beyond, in my opinion, is the logo on the pad that seconds as a place to wipe your shoes. The material in that area is like carpet, so it's easy to wipe off excess dirt and grime that might affect your traction. For anyone who's climbed outside before, you know how quickly your shoes can get dirty.

Pros:

– Built in area to wipe shoes
– Padded shoulder straps and waist belt
– Easy to move around
– Very lightweight

Cons:

– Quite firm, making for a potentially hard landing
With a compact and lightweight design, it should come as no surprise that we're featuring another product by Black Diamond – the Impact crash pad. Some may call it pricey, but I think it's spot on for the amount of quality and longevity that you'll get out of it.

Following a typical layering pattern that you'll find in many crash pads, there's closed cell foam on the top, and high compression foam on the bottom. This allows the shock of your fall to spread out evenly across the firmer top, while the bottom compresses to absorb some of the impact. It's a solid design that will keep you well protected, as long as you follow proper falling techniques.

The shoulder straps and hip belt make it easy to carry, and the handles are great for positioning the pad on the ground. While the buckles that keep the pad securely closed are slightly less durable than some other products we've mentioned, I don't believe you'll have too many issues. Whether as a crash pad or a makeshift bed in the back of your truck, the Black Diamond Impact is a versatile option for boulderers of all skill levels.

Pros:

– Lightweight
– Easy to carry
– Provides great support for falls
– Versatile
– Durable

Cons:

– A tad pricey
At Untamed Space, we're passionate about helping you have the best camping experience possible. Our team of experts have experience camping and backpacking all over the world, allowing them to provide insightful and relevant content to guide you in your outdoor pursuits.

All of our reviews are based on a combination of firsthand experience, extensive research, and an analysis of customer feedback. We are an independent website and do not receive payments or incentives from manufacturers to promote their products, and we continuously update our content to provide new information based on product availability. Wherever you are in your journey, whatever gear you're searching for, you can be sure to find unbiased and up-to-date reviews for all of your needs.
Final Thoughts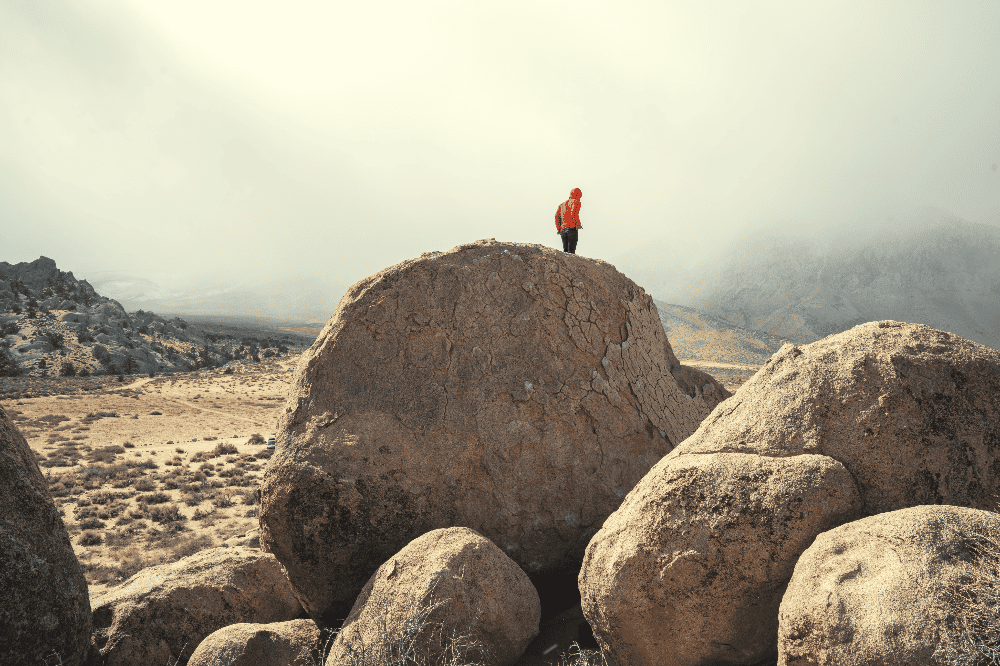 When it comes to rock climbing, making sure you have sufficient protection is the most important factor to manage. For roped climbing, this means having a good harness, rope, quickdraws, and the knowledge to effectively use these things. When it comes to bouldering though, every fall will be a ground fall, with nothing but the hard earth to catch you.

While bouldering is traditionally labeled as the most dangerous form of climbing, it doesn't mean that there isn't anything you can do to reduce the risk. Bouldering crash pads are designed to give you a softer place to fall, and the one that we like the most is the Metolius Session II crash pad. Light and easy to carry around, it's great for boulder problems that take some effort to get to. It's also easy to maneuver on the ground, and is made from a durable material to resist weather damage and abrasions. The cherry on top is the carpeted logo, which acts as a way to clean your shoes off when they get covered in dirt and grime from walking around outside.
---
Related Posts: