Camping might not be the most comfortable hobby in the world, but that doesn't mean you need to deprive yourself of all luxuries. A generator can give you electricity, a portable stove will let you cook tasty meals, and a camping chair with a footrest will let you relax by the campfire. Sounds like a good setup, right?

We'll be taking a look at the latter most example today – the best camping chairs with a footrest. Compared to a traditional camping chair, you'll get a more elevated experience with one of these, giving you a leg up over any nearby campers.

Yes, the puns most certainly were intended.
In this article, we'll be reviewing the following best camping chairs with a footrest:
Why Do You Need a Footrest?
There are a number of reasons why it's beneficial to keep your legs raised while sitting. For starters, it helps with poor blood flow, especially when your feet are swollen and sore after a long hike. It speeds up the recovery process so that you'll be ready to go again the next day.

Additionally, elevating your feet and reclining your back will give you a comfortable place to sleep. I know it doesn't sound ideal, but when you're dealing with a wet and saturated campsite, sleeping above the ground might be your best option.
Features of the Best Camping Chair with a Footrest
The best camping chair with a footrest will have certain features that you should look out for. Among them are:
Weight
Portability
Comfort
Durability
Extras (cupholders, tables, etc.)
We'll dive into each of these topics to give you a good idea of why they're important, and how to make your purchasing decision with them in mind.
Weight
If you're packing a full-sized camping chair, it's likely that you don't plan on bringing it very far. At the very least, backpacking isn't in your future, since most camping chairs weigh in excess of 10 pounds. And once you throw a footrest on it, you're looking at a weight closer to 20 pounds.

Is it bad to have a heavy chair? Well, not if you mind carrying it. Added weight is usually equated to better durability, so in most cases, it's almost preferable. We all have our limits, though, so don't pick the heaviest chair out there just because you think it will hold up the best.
Portability
And that brings us to portability. You want to be able to carry your camping chair where it needs to go, and weight is certainly going to be a big deciding factor here. A chair this size might not be backpack worthy, but I was recently at a campground in northern Minnesota that required me to hike 2 miles from the parking lot. Do you think I was carrying a heavy chair all that way?

Definitely not.

The best camping chair with a footrest will also be comfortable to pick up and transport. Some will have a built-in handle, while others won't have anything at all, forcing you to carry it by one of its legs. Some will have a bag that you can stuff it in, while others won't be that convenient.
Comfort
Chairs are made for relaxing, but that's a little hard to do if they aren't comfortable to sit in. Do you have lower back pain? You'll probably want to find a camping chair with lumbar support. Tired of chairs that have saggy bottoms? Yeah, we are too, which is why most of the products in our review have good support for your backside.

Of course, a footrest will help in this regard as well. With something to keep your feet elevated, you'll be able to lean back and relax. Nothing says "nap" more than this feature, which may be why you're looking for one in the first place!
Durability
If you're going to spend the money on a camping chair, you probably want to get a lot of use out of it. Being an outdoor chair, you can be sure that it'll take a beating over time, after being exposed to rugged terrain and stormy weather.

Pole and fabric materials are worth looking at from a durability standpoint. For fabric, check out the denier – a metric that refers to the thickness of the fibers in the material. The higher the denier, the thicker (and more durable) the fabric will be.

Steel poles are common in most of the chairs that we mention in our review, which is exactly what you want to see if you're concerned about durability. Aluminum also makes an occasional appearance, and while weaker than steel, it still boasts a toughness that will see it through most circumstances.
Extras
Many camping chairs come with a few extra features to sweeten the deal. Cupholders are pretty standard at this point, though not all chairs come with them. You may find some products that have an attached table, like the GCI Outdoors director's chair that we talk about directly below.

Though they aren't very common on camping chairs with footrests, there are plenty of chairs that have a sunshade built-in as well. Lumbar support, the ability to recline or be hung from a tree, and a detached ottoman are all special features that are worth looking out for when looking for a camping chair.
Best Camping Chair with Footrest – Reviewed
Height: 40.6 Inches
Width: 24.4 Inches
Weight: 16.3 Pounds
Capacity: 250 Pounds
The footrest might not be attached to the GCI Outdoors director's chair, but that's part of what we like about it. A footrest one minute, a trail stool the next, this ottoman has a lot of versatility depending on what you need it to do.

The combined weight of all the components comes in at just over 16 pounds, which is pretty reasonable for everything that you get. In addition to the ottoman, the chair itself comes with a side table and cupholder to hold your food, beverages, or personal belongings. When you're ready to move out, everything breaks down into a slim package with a convenient handle built-in to help you carry it.

For comfort purposes, the back of the chair can be reclined as well. Once you're leaning back with your feet up, trust me when I say that you won't have any trouble falling asleep where you sit. The chair material is firm enough to give you the support that you need, but soft enough where it won't make you sore after sitting for awhile.

Pros:

– Comfortable
– Reclinable
– Reasonable weight
– Packs down well
– Built-in carry handle
– Side table with cupholder
– Footrest is a detached ottoman

Cons:

– Weight limit is only 250 pounds
Height: 43.1 Inches
Width: 30.3 Inches
Weight: 20 Pounds
Capacity: 300 Pounds
Another one by GCI Outdoors, this Freeform Zero Gravity lounger will make it really hard to get up once you've sat down. With three modes to choose from, you can either sit like normal (back straight, legs on the ground), with your feet up (back straight, legs elevated), or reclined (back tilted, legs elevated). The adjustability will help you find the most comfortable position, so you can relax and enjoy your time at the campsite.

Of course, the built-in pillow helps too. There's also the fabric itself to consider, and in this case, it's a breathable synthetic that keeps the air flowing so you don't get a sweaty back. An added bonus is that it dries fast too, so even if you leave it out in the rain, it won't be very long before it's dry enough to lay on once again.

Everything folds down into a nice package when you're ready to pack up and leave your campsite. Unfortunately, there's no handle for you to grab onto for easy transportation, but the horizontal leg bars are sufficient for the task. At 20 pounds, it's starting to get up there in weight, but for a chair this size, that's to be expected. Especially since it's capable of holding up to 300 pounds after it's been set up.

Pros:

– Breathable material
– 3 modes
– Built-in pillow
– Reasonable weight
– Comfortable, even for people with lower back pain

Cons:

– Some may find that the seat is too hard
Height: 60 Inches
Width: 30.5 Inches
Weight: 3.4 Pounds
Capacity: 250 Pounds
A hanging chair with a footrest? That's not something you see every day. And yet it's exactly what ENO decided to create with their hanging lounger chair.

You can hang it pretty much anywhere, as long as you have a sturdy tree branch (or other object) to attach it to. Once you've got it all set up, it's a simple task to adjust the chair until it's tilted at just the right angle for you to rest comfortably. The same could be said about the footrest as well, which also hangs from the same point of attachment.

It's a pretty basic design without a lot of frills. The most noticeable addition is the cupholder, but I'm not too concerned about the lack of a side table, a sunshade, or any other accessories. A hanging design is novel enough on its own, and it's perfect for those of you who like the concept of hammocking but want something a little more supportive to sit in.

I know some people are concerned about the durability of the aluminum frame, but I just want to remind you that aluminum is still very strong. It's certainly not as tough as steel, but that's okay – it will still hold up beautifully for many years to come, especially if you take care of it. Not to mention, you get a much lighter pole design with aluminum, which is how this chair can stay at a modest 3.4 pounds.

Pros:

– Lightweight
– Novel design
– Cupholder
– Adjustable angles
– Can be hung anywhere there's a sturdy branch

Cons:

– Can't be reclined
– No side table or other accessories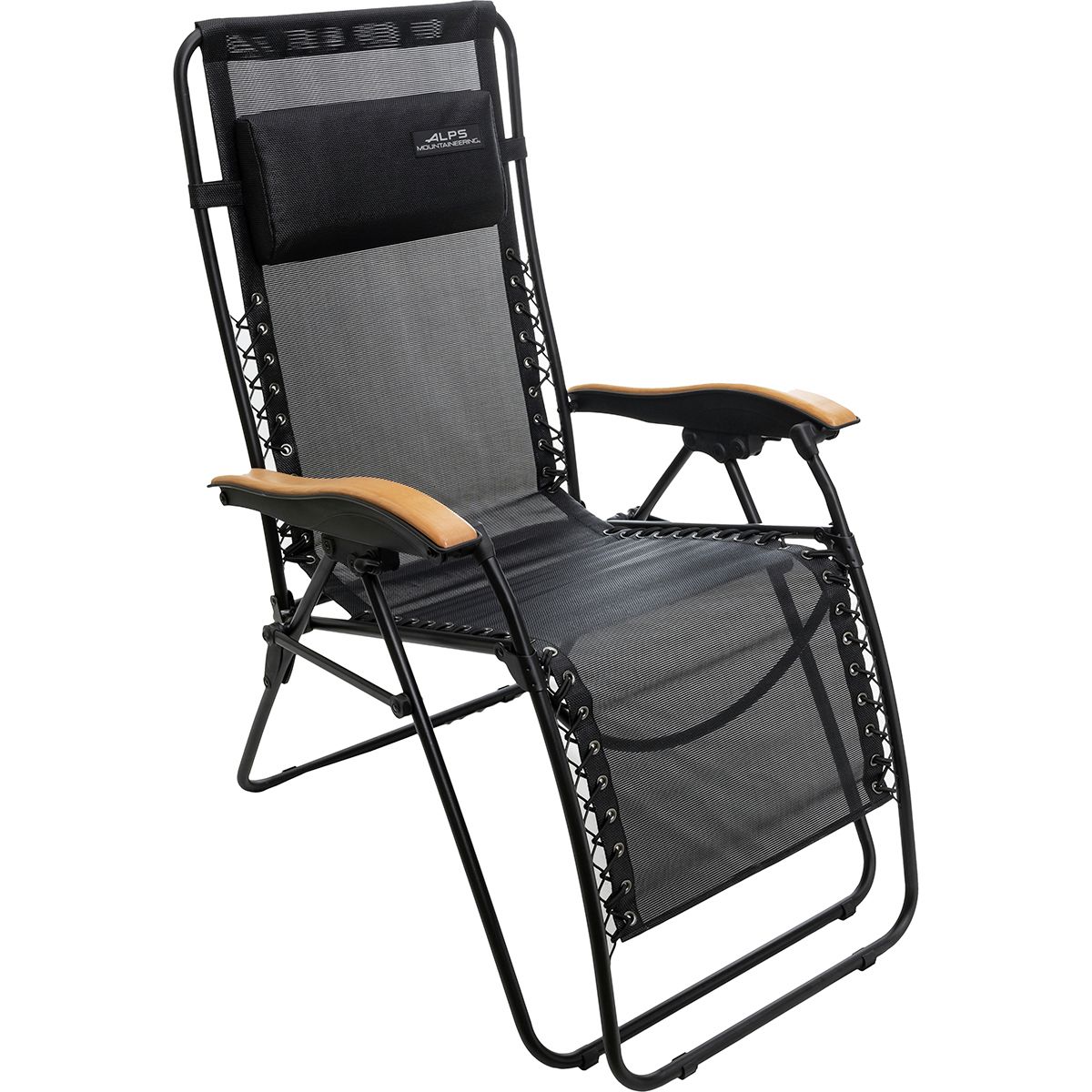 Height: 25 Inches
Width: 21 Inches
Weight: 21 Pounds
Capacity: 300 Pounds
From my experience, you're always going to be making compromises with camping gear. And in the case of the ALPS Mountaineering Lay-Z lounger camp chair, you're trading off weight for comfort.

At 21 pounds, it's the heaviest chair that we've mentioned in our review so far. However, be that as it may, I would argue that it's also one of the most comfortable chairs on our list as well. The mesh fabric is perfect for keeping the back of the chair breathable, helping you stay cool and dry and warmer temperatures. Not to mention, it won't absorb moisture very easily, allowing you to use it shortly after a rainstorm without laying back on a soaking wet chair.

On top of all that, I'm a big fan of the style that ALPS Mountaineering built into their product. The black coloring with the midtone wood, ergonomic arm rests are a sight to behold, making this one of the most attractive camping chairs in my book.

Reclinable with an adjustable footrest, you can fiddle with this chair until it's just the right fit for you. The included pillow also gives you a comfortable place to lay your head as you lean back to rest your eyes or stare up at the stars on a clear night.

Pros:

– Stylish design
– Ergonomic wood arm rests
– 3 different modes
– Included pillow
– Breathable mesh back

Cons:

– Heavy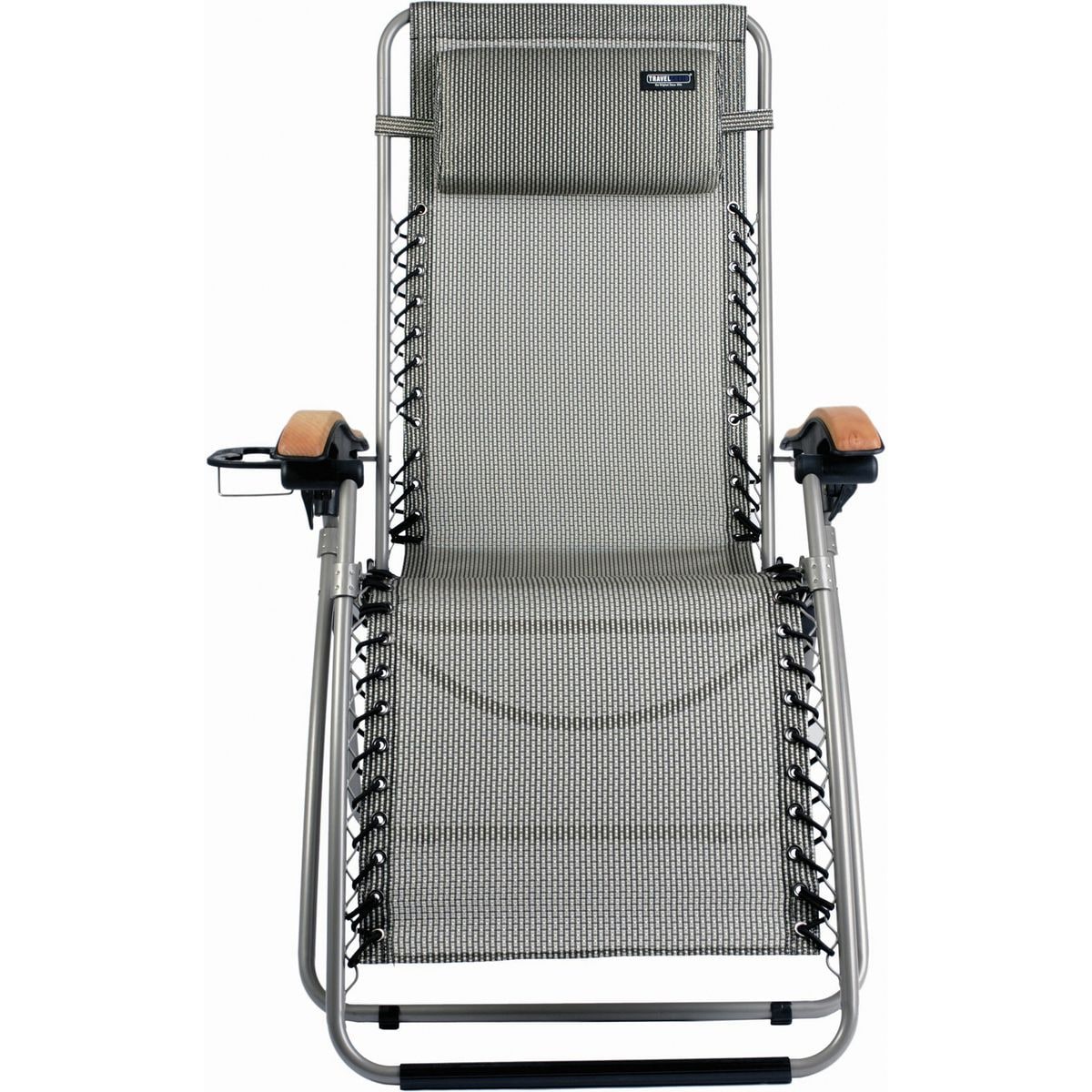 Height: 24 Inches
Width: 19 Inches
Weight: 22 Pounds
Capacity: 300 Pounds
The last lounge chair on our list, the Travelchair Lounge Lizard is one to pay attention to. Like the other loungers that we've mentioned, this product can be reclined, it has a quick drying mesh back, and it comes with an adjustable pillow. Unlike the other lounge chairs that we've talked about, this one actually comes with a cupholder. I know it might sound like a small detail, but I find that it's the little things that count.

At 22 pounds, it's also one of the heaviest camping chairs with a footrest that you'll find. It's certainly not something you'd want to carry long distances, but it's perfect for a day at the beach, an evening around a fire pit in your backyard, or relaxing next to your tent at a campsite.

Lounge chairs tend to have a firmer material that doesn't give as much when you lay on it. Whether you like that style or not really comes down to personal preference, but it's something worth considering before you buy a chair like this. The lounge lizard seems to be a little softer than many of its competitors, but will still require some breaking in before it reaches the comfort level you're probably looking for.

Pros:

– Comfortable
– Quick drying
– Reclinable
– Cupholder
– Pillow

Cons:

– Weight
Height: 36.61 Inches
Width: 33.46 Inches
Weight: 12 Pounds
Capacity: 250 Pounds
Roomy without being too large, the Suntime moon camping chair is the epitome of luxury. One of my biggest pet peeves is trying to sit in a chair where the armrests hug my body too tightly, making me feel like a squished sardine. It's hardly comfortable, especially when the armrests start digging into my skin. But that's not something that anyone has to worry about with this product, given the generous amount of width that you get. Regardless of your body type, I can practically guarantee that you won't have a problem nestling into this chair.

Weighing 12 pounds, it's lighter than a lot of other products we've mentioned so far. Given the steel frame and legs, it's actually somewhat impressive that they were able to keep the weight to such a reasonable number. You'll also find that there's a cupholder and mesh pocket for you to store your phone or other belongings while you're relaxing.

But you're here because you care about finding the best camping chair with a footrest. What I like about this particular chair is that the footrest isn't just comfortable and a good length, it's also detachable. Sometimes you just don't want the footrest taking up space in front of your chair, making it difficult to sit down and get up again. If you find yourself in a situation where the footrest isn't necessary, just unzip it and remove the support poles.

Pros:

– Removeable footrest
– Very spacious seating area
– Relatively lightweight
– Steel frame
– Cupholder and mesh pocket

Cons:

– Can be difficult to get in and out of
Height: 42.25 Inches
Width: 14.5 Inches
Weight: 26.6 Pounds
Capacity: 500 Pounds
Guide Gear's club camping chair pretty much has it all. Extra padded, extra wide, and with a detached footstool to boot, it's a product that provides everything you could ever need.

Well, almost. It's worth noting that, while there is a cupholder, it's basically just a dangling side pouch. If you've opened a full can of soda or sparkling water, you'll want to drink a good amount of it before you put it in the cupholder. A full can that's been freshly opened will spill the top portion of its contents onto the ground.

But honestly, that's a pretty small complaint when you factor in everything that this club chair does well. It has the best padding out of any chair we've reviewed so far, and it can hold the highest amount of weight (500 pounds). Considering the amount of padding that you get, the chair is well insulated, perfect for keeping you warmer when you're sitting outside in chilly weather.

The footrest comes up to a nice height, and since it's detached, you could easily use it as a standalone trail stool. All of the pieces are sturdy and well designed, so you can feel confident about them staying strong well into the future.

Pros:

– Well padded
– Sturdy
– Spacious
– Detached footrest
– Durable

Cons:

– Poorly designed cupholder
At Untamed Space, we're passionate about helping you have the best camping experience possible. Our team of experts have experience camping and backpacking all over the world, allowing them to provide insightful and relevant content to guide you in your outdoor pursuits.

All of our reviews are based on a combination of firsthand experience, extensive research, and an analysis of customer feedback. We are an independent website and do not receive payments or incentives from manufacturers to promote their products, and we continuously update our content to provide new information based on product availability. Wherever you are in your journey, whatever gear you're searching for, you can be sure to find unbiased and up-to-date reviews for all of your needs.
FAQ
How Long Should a Camping Chair Footrest Be?
If your camping chair footrest is attached to the chair itself, you want it to be long enough to support the full length of your legs. In most cases, a footrest that's 30 inches long will do the trick.
Why Should You Invest in a Camping Chair with Footrest?
The footrest on a camping chair just elevates the whole experience to a new level of comfort. Since most chairs of this style are reclinable, they make a great place to take a nap or view the stars on a clear night. Keeping your legs raised will also help with blood circulation, allowing you to recover from a long day of hiking more quickly.
Final Thoughts
Chairs are practically mandatory anytime you go camping. After all, you probably don't want to stand all day, and sitting on the ground will just get your pants dirty. But not just any chair will do – for those days when you just want to kick back and relax, you need one of the best camping chairs with a footrest.

Ideally, a chair like this will be comfortable, sturdy, and easy to transport. While not required, a few extra features like a cupholder, side table, and lumbar support are nice to have too. With those things in mind, we felt that the GCI Outdoors director's chair with ottoman checked the most boxes. It's got a few of those extras we just mentioned, a detached footrest, and the ability to be reclined.
---
Related Posts: