If you're in a rush and want to find out what the best camping generator is, we recommend the Jackery solar generator 1000.

Most of us think of camping as a technology free escape into the wild. After all, it's not like electricity is readily available, and portable power banks can only get you so far. But what if you want to add a few lights as a homey touch to your tent? Or what if running a couple of fans is the only way to survive the intense summer heat?

A camping generator can solve this power problem, allowing you to keep a few creature comforts that will improve the quality of your trip. Here are just a few of our favorites that you can easily transport to the campsite.
In this article, we'll be reviewing the following best camping generators:
Power
You want to get a camping generator so you can power your gadgets while you're away from traditional outlets. But how much are you actually hoping to charge?

If you just want to keep your phone alive while you're off the grid for a few days, you probably don't even need a generator. A simple power bank will do the trick, and it will cost a lot less than your average generator. However, if you've got something like a laptop, light fixtures, gaming devices, tablet, camera, or something similar that you need to keep charged, a generator is the way to go.

It's always good to know what you want to bring on your trip, so you can get a generator capable of powering everything. Check and see how many watts of power your electronics require. The more you need, the stronger the generator you'll require. And a stronger generator usually means a more expensive generator, so you'll want to make sure it's tailored to your needs.
Charging/Fuel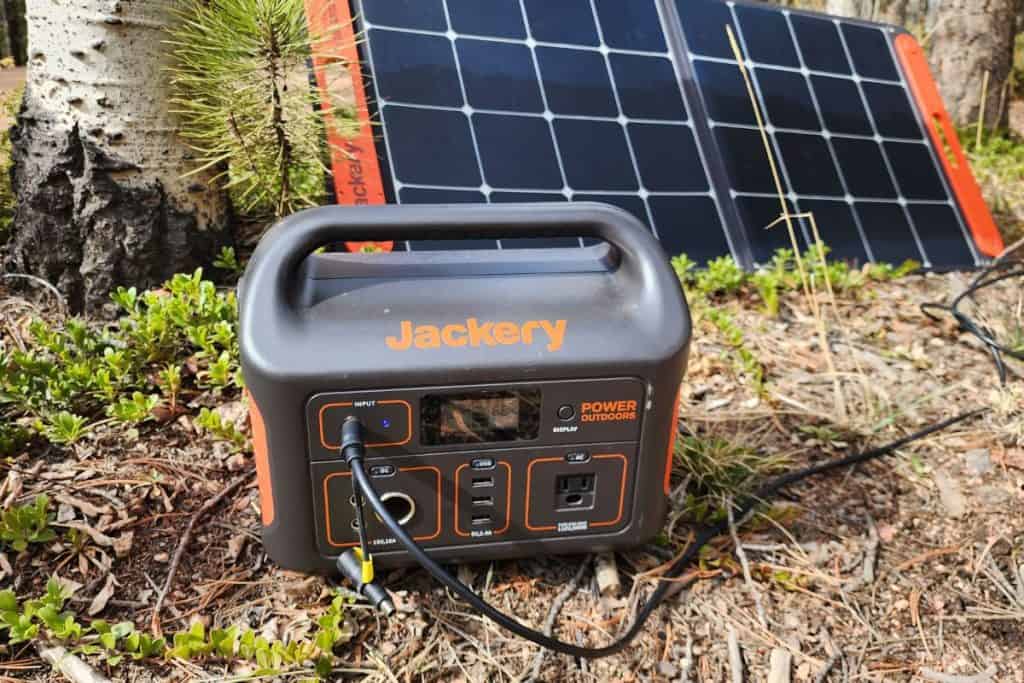 Generators don't run off of air. You'll need some sort of fuel source to get it going, and the most common options are going to be gas/propane, solar, and electric. Each comes with its own set of pros and cons, and here's a broad overview of what they are:

Gas/Propane: By far the most common, fueling your generator this way is a great method for giving yourself peace of mind. As long as you still have fuel reserves, you know that you'll be able to get power out of your generator. Of course, the downside is that you have to lug that fuel with you everywhere you go, and that's not always convenient in the camping world. But if you're car camping, it's certainly a doable scenario.

Solar: Perfect for when you need power in a pinch, many generators come with solar charging as a backup method, in case you run out of your main fuel source partway through your trip. I love it because as long as the sun is shining, you've got a steady supply of power. On the other hand, when the sun isn't shining, there really isn't much you can do about it. It's definitely a double-edged blade, but I've found that it works great if you don't have too many electronics to charge.

Electric: There are also several generators out there that need to be charged via a wall socket. Plug it into an outlet, and make sure it's fully charged before you leave for the campground, because you won't be able to power it again until you get back home. Based on that alone, you probably get a good sense for the pros and cons. They're highly portable, since they don't need liquid fuel or solar panels, but you've only got one full charge to last you the entire trip. Again, they're great if you don't need to power very many items while you're gone.
Noise
No one wants to listen to the loud humming of a generator, especially when they're supposed to be enjoying the sounds of nature! Quiet generators can be hard to come by, though they are out there, if you know where to look. Most camping generators can be split into two categories:

Conventional generators are powered by a motor and an alternator. They need to hover around 3600 RPM to produce a current, which makes them pretty noisy.

Inverter generators, on the other hand, make use of an engine, circuit board, and alternator together. They're much quieter compared to their old school counterparts, making them an increasingly popular choice among campers. Solar generators fall into this category, along with plenty of gas/propane powered products as well.
Ease of Use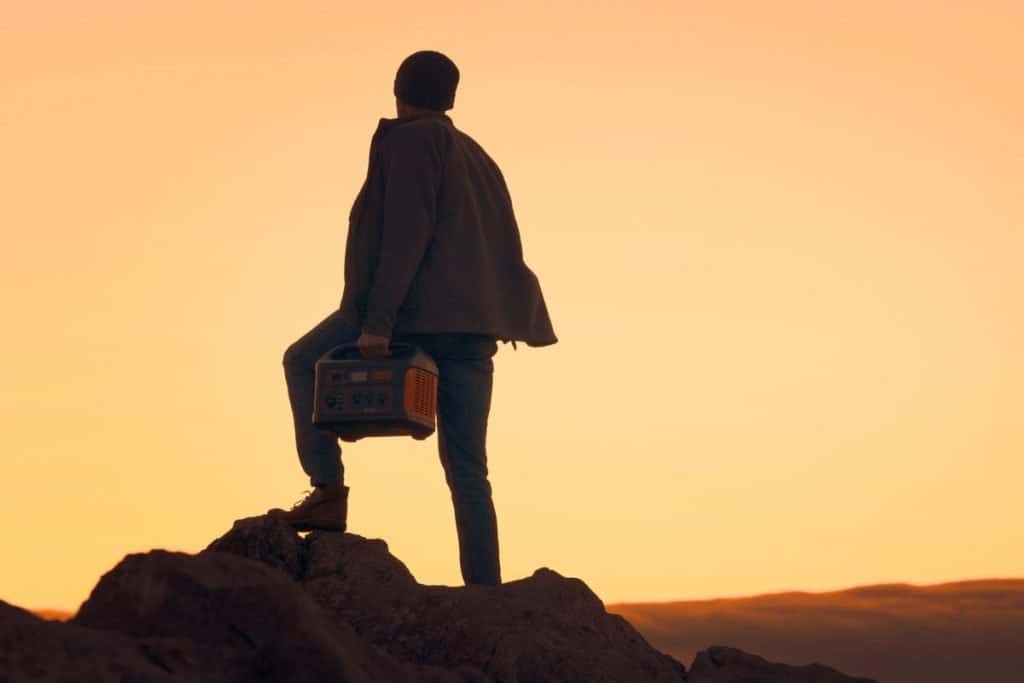 We're looking for generators that you can use while camping, not something you'd use to power your home. The generator should be a reasonable size, something you can easily carry with you to a campsite, and simple enough to set up by yourself.

Of course, you'll want to make sure it's big enough to satisfy your need for power, but chances are you won't be bringing too many electronics with you to begin with. Generally speaking, a 2,000 watt inverter generator should be enough to meet your requirements.
Best Camping Generator Reviews
Running Watts: 500
Weight: 31.7 Pounds
Fuel Type: Electric
One of the cheaper options in this review, the Goal Zero Yeti 500 is an attractive generator for more than just the price point. It's also one of the lightest generators we talk about, making it a perfect tool to bring to more remote camping sites.

As a gas free generator, you will need to be more conscious of how much charge it has left. You can plug it into any wall outlet to refill the battery, or you can hook it up to solar panels, which are sold separately. And considering it doesn't run off gas or propane, there's another thing you can expect from this particular product – it's very quiet. It's an added bonus that both you and your camping neighbors will appreciate!

Unfortunately, the smaller size and lightweight design does mean that it doesn't hold much charge. While the portability is great, I wouldn't rely on this generator for more than a couple of days, unless you bring solar panels to keep it charged. On top of that, it is a relatively heavy product, and the battery isn't replaceable. Still, for a couple hundred bucks, you get a powerful generator that can charge all of your essential equipment for a few days while you're out camping or experiencing a home emergency.

Pros:

– Lightweight
– Small and portable
– Electric
– Practically noise free
– Can work with solar

Cons:

– A somewhat poor quality battery
– Low power output
Running Watts: 1,700
Weight: 39 Pounds
Fuel Type: Gasoline
Clean, quiet, and very portable, the WEN inverter generator is about as loud as a normal conversation that you might have with a friend. With a one gallon fuel tank, it just takes a couple bucks worth of gasoline to get this generator running for many, many hours. Even better is the fact that it only weighs 39 pounds, making it a very doable addition to most camping setups.

The running wattage comes out to 1,700, which is more than enough to power anything you might bring on a camping trip. Given how efficient the generator is, you could comfortably charge a laptop, phone, camera, GoPro, all while powering a few fans to keep the place cool. Even then, you wouldn't nearly be tapping into all the energy that it can produce.

In theory, you'll probably be able to run the generator for about 12 hours before you need to refuel it again. A full tank should get you through a weekend camping trip, and if you plan on extending your stay, a jerry can of gasoline will likely see you through the rest of the time.

Pros:

– Quiet
– Efficient
– Powerful
– Relatively lightweight (for a generator)
– Safe for charging sensitive electronics

Cons:

– A little oil does like to leak from time to time
Running Watts: 1,000
Weight: 22 Pounds
Fuel Type: Solar
It might be a bit pricey, but the Jackery solar generator is well worth the cost. Not only do you get the generator in the package, you'll also get two solar panels, a few adapters, and a car charger cable. All in all, you'll be well prepared for a few days at the campsite – in fact, if the weather is in your favor, you would probably be okay for a few weeks away from home!

Because it doesn't run off gas, the Jackery solar generator is almost silent when it's running. With clear skies and direct sunlight, you could easily charge the generator from empty to full over the course of 24 hours, making it a reliable and eco-friendly option. Your camping companions and neighbors will also appreciate the lack of noise it produces, so everyone can relax and enjoy the sounds of nature.

But here's the real kicker: it only weighs 22 pounds. For a 1,000 watt hour generator, you really aren't going to find anything more portable than this one. It's also worth noting that you can use any solar panels with this setup, as long as you make sure they meet the input requirements for the MPPT controller.

Pros:

– Silent
– Very lightweight
– User friendly
– Charges quickly in direct sunlight
– Good battery

Cons:

– The solar panels don't seem to be waterproof
Running Watts: 3,500
Weight: 122
Fuel Type: Gasoline
A true powerhouse of a generator, this product by DuroMax is arguably strong enough to power a small house. With 3,500 running watts, you'll get more energy out of it than you'll ever find yourself using at a campsite. And if you're the type who wants to bring a full A/C unit with you to stay cool on those hot summer days, this is one of those generators that's actually capable of supporting such high energy usage.

At 122 pounds, it's a good thing it has wheels to help you transport it. The four gallon gas tank will easily see you through several days at the campground, even with moderate to extreme use during that time. Unfortunately, gas generators are known to produce quite a bit of noise, and the DuroMax is no exception to this rule. While not as unbearable as the generators made 20 years ago, it'll still run about as loud (if not louder) than a typical air conditioning unit in an apartment. While that aspect of it isn't ideal, there's no denying the quality of this product in just about every other way.

Assembly is simple, and the instructions are easy to follow. Overall, with proper care and maintenance, I would say that you can easily get several years out of this generator before you need to think about repairing or replacing it.

Pros:

– High power output
– Durable
– Large fuel tank
– Hybrid propane/gasoline
– Easy to set up

Cons:

– Noisy
– Heavy
Running Watts: 2,200
Weight: 55 Pounds
Fuel Type: Gasoline
It might be a little noisy, but the Yamaha inverter generator sure is reliable. With a fuel tank capacity of 1.24 gallons, you should be able to get about 12 hours of life out of the generator when it's full. And during that amount of time, I can't think of anything that you could bring to a campsite that it would struggle to power. That even includes an A/C.

It comes with a cast iron cylinder liner, so it should last you for years and years to come. I find that the fuel gauge and power load meters are helpful for understanding how the generator is performing. On top of that, the carry handles are phenomenal, and it's hard not to appreciate the tool-less carburetor drain and access panel.

Depending on how much you're trying to power at any given point in time, you may consider switching it over into eco mode. This functionality increases or decreases RPMs in order to meet the demand of your electronics and other appliances. It's a handy way to be more efficient with your fuel, so you can extend the life of your gasoline even longer.

Pros:

– Great carry handles
– Fuel gauge
– Cast iron cylinder liner
– Easy access carburetor drain
– Powerful design
– Eco mode

Cons:

– A bit noisy
Running Watts: 1,850
Weight: 39 Pounds
Fuel Type: Gasoline/Propane
A reasonably priced generator for the amount of wattage you get, this product by Champion Power Equipment is my favorite "middle of the road" option. Well balanced in most areas, it doesn't stand out too prominently as far as features are concerned.

At 39 pounds, it is one of the lighter generators in this watt range. However, you likely won't want to carry it long distances, even at that weight. Either propane or gasoline will be suitable for powering this product, though propane will give you 34 hours of life on a full tank, compared to 11 hours on gasoline. On the other hand, propane provides 1,665 running watts, whereas gasoline creates 1,850 running watts. So overall, it really depends on how much power you need from the generator, to determine what fuel type to fill it with.

On the off chance that you actually need more power, this generator is capable of running parallel with another generator. However, you will need another 2,500 watt, Champion generator to make it possible, just so you know.

Pros:

– Good amount of power
– Can be run parallel to another generator for double the output
– Works for a pretty long time on a full tank of gas
– Uses either propane or gasoline
– Relatively lightweight

Cons:

– Somewhat complicated to put oil in
Running Watts: 2,800
Weight: 47 Pounds
Fuel Type: Gasoline
Another major power player, the GENMAX generator will run about 2,800 watts continuously, which is a crazy amount. At the very least, it's complete overkill for most camping setups, unless you're trying to power a 12 person tent and the electronics of everyone inside.

Be that as it may, I would argue that this product will give you the "most generator" for the least amount of money. It'll be a struggle finding something cheaper than this that will still give you a comparable amount of watts. Even if you do think it's more than you'll need on a camping trip, you never know when you might need a generator back home. When the power goes out, this guy will save the contents of your fridge and freezer until you're able to get them working properly again.

While quieter than an open frame generator, it's still a bit loud for my taste. I'd suggest keeping it as far away from your shelter as you can, to make sure you'll still be able to carry a normal conversation without needing to raise your voice at all. I'm also a little disappointed that the fuel capacity is only a gallon, considering the machine itself is quite large and somewhat heavy. However, it's very durable and doesn't seem to have many issues, even after quite a bit of use.

Pros:

– Powerful
– Eco mode
– Can get about 12 hours of use on a full tank
– Pretty affordable for what you get
– Parallel ready

Cons:

– A bit loud
– Only comes with a one gallon fuel tank
Running Watts: 2,500
Weight: 60 Pounds
Fuel Type: Gasoline
Very user friendly, this product by Generac is one of the best camping generators for first time generator owners. It's shipped dry (there's no oil inside) so you'll have to add your own, but it's not as complicated as you might think it is. In fact, oil and a funnel come with the package, allowing you to easily grease up the motor without needing to make a trip for extra supplies.

Running wattage sits at a comfortable 2,500, allowing you to power pretty much anything you would want to bring to a campsite. Even a fridge and freezer wouldn't pose a problem, so you won't have to worry about charging a laptop and phones, watching TV, or cooling off next to an A/C unit. On top of that, all of the electricity generated by an inverter like this is considered "clean," which means it's safe to use with sensitive microchips and similar electronics. Plugging into this generator is essentially no different from charging your devices using a wall outlet back home.

It's a smooth design that will start on the first pull of the cord. Eco mode is great for conserving fuel where you can, and overall, it's a surprisingly quiet machine. Definitely something you could feel comfortable running at the campsite, or inside your home, in case of an emergency.

Pros:

– Simple to use
– Comes with oil and funnel
– Produces quite a bit of power
– Clean electricity
– Eco mode

Cons:

– A bit heavy
Running Watts: 2,200
Weight: 54 Pounds
Fuel Type: Gasoline
A generator known and loved by many for its powerful and reliable design, it's not hard to see how Honda created a crowd favorite. With 10% more power than the previous model, the EU2200i will have you humming along at 2,200 watts without any issues.

Despite the price jump compared to other models listed in this review, people love the Honda generator because it gives them peace of mind. You truly won't find a higher quality product than this – something durable and built to last – while still sticking to a reasonable weight. Not only that, but it also runs a long time off a full tank of gas. Depending on usage, there's a good chance that it will last you several days before you need to fill it up again.

Another bonus is the phone app that can be used to turn the generator off, as well as monitor its use and status. It's a handy way to keep track of how its running, and indicate whether you need to give it some TLC in the near future. Unfortunately it can't turn the generator on, but that's not too big of a surprise. You'll still be impressed by the features overall, especially when you discover how quiet it is for being a powerful gas generator.

Pros:

– Highly reliable
– Good power
– Phone app to check status and turn generator off
– Relatively quiet
– Reasonable weight

Cons:

– Expensive
Running Watts: 2,200
Weight: 55 Pounds
Fuel Type: Gasoline
And finally, we get to the Craftsman inverter generator. It's a good everyday product, hitting the sweet spot for price, weight, and performance. While it won't knock your socks off, it's a reliable and easy to use generator that gets the job done nicely.

With 2,200 running watts, you could power an A/C unit with ease. If you try using the A/C along with something else (like a TV), you'll likely discover that the generator will begin to labor a little bit. But really, you're camping… Why would you want to power both of those things at the same time anyway?

The built-in handle makes it easy to transport, despite the fact that it weighs over 50 pounds. And the quiet humming of the generator will be hard to notice, unless you start demanding more power from it. Even so, eco mode will help control the RPMs and fuel consumption, to make sure you get the most life out of your fuel tank. For how cheap the price is, it's rather surprising how well the Craftsman generator actually performs.

Pros:

– Inexpensive
– Good power
– Built-in carry handle
– Eco mode
– Fairly quiet

Cons:

– Oil needs to be checked often
At Untamed Space, we're passionate about helping you have the best camping experience possible. Our team of experts have experience camping and backpacking all over the world, allowing them to provide insightful and relevant content to guide you in your outdoor pursuits.

All of our reviews are based on a combination of firsthand experience, extensive research, and an analysis of customer feedback. We are an independent website and do not receive payments or incentives from manufacturers to promote their products, and we continuously update our content to provide new information based on product availability. Wherever you are in your journey, whatever gear you're searching for, you can be sure to find unbiased and up-to-date reviews for all of your needs.
FAQ
Why Do You Need a Generator for Camping?
Technically speaking, you don't "need" a generator in order to go camping. However, if you want to make your campsite feel more like home, there's nothing like a bit of electricity to power up a few creature comforts. Whether you're trying to get some work done on your laptop, you need to recharge your camera batteries, or you want to run a heater on those chilly nights, a generator is what will make that all possible.
What's the difference between kW and kVa?
When it comes to kW and kVa, the primary difference is going to be the power factor. While kW is a unit of real power, kVa is a unit of apparent power (which is real power plus re-active power).

When referencing generator sets, you'll most commonly find that kW is used in the United States, while kVa is used in most other countries around the world.
Is My Generator Powerful Enough?
The amount of energy your electronics consume will indicate how powerful of a generator you'll need. For example, a laptop will consume about 60-70 watts per hour, whereas a typical space heater will use about 1,500 watts per hour.

Needless to say, if you're only trying to charge your phone and laptop, you won't need anything too fancy. However, if you're trying to heat your tent, you'll want a generator that's a little more robust.
Final Thoughts
Camping doesn't have to be a rugged and uncomfortable experience. Nowadays, many campsites actually offer WiFi, so you can bring your phone and laptop to stay connected to various aspects of your life. Not to mention, air conditioning, fans, heaters, lighting, and many other creature comforts are becoming a lot more portable and accessible, even when you're mostly off the grid.

However, all of these items do require one important thing in order to function – electricity. The best camping generator will be able to satisfy your need for power, without compromising on weight, noise, and ease of use. And for us, the Jackery solar generator 1000 did it the best in all of these regards. The running wattage is lower than many of the other options we talked about, but you're going camping with it, not using it as a power source for your home fridge, freezer, laptop, and router. As the lightest, quietest, and most ecofriendly option that we looked at, you'll be hard pressed to find something better.

However, if you are looking for a generator for home and/or RV use, we would recommend getting the Honda EU2200i generator. For tough jobs, it's a reliable and powerful source of clean electricity.
---
Related Posts: