Want to be the hero at your next outdoor adventure? There are few things more important than tasty, healthy meals when you're living at the campground. But even so, resources are limited, and I think we can all agree that cup ramen will only get you so far.

The best camping griddles solve this problem by giving you a portable cooking space that you can use to create a variety of meals. Eggs, pancakes, grilled cheese, bacon, chicken, fried rice, and French toast are just scratching the surface of the options available to you when you've got a griddle close at hand. So without further ado, let's dive into the best camping griddles that you can bring on your next trip.
In this article, we'll be reviewing the following best camping griddles:
Surface Area

Whether you're making eggs, pancakes, or some other delicious meal, you always need to answer one very important question: "How many people am I feeding?"

For example, a family of 6 will need a large griddle to feed everyone in an efficient and timely manner. On the other hand, if you're only feeding yourself and a partner, there's no need to get something that big. You'll appreciate the extra mobility a small griddle has to offer, if you don't actually need all of that cooking space.

The surface area of a griddle is measured in square inches, and from our personal experience, we would consider anything over 200 square inches to be large. If you have quite a few people camping with you, or you know they have voracious appetites, you should probably lean more toward 250 square inches or higher. Conversely, groups of 2-3 people should feel comfortable with a griddle that's around the 150 square inch mark.
Material
If you're spending the money to purchase a new camping griddle, you'll want to make sure it will last a long time. Some of that is dependent on how well you maintain your gear, but the material that your griddle is made out of will also be very influential.

You'll find that many are made out cast iron, though there are quite a few steel griddles out there as well. What I like about cast iron is that it usually comes pre-seasoned – and if it doesn't, it's pretty easy to season it yourself. This helps keep your food from sticking to the griddle, making clean up a breeze when you're done cooking. When you're out in nature with no sink or dishwasher in sight, easy to clean cookware is a luxury that you never knew you needed.
Weight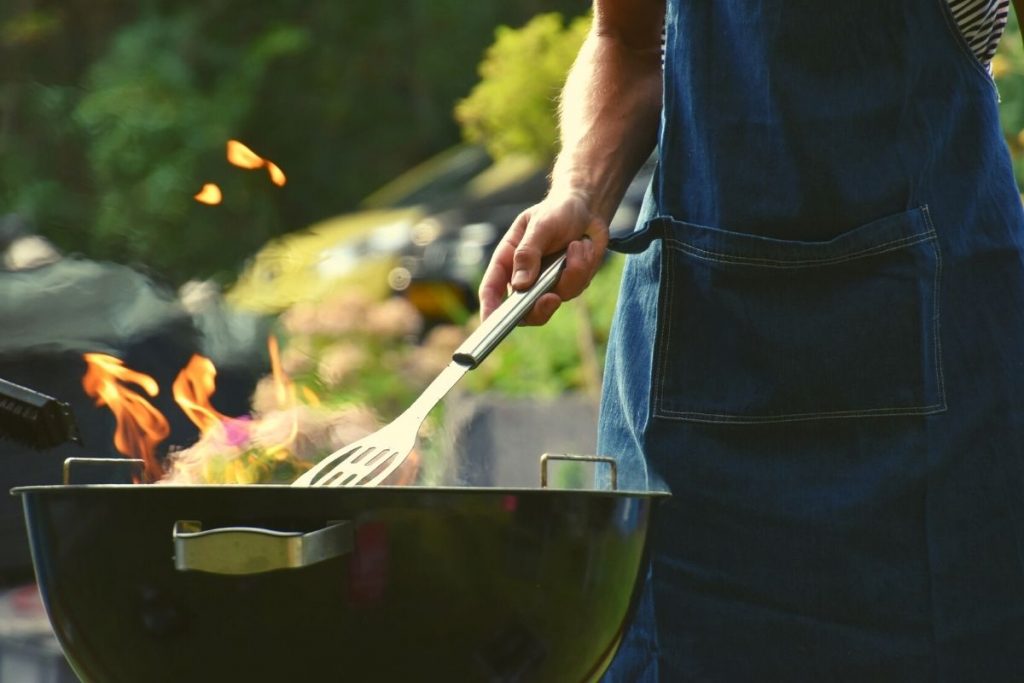 As we mentioned above, many camping griddles are made out of cast iron. And if you've ever handled cast iron before, you know that it's not the lightest material out there! Steel isn't much better either, so it's safe to say that most griddles aren't going to be suitable for backpacking – especially when you consider the weight of fuel and stovetop too.

However, lighter is always a better option, as long as you aren't sacrificing on quality in the process. Most of the products that we've reviewed below will fall somewhere between 7 and 40 pounds. Naturally, the heavier griddles tend to have a larger surface area, and the weight of the fuel is often included in that poundage. However, all things being equal, wouldn't you rather go with a 10 pound griddle instead of one that weighs 40 pounds? If you're only feeding yourself and a buddy, smaller and lighter is going to be your best option, regardless of where you're camping for the night.
Price
Price is one of those "make it or break it" factors that you probably look at before anything else. And as a good baseline, I would say that $150 is about average, in terms of what you'll spend to get a quality camping griddle. If that falls outside your budget, consider checking out other cookware that you can use over an open fire, to help you bring that cost down.

Read More: The Best Camping Cookware for an Open Fire
Fuel Type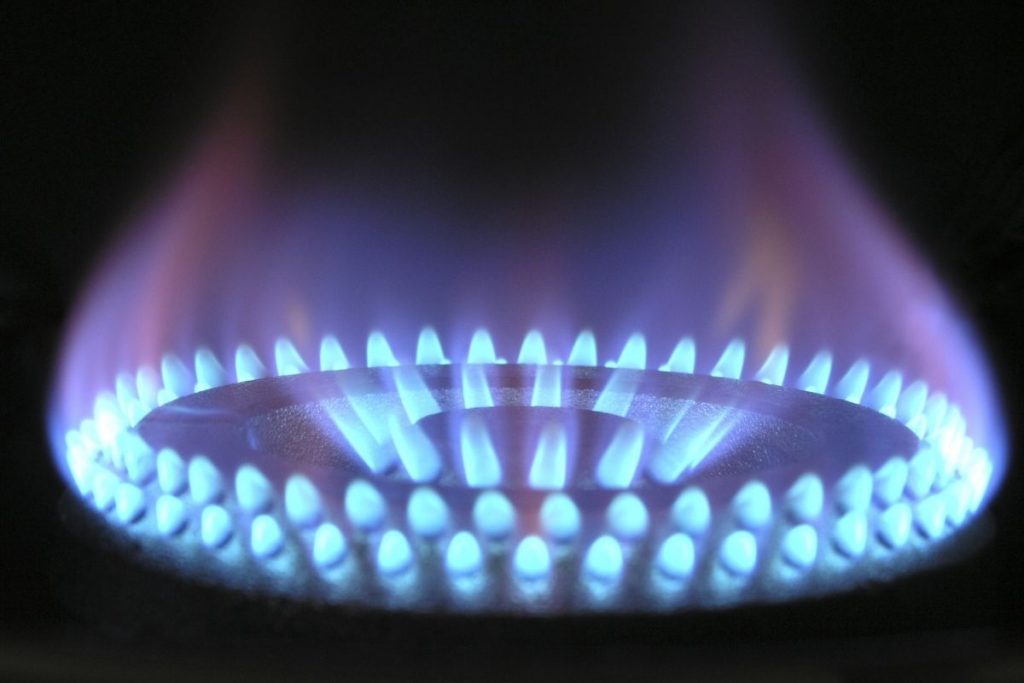 Can you use your griddle over an open fire, or is it propane only? Many camping griddles require a heat source (like BioLite's FirePit+) that you'll need to purchase separately, while others come attached to burners fueled by propane.

It's not too often that you'll encounter a camping griddle that says it can be used over an open campfire. However, if you have a grate to put it on top of, I see no reason why you couldn't use it this way. Just make sure you have oven mitts handy so you can move the griddle around when necessary. Also, if you do decide to put it over an open fire, keep in mind that it will be difficult to manage how hot the surface area gets.
Pro Tip: If your griddle doesn't come with a built-in fuel source, you might be wondering how you'll keep it suspended over your fire or stove. One method is to dig a shallow hole, a little over a foot in diameter, and place your heat source in there. Lay a large, flat stone on each side of the hole and place your griddle on top. Each handle of the griddle should be supported by a rock, suspending it over the hole where your heat source is located.
Camping Griddle Comparison Table
Best Camping Griddle Reviews
Material: Cast Iron
Weight: 8.75 Pounds
Surface Area: 130 Square Inches
Non-Stick: No
A perfect option for smaller groups, the BioLite FirePit griddle is a fairly light weight option for campers on the go. The surface is pre-seasoned, giving it a partially non-stick property, so you'll have an easier time with clean up when you're done eating. And what I love about cast iron is that the more you use it, the more seasoned it becomes over time.

With a raised edge measuring about 2 inches high, all of the grease, batter, and oil will stay inside the container. And let me tell you, this camping griddle just might be the most durable that we've ever seen. Though it's recommended that you get the BioLite FirePit+ (sold separately) as a heat source, you can use it over an open fire as well.

The surface of the griddle can be a little rough, however. I've heard of some people taking an angle grinder to it, in an effort to smooth the surface out before re-seasoning it.

Pros:

– Lightweight (as far as griddles go)
– Very durable
– Comes pre-seasoned
– Can be used with BioLite FirePit or over an open fire
– 2 inch high raised edge

Cons:

– Surface can be a little rough
Why You'll Want It
The BioLite FirePit is great for smaller groups who want a versatile griddle that stays non-stick (when properly seasoned) without using any nasty chemicals to get the job done.
Material: Cast Iron
Weight: 1 Pound
Surface Area: 108 Square Inches
Non-Stick: No
Though it's not a very versatile design, there's still a lot to like about the Weber Q griddle. Unfortunately, you will have to be in the population of outdoorsmen who own a Weber Q gas grill, if you want to get any use out of it. This griddle was specifically designed to slot into one half of the grill, allowing you to cook delicate food that would otherwise slip through the grate.

One side is flat, while the other has ridges, and it nests perfectly inside the cooker. Regardless of what you're preparing, you'll be able to fully close the lid of your grill, so you can cook your food to perfection. Being able to cook sausages on the grate and pancakes on the griddle at the same time is a feat that will make you a source of envy at the campground. And even better yet, food just doesn't stick!

Pros:

– Food doesn't stick
– Fits perfectly inside a Weber grill
– Only takes up half the grill, so you can cook multiple things at a time
– Very durable
– Grease disposal is simple

Cons:

– Expensive
Why You'll Want It
The smallest and least versatile camping griddle, the Weber Q will require you to have a Weber Q grill handy. However, the two-sided design makes it easy to cook eggs, pancakes, sausage, and more with ease.
Material: Cast Iron
Weight: 9.5
Surface Area: 160 Square Inches
Non-Stick: No
Want a griddle that you can use literally anywhere for anything? The Lodge reversible griddle/grill is a versatile tool that you can do just about anything with. Want to make eggs or pancakes? Just use the smooth side of the griddle to cook these and more. Want to get those nice grill marks on chicken or steak? Flip the griddle around and use the "grill" side for any kind of meat.

On top of that, you can use this product on a grill or over a campfire, so there's no need for you to purchase an additional fuel source. You could even slide it into an oven if you wanted, but that would have to wait until you get back home again.

Aside from being a little difficult to clean, and a tad expensive for what you get, there's little to dislike about this portable griddle for camping. It's a nice, basic option for those of you who want to keep it simple.

Pros:

– Simple but versatile design
– Can be used on the grill, over the campfire, or in the oven
– Handy reversible design
– Very durable
– Fairly non-stick when seasoned

Cons:

– A little hard to clean
Why You'll Want It
One of the most versatile products in our review, the Lodge reversible griddle/grill can cook anything over pretty much any heat source.
Material: Steel
Weight: 32 Pounds
Surface Area: 339 Square Inches
Non-Stick: No
Our first "all in one" griddle in this review, the Blackstone Tabletop griddle comes with an attached heat source. There are two H burners under the griddle, and each of these can be independently controlled. So, if you want one side to be hotter than the other, that's perfectly doable.

The large surface area also means that you can comfortably cook for a large group of people. No need to make several batches of food with this griddle – everyone's meal can come straight from the stove, so it's hot and ready at the same time. Of course, all of this extra space (and the fact that the stove is attached to the griddle) means that you're compromising on weight. Depending on how far you're carrying it, this 32 pound beast might be a two person job. Still, it's not too bad when you think about everything that's included in that weight.

Pros:

– Large cooking surface
– Even heating
– Two burners that can be independently controlled
– Easy to clean up
– Pre-seasoned

Cons:

– Quite heavy
Why You'll Want It
Coming with its own heat source, the Blackstone Tabletop griddle lets you adjust the temperature on each half of the cooking surface so you can prepare multiple items at once.
Material: Steel
Weight:

19.8 Pounds

Surface Area: 

221 Square Inches

Non-Stick: No
Royal Gourmet's gas grill griddle is perfect for people on a budget. Almost nowhere else will you find a camping griddle with an attached stovetop for as cheap as this one. And considering just how inexpensive it is for what you get, the quality is surprisingly good (though it still falls short of the Blackstone griddle mentioned above).

I am a little wary of the 1 pound weight that it's marketed to be. It's certainly not much heavier than that, but it's definitely not that light – especially when you factor in how much the fuel weighs too. However, a handful of pounds for such a large cooking surface is a pretty sweet deal any way you look at it.

There is a stainless steel tray that collects excess grease and other residues, making clean up simple and easy. On top of that, the gas burners do a good job of evenly heating up the griddle within a couple minutes. The ignition can be a little finicky, but once you've got it lit, the flames hold strong even when faced with powerful wind gusts.

Pros:

– Lightweight
– Good sized cooking surface
– Convenient grease tray
– Even heating
– Inexpensive

Cons:

– May have trouble igniting
Why You'll Want It
The Royal Gourmet gas griddle is one of the best values for the price you pay, offering adjustable burners and a grease tray that makes cleanup simple.
Material:

Aluminum

Weight: 

2 Pounds

Surface Area: 163 Square Inches
Non-Stick: No
About as basic as you can get, the Nordic Ware two burner griddle is essentially just an aluminum sheet pan. It's certainly not as durable as cast iron or steel, and you'll have to be careful not to let it get too hot, otherwise it will warp or melt. If you're putting in on a stove, I wouldn't recommend turning the heat up past medium.

But that's really where the downsides end. Not only is it incredibly lightweight, it's also very cheap and can be used for a variety of purposes. You honestly could treat it like a sheet pan, or you could put it on a double burner to use as a griddle. Setting it over a campfire is also doable, as long as you keep a close eye on it to make sure it isn't getting too hot. Aluminum has one of the lowest melting points of any metal used in cookware, and it's also toxic when ingested, so it'll be important to keep a close eye on it.

Pros:

– Cheap
– Basic
– Lightweight
– Versatile
– Non-stick

Cons:

– Shouldn't be used
Why You'll Want It
An aluminum griddle that's light and simplistic, the Nordic Ware griddle is a great option for folks on a budget who still want a reliable way to cook breakfast in the morning.
Material: Stainless Steel
Weight: 48.4 Pounds
Surface Area: 597 Square Inches
Non-Stick: No
We're pulling out the big guns with Country Smokers portable griddle. At 597 square inches, it has the largest cooking surface out of anything else we've reviewed…by a long shot. In fact, it almost feels like overkill, unless you're preparing meals for 6+ people. Definitely not something I would recommend lugging around if you're only cooking for you and one or two other people.

But for large gangs, it gets the job done well. The cooking surface isn't non-stick, but it has been pre-seasoned with organic cooking oil, making clean up fast and easy. In addition to that, there are multiple burners that you can control independently, making sure everything is cooked to perfection. If you want to prepare 5 dozen eggs along with a handful of sausage patties, this is the griddle for you. Just be aware that some components (like the legs) are a little flimsy, so you'll always want to be gentle with it and use it on a flat surface.

Pros:

– Very large cooking surface
– Pre-seasoned with organic oil
– Four independent burners
– Made from durable stainless steel
– Foam covered handles for comfortable transportation

Cons:

– Heavy
– Some portions are a bit flimsy
Why You'll Want It
A massive griddle, this one by Country Smokers is ideal when you've got a large, hungry crew to feed.
Material: Stainless Steel
Weight: 49.6 Pounds
Surface Area: 432 Square Inches
Non-Stick: No
This griddle by Razor is a beast. It's the heaviest griddle in our lineup, and it doesn't have the largest surface area, but it really can't be beat when it comes to pure quality. Durable, portable, and incredibly easy to use, it's the perfect addition to your camping setup – or for your backyard when you aren't at the campground.

It's easy to get overwhelmed when you first get the griddle. You look at such a big box and you'd expect it to be difficult to put together, considering all the bells and whistles that come with the design. But surprisingly enough, it's very user friendly, both when you look at initial setup and as you learn how to cook with it later on.

As a griddle that's both collapsible and on wheels, you can pull it behind you like a rolling suitcase. This allows you to transport it to more remote locations, despite the heavy weight of the steel frame and cooking surface. There are also two burners that can be controlled separately, allowing you to fine tune the heat of the griddle so everything can be cooked to perfection.

Pros:

– Well built
– Easy to use
– Simple to setup
– Very portable
– Even heat distribution
– Large cooking surface

Cons:

– Heavy
– The propane holder is a little
Why You'll Want It
The Razor griddle is another nice option when you need to cook for large groups and don't care about portability quite as much.
At Untamed Space, we're passionate about helping you have the best camping experience possible. Our team of experts have experience camping and backpacking all over the world, allowing them to provide insightful and relevant content to guide you in your outdoor pursuits.

All of our reviews are based on a combination of firsthand experience, extensive research, and an analysis of customer feedback. We are an independent website and do not receive payments or incentives from manufacturers to promote their products, and we continuously update our content to provide new information based on product availability. Wherever you are in your journey, whatever gear you're searching for, you can be sure to find unbiased and up-to-date reviews for all of your needs.
Final Thoughts
There's nothing like a good griddle to spice up your camping trip. They're often large and bulky, but I find that they're a worthy investment for car campers to make, to liven up the food culture of their campsite.

However, it's important to choose carefully, and take a few factors into consideration. How many people are you feeding? What's the weight of the griddle? Can it be used for anything else? With these things in mind, we believe that Blackstone's tabletop griddle is the best overall product for campers to use. The cooking surface isn't too large or too small, making it the optimal size for the most amount of people. It's also small enough to carry, and has a two burner design that's easy to use and easy to clean when you're done.
---
Related Posts: