If you're tired enough, you'll be able to fall asleep without a pillow. When I went backpacking through the Himalayas, this was the thought that crossed my mind as I unrolled my sleeping bag and laid my head down on my fleece jacket. And you know what? I was 100% right! After walking 20 miles a day with several thousand feet in elevation change, I probably could've fallen asleep standing up.

However, while that might be the case for me, it is a rather extreme example. For most of you, using the ground or your jacket isn't a reasonable (let alone comfortable) option, but bringing your pillow from home isn't really the best idea either. That's why we've laid out some of the best camping pillows, so you can enjoy a good night's sleep even when you're far from home.
In this article, we'll be reviewing the following camping pillows:
Packability
How easy will this be to pack? It's a question you should be asking yourself for everything you want to bring. Especially if you're going to be backpacking, it's important to keep in mind that all of your belongings are going to need to fit inside your pack. For most people, once they've got their tent, sleeping bag, food, and other camping essentials, it's hard to find room for "less important" things like a good pillow to sleep on.

However, this doesn't have to be the case. There are plenty of pillows that pack down to the size of a soda can, so unless you're packed to max capacity, there's no need to give up on comfort. And if you weren't planning on stuffing your backpack as full as possible, you can be a little more generous with the type of pillow you end up going with. For example, an inflatable pillow from Walmart packs down incredibly small, but that's because all you have to do is blow air into it. Air will soak up the cold coming from the ground, and it's not as comfortable as a pillow that has something else inside.
Cleaning and Maintenance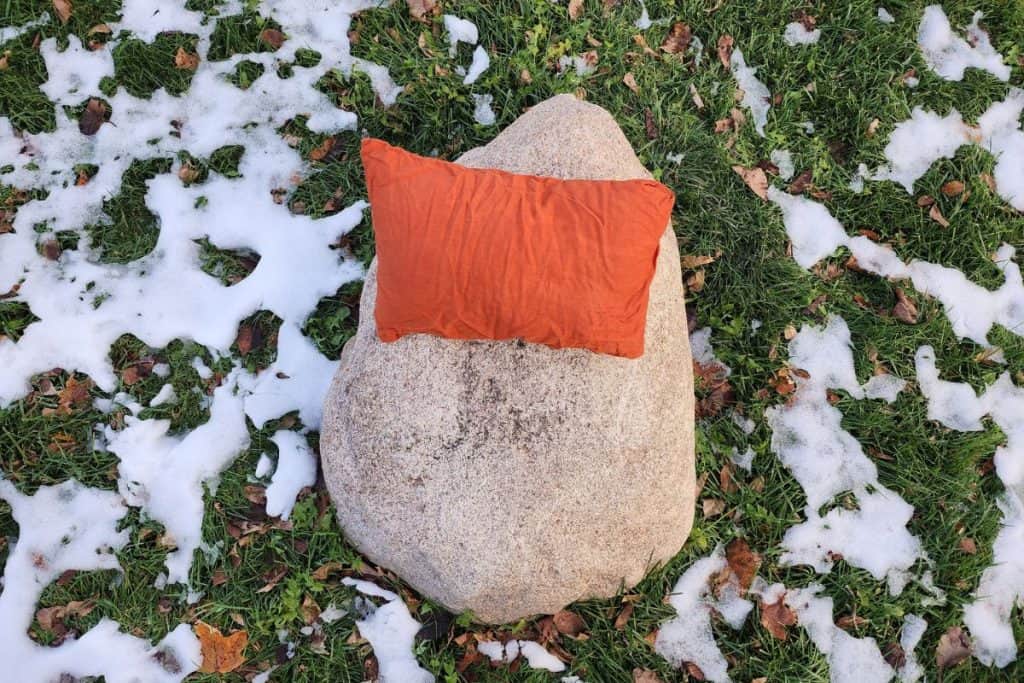 Alright, time for some real talk here. I'm a nighttime drooler, and there's no denying that (especially since my wife likes to remind me every chance she can get). Between the drool and other random sticky spots that pop up during the course of a camping trip, my pillow is due for a good wash by time I get home.

If you're like me, do yourself a favor, and get a camping pillow that's machine washable. Most can't be tossed in a drier, but that's okay – leaving it to air dry is cheaper anyway. However, you just can't beat the convenience that comes from being able to pop it in a washing machine, especially if there's quite the mess to clean up.
Comfort
Arguably the whole reason you want to get a pillow in the first place, the level of comfort it provides isn't something you should overlook. What is it filled with? I've brought a travel sized My Pillow while trekking before, and even though it doesn't compress down as much as some other products, it was incredibly comfortable. Some pillows are filled with air, which means they're easy to shrink down and put away, and you can adjust how "soft" you want it just by adding or removing the air inside. When you're first learning how to camp especially, I usually suggest you lean more toward comfort. Because of this, I like to go with a memory foam or fiber fill, instead of air.

It's worth it to pay attention to the shape of the pillow too. There isn't much to support your body when you're camping, so whatever pillow you decide to use is going to be the extent of it. Some are more ergonomically designed, while others are not, and differences like these can make or break your overall experience. Pair it with a great sleeping pad or air mattress, and you won't even notice you aren't sleeping on a cloud.
Durability
Even though it probably won't be exposed to the elements as much as your tent, durability isn't something to brush off. Aside from size, one of the biggest reasons I don't recommend using your normal pillow for outdoor use is because it will get beat up and dirty really fast. Even if you don't put it directly on the ground or in the rain, the fabric will get dirty just by touching everything else in your pack.

To avoid this, you'll want a product made with an easy to clean, water repellant material. Polyester is the most common, and while it isn't my personal favorite, it still is a very good option for those of you looking for comfort and durability.
Simplicity
Pillows are a symbol of comfort and relaxation. So why would you get one that's a pain to setup, use, or pack away again?

Especially after a long, exhausting day of hiking, the last thing you'll want to do is hyperventilate while trying to inflate your pillow. The ones that require that much air really aren't the most comfortable pillows either, so it's a lose-lose situation any way you look at it.

Grab a pillow that will help you fall asleep quickly and painlessly. You may end up spending a bit more money on it, but trust me…when it comes to your quality of sleep, the extra money is worth it.
Camping Pillow Comparison Table
Best Camping Pillow Reviews
Weight: 2.75 Ounces
Material: Polyester
Fill: Air
Remember when I said that there are camping pillows out there that are the size of a soda can when packed away? Well, this Trekology camping pillow is one of them. In fact, it's even smaller than that, coming in at 5×2 inches when fully rolled up. After blowing into it a few times, the pillow will inflate to a width of 16 inches, which fits well with most sleeping bags, cots, or pads.

Because comfort is important, Trekology utilized an ergonomic design for their pillow. The built in curvature helps give you the support you need, especially around your neck, so you wake up feeling more relaxed and refreshed that you would with a flat pillow. The material is also water resistant and anti-slip, so not only will the water and dirt come off easily, but your head will stay where it belongs – on the pillow.

Pros:

– Packs down small
– Easy to inflate
– Water resistant
– Ergonomic shape
– Anti-slip material

Cons:

– Too stiff to really feel comfortable, though the support is great
Weight: 2.2 Pounds
Material: Nylon
Fill: Memory Foam
It's hard to find an outdoor brand that does sleeping gear better than HEST. In particular, their camping pillow is going to get as close as possible to the pillow that you sleep on back home, while staying lightweight and portable. Using a mixture of memory foam and polyester, you'll get all the support you need, while retaining a comfortable place to lay your head. And even better yet, it won't lose its shape after sleeping on it all night!

Bigger than most travel pillows out there, it's still small enough to pack away and transport without issue. Which means you get all the luxury without any of the hassle, considering this is essentially a full-sized pillow that takes up half the space.

The zipper is exposed (so you may rub against it, depending on how you sleep), and it does like to snag. However, aside from that, there's very little to dislike about this camping pillow.

Pros:

– Large
– Comfortable
– Packs down nicely
– Supportive
– Doesn't lose its shape

Cons:

– Zipper likes to snag
Weight: 9 Ounces
Material: Polyester
Fill: Memory Foam
Looking for a pillow that's focused more on comfort than packability? You'll love Wise Owl's camping pillow, made out of memory foam to provide a place for your head to rest that might be more comfortable than your pillow back home! This product is 5 inches thick, offering more than enough cushioned support for your head and neck.

Because of the memory foam structure, it doesn't compress down into as small of a package as inflatable pillows. However, it is still shorter than a foot, and there are 3 sizes to choose from so you can customize what you would like based on how much room you'll have to carry it. As someone who's used a My Pillow while camping, I can tell you that the extra bulk from a pillow with memory foam is completely worth it. Unless you're an avid backpacker looking to cut down size and weight anywhere possible, you likely won't mind the bulk.

Pros:

– Super comfortable
– Memory foam adjusts to your body shape
– 3 sizes to choose from
– Come in multiple colors

Cons:

– A little large and bulky
Weight: 3.8 Ounces
Material: Nylon/Microfiber
Fill: Synthetic/Air
A quality camping pillow with a double nature, the Cocoon Air-Core Hood is the sort of friend you'll want to have in a variety of climates. One side is a cozy polyester microfiber to keep you warm in cooler temperatures, and the other side is a smooth nylon to help you stay cool in the heat.

I'm typically not a huge fan of inflatable pillows that have an air core, but I may have to make an exception for this one. It doesn't take many breaths to inflate, and it's surprisingly comfortable. Most inflatable pillows don't contour to people's heads, but this one seems to be different, if ever so slightly. It's also lightweight and packs small, making it an ideal option for both backpacking and car camping.

The size is perfect for fitting inside the hood of your sleeping bag as well. However, it's worth noting that you won't really have room for your head inside the hood if your pillow is in there too. This is mostly the case when you're camping in colder temperatures, and want to have your face covered with the drawstring cinched. In most normal scenarios, you shouldn't have a problem with this.

Pros:

– Lightweight
– Good in both hot and cold weather
– Easy to inflate
– Packs down tiny
– Great size

Cons:

– Not machine washable
Weight: 4.1 Ounces
Material: Foam
Fill: TPU
Another one by Trekology, this camping pillow has a few noticeable differences compared to the ultralight inflatable pillow listed above. First, while it is still inflatable, it comes with a removeable foam cover that will be more comfortable to sleep on. The cover is easy to wash, and you can always sleep on the pillow without it if it's not your style or happens to be dirty.

Even with the added foam, this pillow still packs down to a size smaller than a soda can. There's even a pad attachment that connects to your inflatable sleeping mat, so the pillow won't move during the night even if you're tossing and turning. The ergonomics is also great for head and neck support, as well as back support if you wanted to use this pillow as a cushion while you sit for a long time.

Pros:

– Packs down small
– Easy to inflate
– Foam cover for comfort
– Pad attachment to connect to your sleeping pad
– Great ergonomics

Cons:

– The foam cover isn't as thick as some people might like
Weight: 5.25 Ounces
Material: Polyester
Fill: Foam
I have to admit, I was a little skeptical when I first saw the REI Trailmade pillow. It just doesn't look like the sort of product that you'd want to bring with you on a camping or backpacking trip, if you know what I mean. With the color patterns and bulk, it seems like it would be better as a decorative pillow on your couch back home.

However, you'll be surprised to discover just how comfortable this pillow actually is. The bulkiness is definitely there, but it still rolls up nicely, and could even be taken on short backpacking trips. And despite being filled with foam, it doesn't lose its loft over time, so you'll always have a supportive place to rest your head.

Speaking of foam, that's all there is to this pillow. That means you don't have to waste time, energy, and breath inflating it before you can go to bed. I've found that pillows like this tend to feel more like what you use back home, when compared with pillows that have an air core.

Pros:

– No inflation required
– Comfortable
– Doesn't lose its loft
– Can be rolled up and stored
– Durable

Cons:

– A bit bulky
Weight: 4 Ounces
Material: Polyester
Fill: Air
Say hello to your new backpacking pillow. Weighing just 4 ounces, the Aeros is a compact and lightweight option that's perfect for the trails. And the best part is that you won't have to compromise on comfort or support, despite the excellent portability that this camping pillow provides. It's certainly not as cozy as a foam pillow, like the REI Trailbreak that we just mentioned above, but it's the top of its class when compared with other backpacking pillows.

Easy to inflate and easy to wash, I know many people aren't happy that you can't toss it inside a washing machine. However, for the convenience of a light and comfortable pillow option, it feels like a small price to pay. To clean it off, all you have to do is inflate it, and stick it in a stream before leaving it in the sun to dry. A simple rinse in the sink at home would do the trick as well.

It will take some lung power to fill it up, but you'd be surprised by how little effort it takes. Just a few breaths of air and your pillow will be ready to go for the night – how hard or soft it is can be determined by how much air you put into it.

Pros:

– Lightweight
– Portable
– Easy to inflate
– Comfortable
– Packs down small
– Very durable

Cons:

– Can't be machine washed
At Untamed Space, we're passionate about helping you have the best camping experience possible. Our team of experts have experience camping and backpacking all over the world, allowing them to provide insightful and relevant content to guide you in your outdoor pursuits.

All of our reviews are based on a combination of firsthand experience, extensive research, and an analysis of customer feedback. We are an independent website and do not receive payments or incentives from manufacturers to promote their products, and we continuously update our content to provide new information based on product availability. Wherever you are in your journey, whatever gear you're searching for, you can be sure to find unbiased and up-to-date reviews for all of your needs.
Final Thoughts
Unless you're into glamping, spending a night in a tent will never be as comfortable as your own bed back home. However, there are ways to make the experience a little more pleasant, and getting yourself a good camping pillow is one of the best ways to do this.

Trekology's camping pillow covered all of the important points for us, from packability to comfort to durability. Because it's inflatable, it can be deflated and rolled up to a size smaller than your hand. Blowing it up is also easy, usually taking about 3 full breaths on average. Typically I'm not a fan of the inflatable pillows, simply because they aren't as comfortable as something filled with foam or other types of fibers. However with this pillow, the addition of the foam cover sealed the deal for me, considering it was above average in every other area too.
---
Related Posts: