If you're in a rush and want to find out what the best camping towel is, we recommend the REI Co-op Multi Towel Lite.

Whether you're going on an epic hiking expedition or simply unwinding by the lakeside, there's one thing you can always expect with outdoor recreation: you're going to get wet. Sweat, rain, or a quick dip in a river will soak you before you know it, threatening discomfort and danger if left alone for too long.

The best camping towel will dry you right off, allowing you to jump right back into your activities clean and refreshed. But choosing a towel for camping isn't the same as choosing one for your shower back home. Here's everything you need to know before you purchase your next travel companion.
In this article, we'll be reviewing the following best camping towels:
Best Camping Towels – Reviewed
Best Use: Camping, Travel

Materials: Polyester, Microfiber

Weight: 6.5 Ounces

Quick Drying: Yes
Lightweight and affordable, the REI Multi Towel Lite checks all of the boxes, making it the best overall camping towel that you'll find on the market.
At this point, it should come as no surprise that REI makes quality gear. Even their towels are impressive, as the Multi Towel Lite can absorb up to 8 times its weight in water…and then wring out almost completely dry in a matter of seconds.

Much of this ability stems from the materials used in its construction. Part polyester, part microfiber, it's going to have that textured surface that soaks up moisture like no one's business. At the same time, the soft materials feel great on the skin, providing something cozy to wrap yourself up in when you're away from your regular bath towel.

Since this is the "lite" version of the towel, it takes up a very small amount of space inside a backpack. And considering it only weighs 6.5 ounces, you could definitely take this towel with you on an extended backpacking trip. My only problem is that the carry bag is subpar at best, falling apart with minimal usage. However, you're not going to be drying yourself off with the bag, are you? While it might be an unfortunate oversight on REIs part, it's no reason to pass up on an otherwise amazing camping towel.

Pros:

– Lightweight
– Nice variety of sizes
– Very absorbent
– Dries quickly
– Affordable

Cons:

– Bad carry case
Best Use: Camping

Materials: Polyester, Polyamide

Weight: 10.1 Ounces

Quick Drying: Yes
Despite being a little expensive, the Sea to Summit Tek Towel is soft and absorbent, doing a phenomenal job at drying you off while feeling great on your skin.
The Sea to Summit Tek towel is what I consider to be your traditional microfiber towel. It's got that classic appearance and texture that you'd expect to find from this material, making it one of the more effective (and softer) options in this review.

And really, that's where it shines the most. Unlike many towels, the Tek towel actually absorbs the water, instead of just moving it around. It can suck up quite a bit as well, so despite its relatively small size, it won't struggle to dry off your whole body. Even better, it dries off in a matter of minutes, allowing you to pack up and leave immediately after bathing or swimming.

I also appreciate the softness, for maximum comfort. At the same time, it's nice that the material has a bit of grit to it, so you can still scrub yourself and feel like you're getting any residual dirt or dead skin off your body. While the Tek towel is a bit pricy for this type of product, there's no denying that it's worth every penny when you get down to it.

Pros:

– Soft
– Absorbent
– Good size
– Quick drying
– Compact

Cons:

– A little pricy
Best Use: Multisport

Materials: Polyester, Nylon

Weight: 10.4 Ounces

Quick Drying: Yes
Large and fairly absorbent, the PackTowel Luxe is a great option for beach camping or other outdoor activities that won't take you too far from home or your car.
One of the larger camping towels in this review, the PackTowel Luxe is a great option when you need to dry off quickly. While it's not as absorbent as the REI multi towel mentioned above, the Luxe can still suck up 5 times its weight in water. Generally speaking, that's more than enough to get you ready to go after a soak or a swim.

The Luxe also wrings out well and dries fast enough where you can hit the trail again shortly after using it. I find that it's not quite as impressive in this regard as Tek Towel by Sea to Summit, but it's still a lot better than what you'd get from a cotton towel. Microfiber is still microfiber, so you can expect a superior performance, regardless of the towel that you buy.

It's worth noting that since the Luxe is quite large, it's not really suitable for backpacking trips. I'd use it mostly while beach camping, or on a quick weekend trip, assuming you have the space to bring it with you. While it's not the most compact camping towel out there, it certainly is comfortable and does a great job at resisting odors.

Pros:

– Odor resistant
– Reasonable price
– Comfortable
– Absorbent
– Great surface area

Cons:

– Too big for backpacking
Best Use: Camping, Watersports

Materials: Polyester, Microfiber

Weight: 1.2 Pounds

Quick Drying: Yes
Heavy and durable, the Nomadix Original Towel is just what you need for a rough and tumble at the beach or somewhere else that's close to home.
Rugged and durable, the Nomadix towel is what you want to get when you plan to play rough with your gear. Not only is it the heaviest towel in this lineup, but it's also the best at resisting wear and tear. Whether that comes in the form of a rocky shore or several dozen runs through the washing machine, the Nomadix towel has got you covered.

However, since it does weigh over a pound (and it's not the most compact towel out there), I wouldn't recommend backpacking with this one either. Like the Luxe, this one is better used for beach camping or other fun watersports that don't require you to hike long distances out and back. Although, if you were really insistent, hiking a few miles with the towel wouldn't be the end of the world either.

The Nomadix comes in a variety of colorful designs, but don't worry if none of them suit your tastes. On the underside of every towel, you'll find a solid charcoal print that provides a nice neutral color for those of us who like things to be more subdued. Overall, it's definitely a solid option with great absorbency that will suit most of your recreational needs.

Pros:

– Durable
– Absorbent
– Quick drying
– Fun patterns
– Versatile

Cons:

– A bit on the heavy side
Best Use: Camping, Travel

Materials: Polyester

Weight: 5.6 Ounces

Quick Drying: Yes
Incredibly lightweight, the Matador Nanodry is a full-size towel that compresses into a tiny bundle, making it one of the most portable options in this review.
One of the lightest camping towels in our review, you might be surprised to find out that the Matador Nanodry towel isn't also one of the smallest. In fact, it's as large as a full-size shower towel, allowing you to wrap it around your body with ease.

Now you might be wondering what the catch is, since there's no way you can have such a large, lightweight towel without cutting corners. And ultimately, the "catch" can be summed up in its ability to absorb up to 2.3 times its own weight in water. This is a marked decrease compared to the PackTowel Luxe, which can absorb up to 5 times its own weight, and the REI multi towel lite, which can absorb up to 8 times its own weight.

So, absorbency just isn't there. But at the end of the day, what else would you expect from something designed for portability? While it wouldn't be my first choice for car camping or a day at the beach, the Nanodry towel is terrific for backpackers who still want the coverage of a full-size towel.

To this end, the Nanodry comes with a silicone travel case and carabiner, allowing you to pack it away quite easily. It rolls up in a tight package, ready to be shoved in a corner of your backpack or hung from the outside.

Pros:

– Very lightweight
– Compact
– Comfortable
– Full-size
– Convenient travel case

Cons:

– Not as absorbent
Best Use: Backpacking

Materials: Polyester

Weight: 2 Ounces

Quick Drying: Yes
The smallest and the lightest, the Nomadix Bandana can be wrapped around your head or neck, or you can shove it in your pack, making it a great option for backpackers.
The smallest and lightest camping towel that we've covered, the Nomadix Bandana is perfect for ounce counting backpackers. Weighing just a mere 2 ounces, the Bandana is an inch shy of 2 feet by 2 feet. Considering the size, most people would only see it as a face towel or a washcloth. But for a backpacker, it's called "luxury."

You're not going to get the comfy, cozy vibe with the Bandana, but backpackers will take what they can get. If you don't mind your hair staying a little wet, this towel actually does a phenomenal job at drying you off with one pass over your body. It's a lot more absorbent than it looks, so whether you're wiping the sweat from your eyes or you're drying off after a dip in the river, it won't struggle to perform. The material is super soft too, so it actually feels really good to run it over your skin.

In my opinion, the biggest flaw is that there isn't a loop to hang the bandana from. There's a tag with the brand name, but that's all it is – an oversized tag. I'm not sure why Nomadix didn't think to turn it into a loop, but I suppose you could always sew it into one, if you have the desire and capacity. Aside from that, though, there's very little to complain about with the Bandana for backpacking and work around the house.

Pros:

– Ultralight
– Compact
– Very absorbent
– Dries fast
– Durable

Cons:

– No loop to hang-dry it from
Most Affordable Camping Towel
Best Use: Isobutane

Materials: Polyester, Microfiber

Weight: 6.2 Ounces

Quick Drying: Yes
If you're on a tight budget and still want a quality camping towel, the Rainleaf Microfiber Towel just might be the one for you.
And finally, we have the Rainleaf microfiber towel. It's the cheapest camping towel to make it into our review, which means it's a great choice for campers on a budget. Of course, every time you opt to take the budget friendly route, you're almost always going to experience a flaw in the design or a pain point to live with.

In the case of the Rainleaf towel, that comes in its ability to dry quickly. Don't get me wrong, its ability to absorb moisture is just as good as any other towel in this review; however, if you value the quick drying capabilities of something like the REI multi towel, you'll be disappointed with the Rainleaf.

On the other hand, if the drying ability (or lack thereof) doesn't bother you, you'll love getting such an absorbent towel for so cheap. Soft and comfortable on the skin, it's the sort of towel that you could easily bring to the beach, to the gym, or anywhere else that you bathe, swim, or sweat. It doesn't pack down as well as some of the other towels that have been mentioned, but it's still quite compact and portable.

Pros:

– Absorbent
– Affordable
– Feels good on the skin
– Convenient carry case
– Hanging loop

Cons:

– Doesn't dry very quickly
Best Camping Towel – Buyer's Guide
A towel usually isn't the first thing that comes to mind when someone imagines what they'll need while camping. And yet, depending on your activities, it can be one of the most integral additions to your kit. To make sure you find something that suits your needs, here are a few points to consider:
Fabric Material
When it comes to choosing the best camping towel, it's worth being picky about what type of material you want to go with. After all, there's nothing worse than having a towel that leaves you feeling damp and uncomfortable instead of dry and refreshed. Or, if you're like me, certain towel materials can really make your skin sensitivities flair up. So, to give you an idea of what you have to work with, here are some of the most common towel materials:

Microfiber: Ultra-absorbent and quick drying, I would say that more often than not, microfiber should be your go-to fabric. These towels are made from synthetic fibers that are small and fine, allowing them to absorb water like a sponge. Not only do they soak up moisture effectively, but they also dry much faster than traditional cotton towels. So, when you need a way to dry off fast and can't afford to wait all day for your towel to do the same, microfiber is definitely the way to go.

Tencel: If you're an eco-conscious camper, you'll love towels made from Tencel fabric. Derived from sustainably sourced wood pulp, Tencel is a natural fiber that's not only soft to the touch but also easy on the environment. The moisture-wicking is pretty good, and Tencel has a natural resistance to bacteria and odor, to help your towel stay fresh and clean for longer periods of time.

Bamboo: One of my personal favorites, bamboo-based towels are another fantastic eco-friendly option. Bamboo fabric is known for its softness and anti-bacterial properties, which means you won't have to worry about any musty odors or skin discomfort. Not to mention, bamboo is a renewable resource that grows quickly, which makes it sustainable and good for the environment.

Cotton: The material you're probably the most familiar with, there's no denying that you just can't beat the comfort and familiarity of good old cotton. At the end of the day, cotton towels are soft, gentle on the skin, and what we're all used to using. They may not dry as quickly as their synthetic counterparts, but they still offer a cozy feel that many campers prefer. If this is the route you'd like to go, try to look for towels made from high-quality, long-staple cotton for added durability and softness.
Size
Camping towels come in all shapes and sizes, so when it's time to choose the perfect one, you should try to strike a balance between portability and practicality. Not only should your towel be easy to carry (especially if you're backpacking), but you should also make sure that it's still large enough to serve its purpose effectively. Most camping towels come in various sizes, ranging from small hand-towel size to large beach-towel size.

Minimalist campers will want something smaller and more lightweight, usually just enough for a quick wipe-down or for use as a washcloth. These are usually around 12×24 inches and are a great choice if you're trying to save space when embarking on a shorter trip.

On the other hand, if you're planning an extended camping adventure or want something that covers your entire body comfortably, a larger towel is worth the extra bulk. I'd recommend looking for towels that measure around 24×48 inches or larger, as these offer more surface area to help you dry off and get cozy.
Absorbency
What are camping towels supposed to do? Absorb water so you can get dry and move on with your life. And one of the essential factors to consider for absorbency is the material of the camping towel, as some definitely do it better than others. For example, microfiber towels are fantastic for camping because they have tiny fibers that create a large surface area, which translates to exceptional absorption capabilities. These towels can hold several times their weight in water, making them ideal for drying off after a swim or a shower at the campsite.

At the same time, I have to refer back to my personal favorite material – bamboo-based towels. As mentioned above, bamboo is naturally antibacterial and hypoallergenic, and it also has incredibly powerful moisture-wicking properties.

That being said, once your towel has dried you off, it's important for it to dry off quickly as well. You don't want to pack a wet and soggy towel in your backpack, as that's just asking for unpleasant smells and extra water weight to carry around. Look for towels that are not only highly absorbent but are also quick-drying, for the best results when it comes to odor resistance, which we'll talk about next.
Odor Resistance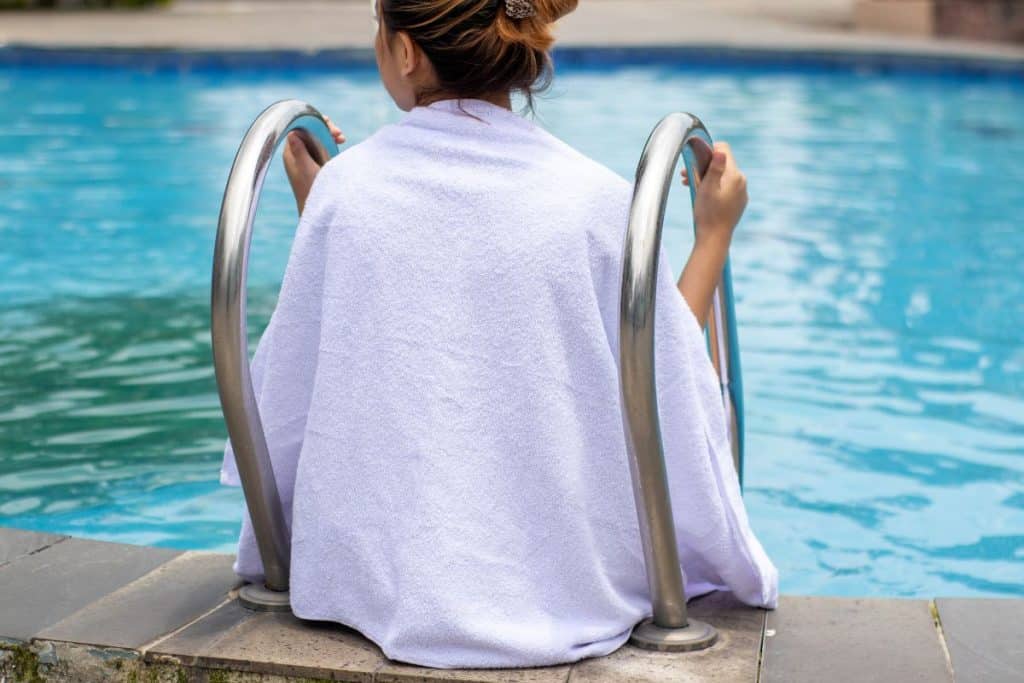 When you're out in the wild, drying off with a stinky, bacteria-infested towel is the last thing you want to do, which is why odor resistance (and cleanliness) is so important. The best camping towels are designed with advanced materials that actively fight off odors and inhibit the growth of bacteria. That being said, it's still best to clean the towel regularly, just to make sure nothing unsavory takes up residence.

Ironically, microfiber towels are one of the best when it comes to keeping odors at bay. In addition to their superior absorbency and quick-drying functionality, it's no wonder why this material is everyone's favorite to use when camping. They're even easy to clean, as almost all of them can just be tossed in the washing machine with your regular laundry.

But regardless of the material you're using, remember to take good care of your towel during your camping trip as well. All it needs is a quick rinse from time to time, along with the opportunity to fully air dry, and you'll have a fresh smelling towel for the entire length of your trip.
Portability
Portability is always a concern when it comes to camping gear, and that's no different when you're looking for a towel. If you're backpacking, you want something small and compact that will take up the least amount of space possible. But even when you're car camping, trying to handle a couple of large, fluffy towels is going to be more painful than you bargained for.

Nowadays, many camping towels come with their own carry case to help with storage and portability. Not only does it keep your towel neatly folded when it's not being used, but it also prevents it from getting tangled up with all of your other camping gear.
Durability
When dealing with the rigors of camping, it's only natural that your gear will take a beating. Many cotton towels will do okay, but after extended use, you'll probably start to notice fraying at the edges and thinning of the material in other places. Microfiber towels are surprisingly durable, however, since they're not easily worn down by friction. They're also designed to withstand tears and abrasions, so it's unlikely that they'll develop any holes like some regular towels might.

Still, regardless of the material you end up choosing, it's best to keep an eye out for camping towels with reinforced edges or stitching. This small detail might not seem like much, but it significantly extends the life of the towel, preventing fraying and unraveling that could spell its untimely demise.
At Untamed Space, we're passionate about helping you have the best camping experience possible. Our team of experts have experience camping and backpacking all over the world, allowing them to provide insightful and relevant content to guide you in your outdoor pursuits.

All of our reviews are based on a combination of firsthand experience, extensive research, and an analysis of customer feedback. We are an independent website and do not receive payments or incentives from manufacturers to promote their products, and we continuously update our content to provide new information based on product availability. Wherever you are in your journey, whatever gear you're searching for, you can be sure to find unbiased and up-to-date reviews for all of your needs.
FAQ
How is Microfiber Different from Regular Materials?
A microfiber camping towel stands out due to its unique composition of tiny, densely packed fibers. This design allows it to be highly absorbent and quick-drying, making it an excellent choice for camping. On the other hand, regular towels may not offer the same level of portability and efficiency, often taking longer to dry and occupying more space in your camping gear.
Are Camping Towels Machine Washable?
Yes, most camping towels are machine washable, making them easy to maintain. When on the go, if machine washing isn't an option, you can still keep your towel clean by rinsing it thoroughly with water and using biodegradable soap to remove dirt and sweat. After rinsing, wring out excess water and let it air dry in the sun.
How Do I store My Camping Towel After Use?
Before stashing it away, make sure your towel is thoroughly dry to prevent mold and unpleasant odors. If it's still slightly damp, hang it outside your backpack to dry further as you hike, only folding it up after it's completely dry. Afterwards, you can pack it neatly inside of a breathable mesh bag, which helps with air circulation.
Final Thoughts
As we wrap up this review, it should be apparent that the best camping towel is more than a piece of fabric; it's an essential tool that can elevate your camping experience from damp and cumbersome to efficient and comfortable.

At the end of the day, we had to choose the REI Co-op Multi Towel Lite as the overarching winner of this competition. Its lightweight composition ensures you won't be lugging around unnecessary bulk, leaving ample room for other gear. And considering how well it absorbs liquid, the towel will dry you off in no time, all while being tough enough to withstand the rigors of the wild.
---
Related Posts: