If you're in a rush and want to find out what the best camping utensils are, we recommend the Sea to Summit titanium spoon, fork, and knife set.

Food is the way that you replenish your energy supply – a critically important process, especially when you're camping or backpacking. Snacks like granola bars and trail mix can easily be eaten using nothing but your hands, but what about the more traditional meals that you eat during the day? Surely you didn't plan on using your fingers to scoop it into your mouth.

The best camping utensils are the solution to this problem. From sporks to full cutlery sets, we've reviewed some of our favorite options for you to choose from below.
In this article, we'll be reviewing the following best camping utensils:
Choosing Camp Cutlery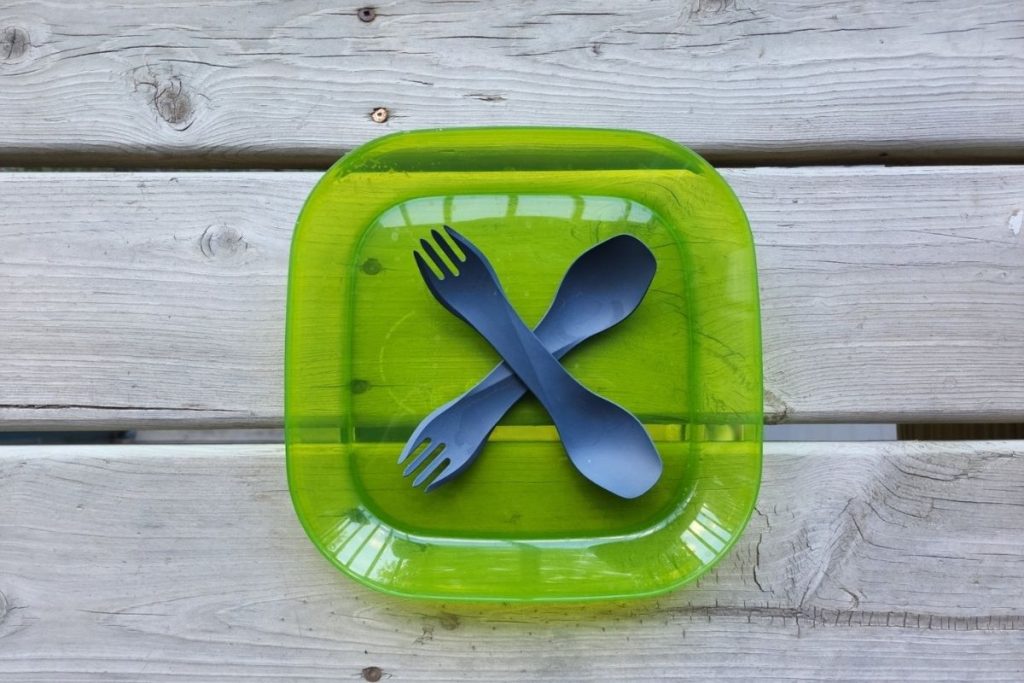 When you're throwing together your camping checklist, you'll likely be putting a lot of thought into what you want to eat. Risotto, pasta, soup…maybe even a good steak, if you have the tools needed to cook it. Aside from water (and shelter, depending on who you ask), there's truly nothing more important than food, when it comes to camping.

But while you're meal planning for the weekend, you know what's really easy to overlook? That's right, the utensils. As far as camping gear goes, they're small and I guarantee you'll forget to bring them if you aren't careful. You may have remembered all the food, but that doesn't necessarily mean much if you don't have a way to eat it!

There are a lot of options to choose from when it comes to camping silverware, though, so how do you know where to start? Well, here are a few different points to keep in mind when you're looking for the best camping utensil:
How are you camping?
As in, are you car camping, backpacking, festival camping, or something else? Car campers can get away with a lot more weight than a backpacker can, so this is something pretty important to keep in mind. You might not think a few ounces make a big difference, but trust me…they do.

If you're ready to set up shop at a campground with your cabin tent, and plan to make gourmet meals for your family, you can probably bring what you use back home. Obviously, you won't want to bring your fine cutlery, but most other things will suffice. I would still suggest getting a dedicated cutlery set for camping, though, because it's nice to have something specifically set aside for that task. You may also want to add a couple other items to your camping box, like a cooking pot, a can opener, and a bottle opener.

Backpackers, on the other hand, will fall in love with their new best friend, the spork. If it's small, lightweight, and multifunctional, it's probably for backpacking. And sporks just so happen to fit the bill perfectly. Certain folding camping utensils can work nicely as well.
What are you eating?
There are plenty of freeze-dried food options that you can find at outfitters like REI. They often come in deep bags, and all you have to do is add hot water and wait a few minutes before enjoying. When it comes to convenience and weight, you really can't do better, but the deep bag can make it difficult to consume. Long spoons are ideal for meal packets like these, so you can easily get every last morsel without getting grease and spices all over your hands in the process.

Other meals, like ramen and soups, can be eaten with nothing more than a spoon. However, if you plan on getting a little fancier, you may need a fork and knife as well. Cutlery sets are perfect for more complex meals, and are nice to have if you plan on using them while you're cooking.
How many people are you feeding?
Cooking for a large group? You'll want to make sure they're all well prepared with their own cutlery sets. But even beyond that, how do you intend to dish it out to everyone? Getting a ladle and/or serving spoon will save you a lot of headache when you're trying to load up plates for 6 people!
Camping Utensils Material
Not all camping utensils are created equal. There are a variety of different materials to choose from, each with their own pros and cons. Here are a few key points to remember:
| | | |
| --- | --- | --- |
| Titanium | Titanium utensils are very lightweight, durable, feels good in your hand and mouth, safe for high heats | Very expensive |
| Wood | Antibacterial, eco-friendly, fairly durable, nice to hold, good to cook with | On the heavy and bulky side |
| Plastic | Lightweight, sometimes durable, dishwasher safe, inexpensive | Flimsy, often unpleasant to eat with |
| Bamboo | Lightweight and very durable, pleasant to eat with, safe for cooking, eco-friendly | A little bulky, not dishwasher safe |
| Aluminum | Fairly inexpensive, lightweight, durable, feels nice to eat with | Some aren't dishwasher safe |
| Stainless Steel | Inexpensive, very durable, safe for cooking and eating, dishwasher safe, feels good to use | Not as lightweight |
| Bioplastics | Eco-friendly, lightweight, some are durable | Somewhat more expensive, not very nice to eat with, not great for cooking |
The options listed above are just the base materials – sometimes you'll find utensils that mix and match various components. It's common to find a combination of steel, aluminum, and titanium, and sometimes you'll encounter something that has a plastic handle with a metal head.

Bamboo and wood are less common in the camping world, though you'll often find them at various glampsites. After all, style is everything!
Types of Camping Utensils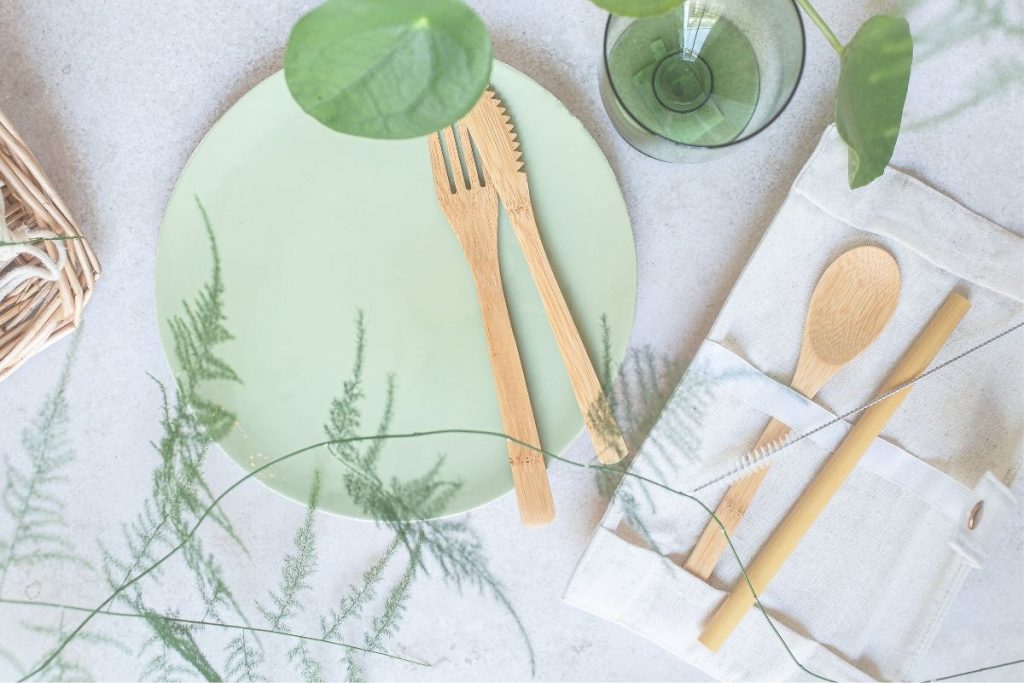 Now that you know what many of the best camping utensils are, it's time to talk about what types you have to choose from. We've already briefly mentioned the…

…spork, which most of us already know is a hybrid between a spoon and a fork. Some sporks even have a serrated edge that can be helpful for cutting, though they certainly aren't as good as a real knife. Most of these utensils are cheap, lightweight, and small, making them the ideal travel companion for backpackers.

You can also find folding camp utensils, which are convenient to have when you're trying to save space. It's easy to find forks, spoons, and knives that are like this, so you can get as many of a certain item as you want without getting a whole set. Some of the hinges have questionable quality, but many are actually very well designed. Usually made out of metal, you can find plenty that are durable and inexpensive, making them an overall crowd favorite.

And finally, there are cutlery sets. This is the "all in one" package, where you'll get a set that includes a fork, spoon, and knife. Some also come with chopsticks, and most are stored in their own little carry bag. For convenience and cost effectiveness, this is definitely the way to go, if you think you'll use all three of these utensils.
Best Camping Utensils Reviewed
Material: Stainless Steel

Weight: 2.7 Ounces

Includes: Fork, Knife, and Spoon
Sporting a high durability and reasonable weight, the GSI Outdoors cutlery set gives you all the tools needed to make short work of your meal.
I don't know about you, but I'm used to camping utensils that are cheap and flimsy. My first two sets were plastic, and they broke within a year of using them, even though they didn't see too much action. Ever since then, I've believed that metal is the way to go, despite the added weight.

As such, I'm a big fan of the GSI Outdoors cutlery set. Since they are made from stainless steel, durability is hardly a concern, even if you aren't very gentle with them. However, they are a bit top heavy, since the head of the utensil is made from solid steel, while the handles are just a steel frame. It does make them lighter overall, and since the head is heavier, it does provide better cutting power. You'll just need to take some time to get used to them.

But the real bonus with this camping utensil set is that the knife actually cuts! The serrated edge tears through anything you slide it against, which is a pretty rare occurrence when it comes to camping utensils. For car campers, trust me when I say it's worth spending a few extra bucks to get quality cutlery like this, instead of the cheap, plastic utensils that you'll find most places.

Pros:

– Durable
– Knife cuts very well
– Feels good to eat with
– Fairly lightweight
– Work just as good as the utensils you have back home

Cons:

– The string to tie them together is a bit annoying to work with
Material: Polypropylene

Weight: 1.5 Ounces

Includes: Fork, Knife, and Spoon
While not the most pleasing to look at, the Sea to Summit Delta is a full cutlery set that hardly weighs anything, making it a suitable option for car campers and backpackers alike.
Sea to Summit's Delta cutlery set just might convince backpackers to cheat on their sporks. Small and lightweight, these utensils might not be the prettiest or most durable, but they sure are portable. In fact, one of my only complaints is that they might be a little too small – or at least, the handles are. If you have big hands, you might struggle with these a little bit.

The clip that holds them together is pretty convenient, and they're perfect to keep inside your car or office space when you aren't camping. So next time a restaurant doesn't include utensils with your takeout meal, you'll be prepared!

You'll also be pleasantly surprised by what the knife is capable of cutting through. Most utensils that are this cheap wouldn't be able to slice through mashed potatoes, but oddly enough, you could use this knife to tear into a steak. The quality of their products is one reason why I'm a big fan of most things that Sea to Summit makes.

You are getting a bit more out of this deal than just the utensils, but the bowls and mug are still a worthy addition to your kit. If you don't have any items in your camp kitchen yet, or you're looking to do a full update, this is a great place to start.

Pros:

– Lightweight
– Very portable
– Easy to clean
– Knife cuts very well
– Convenient clip to hold the utensils together

Cons:

– Wish they came in more colors
– Handles are a bit small
Material: Titanium

Weight: 1.4 Ounces

Includes: Fork, Knife, and Spoon
Made from titanium, the cutlery set from Sea to Summit is lightweight, durable, and feels good in the mouth, making it the best option overall.
It might be more expensive, but titanium is my favorite material when it comes to kitchen items. Very lightweight and durable, Sea to Summit's titanium cutlery set is just as good as what you have back home, at a very small fraction of the weight. In fact, they may even be better than what you have at home.

The set comes with its own carabiner, allowing you to clip them all together when they aren't in use. And considering these are the lightest utensils we've reviewed so far, I'd feel pretty comfortable bringing them with me on a backpacking trip as well. Sporks are good for traveling, but they just don't have the cutting power that you'll find in a real knife. And let me tell you, this titanium knife is a steak cutter, even though it looks like a butter knife.

You'll pay a little more up front for this set, but it's the sort of product that will last you for many years to come. Great for camping, backpacking, at home use, or as a gift, this set is definitely one of my favorites.

Pros:

– Very lightweight
– Durable
– Knife has great cutting power
– Comes with a carabiner
– Multifunctional
– Feels good to eat with

Cons:

– Price
Material: Titanium

Weight: 0.6 Ounces

Includes: Spork
A titanium spork that would make any backpacker drool, this product by Snow Peak is the ultimate in lightweight cutlery.
A backpacker's dream come true, Snow Peak's titanium spork only weighs about half an ounce. And since it is titanium, you know that it's going to last you for a very long time.

Though a bit shorter than I like, this camping utensil still gets the job done better than many of its competitors. Your fingers will get a little dirty as you scrape the bottom of those dehydrated meal packs, but most of us are used to that by now. For the amount of comfort and durability you get out of this spork, licking your fingers at the end of a meal feels like a small price to pay.

The beauty of titanium is that it doesn't rust either, so you can really put it through the wringer without worrying too much about aftercare. There's also no metallic smell or taste with this material, so you can just enjoy the taste of the food, without tasting the utensils as well.

Pros:

– Very lightweight
– Durable
– Won't rust
– No metallic smell or taste
– Comfortable to eat with

Cons:

– Handle is a bit short
Material: Titanium

Weight: 1.4 Ounces

Includes: Fork and Spoon
A set of utensils that feels very similar to what you might find at home, the Snow Peak titanium silverware set is relatively inexpensive and feels good in the hand and mouth.
This cute silverware set by Snow Peak will have you feeling like you're eating back home with your usual utensils. Made from titanium, the fork and spoon are shaped like most standard utensils, not the odd skeletonized versions that you might find elsewhere. This allows them to stay more discreet, especially if you want to use them for work events, home use, or while you're at a restaurant.

With an ergonomic design, they feel good in both your hands and your mouth. And as we know, titanium doesn't have a metallic taste or smell, so you'll be able to fully enjoy the flavor of your food. Of course, the biggest flaw in this product is the fact that it doesn't come with a knife. However, many camping meals don't require one anyway, so you shouldn't have any trouble getting by with just the fork and spoon. When they're not in use, just put them in the included canvas carry case (which does come in a variety of colors).

Pros:

– Lightweight
– No metallic taste or smell
– Ergonomic
– Look like real utensils
– Comes with canvas carry case

Cons:

– No knife
Best Titanium Cutlery Set
Material: Titanium

Weight: 1.7 Ounces

Includes: Fork, Knife, and Spoon
A full titanium cutlery set, this one by TOAKS is perfect for campers who go hard on their gear, but still want something comfortable and long-lasting.
Your all-in-one set for backpacking (or car camping), the TOAKS titanium cutlery set does it all. The bowl of the spoon is deep and wide, so you'll be able to put more food in your mouth with every bite. The prongs of the fork are pointy and sharp, allowing you to pick up certain items with relative ease. Just be careful – those pointy bits are going in your mouth, and it's pretty easy to stab yourself in the process.

The knife does have a serrated edge, but you're better off bringing something sharper to cut through a steak – or something equivalently tough. Otherwise, it's a handy set that's good to have in your camping kitchen bin. With the included carabiner securing them together, you won't have to worry about them slipping away from each other into odd corners of your storage unit.

When you factor in the durability and all the beneficial qualities of titanium, you'll think the price on this cutlery set is a steal. You may want to get one for your backpack, and another to keep in your car for those meals on the go.

Pros:

– Very lightweight
– Deep spoon bowl
– Pointy fork prongs
– Durable
– Inexpensive

Cons:

– Knife is decent, but not super sharp
At Untamed Space, we're passionate about helping you have the best camping experience possible. Our team of experts have experience camping and backpacking all over the world, allowing them to provide insightful and relevant content to guide you in your outdoor pursuits.

All of our reviews are based on a combination of firsthand experience, extensive research, and an analysis of customer feedback. We are an independent website and do not receive payments or incentives from manufacturers to promote their products, and we continuously update our content to provide new information based on product availability. Wherever you are in your journey, whatever gear you're searching for, you can be sure to find unbiased and up-to-date reviews for all of your needs.
Final Thoughts
They might be small, but a camping utensil can make or break your outdoor trip. Without a proper way to eat your meals, you could be left hungry and frustrated that all the food you brought along will go to waste. Your hands are always an option, but that can be unsanitary if you don't have a way to properly clean them prior to eating.

The best camping utensils are durable and lightweight, so you can take them anywhere without being afraid that they'll break. They should also feel good when you hold them and put them in your mouth, and ideally, they should be safe to use over a stove or campfire as well. With all that in mind, we like Sea to Summit's titanium spoon, fork, and knife set the best. The titanium is very lightweight and durable, and it doesn't leave a metallic taste in your mouth when you eat with it. It's also safe to cook with, so you can get a lot of uses out of this one cutlery set.
---
Related Posts: