Home » Camping » Sleeping Bags/Cots » Best Hammock Underquilt to Keep Your Backside Warm

If you're in a rush and want to find out what the best hammock underquilt is, we recommend the One Tigris Shield Cradle Underquilt.

I think many of us dream of hammock camping at some point in our lives. Swinging between the trees, the ground a few feet below, is a fairy tale camping experience for those of us who enjoy spending time in the wild. On chilly nights, though, you might find that your backside is the princess in need of rescuing! To avoid freezing, you're probably going to want a hammock underquilt. We've taken a look at some pretty affordable options that will still keep you cozy in cooler temperatures.
In this article we'll be reviewing the following hammock underquilts:
What is an Underquilt?
If you've never been hammock camping before, you might initially think that all you need is a comfortable place to rest your head, and perhaps a coat to keep you warm at night. It's certainly not a bad thought, especially when you don't bring much more than this for a fun gettogether with friends by the lake. But what are you going to do when a rain storm passes through, or you find that your coat isn't nearly warm enough?

Tent camping and hammock camping are quite similar in this sense. Buying a hammock and calling it good is like getting a ground sheet without the tent – when nighttime temperatures and bad weather roll in, you'll be wet, cold, and downright miserable.

Bug netting and a rain tarp are obvious additions to your setup, and many times, they even come included with your hammock. But what about when you lay down for the night after patting yourself on the back for remembering everything, only to discover that your backside is getting awfully cold as time goes on? That's no fun!

And it's precisely why you need an underquilt. Simply an insulated quilt that hangs under your hammock, underquilts are designed to prevent heat from escaping your cocoon. They also act as an additional barrier between you and any cold breezes that decide to pass by.
Underquilt vs. Sleeping Pad
So, are underquilts necessary for a cozy night of hammocking? And the answer is…not necessarily, though most hammock campers will tell you they are (including myself). A good sleeping pad can also do the trick, so we'll lay out some of the pros and cons below.
Sleeping Pad: Pros and Cons
There are different types of sleeping pads for you to choose from. Closed cell foam is what I typically go with for backpacking, but you can also choose one that inflates – either will work just fine inside of a hammock.

Pros:

– You probably already have one, if you're a tent camper. This saves you the hassle of needing to buy an additional piece of gear.
– They can be used in both a hammock and a tent, though you'll find that the way they fit in a hammock is less than ideal. To get around this, you can take a closed cell foam pad and cut it to size.

Cons:

– With inflatable air pads especially, the bulk can make your hammock a little tippy.
– They aren't designed for hammocks, and you'll notice this when you try to fit it inside one.
Underquilt: Pros and Cons
Pros:

– Designed specifically for hammock camping. This avoids any weird lumps, bumps, or shifting that can happen with a sleeping pad.
– Underquilts with high loft fills are incredibly warm.

Cons:

– Can be more expensive, depending on what type of sleeping pad you're comparing it with.
Warmth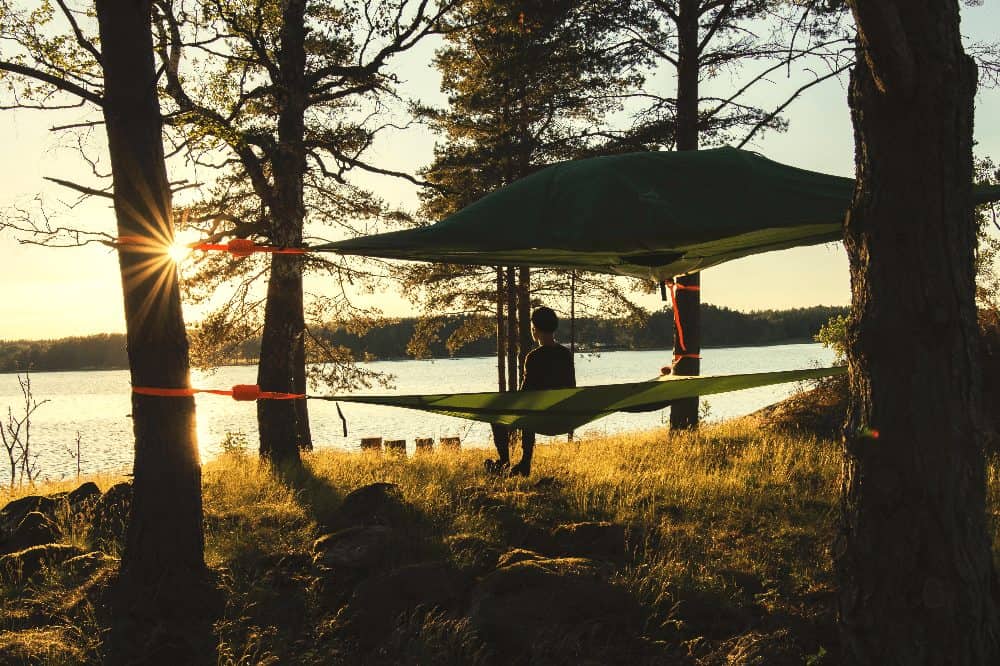 But ultimately, the whole reason you're getting an underquilt (or sleeping pad) is to help you stay warm at night. So in that case, how do these two different products compare?

Unfortunately, that question isn't as straightforward to answer. By nature, you can't assign an R-value to a quilt like you can for a sleeping pad, so a side-by-side comparison doesn't work out so well. In fact, there is no universally accepted rating system for underquilts, so you're kind of in a pickle if you're the type of person who likes exact numbers for these sorts of things.

However, as a general rule of thumb, the warmth of an underquilt that fits well and has quality, high loft fill is incredibly hard to beat. In this regard, I would take a premium underquilt over a sleeping pad any day, especially when I expect temperatures to be uncomfortably cold.
Other Features
Warmth isn't everything, though, especially if you're backpacking. Weight also needs to be a major consideration, and you might think that a quilt will have some considerable heft to it. However, aside from closed cell foam, underquilts are actually pretty comparable in weight to most sleeping pads. Many of them hover around the 1-2 pound mark – a number that might make you cringe if you're trying to stay ultralightweight. But when you consider the difference between a handful of ounces and a decent night sleep, I think it's a pretty easy decision to make.

And then there's a matter of cost. Closed cell foam pads are obviously going to be the much cheaper option, but if you want something a little more substantial, how do the inflatable ones compare to an underquilt?

While it depends on the specific product you're looking at, they actually hover around a pretty similar price. Expect to pay around the low 3-figures for either an underquilt or a high quality sleeping pad.
Hammock Underquilt Reviews
Can I just start by saying how much I love the dark gray color of this underquilt? I'm a sucker for neutral colors. But as much as I'd like to continue with that train of thought, I'm sure you'd rather hear more about how it performs than my personal color preference!

Well, to start, this underquilt is rated for 40 degrees. This isn't a very low number in my opinion (certainly nothing more than a 3 season product, at best), but many of you likely won't be hammocking in temperatures below that anyway. The down fill does do a good job of keeping the warm air close to your body, and the cold air where it belongs, without steaming you on milder nights.

The item weighs in at a little over 2 pounds, which isn't terrible, though also not as good as others on the market. Overall, I'd say you get what you pay for – a well made, highly effective underquilt with a few kinks that are easy to live with.

Pros:

– Great if you're on a budget
– A decent weight
– Very good craftsmanship
– Center pull straps are a nice feature

Cons:

– Not for exceptionally chilly nights
This underquilt by AYAMAYA hits a lot of the points that I look for in a product. It packs down small, so it's easy to slip inside your pack when you're done using it, despite being big enough to fit most double hammocks comfortably. The specs listed on Amazon state that it weighs a little more than 2.5 pounds, but after testing that, I've found that it's actually closer to 1.3 pounds. Great for 3 season backpacking, it's an affordable option if you need some extra insulation on those cooler nights.

In terms of warmth, the underquilt claims to keep you comfortable in temperatures down to 20 degrees. Personally, I'd be wary of that number, but it's definitely fair to say that you'll be toasty down into the 30s. There are elastic straps and short bungee cord loops to keep the quilt contoured to your hammock, and it comes with two extra (larger) carabiners as backups in case something happens to the originals.

Pros:

– A great entry level quilt
– Fairly lightweight
– Quite warm for the price
– Cinches up nicely

Cons:

– The sizing seems to be a little off. Don't expect this to fit all double hammocks perfectly.
With a temperature rating of 40-60 degrees, the Ember underquilt isn't exactly the most hardcore product on the market. But the light insulation also expresses itself in the overall weight of the quilt, which comes in at about 1.5 pounds. It's certainly not something I would use in the winter, or the colder spring and fall months, but for chilly summer nights (especially at elevation) it does the job nicely.

It might not be rated for freezing temperatures, but the underquilt does do a good job at eliminating cold spots that tend to pop up. And if you're like me, having toes that feel like ice can make it difficult to have a good night's sleep! With a weatherproof exterior, it makes for a cozy cocoon to help protect you when the weather starts to take a turn for the worse.

Pros:

– Lightweight
– Weatherproof exterior
– Packs down well for travel
– Great at maintaining even heat across your entire body

Cons:

– Not for winter temperatures
An underquilt specifically designed for winter temperatures, the Shield Cradle underquilt certainly lives up to expectations. Rated to keep you comfortable even when the air starts dipping into the low 20s, the polyester filling might not be the lightest material out there, but it'll certainly keep you warm. Despite being 3.5 pounds, there are just some things that are worth the extra weight, and heat retention during winter is one of them.

There are bungee cord loops that make it easy to attach to your hammock, but remember to leave some room between the underquilt and the hammock for better insulation. This little tip is true for all quilts – when there's air space between it and your hammock, you'll be able to last a lot longer in colder temperatures than you would if they were touching each other.

Compared to many of the other underquilts listed in this review, the Shield Cradle also does a better job of providing full coverage to hammocks of all shapes and sizes. It's easy to find a quilt that fits a single hammock nicely, but a lot harder when you start looking into double or asymmetrical territory!
Finally, we have the Stratus underquilt by Go Outfitters. While not the warmest or cheapest product that we've reviewed so far, it is the lightest, coming in at a little over the pound. In fact, the compression sack that comes with the underquilt is about a third the weight of the actual quilt itself!

And just because it's not the warmest we've talked about so far doesn't mean it won't keep you cozy in spring and fall. It's certainly no winter underquilt, but when temperatures dip into the 40s (or even the 30s, if you have a good sleeping bag), you still won't have any cold butt syndrome. The nylon shell will prevent water from soaking in on humid or rainy days as well, but even if it did, the fill is synthetic. Unlike down, which loses its insulating capabilities when wet, this will still work to keep you warm and dries out quickly.

Pros:

– Ultralightweight
– Solid temperature rating
– Weatherproof
– Easy to pack away and carry

Cons:

– Not as warm for the price as I'd like to see, but still a good budget option
The Winner
Hammocking is a favorite past time for many of us, whether we do it in the form of camping or as a way to hang out with friends. For those of us who decide to get more serious about the hobby, though, certain measures need to be taken to ensure a safe and enjoyable night in the woods.

A high quality underquilt is something that any hammock camper worth their salt will recommend. For colder temperatures especially, having a product that fits your hammock, is easy to carry, and keeps your backside warm is a must. The One Tigris Shield Cradle underquilt is the product that checked these boxes the best, in our opinion, and is what we would use on those cooler spring and fall nights. Though a little on the heavier side, the fill is warm enough to let you sleep well even during some days in the winter, and is cheaper than many brand name quilts that have the same quality.