If you're in a rush and want to find out what the best hangboard is, we recommend the Trango Rock Prodigy Training Center.

If you're a dedicated climber, you understand the importance of a strong grip. Climbing alone can provide quite a bit of strength, but what if the gyms or closed or you just can't fit a couple hours of climbing into your schedule each week?

The best hangboards let you take the gym home with you. For those days when you want to train but can't make it to the gym or crag, these boards are the tool you need to scratch that itch. But with so many options available, finding the perfect hangboard can be a challenge, especially since they come in all different shapes, sizes, and materials. That's why we've put together a list of our favorite below, to help narrow down your search for the best training partner.
In this article, we'll be reviewing the following best hangboards:
Best Hangboard – Buyer's Guide
It's safe to say that one hangboard is not going to be like another. From the difference in materials, to the difference in design, to the difference in difficulty, it can be hard to find a board that suits your current skill level. That being said, here are a few features that you should consider as you hunt for the ideal training partner:
What is a Hangboard?
A hangboard is a tool used by rock climbers to help strengthen the various muscles in their fingers, hands, arms, shoulders, and back. If you've ever done dead hangs on a pullup bar, hangboarding is pretty similar in practice. The biggest difference is that, instead of holding onto a bar, you're hanging onto a couple of rock climbing holds.

While it might not sound much different from dead hanging on a bar, I can assure you that it is. Hanging from a ledge using nothing more than your fingertips is a lot different than hanging from a bar, and you'll quickly start to feel it in your fingers and forearms.

Training regimens vary depending on your strength and skill level, but I like to recommend doing several short reps with minimal breaks. If you can, try hanging on for 30 seconds, take a 30 second break, and then repeat that cycle a few more times. I guarantee your climbing game will be much strong if you practice on a hangboard several times a week.
Material
Hangboards come in all shapes, sizes, and materials, ranging from wood to resin to polyurethane. Each of these comes with its own set of pros and cons, which we'll lay out below:
Wood
Personally, wood is one of my favorite materials when it comes to hangboarding. It's smooth (and a little slippery), which means it won't hurt the skin on your hands quite as much when you're hanging for long periods of time. The smoothness of the wood also provides a more challenging surface to try and hang onto, which is its own sort of training.

That being said, there are two cautions that I would offer when it comes to wooden hangboards. First, I think it goes without saying, but wood feels a lot different than rock. While materials like resin and polyurethane are harder on your fingers and hands, they do help to grow and thicken various callouses. They also help strengthen your mental fortitude, as pushing through pain is something that rock climbers often have to do to send a route. With wooden hangboards, you don't really reap these benefits.

My second caution has to do with your chalk use. Which is to say, don't use much while training on a wooden hangboard! The chalk will seep into the pore of the wood and make it feel all slimy and gross, so keep your chalk use to a minimum and don't forget to clean the wood regularly.
Polyurethane
Times are changing, and climbing gyms are slowly phasing out their holds. Once, the vast majority of climbing holds were made out of polyester resin, until the lightweight and durable properties of polyurethane were discovered. Hangboard manufacturers are taking note, and now you'll find products like the Trango Rock Prodigy that are made entirely out of polyurethane.

Less likely to crack and chip than polyester resin, polyurethane is a great option for all types of rock climbers. A more diverse variety of holds are possible, especially when compared to wooden hangboards, and improving technology is helping to give the material a smoother texture. This lets you save your skin, allowing you to train for longer periods of time.
Polyester Resin
Polyester resin is very similar to polyurethane, and it's probably what you're most used to climbing on inside a gym. It's been a durable and reliable option for years, though it is more likely to split and crack than polyurethane. Even so, when it comes to a hangboard for home use, you'd have to train very hard for the resin to even consider splitting. So, don't be too afraid of that, at least.

Like polyurethane, you'll be able to get a much wider variety of holds than you will with wood. You can also use as much chalk as you want, though I would still recommend cleaning it off from time to time. The biggest downside is that harshness of the texture and its abrasiveness on your hands, but if you've got enough callouses, it won't be too bad.
Types of Holds
We've already mentioned it, but some materials have a lot more flexibility with the types of holds they can produce. Wood boards are great for edges, crimps, jugs, and pockets, while synthetics boards cover all of those along with pinches and slopers (depending on the model).

At the end of the day, don't feel like you need to buy a synthetic hangboard just because they provide a greater variety of holds. In all honesty, edges and crimps should be your bread and butter, as these are going to improve your grip strength the most. Jugs and slopers are good for warming up, and pinches provide a nice change of pace, but they're the most optional of the bunch.

In addition to having a wide range of holds, it can also be beneficial to have a variety of depths. Having a series of increasingly smaller ledges can give you a progression to work on, and regardless of whether you're a novice or a pro, there will be a "setting" that's ideal for you to start on.
Mounting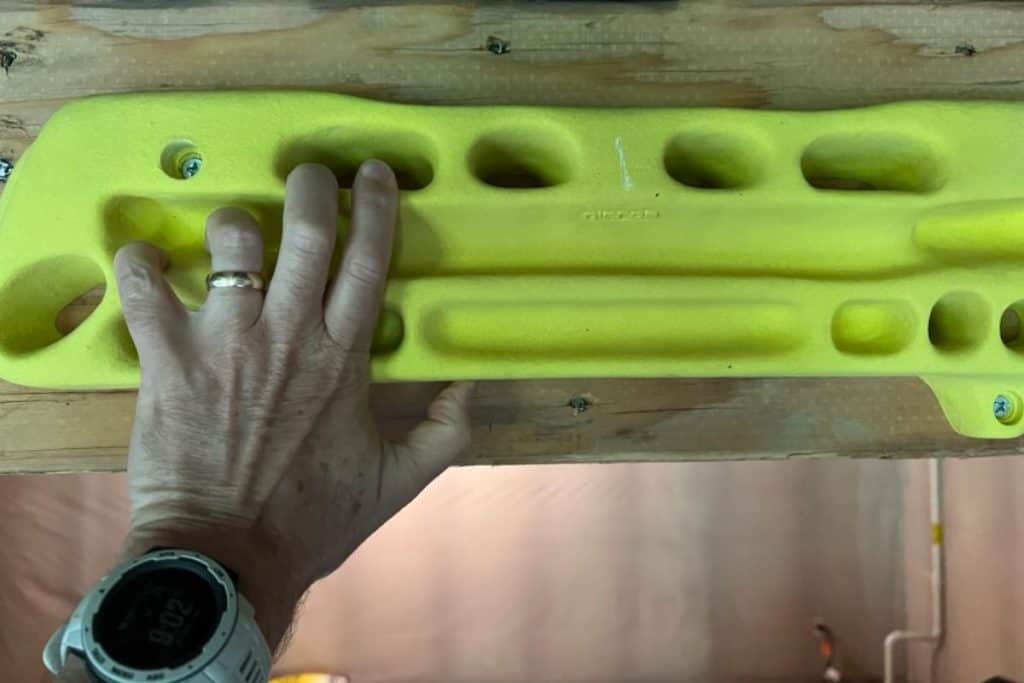 Hangboards do need to be mounted (or hung) from a solid fixture inside your home. This can be a hard pill to swallow for apartment dwellers, as there aren't any good places to mount a hangboard inside a unit. Yes, there are "hole-free" hangboards that can be "mounted" on a pullup bar, but these are few and far between. Not to mention, they tend to be incredibly expensive.

Your best option is to drill the board into some open framing – for example, I have mine hanging from a beam in the basement. If you plan on mounting the board to anything other than open framing, I'd suggest drilling it to a plywood board (3/4″-1″ will usually do the trick) first. This allows you to drill the plywood board directly into the studs of your residence, providing a solid foundation for your hangboard. Whatever you do, don't mount the hangboard directly in the drywall!
Difficulty
There's no such thing as an easy hangboard (unless your name is Alex Honnold or Adam Ondra), but there are different degrees of difficulty. Generally speaking, the easiest hangboard is equivalent to a 5.10-5.11 route, if you're familiar with the Yosemite Decimal System. If you can't climb a 5.10 in the gym on toprope, any hangboard is probably going to be too much for your tendons to handle…for now. Until you can reach that 5.10 threshold, you're better off increasing your strength just by climbing.

If you don't know the difficulty of your hangboard, that's okay. To start, your sweet spot is going to be a third of all the holds – if you can hang onto a third of the holds on the hangboard for a reasonable amount of time, it's a good fit for you. If you can "comfortably" hang onto more than half of the holds, it might be too easy for you. Or at the very least, you'll want to train with a weighted vest.
Best Hangboards – Reviewed
A good looking, wooden board, the Metolius Wood Grips II is a solid entry level option. It doesn't have the variety of holds that you'll find on something like the Trango Rock Prodigy (not by a longshot), but it covers the basics very nicely.

There are a number of edges, pockets, and crimps across the entirety of the board. They come in varying depths, so you can work on progressively building to more challenging holds, though they do get a little boring after enough time. The jugs are great for warming up, but they won't provide much of a challenge for anyone used to climbing. Likewise, the slopers are fairly well crafted, but they do get slippery very quickly.

In fact, that's my biggest complaint with the Wood Grips II as a whole. Even the crimps get slick with use, no amount of cleaning will bring them back to their former glory. Still, the slipperiness does make it more challenging, which can be a bonus depending on how you look at it. Overall, for a nice-looking beginner board, the Wood Grips II gets the job done without much complaint.

Pros:

– Looks good
– Holds work well for beginners
– Easy installation
– Comfortable on skin

Cons:

– Can get a bit slippery
The Trango Rock Prodigy hangboard is one of my favorites for a reason. Since it's split into two parts, you can mount them at whatever width suits you and your training goals best, giving you a great deal of flexibility. Just take care to get the measurements correct when mounting, as it's easy to drill them in at staggered heights.

Right away, I can tell you that the material will feel amazing on your hands. That's something I really appreciate about polyurethane in general – the Rock Prodigy holds are textured enough to provide some grip, but they won't tear the skin off your hands after extended use either. I would clean them regularly, but it's not necessary either, unlike wood.

The variety of holds are second to none. In fact, I don't think it's a stretch to say that this is the best hangboard system on the market right now. Pretty much any hold imaginable has been built into the Rock Prodigy, all of them sporting a range of depths and difficulties. From pinches and pockets to jugs and edges, you'll never get bored training on this hangboard.

While I will admit that the price is pretty hefty, I also believe that it's well worth the cost. The quality of materials and the thoughtfulness of the design are elements that you won't find anywhere else, making the Rock Prodigy the best overall hangboard.

Pros:

– Versatile
– Comes with a very wide range of holds
– Can be mounted at the width of your choice
– Lightweight
– Durable
– Feels pretty good on the hands

Cons:

– Price
If it's not apparent from the picture, it should be apparent from the name – the So iLL Iron Palm hangboard is what you get to train your slopers. Made from beechwood, you'll notice a variety of edges to work your crimps, along with a sloper and pinch on each side. It provides versatility that you don't often find in wooden hangboards, though I do miss having pockets thrown into the mix.

I've mentioned it before, but I believe the true value of a wooden hangboard lies in its ability to keep the skin on your hands. Yes, the Iron Palm is going to be more slippery than a product made from polyester resin or polyurethane. However, that means that you can preserve your hands for the projects that you're truly passionate about, instead of wrecking them on the training board.

Not to mention, the wood look is a lot more aesthetically pleasing. You can mount it almost anywhere in your house, and it's not going to be an eyesore that you try to cover up when guests are coming over. As always, I'm not sure how I feel about the pinches. They're nice to have, I suppose, but I'd still rather get a pair of pinch blocks if I wanted to train that particular skillset. Still, the Iron Palm is a great, moderate difficulty board that will keep your skin intact and won't break the bank either.

Pros:

– Keeps your skin intact
– Aesthetic
– Good variety of holds
– Perfect for training slopers
– Easy to mount

Cons:

– Can get a bit slippery
Can you really call the Metolius Rock Rings a hangboard? Maybe not, but it's close enough (in my opinion) to make this list. They're small, they're cheap, and they're fairly limited in the training they can give you, but the Rock Rings are still great at what they do.

Since they don't need to be drilled into a wall, you have some flexibility when it comes to mounting them. Since the Rock Rings hang from a cord, they rotate while you're hanging from them, which can help prevent joint injury. While they don't give you too many hold options, there are a set of jugs, pockets, and crimps to choose from, giving you a little bit of versatility in your training.

Ultimately, though, these guys shine as a budget friendly option to help you stay in shape when it's hard to make it to the gym. They're not for hardcore rock climbers who have a crazy project that they want to prepare to send. Even so, they provide a good value for the cost, and they're one of the more portable options. Just pack them in your duffel or suitcase, and you've got yourself a training device that can travel with you, as long as you find a bar to hang them from.

Pros:

– Portable
– Lightweight
– Affordable
– Easy to mount
– Feel good on the skin

Cons:

– Not quite as versatile as other options
A versatile board that will cover almost all of your bases, the Metolius Simulator is one of my favorite boards to train on. The ergonomics of the design really makes a difference on your joints, keeping your body in good alignment while you hang. Unless you're chasing holds above your paygrade, it's actually pretty hard to injure yourself on the Simulator.

Well, I say that, but pushing yourself too hard isn't too difficult on this board, especially if you're a beginner. Many of the holds are fairly narrow, and they might be too challenging for novice climbers. It shouldn't take you too long to get comfortable on them, though, especially if you're climbing regularly. Still, take a couple weeks to hang out on the jugs and deeper pockets before you try any of those crazy crimps.

If will beat up the skin on your hands, if you aren't careful, but that's to be expected with resin. The rough texture offers a sturdier grip, and it's chalk friendly, so you won't have to clean the board quite as frequently. Still, it's worth taking a toothbrush to it every once in awhile, to help clean off some of the extra chalk that makes the holds a bit more glassy.

Pros:

– Variety of holds
– Grippy texture
– Ergonomic
– Good price
– Easy to mount

Cons:

– Upon receiving the board, you may notice it's a little gummy
Another wooden hangboard, the Beastmaker 1000 is a versatile option, made in the UK. There's also a "Beastmaker 2000," but I'm partial to the 1000 version for a number of reasons. For starters, the 1000 has a wider array of pockets and edges than the 2000 – since I believe pockets and edges are what climbers should be training the most, I'd have to suggest the original model over the 2000.

The 2000 is also for advanced climbers, which means it's more of a niche product. This isn't necessarily a bad thing (especially if you're a more advanced climber), but not all of us need 45 degree slopers to train on! If you're ready for something more advanced and tailored to a specific route, the 2000 might be a good choice for you; otherwise, I'll just be focusing on the 1000 version.

It's an incredibly lightweight hangboard, sporting a solid construction and comfortable texture. It's designed for novice climbers who haven't had their hands broken in yet, but at the same time, there's a wide enough variety of holds to allow a beginner to progress quickly without outgrowing the board. In addition to its aesthetic, this flexibility is what I like the most out of the board, and the reasonable price is just the cherry on top.

Pros:

– Lightweight
– Good variety of pockets and crimps
– Soft texture
– Durable
– Aesthetic

Cons:

– Can't really use chalk on it
Another wooden hangboard (can you tell that I like them yet?), this one by Two Stones is different from the rest. The picture alone is probably enough to clue you in – the round knobs in the center of the board are pretty hard to miss. Those are ball slopers, and they're pretty gnarly to train on. While not exactly my cup of tea, I'm sure some of you will appreciate the challenge!

The wood that it's made from is solid and should hold up nicely, even after extended use. It's also pretty lightweight, which makes it easier to mount, and the material feels soft and comfortable on the hands. All of the supplies needed to mount the Twin Stones hangboard come included, so you'll be ready to start training immediately.

In terms of holds, you have the slopers (obviously), in addition to several pockets, edges, and jugs. Overall, they provide a nice array of challenges suitable for beginners and veterans like. I would like to see a few wider edges, however, as I find it somewhat difficult to fit four fingers inside any of the pockets found on the board. In that way, your training options are a little limited, but on the whole, it's still a very solid and effective board.

Pros:

– Smooth wood
– Solid design
– Fun variety of holds
– Easy to install
– Good price

Cons:

– I'd like to see wider edges
Made in Wisconsin, the Danger Buddies hangboard is a solid wood option sourced and produced in the USA. I know that alone is enough to convince most of you to look favorably on it, but there's a lot more where that came from. I'll get through all of the specs a little later, but first, I'd like to point out something that you don't see very often on a hangboard: anchors.

Those two metal rings on each side of the board? Those are anchors, and they can be used to hold a counterweight, or you can use them for clipping practice. Perfect for sport (or even trad) climbers who want to practice holding on with one hand while they clip, it provides a unique training dynamic that sets it apart from the crowd.

On top of the board, there's a convenient place to store your phone so you can watch training videos or listen to music. The wood is smooth and durable, providing a solid training area that won't take the skin off your hand before you're ready to tackle a project. You also get a nice variety of edges and pockets, along with a big sloper and a couple of deep jugs, which provide a good amount of variety in your holds. Unfortunately, there isn't anything in the way of pinches, but few of you will actually need to train those anyway.

Overall, the Danger Buddies hangboard is one of the best wooden boards out there, thanks to the wide array of functionalities. Considering all the thought that went into it, I would have expected it to cost more as well, but it manages to stay within a very reasonable price range.

Pros:

– Comes with anchors
– Comfortable holds
– Nice variety
– Easy to mount
– Good price
– Made in the USA

Cons:

– The phone holder forces you to look up at your phone while hanging, which is bad for your form
At Untamed Space, we're passionate about helping you have the best camping experience possible. Our team of experts have experience camping and backpacking all over the world, allowing them to provide insightful and relevant content to guide you in your outdoor pursuits.

All of our reviews are based on a combination of firsthand experience, extensive research, and an analysis of customer feedback. We are an independent website and do not receive payments or incentives from manufacturers to promote their products, and we continuously update our content to provide new information based on product availability. Wherever you are in your journey, whatever gear you're searching for, you can be sure to find unbiased and up-to-date reviews for all of your needs.
FAQ
What Factors Should I Consider When Choosing a Hangboard?
When selecting a hangboard, you should evaluate the grip types and make sure there are a variety of holds such as crimps, slopers, pockets, and edges to cater to different climbing techniques. Secondly, assess the hangboard's size and mounting options to ensure it fits well in your training space and can be securely installed. It's also good to consider the hangboard's durability and material quality to ensure it can withstand the rigorous demands of regular use.
Can I Mount a Hangboard in my Apartment or Rented Space?
Yes, it's possible to mount a hangboard in your apartment or rented space without causing significant damage, depending on the type of hangboard and your landlord's policies. Some hangboards are designed with portable or removable mounting options, such as doorway-mounted hangboards or those that attach to a sturdy pull-up bar. These options typically don't require drilling or permanent modifications to the space. Additionally, you can explore alternatives like portable finger training devices or portable hangboards that don't require mounting at all.
How Often Should I Use my Hangboard?
The frequency of hangboard training in your climbing routine depends on your current climbing level, experience, and recovery ability. For beginners, it's generally recommended to start with 1-2 hangboard sessions per week, with rest days in between to allow for proper recovery. As you progress and your finger strength improves, you can gradually increase the frequency to 2-3 sessions per week. However, it's crucial to listen to your body and avoid overtraining. If you experience excessive muscle soreness or joint pain, it may be necessary to reduce the frequency or intensity of your hangboard workouts.
Final Thoughts
Finding the best hangboard involves considering several key features like versatility, material, and ergonomic design. A versatile hangboard should offer various hold types to target different grip strengths and styles. I'd recommend you look for adjustability to allow gradual progression and prevent plateaus, as well. And don't forget to consider the type of material, as wood is the easiest on the hands, but it's a lot more slippery than polyester resin and polyurethane.

Among the top contenders, the Trango Rock Prodigy stands out as the premier hangboard. It provides a wide range of hold options and adjustable features, accommodating climbers of all skill levels. You'll also get a comfortable and safe training session thanks to the Rock Prodigy's thoughtful ergonomic design.
---
Related Posts: