If you're in a rush and want to find out what the best hiking backpack for women is, we recommend the REI Co-op Traverse 60 pack.

Nothing beats a refreshing hike through nature, whether you're going out for a day hike or for a weeklong excursion. And to make sure that your time outside is as safe, refreshing, and comfortable as possible, you'll want to bring some essentials like food, water, a change of clothes, and perhaps your whole camping system as well.

How are you supposed to carry all of this gear with you? Well, that's where the best hiking backpacks for women come in, which is exactly why we decided to list some of our favorites down below.
In this article, we'll be reviewing the following best hiking backpacks for women:
Capacity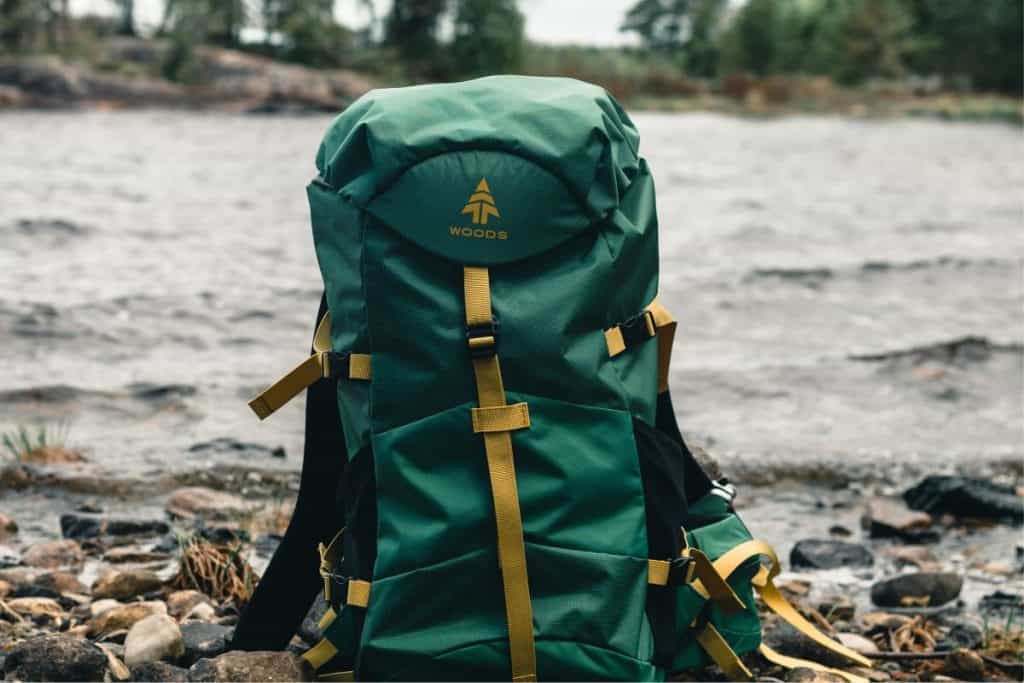 The first thing I always look at with backpacks is the capacity. It's obviously an indicator for how much your pack can hold, but it's something that's measured in liters – a minor inconvenience for those of us who live in the US and don't understand the metric system.

Still, not all hope is lost. If you've spent any reasonable amount of time around backpacks, you probably have a decent grasp of sizing. If not, a good rule of thumb is that 30 liters is an average size for a day hike, bikepacking, and some mountaineering. The 50-60 liter range is good for a few nights of backpacking, though experts may be able to last longer than that. And anything over 70 liters is what I consider to be ideal for treks that take a week or longer to complete.
Weight
When hiking long distances, every ounce counts. Not only do you have to contend with the weight of your gear, but you also have to deal with the weight of your backpack – a point that I find many people forget. Generally speaking, they weigh 3-4 pounds, which is the same as a one person tent. However, depending on the materials used and their overall thickness and durability, it's not uncommon to find packs pushing the 7+ pound marker.

Conversely, you'll occasionally see backpacks that weigh less than 3 pounds. That's starting to enter the realm of ultralight backpacking, which we won't really touch on in this particular article. For the most part, you can expect the products in our review to fall within that 3-4 pound range.

Read More: How to Choose a Backpack for Your Next Trek
Adjustability
Backpacks usually come in broad sizes, often marked as S/M or M/L. Given the sheer number of body types out there, you can imagine how hard it would be to get a good fit when you only have two categories to pick from.

That's why it's so important to get an option with adjustable straps. Looking at the Osprey Ariel mentioned below, you get an adjustable harness and hipbelt. There are a couple of other straps that you can fiddle with to refine the fit even further, making it one of the best hiking backpacks for women in terms of adjustability.

Not all backpacks come with an adjustable harness, but many have shoulder straps that can be cinched tighter. Of course, you can loosen them as well. Still, for optimal comfort in the shoulders and hips, I'd recommend putting adjustability higher up on your list of priorities.
Comfort
Would you get a backpack that isn't comfortable? Some people would, if it meant they could stay ultralight, but in that case, they'd have the "comfort" of hardly any weight digging into their shoulders and back. So no, I doubt you'd intentionally get a backpack that didn't feel great after the first hour into your hike.

How do you measure comfort? Well, the way that the backpack fits plays a big role, as we just mentioned above. The amount of padding certainly helps, weight reduction is a bonus, and the amount of ventilation you get from the back panel will keep you from getting too hot and sticky. Likewise, stability is something to consider as well. Does your backpack feel off balance? You might need to relearn how to pack a backpack. Is it throwing your center of gravity off more than you expected? Compression straps can keep your gear compact and stabilized, preventing your backpack from carrying you instead of the other way around.
Storage Options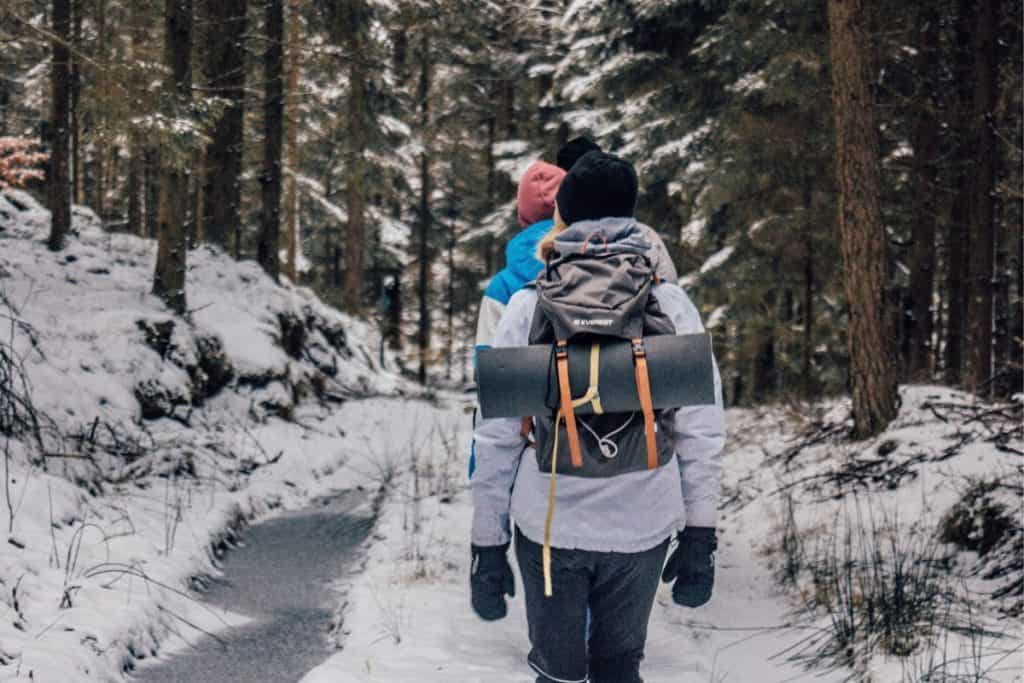 Naturally, you'll have your primary compartment that you can use to store your bigger items. But do you really want to open up your giant pouch and rifle through all of your gear just to find a Clif bar or your headlamp?

Hipbelt pockets work great for storing small items like lip balm, sunscreen, and maybe even your phone. Anything that you want access to without needing to take your pack off, you should put in the belt pockets. I like to put my headlamp in the top lid of my pack, along with Kleenex's, Band-Aids, and other medical supplies. And the kangaroo pouch at the front of the pack is great for rain gear and other miscellaneous items that you want to separate from the rest of your equipment.
Durability
Durability is an important quality of any hiking backpack. More often than not, your pack will rub against sharp rocks and thick branches, get soaking wet, and be tossed around like a rag doll. That's why backpacks tend to have a denier several times higher than what you would find in a tent.

In case you don't know, denier is a measurement for the thickness of a thread. The higher the denier, the thicker the thread, which also means that it's more durable. Many backpacks have a denier of 200 (give or take), though I have seen some that go as high as 500. Just remember that it's a double-edged sword, as a thicker, more durable thread is also going to weigh more.
Best Hiking Backpacks for Women – Reviewed
Best Use: Trekking
Frame Type: Lightwire
Capacity: 65 Liters
Weight: 3.7 Pounds
Materials: Polyethylene
The Osprey Ariel is one of the best hiking backpacks for women who want to go the extra mile. And I mean that quite literally.

The counterpart to the men's Aether backpack, the Ariel Pro was designed after taking recommendations from veteran hikers. The resulting product is something that skillfully includes everything that you would need in a pack, while removing any excess "fluff" that will only add weight.

One example of this takes the form of customizability. Going on a long hike that will require a lot of gear? By all means, keep the pack intact, and load it up until you've checked everything off your backpacking checklist. However, if you only plan to do a weekend trip or a day hike, consider removing the top lid to cut back on weight. If you really want to go gung-ho, you can even take off the compression straps, sleeping pad attachment, and ice tool attachment to cut off a few more ounces.

Still, even if you decide to leave the pack alone, it still comes in at a very reasonable 3.7 pounds. It's an impressive weight, considering the size load that it was designed to carry. As a general rule, you can put about 50 pounds inside the Ariel with ease, and perhaps a bit more, if you feel up to the challenge. Thanks to the nicely padded shoulder straps and back panel, you could definitely get away with carrying a heavier load without feeling the added weight digging into your body quite as much.

Pros:

– Very customizable
– Surprisingly lightweight
– Durable
– Plenty of gear attachments
– Good ventilation

Cons:

– Price
Best Use: Trekking
Frame Type: Composite
Capacity: 70 Liters
Weight: 5.6 Pounds
Materials: Nylon
One of the largest backpacks in our review, the Mystery Ranch Glacier has 70 liters of raw storage space. It's the ideal option for weeklong missions, but don't think that it's just a one trick pony. The Glacier can also be used on day hikes, thanks to the removeable top lid that can second as a daypack.

Capacity and versatility aside, there are plenty of other features to like about the Glacier. It has a 550 denier nylon body that's nearly indestructible, unless you decide to toss it into an active volcano. Mystery Ranch gear is designed for occupations that are highly demanding, like the military and fire medics. As such, you can always count on their products being second to none in a contest of durability.

The waist band is phenomenal, and all of the padding is so comfortable, you'd think it was made from memory foam. It's a top loading pack, which is a design that seems to work best for securely loading gear, and there are two torpedo pockets on the front side for easy external access. The daisy chain is tough and durable enough to hold quite a few pounds of gear, and there are loops for ice axes and/or trekking poles. If I had to offer one minor complaint, it's that there are no pockets on the hipbelt. But when you compare that with everything that you do get with this pack, it's a very minor complaint indeed.

Pros:

– Very durable
– Comfortable
– Great storage capacity
– External loops and daisy chain
– Effective compression straps
– Good number of pockets

Cons:

– No belt pockets
Best Use: Trekking
Frame Type: Alloy Steel
Capacity: 60 Liters
Weight: 4.5 Pounds
Materials: Nylon
The Gregory Kalmia is a feature rich backpack designed for longer hikes. With a 60 liter capacity, that's just the beginning when it comes to storage options. The oversized front pocket, top lid, and hipbelt pockets provide even more space for you to shove a couple snacks, your phone, and other items that you want easy access to.

In terms of comfort, I find that the Kalmia is one of the better packs to go with. If you're on the shorter end of the spectrum, you'll appreciate the adjustable torso length, made possible by lowering the shoulder straps to the desired height. Those shoulder straps are also able to twist with your body as you move, since the tops of them aren't fixed to the pack. They rotate on a hinge, and when paired with the FreeFloat back panel, you have a pack that flexes in whatever direction your body moves.

While the Kalmia is a top load backpack, there's a zipper that provides side access as well. While the durability isn't quite as impressive as the Mystery Ranch Glacier mentioned above, the high denier nylon and steel frame can take quite a beating. I also find that dirt, dust, and grime don't stick too well to the fabric, helping to keep things fresh after several days or weeks in the backcountry. And with the antimicrobial treatment added to the pack, the Kalmia won't smell like days of sweat and grime either.

Pros:

– Comfortable
– Good stability
– Top loading with side access
– Antimicrobial treatment
– Flexible and well ventilated

Cons:

– More pockets would be nice
Best Use: Trekking
Frame Type: Aluminum
Capacity: 60 Liters
Weight: 4.1 Pounds
Materials: Nylon
Though it's a little heavy for its size, there's little to dislike about the Arc'teryx Bora pack. With a good capacity for multi-day hikes, the comfort level is high enough to make you forget that it weighs 4 pounds. The padding is fantastic, and when packed right, it has a great amount of stability.

But there's one thing that I think the Bora really did right, and that's the adjustability of the various straps and harness. Thanks to the GridLock system, both the shoulder straps and the sternum strap are customizable to better fit your torso length. On top of that, the hipbelt twists with you in an effort to prevent chafing and create better balance overall. It's a feature that will definitely take some getting used to, but practically speaking, I don't see any flaws with the design.

The inside of the pack is accessible from both the top and the side, which is useful for gear management. Hipbelt pockets give you a place to stash your phone or a few snacks, and trekking poles loops let you get your walking aids out of the way when they aren't in use. The massive front pocket is also big enough where you could store a small tent, but if that's not how you like to pack your bag, then I'm sure you'll find another use for it. The denier of the nylon is a little low compared to other backpacks, but it's still high enough where I'm not concerned about durability.

Pros:

– Adjustable harness and straps
– Hipbelt rotates with you
– Great storage opportunities
– Very comfortable
– Good stability

Cons:

– A little heavy for the size
Best Use: Trekking/Day Hikes
Frame Type: Polycarbonate
Capacity: 60 Liters
Weight: 3 Pounds
Materials: Nylon
As the lightest women's hiking backpack that we've covered so far, that's what I would consider the main selling point for the Granite Gear Blaze. At 3 pounds, it can hold up to 50 pounds of gear, which is probably the most I would have recommended carrying in a pack this size anyway.

You can load it from the top, but there's also a full-length zipper down the side for easy access. A large number of compression traps wrap around all sides of the pack, keeping your gear secured and balanced. Then there's the top lid which provides a nice amount of extra storage, but can be easily taken off if you want to get rid of a few ounces. For some added versatility, the top lid can be removed and used as a chest pack as well, or you can combine it with the hipbelt to create a lumbar pack. Either way, the ability to convert the Blaze into a daypack really opens up your trail options without needing to switch between packs.

It lacks some of the customizability that you get with other backpacks, and the padding is a little lighter, but it's still surprisingly comfortable if you get the proper fit. Still, it's not going to feel as good as the Mystery Ranch Glacier, but it is 2.5 pounds lighter. If the weight tradeoff seems worth it to you, I'd recommend the Blaze any day of the week.

Pros:

– Lightweight
– Top and side access
– Convertible top lid
– Lots of compression straps
– Nice style

Cons:

– Somewhat lacking in comfort
Best Use: Trekking
Frame Type: Aluminum
Capacity: 70 Liters
Weight: 4.5 Pounds
Materials: Polyamide
A 60 liter pack that can add another 10 liters of storage on a whim, the Deuter Aircontact Core is a backpack that has it all. But first, let's talk about those extra 10 liters. After purchasing this product, you'll notice that it has an expandable collar on the main compartment which opens up to create extra space when needed. If you're doing fine without it, you can easily tuck it away and pretend like it doesn't exist.

Similar to some products that we've mentioned so far, the Aircontact has quite a bit of flex and adjustability to it. The harness and hipbelt will pivot as you move for better stability and comfort, and pretty much all of the straps can be customized to fit you perfectly. You can tweak the length of back as well, shortening or lengthening it depending on your height.

The front zipper gives you complete access to the contents of your backpack, allowing you to pull out something in the middle or bottom without unpacking everything on top of it first. It's especially useful if you're hiking with kids, and need quick access to their belongings or snacks for the trail. There are also hipbelt pockets to provide a convenient place for your phone or various food items, and a variety of other pockets spread out around the pack.

While the Aircontanct is well ventilated and offers a good fit, I will say that the padding could use some improvement. You probably won't want to load it up past 40 pounds, simply because the padding on the shoulders is somewhat lacking. Still, aside from that detail, it's an effective and versatile bag that works great for multiday hikes.

Pros:

– Adjustable straps
– Front access
– Well ventilated
– Expandable collar adds 10 extra liters of space
– Lots of pockets

Cons:

– Lacking some padding
Best Use: Trekking/Day Hikes
Frame Type: Spring Steel
Capacity: 50 Liters
Weight: 4.1 Pounds
Materials: Nylon
One of the more affordable options in our review, the Mountain Hardware PCT also happens to be one of the most comfortable. The trampoline back panel is a game changer, and the padding on the shoulders is more than enough to get you through several full days of hiking. Then you have the rotating hipbelt, which moves independently from the back panel, creating more efficiency with your movement.

But aside from comfort, the place that this pack really excels is in storage ability. Namely, the fact that the PCT has an insane number of pockets and compartments to help you separate and organize your gear. Just in the top lid, there are four different compartments to choose from, and then you've got an internal sleeping bag compartment, a couple loops for ice axes and/or trekking poles, and a couple of hipbelt pockets. Which, I will say, the hipbelt pockets are rather small, so I wouldn't count on getting much use out of them. But between all of the other options, you'll still have plenty of storage.

The PCT also comes with a daypack that you can use on shorter hikes. The versatility is nice to have, since you probably won't always want to go on overnight treks, and this setup gives you two packs for the price of one. I do wish that the PCT came with a rain cover, but for the price, you're still getting a lot for your money. If you happen to need a rain cover, we've written a review on some of our favorites, which you can find here.

Pros:

– Very comfortable
– Lots of compartments for storage
– Top and side access
– Separate space for the sleeping bag
– Comes with a daypack

Cons:

– Very small hipbelt pockets
Best Use: Trekking
Frame Type: Aluminum
Capacity: 60 Liters
Weight: 4.1 Pounds
Materials: Nylon
The last big pack on our list, the REI Traverse has everything that you could ever need built into it. You can tell that REI put a lot of time in developing something fit for beginners and veterans alike. For starters, it comes in at a very reasonable 4.1 pounds, and it's strong enough to carry way more than you would ever need. Even if you start getting higher than 50 pounds, the material will hold strong, and it will feel surprisingly good on your shoulders.

There are quite a few other features that come with the Traverse as well. Like the PCT mentioned above, it comes with a daypack that you can use for shorter trips. However, unlike the PCT, it also has a built-in rain cover that you can whip out when the weather starts to take a turn. You also get a daisy chain and full-sized hipbelt pockets that are more than big enough to hold your phone.

Speaking of the hipbelt, it's not as rigid as some other brands, making it more comfortable when resting on your bones. The harness and other various straps are all adjustable as well, and there are four different sizes for you to choose from. That's twice as many options compared to what you find with most other name brands, making it much easier to get a pack tailor made for your size.

The shoulder straps can be a little tricky to adjust, but other than that, it's hard to find anything bad to say about the Traverse. Even the color is great, both aesthetically and because it doesn't show dirt very well. Overall, this one wins the contest of best hiking backpack for women, without a doubt.

Pros:

– Very comfortable
– Large hipbelt pockets
– Adjustable straps
– Doesn't create hotspots
– Color doesn't show dirt well
– Comes with rain cover and daypack
– Highly durable

Cons:

– Shoulder straps are a little difficult to adjust
At Untamed Space, we're passionate about helping you have the best camping experience possible. Our team of experts have experience camping and backpacking all over the world, allowing them to provide insightful and relevant content to guide you in your outdoor pursuits.

All of our reviews are based on a combination of firsthand experience, extensive research, and an analysis of customer feedback. We are an independent website and do not receive payments or incentives from manufacturers to promote their products, and we continuously update our content to provide new information based on product availability. Wherever you are in your journey, whatever gear you're searching for, you can be sure to find unbiased and up-to-date reviews for all of your needs.
FAQ
How Should a Hiking Backpack Fit?
When properly adjusted, your backpack should feel like an extension of your body. To get this effect, start by loosening all of the straps on your pack before putting it on. Then, cinch up the hipbelt first, making sure that it's resting above your hips, not around them. Now you can tighten the shoulder straps until they're snug and comfortable. Finally, tighten the straps that connect the shoulder harness to the back panel.
What's the Difference Between Hiking Backpacks for Men vs Women?
Women tend to be shorter and narrower than men, which means a woman's backpack needs to make some adjustments. A shorter back panel and a flared hipbelt accommodate a woman's height and curves a lot better than what you'd find on a man's backpack. A woman's backpack will also have a narrower frame to better fit the smaller female frame.
Final Thoughts
One of the reasons why I like backpacking so much is because of the freedom you feel knowing that everything you need is on your back. But in order to make that happen, you have to choose a backpack that can comfortably store all of your gear, without creating unnecessary shoulder and back pain after days on the trail.

Looking at the best hiking backpacks for women, we couldn't help but be impressed by the REI Co-op Traverse. Very comfortable and durable, it's one of those rare packs that you can load with 40-50 pounds of gear and not feel miserable while carrying it. Multiple sizes and adjustable straps make it easy to get the right fit, and to top it all off, it's the cheapest product in our review.
---
Related Posts: