Muhammad Ali once said, "It isn't the mountains ahead to climb that wear you out; it's the pebble in your shoe." While the quote was likely meant as a metaphor for the small problems we face every day, it's also true in a very literal sense. Pebble or no pebble, your footwear will make or break any hiking trip you decide to embark on.

But let's be honest, shoes have never been cheap, and that's just looking at your everyday walking trail variety. When we get into hiking boots that are durable enough to take a beating, it can be hard to find a pair that costs less than the average tent.

That said, we wanted to spare you the hassle of clicking through countless pages of hiking boots in search of something that wouldn't break the bank. So here we are with our top picks for the best hiking boots under $100.
In this article, we'll be reviewing the following hiking boots under $100:
What to Look for In Hiking Boots
Price is one of our biggest concerns in this review, but you can't just pick any random boot just because it's cheap. With that in mind, here are just a handful of factors for you to consider before purchasing your next pair of hiking boots:
Comfort
I can tell you from firsthand experience how awful it is to wear an uncomfortable pair of boots on a long hike. Not only will the bottoms of your feet get sore, but you may also be at risk of getting blisters as well, if you aren't careful.

Some of the biggest factors to consider are going to be the overall amount of cushion that the boot provides, as well as how much support it gives you. And yes, it is possible to find cheap boots that still have a decent amount of cushion and support in them. As someone who appreciates bodily wellbeing, these were components that I made sure to look for in the products that have been reviewed below. However, if the level of comfort still isn't quite where you'd like it to be, there are inserts that you can buy separately for your boots.
Fit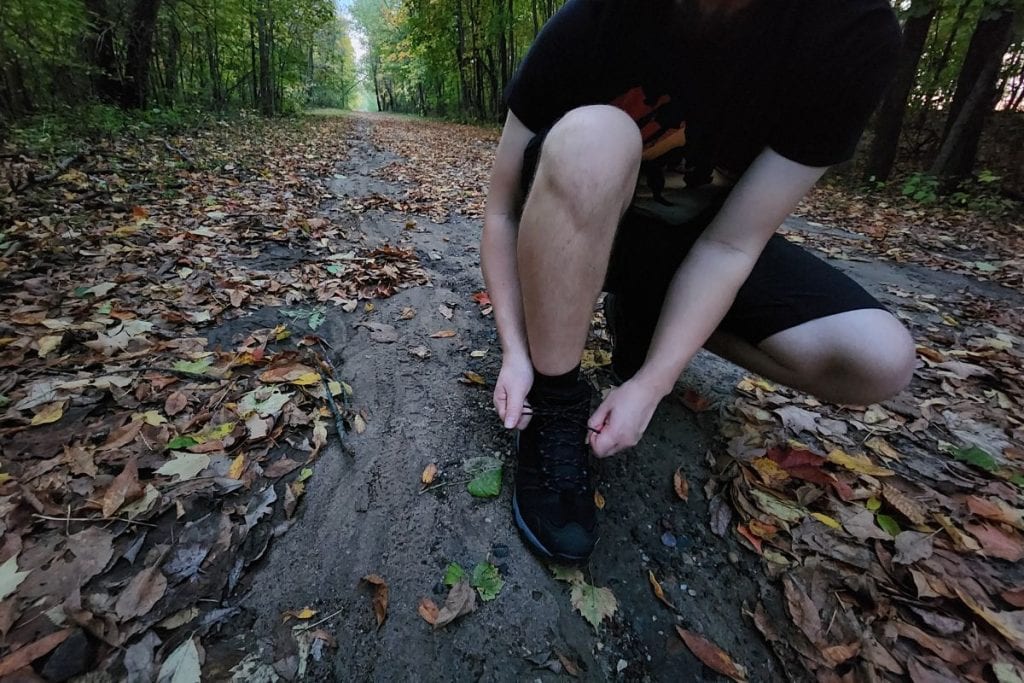 Fit is closely related to comfort. Get a boot that's too small, and you'll have to suffer through the pain of having your feet be compressed. Get a boot that's too large, and your foot will want to slide around, which is a great way to get blisters. Even if you get a boot that fits perfectly, you'll still want to take the time to break it in before going on any serious adventures.

I'd suggest going to a store to get your foot professionally sized, so you know exactly what you need. Unfortunately, shoe brands aren't all made equal either, when it comes to fit, so it's always a good idea to try them on in store before purchasing.
Weight
Hiking uphill is hard enough, so why would want to get a pair of boots that weigh a lot? There is some correlation between weight and durability (the thicker the material, the sturdier and heavier it will be), so in that case, it's good to go with an option that has a decent amount of heft. However, there does come a point where the benefits are outweighed by the burdens – pun intended.

We each have our own thresholds, though, so it's not like I can give you an exact number that you should stick to. And despite the extra effort it takes to walk with heavy boots, the upside is that it will build strength and endurance in the long run.
Waterproofing
Chances are you'll be hiking in all sorts of environments, so it would be naive to think you'll never be exposed to water. Whether it starts to rain, the trail is muddy and wet, or there are patches of snow to trek through, waterproof boots are essential. Having your feet get soaked is a great way to get trench foot, or just force you to plod along in misery until you're able to stop and dry off.

Nowadays, most boots are made with a certain level of water resistance. However, as it is with most things, the effectiveness will vary from boot to boot. You could always give them a coating of waterproof spray, but that will only get you so far. Take a good look at the environment you plan to hike through, and see if you can find a boot that matches. What you decide to wear will be dramatically different if you're going to be walking through a rainforest versus a grassy plain.
Hiking Boots Under $100 Comparison Table
Best Hiking Boots Under $100, Reviewed
Material: Leather/Fabric
Sole: Rubber
Weight: 2.5 Pounds
Shaft Height: Ankle
I'll just say right off the bat that these Timberland Chocorua boots are really pushing the price limit. And the only reason they just squeezed into our $100 maximum requirement is because they were marked down at the time of this writing. All that to say, if you don't have much wiggle room with your finances, you might want to consider checking out the other options in this list.

However, if that's not going to a problem, I have a feeling that you'll love these boots. Made with TimberDry weather protection, you're not going to have to worry about getting wet in these boots. The leather is also waterproof for extra protection, ensuring that your feet stay dry against the elements.

The height of the boot comes up over your ankle, providing much needed support when you're hiking along uneven footing. On the inside, the footbeds are comfortable and shock absorbant. Despite this, I always find that it's a good idea to get yourself some inserts for the insides of your shoes, even if the current support is comfortable enough.

One of my biggest complaints is that these boots do tend to wear out rather quickly, especially if you're frequently using them in rough terrain. That being said, you should be able to get 18-24 months out of them, depending on your usage, before the sole starts to come apart.

Pros:

– Waterproof
– Very comfortable
– Good support
– Fully gusseted tongues
– Great grip and traction

Cons:

– A little lacking in durability
Material: Leather
Sole: Rubber
Weight: 1.8 Pounds
Shaft Height: Ankle
Weighing in at 14 ounces, I would be a big fan of Merrell's Yokota hiking boots just because of the weight. You'll feel like you aren't even wearing shoes as you're hiking – especially since they require almost no breaking in to be comfortable on your feet. Of course, that's not to say you should just hop right into a 10 mile hike right away. Like any new boot, you'll still want to take the time to break them in, but you'll find that they're comfortable right out of the box.

Speaking of overall comfort, though, I do wish that the support was a little better. There's not much in the way of cushion, so you may start to get sore feet if you've been walking for a long time. Nothing some inserts can't take care of, but still something worth noting.

These boots are waterproof, allowing you to walk through several inch deep puddles without any adverse effects. The laces are pretty long, and the eyelets seem a little fragile, but there's little to complain about aside from that.

Pros:

– Lightweight
– Comfortable to wear
– Arch support is pretty good
– Good customer service
– Very durable

Cons:

– Not very much cushion
– Fragile eyelets for the laces
Material: Leather/Fabric
Sole: Rubber
Weight: 1.5 Pounds
Shaft Height: Ankle
A good looking pair of boots that performs well in a variety of climates, the Hi-Tec Bandera hiking boots might just be your one stop shop for footwear. Durable and waterproof, they can be used on almost any terrain, including snow. However, it is worth noting that they aren't insulated against the cold, so if you plan on using them in the winter, make sure you're wearing thick, warm socks.

Sizing can be a little tricky, since they run small. In general, it's a good idea to go up a size from what you normally wear, especially if you plan on wearing thick socks inside them. While they can be a tight fit for people who have wide feet, like me, they're a godsend for men who have average or narrow feet.

The durability of these boots is nothing to sneeze at either. Overall, I've found that they're very well made, especially when you consider just how cheap they actually are. But, I suppose that's not too big of a surprise, considering Hi-Tec is known for making budget friendly gear that doesn't break the bank. One of my few complaints is that the laces are quite thick and will come undone easily when tied with a simple bow knot. While you could just buy new laces altogether, a simple double knot solves this problem in jiffy.

Pros:

– Waterproof
– Very durable
– Cost effective
– Good looking
– Thick sole
– Great traction

Cons:

– Run a little small
– Thick laces
Material: Leather
Sole: Rubber
Weight: 2.83 Pounds
Shaft Height: Ankle
The last of the men's footwear that we're reviewing, the Ariat Terrain hiking boots are great for wide footed men. For the most part, I would say they're pretty comfortable, though they do tend to stretch out a fair bit. As such, I would probably suggest going with a size that feels a little tight initially, since it will expand over time.

I do like how durable the soles of these boots are, as it takes awhile for them to show any wear. Unfortunately, the insole isn't very comfortable, but that's a pretty common phenomenon when it comes to cheap boots like these. As always, I'd suggest replacing them with a pair of comfortable inserts as soon as you're able to do so.

There also isn't much in the way of traction, since these boots were primarily designed for horseback riding. However, they still work well on terrain that doesn't require much grip, and they can also be used for other tasks, such as motorcycle riding, working in a pasture, and so on. This versatility is what I've found to be the greatest strength of these Ariat hiking boots.

Pros:

– Versatile
– Lightweight
– Durable
– Waterproof
– Provides ankle protection

Cons:

– You'll probably burn through the insoles quickly
Material: Suede
Sole: Rubber
Weight: N/A
Shaft Height: Ankle
I was genuinely shocked when I first put my Nortiv 8 Armadillos on my feet. As we've all come to expect, most hiking boots require a breaking in period – usually between a couple of days and a couple of weeks, depending on the model. Naturally, I was expecting the same with the Armadillos, but instead of feeling stiff material chafing my heels and toes, I felt nothing but raw comfort.

And after putting over 150 miles on them, that still hasn't changed.

Sure, the padding has thinned out a little bit, but that's to be expected after a certain amount of wear and tear. They've also gotten quite dirty, but after navigating half a dozen trails in Hawaii, it's to be expected. Dirt doesn't matter, but the durability of the material does. And underneath the layers of grime, there's no sign of holes, abrasions, or delamination.

The water resistance is top notch as well. I've forded shallow rivers without getting my feet wet at all, making these a great choice for trails where you expect to find water or mud.

They do run a bit large, so I'd recommend going a half size smaller than what you normally wear. But aside from that, I can't find anything to complain about with the Armadillos. If you want to check out my full review on them, you can find it here.

Pros:

– Lightweight
– Great water resistance
– No break in period
– Well insulated
– Great durability

Cons:

– Run a little large
Material: Rubber
Sole: Rubber
Weight: 2 Pounds
Shaft Height: Ankle
All right, time to kick off the women's hiking boots with style. The Columbia Newton's Ridge hiking boots are sleek and lightweight, coming in at less than a pound. This makes it much easier to tackle those steep inclines without feeling like your feet are made from lead – a feeling that will quickly drain away your stamina, no matter how fit you are.

But more importantly, what I love about these shoes is how they hold up in a variety of environments. Rainy day with mud and puddles? Not a problem with these waterproof boots. Cold outside with snow drifts to navigate? This footwear will keep your feet warm and dry. The grip is also quite impressive, so it would take a pretty treacherous landscape to throw you off balance.

Sizing tends to be pretty accurate for what you would normally get. If you have wide feet, I might consider going up a half size, but even then, you might find that your foot slides around a bit. For a pair of hiking boots under $100, Columbia really outdid themselves on every level.

Pros:

– Waterproof
– Comfortable
– Work well in colder temperatures too
– Sizing is accurate
– Good traction

Cons:

– Toe box has an irritating seam
Material: Synthetic
Sole: Rubber
Weight: 2.18 Pounds
Shaft Height: Ankle
Most of us are familiar with Sketchers because of their tennis shoes, but did you know they also made hiking boots? Though a tad heavy at 2 pounds, these hiking boots have enough good qualities to make you forget about the added weight – on light hikes, at least.

They fit well, with a toe box that's spacious and comfortable, while the rest of the shoe is tight enough to keep your foot from sliding around. I also like the fact that they require minimal breaking in, so you can avoid those uncomfortable walks when you first get a pair of new boots. As far as support goes, I'd say the idea was progressive, but using memory foam just kind of fell flat. Literally.

At least there's enough room to slip in an insole, which solves that issue. The waterproofing seems solid, and the laces are a good length and thickness as well. Unfortunately, they do tend to wear out rather quickly, but they're some of the best hiking boots you'll have while they last.

Pros:

– Fit well
– Very comfortable
– Waterproof
– Require minimal breaking in
– Blisters? Not with these

Cons:

– A bit heavy
– Could use better support
Material: Suede
Sole: Rubber
Weight: 2 Pounds
Shaft Height: Ankle
There are few women's boots out there that do the job better than the Hi-Tec Logan hiking boots. And what's more is that Hi-Tec managed to create such a stellar product for half the price of a "normal" hiking boot as well.

Comfort won't be an issue, though you may want to go up a half size from what you usually wear. This will help keep the tips of your toes from pushing painfully against the toe box of the boot when you're going downhill. Aside from that, there's also a good deal of support for your arches, and the boot is wide enough to accommodate larger feet or those of you with bunions.

The weatherproofing on them is also quite impressive. Water, mud, and snow don't stand a chance, and the traction is superior to many other name brands. I would feel comfortable wearing these on long hikes, backpacking trips, or any other place where you expect to spend a lot of time on your feet. Not only do they feel good, but they'll also hold up for a long time, eliminating the need to buy a new pair every year.

Pros:

– Comfortable and don't take long to break in
– Weatherproof
– Good traction
– Arch support
– Quality is just as good as other name brands

Cons:

– They run a little large
Material: Rubber
Sole: Rubber
Weight: 1.1 Pounds
Shaft Height: Ankle
Finally, we've got the Columbia Redmond V2 hiking boots to finish off this review. A soft and supportive boot, these are great for mid distance hikers that have narrow feet. For average to large feet, it will feel tight if you get your typical size, so I'd suggest going larger than what you usually wear.

While you might have some trouble getting the right fit, the boot itself is pretty well made. I do wish the waterproofing was a higher quality, but it does resist rain and other moisture that doesn't fully saturate the boot. Aside from that, though, there's little else to complain about. Hotspots and blisters won't happen too often (if ever), making these boots a comfortable option while you're working your way through difficult terrain. The amount of ankle support they provide is also impressive, which is perfect for those of you who have a tendency to roll your ankles while hiking. While the shoe itself tends to run small and narrow, the ankle support fits well for most women.

Pros:

– Comfortable
– Minimizes hotspots and blisters
– Breathable
– Sturdy
– Good traction
– Stylish

Cons:

– Waterproofing could be better
– They run small
At Untamed Space, we're passionate about helping you have the best camping experience possible. Our team of experts have experience camping and backpacking all over the world, allowing them to provide insightful and relevant content to guide you in your outdoor pursuits.

All of our reviews are based on a combination of firsthand experience, extensive research, and an analysis of customer feedback. We are an independent website and do not receive payments or incentives from manufacturers to promote their products, and we continuously update our content to provide new information based on product availability. Wherever you are in your journey, whatever gear you're searching for, you can be sure to find unbiased and up-to-date reviews for all of your needs.
Final Thoughts
When you're on the trails, there are few things as influential as your hiking boots. A bad fit, a lack of waterproofing, and minimal support can easily destroy whatever hopes you might have had for enjoying the trek. When your feet hurt, it's hard to focus on anything else.

Since this is a review on both men's and women's hiking boots, it's only fair that we would have two winners (one for each gender). With that in mind, we liked the Timberland Chocorua Trail and the Hi-Tec Logan when looking for the best hiking boots under $100. Each are comfortable and durable, able to withstand the harsh environments that you'll probably be putting them through. On top of that, each have reliable waterproofing, giving you peace of mind when you come across large puddles or muddy areas that need to be crossed.
---
Related Posts: