If you're in a rush and want to find out what the best hunting tent is, we recommend the Mountain Hardwear Trango 2 tent.

Tents aren't just used for car camping and backpacking. Any time you're living outdoors and need shelter from the elements, a tent is going to be a must-have in your arsenal.

This is especially true if you're hunting, though I have known some people who like to go without a shelter altogether. But if you're someone who doesn't care too much about a couple extra pounds weighing you down, here are some of the best hunting tents that we've found.
In this article, we'll be reviewing the following best hunting tents:
Weight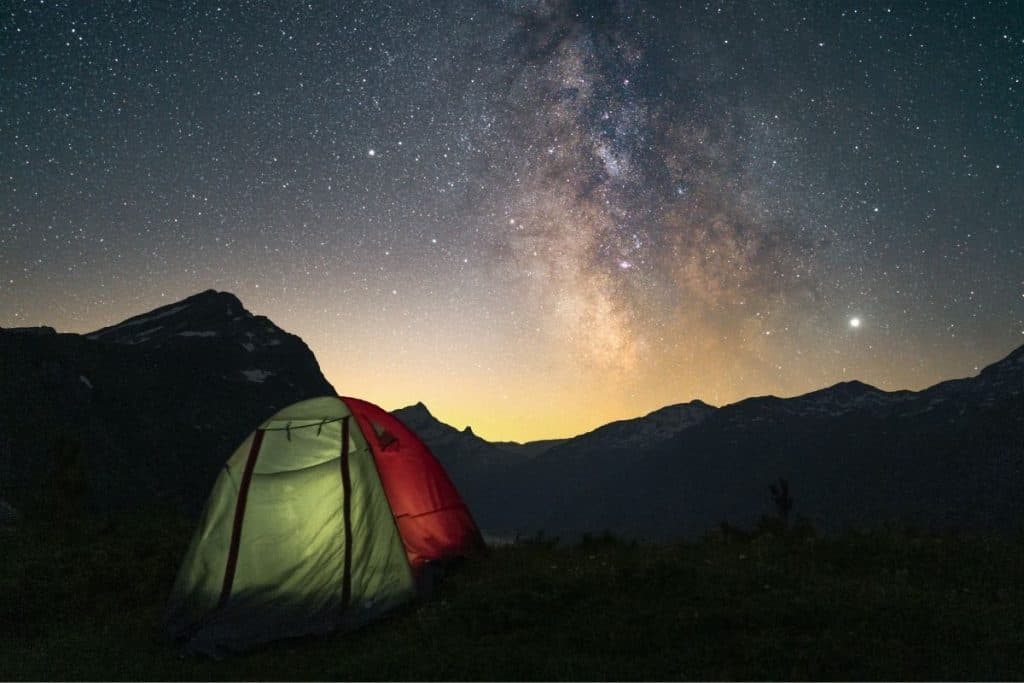 When you're hunting, you don't have the luxury of driving into a campground with your reservation handy. Oftentimes, you need to be on the move, tracking and following your prey, which means your tent either gets left behind, or it ends up on your back.

If you're used to leaving your shelter in one place, and need it to be durable enough to withstand a lot of abuse, you don't have much choice when it comes to weight. It's going to be heavy, but that's okay – you aren't taking it with you long distances.

On the other side of the spectrum, a former co-worker of mine used to enjoy a more nomadic method of hunting. He wouldn't bring a tent at all, but preferred to pack a tarp that he could transform into an emergency shelter if necessary. Make sure you're a pro before you attempt something like this, though, as inclement weather can become dangerous if you don't have proper shelter. My co-worker almost lost a few fingers to frostbite after getting caught in a blizzard in Colorado. And trust me, your appendages are more important than shaving off the pounds from your pack.
Durability
We briefly mentioned this, but durability is one of the most important factors to consider when you're looking for the best tents for hunting. The floor will likely be getting a lot of foot traffic, and it has to withstand the weight and movement of your gear as well. We all know that guns and ammo aren't light, so this could reduce the lifespan of your shelter.

Of course, there are two sides to this coin as well. If you're packing light with minimal gear, or you don't plan on keeping everything inside the tent with you, something like a bivy sack or a one person tent would get the job done nicely. Many of them weigh less than 4 pounds, allowing you to carry your shelter with you. And if you take good care of it, a tent like this will last you a long time.
Weatherproofing
I think it goes without saying that your tent should be able to keep you dry in stormy weather. After all, that's the only thing it's good for, aside from keeping the bugs out of your hair. Needless to say, it's worth paying attention to this aspect.

The problem is that you won't really know how it performs in bad weather until you try it for yourself. And at that point in time, if you happened to get a faulty product, you're in for an unpleasant night. You may even need to cancel your trip, depending on how bad it is.

Reviews are always worth reading before you purchase camping gear. In my personal experience, if the comment section is complaining about a leak in the tent, it's likely that you'll encounter a similar problem. However, be careful if you decide to use this strategy. Sometimes the tent was leaking because the user put it together improperly, in which case there was actually nothing wrong with the product.
Ease of Setup
You've got a lot to think about when you're on a hunting trip. At the end of the day, the last thing you'll want to do is waste half an hour trying to pitch your tent. That time and energy could be better spent elsewhere, whether you want to cook dinner, check your hunting gear for problems, or just relax after an exhausting day.

Smaller tents are usually easier to set up. There's less material to work with, they aren't as tall as larger tents, and most have a pretty simple design. If you still want to go with a bigger shelter, I'd suggest grabbing an instant tent, as these can often be put together in under 5 minutes. Just don't plan on carrying it long distances, as instant tents are notorious for being heavy and bulky. Since the components are all pre-attached, they don't fold down to a very small size, making them far more ideal for car camping.
Size
The tent you use for hunting is probably going to be a lot different than the tent you use for family camping. When you're hunting, chances are you'll be going out by yourself. If you're bringing a friend, they'll probably have their own tent so they don't have to share yours.

Whatever the case, you'll be able to keep things small and portable. One person tents are great for backpacking through the wilderness, but two person tents are perfect if you need a little extra room inside for you and your gear. It really comes down to personal preference, and the type of hunting you plan on doing.
Best Hunting Tent Reviews
If you've got the budget for it, the Russian Bear hot tent would be my top pick for hunters who want a solid home base. However, considering it costs more than $2,000, I'd recommend moving onto the next tent in this review if you can't afford it.

You'll also have to pay for the tent stove separately, unlike other Russian Bear products. However, once everything is setup and installed, it's perfect if you find yourself hunting or camping in an area known for being chilly, like a more alpine climate. Natually, it would also be great in the shoulder months, and you could even get by in the winter as well. That being the case, I believe the overall cost of this product is quite reasonable.

If you also enjoy fishing, you'll be pleased to know that this hot tent comes with specially designed holes in the floor. Bring it with you out onto the frozen lake, and enjoy fishing from the comfort of your steaming hot tent. The pop up design makes it easy for a single person to set it up by themselves, despite the 64 pound weight, and there are plenty of windows for ventilation, in case you start to get too hot. On top of that, the hinged door is close to what you'd find in your own home. It really makes a difference when you're trying to get in and out, especially during the night when you need to relieve your bladder.

Pros:

– Very durable
– Double layered insulation
– Camo coloring and holes for ice fishing
– Pop-up design
– Plenty of ventilation

Cons:

– Very expensive
In case you aren't familiar with them, bivy stands for "bivouac," a term that describes any improvised shelter meant for temporary use. It's a great option for those of you who don't feel like lugging around a whole tent, but still want some measure of protection against the elements.

Utilizing just a single pole, there's enough structure to the Outdoor Research Helium bivy to keep the fabric from falling onto your face when you're inside. However, don't expect much room beyond that. You'll be able to shove a sleeping bag and closed cell foam mat into it, and that's about all, aside from your phone and a few snacks. Hopefully you don't get claustrophobic, because this is going to be a tight squeeze.

Fortunately, the section of fabric by the head can be unzipped, allowing you to look around while the mesh keeps the bugs from getting inside. If it starts to rain, though, you'll have to seal everything up. It'll feel like you're in a coffin, but that's par for the course with a bivy. When your shelter weighs less than a pound, there are certain sacrifices you have to make.

Pros:

– Lightweight
– Minimalistic
– Support pole keeps fabric away from your face
– Weatherproof
– Great for stargazing

Cons:

– Very small
Designed for use in extreme conditions, the Mountain Hardware Trango 2 tent is perfect for hunting trips in the mountains or other harsh environments. Though it's a bit heavy for a two person tent, it comes with all the bells and whistles that you'd expect to find in a 4 season tent.

Widely regarded as bombproof, there doesn't seem to be any type of weather capable of taking this guy down. Strong wind doesn't budge it, heavy rain can't seep through it, and temperature changes barely affect it, because of its insulative qualities.

Thanks to the minimal amount of mesh, it's a shelter than you can take to the desert without worrying about sand flying in. The solid tent wall construction also makes it darker inside, so it's slow to heat up, even under the hot summer sun. Setting it up and taking it down can be a bit of a hassle, but for the sheer quality you get in every other area, it feels like a small price to pay.

It's also quite roomy for a two person tent, actually allowing you to house yourself and a friend comfortably. There are also plenty of storage options available, if you need a place to stash your phone or just want a convenient place to leave your socks to dry.

Pros:

– Bombproof
– Roomy interior
– Plenty of internal storage
– Large front door vestibule and smaller backdoor vestibule
– Solid walls

Cons:

– A little heavy
Easily one of my favorite outdoor gear brands, Marmot always does such a great job at creating high quality products. And when it comes to the Tungsten 2 person tent, you'll discover several features that help it stand out from the crowd.

For example, most 2 person tents are rather small, especially when it comes to peak height and usable space. The Tungsten mitigates this problem by offering near vertical walls, significantly opening up the inside of the shelter. Sleeping bags and gear can be shoved right up against the wall, and you'll be able to sit up straight anywhere inside without scraping your head.

With color-coded clips and poles, setup is a breeze. And assuming you've staked it out properly, you can feel confident about the protection you'll receive when those storm clouds start rolling through. It's a tank in the wind and rain, and there are even two large vestibules for outdoor storage. That means you can keep your gear protected outside, opening up the amount of livable space on the inside.

I'd like to see better ventilation with this tent, and it's a bit bulky to carry long distances. However, if you split the weight between you and a buddy, it makes the cut when it comes to the best hunting tents.

Pros:

– Vertical walls for extra space
– Durable and strong against weather
– 2 large vestibules
– Weighs about 5 pounds
– Easy to put together

Cons:

– Ventilation needs improvement
– Stakes are flimsy
Weather conditions don't always go your way when you're hunting in the backcountry. That's why you need a tent that's able to hold up under harsh conditions, but just as importantly, you need something easy to put together in those same conditions!

With a hubbed design, the ALPS Mountaineering Tasmanian is one of the simplest 4 season tents to set up. The two fly vents allow you to get some air circulating through the tent, reducing the amount of condensation buildup, while keeping you cool inside. Both are able to be fully closed when extreme weather hits. However, the entire tent itself is mesh-free, aside from the ventilation in both doors and the interior pockets. It's a design best suited for crisp mornings and evenings, though you'll enjoy the full protection at any time during the year. Just make sure you bring a tent fan for those hot and stuffy summer afternoons, otherwise you might find yourself steaming a little.

The rainfly is color coded and easy to setup once you have a little practice under your belt. Like any tent, it will take a few trial runs before you feel comfortable putting everything together, but it's fairly simple to pitch.

Pros:

– Simple setup
– Great storage opportunities
– Relatively lightweight for the size
– Good ventilation
– Holds up well in extreme weather

Cons:

– Tight for three people
Need to stay lightweight, but don't want to downsize into a bivy? The North Face Assault might be the shelter for you. Weighing in at 5 pounds, it's not the lightest two person tent that you'll find, but it's still a great option for backpackers and hunters on the move.

It's a single walled, 4 season tent that performs well in chilly alpine environments where you can expect heavy snowfall and strong winds. Despite the lack of a rainfly, it's surprisingly effective at keeping out the moisture, and preventing the accumulation of condensation. In fact, it's one of the most breathable shelters in our review, believe it or not. It's a nice change of pace from other 4 season tents, like the Trango 2, which are significantly stuffier.

A large number of internal pockets will give you plenty of options for gear storage, and the removeable vestibule is a handy place to keep some larger items outside. With some practice, you can also pitch this tent in about 5 minutes, which comes in handy when there's a storm blowing in. I also like how aerodynamic the shape is, and how it cuts through the wind, if you have it pointing the right direction.

The peak height is a little short, and in general, I'm not sure I would actually try to house two people inside. But aside from that, it's a durable little tent than can go the extra mile with you. For the price and weight, you really aren't going to find anything better than this for more nomadic hunting trips.

Pros:

– High-low ventilation system for airflow
– Holds up well against the elements
– Plenty of pockets for storage
– Effective 4 season tent
– Roomy vestibule for gear storage

Cons:

– A little on the short side
Someone knew their Norse mythology when they named the Marmot Thor. Widely regarded as one of the strongest gods, the tent adopted much of the toughness and durability that you'd find in our favorite hammer wielding superhero. And considering it's a 4 season shelter, it needs every bit of strength that it can generate.

Suitable for rugged, snowy climates, this tent won't collapse even with the weight of several inches of precipitation accumulated on top of it. Insulation is also top notch, making sure the warm air stays inside with you, and the cold air stays outside. The reverse is also true, if you want it to stay cool inside and hot outside.

The tent itself weighs about 10 pounds, which is moderately heavy, especially if you plan on carrying it around by yourself. While backpacking with it is certainly doable, I'd suggest enlisting the help of a friend. Or, you can set it up as a home base that you return to when you're done hunting for the day.

Setup is quick and easy, and the vestibules are large enough to store all of your gear with ease. Considering it's a 3 person tent, you'll have plenty of room inside for you and a dog, if you bring a furry companion with to help with the hunting.

Pros:

– It has otherworldly strength
– Keeps you pretty warm on the inside
– Large vestibules
– Waterproof
– Though it's a 4 season tent, it works well during the summer too
– Easy to set up
– Plenty of storage on the inside

Cons:

– Very heavy
You may have noticed a theme among many of the tents that we've reviewed so far. Nearly all of them are 4 season tents or ultralightweight, meaning they can either be used all year in rough weather, or they're portable enough to go anywhere you can get your body.

The MSR Access is a shelter that embodies both of these features. Not only is it just under 4 pounds (a reasonable weight for a two person tent), but it also holds up nicely during the chilly winter months. The limited amount of mesh used in its construction helps keep the inside insulated, allowing you to stay warmer for longer.

Ventilation is minimal but adequate, keeping condensation buildup to a reasonable amount. Just make sure the rainfly is properly guyed out, otherwise you'll experience a bit more dampness than usual. The amount of internal space is about what you'd expect from a two person tent as well (i.e. it can house you and a dog…and that's about it). I do wish the pole system was easier to manage, but it's not too bad to work with, especially if you have a history of putting tents together.

Pros:

– Lightweight
– Decent ventilation
– Well insulated
– Giant gear pockets
– Good sized vestibules

Cons:

– Pole system is a little tricky to work with
At Untamed Space, we're passionate about helping you have the best camping experience possible. Our team of experts have experience camping and backpacking all over the world, allowing them to provide insightful and relevant content to guide you in your outdoor pursuits.

All of our reviews are based on a combination of firsthand experience, extensive research, and an analysis of customer feedback. We are an independent website and do not receive payments or incentives from manufacturers to promote their products, and we continuously update our content to provide new information based on product availability. Wherever you are in your journey, whatever gear you're searching for, you can be sure to find unbiased and up-to-date reviews for all of your needs.
FAQ
Do You Need a Hunting Tent for Hunting?
Technically? The answer is no, you don't "need" a tent for hunting. I've known a few hunters who cowboy camp and call it good, never bringing anything more than a sleeping bag for protection.

However, a good hunting tent is nice to have if you want to play it safe. Storms can pop up when you least expect them, and the last thing you want is for you and your gear to get soaked when you're in the backcountry.
How Do you Choose a Backcountry Hunting Tent?
Backcountry hunting means you'll probably be moving from one place to the next quite frequently. Because of that, having a lightweight shelter is going to be crucial, even at the expense of the finer points. When you're carrying your tent around all day, you'll be glad you went with something that won't kill your shoulders, even if there's less room on the inside.
How Much Does a Hunting Tent Cost?
Tents have a wide price margin to begin with, and even more so with hunting tents, since everyone has different needs. Generally speaking, the range would look something like $200-$1,000. Bivy sacks are going to be on the lower end, while larger shelters and 4 season tents are going to be more pricey.
Final Thoughts
Having an adequate shelter is a must when you're out on a hunting trip. Especially if you're backpacking through the backcountry, sudden shifts in weather can become dangerous if you aren't sufficiently prepared for them.

Overall, the best hunting tent will be what suits your needs and style of hunting most closely. Out of all the options that we reviewed, though, our favorite was the Mountain Hardward Trango 2 tent. It might be a little heavy, but that's to be expected when the shelter can withstand pretty much anything Mother Nature can throw at it. If you're looking for a tent that will last you a long time and can be used during any season throughout the year, this is the one for you.
---
Related Posts: