In the pursuit of summiting, mountaineers are often faced with steep inclines, covered with snow and ice. A good set of crampons will help, but sometimes their hands are needed to gain traction too.

From glacier travel to ice climbing, the best ice axes will provide the security needed to scale those big, intimidating slopes. We've laid out some of our favorites for mountaineering below, but there's enough variety to meet you wherever you are in your outdoor journey.
In this article, we'll be reviewing the following best ice axes:
What is a Mountaineering Ice Axe?
An ice axe is a tool that is used by mountaineers to scale steep slopes that are covered with snow and ice. They provide some much-needed traction and stability, and depending on the style, they can be used on routes that range from "easy" to "technical."

The classical style, for example, has a straight shaft and a straight (or slightly curved) head. This design is perfect for glacier travel or for climbing up steep trails, but it shouldn't be your first choice for technical climbs or scrambling.

A climbing ice axe can have either a straight or curved shaft, with a traditional curve pick on a steel head. These work better for very steep slopes where you'll need to use your hands and your legs to make it up.

An axe designed for technical climbing is meant for scaling frozen waterfalls, icefalls, and ice-covered rock slabs. Axes for slopes that have a grade of 60 degrees or higher are called "ice tools," and have aggressively curved handles and a reverse curve pick. These extend past the scope of this article, so we'll primarily be focusing on the classical style and some other options that work well in alpine settings.
Anatomy of an Ice Axe
But before we dive into our top picks for the best ice axes, let's break down the components you can find on one of these tools. Here are the parts that you should pay attention to the most:
Pick
The front side of the ice axe head is called a pick. This is the part that you'll swing into the ice in order to gain traction, and it's what mountaineers will use when they need to self-arrest.

Picks can have a positive, neutral, or reverse curve, which are all effective for different tasks. Positive curves arch downward, effectively digging into the snow and ice when you need to self-arrest or pull yourself up mild and steep slopes. Neutral curves are best for self-arresting, but they don't provide as much leverage on steep slopes. Reverse curves start by dipping downward before arching up again. You'll often find climbers using these on more technical routes since they're easier to pull out of the ice again. However, they're the least effective for self-arresting.
Adze
The adze is the backside of the ice axe head. It's a component that's less frequently used, but still has its purposes in specific situations. A couple of which include hacking through thick ice sheets or carving out a rough set of stairs in the snow.
Carabiner Hole
On the axe head, between the pick and the adze, you'll often find a carabiner hole. It's an opening that lets you slip a carabiner through, allowing you to clip the axe to your belt or the outside of your mountaineering backpack. For as often as you'll use the axe, it's more helpful to have it accessible like this, rather than packed away inside your backpack.
Shaft
The shaft is the handle of the axe. It's usually about two feet long, and can be curved or straight depending on the type of axe that you're looking at. For mountaineering purposes, a straight shaft is going to be more ideal, since you can use it as a walking stick up milder slopes. Curved shafts offer a more ergonomic swinging motion, but they're better suited for technical ice climbing.
Shaft Grip
The shaft grip is located at the bottom of the shaft, and it's where you're going to want to hang onto the ice axe. Some are very smooth, with nothing more than a few ridges to provide something for your hand to grip. Others have inset grips that partially wrap around your hand, which is more ideal for vertical climbing when you absolutely need to hang onto your axe as an anchor in the ice.
Leash
Something that's nice to have, but not mandatory by any means, a leash will secure the axe to your body. That way, if you happen to fall or the axe slips out of your hand, it won't slide out of reach. More than anything, a leash provides a sense of security for any mountaineer who's worried about losing their axe.
Spike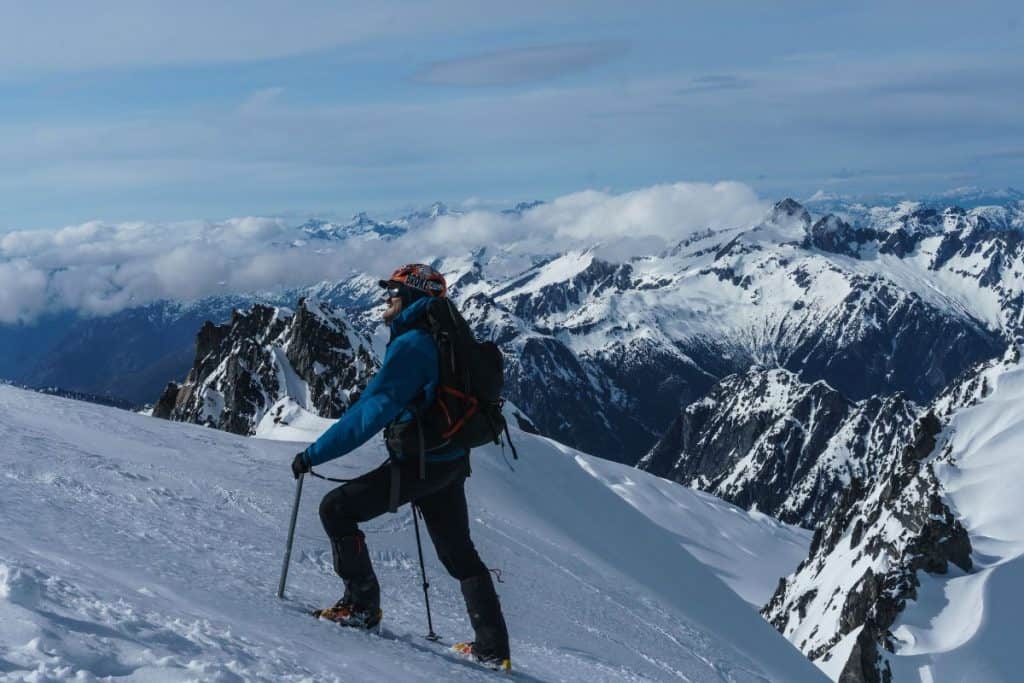 At the bottom of the shaft, just under the grip, many of the best ice axes have a spike. Why do you need one? Well, it goes back to that whole concept of using your axe as a walking pole for extra support on low grade slopes. The spike will dig into the hard snow and ice, providing a more secure point of contact that you can use as leverage to help yourself up difficult terrain.
Materials
Most ice axes have a shaft that's made out of aluminum. It's a strong, lightweight material that's versatile enough to handle most situations without issue. Steel and carbon are less common, but still make an appearance from time to time. Obvioiusly, steel is going to be the most durable option, but it's also the heaviest. In comparison, carbon is the lightest but least durable, which makes it an effective option for ski mountaineering or certain locations that don't require heavy use of the axe.

Likewise, most axe heads are made from aluminum, steel, or titanium. Aluminum is versatile and cheap, but lacks the durability you need in an axe head. Steel is the most common because it can take a beating without bending or breaking, which is exactly what you need to see in a pick. Titanium is similar to steel in durability, and as light as aluminum, but it's a lot more expensive as well. For the most part, I'd recommend sticking to an axe that has a steel head.
Length
Ice axes come in a variety of lengths, usually measured in centimeters. How do you know what the best length for you will be?

You'll likely need someone to help with measurements, but start by standing in a relaxed position with your hands by your side. Have a friend take a tape measure to measure the distance between your thumb and your ankle. That's about how long your ice axe should be, if not an inch shorter.
Weight
And of course, you can't underestimate the importance of weight. Lighter isn't always better, since a heavier axe creates more momentum, which helps drive the tool deeper into the ice. This is what you want to have happen when you're scaling a vertical wall.

On the other hand, lighter is the way to go for long hikes or glacier travel. Embedding the axe as deep as it can go is less important here, and a heavy axe will make you feel fatigued a lot sooner.
Best Ice Axes – Reviewed
Material: Steel Head, Aluminum Shaft
Pick Shape: Classic Curve
Shaft Shape: Bent
Weight: 0.93 Pounds
An incredibly versatile ice axe, the Petzl Summit Evo was designed for a variety of situation. You'll notice a slight curve in the shaft, near the head of the axe, which gives you better clearance on steep terrain that's full of hard debris. The rest of the shaft is straight, which means it can still be used as a walking stick up low-grade inclines.

With a serrated edge, the pick really digs into the ice, gripping it nicely. Since it's a bit thicker in the middle, it works well on soft snow as well, making it an option well suited for a variety of environments. Self-arresting is also easy, given the classical curve on the pick.

There aren't too many height options, and the price is a little high if you only plan to use it for glacier travel. However, among the three sizes, I don't think you'll struggle to find one that suits your needs. And considering how versatile this particular ice axe is, I'd say the price is very reasonable, especially if you plan to use it for more than glacier travel. The design is effective for grades all the way up to roughly 80 degrees, assuming it's a pretty easy wall that you're trying to climb.

Pros:

– Versatile
– Good for a variety of slope angles
– Serrated edge
– Durable materials
– Comfortable

Cons:

– Price
Material: Steel Head, Aluminum Shaft
Pick Shape: Classic Curve
Shaft Shape: Bent
Weight: 0.93 Pounds
The Black Diamond Raven Pro ice axe is one of my favorites just because of how sleek the design is. Effective for basic ice and glacier travel, you could use it for more technical climbing, but I wouldn't push my luck with it. While the slight curve in the shaft offers more clearance, it's not a style that's ideal for steep climbing.

Solid, durable, and a good weight, Black Diamond made a product that will last for a long time. The steel head can take a beating, and the aluminum shaft works well to keep the weight pretty average for an ice axe. I'm also a big fan of how many different sizes the Raven comes in, as you'll notice four different options to choose from on the REI website. Buying directly from Black Diamond gives you even more sizes to pick from, so we've included a link to it below.

I know it's a common complaint for most ice axes, but the Raven really likes to channel the cold down into your hands. Gloves help, but they won't take away the chill entirely. The shape of the adze also makes it less than ideal for digging, but it's still comfortable to hang onto when you want to use the axe as a walking stick.

Pros:

– Durable
– Effective for basic glacier travel and mountaineering
– Decent weight
– Plenty of height options
– Fair price

Cons:

– Shaft can get pretty cold
Material: Steel Head, Aluminum Shaft
Pick Shape: Reverse Curve
Shaft Shape: Bent
Weight: 1.04 Pounds
The Petzl Sum'Tec is pretty unique, compared to the other products in our review. For starters, it's the only modular ice axe that we talk about, which means you can switch the head out for another one, depending on your needs.

And chances are you'll need a different axe head at some point. The primary pick sports a reverse curve design that's perfect for ice walls and frozen waterfalls, since it's easy to pull back out again. However, it's not great for self-arresting, so you'll want to have a different head (with a classic curve) for more versatility.

Weighing just over a pound, it's the heaviest ice axe that we've talked about so far. However, for a modular tool of this caliber, that's a lot lighter than I would have expected. There's some texture on the grip to help prevent slippage, but I would like to see more of it. I'd also like to see measures taken to keep the shaft from becoming unbearably cold, but that feels like a pipe dream at this point. However, the handle is comfortable, and feels good in the hand even after extended use.

Pros:

– Versatile
– Modular design
– Good weight
– Tapered pick
– Lots of add ons (purchased separately)
– Adjustable handrest

Cons:

– No insulation for the grip
– Small carabiner hole
Material: Carbon Steel Head, Aluminum Shaft
Pick Shape: Classic Curve
Shaft Shape: Straight
Weight: 0.99 Pounds
The Grivel G1 ice axe is pretty basic as far as these tools go, but what makes it stand out from the crowd is the price. Whereas most ice axes run over $100 (which usually means you'll pay between $200-$300 for a set), the G1 hovers under that three-figure mark. So from a cost effectiveness point, this tool is hard to beat.

Still, you do get what you pay for. It's a simple design, suitable for glacier travel and light mountaineering, but I wouldn't do anything crazier than that. The straight shaft doesn't give you any extra clearance, and there really isn't any grip. Likewise, there's no insulation on the shaft to help prevent the cold from seeping into your hands after extended use.

However, the axe head and the spike at the bottom are both made from carbon steel. It's highly durable and lightweight, with both ends easily digging into the hard snow and ice. The adze is comfortable to grip when you're using the axe as a walking stick, and it works well for digging and carving. While it wouldn't be my first choice for technical routes or slopes greater than 40 degrees, it's a great option for low grade inclines and glacier travel.

Pros:

– Affordable
– Durable pick and spike
– Great for glacier travel
– Decent weight
– Carabiner hole

Cons:

– No leash or grip
– Very little clearance
Material: Steel Head, Aluminum Shaft
Pick Shape: Classic Curve
Shaft Shape: Bent
Weight: 0.53 Pounds
As the lightest product in our review, there's a lot to like about the CAMP Corsa alpine ice axe. Not only is it half the weight of its competitors, but it also has many of the same features you know and love among other ice axes.

For example, the steel head and aluminum shaft create a nice balance between durability and weight reduction. In particular, you'll notice that the pick is little more than an outline of steel, with some support bars placed in there. This is the primary place where you'll notice the reduction in weight, making it the perfect tool for ski mountaineering and long backpacking trips. You won't get as much momentum to help you dig into the ice, but that's a compromise I'm willing to make.

The shaft has a slight curve, creating more clearance on those steep inclines. Since the pick sports a classic curve, it's also ideal for self-arresting, so you can feel confident tackling those 40-degree grades, if not something a little more extreme. There is a compatible leash for the Corsa, but you'll have to purchase it separately, which you can find here. I'd definitely recommend getting it, for that added security.

Pros:

– Ultralightweight
– Minimalistic design
– Variety of lengths to choose from
– Good for self-arresting
– Slight bend in the shaft

Cons:

– Just slightly less durable than other axes
Material: Steel Head, Aluminum Shaft
Pick Shape: Classic Curve
Shaft Shape: Bent
Weight: 1.2 Pounds
With a few more bells and whistles than your average ice axe, the Black Diamond Venom is the perfect choice for a variety of environments. The first thing you'll probably notice in the picture is the grip on the shaft. It has a little insulation to keep your hands from freezing, which already sets it apart from the crowd, in my opinion. But you'll also notice the flintlock pommel which offers an adjustable second grip, allowing you to choke up on the shaft when you're climbing steep slopes.

It's not exactly a modular ice axe in the traditional sense, but the head is removeable (and replaceable) in case you need to switch things out. I'm also a big fan of the giant carabiner hole on the axe head, which is large enough to fit a couple carabiners. Most are too small to accommodate more than one, so this is a nice change of pace.

The comfortable adze and the relatively straight design let you use the axe as a walking stick. At the same time, there's enough curve in it to keep your hands clear of debris when you're climbing steeper inclines. The weight is a little higher than most, but still falls within a reasonable range. Considering all of the features that you get, it feels like a small price to pay.

Pros:

– Insulated grip
– Flintlock pommel
– Sharp stake
– Large carabiner hole
– Slightly bent shaft
– Durable

Cons:

– Price
Material: Steel Head, Aluminum Shaft
Pick Shape: Classic Curve
Shaft Shape: Straight
Weight: 0.82 Pounds
Relatively lightweight and affordable, the Petzl Glacier ice axe is great for beginners entering the world of mountaineering. It's not for super technical climbing, and it's not for steep slopes, but it's perfect for basic glacier travel and light mountaineering.

The straight shaft makes this axe a great walking stick, and the sharp spike cuts nicely into frozen snow and ice. At 0.82 pounds, it's also one of the lightest options in our review, allowing you to carry it longer distances before you start to feel the fatigue. You'll also get a leash that comes included with the axe, so you can comfortably swing it around without fear of losing it.

Both the pick and the adze are well made, durable enough to hack into the toughest materials. However, the same can't be said for the plastic connector between the two of them. I'm not sure why Petzl thought it would be a good idea to use plastic, but…they did. Generally speaking, it shouldn't cause too many problems, but you may encounter problems with durability the longer you use it.

Pros:

– Lightweight
– Affordable
– Comes with a leash
– Durable pick and spike
– Good as a walking stick

Cons:

– Lacking durability
Material: Steel Head, Aluminum Shaft
Pick Shape: Classic Curve
Shaft Shape: Straight
Weight: 0.94 Pounds
For the price, you're not going to find something better quality than the CAMP Neve ice axe. As the cheapest product in our review, it's tempting to think that it will also be the lowest quality, but that's not true at all. In fact, it's hard to understand why this tool doesn't cost more, considering it's fairly similar to the Petzl Glacier mentioned above.

With an aluminum shaft, the Neve maintains a reasonable weight, though it's not ultralight by any means. The steel head provides good momentum for swinging into the ice, and the material itself is highly durable and long lasting. A CC4U wear indicator will tell you when the pick is too dull to use, but it would take a long time to reach that point.

The wrist strap is sturdy and secure, helping to prevent the axe from sliding away into oblivion if you happen to drop it. I also like how comfortable the adze is to hold onto when you're using the axe as a walking stick, and the spike digs into the ground nicely. Overall, it's hard to find anything wrong with the Neve ice axe, and I'd recommend it for glacier travel and light mountaineering any day of the week.

Pros:

– Affordable
– Durable
– Effective wrist strap
– Well designed pick and adze
– Wide variety of lengths

Cons:

– Not ideal for technical climbing or vertical walls
At Untamed Space, we're passionate about helping you have the best camping experience possible. Our team of experts have experience camping and backpacking all over the world, allowing them to provide insightful and relevant content to guide you in your outdoor pursuits.

All of our reviews are based on a combination of firsthand experience, extensive research, and an analysis of customer feedback. We are an independent website and do not receive payments or incentives from manufacturers to promote their products, and we continuously update our content to provide new information based on product availability. Wherever you are in your journey, whatever gear you're searching for, you can be sure to find unbiased and up-to-date reviews for all of your needs.
FAQ
What is the Best Ice Axe?
What are the Pros and Cons of an Ice Axe?
Ice axes comes in all different shapes and sizes. Straight shafted axes work well for glacier travel and light mountaineering, while bent shafts are best for steeper grades and technical climbing. Some also come with adjustable grips that make it easier to choke up when you need to climb steep walls.
What Activities Can You Do with an Ice Axe?
Ice axes are very versatile tools. With them, you can mountaineer, hike, climb, navigate glaciers, and ski mountaineer. You can also use them for everyday purposes, like breaking up the ice in a water trough.
Final Thoughts
Mountaineering and glacier travel can be tricky on the best of days, but on some routes, it's downright impossible by using crampons alone. You'll need the help of all four limbs, which is where the best ice axes come into play.

Durability, shape, weight, and extra features are all key factors to look for when choosing the proper tool. When looking at all of these categories, we felt that the Petzl Summit Evo ice axe did it the best. It has a reasonable price and excels in all of the points listed above, making it the perfect all-purpose mountaineering axe.
---
Related Posts: