Montana is a large state, full of natural beauty and a variety of landscapes. Out of all this land, though, many would argue that the crown jewel is Glacier National Park, located in the northwest corner of the state. Between the snowcapped mountains, glacial lakes, and endless forests, it's not hard to see why this is such a popular destination.

But what if I said that you could escape from the crowds, even while staying on the edge of the National Park itself? At The Way Less Traveled, what we deem to be the best Montana bed & breakfast, this is entirely possible. Here's everything you need to know about it, as well as a glimpse into our time staying there.
How We Got There
Instead of flying into Kalispell, which would have been significantly closer to the B&B, my wife and I chose to arrive in Bozeman instead. Since neither of us had been to Montana before, we wanted to get the most out of the trip, and see as much of the state as we could during our 3 days there. Though the drive was long, it was well worth it for the sights we saw, especially as we started getting farther north.

Once we reached Kalispell, we angled northeast until we reached a modest town called Columbia Falls. This is really the last bit of civilization you'll see for several dozens of miles, so it's worth popping into a grocery store to stock up on snacks.

Much of the road leading from Columbia Falls to the B&B is dirt, so I'd highly recommend getting an SUV for the journey. In particular, the last 6 miles of road were pretty sketchy (when we were there), but that was mainly due to the excessive number of potholes. Don't let the drive scare you off, though. It's one of the prettiest you'll ever experience, so it's worth taking your time to enjoy the scenery. Just make sure you allot enough time for it, so that you can avoid navigating the road in the dark!
The Way Less Traveled
Close to the end of the road, you'll see a cute sign posted on one of the trees, indicating that you've arrived at The Way Less Traveled. It's truly the perfect name for a bed & breakfast that's far off the beaten path, in a remote patch of Montanan beauty. Only two miles from the Canadian border, the nearest "town" is an outpost several miles down the road by the name of Polebridge. You'll pass it on your way up to the B&B, and the restaurants there will likely be your main source of food for lunch and dinner.

Once you arrive at The Way, you'll have the pleasure of meeting Paul and Nancy – they're the proud owners of this little slice of heaven, along with their dog, Pearl. Paul is a Vietnam war vet who later became a tour guide on Maui. Nancy was a tourist who took a guided trip with Paul. The connection was made, and as Paul liked to say, "It was the best tour I ever gave."

You can expect them to treat you like friends and family, instead of strangers visiting for a few nights. Their warmth and hospitality made us feel right at home, and when it came time for us to leave, it felt like I was saying goodbye to a new set of grandparents. Needless to say, we can't wait to go back.
Amenities
Food
Since it is a bed & breakfast, you can expect breakfast to be made for you in the morning. Nancy has a wide assortment of recipes under her belt, and I have to say, her cooking was always one of the highlights of the day. Her french toast and pancakes, in particular, were to die for.

As I mentioned earlier, there are food options to be found in Polebridge as well. And if you fancy a trip into Glacier National Park, the little town of Apgar has a couple of cafes that serve food and drinks. Depending on the length of your stay, these options alone could cover your lunches and dinners.

However, I would still recommend shopping for a few groceries when you pass through Columbia Falls. Snacks are always nice to have, but Paul and Nancy also have a grill that you can use, if you feel like making your own dinner. Sarah and I had a great time grilling up some vegetables, and we enjoyed our meal outside by their fire pit (which Paul was gracious enough to start and maintain for us). Between the excellent food, the picturesque views, and amazing company, we felt like we were in paradise.
Lodging
At The Way Less Traveled, there are a variety of rooms for you to choose from. My wife and I stayed in the Lewis and Clark suite (their most expensive option), and we would highly recommend it to anyone. It arguably has the best view in the entire house, opening up to the lawn below and the mountains in the distance. Nancy had also put up a hummingbird feeder on the deck of our room, so we got to see a lot of the little guys flying around.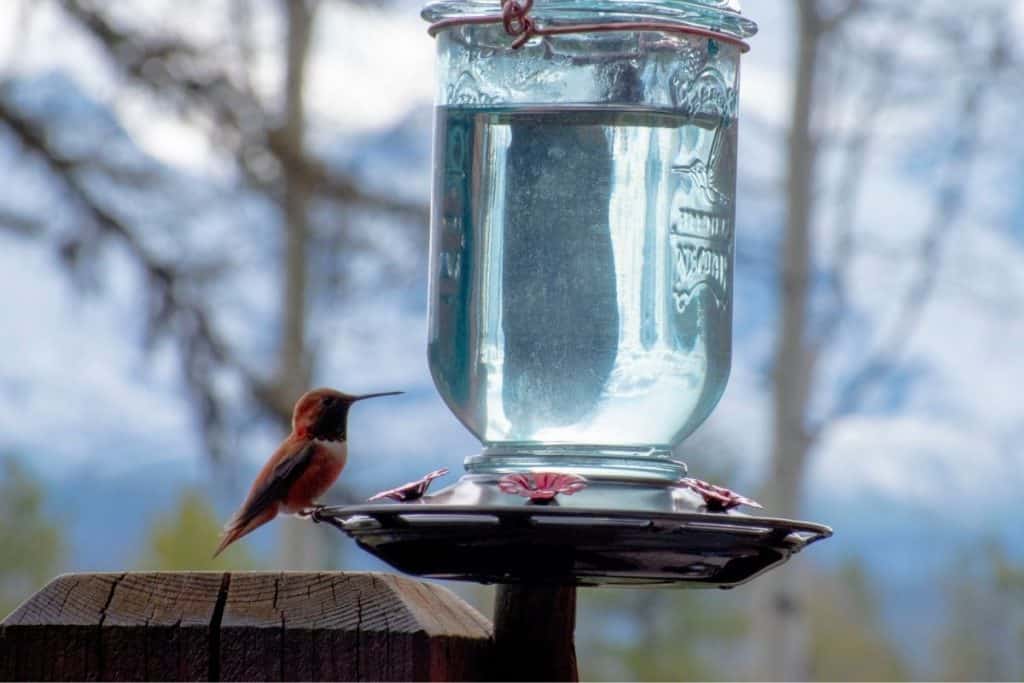 However, if you're on more of a budget, there are a couple of other options to choose from. The Campfire room and the Tatanka room both have a queen bed, and they share a bathroom with each other. They don't have the views that come with the Lewis and Clark suite, but they're very cozy, and make for a great affordable option. If you're looking for something more rustic (and very budget friendly) there's also a tiny cabin and outhouse available for reservation.
Wildlife
Given how remote this location is, you can expect to see quite a bit of wildlife during your visit. Aside from the abundance of deer, you may be fortunate enough to spot a couple of mountain goats grazing along the side of the road. We also saw some bears in a nearby field, grazing after they had just come out of hibernation. Since we had just spent three weeks in Alaska and didn't see a single bear, this came as a welcome change of pace!
You may also see moose, though they made themselves scarce while we were there. Either way, if you're a fan of wildlife, you won't have any shortage of opportunities to take photos of various animals. Just make sure you grab a can or two of bear spray whenever you head out – Paul and Nancy have a stash at the B&B that they were gracious enough to let us borrow.
Access to Glacier National Park
You can expect to take at least 45 minutes to get anywhere, when you're coming from the B&B. I know some of you will find this a little aggravating, but the remoteness was peaceful and relaxing for me. It provides a great way to unwind and disconnect from the busyness of daily life, especially when you discover that there isn't any cell service for a few dozen miles in any direction.

Even being so close to Glacier National Park, the dirt road will make sure you take at least half an hour to get to the park entrance. However, once you reach Camas road, everything becomes paved, and it will be smooth sailing from there.

Just be aware that the National Park Service is now implementing a ticket system to help reduce the amount of traffic into the park. This isn't the same thing as a park pass, which you will also need to purchase, and it will be put into effect at all ranger stations. You can get your ticket at recreation.gov, where they will charge you a $2 fee for the reservation.

Once you've made it in, though, there are a couple of notable locations worth checking out:
Lake McDonald
Once you've entered Glacier National Park via Camas road, Lake McDonald is only a few miles away. It's one of the easiest points in Glacier to access from the B&B, and the number of activities to do in the area are endless.

The little village of Apgar is a great place to grab a few tasty treats before embarking on one of the numerous hikes in the area. This location also sports a campground close to the water's edge, if you have any interest in mixing things up a little.

Regardless of what you end up doing for lodging, though, I'd highly recommend driving down the Going to the Sun road. It hugs the eastern shore of Lake McDonald, offering spectacular views all the way. As you go, you'll notice several pullouts for various trailheads. Some of the more popular ones are the Trail of the Cedars, which is a short, accessible walk with views that don't disappoint, and the Sperry trailhead. This trailhead can lead you up to a couple of different locations, including Fish Lake, Mt. Brown Lookout, Snyder Lakes, and Sperry Chalet. All of these are stunning hikes that would be well worth your time, if you're down for the challenge.
Bowman Lake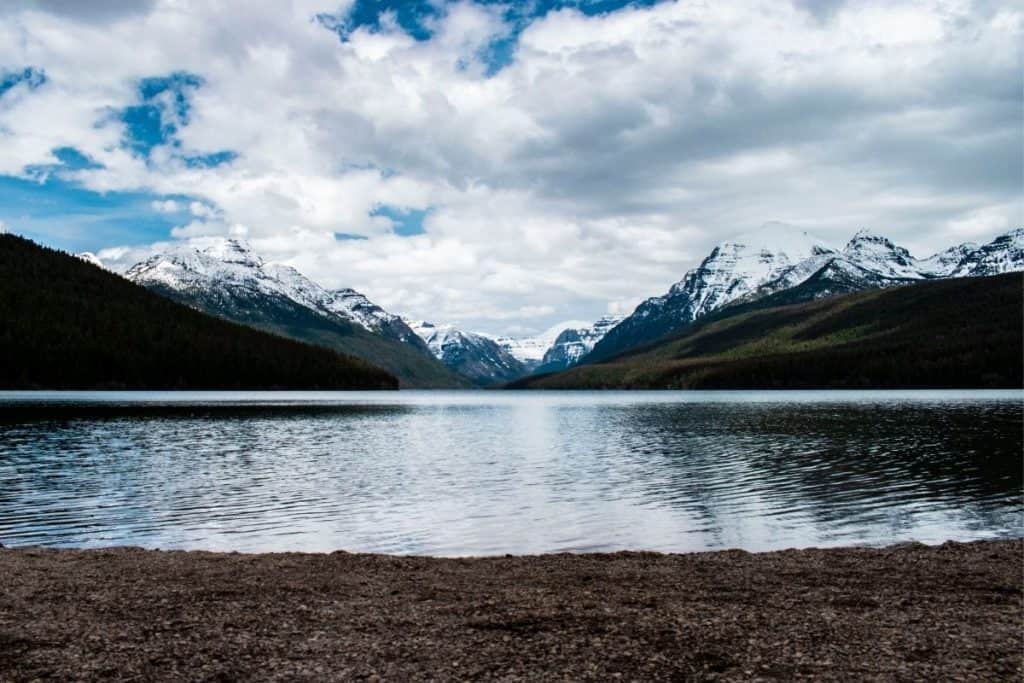 Bowman Lake is another must see destination, if you're staying at The Way Less Traveled. After entering through the Polebridge ranger station, you'll take a long and windy road several miles into the wilderness. It's worth noting that this road is often closed during the winter due to the heavy snowfall, and it doesn't typically open up again until late May, if not early June.

The lake is only a quick walk from the parking lot at the end of the road, making it accessible to anyone, regardless of their fitness level. However, there are a handful of trails that skirt around the lake that are worth checking out, if you have the time and energy. I'd recommend bringing both bug and bear spray for this journey, though. The trails pass through some dense foliage, and the mosquitos may eat you alive if you don't come prepared. My wife and I also saw some bear scat on our hike, so make sure you're familiar with proper bear safety techniques.
Visiting the Old Canadian Border Crossing
Not for the faint of heart, or those of you without 4 wheel drive, getting up to the old Canadian border crossing can be quite difficult. With the recent snow melt, much of the dirt road had turned into a muddy bog, and the drive made me question my sanity in some places. But I had rented a Jeep, and I was confident in my ability to handle a vehicle, so we pressed on.

Two miles later, we reached the border crossing, which was closed at the time we were there. However, there is a little pull-off that you can take that will bring you right down to the edge of the North Fork Flathead river. If you're interested in taking pictures of yourself right on the US/Canadian border, this is the perfect place to do it. Just make sure you don't walk too far, otherwise you might inadvertently cross the border illegally! Keep an eye out for the signs posted on various trees, indicating where the border actually is.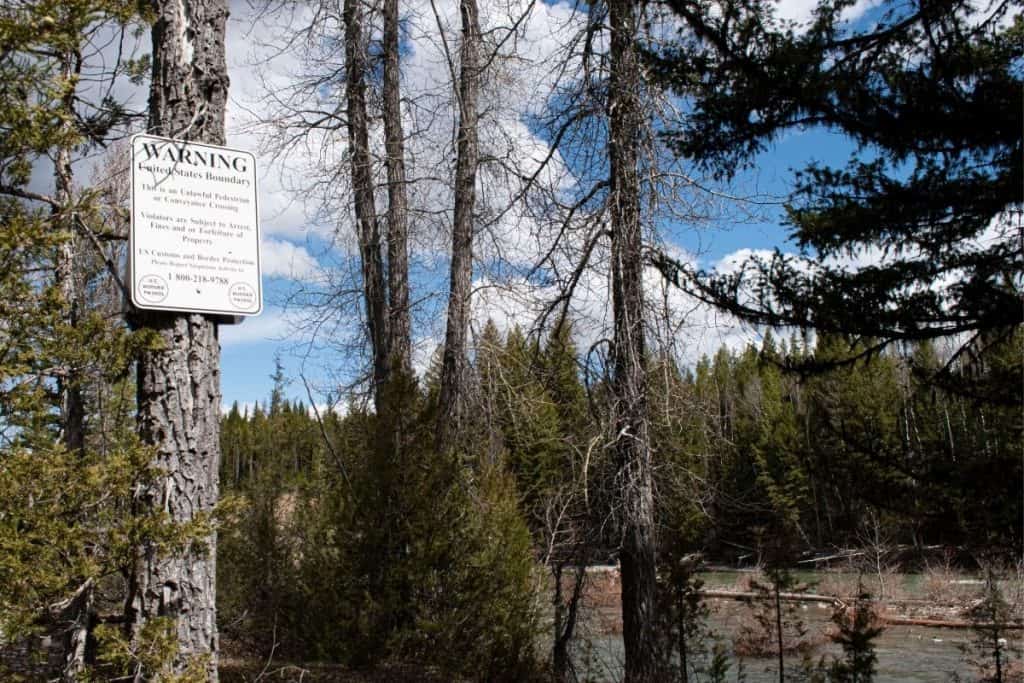 Other Towns and the "Real" Canadian Border Crossing
Living off the grid is something that I really enjoy, but I know it's not for everyone. If you find yourself needing a little more human interaction, and things to do that don't require a hike to get there, Kalispell is likely going to be your best option. About a 2 hour drive from the B&B, this will end up being a day trip for you, but there are plenty of other locations to explore while you're in the area.

Whitefish, for example, is a classy town a few miles north of Kalispell. It's a scenic place with a good atmosphere, perfect if you want to stop for lunch or dinner before heading back to The Way.

For those of you who are a bit more adventurous, you can take Highway 93 all the way up to the Canadian border. Along the way, you'll pass through several other small towns that are worth checking out. In particular, Eureka is a quaint location with an old fashion charm, making it worth a stop for a few minutes.

Once you arrive at the border, feel free to cross over to the other side for a quick tour of Canada. Just be aware that, at the time of this writing, you will need to be vaccinated in order to make the crossing.
Conclusion
In need of a remote getaway? We think you'll agree with us that The Way Less Traveled is the best Montana bed & breakfast. Not only is it completely off the grid, it's surrounded by some of the most stunning natural beauty that you'll find in the United States.

Do yourself a favor and take a break from the stress and noise of daily life. If you want to make a reservation, you can check them out at thewaylesstraveled.com.
---
Related Posts: