If you're in a rush and want to find out what the best mountaineering boots are, we recommend the La Sportiva Nepal Cube GTX Mountaineering Boots (for men) and the Lowa Renegade GTX Boots (for women).

When it comes to most outdoor activities, there are few things more important than what you put on your feet. Between the hot sand in the desert, the jagged rocks in the mountains, and the sharp roots in the forest, there's always a good reason to have something covering your soles.

It's no different when you're mountaineering. In fact, it's an activity that demands a lot out of your footwear, especially during the winter. So, to make sure you're thoroughly protected the next time you climb, we've reviewed some of the best mountaineering boots below.
In this article, we'll be reviewing the following best mountaineering boots:
What are Mountaineering Boots?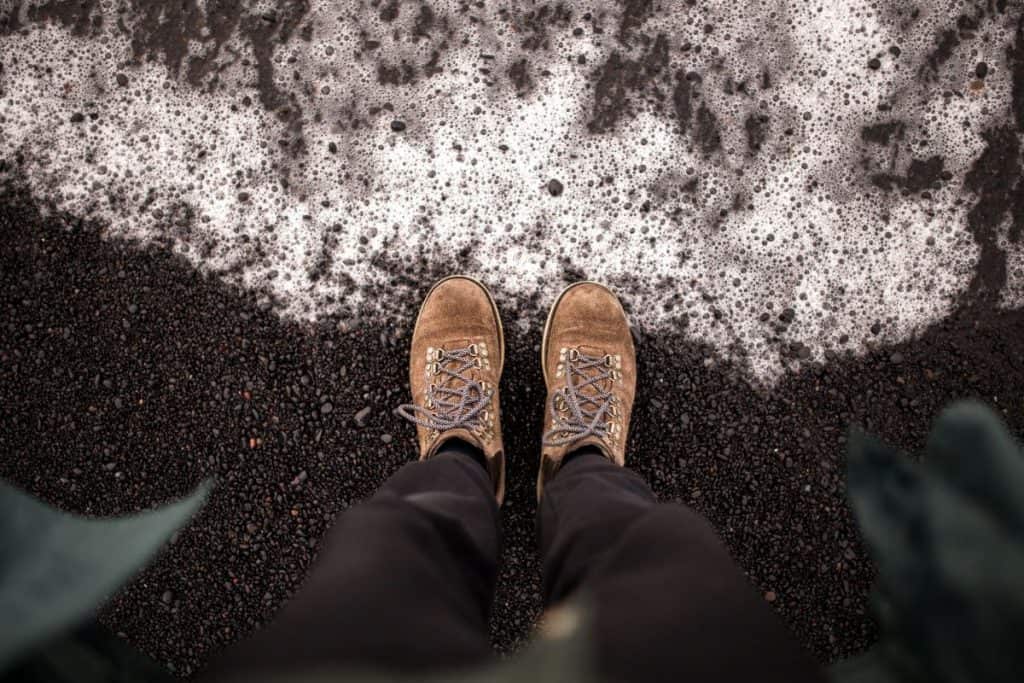 So, what are mountaineering boots, and why should you care about them? To answer these questions, we first need to understand what mountaineering actually is.

Mountaineering is loosely defined as "the sport or activity of climbing mountains." It's a broad, and fairly misleading, definition that can certainly refer to hikes up low mountains with moderate difficulty. However, mountaineering is usually talking about hikes or climbs that are lot more technical and hazardous. The field of terrain is the challenge to be conquered, as the climber battles against harsh elements and dangerous environmental factors in the hope of summiting or reaching some goal.

Generally speaking, you shouldn't mountaineer unless you have prior experience or you're going with a veteran. It's also important to have the proper gear, which is why we're going to take a look at some of the best mountaineering boots a little farther down in the article. Your feet will likely be walking through water, mud, slush, snow, and everything else in between, so they need to be thoroughly protected.
Seasonality
Not all boots are created equal, especially when you look at a factor like seasonality. As far as types go, you really have three to choose from:

3 season boots work great during the whole year, other than winter. Of course, winter looks different depending on where you are in the world (ever been to Hawaii in January?), so "3 season" might not be the most accurate descriptor. Basically, it means the boots don't have any insulation, so your feet would get cold if you were hiking through snow. They tend to be moderately priced, and will be your lightest option, since they lack any insulative weight.

4 season boots can be worn all year over pretty much any terrain. You can find some that are either multilayered, or some that have both an inner and outer boot as a way to keep your feet warm. They're often comfortable after being broken in, waterproof, and abrasion resistant so they can take a beating in all climates. And unlike some boots, they're even suitable for long approach hikes.

Plastic boots are your other option, and the name pretty much says it all. Made with a hard, plastic exterior, there's a soft boot on the inside that doesn't require much breaking in. They're not very common, but they're one of the most durable styles of mountaineering boots that you'll find. The waterproof outer shell sloughs off snow and slush without any problems, and the interior of the boot is very warm. Unfortunately, they aren't very comfortable for long approach hikes, so they're used exclusively for mountaineering.

Also Read: Best Hiking Boots Under $100 for Men and Women
Weight
When it comes to the weight of your mountaineering boots, you may think that lighter is better. After all, when you're climbing a mountain, you don't want to be burdened by a couple extra pounds on your feet. It'll slow you down every time you try to step, draining your stamina more than necessary.

On the other hand, a little bit of heft can be nice to break through ice, or kick steps into the snow. Other times, you have to sacrifice weight for the comfort and durability you need. It's all about finding the right balance that will meet your needs.
Sole Stiffness
Many mountaineering boots tend to have a very stiff sole. This is to give you more support as you edge or perform some other technical maneuver, but it can make long hikes on flat ground pretty uncomfortable. If you plan to work a lot of verticals, find a pair of boots with a stiff sole, and bring a different pair of approach shoes for the hike up to the mountain.

On the other hand, if you only plan on doing some hiking and mild mountaineering, there are options with a more flexible sole as well. These often have a lower boot height, allowing for more ankle flex and comfort while walking long distances.
Outer Material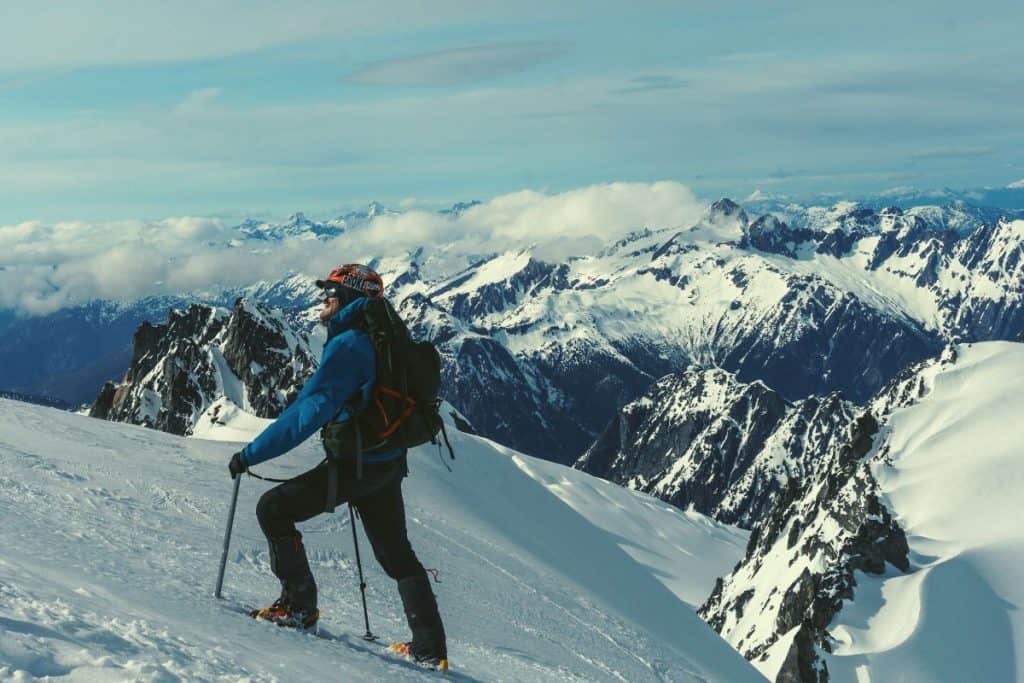 When it comes to the outer material of your boots, you've got two options to pick from: synthetic and leather. Synthetic is going to be lighter, but it's not going to stand the test of time like leather will. You'll often find it on 3 season boots, whereas 4 season boots typically make use of a synthetic gaiter for warmth covered by a leather shank.
Crampons
Always pick out your boots first, before you go shopping for crampons to attach to them. That way, you can ensure that your boots fit well, especially since it's a simple matter to find crampons that are the right size. The only exception to this is if you already have crampons that you want to use. If that's the case, you will need to be a little pickier about the type of boot that you end up buying.
Best Mountaineering Boots – For Men
Weight: 3.5 Pounds (For the Pair)
Footwear Height: Mid-Calf
Crampon Compatibility: Step-In
Waterproof: Yes
I've owned a number of La Sportiva shoes throughout my life, and rarely have I ever been disappointed in the quality. The same could be said for the Nepal Cube, a veritable tank when it comes to mountaineering boots. Made with GORE-TEX, the boots boast a satisfactory balance between breathability and waterproofing, allowing moisture to escape without letting snow or slush inside. The silicone-impregnated leather and abrasion resistant fabric also ensure that this set of footwear will last you for many years to come.

Sometimes the laces on mountaineering boots can be clunky, difficult to tie, and lack the support that you need to keep the boot in place. Not so with the Nepal Cube – these laces are made from recycled plastic bottles, and they're very easy to use. On the inside, you'll also find that the insulation is more than enough to keep your feet warm in temperature below freezing. The honeycomb insoles help with this, providing sufficient insulation without packing on the weight. They're also quite stiff, giving you the support that you need.

You'll notice that the ankle support is firm, yet flexible, making it a comfortable design overall. The rubber outsoles do a great job of gripping on all types of terrain, too, and the boot itself is graded for crampon use.

Pros:

– Good weight
– Great insulation
– Breathable and waterproof
– Durable
– Good ankle support
– Outsoles grip well
– Crampon compatible

Cons:

– Price
Weight: 3.4 Pounds (For the Pair)
Footwear Height: Mid-Calf
Crampon Compatibility: Step-In
Waterproof: Yes
Like the Nepal Cubes listed above, the Lowa Alpine EVO boots make use of GORE-TEX for superior waterproofing and breathability. The uppers are made using mountaineering split leather, so they will be a bit heavier than some other options, but you can also use them in colder climates. Leather is also very durable, so you can feel confident about their longevity, even if you have a tendency to beat up on your boots.

It's worth noting that they do run a little small, so it's a good idea to go up a half size from what you typically wear. If you like to wear liner socks underneath your regular socks, consider going up a full size instead. Overall, they require minimal break in, and after a couple of hikes, you'll likely notice that they don't cause any hot spots or blisters.

Compatible with both snowshoes and crampons, they're a great option for wintery weather. The insulation will keep your feet toasty, but the breathability of the material makes them suitable for warmer weather as well. And with a relatively soft, rubber sole, you'll get good traction on these boots, even when hiking on ice.

Pros:

– Comfortable
– Well insulated
– Suitable for 4 season mountaineering
– Durable
– Good traction
– Snowshoe and crampon compatible

Cons:

– Run a bit small
Weight: 3.9 Pounds (For the Pair)
Footwear Height: Mid-Calf
Crampon Compatibility: Step-In
Waterproof: Yes
Perhaps ironically, Scarpa means "shoe" when translated from Italian. It's the brand that I've used for my rock climbing shoes for the last several years, and I've always been amazing by how comfortable they feel, and how well they hold up despite a lot of abuse.

The Mont Blanc Pro is a boot with a stiff sole and durable design. This makes it ideal for climbing verticals, due to the support it gives your foot when your toe is the only thing you're standing on. However, due to the inflexible nature of this sole, it's not really suitable for long approach hikes. To keep your feet from getting achy, I'd recommend bringing a different pair of approach shoes.

Like the Lowa Alpine Expert boots, you'll want to size up in these. Depending on how many layers of socks you plan on wearing, that may range between a 0.5-1.5 increase in size. They are compatible with automatic and semi-automatic crampons, so if you already have some that you'd like to use, they may work with these boots right off the bat.

Pros:

– Great for vertical climbing
– Supportive
– Well insulated
– Waterproof
– Durable

Cons:

– Not suitable for long approach hikes
Weight: 3 Pounds (For the Pair)
Footwear Height: Over the Ankle
Crampon Compatibility: Step-In
Waterproof: Yes
Another one by Scarpa, the Ribelle mountaineering boots most noticeably differ from the Mont Blanc in their height. Coming up just over your ankle, they lack some of the support and protection that you'd want to see in an all-season boot. But even if they aren't that great for deep snow, they're perfect for 3 season environments where you're navigating scree, rock, and a mild amount of snow.

With the reduction in material and insulation, you also get a reduction in weight. Even so, you can still count on Scarpa for giving you high quality boots that will hold up well for a long time. The sole is stiff enough to allow you to navigate some more vertical climbs, while remaining flexible enough to keep your feet comfortable on longer approach hikes.

The toe box is fairly wide, especially for a European brand. With that in mind, you'll be able to better squeeze in thicker socks and any orthopedics that you need for foot comfort and support. It's not the best insulated boot out there, and your feet will steam in temperatures above 75 degrees. However, as long as you fall between the 20-65 degree range, you'll be golden.

Pros:

– Lightweight
– Suitable for approach and climbing
– Durable
– Wide toe box
– Supportive

Cons:

– Not well insulated
Weight: 2.8 Pounds (For the Pair)
Footwear Height: Over the Ankle
Crampon Compatibility: Hybrid
Waterproof: Yes
Perfect for mixed use, 3 season activities, the La Sportiva Trango Tech boots are one of the most versatile pieces of gear that we've reviewed so far. They won't replace something like the Nepal Cubes (mentioned above) for extreme cold weather, but that's okay – I'm sure not all of you are in need of 4 season footwear.

The beauty of all-purpose boots like these is that you can use them for both approach hiking and for climbing. They're also very comfortable and require minimal breaking in before use. In fact, you could probably put them on straight from the box, go for a long hike, and come back without any blisters or hot spots.

Despite lacking the insulation found in 4 season boots, they'll still do a great job at keeping your feet warm. The sole is a nice balance between stiff and flexible, and it's pretty low profile to make edging and other technical footwork much easier. The downside here is that the toe box is a tad small compared to other boots, so you may have trouble getting the right size, if you plan on wearing thick socks.

Pros:

– Lightweight
– Suitable for approach hikes and climbing
– Good balance between stiff and flexible
– Works well for technical climbing
– Comfortable

Cons:

– Narrow toe box
– Not great for deep snow
Best Mountaineering Boots – For Women
Weight: 3.2 Pounds (For the Pair)
Footwear Height: Mid-Calf
Crampon Compatibility: Step-In
Waterproof: Yes
Unsurprisingly, the La Sportiva Nepal Cube GTX boots make the list for the ladies as well. They have a lot of the same features that you can find in the men's version, including a generous usage of GORE-TEX in their construction. Water won't be able to get in, and the sweat from your feet won't soak the inside of your boots thanks to the breathable insulation.

The uppers are made out of leather and abrasion resistant fabric. Whether you're trying to break through ice or edge along a narrow section of rock, you'll barely notice any wear and tear on your boots over time. And despite being 4 season boots, you'd never really guess it based on the weight alone. Thanks to the honeycomb pattern on the insulation, you'll be able to stay completely warm in temperatures below freezing without packing on the pounds in the process.

Crampons are compatible with these boots, and they're fairly easy to attach. You can also expect there to be a breaking in period for this set of footwear, so don't go too hard in them right off the bat, otherwise you may get a couple blisters. Overall, though, once they've had a chance to break in, they're a very comfortable boot to wear in a variety of environments.

Pros:

– Very durable
– All-season
– Well insulated
– Breathable and warm
– Crampon compatible

Cons:

– Price
Weight: 3 Pounds (For the Pair)
Footwear Height: Over-the-Ankle
Crampon Compatibility: Hybrid
Waterproof: Yes
Though they're not designed for hardcore mountaineering, that doesn't mean the Lowa Renegade boots should be thrown out the window. More of a hiking boot that can handle some 3 season mountaineering, they make a great approach shoe.

As an over-the-ankle option, you'll still get the support that you need without compromising on flexibility. The sole itself is comfortable to walk on, and there's plenty of room in the toe box to keep your feet from feeling squished. Even so, the boot is thin enough to help you navigate those precise, technical routes without too much difficulty. It's certainly a versatile option if you're mostly dealing with approach hikes and mild mountaineering with minimal snow and ice accumulation.

You've probably figured it out by now, but this isn't a 4 season boot, and it shouldn't be treated as such. While it will keep your feet warm and dry, I wouldn't push it too hard when you start getting to temperatures below 20 degrees. They also lack some of the stiffness that you need when climbing verticals, and since they only go up over your ankle, you won't have the protection or support needed for deep snow.

Pros:

– Great approach shoe
– Thin sole for technical climbing
– Comfortable
– Lightweight
– Good ankle flex

Cons:

– You may have some difficulty attaching crampons
Weight: 2.7 Pounds (For the Pair)
Footwear Height: Over-the-Ankle
Crampon Compatibility: Hybrid
Waterproof: Yes
As someone who's used Scarpa as my climbing shoe of choice for many years, there are many things that I appreciate about the brand. However, the feature that usually stands out the most to me is how great they work for people with wide feet – of which, I am one. It's the main reason I moved on from La Sportiva, and one of the primary factors that will keep me loyal to the brand for years to come.

Needless to say, if you have wide feet like me, you'll appreciate the Charmoz mountaineering boots. They provide a comfortable fit, working well on most terrains, including steep inclines. The general lack of insulation makes them unsuitable for very cold mountaineering in deep snow, but for the 25-65 degree temperature range, there are few options better than this.

You'll find that the sole is quite stiff, so they'll be a bit uncomfortable on long hikes. On the other hand, they're great for verticals and scrambling, so it really just depends on what you're going to be using them for.

Pros:

– Lightweight
– Great for verticals and scrambling
– Very durable
– Waterproof
– Good for wide feet

Cons:

– Not great for long approach hikes
Weight: 2 Pounds (For the Pair)
Footwear Height: Over-the-Ankle
Crampon Compatibility: Hybrid
Waterproof: Yes
And finally, we have The North Face Archive Glacier Point boots. Unlike your typical mountaineering boots, these weren't designed for aggressive use over a variety of hazardous terrains. Instead, they're better suited for hiking and easy mountaineering with minimal amounts of snow and slush. You could also use them as your go-to footwear to walk the dog in wintery weather.

Aside from that, they're an attractive option because of their style and their price. Not only are they the cheapest boots in this review, they're also (arguably) the most fashionable as well. Whether you decide to use them to climb a mountain or go snowshoeing with friends, the Glacier Point boots will see you through a good mix of different activities.

I wish I could say they were just as durable as any other boot we've reviewed so far, but there is an element of "you get what you pay for." You certainly won't be summitting Mt. Rainier (or the mountain of your choice) in them, but for moderate use, they're a cute, budget friendly option.

Pros:

– Cheap
– Stylish
– Comfortable
– Warm
– Waterproof

Cons:

– Not very durable
– Lacking traction
At Untamed Space, we're passionate about helping you have the best camping experience possible. Our team of experts have experience camping and backpacking all over the world, allowing them to provide insightful and relevant content to guide you in your outdoor pursuits.

All of our reviews are based on a combination of firsthand experience, extensive research, and an analysis of customer feedback. We are an independent website and do not receive payments or incentives from manufacturers to promote their products, and we continuously update our content to provide new information based on product availability. Wherever you are in your journey, whatever gear you're searching for, you can be sure to find unbiased and up-to-date reviews for all of your needs.
FAQ
Should You Buy Mountaineering Boots for Other Activities?
Let's be honest: mountaineering boots aren't cheap. With that being said, it makes sense that you'd want to use them for more activities throughout the year than just mountaineering. However, whether or not you can actually do that depends on the type of boot you got in the first place.

With footwear like the La Sportiva Nepal Cube's, you'll find that the stiff sole and tall boot height make them hard to use anywhere else. On the other hand, something like the Scarpa Ribelle are better all-purpose boots, thanks to their more flexible sole and lower height.
What Are High-Altitude Mountaineering Boots Made Of?
When you're climbing at high altitudes, you need boots that can take a beating. Something like a plastic boot would be perfect, if that style wasn't so heavy, but your best option is going to be something synthetic like GORE-TEX. Leather would also work well here.
What are the Lightest Mountaineering Boots?
The La Sportiva Trango Tech boots are the lightest option for men in our review. However, it's worth noting that the reduction in weight also equates to a reduction in insulative power and overall protection against the elements.
Final Thoughts
Your feet take you a lot of places, so why not give them the best protection and support that you can? Especially when participating in an activity as demanding as mountaineering, you can't afford to get anything less than the best.

Not only should your boots be waterproof and well insulated, they should also be durable and have the proper sole stiffness. With all these points in mind, we felt that the La Sportiva Nepal Cube boots did it best for men, and the Lowa Renegade boots did it best for women. Each are useful for a variety of environments and terrains, giving you superior protection, comfort, and insulation regardless of where you are in the world.
---
Related Posts: