Serious winter hiking requires some serious winter traction devices. When the snow-covered mountains call to you, just begging to be climbed, there's no greater friend to have than a solid pair of crampons.

But how do you know what will actually get the job done well for vertical ice climbing versus more leisurely glacier travel? We've laid out everything you need to know below, in addition to some of the best mountaineering crampons out there to keep your feet from sliding after every step.
In this article, we'll be reviewing the following best mountaineering crampons:
What are Mountaineering Crampons?
Crampons are a type of traction device that can be attached to your boots. They have a number of thick spikes that are used to dig into the snow and ice, granting you traction in places that no amount of rubber would stick to.

While they can be used for hiking or backpacking, crampons are usually found among mountaineers who need to scale large walls of frozen terrain. As such, they usually have 2-4 horizontal spikes near the toe that are used to dig into steep slopes.
Crampons vs Microspikes
In some circles, you may hear "crampons" and "microspikes" used interchangeably. However, they aren't the same thing, and you'll be in a pickle if you decide to get microspikes instead of crampons for your next mountaineering adventure.

Microspikes have shorter points that are connected by a latticework of chains. These chains attached to a rubber or elastomer harness that can be stretched over most types of footwear, making them easy to put on and take off. Generally speaking, they can be used on a variety of terrains, including snow, ice, rock, and dirt. However, due to the smaller size of the spikes, they'll only help so much when it comes to traction.

Crampons, on the other hand, are far more robust. The spikes are thicker and longer, able to dig into the terrain more effectively than microspikes. They're a bit harder to put on, though, and they're not fun to wear when you're walking on anything other than snow or ice. However, for mountaineering purposes, there's nothing better than these.
Material
Since they're on the bottom of your feet, biting into snow, ice, and rock, crampons need to be made out of durable materials. Generally speaking, steel and stainless steel are going to be the most common, but there are a few aluminum options out there as well. These are for ultralight crampons that you'll use on fast missions with minimal ice, since aluminum is far less durable than steel.

On the other hand, steel is the strongest crampon material out there. It's also the heaviest, setting most mountaineering crampons into the 1.7-2.3 pound range, which is noticeably heavier than their microspike counterparts. However, because steel is so tough, it's the only crampon material that I feel comfortable recommending.

Stainless steel isn't much different than regular steel, though it is a little lighter and slightly less durable. You also won't have to worry about rusting quite as much, though all steel crampons are still prone to this phenomenon. Also be sure to give them a good rinse when you're done using them, to prevent rust from accumulating.
Bindings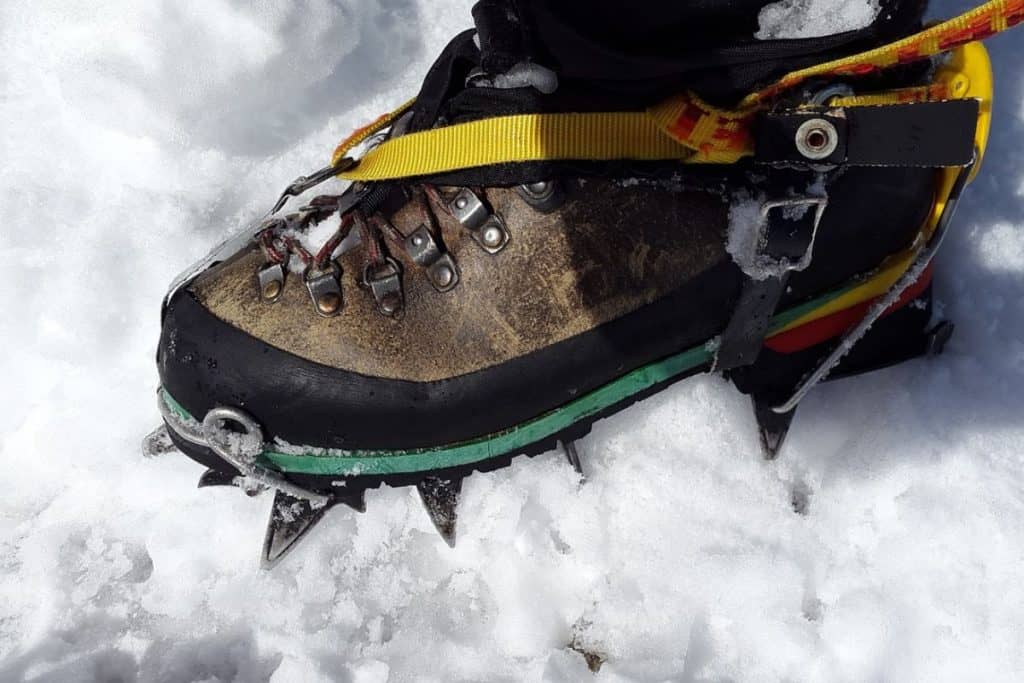 The bindings are what attach the crampons to your boots. Universal bindings, also known as strap-on bindings, are designed to fit any type of boot, making them a versatile option. On the other hand, automatic crampons are specifically designed for mountaineering boots with heel welts.

Automatic crampons are considered to be more secure, which is why technical crampons can only be found in this style. However, if you don't own a pair of mountaineering boots (and you don't feel like buying them), universal bindings are the way to go. They're ideal for moderate and easy mountaineering objectives that don't require a lot of vertical climbing along a technical route.
Points
In general, more points (spikes) equals better traction. That being said, most crampons will either have 10 or 12 points, though some more technical models can have up to 14. For example, the Petzl Lynx and Black Diamond Sabertooth mentioned below have 14 points, making them perfect for tricky, vertical climbs. The horizontal front points really dig into steep ice walls, giving you some much needed stability while climbing.

Almost all of the other models in our lineup have 10 points. The front pair of spikes on most of these designs are angled slightly downward, instead of horizontal, to give you more security on gentle, downward facing slopes. Therefore, the model that you get will depend on the type of mountaineering you plan on doing.
Best Mountaineering Crampons – Reviewed
Best Use: Hiking/Ice Climbing
Weight: 2.4 Pounds
Bindings: Step-In/Hybrid
Materials: Tempered Steel
As one of the best modular crampons out there, the Petzl Lynx doesn't disappoint whether you're climbing a glacier or hiking on mixed terrain. With 14 spikes on each foot, you'll have enough traction for mild slopes, vertical walls, and everything in between.

Because they have step-in bindings, you can use them aggressively without worrying about them falling off. The snug and secure fit is one major benefit to having a pair of modular crampons like these, but just remember that they only work with mountaineering boots. The heel bails on the crampons match up with the welts on your mountaineering boots, creating that secure attachment. On the front, you'll notice that the toe has a similar bail/welt configuration. However, if your boots aren't compatible with the front, steel wire, you can switch it out with a flexible binding that works with any style of boot.

The Lynx are incredibly durable, and the sharpness of the points won't really deteriorate over time. You can use them on both ice and rock without issue, allowing them to use them…well…pretty much anywhere. In my opinion, these are one of the most versatile pairs of mountaineering crampons that you'll find, easily becoming the "be all, end all" option for anyone who likes winter sports.

Pros:

– Very durable
– Suitable for mild slopes and vertical walls
– Fit snugly on mountaineering (and ski) boots
– Hybrid bindings
– Low profile plate prevents snow buildup
– Handy carry bag

Cons:

– Price
Best Use: Mountaineering/Glacier Walking
Weight: 1.9 Pounds
Bindings: Strap-On
Materials: Chromoly Steel
Moving from one of the most expensive pairs of crampons in our list to one of the cheapest, the Grivel G-10 crampons are great for moderate use. In terms of functionality, they aren't going to help you scale sheer ice walls, but they get the job done well for glacier hiking and other similar activities.

The Grivel G-10 are fairly basic as far as crampons go, but what I really like about them is how adjustable they are. A single pair can accommodate the shoe sizes of both adults and children, without compromising on strength and the secureness of the fit. So, if you're worried about their compatibility with your boots, don't be. These crampons can fit everything between a US size 4-12 without a hitch.

You also don't need mountaineering boots in order to wear them. With classic bindings, all you have to do is secure the single strap, after you've slotted your footwear into the toe and heel pieces. They might not be the most aggressive crampons out there, but mountain switchbacks, glaciers, and mixed terrain won't pose a threat anymore. The 10 spikes cut into the snow and ice, giving you more than enough traction to ascend (and descend!) safely and comfortably.

Pros:

– Adjustable size
– Affordable
– Good traction
– Can be worn with any type of footwear
– No blisters or pinching

Cons:

– Not very aggressive
Best Use: Glacier Hiking/Mountaineering
Weight: 2 Pounds
Bindings: Step-In
Materials: Stainless Steel
The Black Diamond Sabertooth crampons are another step-in variety, like the Petzl Lynx mentioned above. As such, they give you a more secure fit, in exchange for being compatible with a relatively small number of boots. The exclusivity of these crampons, in addition to the somewhat blunt frontal spikes, are what make me sad about this product.

Even so, if you've got a pair of mountaineering boots that can accommodate the Sabertooth crampons, they're well worth the cost. With a little bit of force, the spikes dig into the snow and ice without issue, giving you enough traction to climb ice walls and descend steep slopes and switchbacks. Overall, it's a great option for glacier travel and mountaineering, with durable spikes that stay sharp long after they've been taken out of the box.

Like most crampons, the toe bails are going to be a pain to take off, but that's to be expected with step-in traction devices. Thankfully they're much easier to get on, so you shouldn't have too much trouble while you're on the mountain. ABS plates work to prevent snow from building up underneath your feet too, giving you a consistently solid grip after hours of hiking.

Pros:

– Snug fit
– A large number of spikes
– Suitable for moderately steep ice walls and glacier hiking
– ABS plates
– Easy to put on

Cons:

– Difficult to take off
– Front spikes are a little blunt
Best Use: Mountaineering/Glacier
Weight: 1.1 Pounds
Bindings: Step-In
Materials: Aluminum/Steel/Dyneema
As a rock climber and mountaineer, I've used a lot of Petzl gear in my life. It's a good brand, and I've trusted it with my life, but I've always thought of it as equal (or slightly inferior) to Black Diamond. But when it comes to crampons? Petzl takes the cake, without a doubt.

At just over a pound, the Irvis Hybrid crampons are one of the lightest in our review. In fact, they're fairly equal in weight to their lighter and more minimalistic cousins – microspikes. The difference comes with the materials used, as the Irvis combines some of the lightest building blocks possible: aluminum and Dyneema. Unlike the traditional steel used in most crampons, the spikes under the heel are made from aluminum to reduce pack weight. The toe spikes are still made from steel, though, for long term durability.

Bear in mind that these are step-in crampons, so you'll need a pair of boots with heel welts. Toe welts are optional, since the Irvis crampons can be adjusted to fit boots with or without a toe bail. Either way, they're very easy to put on and (relatively) easy to take off. While not for hard core ice climbing, they work well on glaciers and moderate mountaineering routes with snow, ice, and mixed terrain.

Pros:

– Very lightweight
– Compact
– Work with a wide variety of boots
– Adjustable
– Anti snow system

Cons:

– Rear spikes lack in durability
Best Use: Hiking/Backpacking
Weight: 1.5 Pounds
Bindings: Strap-On
Materials: Chromoly Steel
Another fairly lightweight option, the Kahtoola KTS crampons are great for moderate difficulty mountaineering. The spikes aren't good enough for near vertical climbing, and they're a bit too long for mixed terrain, but they work wonders on deep snow and ice.

With a flexible design, these mountaineering crampons work with a wide variety of boots. Slip them on without too much difficulty, and feel the heel bend and pivot with your foot as you walk. It's a sensation that you won't often find with "traditional" crampons, which tend to be fairly inflexible, but the extra flex lets you walk more comfortably across flat surfaces.

The crampons compress together nicely, allowing you to safely pack them away when they aren't needed. Even so, I'd recommend getting a bag to carry them in, since they don't come with one. This acts as another layer of protection against the spikes digging into other gear in your backpack, ripping holes in things that aren't supposed to have holes!

Overall, they aren't going to win the "best crampon of the year" award, when looking at sheer functionality. However, for people who don't have mountaineering boots, there are few better options available.

Pros:

– Compatible with regular hiking boots
– Flexible
– Durable
– Lightweight
– Pack down fairly well

Cons:

– Not great for aggressive mountaineering or trail running
Best Use: Mountaineering/Glacier Hiking
Weight: 1.8 Pounds
Bindings: Strap-On
Materials: Stainless Steel
A versatile pair of crampons, the Black Diamond Contact crampons give you the flexibility to wear your footwear of choice. With strap-on bindings, they can easily be slipped onto both hiking boots and mountaineering boots without much difficulty. They aren't secure enough for high angle ice climbing, but for something of a lower grade, glacier hiking, or walking mountain trails with mixed terrain, they work like a charm.

You'll have to crank the strap pretty tight to keep the crampons from slipping around, but that's a small price to pay for the universality of this traction device. The teeth have quite the bite, digging into thick ice with minimal effort. They're also quite durable, and retain their sharpness for a long time, even after being exposed to a wide variety of terrains.

Sizing can be a challenge, though, and you may need to purchase an extender if you wear a Men's 11 or larger. However, once you've got the right size, they're easy to adjust and get on and off. For a pair of steel spiked crampons, they're also on the lighter side, making them ideal for longer hiking expeditions.

Pros:

– They work with any type of footwear
– Very grippy
– Durable
– Perfect for glacier and low-grade climbing
– Affordable

Cons:

– Not as secure as other options
Best Use: Hiking
Weight: 1.4 Pounds
Bindings: Strap-On
Materials: Chromoly Steel
If you're looking for the cheapest pair of crampons in our review, look no further, because you've just found them. And as the cheapest option, it's good to keep your expectations realistic when evaluating what the Kahtoola K-10 crampons have to offer.

With strap-on bindings, the K-10 have a near-universal compatibility with all types of trekking footwear. Once you've adjusted them to fit the size of your foot, slip them over your favorite boots and cinch them tight. They're quite easy to put on, and just as easy to take off again, making them very similar to a pair of microspikes. In fact, I would basically just consider these a pair of glorified microspikes, with longer, thicker spikes and a more secure grip.

Great for snow and ice, they work well on frosty trails of all elevations. However, it's worth noting that they don't do well on mixed terrain, so try to stay off the rock as much as possible. The stainless-steel points will need some sharpening after your trip if you walked directly on rock for any significant amount of time. You'll also need to give them a good wash in between uses to prevent the accumulation of rust, but that's good practice for any crampons that you end up buying.

Pros:

– Very affordable
– Compatible with any type of boot
– Easy to get on and off
– Good for moderate difficulty hikes
– Lightweight

Cons:

– Not great for mixed terrain
– Rust easily
Best Use: Ski Mountaineering
Weight: 0.9 Pounds
Bindings: Step-In
Materials: Aluminum
As the lightest pair of crampons in our review, the C.A.M.P. Skimo Tour crampons are for a very select group of people. Made from aluminum, it's not surprising that these are lighter than their steel counterparts. However, as we know, aluminum isn't nearly as durable as steel, which is why I consider this to be a very niche product.

What niche, you might ask? Well, the Skimo Tours were designed for ski mountaineering, which values fast, lightweight efficiency. As such, I wouldn't recommend them using for most mountaineering pursuits that require extended hiking over rough terrain. The aluminum spikes won't hold up well in the long run with that kind of beating.

Some ski boots have toe and heel welts, which can be attached to the bails on the crampons. This makes it easy to switch between skis and crampons when you're out exploring the backcountry. And if you want to shave the weight down even more, consider getting the Dyneema linking straps that allow the crampons to fold in on themselves for easier packing. With those straps, you can bring the weight down to 0.77 pounds instead.

Pros:

– Ultralightweight
– Perfect for ski mountaineering
– Micro adjustable linking bars
– Firm grip on slippery terrain
– Easy to pack

Cons:

– Lacking in durability
At Untamed Space, we're passionate about helping you have the best camping experience possible. Our team of experts have experience camping and backpacking all over the world, allowing them to provide insightful and relevant content to guide you in your outdoor pursuits.

All of our reviews are based on a combination of firsthand experience, extensive research, and an analysis of customer feedback. We are an independent website and do not receive payments or incentives from manufacturers to promote their products, and we continuously update our content to provide new information based on product availability. Wherever you are in your journey, whatever gear you're searching for, you can be sure to find unbiased and up-to-date reviews for all of your needs.
FAQ
What are the Best Crampons for Mountaineering?
For steep alpine routes, the Petzl Lynx is what we consider the best crampons for mountaineering. They're secure and provide superior traction on low and high grade routes, thanks to the 14 steel spikes on each foot.
Crampons are a type of winter traction device that can be attached to the bottom of mountaineering boots. They tend to have between 10-14 spikes on each foot that grip into the snowy and icy terrain, giving you stability and traction on the slippery ground.
Do They Make Crampons for Hiking Boots?
Many crampons have bails that attach to the welts on mountaineering and ski boots, which means they aren't compatible with many "normal" hiking boots. However, there are several styles of crampons that can be paired with any footwear, such as the Black Diamond Contact and Grivel G-10.
Final Thoughts
Without crampons, many mountaineering expeditions would be impossible to complete. Even for something a bit milder, like glacier hiking, crampons can move the needle enough to get you out of immediate danger. However, not all of them are created equal, with some being ideal for vertical ice walls and others working best on low grade slopes.

The best mountaineering crampons are the ones that meet your needs the best, and that's something that only you can decide. That being said, we believe that the Petzl Lynx are the toughest and most versatile crampons out there, effectively meeting the needs of most mountaineers and hikers.
---
Related posts: