Watches have come a long way in the last several years, upgrading from simple timepieces to wearable computers. Track your biometrics, never get lost thanks to GPS and Glonass, keep tabs on your altitude…the capabilities are practically endless.

But what features, in particular, should you look for in a mountaineering watch? We'll dive into the specifics below as we take a look at 10 of the best mountaineering watches on the market right now.
In this article, we'll be reviewing the following best mountaineering watches:
Know Your ABCs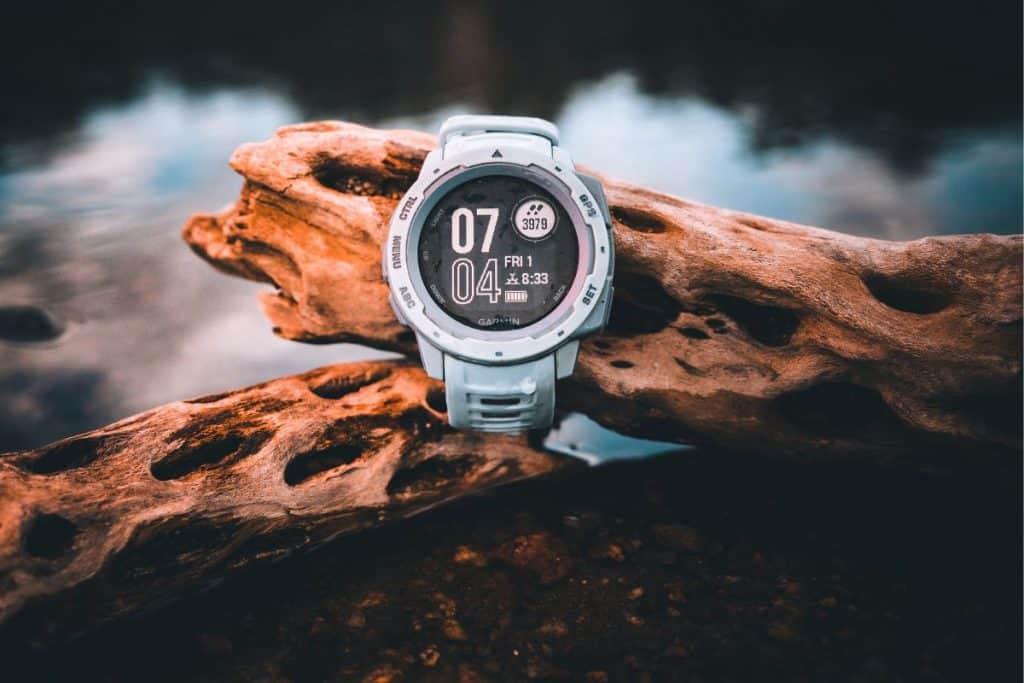 Don't worry, we're not taking you back to grade school. Instead, these letters represent a few key features that you should look for in a mountaineering watch.

"A" stands for altimeter. This is the function that keeps track of your altitude, so you always know how high above sea level you are. Many watches even track your elevation change over time, so you can get a sense of your total altitude fluctuation throughout the day. It's helpful to know if you enjoy seeing how hard you've worked, or if you want to keep yourself within a certain elevation range to prevent altitude sickness.

"B" stands for barometer. A barometer measures air pressure, which can be useful for a number of reasons. First off, pressure changes can indicate a shift in the weather, which is good to know if you're on a multiday trek through the mountains. In general, rising barometric pressure indicates improving weather, whereas falling barometric pressure indicates worsening weather.

But aside from that, watches that have barometers also have more accurate altitude readings. Standard watches make use of GPS signals to determine altitude, which can be somewhat unreliable if there aren't many satellites in the area, or your signal is blocked by an object. Since barometric pressure changes with the altitude, this data can be combined with GPS signals to give you a much more accurate altitude reading.

"C" stands for compass. It's good to know what direction you're heading, right? While you could look at the sun to get a general sense of direction, or carry a compass in your pocket, having one on your watch is more reliable and convenient.
Cost
When you're looking for the best mountaineering watches, there's just no way around it – you'll be spending a pretty penny. Many cost somewhere between $600-$800, though there are a couple that go as high as $1,300. At the same time, there are some that go as low as $350.

Is it really worth it to go with the more expensive option? Well, that depends on how you plan to use the watch. Many of the higher end products are made from more durable materials, and have fancier features that certain mountaineers would find useful.

However, if you're a mountain climber who likes to go on infrequent day hikes, there's no reason for you to spend so much on a watch.
Comfort
There's no point getting a watch that doesn't feel good on your wrist. You're going to be wearing it for hours (if not days) straight so get something that's a good weight, a good fit, and has a comfortable band.
Style and Display
A good-looking watch isn't mandatory, but it sure is nice to have. After all, watches are everyday accessories, not something you would only use on a mountain. Ideally, whatever you choose will have the features and functionality you'd expect to find in one of the best mountaineering watches. At the same time, wouldn't it be nice to wear it during date night or at an event with friends? Sorry Casio, your Pro Trek watch is just plain ugly compared to anything designed by Suunto. Definitely not something I'd want to be seen wearing while going about my daily life.

Pay attention to the watch display as well. Can you read it in all types of lighting? Is it large enough for you to see clearly? Many watch faces are about 1.7 inches in diameter, but there are a few that land between 1.2 and 1.3 inches. Does something that small seem reasonable to you, or would you rather go with something like the Suunto Baro, which has a 2 inch diameter?
Smartphone Compatibility
Technology has come a long way, and with a phone in everyone's pocket now, it's important that your accessories are compatible with it. That won't be much of a problem, though, as all of the watches that we've reviewed are able to receive smart device notifications – except for one.

You'll be able to take a look at texts, notifications on your phone, and caller ID information right from your watch screen. Many of the watches also have an app that you can download on your phone. That way, the biofeedback that your watch measures from you throughout the day will be compiled on your phone.
Durability
Mountaineers all know that the sport takes a toll on their gear. You're always banging and bashing against rocks and other objects, so durability needs to be a very high priority.

Since your watch is so close to your hands, which will likely be in close contact with other abrasive objects, it's vitally important that your watch can take a beating. Not only does the bezel need to be made from a high-quality material, but the band should also be something that won't wear down with time. Personally, I have a preference for titanium bezels with synthetic bands, but there are other combinations that work well too.
In terms of performance and functionality, navigation is one of the most important features to consider. I like a well-groomed trail as much as the next guy, but if you've done any mountaineering, you know that sometimes you have to be a bona fide pathfinder. That route that looks like an animal trail might be where you need to go, or perhaps you're still trying to find the next stack of standing stones after you passed the last bunch a mile back.

Whatever the case, getting lost isn't just inconvenient – it's straight up dangerous, especially when traversing the mountains. That's why it's so important to find a watch that can track your steps, so you have the ability to find your way back if you make a wrong turn. A built-in compass, GPS, and Glonass are also useful for making sure you're heading in the right direction.
Fitness Tracking
Fitness tracking is more of a "nice to have," instead of a "need to have" in the world of mountaineering watches. However, some of you might find it beneficial to know roughly how many calories you're burning in a day. You'll be able to adjust your food consumption if it looks like you're burning significantly more calories than you're taking in.

Heartrate and blood oxygen levels are good to keep an eye on so you're aware of your baseline health. A consistently high resting heartrate and/or lowered blood oxygen levels can be a sign that you haven't acclimated properly. You should consider hiking to a lower elevation for some time before continuing your upward ascent.
The Best Mountaineering Watches – Reviewed
Average Battery Life: 37 Days with Solar
Illumination: Backlight
Solar Powered: Yes
Altimeter: Pressure Based
Compass: Yes
Face Diameter: 1.4 Inches
I'll get right to the point by saying that the Garmin Tactix 7 is the most expensive watch in our list. If you can't afford to spend 4 figures on a watch, I'd suggest you look at some of the products further down in this review. However, if you want to buy one of the best mountaineering watches out there, I think you'll like what the Tactix has to offer.

For starters, it's one of the rare watches that has a touchscreen. Navigating the buttons on a "normal" Garmin can be a little tedious (or straight up confusing, if you've never used one before). The touchscreen lets you go right where you need to, allowing you to experience the height of convenience.

The Tactix also comes with a flashlight, which is dimmable and can emit either white or green light. For being a tactical watch, it would have been nice if it came with a red light option, but that's a fairly minor complaint. The tactical maps are highly detailed, and exactly what you'd want to see in a mountaineering watch. They make use of Garmin's most advanced navigational technology, giving you pinpoint accuracy, so you'll never get lost again.

Compared to some other Garmin watches, the Tactix has better battery life. However, while the solar charging does work, it isn't quite as impressive as I would have hoped. At the very least, it will tide you over until you can find a power source to recharge it the rest of the way.

Durable and highly customizable, this watch likely has more features than you'd ever find yourself using. Between the night vision functionality, the kill switch, and the aeronautical database with direct-to navigation, you'll never be found lacking in whatever situation you find yourself in.

Pros:

– Touch screen
– Flashlight
– Highly accurate maps and GPS
– Night vision
– Kill switch
– Aeronautical database
– Very customizable

Cons:

– Price
– Solar charging isn't that great
Average Battery Life: 120 Hours in Ultra Mode
Illumination: Backlight
Solar Powered: No
Altimeter: Pressure Based
Compass: Yes
Face Diameter: 1.7 Inches
When it comes to pure aesthetic, it's hard to beat a Suunto. They're some of the best-looking watches on the market, which is one of the reasons why I like the Peak. But while style is an important component of any accessory, it's not what we're primarily concerned about in our hunt for the best mountaineering watch.

It's a lightweight and modern design, with a face so thin that it will easily slip under your jacket sleeve. You also won't have to worry about it catching on your backpack as you're sliding your arms in and out of the straps.

A common complaint with Suunto products is that their user interface isn't very intuitive. Compared to Garmin, I would have to agree with that assessment, and the Peak is no different in this regard. It will take some time to fully grasp all of the functionalities of the watch, but if you're willing to put in the time to overcome the learning curve, navigating the device will become second nature.

The titanium bezel is durable and light, and the touch screen is easy to use and quick to respond. As you would hope to find in any mountaineering watch, the GPS is highly accurate and the navigation system is simple to read. You also need a watch that can store a charge, as it may be several days before you have access to power again. With a 170 hour battery life, the Peak has got your back during those extended mountaineering excursions.

Pros:

– Great battery life
– Aesthetic
– Accurate GPS
– Thin and lightweight
– Touchscreen
– Health data

Cons:

– Not very intuitive
– Some functionalities are disabled during exercise
Average Battery Life: 16 Days
Illumination: Backlight
Solar Powered: Yes
Altimeter: Pressure Based
Compass: Yes
Face Diameter: 1.3 Inches
A stunning sapphire and titanium watch, the Garmin Epix doesn't just look good, it performs like a beast. Given the nature of the materials used in its construction, it's a tanky watch that will shrug off any abuse without getting scratched or scuffed. The design is also easy on the eyes, and it comes in both a black and a white model depending on your preferences (I'm partial toward the black).

My biggest complaint with mountaineering watches in general is how hard it can be to read the display. If you're on a snowy alpine trail, the bright sun and reflection on the snow can make it difficult to see what's on your watch. That's why the Epix practically sold me the moment I saw that it has a bright, AMOLED display that's visible in even the brightest conditions.

You'll get a few days' worth of battery out of this watch with moderate use, which is enough for most mountaineering trips. The navigation system is easy to use, and the GPS is highly accurate, even when you're in an area where GNSS signals are weak. With the Sapphire edition, you even get topo maps predownloaded onto the device. If you like to golf in your free time, there are also maps for 42,000 golf courses downloaded onto the watch as well. Needless to say, navigation isn't something you have to worry about with the Epix.

Pros:

– Durable
– Bright display
– Predownloaded maps
– Accurate GPS
– Attractive design

Cons:

– Mediocre battery life
Average Battery Life: 65 Days with Solar
Illumination: Backlight
Solar Powered: Yes
Altimeter: Pressure Based
Compass: Yes
Face Diameter: 1.4 Inches
In case you haven't realized by now, you're going to see a lot of Garmin watches in this review. It's the brand that I've used for years, but I'm not biased for no good reason. Compared to most of their competitors, Garmin watches are the most intuitive and easy to use. They also tend to be the most accurate, in my opinion, and they last a really long time.

Can they get a little expensive? Sure, but most of us are willing to pay for quality. And that's exactly what you'll find in the Garmin Enduro 2 watch.

As the name implies, the bezel is made out of scratch resistant titanium. It's a lightweight solution that's perfect for mountaineers who often bang their hands and wrists against the rock as they climb. While it's technically a watch designed for running sports, I've never come across a Garmin that was limited in its functionality. Track your altitude, water intake, heart rate, and blood oxygen as you hike, and navigate with confidence using the GPS/Glonass functionality built into the watch.

It's a sporty looking watch that can fit nearly any occasion, both on the trail and off. The loop band is stretchy and durable, but fairly unassuming as far as synthetic bands go, allowing it to blend in with your outfit. While it's not quite as effective as some of Garmin's other bands, it will hold up well through everything but the most extreme activities.

Pros:

– Durable bezel
– Holds a charge well
– Sporty design
– Great for all types of sports
– Health data

Cons:

– Watch band wouldn't be my first choice
Average Battery Life: 120 Hours
Illumination: Backlight
Solar Powered: No
Altimeter: Pressure Based
Compass: Yes
Face Diameter: 2 Inches
Remember when I said earlier that Suunto likes to make visually appealing products? Well, the Baro 9 takes the cake for me, in terms of aesthetics. It's a reasonably priced watch with a massive 2-inch display, which just so happens to be the largest out all the products in this review. If you like having a big screen to look at and interact with, this might be the watch for you.

It has a good brightness, making it easy to read in direct sunlight. The titanium bezel also makes it nearly indestructible, and the battery life seems to be a little better than average. I like the simple to use interface as well – a point that seems to be lacking in most Suuntos, in my opinion. You shouldn't have any trouble navigating the features on the watch, and the Suunto app tracks all of your biodata in a way that's easy to read and understand.

As you'd expect from the name, the Baro comes with a pretty accurate barometer. Unfortunately, that pinpoint accuracy didn't seem to transfer to the GPS itself, though it will still be suitable for most people's needs. But for treks well off the beaten path, I'd probably consider one of the other watches that we've talked about above.

Overall, it's a good watch for moderate to light activity, sporting an attractive design and durable frame. I might just suggest getting a different watch band for it, as the one that comes with it likes to come undone.

Pros:

– Attractive design
– Large watch face
– Accurate barometer
– Simple interface
– Tracks biodata well

Cons:

– GPS isn't as accurate as some other watches
Average Battery Life: N/A
Illumination: Backlight
Solar Powered: Yes
Altimeter: Pressure Based
Compass: Yes
Face Diameter: 1.7 Inches
The Casio G-Shock is a pretty basic watch, but it does the simple things very well. It tracks your basic biodata like heartrate, VO2 max, calories burned, and a number of other things with a fair amount of accuracy. The same could be said for environmental and navigational information, like the altitude and a compass.

You can probably tell from the photo that this isn't a $1,000 luxury outdoor watch. It lacks some of the charm that can be found in both Suunto and Garmin products, but it's also a little less expensive, compared to all the watches we've listed so far. If you need something basic and reliable, and don't care too much about using your watch as an accessory to dress up your outfit, you may consider the G-Shock a valuable find.

It's durable and keeps track of the things you care about on the mountain: altitude, your location, and your oxygen levels. While it lacks some of the pinpoint accuracy that you might find in, say, the Garmin Epix, you'll receive data that's reliable enough to give you an idea of what you're working with.

Pros:

– Comparatively affordable
– Reliable
– Easy to use
– Durable
– Good water resistance

Cons:

– Basic functions
– Not quite as accurate as other watches
– Not as stylish
Average Battery Life: 140 Hours with Standard Full GPS
Illumination: Backlight
Solar Powered: No
Altimeter: Pressure Based
Compass: Yes
Face Diameter: 1.4 Inches
The Coros Vertix 2 really put a lot of effort into durability and navigation – two features that any mountaineer would be happy to have in a watch. Unlike the previous model, the Vertix 2 can communicate with all 5 major satellite systems for highly accurate navigational information. That means you have access to GPS, Glonass, Galileo, QZSS, and Beidou to provide accurate data, so you always know where you are in the world. Getting lost in tall buildings, trees, or rocks will become a thing of the past.

The battery life on this watch is unbelievable as well. You might have noticed that it will last for 140 hours with standard, full GPS, but if you're using it normally? Try 60 days of battery instead. Those number are practically unheard of, which makes this a great, robust option for extended adventures away from home.

The Vertix has many of the features you'll find in a Garmin, but for a slightly smaller price tag. With an intuitive design, there's a lot to like about the customization capabilities that come with this watch. In particular, you have the option to set it as right or left handed, which is something my wife really appreciates since she's a lefty.

Though the face of the watch is a pretty average size, it feels larger because of the narrow bezel surrounding it. Upgrading the software and downloading maps is also easy to accomplish, creating a navigational system that's hard to beat. If you value high-quality performance for a more reasonable price (as far as the best mountaineering watches are concerned), then this might be the one for you.

Pros:

– Highly accurate navigation
– Can be set as either right or left handed
– Good size
– Durable
– Very customizable
– Stellar battery life

Cons:

– Map feature not integrated into all workouts
Average Battery Life: 20 Days with Solar
Illumination: Backlight
Solar Powered: Yes
Altimeter: Pressure Based
Compass: Yes
Face Diameter: 1.3 Inches
Despite being created as a watch for running and triathlons, the Garmin Forerunner is useful in the mountains too. Lightweight and sporty, you'll forget it's on your wrist until you need it. The watch face is a reasonable size, and the band is both durable and comfortable, though I find that this is one area that people love to disagree on. Don't worry, if you really want to customize your watch band, or use a different material for it, you're more than welcome to do so.

Overall, the Forerunner is a fantastic training tool, keeping track of all your metrics with great accuracy. It will even tell you if you're overtraining, undertraining, or doing just right for your particular activity. As far as navigation goes, you can depend on the same level of accuracy as you'll find in the activity widgets. The GPS is spot on, as it the altimeter, so you can always keep track of your position and elevation.

While the battery life isn't stellar, it's better than most watches – particularly older models of the Forerunner series. With moderate use and a little help from the sun, you can typically go a few weeks between charges, making it suitable for extended trips into the wild.

Stay entertained and motivated by your favorite songs by running Spotify, Amazon Music, or Deezer from the watch to your Bluetooth earbuds. And if an incident has occurred, or you feel unsafe for any reason, the Forerunner will send a message to your emergency contacts. It's a handy feature, in case something happens on the mountain, though your cell phone will need to be nearby and receiving service for this functionality to work.

Pros:

– Great for training purposes
– Accurate GPS
– Decent battery life
– Solar charging
– Connect to music streaming
– Good size, easy to use, and lightweight

Cons:

– Some users receive a rash from the watch band
Average Battery Life: Unlimited with Solar
Illumination: Backlight
Solar Powered: Yes
Altimeter: Pressure Based
Compass: Yes
Face Diameter: 1.2 Inches
The watch that ends up on my wrist most often, the Garmin Instinct is a great product regardless of the model that you own. I say that while acknowledging that it doesn't come with all the fancy bells and whistles that you'll find on many of the other watches listed in this review. However, be that as it may, I appreciate the quality of what you do get when you consider the price that you get it for.

When looking at the best mountaineering watches, this is my top pick for people on a budget. That's not to say it's the cheapest one in our review (check out the next watch if you're looking for that), but I feel that the most bang for your buck with the Instinct. For starters, the battery life is arguably the best out of any product we mention. Even with all day use, you'll never run out of charge, as long as you give it 3 hours of direct sunlight every day. This "unlimited" battery life is practically unheard of in an outdoor watch, making it one of the biggest selling points for the Instinct.

Fitness information is highly accurate, keeping track of your heartrate and blood oxygen about as reliably as you can expect from a non-medical device. The GPS isn't as fancy or detailed as something like the Garmin Tactix mentioned above, but it gets the job done in a pinch.

It's worth mentioning again that there's a learning curve with these types of watches. Especially with the tactical version, there's a lot of intricacies to consider, so don't be surprised if it takes a few weeks to understand how to use it properly.

Pros:

– Excellent battery life
– Reasonable price
– Thermal, shock, and water resistant
– Accurate health data
– Tactical features

Cons:

– The bezel likes to catch on fabric
Average Battery Life: 5 Months
Illumination: Backlight
Solar Powered: Yes
Altimeter: Pressure Based
Compass: Yes
Face Diameter: 1.5 Inches
And finally, we have the cheapest and most basic watch in our review. The Casio Pro Trek might not be the most aesthetically pleasing watch that we've talked about, nor does it have the most functionality. But you know what? Not everyone needs stealth mode, a kill switch, or a built-in flashlight.

What I like about this Casio is that what you see is what you get. There aren't any frills, and there isn't a three-week learning curve for you to overcome in your attempt to understand how it works. It tells the time, it shows your altitude and position, measures the temperature, and acts as a stopwatch and timer.

I know it doesn't sound like much, but for a watch in this price range, it's actually a lot. Especially when you consider that it's practically indestructible, and it can be submerged to a depth of 200 meters. There are a few fancy extras that can be nice to have as well, such as tide and moon monitoring for those of you who enjoy sea kayaking and fishing.

I'm not a fan of how it looks, but we all have our different style preferences. What really matters is that the watch face is large and easy to read, and the buttons are simple and intuitive. Combine everything I've mentioned into a neat little package, and you've really got everything you need for a mountaineering trip.

Pros:

– Affordable
– User friendly
– Very durable
– Accurate altitude and GPS
– Tide/moon monitoring

Cons:

– Not as stylish
– Lacking many advanced features and tracking
At Untamed Space, we're passionate about helping you have the best camping experience possible. Our team of experts have experience camping and backpacking all over the world, allowing them to provide insightful and relevant content to guide you in your outdoor pursuits.

All of our reviews are based on a combination of firsthand experience, extensive research, and an analysis of customer feedback. We are an independent website and do not receive payments or incentives from manufacturers to promote their products, and we continuously update our content to provide new information based on product availability. Wherever you are in your journey, whatever gear you're searching for, you can be sure to find unbiased and up-to-date reviews for all of your needs.
FAQ
How Long Do Mountaineering Watches Last?
Battery life is key to any electronic, and that's especially true for your mountaineering watch. A standard watch will last somewhere between 80-120 hours, but if it has solar charging capabilities, the battery could last an indefinite amount of time. For example, when worn in a sunlit environment, the Garmin Instinct 2 Solar has an unlimited battery life.
Can I swim with my Mountaineering Watch?
Whether you can swim with your mountaineering watch depends entirely on the type of watch that you own. For example, the Casio G-Shock Mudmaster watch can be submerged to a depth of 200 meters without being damaged. Other watches wont fare quite as well.
Final Thoughts
Mountaineering isn't the sort of activity you want to be underprepared for. Conditions can be rough and dangerous whether you're out for a day hike or you're embarking on a multiday trek, which is why you need a watch that's up for the challenge. Having a tool that can give you information about your surroundings, your location, and various data about your health is invaluable.

We took these points into consideration when determining our top pick for the best mountaineering watch, which is why we settled on the Garmin Epix multisport watch. It's a powerful device with a bright display that can be seen in the bright, snowy mountains. On top of that, the combination of sapphire and titanium made it one of the most durable products in our review, which is just what you need for mountaineering.
---
Related Posts: