For some, camping is a way to have a unique family vacation. Pack up the cabin tent, grab a few cots to sleep on, and don't forget the grill because kabobs are for dinner tonight! For others, camping is a means of exploration, adventure, and escape, which means being weighed down with a lot of gear is antithetical to their purpose.

Tents are especially well known for adding a lot of bulk and weight to your pack, and sometimes even a 2 person tent is still too much…tent. If you feel the same way, take a gander through this review where we'll be talking about some of the best one person tents.
In this article, we'll be reviewing the following small one person tents:
Space
If you want to go with a small one person tent, hopefully you know what you're getting into when it comes to space. Gone will be the days of storing your pack and boots inside the tent with you. In fact, you might even have a hard time fitting you in the tent, if you consider yourself to be a big person. A one person tent is essentially a glorified bivy sack – there's enough there to keep you sheltered from the wind and rain, but barely enough to keep you from feeling claustrophobic.

Of course, if you just see your tent as a place to crawl into for a few winks of sleep before getting on with your life, there's nothing better than a single person tent. Just remember that your gear will be outside, unprotected if a storm rolls through. Make sure you have a good backpack rain cover to help keep the weather from wreaking havoc on your food and spare clothes.
Weight
Possibly the whole reason you're getting a small one person tent in the first place is because of the weight. If weight doesn't matter to you, than you might as well upgrade to a 2 person tent and give yourself that extra room to move around in and store your gear.

Many single person tents hover around the 2-3 pound mark, while it's common to find 2 person tents in the 4-5 pound range. That additional pound or two might not seem like much, but if you've ever been backpacking before, you know that every ounce counts. Some folks even take this philosophy so far that they cut their toothbrushes in half in order to stay lighter. If that sounds like something you would do…well, no judgment here.

At the end of the day, will you really feel that extra pound? Probably. When it comes to backpacking, never underestimate the fatigue that extra water bottle, lantern, or other item will give you after carrying it for your 8th straight hour. It does add up, and the difference between a single person tent and a 2 person tent is substantial.
Packaged Weight vs. Minimum Trail Weight
As a little aside, while we're still talking about tent weight, I'd just like to briefly explain the difference between packaged weight and minimum trail weight. You'll often see these specs on any tent that you're looking to buy, and the various numbers are notorious for confusing campers.

See, while practically every tent manufacturer lists the weight of their product, there's actually no standardized way to measure tent weight in the industry. Because of this, you'll sometimes see companies exaggerating how light their product actually is.

But for a broad definition, we'll put it this way:

– Packaged weight refers to the total weight of your tent and all of its accessories (i.e. tent stakes).
– Minimum trail weight can be a little trickier to explain, but it's generally referred to as the weight of all components needed to keep you dry. This does not include tent stakes, a footprint, guylines, or stuff sacks.

Packaged weight is going to be the more accurate number to go by, since it's likely that you're going to want your tent stakes! Among many of the other things too, for that matter. In general, don't get thrown off guard when you see multiple weights listed next to the same product – just scan for the packaged weight, and you'll be golden.
Easy Setup
If you're buying a one person tent, you're probably camping by yourself. That means, you'll have to do everything by yourself, including the process of pitching your tent. No one wants to waste time with complicated instructions, or mechanisms that are hard to put together. Finding a tent that's simple to set up, even when you're alone, is one of the top qualities that we look for in a product.
Seasonality
Most folks only pitch their tent during the more temperate months of the year, unless they've discovered the joys of winter camping. As such, 3 season tents are by far the most popular style on the market. Because it isn't as important to stay insulated against cold temperatures, 3 season tents tend to be lighter, have more mesh panels, and sometimes fewer poles, making them perfect companions on long backpacking trips. Most of the time, you can get away with using these tents until the beginning of winter, depending on where you are in the world.

On the other hand, 4 season tents (sometimes referred to as "mountaineering tents") are designed to withstand strong winds and heavy amounts of snow. To reach this level of stability, more poles are typically used, and extra layers of fabric make up the walls to provide better insulation and durability. As you might expect, this makes the tent substantially heavier than its 3 season counterpart, but there's not much you can do about that if you want to stay alive in rough conditions.
Durability
And finally, it's incredibly important to find a shelter that's going to hold up for a long time. Camping is rough, especially on your tent which is taking the full force of the wind, rain, and other elements. Maybe it'll survive your first couple of trips, but what about a year or two down the road? Some tents start off strong, only to have their poles snap or the waterproof coating come off after a handful of uses.

Occasionally, a tent that's normally great will have a bad egg. An error might occur during manufacturing, or it could get damaged during the shipping process – in these cases, there's not much you can do other than make sure the company has good customer service. Other times, the tent itself is faulty in general, no matter which one is sent to you. These are the ones we want to avoid.
Best One Person Tent Comparison Table
Best One Person Tent Reviews
Best For: Backpacking
Pole Material: Aluminum
Tent Material: Polyester
Weight: 3.7 Pounds
Peak Height: 36 Inches
Number of Doors: 1
Comes with Footprint: No
I always like to save my dessert for last, so I'm just going to jump into what I don't like about Clostnature's tent first. Simply put, it's heavier than I want to see in a single person tent. 3.7 pounds might not seem like much (and it's really not), but I've definitely seen better out there as well. But of course, if you don't mind, that's what really matters here.

Other than that, it's hard for me to find anything to complain about. I'm a big fan of the bathtub style floor, since I feel it's the best way to protect yourself against ground water. The rainfly is also great at repelling water, and it's easy for one person to throw on top and strap down into place.

There are 2 aluminum poles, lightweight and incredibly durable, which makes for a solid structure that's still easy to pack up and carry. There aren't any sleeves to slide the poles through either, so you don't run the risk of accidentally putting a hole in the fabric. Just place the ends of the poles in the corner grommets, and snap the tent clips onto them to lift up the roof.

Pros:

– Bathtub floor
– Weatherproof material
– No pole sleeves
– Well ventilated
– Rainfly doesn't touch the interior mesh, helping reduce condensation buildup

Cons:

– Weight
– It's not very tall
Best For: Backpacking
Pole Material: Aluminum
Tent Material: Nylon
Weight: 2.4 Pounds
Peak Height: N/A
Number of Doors: 1
Comes with Footprint: No
Every time I look at the Big Agnes Copper Spur, I can't help but think, "This tent was designed for backpacking." As a one person shelter, it needs to be lightweight, otherwise it just isn't worth it. Coming in at 2.4 pounds, I'd say it fits the bill, all while providing a surprising amount of space inside. Even if you're a big guy like me, you'll feel cozy (not crammed) when you lay down for the night.

The tent sports an awning style vestibule that's great for opening up the amount of livable space you have to work with. Not only does it provide a respite from the sun, but it also let's in a nice breeze, taking care of your ventilation needs. Unfortunately air flow isn't that great once you close the door, but aside from that, there's little to find fault with.

Despite the thin material, the Copper Spur won't disappoint you in strong winds and pouring rain. It would take a lot of force to get these poles to snap, and the waterproofing is definitely on point. However, because the material is thinner, you will need to be a bit more cautious about where you're setting it up. Avoid sharp rocks, and anything that has the potential to poke or tear. Always store it out of sunlight, and don't forget to give it a good washing from time to time. If you do all these things, you can be sure that this tent will last your for a very long time.

Pros:

– Lightweight
– Spacious design
– Lots of storage options
– Sturdy and weatherproof
– Multifunctional

Cons:

– Ventilation could be better
Best For: Backpacking
Pole Material: Aluminum
Tent Material: Polyester
Weight: 4 Pounds
Peak Height: 36 Inches
Number of Doors: 1
Comes with Footprint: No
The Lynx one person tent is powerhouse, great for rough conditions of any kind. Set up is simple, and can be done in under 2 minutes, if you've had a little practice under your belt. The tent is freestanding, using 2 aluminum poles to keep it upright, so it's incredibly easy for one person to put it together. Just make sure you stake it out properly, otherwise water may get in because the rainfly isn't able to direct the flow like it was designed to do.

If you're a bigger person, you might notice that the tent doesn't really leave much room for anything other than you. However, it's still incredibly comfortable, and having it hug you so snugly means that it'll heat up fast and keep you warm during the night.

And just because it doesn't have much internal storage (though there are quite a few mesh pockets), it doesn't mean you can't keep your gear protected. There's a vestibule that you can stake out, creating a good amount of shelter for such a small tent. Depending on the size of your pack, you could easily hide it under the rainfly, and possibly your boots too.

Pros:

– Very durable
– Good sized vestibule
– Fast and easy setup
– Well insulated
– Nice ventilation

Cons:

– Footprint sold separately
– A bit on the heavy side, though it's not as bad if you replace the steel stakes with aluminum ones
Best For: Backpacking/Car Camping
Pole Material: Aluminum
Tent Material: Nylon
Weight: 3.3 Pounds
Peak Height: 45 Inches
Number of Doors: 2
Comes with Footprint: Yes
With a minimum trail weight of 2 pounds, 11 ounces, we're finally entering the territory of ultralightweight backpacking. Part of the reason Featherstone's backpacking tent is so light is because of the single pole construction. It's considered semi-freestanding, but don't worry about it falling over when you don't want it to – once you've got everything set up, it's not going anywhere. But because it only has one pole, it's incredibly easy to pick up, shake out, or move to a new location with minimal effort. I have a 3 person tent with a similar construction, and absolutely love this aspect of it.

In terms of actual design, it's very similar to the MSR Hubba Hubba, but at a fraction of the cost. Quality doesn't seem to be an issue, as the stitching is well done, and the bathtub floor is thoroughly taped and sealed. It's a tight squeeze, especially for larger folks, but that's not something you can complain about too much if you're getting a one person tent.

Pros:

– Lightweight
– Well designed
– Sealed well against the weather
– Bathtub floor
– Single pole for easy setup and mobility

Cons:

– Rainfly is a little difficult to attach, unless you're great at tying knots
Best For: Backpacking
Pole Material: N/A
Tent Material: Tafetta
Weight: 5 Pounds
Peak Height: 34 Inches
Number of Doors: 1
Comes with Footprint: No
A one of a kind on this review, we've got our first and only pop-up tent to talk about. Yes, you heard that right: it's a one person pop-up tent. TETON's backpacking tent made something that was already easy to put together even easier to set up.

To get it all ready for the night, all you have to do is roll it out, stake it down, lock the poles in place, and pull the drawstring. It's that simple. Of course, with the addition of the fancy mechanisms needed to make setup this easy, you're putting on a few pounds of weight. At 5 pounds, you'll have to decide whether the added convenience is worth the weight. For me, it wouldn't be, but for other's I'm sure it would.

The rainfly is waterproof, though it doesn't extend all the way to the ground. For full coverage, you'll have to get the Elite rainfly, sold separately for an extra $20. In all, it does hold up against the weather like a champ, and it only takes a handful of minutes to take it down again. If sleeping on the ground isn't your thing, it is possible to pair this shelter with a cot, to lift you off the ground a few inches.

Pros:

– Nearly instant setup
– Can be converted into a tent cot
– Does well in bad weather
– Quite comfortable when paired with a cot

Cons:

– Honestly, you'll want to buy the Elite rainfly
– Heavy for a one person tent
Best For: Backpacking
Pole Material: Aluminum
Tent Material: Polyester
Weight: 3.3 Pounds
Peak Height: 40 Inches
Number of Doors: 1
Comes with Footprint: No
Known for being eco-friendly, Kazoo only uses recycled materials for their tents, and this product is no different. Weighing in at 3.3 pounds, it's about what I would consider average for most single person tents. And you know what? I can live with average in this case.

The tent is freestanding, making use of a couple aluminum poles for support. It's double layered with mesh on the inside and the waterproof rainfly on the outside, helping you to stay both dry and well insulated. The large D shaped door offers good ventilation, and an easier way to get in and out of the tent (though, that can be a struggle no matter what the door shape is).

Additionally, it also comes with decent tent stakes, which is more than can be said about most shelters out there. If you want a vestibule, you'll have to stake out the entrance flap, which isn't too big of an issue, on dry nights especially.

Pros:

– Decent weight
– Made from recycled materials
– Doesn't struggle in bad weather
– Comes with good stakes
– Freestanding with good ventilation

Cons:

– Doesn't come with a footprint
Best For: Backpacking
Pole Material: Velocity HD
Tent Material: Polyester Tafetta
Weight: 3.5 Pounds
Peak Height: 38 Inches
Number of Doors: 1
Comes with Footprint: Yes
When it comes to Marmot tents, the Tungsten is one of the best sellers. Though it's a one person tent, Marmot focused a lot on providing more interior space, despite making it a little heavier than other tents with a similar capacity. Still, 3.5 pounds isn't too bad for backpacking, especially when you think of everything you get with the extra weight.

Vertical walls open up the interior, providing more horizontal and vertical space. As someone who gets a little claustrophobic in most single person tents, I'm a big fan of this feature, even though it makes the shelter heavier.

On top of that, there's nothing better than having a freestanding one person tent that you can easily move around. It's got a tanky design, and while it might not be great in heavy snow, I would certainly consider it a 3.5 season tent. The insulation is top notch, and it's durable enough to withstand heavy winds and torrential rain storms. Overall, I would consider this to be the most weather resistant tent in this review.

As any one person tent should be, it's incredibly simple to put together. There are also a few storage options inside the shelter, as well as a 9 square foot vestibule on the outside to keep your pack and boots. My biggest complaint is that the ventilation could be better – and it's not "ultralight" – but the benefits outweigh these concerns, in my opinion.

Pros:

– Vertical walls for extra space
– Durable and strong against weather
– A large vestibule
– Well insulated
– Easy to put together

Cons:

– Ventilation needs improvement
– A bit heavy for a one person tent
Best For: Backpacking
Pole Material: Aluminum
Tent Material: Nylon
Weight: 2.5 Pounds
Peak Height: 42.5 Inches
Number of Doors: 1
Comes with Footprint: No
I've been a big fan of Sea to Summit for a long time, and there's a lot to like about their Alto series. Just by looking at the image of the Alto TR1 above, you can see that it has a pretty unique design, optimized to provide more interior space. The large doors make it easy to get in and out, which is a rarity among one person tents. It even has the Marmot Tungsten beat when it comes to peak height, measuring in at a full 5 inches taller! But even with so much room, the tent itself only weighs 2.5 pounds.

My biggest complaint is that it isn't freestanding. Most people who use a one person tent have gotten done with a long day of hiking, and want a hassle free experience setting up their tent. By nature, a semi freestanding shelter like this is going to take more time and effort to pitch than a normal, freestanding tent. However, once you do get it setup, it's a resilient tank that can survive intense weather changes. When paired with the lightweight design, it's a perfect shelter to use for alpine backpacking or in any other harsh environment.

A significant portion of the tent body is made from mesh, creating an environment conducive for airflow and ventilation. On clear nights, I'd suggest leaving the rainfly off so you can enjoy a pretty unobstructed view of the night sky.

Pros:

– Lightweight
– Spacious
– Storage options
– Large doors
– Adjustable rainfly
– Excellent ventilation

Cons:

– Not freestanding
Price
It's really easy to find cheap, one person backpacking tents if you look for them. The issue when you go with any random product, however, is that you may be sacrificing on quality for the sake of saving money.

Now, obviously I don't want you to go spending a fortune, which is why I did my best to find some of the most cost effective one person camping tents. Find something super expensive, you're probably paying for the brand more than anything; find something super cheap, and you'll probably find that it's heavier than you wanted, or it doesn't do a good job of keeping the water out.

My mentality has always been to spend a little extra initially, to get a really high quality product, so that I can save money in the future (because I don't have to keep buying low quality products that I need to keep replacing). This is especially true when it comes to any one person backpacking tent that I pick up. But to get the best of both worlds, I like to combine my two favorite things in the search bar: backpacking and Amazon. Still, for added comfort, durability, and overall longevity, it's worth it to spend a little more on a high quality shelter that will keep you protected wherever you go.
Wall Construction
When it comes to tent style, their are two different ways you can go: single walled and double walled. If you've done any camping in your life, chances are you've stayed in a double walled tent, as these are the most common, and the type that we would personally recommend to practically everyone. Comprised of the tent body with mesh walls and roof, and the rainfly for protection from the elements, it's the most comfortable and sturdy option by far. The mesh helps keep condensation from hitting you after it builds up on the inside of the rainfly, especially when you're roughing it in a warm and wet climate.

Single walled tents lack the mesh liner, so they're popular among ultralight backpackers who are looking to ditch whatever weight they can. Obviously, the tent will still keep you dry in a rain shower, but you can expect to get soaked with condensation. It's not a very pleasant experience, which is why we almost exclusively promote double walled tents! Ultimately, though, it's up to you what choice you end up going with, depending on your own personal needs.
At Untamed Space, we're passionate about helping you have the best camping experience possible. Our team of experts have experience camping and backpacking all over the world, allowing them to provide insightful and relevant content to guide you in your outdoor pursuits.

All of our reviews are based on a combination of firsthand experience, extensive research, and an analysis of customer feedback. We are an independent website and do not receive payments or incentives from manufacturers to promote their products, and we continuously update our content to provide new information based on product availability. Wherever you are in your journey, whatever gear you're searching for, you can be sure to find unbiased and up-to-date reviews for all of your needs.
FAQ
Should I Get a One or Two Person Tent?
It really depends on how lightweight you're trying to stay. One person tents are perfect for ultralightweight backpacking trips, but if you don't plan on going very far with your shelter, there's no reason to go so small. Two person tents are only a couple pounds heavier, but they have a lot more interior space, and they're just as easy to pitch.
What is the Best Single Person Tent?
It's hard to pinpoint a particular single person tent as being "the best," simply because it depends on everyone's individual needs. However, with that being said, the Big Agnes Copper Spur UL1 tent is our favorite, due to its versatility. Both lightweight and spacious, it's a shelter that's comfortable to use no matter where you take it.
Are All One Person Tents the Same Size?
Not all one person tents are the same size, so it's important for you to figure out what will work best for your circumstances. In general, the smaller the tent, the more lightweight it will be (which is a good thing). However, if you're a big, tall person, some one person tents can be a very tight squeeze. If you get claustrophobic or just like having a little more space, you'll have to find a different tent to go with – possibly even a two person tent.
Final Thoughts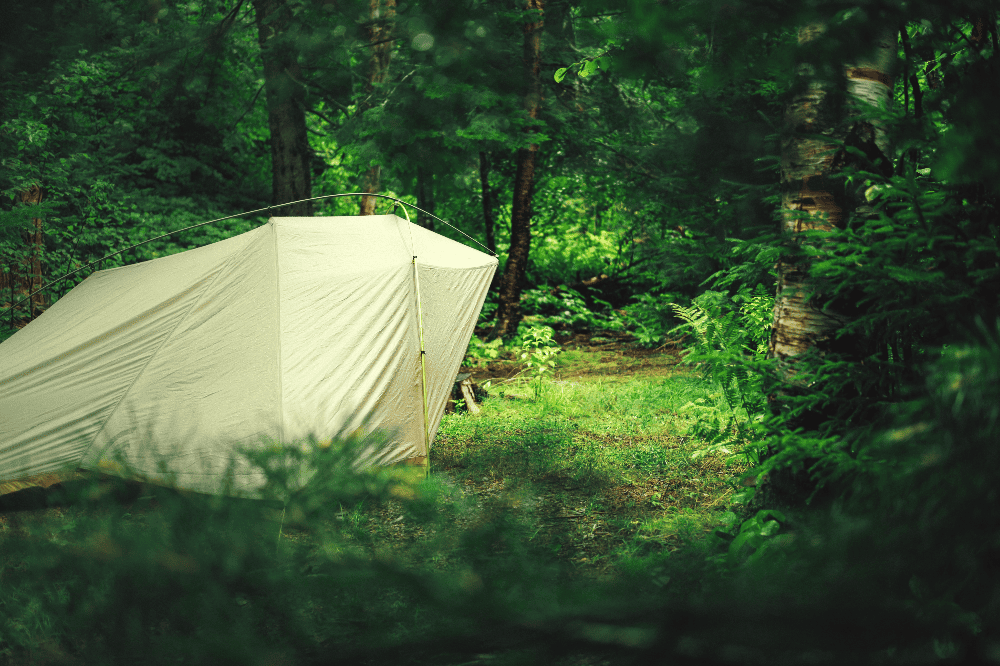 Single person tents are great for those of us who like to explore – and sometimes, when we want to escape from other human contact as well. Most often, you won't find them in a traditional campground, because the weight of the tent doesn't matter as much in a car camping situation. No, these tiny titans are often reserved for true backcountry adventures.

Considering what they're used for, we liked the Big Agnes Copper Spur the most. It's a lightweight wonder that will last you for years, if you take care of it properly. The design also makes it easy to trap body heat, helping you to stay warm if you're camping at elevation or during the colder months. Wrap that all up with how easy it is to put together and take down, and the Big Agnes tent is a great option for backpackers of all kinds.
---
Related Posts: