If you're in a rush and want to find out what the best Osprey backpack is, we recommend the Osprey Exos 58 Pack.

Whether you're going on a day hike, a backpacking trip, or just a long walk through a conservatory, few things are nicer to have than a solid backpack. The ability to carry essential items for long periods of time is something that most of us will require at one point or another, but not just any backpack will do the trick.

As a brand, Osprey is well known for creating quality gear that will last for many years. That's why we're dedicating an entire article to the best Osprey backpacks, to help you find an option that will meet your needs.
In this article, we'll be reviewing the following best Osprey backpacks:
Size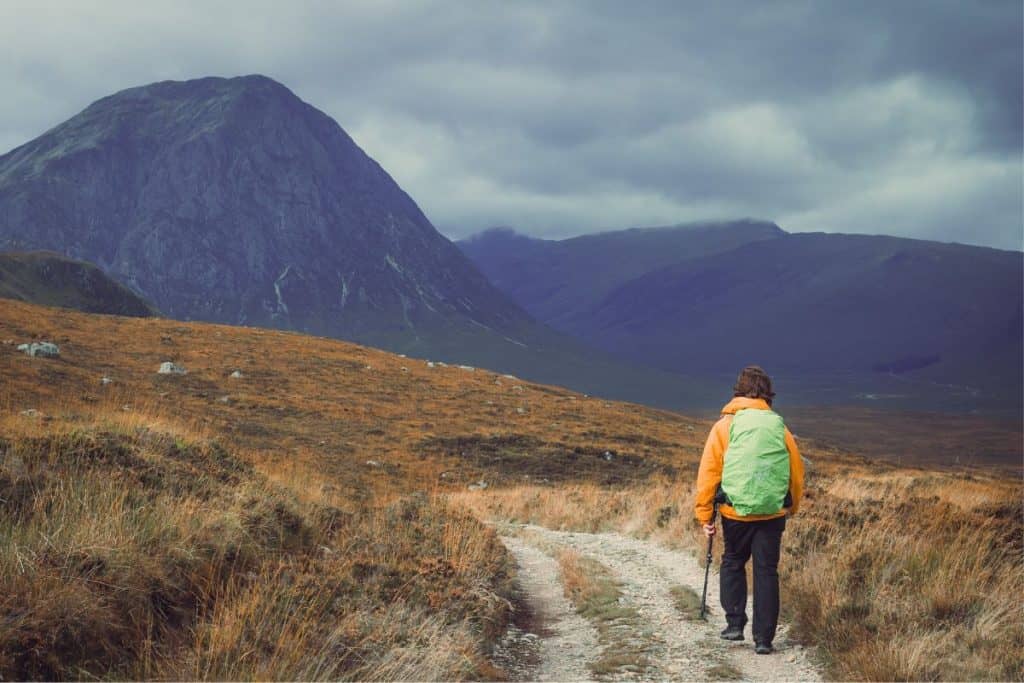 When we talk about the size of a backpack, what we're really referring to is its capacity. It's measured in liters, much to the dismay of those who live in the United States, and it can be difficult to visualize if you don't have any point of reference.

To provide some comparison, a 30 liter pack is perfect for day hikes and certain expeditions where you don't need much gear. They're small, light, and usually frameless, allowing you to conserve energy and stay fast on your feet. A 70 liter pack, on the other hand, is on the larger end of the spectrum. This is the size that you'll want to use for multiday backpacking trips, as it's more suited for holding a sleeping bag, tent, food, clothes, and anything else you might need.

If you plan on backpacking for more than a week straight, you may even consider going with something larger. Anything from 80 liters to 100 liters is best for extended expeditions where you don't have the opportunity to restock your supplies along the way. Of course, the compromise that you make comes in the form of weight, as larger backpacks have a frame to provide support, structure, and stability.

Read More: How to Choose a Backpack for Your Next Trek
Weight
So, on that note, let's dive into backpack weight. It's important to remember that your backpack has a weight, as many beginner backpackers that I've met seem to overlook that fact when they're packing for a trip. Generally speaking, they aren't going to be too heavy, but many will be comparable to the tent that you're bringing. I'd say 2-4 pounds is pretty average for the best Osprey backpacks, though there are some other brands that can get as high as 8+ pounds, depending on the style and materials used.

Where does this weight come from? Well, the fabric portion certainly contributes, but most of the heft can be found in the frame. Aluminum and steel are the most common frame materials, and I think you can guess which one is going to be heavier. If weight is a concern of yours, opt for a backpack with an aluminum frame, or for a pack that doesn't have a frame at all.
Materials
We've already talked about frame materials, and how your primary options are going to be aluminum and steel. For durability, steel is the way to go, but it's by far the heavier option. Aluminum is lightweight, and despite being less durable than steel, it still has quite a bit of toughness to it.

As far as the actual material of the backpack is concerned, you can expect to find some sort of synthetic, like nylon. That's all well and good, but what you should really pay attention to is the denier of whatever material the pack is made from. Denier is just a measurement for the thickness of a thread, with a higher denier equating to a thicker thread. Naturally, a thicker thread is also a more durable thread.

For a backpack, you should really aim no lower than 100 denier. Compared to most tents, that's a pretty thick material, but backpacks are known for getting roughed up pretty badly over the course of an expedition. When possible, I might even go for a 150 or 200 denier product, though that extra thickness adds some weight too.
Breathability
Breathability for a backpack? It might not make sense when you first think about it, but then imagine hours of hiking in the heat, sweat accumulating between your back and the pack… It's a rather uncomfortable thought, if you ask me.

To keep this from happening, some backpacks adopt a curved shape, preventing any material from touching your lower back at all. This only works on smaller backpacks, as something heavier would put too much strain on the space above your tailbone. So, it's no surprise that we don't see this style more often.

That being said, when most people think of breathability on a backpack, they imagine the back panel. Osprey does a great job of producing die-cut mesh back panels, which look great, feel great, and do their best to encourage breathability.
Straps and Adjustability
The worst thing you can do is get a backpack that doesn't feel good on your shoulders. You're going to be spending a lot of time with it, so it's crucial that you figure out if the straps can be adjusted to fit your body. This goes for the shoulder straps, as well as the waist and chest straps. The best Osprey backpacks all have adjustable harnesses and waist straps for a snug, custom fit.
Pockets
Backpacks are designed to store gear, but most of the time, you want more versatility than a single, large compartment can offer. Various pockets and dividers inside the pack are useful for creating some separation among certain items. For example, do you really want to open up your main compartment just to dig around for your headlamp? Probably not. You'll want it somewhere that's easy to get at, like the top pocket or the kangaroo pocket. Overall, Osprey does a great job of providing everything you need in this department, including the things just mentioned in addition to water bottle holders, hip belt pockets, and sometimes ice axe holders.
Best Osprey Backpacks – Reviewed
Best Use: Trekking
Frame Type: Lightwire
Capacity: 50 Liters
Weight: 4 Pounds
Materials: Nylon
The Osprey Atmos is easily one of my favorite men's backpacks. Just so there's no confusion, this is the "AG" version, which stands for "anti-gravity." What that means is that the tensioned back panel flows seamlessly into the hipbelt, maximizing comfort and ventilation.

The Atmos comes with a lot of nifty features, including highly adjustable straps that allow you to get the perfect fit. There's also an attachment for you to store your trekking poles, and a separate attachment for ice tools, if needed. Overall, that's basically what this pack excels at: convenient storage spaces outside the main compartment. You've got the floating top lid with a zippered pocket, a special sleeping bag compartment at the bottom of the pack, and plenty of other odd and end storage spaces. You also have an internal hydration reservoir sleeve that can accommodate a 3 liter reservoir, for easy water storage and management.

Compression straps allow you to tighten everything up nicely for a more streamlines shape. The pack is designed to carry a load between 30-50 pounds, and by itself, it weighs a modest 4.5 pounds. Not the lightest pack on the market, but it's got a lot built into it to make it comfortable for multiday expeditions. For all the features that you get, that extra pound or two is more than worth it, in my opinion.

Pros:

– Comfortable
– Well ventilated
– Plenty of additional storage
– Very durable
– Included rain cover

Cons:

– Hipbelt might actually be too big for some
Best Use: Trekking
Frame Type: Lightwire
Capacity: 50 Liters
Weight: 4 Pounds
Materials: Nylon
The Osprey Aura is actually the women's model of the Atmos mentioned above. That means you get all of the same amazing features, like the superior comfort, ventilation, and storage space, while getting a pack specifically tailored for the female form.

Again, I find the adjustable harness and straps to be one of the best features about this pack. Depending on the length of your torso, you can adjust the harness up or down until you get the proper fit. The connection of the back panel to the hipbelt is also very nice, and it really does add quite a bit of comfort, especially to your hips and lumbar region. Since most of the weight is going to be sitting on your hips when the belt is tightened, it's good that they put so much padding and support in this region.

We're looking at the medium/large size here, which has a capacity of 50 liters. It's something I would feel comfortable taking out for a handful of nights, but probably not for anything longer than a weeklong trip. At 4 pounds, it might feel a little heavy for some of you, but trust me when I say that the extra weight is worth it. With comfort, storage for your sleeping bag, ice axes, and trekking poles, and space for an internal hydration reservoir, who could ask for more?

Pros:

– Very comfortable
– Adjustable harness
– Great ventilation
– Plenty of storage space
– Removeable lid

Cons:

– A tad heavy
Best Use: Trekking
Frame Type: Aluminum
Capacity: 58 Liters
Weight: 2.8 Pounds
Materials: Nylon
A good choice for ultralight backpackers, the Osprey Exos cut back as many ounces as possible without sacrificing comfort or capacity. In fact, the Exos is a few liters bigger than both the Atmos and Aura mentioned above, but it's also over a pound lighter than both of them as well.

As you might expect, this tradeoff doesn't come without compromises. For example, in an effort to cut back weight as much as possible, the back harness attachment is made of plastic. It works well in theory, but in practice, it doesn't secure the load quite as well. It can create an unbalanced feeling as the pack sways with you as you walk, which can be a little off-putting. It's not necessarily a deal breaker, by any means, but it's not going to be as comfortable of a fit as the Atmos.

That being said, the hipbelt is more comfortable than what you might on most backpacks, including the Atmos. It's more flexible, so it won't dig into your hipbones quite as much, taking away some of those uncomfortable pressure points. Ventilation is excellent, as you'd expect with anything created by Osprey, and the compression straps really help to suck everything in as tightly as possible. As long as you keep you load lighter than 40 pounds, I don't see too many problems with the Exos, whether you're breaking into ultralight backpacking or not. Overall, I'd definitely label it one of the best Osprey backpacks out there.

Pros:

– Lightweight
– Comfortable hipbelt
– Good compression straps
– Well ventilated
– Harness adjustments

Cons:

– Likes to sway a little
Best Use: Trekking
Frame Type: Lightwire
Capacity: 46 Liters
Weight: 4.5 Pounds
Materials: Nylon
Plan to put your pack through the wringer? I'd suggest you give some serious consideration to the Osprey Kestral as an option that can take a beating. What really sets it apart is the high denier of the nylon, with the main body coming in at 420 denier and the bottom of the pack coming in at 500 denier. Unless you intentionally throw the pack over the side of a cliff into a lake full of piranhas, it's going to be very difficult to damage the Kestral.

At 4.5 pounds, the weight is a little high for a 46 liter pack, but that's what you should expect when the individual threads are so thick. The mesh on the back panel is comfortable and supportive, providing more than enough ventilation to keep you comfortable after working up a sweat. The hipbelt also seems to be a good thickness and rigidity to prevent any discomfort on your pelvis after a long day of hiking.

You can expect to find all of the standard storage options and lash points, with a few that are a little more unconventional as well. You have your attachments for trekking poles and ice axes, in addition to a reservoir sleeve and sleeping pad straps. Then there's the daisy chains on the front panel to help you store any additional gear to the outside of your pack. Oh, and it comes with an included rain cover – not a bad deal for the price of the pack!

Pros:

– Very durable
– Good fit
– Well ventilated
– Lots of external attachment points
– Included rain cover

Cons:

– Somewhat heavy
Best Use: Bikepacking/Day Hikes
Frame Type: Frameless
Capacity: 20 Liters
Weight: 2 Pounds
Materials: Nylon
Lightweight and versatile, the Osprey Talon Pro is a 20 liter pack that can go the distance. You might balk at the price a little, since the capacity is much smaller than anything we've talked about so far, but hear me out on this one.

As a daypack, the Talon is second to none. It comes with all of the bells and whistles that you find in a pack three times larger, and no, I'm not exaggerating when I say that. The adjustable harness makes it a simple matter to get the proper fit, and you've got the standard hipbelt to secure it to your body and take some pressure off your shoulders.

In terms of actual storage, you've got so much more to work with than just the 20 liter capacity. There's an external hydration sleeve for your 3 liter reservoir, and a couple of mesh pockets for water bottles and other knickknacks. Don't forget trekking pole attachments, as well as a place for your ice axe and bike helmet. All of that is wrapped up in a highly durable, 100 denier fabric that won't struggle to withstand the test of time.

For a day hike pack, you're not going to do better than the Talon. However, a couple of notable pain points include the lack of instructions (the trekking pole system can be a little tricky to figure out), and frankly, 20 liters is pretty small any way you look at it. For most people, it will be enough for a quick out and back hike, but those of you who are more survival oriented may struggle to fit everything inside.

Pros:

– Good padding
– Durable
– Lots of features
– Trekking pole, ice axe, and bike helmet attachment
– Lightweight

Cons:

– No manual for how to use certain features
Best Use: Trekking
Frame Type: Lightwire
Capacity: 65 Liters
Weight: 3.7 Pounds
Materials: Polyethylene
The Osprey Ariel is the female counterpart to the men's Aether – one of my personal favorite packs. In particular, the Pro series is designed with everything that you might need for a lengthy trip into the backcountry, while ditching anything that isn't vital to your trek.

For instance, many parts of the pack are removeable, so you can downsize when necessary. Get rid of the top lid if you don't need that space, or remove the compression straps, sleeping pad attachment, and ice tool attachment to shave off some more ounces. Still, even if you don't take anything off, the backpack as a whole only weighs a little less than 4 pounds, which is super light, considering how much gear it's designed to carry.

Large hipbelt pockets allow you to keep essential items close at hand, and the pockets removeable if you decide you don't need them. The materials are rugged and durable, more than able to withstand several years of abuse. It's also tough enough to hold a 50+ pound load without sounding like it's going to tear apart. And the best part is that you'll barely feel all of that weight on you shoulders, thanks to the nicely padded straps and back panel.

Pros:

– Very customizable
– Surprisingly lightweight
– Durable
– Plenty of gear attachments
– Good ventilation

Cons:

– Price
Best Use: Trekking
Frame Type: Aluminum
Capacity: 58 Liters
Weight: 2.8 Pounds
Materials: Nylon
The Osprey Eja is the women's counterpart to the men's Exos mentioned above. What that means is that, like the Exos, the Eja is ideal for ultralight backpackers who don't want to sacrifice comfort and durability.

The adjustable harness straps are pretty standard across most Osprey backpacks, giving you a good fit, even if you're a lot more petite than most. It will only take a couple minutes to adjust, and once you do, you'll notice that there isn't an excessive amount of pressure on your shoulders or your back. Likewise, the hipbelt is soft and flexible, resting comfortably on your pelvis without digging into the bone.

There are numerous pockets on the belt and at various places around the pack that makes it easy to segregate your gear. I wouldn't recommend carrying more than 35-40 pounds, as anything beyond that will start to feel awkward and a little painful. Still, if you're buying a pack this lightweight, you're probably not the type to bring half of your earthly possessions on a weekend backpacking trip.

In the quest to be as lightweight as possible, it's true that not all of the materials are as durable as they could be. However, for a backpack that shaves ounces and fits you like a hug, I think this is a relatively small price to pay.

Pros:

– Lightweight
– Very comfortable
– Adjustable harness
– Lots of pockets and loops
– Good compression straps

Cons:

– The tubing for the hydration reservoir is a little funky
Best Use: Bikepacking, Day Hikes
Frame Type: Frameless
Capacity: 18 Liters
Weight: 2 Pounds
Materials: Nylon
And finally, we have the Osprey Tempest Pro, which is the women's counterpart to the Talon Pro. Small and lightweight, it's designed for fast travel, especially in the form of bikepacking or alpine climbing. However, you can certainly use it on day hikes or for other purposes as well.

It's a tactical pack that's meant to move with you, hugging your body closely as you scale steep cliffs and other treacherous terrain. Compression straps keep everything tight, and if you aren't able to fit everything inside the main compartment, there are plenty of other pockets to choose from. In fact, you'll probably want to store your phone in the shoulder strap pocket, and your rain gear will fit nicely inside the kangaroo pouch. There's also an attachment for ice tools and trekking poles, so you can have everything close at hand when you need it.

The Tempest 18 has a dual zippered panel access, along with a bike helmet attachment, and a convenient loop to clip a bike light onto. In terms of water storage, you have your pick between the stretchy water bottle holders and an external hydration sleeve. Overall, it might be a tiny backpack that minimal storage opportunities, but it's the best option for women who want to stay light and mobile without sacrificing anything other than storage.

Pros:

– Lightweight
– Very comfortable
– Breathes well
– Good storage options
– Adjustable straps

Cons:

– A bit tough to fit a hydration bladder
At Untamed Space, we're passionate about helping you have the best camping experience possible. Our team of experts have experience camping and backpacking all over the world, allowing them to provide insightful and relevant content to guide you in your outdoor pursuits.

All of our reviews are based on a combination of firsthand experience, extensive research, and an analysis of customer feedback. We are an independent website and do not receive payments or incentives from manufacturers to promote their products, and we continuously update our content to provide new information based on product availability. Wherever you are in your journey, whatever gear you're searching for, you can be sure to find unbiased and up-to-date reviews for all of your needs.
FAQ
Is Osprey a Good Backpack Brand?
From backpacking backpacks, to daypacks, to child carriers, Osprey has found its way into many of our homes. Among all of the backpack brands out there, Osprey is one of the best, having produced high quality gear for several decades.
How Do You Clean Your Osprey Backpack?
Never toss your backpack in the washing machine. Start by removing anything that can be removed, to make the cleaning process easier and more manageable. Take a soft brush, warm water, and mild soap and clean out the inside of every compartment and pocket – then do the same with the zippers and buckles. Drain and rinse before hanging it in a well-ventilated area out of direct sunlight.
Does Osprey Have a Warranty?
Osprey does have a warranty, and will fix any problem free of charge. If it can't be fixed, they'll send you a whole new product.
Final Thoughts
It's impossible to go backpacking without…well…a backpack. But even beyond these extended treks through the backcountry, a good pack has a number of uses. While there are a number of features to look for, and quite a few brands who claim to have it all, we wanted to hone in on a company that's the leader of the pack – pun intended.

The best Osprey backpacks are comfortable, easily adjustable, and have all the features you could ever want in a pack. Still, we have to pick a winner, and to that end, we're going to prop up the Osprey Exos 58. While it's not without its flaws, we like how lightweight it is, in addition to the comfort of the hipbelt. It has a lot of separate storage areas, and the durability is high enough where you shouldn't have to replace it for a number of years.
---
Related Posts: