Utah is a paradise for outdoor enthusiasts. The vast amount of unpopulated land is home to sport lovers of all kinds – from hiking to climbing to off-roading, it truly is a playground for those who find joy in being outside.

This is especially the case when it comes to camping. From famous locations like Moab and Zion, to some lesser known destinations, there's an option for anyone who wants to escape into the wild. So let's dive into the best camping in Utah, and take a look at our 9 favorite places to pitch a tent in the state.
The Best Camping in Utah
1. Moab
Whether we're talking about the best camping in Utah or not, Moab is one of my favorite places to visit in the state. It's remote, and is home to some of the most incredible sandstone features you'll find in the entire country. However, despite how far away it is from any other form of civilization, Moab is a surprisingly large and bustling oasis. This is most likely due to the presence of Arches National Park, Canyonlands National Park, and the eternally photogenic Dead Horse Point. And in addition to the endless amount of tourists, this town also attracts plenty of outdoor enthusiasts. The desert landscape, punctuated by sheer cliffs and deep canyons, is the perfect playground for campers, climbers, off road vehicles, cliff jumpers, hikers, mountain bikers, and so much more. If you enjoy the outdoors at all, you'll love it in Moab.

But we're here to talk about the best camping in Utah. Personally, I like the Kayenta Campground because of its close proximity to Dead Horse Point, as well as the entrance to the Canyonlands. But honestly, it's hard to go wrong when choosing a campsite in this area. There are plenty of options, all with stunning vistas that could easily be labeled as one of the best places to camp in Utah. Consider setting up along the banks of the Colorado River with a view of the famous Wall Street – named as such because of the dozens of climbing routes all lined up next to each other. Or perhaps you'd rather spend the night at Devil's Garden, the only campground inside of Arches National Park. If that's more your cup up tea, make sure to book your reservation well in advance, as it does have a tendency to fill up fast!
2. Lake Powell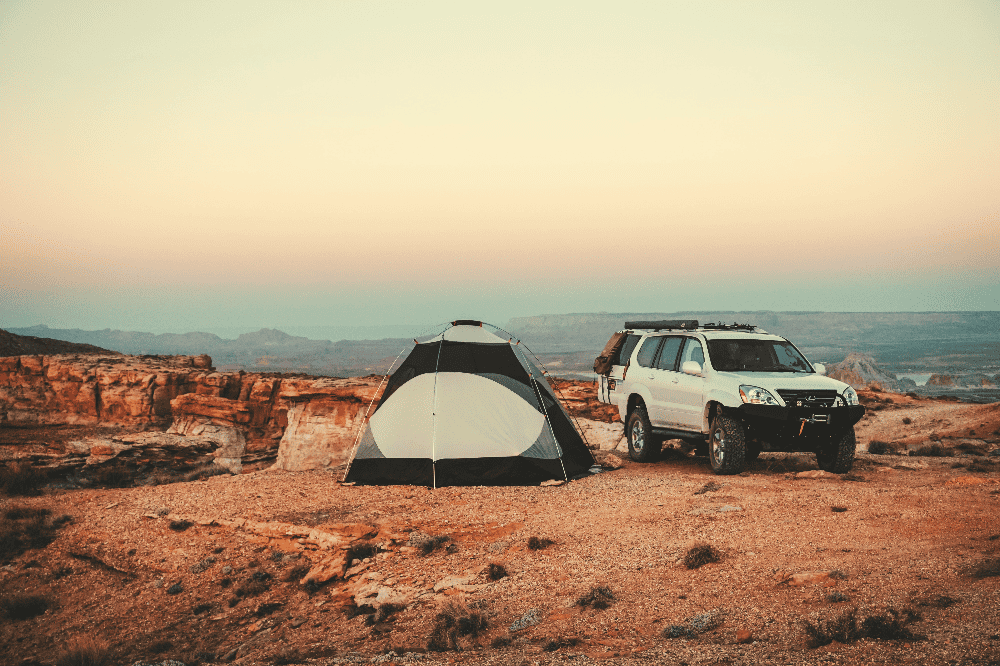 Located in southern Utah, Lake Powell is a stunning body of water that resides within Glen Canyon. Perhaps ironically, Lake Powell isn't actually a lake – it's a reservoir that was created about 65 years ago to help regulate the water flowing to the drier states of Wyoming, Colorado, New Mexico, Arizona, California, Nevada, and of course, Utah. In recent times, it's been a hot conversation topic among environmentalists who want to drain the "lake," due to disruption of the local flora and fauna, among other reasons. But even so, I think we can all agree that it's a stunning place to set up camp for the night.

Lone Rock Beach is a stunning place to pitch your tent. It's a popular location, due to being one of the few places on Lake Powell where you can almost drive straight to the water's edge. From the parking lot, it's a short walk to the beach, where you can set up camp. The water is beautiful, and you'll have a hard time not being amazed by the incredible sandstone monolith that gives this beach its name.

Marine vehicles are welcome here, whether you have a motor boat or a kayak. Aside from allowing you to enjoy the water, Lone Rock Beach also offers the only designated ATV area in Glen Canyon. And it's a close drive to other scenic hotspots, like Antelope Canyon across the border into Arizona.
3. Zion National Park
Arguably the most famous place in Utah (perhaps second only to the Great Salt Lake), there was no way Zion National Park wasn't going to be on a list of the best camping in Utah. Whether you're an avid hiker or rock climber, I'm sure the call of Zion has tugged at your heart on more than one occasion. In fact, many of the 2,000 foot sandstone cliffs are home to world renowned, big wall climbing spots. And Angel's Landing, a short 2.2 mile hike, can appear deceptively easy. Don't let the distance fool you – this hike is considered one of the most dangerous in the world due to the loose rock and sheer cliffs. But if you decide to risk it and go all the way to the top, you'll be rewarded with one of the most incredible views of the canyon and the Virgin River below. We like it so much that it made our pick for the best hike in this state!

There are 3 campgrounds in Zion for you to choose from: South, Watchman, and Lava Point. Both South and Watchman are inside of Zion Canyon, while Lava Point is about a one hour drive from the canyon, up on the Kolob Terrace Road. Personally, I prefer the locations within the canyon for a couple of reasons. First, the sights are absolutely incredible when you wake up in the morning, seeing the sun land on the red rock around you. Second, you're pretty close to the town of Springdale, so civilization is close at hand if there's anything you need.
4. Bryce Canyon
Ever heard of a hoodoo? Yeah, I hadn't either, until I discovered Bryce Canyon. In case you're wondering what they are exactly, hoodoos are irregular columns of rock that shoot up toward the sky. And Bryce Canyon has the highest concentration of them found anywhere on earth.

The canyon isn't really a canyon, as much as it is a series of amphitheaters dug out of the edge of the high plateau. Perhaps surprisingly, the elevation can get as high as 9,000 feet, making the hiking a bit more difficult than it otherwise would be. Thankfully most of the famous sights (Bryce Point, Inspiration Point, Sunset Point, and Sunrise Point) are all within a few miles of the parking lot. The hiking in the area is still worth doing, though, if you feel acclimated enough to give it a try.

There are two campgrounds for you to choose from in this area: North and Sunset. Both are in close proximity to the visitor center and the Bryce amphitheater with the biggest difference between them being how you reserve your spot. Sunset accepts reservations on a 6 month rolling basis during peak season, while North is a first-come, first-served location. Whichever you decide to choose, I think you'll agree that they make for some of the best camping in Utah.
5. San Rafael Swell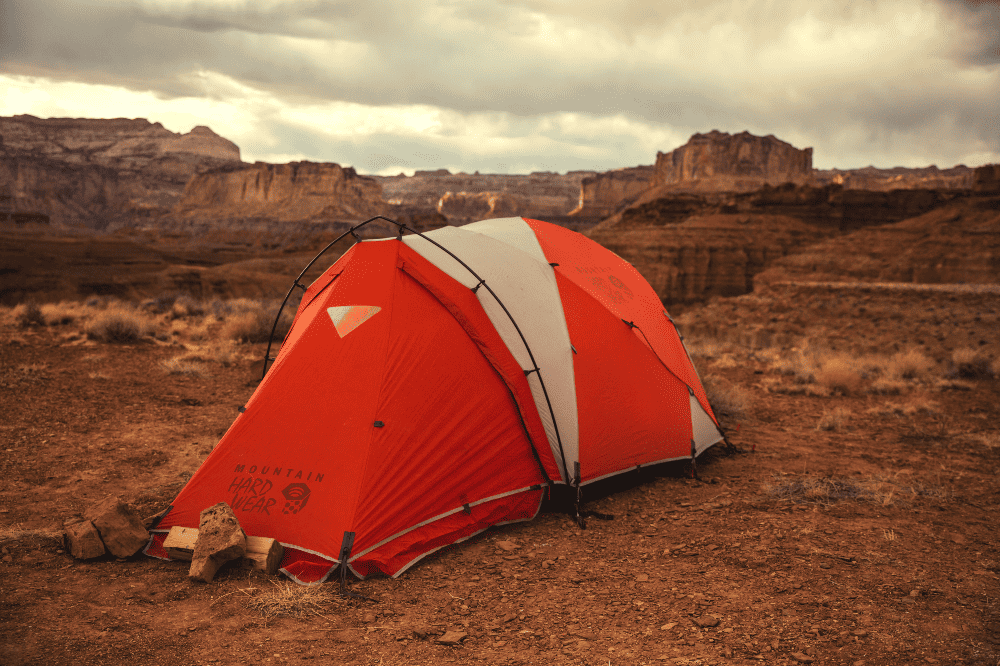 A very long time ago, a tremendous geological upheaval created a rock dome that rose high above the land around it. Over the years, wind and water erosion chipped away at it until it became a beautiful jumble of buttes, pinnacles, canyons, and mesas. This land feature is what we now refer to as the San Rafael Swell.

Some people might visit this site and think it's nothing special. After all, Utah is full of sandstone features, making the Swell something…average. But while that's absolutely true, I still believe that you'll enjoy a trip here over many of the other hot spots that can be found across the state. And the reason for that is the fact that this location is still relatively undiscovered by the majority of tourists looking to snap a few pics of the stunning views. So if you're looking to enjoy the traditional Utah panoramas without as many folks to block your view, you'll love it here at the Swell.

This is a dispersed campground set on BLM land. As such, it's a first-come, first-served setup with no reservations necessary. The good news is that you can just kind of go wherever you want to set up camp, but make sure you come prepared with lots of supplies. The desert is a scorcher during the summer days, and it can be hard to find shade, so having plenty of water is an absolute must. Consider bringing a tent fan along as well for some extra air circulation.
6. Bullfrog
Remember how we talked about Lake Powell above? The Lone Rock Beach that I mentioned is on the far southern shore of the lake, so considering the massive size of this body of water, it only seemed fitting to talk about Bullfrog. Located more on the north side of Lake Powell, Bullfrog was named after a unique rock formation found on the western side of Mount Ellsworth.

Bullfrog is a popular place for folks to stop because of the marina and fishing opportunities found here. It's pretty common to see houseboats floating down the river with a few kayaks popping up here and there. And while it's certainly no Moab when it comes to hiking and other outdoor activities, there are plenty of trails through canyons and across other scenic landscapes.

The Bullfrog RV park and campground has 80 concrete padded sites for you to set up camp for the night. Reservations are required, and there's a $30 fee to access the campground. If you're looking for a free option where you can get away from the crowds, consider grabbing your tent and setting up on the BLM land alongside Hwy 276 or the Burr Trail.
7. High Uintas Wilderness
Not all of Utah is a desert wonderland, as you might have come to expect from the locations listed above. There are miles and miles of vast wilderness in various parts of the state, sporting green forests, high mountain peaks, and stunning glacial lakes. High Uintas Wilderness is one such place.

The wilderness itself encompasses 456,705 acres of land in northeastern Utah. While many portions of this landscape definitely still have that desert vibe, it's much more full of life than the southern reaches of the state. Here, you'll find Utah's highest mountain peaks, stunning blue lakes, countless hiking and horseback riding trails, and enough rock climbing and fishing opportunities to satisfy your outdoor cravings. All in all, if you enjoy nature to even the smallest degree, you'll love it here.

There are a couple of established campgrounds that you can choose from, such as Trial Lake. However, I'm a fan of the primitive camping opportunities that abound along the edge of the dirt roads in the area. It's a great way to get some privacy, which is probably why you came out to this part of the world to begin with.
8. Wasatch National Forest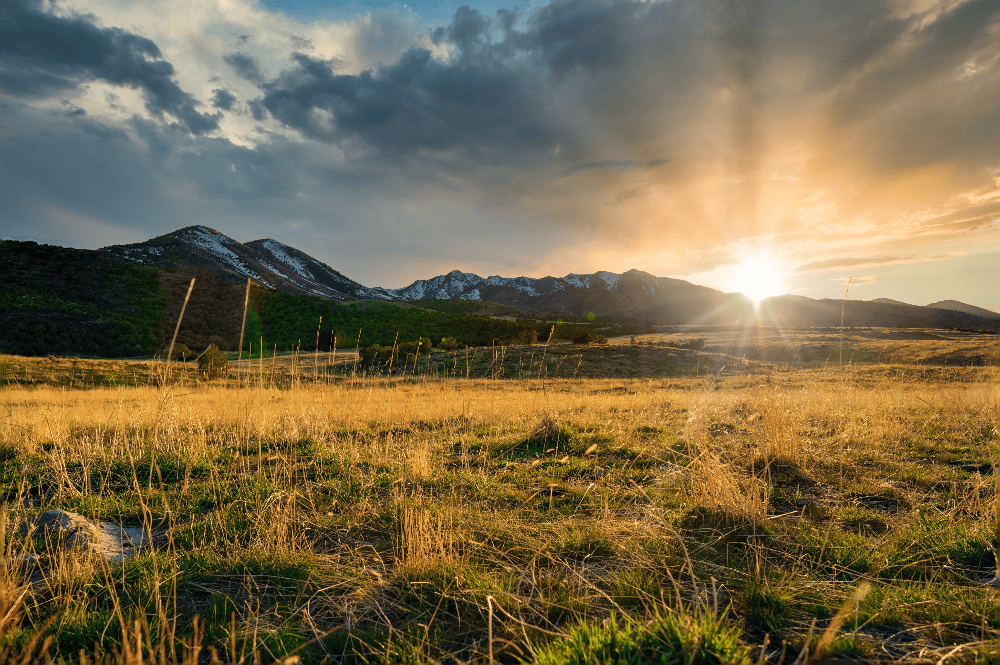 Deriving its name from an Indian word, Wasatch National Forest refers to a location found low among the high mountains. The entire forest is quite large, taking up residence in 3 states (Utah, Wyoming, and Idaho), especially now that it was combined with the Uinta Wilderness. There are many locations that can feel quite remote, and others that are a mere handful of miles from Salt Lake City, making it a very "urban" natural sanctuary. If you're more of a city person who enjoys spending time in nature without getting too far removed from civilization, you'll love it here.

There are quite a few campground close to the big city, but my personal favorite is Albion Basin in Alta. It often remains closed until July, due to the large amounts of snow that like to stick around late into the year. However, once the ground has cleared out, the view of the wildflowers and surrounding mountains are unbeatable. Don't be surprised if you see a few moose or mountain goats roaming around next to the stream that cuts through the basin, or on the face of Devils Castle.

As always, I'm quite partial to dispersed camping if I have the opportunity to do so, and I think some of the best camping in Utah is dispersed. The national forest is a great place to set up camping (almost) wherever you want to go, so you can escape the crowds and immerse yourself in nature. Remember not to make camp within a couple hundred feet of water sources, and avoid areas where the vegetation will limit your travel.
9. Antelope Island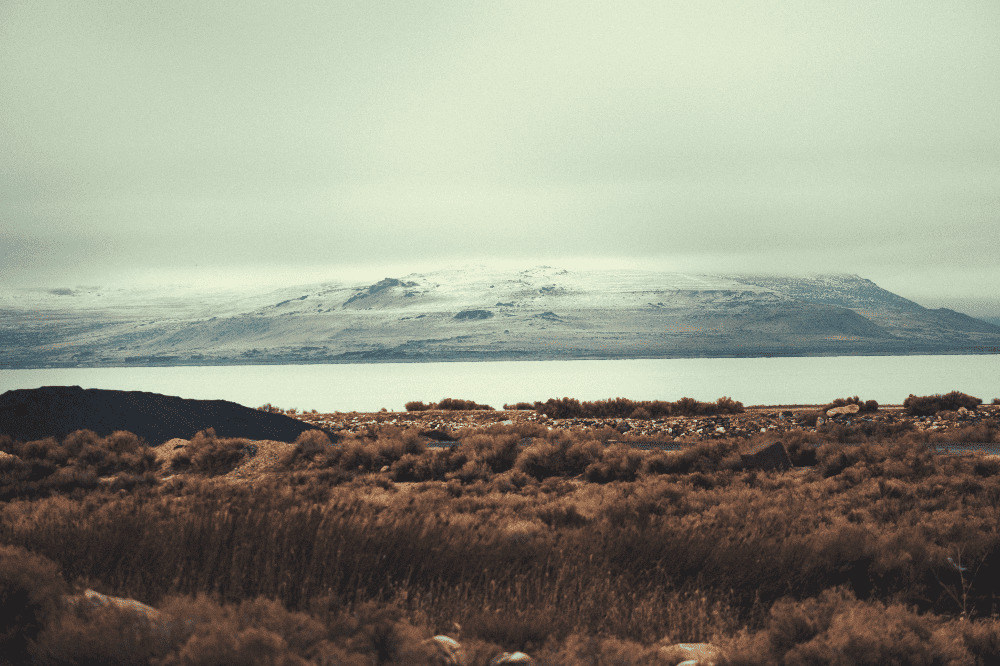 If you thought Wasatch National Forest was a city lover's dream come true, just wait until you check out Antelope Island. A mere 42 miles from the town of Ogden, and just as close to Salt Lake city as the crow flies, you don't have to drive far to escape the city lights. While not completely surrounded by water anymore, Antelope Island is a stunning peninsula that juts right out into the Great Salt Lake.

To get the most out of your time here, grab a bike or a horse to explore the vast expanse of land. And since the lake is so close by, who could resist a dip in the extremely salty water? Whether you want to swim, kayak, or just sit on the beach, there are many ways to enjoy the massive lake. Make sure you don't forget to keep a camera on you at all times either, as it's common to see free-ranging bison, mule deer, antelope, big horned sheep, and many other desert animals.

There are a handful of campgrounds located on Antelope Island, but they can be a little spendy and there aren't any water or electrical hookups. I recommend (again) going with the dispersed camping option, if you really want to experience the best camping in Utah. There are plenty of flat and comfortable stretches of land that would make for the perfect place to lay back to look at the stars before falling asleep.

What's your favorite?
If you've visited Utah or are fortunate enough to call it home, we want to hear what your favorite camping spots are! We recognize that this is a big state with an endless number of idyllic camping opportunities that we weren't able to include in this article. Drop your top pick in the comments below to let us know your choice for the best camping in Utah!

Interested in camping but don't have all the gear you need? Check out our Camping archive to find all of the information you need to prepare for your next night in the wild!
---
Related Posts: