If you're in a hurry and want to find out what the best pop up tent is, we recommend the Moon Lence 4 Person Pop Up Tent.

We all know that feeling of the sun beating down on us when we're at the beach or an outdoor event. Umbrellas are a pain to hold, and sunscreen just makes you feel gross after putting it on. If only there was a shelter that was super easy to set up, specially designed for situations like these…

Oh yeah, there is.

Whether for privacy at the beach or weather concerns on the trail, pop up tents will become your new best friend when you need a quick shelter to escape into. Check out our reviews below of the best pop up tents.
In this article, we'll be reviewing the following pop up tents:
What You Need to Know
Instant vs Pop Up
It's common to confuse the terms "pop up" and "instant" as it relates to tents. While similar in a lot of ways, including how quick it is to set them up, there are differences that will impact the way that they should be used. Instant tents tend to be more durable, but they're also bulkier to carry around. Pop up tents require almost no effort to put together and take down, but they tend to be small and flimsy.

The biggest difference, though, is how they're set up. Pop ups spring into place as soon as you take out of the carrying case. Looking something like those travel tunnel tents, almost nothing has to be done on your part to set up, aside from making sure the poles and joints are all in place. Instant tents, on the other hand, require a little more work like unrolling the tent, moving the poles into position, and pushing everything into place.

There are some "instant" tents that spring together like a pop up, but these are few and far between.
Ease of Setup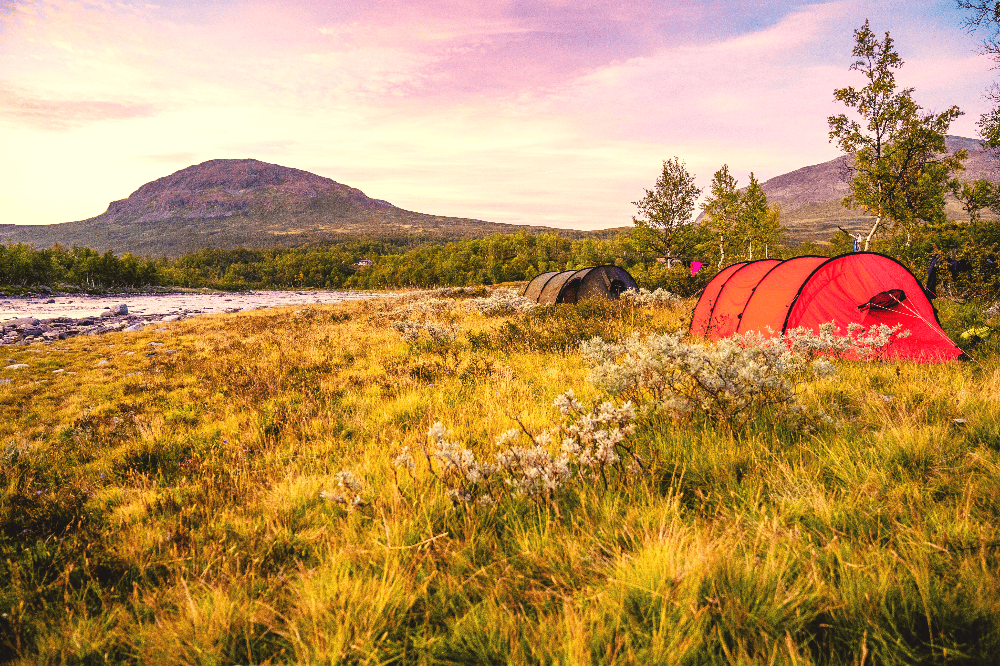 Like instant tents, pop ups are exceedingly easy to set up. In fact, it could be argued that pop ups are even easier to put together because you don't have to do anything other than pull it out of the case! The way that they spring into shape does all the work for you, whereas you still have to put in some effort into instant tents.
UV Protection
If you're like me, the first time you ever heard that a tent had UV protection, you probably thought it was protecting you from the sun! However, when the manufacturer talks about their product being UV resistant, they're referring to the tent itself. Being outside all the time, these temporary shelters take quite the beating from the elements, and the sun is no different. All of the radiation that the tent material is exposed to during the day can wear it down faster, causing it to rip or fray more easily. It can also whittle down the water resistant coating placed on tent fabric, which is bad if you were hoping to stay dry during the night.
Durability
Pop up tents were made for quick and easy setup to provide an instant shelter. More often than not, these tents were not designed to withstand the rigors of rough weather or extended periods of use. The materials are more flimsy, and the poles aren't as sturdy as your traditional camping tent, so don't try to muscle through any severe weather with it!

While there are some pop up tents that work well for camping and backpacking (which we'll talk about below), check out what the manufacturer recommends you use it for before you buy anything. If you're looking for something to block the sun while hanging out at the beach, or need a place to relax at an outdoor venue, these tents are great for their ease of setup and portability.
Size
Typically not the largest tents you'll ever encounter, automatic pop up tents are ideal for creating your own private shelter if you're in an area with a lot of people. There are a lot of concert goers who like to just pop their tent up at an outdoor venue and feel like they're getting a private show since they're surrounded by tent walls instead of walls of people. For use in this sort of context, your best bet will likely be to find something between a 3 person pop up tent and a one man pop up tent.

If you have kids who are begging to sleep out in the yard, pop ups are the perfect size to let them live their adventure. Along the same lines, you can also find a pop up gazebo for a different style of shelter. Though not a traditional tent, a pop up gazebo can still be a great, easy to setup shelter for outdoor gatherings when you need something to block the sun or rain.
Pop Up Tent Reviews
Tent Material: Polyester
Pole Material: Fiberglass
Weight: 6 Pounds
Number of Doors: 1
Truly the definition of a pop up tent, Coleman claims that their pop up can be set up in under 10 seconds. Be careful where you decide to pull it out of its bag…it'll spring into place before you know what happened!

Great for festivals or car camping, this tent is also sturdy enough to handle mild wind and rain with no issues. Coleman does claim that the fly is both water and fire resistant. As far as preventing water leakage, that claim does seem to be true. If you feel the need to test the fire resistance, I'll leave that one up to you.

Pop up tents are not known for their durability, and this tent is no exception. However, as long as you keep it out of extreme weather and don't set up on any sharp rocks, you shouldn't have any issues with it.

Pros:

– 10 second assembly
– Water and fire resistant
– Multiposition rainfly
– Sturdy
– Materials are good quality

Cons:

– Difficult to fold back up
Tent Material: Polyester
Pole Material: Fiberglass
Weight: 10.8 Pounds
Number of Doors: 2
I haven't found a tent made by Moon Lence that I didn't like, and their pop up is no different. Though it takes a little more effort to put together than the Coleman tent above, all you have to do is lift the top and pull out the legs until they snap into place. Incredibly sturdy for a pop up, you should have no issues on windy or rainy days. It's one of the few pop up tents that I would feel comfortable taking with me deeper into the wilderness for an extended trip, simply because of how durable it is.

Moon Lence claims that this tent can comfortably hold 4 people, but I've seen some individuals comment that it could sleep up to 6, if you didn't mind a snug fit. With two large doors on each side, and a couple ground vents for added airflow, this pop up truly is a terrific value for how much it costs.

Pros:

– Water, wind, and UV resistant
– Two large doors and two ground vents for airflow
– Easily fits 4 adults
– Smooth zippers

Cons:

– A bit heavy for backpacking
Tent Material: Polyester
Pole Material: Fiberglass
Weight: 7.5 Pounds
Number of Doors: 2
Yet another tent that's great for an extended camping trip, Kejector's pop up is perfect for a group of 2 or 3 who are planning to trek. Shockingly cheap for the quality, it's relatively lightweight for a pop up, coming in at a little over 7 pounds. It also comes with a carry case, so portability won't be an issue when you're out and about. 

Setup can be done in under 30 seconds thanks to the hydraulic system built into the tent. Though it may take a handful of tries before you can get it up and ready in that amount of time, setup in under 2 minutes is definitely possible even for a novice.

It's marketed as a 3 person tent, but the sweet spot is really closer to 2 adults and a dog, if you like a cozy fit. However, given the weight, you could certainly use it as a single person tent and have plenty of extra space for your gear. Especially if you ditch the walls and only take the canopy, which would significantly cut back on the weight.

Pros:

– Sturdy in strong wind
– Versatile
– Manual hydraulic system
– Pocket and hook to hang a light
– Multiple modes

Cons:

– May have trouble with rain
Tent Material: Polyester
Pole Material: Fiberglass
Weight: 7.85 Pounds
Number of Doors: 2
The Mimajor tent does what any good pop up shelter should do…

Pop!

It's so easy to set up that you won't even need instructions. Taking it back down again is a different story, but can still be done in under a minute once you know what you're doing.

Spacious and airy, this is the perfect tent for a night in the backyard or a day out on the beach. At 7.85 pounds, it's something you could easily take car camping as well. The peak of the tent rises to about 3.5 feet, which is pretty low, even for a pop up tent. However, the horizontal space works well for two people to get cozy, or you could enjoy all of the space to yourself. There are plenty of pockets for storage, and some neat windows and vents for airflow.

It is lightweight, but due to its size when packed up, it isn't suitable for backpacking or long hikes. If you're car camping or looking to bring some shelter wherever you're going, sling it on your back and bring out your inner Teenage Mutant Ninja Turtle.

Pros:

– 3 second setup
– Spacious
– Good in strong weather
– Plenty of storage
– Quality material

Cons:

– A little difficult to fold back up
– Large size even when folded
Tent Material: Polyester
Pole Material: Fiberglass
Weight: 3.75
Number of Doors: 2
The Ubon 2-3 person pop up tent is versatile enough for almost any outdoor experience. It's light enough to bring with you on a backpacking trip, though you may struggle to fit it inside of your pack. When packed up, the tent forms a circle that's 2 feet in diameter. If you can manage to fit it into your backpack or find another creative way to carry it, you won't be disappointed by its performance.

The two doors have a mesh covering so you can maximize airflow without letting in any critters. The top is also mesh, which adds to the ventilation. It's great for clear summer nights when you don't need your rainfly and want to stare up at the sky as you drift off to sleep.

Labeled as a 2-3 person tent, I wouldn't recommend trying to squeeze 3 people inside. I would use it as a single person tent, especially considering how light it is, but there's enough space for 2 as well.

Pros:

– Lightweight
– Good ventilation
– Mesh covered doors
– Versatile for most types of camping

Cons:

– Not very water resistant or durable
Tent Material: Polyester
Pole Material: Fiberglass
Weight: 9.6 Pounds
Number of Doors: 2
I don't often think of pop up tents as the most durable shelters out there, but Londren's tent might just change my opinion. At 9.5 pounds, it's a bit heavy for what I would want to bring on a backpacking trip, but I see no reason why you couldn't hole up in this tank for a few nights at a campground.

The poles are incredibly durable, and the fabric repels water like no one's business. Once you've got it set up and staked down, you'll be good to go no matter what weather comes your way. Altogether, I would say it takes about 4 minutes to put together, with most of the time being eaten up by the process of staking it down. Unfortunately, it's a real pain to try and fold back up again, so I'd definitely suggest you stay in one place with this tent.

On the sides, there are two windows that create an excellent cross breeze. I also love that the zippers seem to be pretty high quality, which is hard to find in many tents!

Pros:

– The poles are very strong
– Easy to set up
– Waterproof material
– Good windows for ventilation
– High quality zippers
– Bigger than it looks!

Cons:

– Pretty difficult to fold back down again
Tent Material: Polyester
Pole Material: Fiberglass
Weight: 6 Pounds
Number of Doors: 2
Great for festivals or a few nights car camping, BRGOOD's pop up tent won't keep you very warm, but it wasn't really meant to. As you can see from the image above, both sides completely open up, allowing for incredible airflow and visibility. It's the sort of thing I would take to an outdoor event, or a day at the beach, in order to get the most out of the experience while remaining protected from the sun and rain.

Admittedly, it's not the most waterproof shelter out there, but it's also pretty cheap. You can always spray a waterproof coating on it, or use it exclusively on dry days, since it's not the sort of tent designed to be lived in. In spite of this, it is exceptionally easy to set up, only requiring you to pull it out of its carry case. Once you let go, it does all the hard work, putting itself together in a handful of seconds like a good pop up should. Putting it back in the carry case is a bit more difficult, but that's part of the fun that comes with these shelters!

Pros:

– Sets up in seconds
– Phenomenal ventilation
– Comes with plenty of storage space inside
– Great for sunny days at the beach or a festival
– The doors make nice awnings

Cons:

– Not really meant to be lived in
– Isn't super waterproof
Tent Material: Polyester
Pole Material: Wire
Weight: 3.3 Pounds
Number of Doors: 1
Perfect as a makeshift shelter against the sun, wind, and a bit of rain, Oniva's pop up tent is what I would bring to a picnic or other outdoor gettogether. As you can see, this shelter only has 3 sides, so it's not suitable for camping or bad weather. However, for an afternoon picnic or a day at the beach, it makes for a comfortable place to relax.

The zippered mesh in the back of the shelter makes for a nice cross breeze, if you're starting to heat up. It might not be the most weatherproof product out there, but it's inexpensive and can hold a decent number of people. For a pop up shade, this is essentially all you need anyway, so it's difficult to complain about the lack of weatherproofing. Lightweight and easy to set up, it's a nice addition to whatever stash of outdoor gear you happen to have.

Pros:

– Fairly spacious
– Very lightweight
– Excellent ventilation
– Easy to use
– Packs up pretty small

Cons:

– Very difficult to fold back up
– Material is relatively fragile
At Untamed Space, we're passionate about helping you have the best camping experience possible. Our team of experts have experience camping and backpacking all over the world, allowing them to provide insightful and relevant content to guide you in your outdoor pursuits.

All of our reviews are based on a combination of firsthand experience, extensive research, and an analysis of customer feedback. We are an independent website and do not receive payments or incentives from manufacturers to promote their products, and we continuously update our content to provide new information based on product availability. Wherever you are in your journey, whatever gear you're searching for, you can be sure to find unbiased and up-to-date reviews for all of your needs.
FAQ
Is it Easy to Use a Pop-Up Tent?
There are few tents that are easier to use than the pop-up variety. They go up in a flash, and require very little technical skill and knowledge to finish putting together. Packing them back down again can be challenging, but overall, they are one of the easiest tents to use.
How Long Does it Take to Set Up a Pop-Up Tent?
Most pop-up tents can literally be set up in a matter of seconds. However, when you factor in the time needed to stake them down, it may take a couple of minutes.
The Winner
I'm willing to bet that the main reason you're looking at pop up tents is because you want something easy to set up. But what good is easy setup when it collapses in the wind or leaks in the rain? That's why I love Moon Lence's 4 person pop up tent. They managed to keep the process of pitching the tent effortless without compromising on what tents are supposed to be made for: quality shelter.

The fact that it's a 4 person tent that can actually hold 4 adults is amazing enough. Add in the durability against wind, water, and UV, the large doors, and ground vents to help with condensation buildup, and you've got yourself a winner.

Looking for something easy to set up, but don't think pop up tents will do the trick? Check out our review on instant tents!
---
Related Posts: