If you're in a rush and want to find out what the best rock climbing harness is, we recommend the Petzl Corax Climbing Harness.

When it comes to rock climbing, there really is no such thing as a useless piece of gear. Everything has a purpose, and is vital for your safety in one way or another…however, some items are arguably more valuable than others. Your climbing harness is one of these vital lifelines, making it all the more essential that you find the best one you possibly can. You can climb without a belay device, chalk, climbing shoes, and accessory cord, but you can't (safely) climb without a harness. Let's look at what makes the best climbing harness before diving into individual reviews.
In this article, we'll be reviewing the following harnesses:
Fit
An incredibly important factor for any harness, it's no wonder it's hard to find any that are "one size fits all." Rock climbers basically live in their harnesses, so wearing one that's too small is going to be a painful experience after a certain amount of time. However, going too big is also problematic if you end up running the risk of sliding out of it at the worst possible time, especially if you're carrying a heavy rack of quickdraws and related gear. Find a size that's loose enough where you can sit comfortably in it all day, but is still tight enough where it won't fall below your hips.
Comfort
This one shouldn't take much explanation. Whether you've called for a "take," or you fell and need some time to catch your breath, you'll find yourself weighting your harness multiple times a day. Trust me when I tell you that you'll want something soft and cushy digging into your legs and crotch area, otherwise you're in for a world of pain. Some harnesses have more padding than others, and ultimately it comes down to personal preference when you're determining what you want. Personally, I like a slimmer profile and enough cushion to be able to tolerate sitting in my harness for an extended period of time, though I try to avoid hanging around for too long. My wife, on the other hand, likes to have a bit more padding than I do.
Hard Points and Belay Loop
[convertkit form=5234338]
Not all harnesses are created equal when it comes to these features. The most common design is having your 2 hard points on top of each other with your belay loop connecting them, but there are some harnesses that only have a single loop to tie into and belay from. I wouldn't recommend using these.

As you continue to learn how to climb, you'll probably find that the harnesses with a single loop are far less comfortable than the other style. They tend to be more of a one size fits all design, meaning some padding had to be left out so they could accommodate any body type. In addition to that, having one loop means that all of the wear from climbing and belaying is being put on a single point, instead of being spread out among multiple areas. This will wear out your gear faster, which is never a good thing.
Double Back Buckles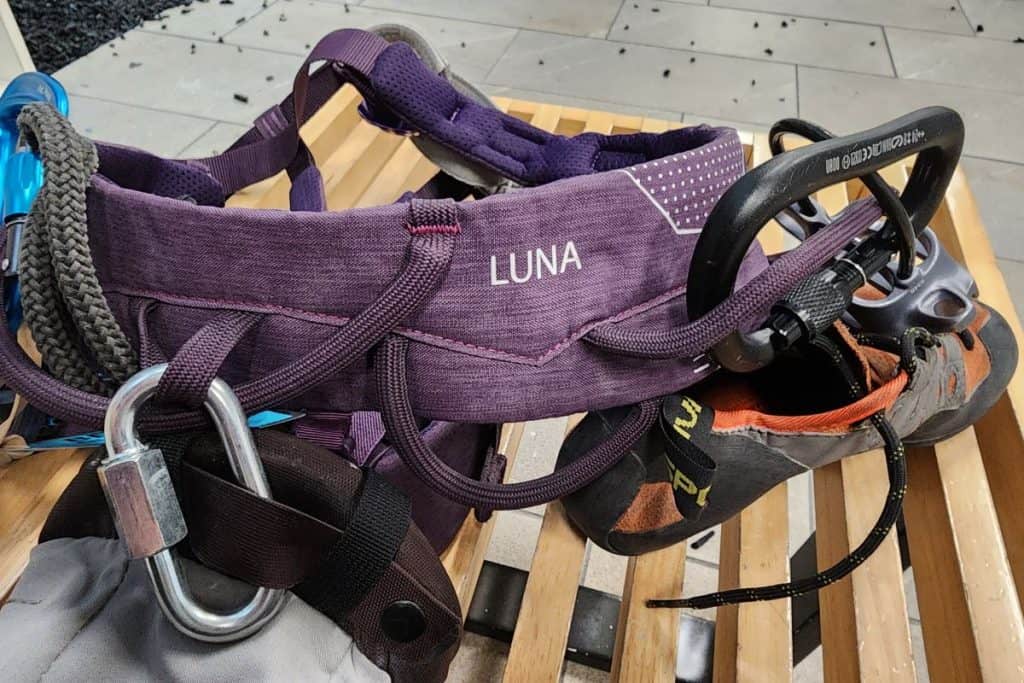 Most climbing harnesses are designed with buckles that are already double backed (meaning, the belt comes through the buckle and then folds back through it again). These are the most secure type of buckles, and the only thing you should be climbing on. However, not all harnesses come with buckles that are already double backed – sometimes you'll have to do this yourself, whether it comes that way or the buckle comes undone by itself. Keep an eye on it every time you put it on.
Best Climbing Harness Reviews
The Petzl Corax is actually the harness that I've climbed in for the last several years. It's without a doubt the best harness I've ever worn, and is probably the harness I'll get again when my current one wears out. Both the waist and leg loops have double backed buckles that are easily adjustable, allowing this harness to fit most body types. As I mentioned before, I like a more streamlined design without giving up on comfort completely, and the Corax has done just that for me. There's enough padding to stay comfortable enough while you're hanging out, but not too much where it starts to feel bulky and awkward.

Once you've cinched the waist loop to your desired tightness, there are a couple elastic bands that keep the excess belt close to your body. Additionally, there are plenty of loops spread around the harness to attach your gear, as well as a smaller band in the back for you to clip your chalk bag.

Pros:

– Streamlined design
– Plenty of gear loops
– Double backed buckles
– Adjustable to fit many body types
– Sturdy belay loop and hard points

Cons:

– Padding might not be sufficient enough for some climbers
A friend of mine climbs with the Black Diamond Momentum harness and absolutely loves it. Of course, most of his gear is made by Black Diamond so he might be a little biased, but having worn his harness a couple of times, I have to agree that it's a good product.

While not really my style, I have to admit that this product is a true tank. Everything is reinforced, double stitched, or ultra padded for maximum security and comfort. For how inexpensive it is, it certainly has the feel of an extremely high quality product, making it a great choice for beginner/intermediate climbers.

The interesting thing about this harness is that it doesn't have any buckles. Instead, Black Diamond incorporated their trakFIT technology that uses a slider adjuster to provide a secure fit. I have to admit, I'm still not really sure how I feel about this…but from my experience, I haven't had any issues with the straps tightening or loosening on their own.

Pros:

– Reinforced and double stitched material
– Ultra padded
– Inexpensive for the quality you get
– New trakFIT technology

Cons:

– Sizing can be a little tricky – I recommend ordering a size up
Another one by Petzl, the Luna is the harness that my wife swears by and would recommend for any female climber. She's my primary belayer, and the leg straps can dig into her skin when she's holding my weight (I'm about 70 pounds heavier than her) but this harness doesn't give her any problems. The padding is a lot thicker than it is on my harness, and the design took into account the contours of a woman's stereotypically wider hips.

Because it's a product designed for women, it does only come in female gendered colors. Some of you might like this, some of you might not – I personally wish there was an option with neutral colors. However, in the grand scheme of things, having the colors be my biggest complaint isn't much of a problem.

With double backed buckles and plenty of gear loops, this harness has all of the features that you would ever want or need. My wife has put hers through countless times at the gym and many visits to crags in multiple states, and it stills shows almost no sign of wear.

Pros:

– Great design for women
– Extra padding
– Double backed buckles
– Durable
– Plenty of gear loops

Cons:

– Color choices
– One waist strap
A bit more budget-friendly than the Petzl Luna, the Mammut Ophir 3 is another good harness option for women. It really shines when it comes to adjustability, as the "Slide Bloc" buckles give you a lot of freedom with how tight or loose you want your waist and leg straps. And because safety is so important, you get this ease of adjustability without compromising on the double-back configuration that's necessary to ensure the buckles don't come undone.

What I also like about the Ophir is how lightweight it is. You might not always think about it, but weight is a really important consideration when you're climbing. All of those extra ounces are just making it that much harder to hang onto those narrow crimps and slippery slopers. Weighing in at 0.77 ounces, you're going to struggle to find a better-quality harness than the Ophir, especially when considering the price-to-weight ratio.

Unfortunately, that reduction in weight does equal a reduction in padding. The Ophir isn't nearly as comfortable as the Luna, due to the minimal amount of padding and the narrow waistbelt. Some of the front straps may dig into your groin uncomfortably on longer "takes" as well. But for an affordable, highly-adjustable, lightweight rock climbing harness, some compromises are going to have to be made, which is why I still believe the Ophir is perfect for a certain type of female climber.

Pros:

– Easily adjustable
– Lightweight
– Affordable
– Easy to get on and off
– Secure and durable

Cons:

– Not as comfortable
It might not be budget friendly, but the Wild Country Mosquito has everything you could ever want in a harness. Not only is it incredibly lightweight, but it doesn't skimp out on padding either (as most lightweight harnesses tend to do). A nice variety of gear loops give you space to hang your rack, as the Mosquito sports two rigid loops in the front and two flexible loops in the back.

The harness itself isn't very stifling, allowing you to move your body in a wide range of motion. At the same time, despite the freedom you'll experience while wearing it, the straps and loops are all very secure. As long as you cinch it tight over your hip bone, there's pretty much no chance that you'll slip out of the harness, even when taking a brutal whipper.

It's shockingly comfortable for how lightweight it is, and if you're like me, you'll probably forget you're even wearing it. Now, if you're constantly sitting in it (like when you're belaying for a multipitch), it's going to get uncomfortable faster than most. However, in my opinion, it's still the best harness in this review. It might not have made "best overall" because of the higher price tag, but I have no problem giving it my stamp of approval as "editor's choice" instead.

Pros:

– Lightweight
– Nice gear loops
– Pretty comfortable
– Secure and durable
– Allows for wide range of motion

Cons:

– Price
At Untamed Space, we're passionate about helping you have the best camping experience possible. Our team of experts have experience camping and backpacking all over the world, allowing them to provide insightful and relevant content to guide you in your outdoor pursuits.

All of our reviews are based on a combination of firsthand experience, extensive research, and an analysis of customer feedback. We are an independent website and do not receive payments or incentives from manufacturers to promote their products, and we continuously update our content to provide new information based on product availability. Wherever you are in your journey, whatever gear you're searching for, you can be sure to find unbiased and up-to-date reviews for all of your needs.
Final Thoughts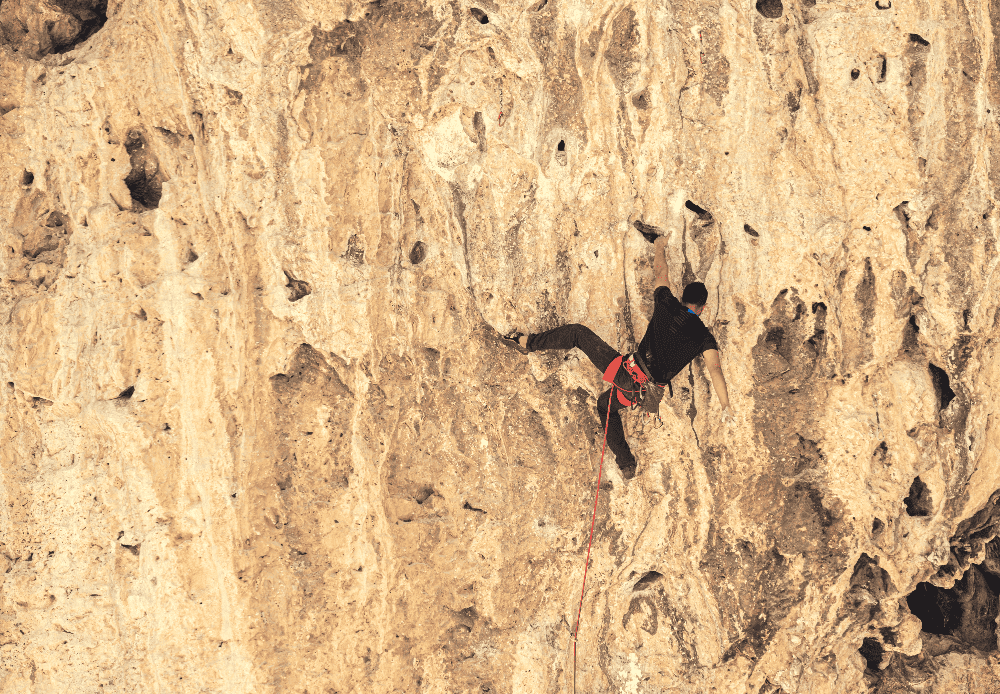 Finding the right climbing harness is an important step to take. When I first starting climbing, I went far too long just being content to rent a mediocre harness from the gym I climbed at, not realizing how much better (and cheaper) it would be if I just bought my own. Through trial and error, I eventually ended up with the Petzl Corax, and I can't recommend it enough.

I love how there's an adjustable waist strap on both sides, so I can tighten it evenly. The harness fits comfortably around my waist and legs, and the double backed buckles are a breeze to adjust. Even though it doesn't have as much padding as the other harnesses in this review, I've never had an issue with comfort, even after climbing and belaying all day. As long as you get the right size, I've found almost nothing to complain about with this product, and would gladly get it again when my current one wears out.

Need some shoes to go with your harness? Check out our review on some of the best climbing shoes here!
---
Related Posts: