If you're in a hurry and want to find out what the best rock climbing helmet is, we recommend the Black Diamond Half Dome climbing helmet.

Rock climbing can be a dangerous sport. Apathy and a lack of knowledge cause several climbing related accidents every year, some of which can be fatal. Most of them relate to various types of protection, such as the rope, anchor, or other piece of gear malfunctioning, but there's another danger that you should look out for as well.

The rock itself.

Between rocks falling on your head, or falling and hitting your head on a rock, the natural landscape can pose its own threat. To give yourself some added protection and keep your noggin free from harm, every rock climber should have a good helmet to keep them safe. So keep on reading to check out some of the best rock climbing helmets and what you should look out for!
In this article, we'll be reviewing the following rock climbing helmets:
Why Wear a Helmet?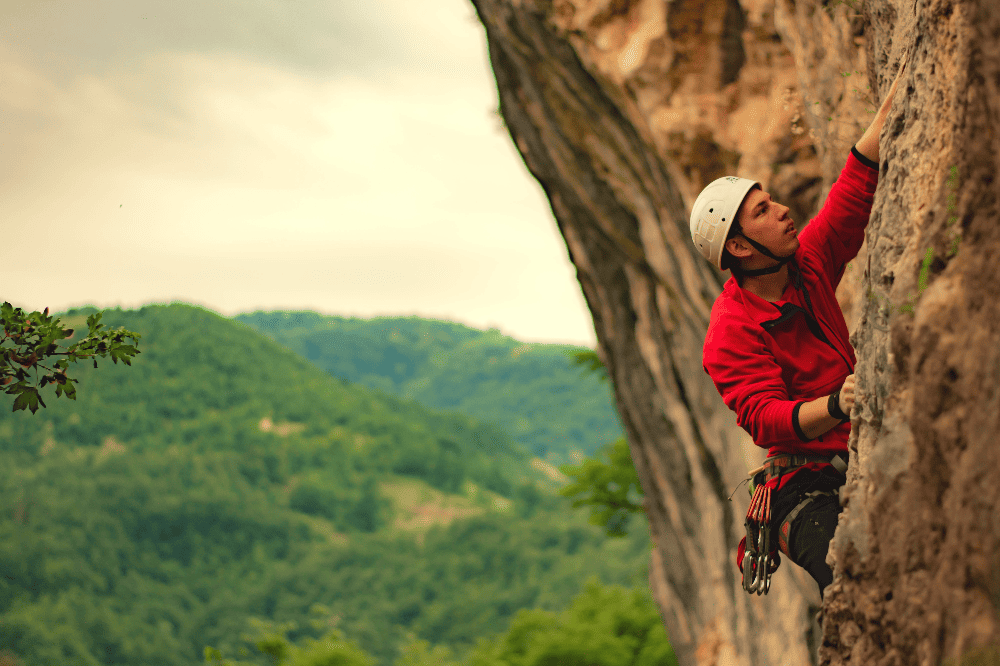 I've spent a lot of time climbing outside at various crags in the US, and met many other climbers in the process. Some of them never wear a helmet, even when it would seem pretty obvious that they should… Others wear one all the time, even when they aren't anywhere near the rock, and there are plenty of others between these two extremes.

Everyone seems to have their own opinion on when a helmet should be worn, but what's the correct way? My answer is: when you're in danger.

If you're just learning how to climb, you might not have a clear idea of what it means to be in danger. Are you in danger when you're belaying? Yes, you are. The climber may pull or kick off a loose chunk of rock that could then come hurtling down at you, and without a helmet, you might get knocked out. Obviously, that's a pretty big problem for the climber too!

Are you in danger when you're climbing? Yes, though arguably less so. There's generally no one kicking rocks down at you (though I have seen some randomly fall without warning), but that's not the only thing you should be concerned about. For sport climbers especially, those first 2-3 bolts can be really sketchy. If there's too much slack, and the climber falls, it's easy to plummet 20 feet headfirst into the ground. At that point in time, a helmet might very much save your life.

At the end of the day, whether you're climbing or belaying, it certainly can't hurt to have some head protection. Accidents come unexpectedly, and when they do, you'll be glad you took some extra measures to stay safe.
Shell Types
The shell is the outer covering of the helmet, and your first line of defense against falling objects and impacts. ABS is the most common shell material, and it's the recommended choice for new climbers or those who are budget conscious. It can absorb larger impacts, due to their thickness, but with that extra protection comes extra weight.

Helmets with a polycarbonate shell are going to be less durable, but lighter weight, making them more ideal for multi-pitching and other high intensity routes. You will need to treat this style of helmet with more care, but it tends to be the top pick for veteran climbers interested in shaving weight.
Foam Types
Now, let's take a look at what the shell is protecting. Foam is what absorbs almost all of the impact from a fall rock, protecting your head from as much damage as possible. As far as foam goes, you really have two options:

Expanded polystyrene (EPS)
Extremely hard and effective at absorbing impacts, EPS has been put inside rock climbing helmets since…forever. However, despite its effectiveness, EPS tends to be fragile and unable to absorb multiple impacts. Lighter weight EPS can sometimes fracture just from being tossed to the ground, and once that happens, it's time to retire the helmet.

Expanded polypropylene: (EPP)
This is what you'll find in car bumpers to absorb impact, and it's far more durable that EPS. This material is becoming more common, but the downside is that it's relatively expensive. Still, in a test of strength, weight, and durability, EPP wins every time, making it well worth the extra cost. The Petzl Boreo, reviewed below, makes use of EPP as its foam of choice.
Amount of Protection
Thanks to the UIAA and EN, all rock climbing helmets meet a certain standard of safety. Which is to say, all helmets are able to take an impact from above, such as from a falling rock. However, beyond that, there's some diversity in a helmet's ability to protect the front, back, and sides of the wearer's head. Wraparound coverage is essential for lead climbers who may take a headfirst fall, and it seems like the UIAA may develop a new standard for this "around the head' protection.

For the time being, models like the Petzl Boreo are certified for top and side protection, giving climbers and belayers more security while at the crag. Others, like the Black Diamond Vision, have features that increase fall protection. If you care about guarding as much of your head as possible, I'd suggest going with one of these models.
Comfort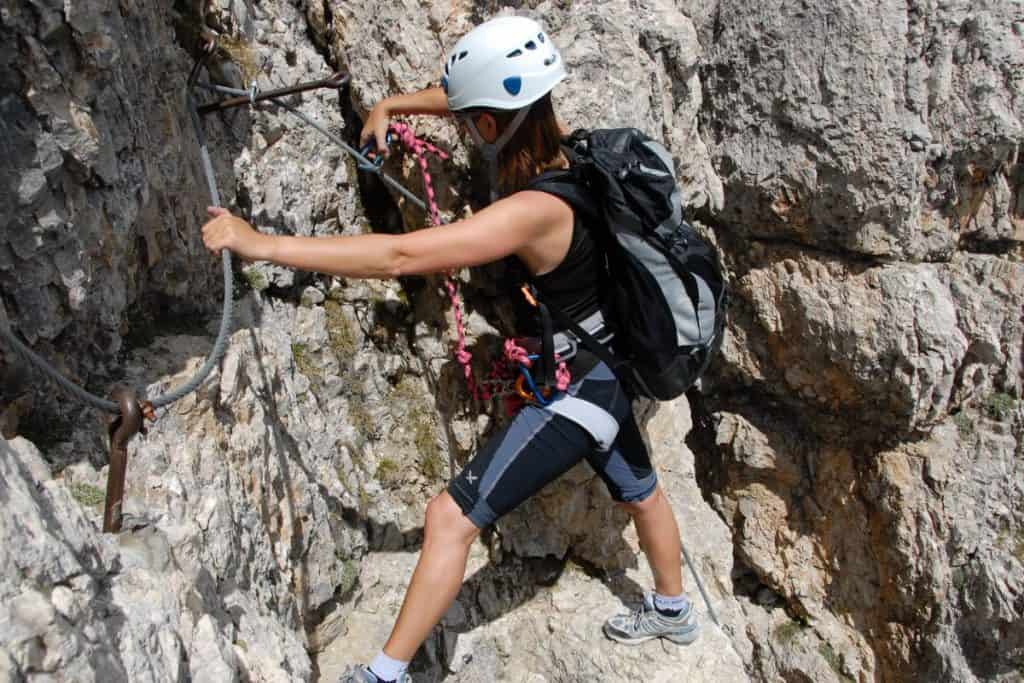 A helmet is a helmet, and most of them have similar qualities. However, not all of them fit the same, with some having terrible compatibility with larger heads. Others are too loose, and require adjusting, when possible. You should be able to shake your head up and down in a vigorous nod, without noticing your helmet moving around very much. And if it rests on top of your head like a yarmulke, you're in need of a larger size.
Ventilation
In the past, one of the biggest complaints regarding rock climbing helmets was the lack of ventilation. When you're covering your head all day, often in hot environments, you're going to get sweaty and uncomfortable in a hurry.

That being said, manufacturers have been putting a lot of emphasis on ventilation in recent years. It's a nice trend to see, though cold weather climbers will notice the chill more than they used to. There's also the (very minimal) risk that a thin piece of rock or ice will slide through the vent and injure your head. Still, for the most part, the pros seem to outweigh the cons, though we still recommend going for something middle of the road in terms of ventilation.
Rock Climbing Helmet Reviews
The Black Diamond Half Dome helmet is actually the one that I wear most frequently. So, from personal experience, I can tell you without a doubt that this is an amazing piece of gear to keep your head protected! Thankfully I've never had anything fall down on me while I'm climbing, though I have had a couple smaller rocks get dangerously close. But even though I've never "crash tested" it, I feel pretty comfortable trusting it with my life in that regard. The outer shell is quite sturdy, and I can confidently say that it would take a few solid hits before any noticeable damage would occur.

It's quite comfortable too. I have worn mine for several hours at a time, and aside from getting a little sweaty, it's easy to forget I'm wearing it. The addition of clips to secure a headlamp on the helmet is also a nice touch, and something I couldn't do without when I want to climb early in the morning or after dusk.

Pros:

– Durable outer shell and impact foam
– Comfortable
– Low profile
– Easy to adjust
– Ability to hold a headlamp

Cons:

– Not very thick protection. Shouldn't be an issue for smaller rocks, but larger items will probably hurt quite a bit upon impact.
Most of my climbing gear is from Petzl, and I trust them as a safe and reputable brand. While I don't wear the Petzl Boreo, I've known a lot of people who have, and I can say that they didn't skimp on quality. Like any other helmet, it has a hard outer shell to protect against piercing damage, as well as to add an extra protective layer over the foam. However, unlike many other helmets, this one has built in vents to help you stay cooler. Aesthetically speaking, I can't say I'm a huge fan of how it looks, though I can't deny that the vents are a really nice feature. In hot temperatures, having something on your head for an extended period of time will make you sweaty and sticky, but the openings on this helmet significantly help to prevent that.

The helmet is also adjustable, and it fits a variety of head sizes. I usually have issues with the ear straddles being too tight, and while they aren't adjustable on this product, they are large enough where they don't dig in uncomfortably.

Pros:

– Excellent ventilation
– Comfortable fit
– Highly adjustable
– Lightweight

Cons:

– Doesn't like to stay where you adjust it, when taken off
– The way it looks isn't my favorite, but that's not a huge issue
The Fusion Climb Meka helmet is a little different from the other helmets we've talked about so far. While not necessarily the greatest all around helmet, I do believe that it's a good option for rock climbers in particular. Riding a bit higher off your head than many other products do, it helps reduce the amount of impact you'd feel if a rock were to fall on you. The downside to this, though, is that it minimizes the amount of coverage you have for the back of your head, giving you a bit of an Achilles Heel.

Like the Petzl Boreo discussed above, this helmet also has a fair number of vents to help your head stay cool. In addition to that, it has built in brackets to hold a headlamp, so you can stay active even when the sun isn't shining.

It's a very lightweight helmet that makes use of a polycarbonate shell to shave off some ounces. However, between the polycarbonate shell and the EPS foam, you're going to have some problems with durability. The helmet can only take one good impact before you'll need to retire it, so make sure you value the weight reduction enough to choose something so fragile.

Pros:

– 10 vents to circulate air
– Sits high on the head
– Comfortable to wear
– Offers great protection from above
– Lightweight

Cons:

– Doesn't protect the base of the head very well
– Fragile materials
Arguably the most durable helmet in our review, the Black Diamond Vision is what you want to wear for extreme whippers and rock falls. The EPP foam is sturdy and won't easily break, even after it receives quite the beating. The same could be said for the polycarbonate shell, though it's not quite as durable as ABS, but that's not a problem. EPP foam is so tough that it doesn't even need a shell, so the polycarbonate is basically just there for show.

It's an exceptionally lightweight helmet, coming in at 7.9 ounces for the M/L size. Considering the strength and weight reduction, I can't think of a better helmet to wear for multipitches where the lead climber might be taking some wicked falls, potentially pulling off loose rock in the process. The sizing is pretty straightforward, so most people shouldn't have a problem picking something that fits well. Still, it's always good practice to try it on in store before buying, if you have the ability to do so.

Integrated clips give you the ability to attach a headlamp, and various hook and loop pads give you the option to customize your comfort. Even after a full day of wearing the helmet, you'll barely even realize it was on your head all that time. Yes, it's that comfortable.

Several vents provide adequate ventilation, though it's not as breathable as the BD Vapor. I don't really see that as a bad thing, though, as it means you get superior protection and more insulation in colder climates.

Pros:

– Lightweight
– Very durable
– Comfortable to wear
– Adjustable
– Integrated headlamp clips

Cons:

– Price
So light you'll forget you're wearing it, the Petzl Meteor might even feel lighter than some baseball caps hanging in your closet. Suffice it to say, it's perfect for multi-pitches and longer climbs where counting ounces starts to matter more, or for people who just don't like the feel of something wrapped around their head.

While it's marketed as a climbing and mountaineering helmet, I'm not sure how I feel about using it in colder temperatures. The excessive amount of ventilation is heavenly during the hot summer months, but it can get pretty chilly during the winter, or when you're climbing in alpine environments. For that reason, I'd probably recommend going with the larger helmet size, so you have room to wear a hat underneath.

The magnetic chin clasp takes some getting used to, but it's not a terrible design. It feels comfortable to wear for long periods of time, and it's truly a helmet that can be worn for all types of climbing, whether you're bouldering, sport/trad climbing, or ice climbing. Because of how lightweight it is, I am somewhat concerned about durability, but it seems to hold up pretty well under stress. For the price, it's a very nice year-round helmet that keeps the weight down and the protection up.

Pros:

– Lightweight
– Well ventilated
– Comfortable
– Magnetic chin strap
– Versatile

Cons:

– Durability may be a problem in the long haul
At Untamed Space, we're passionate about helping you have the best camping experience possible. Our team of experts have experience camping and backpacking all over the world, allowing them to provide insightful and relevant content to guide you in your outdoor pursuits.

All of our reviews are based on a combination of firsthand experience, extensive research, and an analysis of customer feedback. We are an independent website and do not receive payments or incentives from manufacturers to promote their products, and we continuously update our content to provide new information based on product availability. Wherever you are in your journey, whatever gear you're searching for, you can be sure to find unbiased and up-to-date reviews for all of your needs.
FAQ
How Do I Choose the Best Climbing Helmet?
Appearance, materials, and weight are the determining factors when choosing the best climbing helmet. A streamlined design that feels good on your head and protects it from as many directions as possible is what you want to look for.
Are Rigid Foam Helmets Good for Climbing?
Rigid foam helmets seem to provide the best protection from impacts out of any style of helmet. However, due to the lightweight nature of their materials, they tend to be sensitive and less durable in the long run.
How Long Do Climbing Helmets Last?
When treated with care, your climbing helmet should last for many years. Unless you take a massive blow to the noggin, that is, in which case it might be time to get some new head protection.
Conclusion
Your head is one of the most vulnerable parts of your body. Falling rocks, landing on your head, or unintentionally hitting it on a protruding rock are real threats that climbers face every time they climb outside. While you could argue that the risk is minimal, especially if you're the one climbing, is that really a risk you want to take? One stone is all it would take to change your life forever.

That's why climbing helmets are such an important asset to carry with your on all your endeavors. Different from regular helmets, they allow you to maintain your field of vision without sacrificing protection. The Black Diamond Half Dome in particular checks off a lot of important boxes that a good climbing helmet should have. Not only does it have great coverage, but it's also lightweight and comfortable to wear for extended periods of time. The brackets that hold your headlamp are also quite sturdy, and more than adequate to support the additional attachment.
---
Related Posts: