Home » Climbing » Best Rock Climbing Helmet to Keep Your Head Secure

If you're in a hurry and want to find out what the best rock climbing helmet is, we recommend the Black Diamond Half Dome Climbing Helmet.

Rock climbing can be a dangerous sport. Apathy and a lack of knowledge cause several climbing related accidents every year, some of which can be fatal. Most of them relate to various types of protection, such as the rope, anchor, or other piece of gear malfunctioning, but there's another danger that you should look out for as well.

The rock itself.

Between rocks falling on your head, or falling and hitting your head on a rock, the natural landscape can pose its own threat. To give yourself some added protection and keep your noggin free from harm, every rock climber should have a good helmet to keep them safe. So keep on reading to check out some of the best rock climbing helmets and what you should look out for!
In this article, we'll be reviewing the following rock climbing helmets:
Why Wear a Helmet?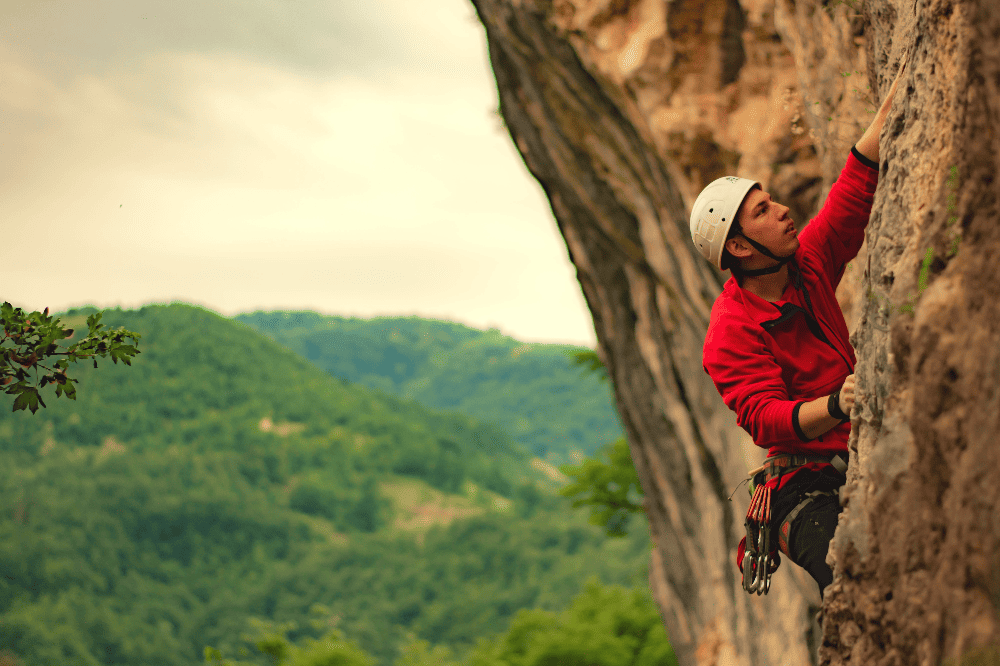 I've spent a lot of time climbing outside at various crags in the US, and met many other climbers in the process. Some of them never wear a helmet, even when it would seem pretty obvious that they should… Others wear one all the time, even when they aren't anywhere near the rock, and there are plenty of others between these two extremes.

Everyone seems to have their own opinion on when a helmet should be worn, but what's the correct way? My answer is: when you're in danger.

If you're just learning how to climb, you might not have a clear idea of what it means to be in danger. Are you in danger when you're belaying? Yes, you are. The climber may pull or kick off a loose chunk of rock that could then come hurtling down at you, and without a helmet, you might get knocked out. Obviously, that's a pretty big problem for the climber too!

Are you in danger when you're climbing? Yes, though arguably less so. There's generally no one kicking rocks down at you (though I have seen some randomly fall without warning), but that's not the only thing you should be concerned about. For sport climbers especially, those first 2-3 bolts can be really sketchy. If there's too much slack, and the climber falls, it's easy to plummet 20 feet headfirst into the ground. At that point in time, a helmet might very much save your life.

At the end of the day, whether you're climbing or belaying, it certainly can't hurt to have some head protection. Accidents come unexpectedly, and when they do, you'll be glad you took some extra measures to stay safe.
Comfort and Protection
A helmet is a helmet, and most of them have similar qualities. They all have an outer shell, and padding in the center to make it comfortable to wear. Individual differences are minimal, so your main priority should be finding something that can thoroughly protect your entire head, while still being comfortable to wear. You'll likely have it on for a long stretch of time, so if you can't handle the way it fits, you're in for a long day.
Rock Climbing Helmet Reviews
The Black Diamond Half Dome helmet is actually the one that I wear. So from personal experience, I can tell you without a doubt that this is an amazing piece of gear to keep your head protected! Thankfully I've never had anything fall down on me while I'm climbing, though I have had a couple smaller rocks get dangerously close. But even though I've never "crash tested" it, I feel pretty comfortable trusting it with my life in that regard. The outer shell is quite sturdy, and I can confidently say that it would take a few solid hits before any noticeable damage would occur.

It's quite comfortable too. I have worn mine for several hours at a time, and aside from getting a little sweaty, it's easy to forget I'm wearing it. The addition of clips to secure a headlamp on the helmet is also a nice touch, and something I couldn't do without when I want to climb early in the morning or after dusk.

Pros:

– Durable outer shell and impact foam
– Comfortable
– Low profile
– Easy to adjust

Cons:

– Not very thick protection. Shouldn't be an issue for smaller rocks, but larger items will probably hurt quite a bit upon impact.
Most of my climbing gear is from Petzl, and I trust them as a safe and reputable brand. While I don't wear this helmet, I've known a lot of people who have, and I can say that they didn't skimp on quality. Like any other helmet, it has a hard outer shell to protect against piercing damage, as well as to add an extra protective layer over the foam. However, unlike many other helmets, this one has built in vents to help you stay cooler. Aesthetically speaking, I can't say I'm a huge fan of how it looks, though I can't deny that the vents are a really nice feature. In hot temperatures, having something on your head for an extended period of time will make you sweaty and sticky, but the openings on this helmet significantly help to prevent that.

The helmet is also adjustable, and fits a variety of head sizes. I usually have issues with the ear straddles being too tight, and while they aren't adjustable on this product, they are large enough where they don't dig in uncomfortably.

Pros:

– Excellent ventilation
– Comfortable fit
– Highly adjustable
– Lightweight

Cons:

– Doesn't like to stay where you adjust it, when taken off
– The way it looks isn't my favorite, but that's not a huge issue
The Fusion Climb Meka helmet is a little different from the other helmets we've talked about so far. While not necessarily the greatest all around helmet, I do believe that it's a good option for rock climbers in particular. Riding a bit higher off your head than many other products do, it helps reduce the amount of impact you'd feel if a rock were to fall on you. The downside to this, though, is that it minimizes the amount of coverage you have for the back of your head, giving you a bit of an Achilles Heel.

Like the Petzl Boreo discussed above, this helmet also has a fair number of vents to help your head stay cool. In addition to that, it has built in brackets to hold a headlamp, so you can stay active even when the sun isn't shining.

Pros:

– 10 vents to circulate air
– Sits high on the head
– Comfortable to wear
– Offers great protection from above

Cons:

– Doesn't protect the base of the head very well
Conclusion
Your head is one of the most vulnerable parts of your body. Falling rocks, landing on your head, or unintentionally hitting it on a protruding rock are real threats that climbers face every time they climb outside. While you could argue that the risk is minimal, especially if you're the one climbing, is that really a risk you want to take? One stone is all it would take to change your life forever.

That's why climbing helmets are such an important asset to carry with your on all your endeavors. Different from regular helmets, they allow you to maintain your field of vision without sacrificing protection. The Black Diamond Half Dome in particular checks off a lot of important boxes that a good climbing helmet should have. Not only does it have great coverage, but it's also lightweight and comfortable to wear for extended periods of time. The brackets that hold your headlamp are also quite sturdy, and more than adequate to support the additional attachment.