If you're in a rush and want to find out what the best RV battery is, we recommend the Weize 12V LiFePO4 lithium battery.

If you've ever gone on an epic road trip, you know that the open road can lead you to some of the most breathtaking and remote destinations nature has to offer. And in an RV, you have the added benefit of spending the night right in the heart of it all. But to safely reach your campground, and power all of your electronics once you get there, you'll need to have a great RV battery to kickstart your adventure.

Given how important of a topic this is for any RVer, we've done a deep dive to find some of the best batteries on the market. Here's what we discovered.
In this article, we'll be reviewing the following best RV batteries:
Best RV Battery – Reviewed
Nominal Voltage: 12.8V
Nominal Amperage: 100Ah
Weight: 26.4 Pounds
WEIZE's 12V 100Ah LiFePO4 lithium battery is a great choice when you want to upgrade your RV's power capacity. With a life expectancy of more than 2000 cycles (at 100% depth of discharge), this battery should last you roughly five times longer than any lead-acid battery. Its cold weather protection is also critical for RV applications, keeping the battery's performance stable even in low-temperature environments.

One key feature that I appreciate is the built-in Battery Management System (BMS), which safeguards the battery from overcharge, discharge, and incidents like short circuiting. That being the case, the BMS also helps increase the performance and lifespan of your battery. It is worth noting, though, that you'll need a dedicated lithium battery charger for this particular product, which might be an extra investment to consider.

Another thing I like about the WEIZE battery is that it's noticeably lighter than conventional lead-acid batteries. This makes it a pretty versatile option that you can use for various applications, such as solar systems, fishing, and outdoor camping in your RV. However, despite all of this, I have found that there might be slight voltage differences between individual units. Still, this isn't too big of a deal, when compared with all of the other great features that you get.

Pros:

– Great lifespan
– Built-in BMS
– Lightweight
– Versatile
– Cold weather protection

Cons:

– Needs a dedicated lithium battery charger
Nominal Voltage: 12V
Nominal Amperage: 100Ah
Weight: 24.3 Pounds
When looking for the best RV battery, you should definitely give the LOSSIGY LiFePO4 battery a great deal of consideration. With its high-quality A-grade cells, you'll appreciate the incredible energy density and stable performance throughout all of your off-grid adventures. I've found that these batteries are great at handling any demanding condition with ease, making them perfect for RVs and campers.

I'm also a big fan of this battery's long lifespan, as it provides at least 4000 charge-discharge cycles. That means you'll likely get around 10 years of reliable service before needing a replacement, which is a pretty significant amount of time. Having such a dependable power source for your RV can take a load off your mind, especially when venturing off the beaten path.

And then there's the battery's connectivity options, which allow you to connect multiple batteries in series or parallel to increase capacity and customize your power setup. Although they can be slightly heavier at 24.3 pounds, the performance and flexibility you gain more than make up for the extra weight.

Pros:

– High quality
– Stable performance
– Good lifespan
– Can be connected in series or parallel
– Versatile

Cons:

– Somewhat heavy
Nominal Voltage: 12.8V
Nominal Amperage: 100Ah
Weight: 24.3 Pounds
Looking for a reliable battery for your RV? Of course you are, and with that being said, the Litime LiFePO4 battery might be your best bet. Made with automotive-grade lithium cells, this battery guarantees stable performance and high energy density, which is exactly what you need for RV, campers, and/or off-grid applications.

Like most of the batteries listed in this review, safety should never be an issue with this battery. The built-in 100A BMS protects it from overcharge, over-discharge, over-current, and short circuit, which ultimately prolongs its service life. The battery also boasts an IP65 waterproof level, so you won't have to worry about installing it indoors or outdoors.

One feature that I really like about this battery is its capacity and the ability to expand its voltage. Ultimately, you can connect up to four batteries in parallel and series to increase the overall capacity or voltage, making it suitable for various power needs.

While it's a bit pricy, the Litime battery is well worth the cost, due to its long service life. Generally speaking, it's fair to say that it will last about 10 times longer than lead-acid batteries. Not to mention, it only weighs 24.25 pounds, so it's also lighter than most lead-acid counterparts.

Pros:

– Great quality
– Built-in BMS
– Waterproof
– Capacity and voltage expansion
– Long lasting

Cons:

– High initial cost
Nominal Voltage: 12V
Nominal Amperage: 100Ah
Weight: 63.9 Pounds
As an RV enthusiast, I'm sure you appreciate the importance of a reliable battery for your power needs. I know I do, which is why I like the Renogy gel battery, which offers a great balance of performance and value.

One of the best features of this battery is that it's maintenance-free and there is no leakage, which saves you time and effort in the long run. It's also a battery that's built with advanced valve regulated technology, ultimately ensuring smooth operation even in the most severe conditions.

Even so, it's important to note that this battery is heavier than lithium alternatives, so you might need to consider the weight difference when making your decision. The Renogy battery is also limited to 750 cycles, but considering its price point, it's still an excellent option for most of you.

In comparison to other batteries on the market, this Renogy battery certainly does hold up well. It has a longer shelf life and provides superior deep discharge recovery, which is beneficial when you're relying on critical systems during your RV trips. The battery's ability to withstand both high and low temperatures makes it adaptable for various usage scenarios.

Pros:

– No leakage
– Extended service lifetime
– Great deep discharge recovery
– Reliable
– Long shelf life

Cons:

– A bit heavy
Nominal Voltage: 12.8V
Nominal Amperage: 200Ah
Weight: 48.3 Pounds
Having checked out the Power Queen LiFePO4 battery, I have to say, I was thrilled by its solid performance. Like many others, the battery uses automotive-grade battery cells and an upgraded 100A BMS, ensuring a stable performance and higher power output. Which is to say, this battery would be perfect for any of you who want a reliable power source for their RV or solar energy storage.

One thing I like is the considerably low self-discharge rate and low-capacity loss that this battery has, making it a far more efficient option. On top of that, its eco-friendly nature is hard to dislike, especially when you consider the 4,000+ charge cycles.

When compared to other batteries in this review, the Power Queen stands out as a lightweight alternative with a fairly high energy density. It sports a remarkable 10-year lifespan, far outshining traditional lead-acid batteries (which usually last for a meager 3 years).

Overall, the Power Queen LiFePO4 battery is a trusty and eco-friendly choice for your RV or solar power needs. The high-quality construction and long lifespan make it a cost-effective alternative to lead-acid batteries, even though you do end up paying more upfront.

Pros:

– High quality
– Long life
– Great depth of discharge
– Lightweight
– High energy density

Cons:

– Higher initial cost
Nominal Voltage: 12V
Nominal Amperage: 75Ah
Weight: 43.5 Pounds
The Optima D34M BlueTop battery is a versatile and powerful option, making it a great choice for your RV. Coming with 750 Cold Cranking Amps and a reserve capacity of 120 minutes for constant performance, you'll have the power you need to keep your RV running smoothly. That being said, it's never good practice to discharge a battery past 50%, so just pretend that your reserve capacity is actually 60 minutes.

Besides boasting optimal starting power even in bad weather, this battery is mountable in virtually any position, making it ideal for a wide variety of applications. Whether you need it for your boat or RV, the Optima D34M will not disappoint.

But where it really shines is in its exceptional resistance to vibration. Since it's 15 times more resistant than many other batteries, you can comfortably rely on it, even when you're charging over rough and bumpy roads.

That being said, there are a few drawbacks to consider. Weighing in at 43.5 pounds, this battery is pretty heavy, compared to some other alternatives in this review. But, as long as you don't plan on moving it around very much, it shouldn't be a huge hassle.

Pros:

– Great starting power in bad weather
– Mountable in almost any position
– Resistant to vibration
– Durable
– Versatile

Cons:

– Heavy
Best RV Battery – Buyer's Guide
If you like to operate electronics while you're camping in an RV, you probably know how important it is to have a solid battery. Given all the different styles out there, though, it can be hard to choose the best one for your particular setup. To launch you in the right direction, here are some key points to consider when choosing the best RV battery:
Types of Batteries
When it comes to choosing the best RV battery, it's important to understand the different types available. After all, your choice of battery can significantly impact your RV's performance and your overall travel experience. So, to get you off on the right foot, here are some key features that you should be aware of:
1. Lead-Acid Batteries
You're probably familiar with the trusty old lead-acid batteries – they've been the workhorses of the battery world for years, after all. Within this category, there are a couple of subtypes: flooded lead-acid (FLA), sealed lead-acid (SLA), and gel cell batteries.

Flooded Lead-Acid (FLA) Batteries: These are the most traditional type, and probably what you're going to see the most on the market. People love them because they're cost-effective and offer reliable performance, but at the same time, they require regular maintenance.

Sealed Lead-Acid (SLA) Batteries: SLA batteries, also known as valve-regulated lead-acid (VRLA) batteries, are maintenance-free. They're sealed, so you don't need to worry about checking water levels, like you would in an FLA battery. This convenience comes with a slightly higher price tag, but if you're not a fan of tinkering with your battery, SLA might be the way to go.

Gel Cell Batteries: These are a subset of SLA batteries that use a gel-like electrolyte. They're known for their deep cycling capabilities and durability, retaining the maintenance-free trait you'd find in SLA batteries. At the same time, they can handle high temperatures better than traditional SLA batteries, though they're also more sensitive to overcharging.
2. Lithium-Ion Batteries
Lithium-ion batteries are all the rage in the RV world, thanks to their high energy density and impressive longevity. They're lighter, smaller, and pack more punch compared to lead-acid batteries, but the benefits don't end there. They also offer a deeper depth of discharge, which means you can use more of their capacity without harming the battery's overall life.

Still, you should know that these cutting-edge benefits come with a heftier price tag. Lithium-ion batteries are more expensive upfront, but if you're all about long-term efficiency, quick charging, and saving space in your RV, they might be worth the investment. As they say, you truly do get what you pay for.
3. Absorbent Glass Mat (AGM) Batteries:
AGM batteries fall somewhere between traditional lead-acid batteries and lithium-ion ones. They offer the maintenance-free advantages of SLA batteries and some of the performance benefits of lithium-ion batteries, though they also tend to be quite expensive. Even so, they're a great compromise if you want improved performance without the ultra-premium cost of lithium-ion batteries.
Rechargeability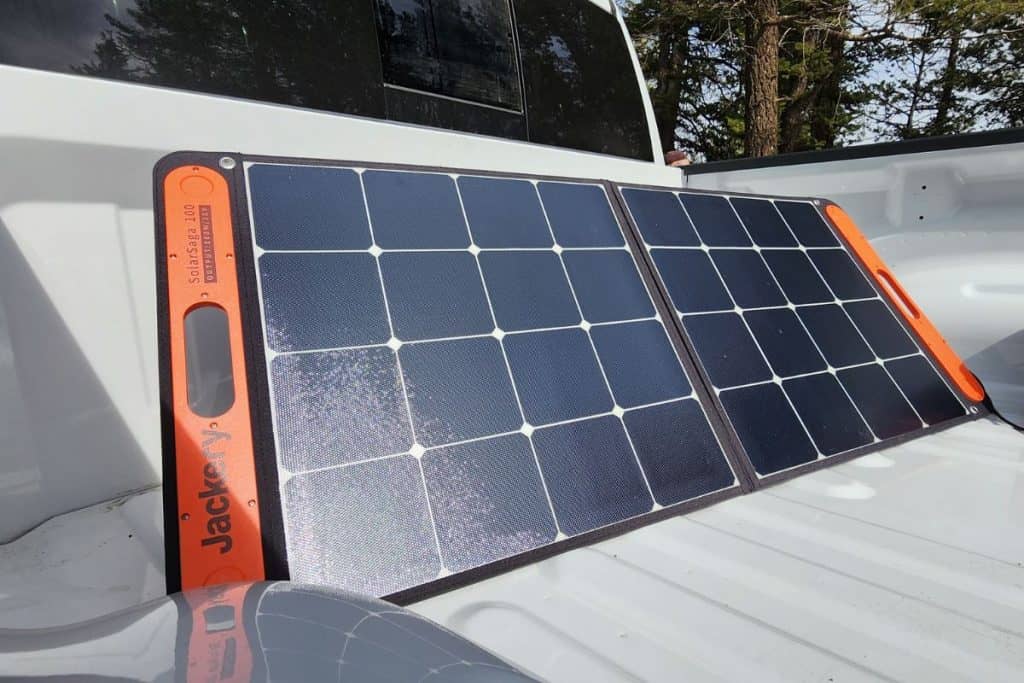 The rechargeability of an RV battery is an important factor to consider. Even beyond how quickly and easily a battery regains a charge, you have to consider how much juice that same battery will lose while idling over time. Here are a couple more specific points to consider:

Recharge Efficiency. How much energy can they take in during charging, and how much can they retain? These are important questions to ask when choosing the best RV battery. Lithium-ion batteries usually take the crown here due to their high charge acceptance and low self-discharge rate, meaning they won't lose their charge as quickly when you're not using them.

Solar Power Compatibility. In recent years, I've found that many RV enthusiasts are turning to solar power as a sustainable and independent way to keep their batteries charged. So, if you're planning to harness the power of the sun, make sure your chosen RV battery plays well with solar systems. Lithium-ion batteries, again, tend to shine here due to their ability to handle irregular charging patterns (pun intended).
Power Output
When you're cruising along in your RV, you want to have the right amount of power to keep your lights on, gadgets charged, and appliances humming. So, let's break down some key factors that will help you understand power output in RV batteries.

Amp-Hour (Ah) Rating
Think of the amp-hour (Ah) rating as the size of your RV battery's fuel tank. This rating tells you how much energy the battery can deliver over a specific period of time: the higher the Ah rating, the longer your battery can sustain your power needs without needing a recharge. This is especially critical during those remote camping trips when access to electricity might be limited.

Voltage
Voltage, on the other hand, is like the electrical pressure pushing energy through your RV's systems. Most RV setups run on 12-volt systems, so a single 12-volt battery will be sufficient for you – in fact, all of the products in this review are 12-volt. But if you need more power, you can wire multiple batteries in series to get 24 or 48 volts, effectively boosting your energy capacity.

Discharge Rate
Discharge rate, measured in C-ratings, tells you how quickly your battery can deliver its stored energy. A higher C-rating means it can handle higher energy demands for shorter bursts. For RVs, where power needs often vary, having a battery with a decent C-rating ensures you won't run out of juice when you need it most.

Depth of Discharge (DoD)
Depth of Discharge (DoD) tells you how much stored power you can use before needing a recharge. Some batteries can handle deeper dives – say 80% DoD – without damaging their longevity, while others prefer to stay closer to the shallows. Opting for a battery with a higher DoD can give you more options and versatility while you're out and about.

Inverter Compatibility
An inverter transforms the direct current (DC) from your battery into alternating current (AC) that powers most of your appliances. It's important to make sure that your RV battery's power output matches the requirements of your inverter. An incompatible pairing might result in energy wastage or even damage to your appliances.

In a nutshell, when hunting for the best RV battery, don't just settle for a one-size-fits-all solution. Consider your power habits, the duration of your trips, and the types of devices you'll be running. A battery with the right amp-hour rating, suitable voltage, discharge rate, DoD, and inverter compatibility can keep your RV charged up and ready for anything.
Maintenance and Storage
Proper care of your RV battery is essential to ensure its longevity and optimal performance throughout your travels. After all, you want your adventures to be powered smoothly, right? Here are a few tips to keep your battery purring like new for many years to come:
1. Inspect It Regularly
Just like your vehicle needs regular check-ups, your RV battery also requires periodic inspections. Specifically, you'll want to look out for any signs of corrosion on the terminals and cables. If you spot any, you can use a mixture of baking soda and water to gently scrub the corrosion away.
2. Maintain a Charging Routine
We mentioned it before, but your RV battery really isn't a fan of being discharged completely. Try to maintain a routine where you don't let the battery drain too much before recharging it – for example, lithium-ion batteries prefer to be kept at around a 50% charge while being stored. Lead-acid batteries should be fully charged before storage to prevent sulfation.
3. Beware of Temperature
Extreme temperatures can play havoc with your battery's health. If you're storing your RV for an extended period, it's best to remove the battery and keep it in a cool, dry place. If you're on the road during harsh weather, it's a good idea to make sure your battery is adequately protected from freezing or scorching temperatures.
4. Remove for Long-Term Storage
When you're done with your RV adventures for the season, I'd recommend removing the battery and storing it in a climate-controlled environment. This can significantly extend its life by preventing self-discharge and other chemical reactions that occur in extreme temperatures.
At Untamed Space, we're passionate about helping you have the best camping experience possible. Our team of experts have experience camping and backpacking all over the world, allowing them to provide insightful and relevant content to guide you in your outdoor pursuits.

All of our reviews are based on a combination of firsthand experience, extensive research, and an analysis of customer feedback. We are an independent website and do not receive payments or incentives from manufacturers to promote their products, and we continuously update our content to provide new information based on product availability. Wherever you are in your journey, whatever gear you're searching for, you can be sure to find unbiased and up-to-date reviews for all of your needs.
FAQ
What's the Typical Lifespace of an RV Battery?
The lifespan of an RV battery depends on its type and usage. Lead-acid batteries, like AGM or flooded batteries, usually last around 3-5 years with proper maintenance. Lithium batteries have a longer lifespan, often lasting 10 years or more. Regular maintenance, proper charging practices, and avoiding deep discharges can help extend the life of any type of RV battery.
Are There Precautions I Should Take With My RV Battery?
Yes, safety is crucial when dealing with RV batteries. Always wear safety gear, such as gloves and eye protection, when handling batteries. Make sure the RV is turned off and disconnected from shore power when servicing the battery, and be cautious of sparks and open flames, since batteries produce flammable gases.
Can I Use Solar Panels to Charge My RV Battery?
You can use solar panels to charge your RV batteries, though you'll need a solar panel system with an appropriate wattage for your energy needs and a charge controller to regulate the charging process.
Final Thoughts
Finding the best RV battery can make all the difference in your camping experience. Overall, durability and longevity are key, as are capacity, weight, and the required amount of maintenance needed to keep things running. All that being said, we believe that the Weize 12V LiFePO4 lithium battery excels in all of these areas, with its impressive lifespan and resistance to deep discharges.
---
Related Posts: