If you're in a rush and want to find out what the best RV water pump is, we recommend the SEAFLO Diaphragm Pump.
Are you planning a road trip in your RV? A consistent water supply is one of the most important things to consider for any RV trip, and a water pump is how you'll move it through the vehicle.

If you like having a working shower and sink, you'll want to get a pump that's suitable for your needs. But with so many factors to consider (like flow rate, PSI, safety features, and noise), it can be hard to figure out what will be a good fit. To help you along the way, we've put together a list of our favorite RV water pumps that are sure to point you in the right direction.
In this article, we'll be reviewing the following best RV water pumps:
Best RV Water Pump – Reviewed
Style: Diaphragm
Power Source: AC/DC
Maximum Flow Rate: 3 GPM
The Shurflo RV water pump is designed for moderate flow demand, with the capability of pumping out 3 gallons per minute (GPM). That being said, it's definitely on the lower end of the spectrum, as most water pumps that I've encountered have a flow rate between 3.5 and 5 GPM. The Shurflo will be fine for showering and running other water sources, but I wouldn't recommend running too many outlets at once.

A fair number of safety features are in place, including thermal protection, which lets your run the pump dry without causing any damage. I also like how it has a built-in check valve that prevents backflow, ensuring that you'll get every last drop of water out of the fixture you're using. Overall, the pump runs at about 55 PSI, but it will shut off when the pressure drops to 45 PSI.

Overall, the Shurflo water pump is a reliable and durable option for any RV owner. All, things said, it's an incredibly quiet piece of equipment as well, and the diaphragm design helps maintain a consistent water pressure. My only real complaint is the flow rate, which is at the bottom end of average, though it should be effective enough for most RVer's needs.

Pros:

– Durable
– Reliable
– One-piece diaphragm
– Quiet pump
– Built-in check valve

Cons:

– Pump is a little noisy
Style: Diaphragm
Power Source: DC
Maximum Flow Rate: 5.5 GPM
The SEAFLO 55-Series Diaphragm Pump is a great choice for anyone who needs a reliable and powerful RV water pump. Compared to the Shurflo pump mentioned above, the SEAFLO has a GPM of 5.5, which is almost twice as powerful. This is definitely the sort of unit that you want to have when you need consistently reliable water flowing through your RV, or if you like to run water through multiple outlets at once.

The pump automatically primes itself when the water is turned on, which ensures a consistent water flow and pressure – an essential feature for a comfortable and convenient RV experience. There are also quite a few safety features in place, like you'd find in the Shurflo pump, such as thermal overload protection. However, this pump also comes with ignition protection and a robust pressure switch, helping boost the reliability and safety of the product, even in extreme conditions.

Overall, it's hard to go wrong with the SEAFLO 55-Series pump. Since it is a diaphragm model, you'll get a consistent amount of water pressure on top of the excellent flow rate. It's also quite easy to install on your own, and the unit itself is one of the quieter options on the market.

Pros:

– Consistent water flow and pressure
– Powerful
– Ignition protection
– Reliable
– Easy to use and install

Cons:

– Somewhat noisy
– A bit heavy and bulky
Style: Diaphragm
Power Source: AC/DC
Maximum Flow Rate: 5.3 GPM
In terms of performance, the Remco Aquajet RV water pump is hard to beat. It comes with a variable speed controller that adjusts the pump's motor speed automatically, helping to maintain a consistent water pressure and flow rate. Not to mention, the soft start feature eliminates rapid cycling, making the pump much quieter and more efficient than other RV pumps.

One of the key advantages of the Aquajet RV pump is its patented 5-chamber design, which delivers higher flow rates than typical 3 and 4-chamber models. Looking on the Amazon page, it says that it has a 53 GPM flow rate, but I believe this is a typo, since something that high would be absurd. The actual flow rate should be 5.3 GPM, which is still quite high, but much more reasonable.

Considering how powerful it is, it should come as no surprise that the Aquajet sports a much higher PSI than your average RV water pump as well. This is great if you like having intense streams of water coming out of your outlets, but it can cause problems if your pipes aren't ready for it. Old or damaged plumbing is at a high risk of leaking with this pump, so make sure everything is in good shape before you install the Aquajet.

Overall, it's pretty heavy and bulky compared to others in its class, but it's still fairly easy to install thanks to its universal mounting option. Unfortunately, despite lacking a rapid cycling feature, it's still a pretty noisy unit. It's one of my only complaints about the Aquajet, but it's still something worth keeping in mind.

Pros:

– Adjusts speed automatically
– Consistent pressure
– No rapid cycling
– Efficient
– High flow rate

Cons:

– Somewhat noisy
Style: Diaphragm
Power Source: DC
Maximum Flow Rate: 3 GPM
Want an RV water pump that's reliable and high performing? The Lippert Components Flow Max RV Water Pump might just be the one for you. While the overall GPM is relatively low, it still provides a decent flow rate that gets water where it needs to go. And since the flow rate is lower, it will be a little gentler on your RV pipes, reducing the risk of leakage.

The heavy-duty motor is built to last, and the durability of the water pump as a whole is certainly nothing to sneeze at. Speaking of the motor, it's also corrosion resistant, so you don't have to worry about long term damage to the unit. And the cherry on top is that you can run it dry without causing it to overheat, thanks to the thermal protection – a feature that not every water pump can boast about.

I'm also a fan of the built-in Flow Max screen, which helps to keep the water clean and free of debris. Generally speaking, the Lippert pump is going to be somewhat noisy, as all water pumps tend to be. However, I find that it's not quite as obnoxious as other models, so if you're a bit more sensitive to sound, this could be a good choice for you.

Pros:

– Steady flow
– Heavy-duty motor
– Durable
– Screen prevents debris from entering the pump
– Efficient

Cons:

– Can be noisy
Style: Diaphragm
Power Source: AC/DC
Maximum Flow Rate: 5.3 GPM
And now we get to the Aqua Tec RV water pump, which is available in two versions: the ARV model (designed to replace an existing OEM installed pump), and the AES model (designed to replace standard pumps to upgrade them to the new variable speed technology).

Like the Aquajet pump mentioned above, this one by Aqua Tec has a high flow rate of 5.3 GPM. It's also got variable speed technology that ensures smooth water flow without the need for an accumulator. So, if you like consistent water pressure, without having to deal with the noise and vibration of a traditional pump, you'll love the Aqua Tec pump.

That being said, I have noticed that the pump doesn't always shut off at the desired pressure, which can lead to wasted water and/or damage to the pump. Considering how high of a flow rate this one has, the buildup of pressure can occasionally exceed 100 PSI, which should be concerning if your pipes aren't up for the challenge.

But the long and the short of it is that the Aqua Tec RV water pump is a very solid choice for RVers who want a high flow rate and variable speed technology. The power and durability of this unit are something to be admired, but make sure your plumbing is up to the task before pulling the trigger on this model.

Pros:

– Very high flow rate
– Variable speed technology
– No accumulator needed
– Fairly quiet

Cons:

– Can be a little temperamental
Style: Diaphragm
Power Source: DC
Maximum Flow Rate: 3.5 GPM
The LATCH.IT water pump comes as a complete kit that's ready to use. It includes the pump, adapters, a filter, Teflon tape, and tie-down hardware, so there's no need to buy additional accessories.

The 3.5 GPM pump is fairly powerful, producing water rapidly while remaining quiet during operation. You'll appreciate the low noise, along with the thermal protection features that allow you to use this pump without fear of overheating. In terms of specs, the pump is set to 50 PSI for optimal water flow and can be adjusted up to 70 PSI as needed. Compared to some other products in this review, I find that the LATCH.IT pump actually abides by these PSI settings.

In terms of durability, this pump has a lot going for it, sporting a corrosion resistant design, while being equipped with some solid double bearings. It's not lacking when it comes to safety features either, featuring thermal and overload protection. With these things in mind, I have no problem saying that the LATCH.IT water pump would be a great addition to your RV arsenal.

Pros:

– Complete kit
– Quiet
– Powerful
– Durable
– Corrosion resistant

Cons:

– Limited to 12V power source
Style: Diaphragm
Power Source: DC
Maximum Flow Rate: 6.5 GPM
The Kitvance RV water pump is truly a powerhouse, boasting an impressive 6.5 GPM capacity. With such an insane water flow, you can be sure that your shower and faucet pressure will be on point, no matter how many outlets you have running at once.

Now, I know that most RV owners appreciate having a quiet water pump, and for the most part, the Kitvance pump doesn't disappoint. When you've got such a powerful unit, there's only so much you can do, but the NSK double ball bearings and unique one-piece 4-chamber diaphragm really help keep noise to a minimum. You'll barely notice it running, which is a big bonus when you want to have some quiet nights.

That being said, you should know what you're getting into before going with something this powerful. There's a chance that it might deliver stronger pressure than you either need or prefer. So, if you're not a fan of high-pressured water, or you don't require that much power to begin with, I might suggest choosing something a little weaker.

It's also worth mentioning that the Kitvance pump is not submersible, so you'll want to look at a different pump if that's a deal breaker. Still, between its overall performance and 3-year factory warranty, this pump is well worth the cost and should be suitable for many RVers.

Pros:

– Fast water flow
– Low noise
– Great warranty
– Durable

Cons:

– Not submersible
RV Water Pump Comparison Table
Best RV Water Pump – Buyer's Guide
You get a number of creature comforts in an RV that you don't experience with normal tent camping. A shower and faucet with running water are just a few, but even these won't work unless you have a good water pump. Here are a few of the main features that you should keep an eye on when choosing the best RV water pump:
Water Pump Flow Rate
When it comes to choosing the best RV water pump, one of the most important factors to consider is the water pump flow rate. This refers to the amount of water that the pump can deliver in a minute, and it's typically measured in gallons per minute (GPM). It's an important spec to keep in mind, because if you plan on running multiple water outlets at the same time (think kitchen faucet and shower), you'll need a pump that can keep up with the demand.

Considering the wide range of flow rates available, here are some tips to help you figure out what would work best for you:
Consider the size of your fresh water tank and how often you refill it. If you have a smaller tank and need to refill it frequently, a higher flow rate pump may be necessary.
How many water outlets do you have? How much water do they consume? You'll also want a pump with a higher flow rate if you have some high demand outlets.
What sort of water pressure do you prefer? Higher pressure can result in a higher flow rate, but it can also lead to more noise and energy consumption.
And finally, think about the noise level and energy consumption you'll experience with higher flow rate pumps. These overachievers are known to be noisy and suck a lot of power, but if you don't mind those things, then there shouldn't be a problem.
Water Pressure
Water pressure is measured in pounds per square inch (PSI), which means that the higher the PSI, the stronger the water pressure. As an RVer, you probably know (or will figure out) that water pressure is important for most water related tasks, like showering, washing dishes, and flushing toilets. Without enough pressure, these tasks can become difficult, frustrating, or straight up impossible.

Give some thought to the water pressure you like to have any home – do you prefer a gentle stream from the showerhead, or something with a little more oomph behind it? The condition of your plumbing system and fixtures may come into play as well, since outdated systems could bust a leak under high pressure.
Thermal Production
It's another one of those aspects that you probably won't think of at first, but thermal production should be something you give serious consideration to. Specifically, thermal production refers to the heat generated by the motor of your RV water pump during operation. This heat can build up and rise to dangerous levels, which can damage your water pump and plumbing system.

To increase the lifespan of your RV water pump, here are a few tips to keep in mind:
Avoid running your water pump dry or without enough water in your tank.
Try not to use your water pump for prolonged periods (or with high demand).
Do your best to keep the water pump out of direct sunlight or high ambient temperature.
Keep the space around your water pump well-ventilated with good air circulation.
These precautions should be enough to keep your water pump humming along for many years, before you need to find a replacement.
Size
The dimensions of your water pump are important for one primary reason: you want it to fit nicely inside your RV. And when you toss weight into the equation, that's when you have to start thinking about the overall weight and balance of your vehicle.

It's a good idea to measure the available space in your RV where you plan to install your water pump, before you settle on a specific model. This will give you a better idea of what size pump you can comfortably accommodate, both in terms of space and weight.

Some larger pumps may be more difficult to install than others, so make sure you choose one that's easy to work with. Especially if you plan to DIY it, pick a model that you feel confident installing, and don't forget to double check its compatibility with the existing plumbing within your RV.
Noise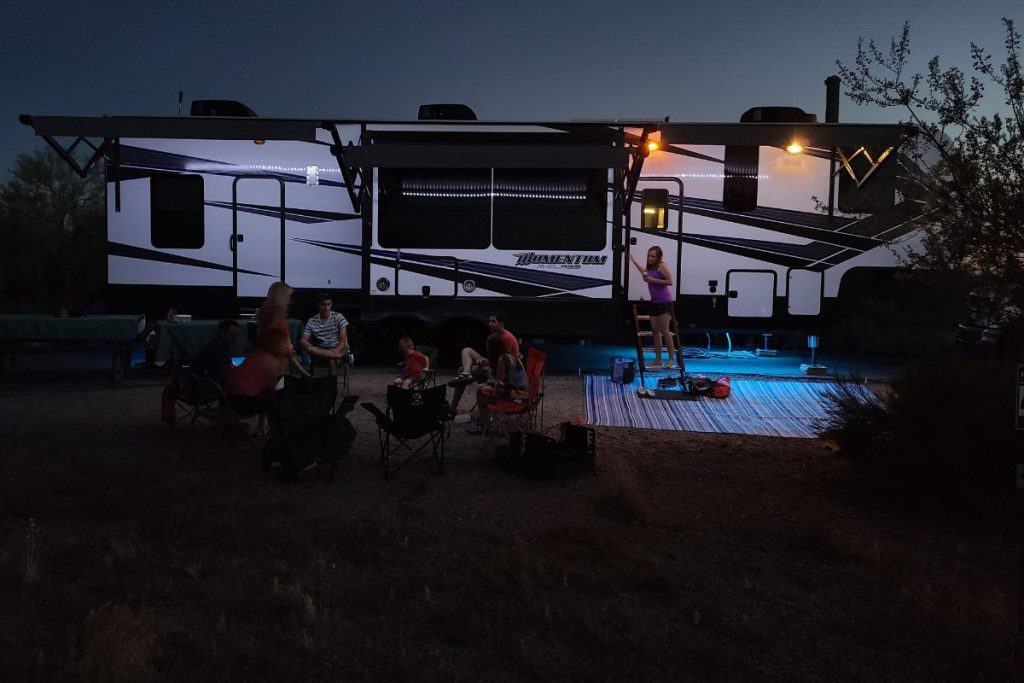 When it comes to RV water pumps, noise is often a major concern for many RVers. Nobody wants to be disturbed by a loud and obnoxious water pump while trying to relax in their RV, but in some cases, it's inevitable.

Noise is measured in decibels (dB), and the higher the decibel level, the louder the sound. For RV water pumps, a noise level of around 40-60 dB is considered normal. A number of things can affect this range, like any insulation surrounding the pump, rubber mounts, and pressure regulators. If the water pump gets to be too loud, it can disrupt your sleep, make it difficult to have conversations, and potentially annoy any neighbors who might be nearby.

All that to say, the best RV water pump is going to have a lower dB rating for the sake of everyone's nerves. However, if you find a pump that you really like (and it's loud), you can still get away with it if you plan to use it infrequently. As someone who's really sensitive to noise, I still wouldn't go for it, but it might be a suitable option for some of you.
Safety Features
Broadly speaking, the safety features associated with RV water pumps include things like automatic shut-off switches, check valves, pressure regulators, thermal protectors, noise reducers, and more. For example, water pumps like the Seaflo 55 Series, Shurflo, and Lippert Components water pumps all have self-priming functions that allow the pump to run dry without damage. They also sport pressure switches that automatically turn the pump on and off according to the water demand, along with check valves that prevent backflow of water.

All of these features might sound like overkill, but in the long haul, they can save you time, money, and headaches by preventing unfortunate accidents. For instance, suppose your water pump bursts or causes a leak somewhere. Water will go everywhere in your RV, damaging your furniture, electrical fixtures, and causing mold growth. All that being said, most of the products in this review have an adequate number of safety features, so you really can't go wrong. However, it's still worth doing your due diligence to make sure it will be suitable for your needs.
At Untamed Space, we're passionate about helping you have the best camping experience possible. Our team of experts have experience camping and backpacking all over the world, allowing them to provide insightful and relevant content to guide you in your outdoor pursuits.

All of our reviews are based on a combination of firsthand experience, extensive research, and an analysis of customer feedback. We are an independent website and do not receive payments or incentives from manufacturers to promote their products, and we continuously update our content to provide new information based on product availability. Wherever you are in your journey, whatever gear you're searching for, you can be sure to find unbiased and up-to-date reviews for all of your needs.
FAQ
Can I Install My Own RV Water Pump?
The installation of an RV water pump is typically something you can do on your own, as long as you have basic plumbing skills. Most pumps come with detailed instructions, which certainly makes the process easier. However, if you're unsure or uncomfortable with the task, I'd recommend seeking professional assistance to ensure a proper, leak-free installation.
What's the Difference Between a Diaphragmatic and Centrifugal Water Pump?
Diaphragm pumps use a flexible diaphragm to create suction and push water through the system, making them suitable for consistent water pressure. Centrifugal pumps, on the other hand, use a rotating impeller to move water and are often more compact. Diaphragm pumps are known for their reliability, while centrifugal pumps are typically more affordable. Your choice should depend on your specific needs and budget.
What's the Ideal Flow Rate for an RV Water Pump?
The ideal flow rate for an RV water pump depends on your water usage patterns and the number of fixtures in your camper. A flow rate of around 3.0 to 4.0 gallons per minute (GPM) is usually good enough for most RVs, but if you have multiple fixtures or a larger RV, consider a pump with a higher GPM rating. Keep in mind that excessively high flow rates can lead to water wastage, so aim for a balance between adequacy and efficiency.
Final Thoughts
When you're on the hunt for the perfect RV water pump, there are some key features that you can't overlook. Flow rate, durability, a quiet operation, and easy installation and maintenance are some of the most pressing components of a water pump. And after taking all those into consideration, we believe that the SEAFLO diaphragm pump shines the most.
---
Related Posts: