If you're in a rush and want to find out what the best stargazing tent is, we recommend the Sea to Summit Telos TR3 tent.

Camping is a classic hobby that many of us enjoy throughout the year. It provides an escape from the bustle of our everyday lives, allowing us to shut out most of the noise for a few nights as we immerse ourselves in nature.

With so much distance put between us and city life, we also have a lot of distance away from city lights as well. And without those in the way, the stars become much more visible and vibrant. Take advantage of this opportunity by viewing the night sky from inside the comfort of your own stargazing tent – we've laid out everything you need to know in order to pick the right one.
In this article, we'll be reviewing the following best stargazing tents:
What to Look for in a Stargazing Tent
Most tents are pretty similar nowadays. You've got a thin, usually synthetic wall structure, aluminum or fiberglass poles, some internal storage, a rainfly, stakes, and that about does it. Considering the sheer number of double walled tents (shelters with a mesh body and a rainfly to keep water out), what makes a stargazing tent special?

Usually, it just comes down to how easy it is to view the night sky from inside the tent. Some definitely do this better than others, and we're going to take a look at some of the factors that influence this.
Screen Room
There are a few rare tents in the world that have a screen room attached to the main body of the tent. Many people treat it as a type of mud room, or a nice place to put a few camping chairs, so they can relax "outside" without actually being fully outside.

As a sort of screened in porch for your tent, it can be fun to put a couple of sleeping bags or cots out there to enjoy a more exposed sleeping arrangement. But because the screen room is mostly made out of mesh, it can also act as a great place to go stargazing. Just put a few blankets down on the floor, and enjoy a bug free viewing experience as the stars twinkle brightly in the night sky.
Size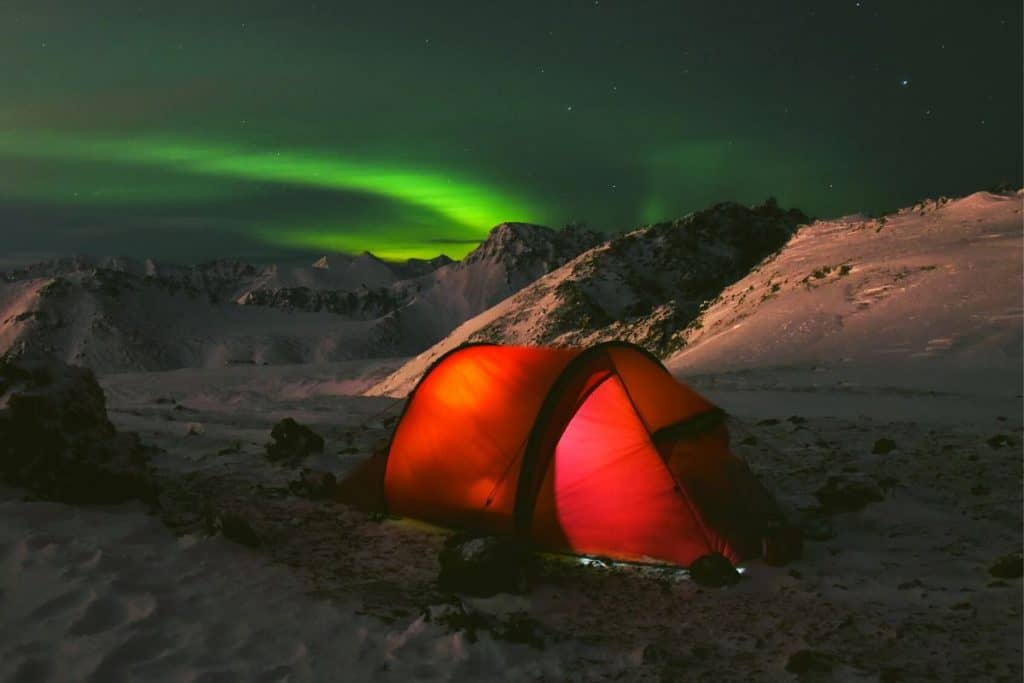 Does size have a direct impact on how easy it will be to stargaze inside your tent? You might be surprised to find out that it does. After all, most tents have their upper halves made entirely out of mesh, so what difference does it make if you're in a one person tent or a four person tent?

Here's the issue: single person tents are so narrow that the poles block most of your view. Especially if the poles make an "X" shape above your head, they often prevent you from seeing much of anything. Not to mention, the way that the mesh hangs is great at reducing visibility as well.

But aside from visibility, part of the fun that comes from owning a stargazing tent is being able to share the experience with others. You can't lie down next to your significant other or friends in a one (or two) person tent to enjoy the sight above you. I would recommend starting with a three person tent, and going up in size from there, depending on how many people you're trying to shelter.
Waterproofing
The best tents for stargazing will have plenty of mesh, so you can easily view the sky while staying protected from the insects. But what about the rain?

Always make sure you have a way to cover up the mesh on your tent so that water can't get in. Sometimes this means tossing the rainfly on top, or if you have a screen room, you may have to unroll the solid tent walls. Just make sure your screen room actually has walls that can be unrolled, as there are some options out there that don't.

I always recommend putting a coat of waterproofing spray on top of your tent before heading out as well. If you got a good tent, it should be waterproof already, but it never hurts to be extra sure.
Ease of Setup
No matter what type of tent you get, don't stress yourself out by buying something that's way too complicated to put together. Ideally, you'll be able to get something that you can set up by yourself in 15 minutes or less. But for larger shelters, you may need to enlist the help of a friend to make the process go more smoothly.

On the same line of thought, it's helpful if the tent comes with detailed instructions for assembly. This isn't a feature that's widely marketed, so sometimes it can be hard to know what to expect when you open the package for the first time. However, most of the tents that we've reviewed in this article do a pretty good job at explaining how to pitch your tent.
Ventilation
The best stargazing tents won't struggle too much with ventilation. The sheer amount of mesh will help with that, though you will need a few windows or vents to open for airflow.

Without this feature, the inside of your tent will steam up in a hurry, especially on those hot summer days. But even aside from that, if you don't have air movement, the condensation from your breath will accumulate on the ceiling of the tent. As this process continues, water droplets will begin to form, eventually falling on you and your gear. So if you don't want to get soaked, it's a good idea to prioritize proper ventilation.
Stargazing Tent Reviews
Best For: Backpacking
Pole Material: Aluminum
Tent Material: Nylon
Weight: 4.6 Pounds
Peak Height: 52.5 Inches
Number of Doors: 2
Comes with Footprint: No
I've tested and reviewed dozens of tents up to this point, and I have to say, few have impressed me more than the Sea to Summit Telos. The one we're looking at here is the 3 person version, but it does come in a 2 person tent as well, if that's more to your liking.

Overall, it's just one of the most multifunctional stargazing tents I've come across, especially when you look at the rainfly. During a storm, you can have the rainfly covering your tent completely, so you'll stay safe and dry. But on those clear nights when you want to stargaze, just roll the fly back to the tension ridge, and you'll still have some measure of protection. Or, take it one step further by converting the whole setup into a semi-open shelter, affectionately called the "hang out mode."

Aside from the versatile rainfly, I love how the entire structure was designed. The poles are uniquely shaped to give the tent vertical walls – a feature you rarely see on a shelter this small. Even beyond that, the doors are larger than usual, making it a bit easier to crawl in and out for midnight bathroom breaks.

I wish it came with a footprint, but you'll have to buy one separately, if you want one. Not only will it help keep water from soaking in through the floor, it will also protect the tent against tears and abrasions.

Pros:

– Rainfly can be used in multiple ways
– Lightweight and durable
– Vertical walls provide more space
– Very tall doors
– Great ventilation
– Fun "hang out mode" functionality

Cons:

– Doesn't come with a footprint
Best For: Car Camping
Pole Material: Aluminum
Tent Material: Polyester
Weight: 9 Pounds
Peak Height: 53 Inches
Number of Doors: 2
Comes with Footprint: Yes
Spacious and sturdy, the Marmot Tungsten is a tent ideal for family camping. Able to fit three people comfortably (four if you really wanted to pack them in), it gives you a solid 53 square feet of space to work with. Whether you need a place to store your gear, set up a camping cot, or relax as you stargaze, this good sized tent will allow you to do whatever you'd like.

Despite being a larger shelter, you could easily set it up by yourself. Putting on and tying down the rainfly may be a little challenging, but nothing you won't get used to with a little bit of practice. With lightweight with strong alloy poles, you won't have to be too concerned about the wind having its way with this tent. And at 9 pounds, it's really not that heavy, when you consider all of the space that you get.

The rainfly is solid in torrential rain showers, but you're not going to want it on during cloudless nights. Mostly made from mesh, the ceiling really opens up to the night sky, allowing you to get a good view of the stars. Color coded clips make setup quick and simple, and the included footprint is a huge bonus that few tents seem to come with nowadays. Add in the two vestibules, and you've got everything you could ever want in one of the best stargazing tents.

Pros:

– Large and spacious
– Durable design
– Easy setup
– Screen room
– Lightweight

Cons:

– Tends to leak
Best For: Car Camping
Pole Material: Aluminum
Tent Material: Polyester
Weight: 10 Pounds
Peak Height: 60 Inches
Number of Doors: 2
Comes with Footprint: No
As one of the best budget stargazing tents, you're not going to do better than the ALPS Mountaineering Acropolis. As you can see in the photo, most of the tent body is made entirely of mesh. With that being the case, it would be easy to leave the rainfly off, lay back in your sleeping bag, and watch the stars twinkle in the night sky as you fall asleep.

10 pounds for a four person tent isn't a bad deal either. Especially when you consider the 5 foot peak height and near vertical walls that open up the space dramatically. The white mesh might not hide dirt very well, but that's more of a cosmetic issue than anything. Just be sure to give it a good wash from time to time, as needed.

It's a solid design that's easy to set up and take down, even if you're by yourself. Heavy rains and strong winds won't have much of an effect on it either, allowing you to rest comfortably while you wait for the skies to clear. All things considered, it's pretty hard to find much to complain about with this product aside from the quality of the carry case (it's a little prone to ripping). I suggest buying your own, and you'll be good to go from there.

Pros:

– Inexpensive
– Lightweight
– Good ventilation
– Easy setup
– Lot of space
– Pretty tall peak height

Cons:

– Carry case is prone to ripping
Best For: Car Camping
Pole Material: Aluminum
Tent Material: Polyester
Weight: 21.7 Pounds
Peak Height: 75 Inches
Number of Doors: 2
Comes with Footprint: No
An REI original, the Wonderland was developed by one of the most well-known camping outfitters in existence. As such, you can be sure that they wouldn't create anything but the best, and that's exactly what they did with this tent.

The Wonderland has walls that are practically vertical, opening up a lot more livable space than you'd find in a dome tent. You'll also find a combination of low ground vents, upper door vents, and a scalloped rainfly that create a "low to high" chimney effect. Not only will this help you stay cool, it also mitigates the development of condensation during the night.

And speaking of nighttime, don't forget to take the rainfly off when the skies are clear. With a mesh roof, you'll have no trouble kicking back to stare at the night sky. In fact, the mesh is so easy to look through that you might even forget it's there!

Don't worry about setup, though. It might be a tall and spacious tent, but it can still be put together with ease by one person. For extra storage, you may consider buying the Mud Room on the side as well, since there aren't any vestibules with this tent.

Pros:

– Near vertical walls
– Great ventilation
– Mesh ceiling for stargazing
– Very tall
– Easy setup

Cons:

– A bit heavy
Best For: Car Camping
Pole Material: Fiberglass
Tent Material: Polyester
Weight: 17.4 Pounds
Peak Height: 72 Inches
Number of Doors: 1
Comes with Footprint: No
I often feel like pictures don't do things justice, but that seems to be especially true when you look at the CAMPROS 8 person tent. In the image, it doesn't look like much, specifically when you consider the actual size of the shelter. With a 6 foot peak height, and plenty of room inside to spread out, you can go glamping pretty much anywhere that's car accessible.

Pretty much the entire ceiling is made from mesh as well, which is why this is such a good stargazing tent. Keep the rainfly off at night, and the whole sky will open up to you. Even during the day, it's fun to walk around inside the tent with the fly off, giving the impression that you're in a convertible. Not only will you feel the wind in your hair, it will also help the tent feel more spacious than it actually is.

But don't get me wrong – the shelter is quite roomy by design. In fact, the manufacturer claims that you can sleep 8-9 people inside without feeling too cramped, and oddly enough, I would agree with that assessment. There's nothing wrong with the waterproofing either, and the structure itself is strong enough to withstand wind gusts from most storms that might roll through. I wish there was more than one door, since it makes coming and going inconvenient if you're sharing the tent with others, but that's a somewhat minor complaint. It's still an affordable option that exceeds expectations in many other ways.

Pros:

– Easy setup
– Lots of ventilation
– Spacious interior
– Plenty of storage options
– Waterproof

Cons:

– One door with one zipper
Best For: Car Camping
Pole Material: Fiberglass
Tent Material: Polyester
Weight: 26 Pounds
Peak Height: 78 Inches
Number of Doors: 2
Comes with Footprint: No
A spiffy screen room tent, the Wenzel Klondike will make you feel like you're glamping instead of camping. If you can overlook its tendency to trap heat, I believe this is one of the best stargazing tents that you'll find.

When the rainfly is off, both the screen room and main tent body open up to the night sky above. The design will allow you to have a pretty unobstructed view, especially when you're reclining in the screen room. But even beyond the stargazing aspect, how cool would it be to sleep out in the "porch" of your tent? Airflow out there is fantastic, and it gives you a fun "exposed" feel while you're sleeping through the night.

The instruction are thorough, giving you all the information you need to put the tent together without issue. Even if you aren't planning to sleep 8 people inside the shelter, it's nice to have the separation between the main tent and the screen room. If you have a lot of gear, you can feel free to leave it out in the screen room, leaving the tent less crowded on the inside.

Pros:

– Screen room
– Good circulation
– Offers nice spatial separation
– Helpful directions
– Waterproof

Cons:

– Can get hot inside
Best For: Car Camping
Pole Material: Steel
Tent Material: Polyester
Weight: 32 Pounds
Peak Height: 80 Inches
Number of Doors: 2
Comes with Footprint: No
Yet another tent with a screen room, I just have to say, the WeatherMaster is such a great design to have in a stargazing tent. The interior can hold two queen sized mattresses with ease, though you won't have much floor space after you've put them in. In the screen room, you could easily sleep at least two more.

It comes with a hinged door as well, sort of like what you might have at home. This makes it easy to come and go, allowing you to just push the door open whenever you want to leave. No more saggy door material always getting caught in zippers with this tent!

On the inside, the vertical walls really open up the space to provide a comfortable living arrangement. With an 80 inch peak height, chances are pretty slim that the top of your head will come anywhere near the ceiling as you stand. Say goodbye to claustrophobia and achy backs, and hello to easy wardrobe changes, comfort, and relaxation.

The poles are made out of steel, so durability won't be an issue, even in powerful wind gusts. It's certainly not the most aerodynamic tent out there, but it won't cause any problems as long as you stake it out properly.

Pros:

– Very roomy
– Tall center height makes it easy to stand straight
– Welded seams
– Steel poles
– Separate floorless screen room

Cons:

– Doesn't protect against heavy rain very well
Best For: Backpacking
Pole Material: Aluminum
Tent Material: Nylon
Weight: 3.6 Pounds
Peak Height: N/A
Number of Doors: 2
Comes with Footprint:

No
Stargazing or otherwise, if you want to get a high quality tent for a reasonable price, the Copper Spur is definitely the way to go. Big Agnes really outdid themselves with this one, providing a 3 person tent that only weighs a meager 3.5 pounds. That alone is practically unheard of, and somehow they managed to pull it off without sacrificing the total amount of interior space.

There are two doors and two vestibules, offering a great deal of outdoor space to stash your gear. After opening the doors, they can be propped up by your trekking poles, creating an awning on either side of the tent. Not only is this great for providing air circulation inside your shelter, it also gives you a place to sit in the shade and enjoy the view. On the inside, there's a massive ceiling pocket for you to store your belongings. It doesn't provide as much storage as some tents, but that's not a huge issue for most people.

On the off chance you want to cut back on weight even more, feel free to leave the tent floor back home. You can easily make do with just the tent body and the footprint, which is not included, freeing up several ounces of space. It makes a big difference if you want to backpack with this tent, which is something I would highly recommend doing.

Pros:

– Lightweight
– Spacious design
– Lots of storage options
– Sturdy and weatherproof
– Multifunctional

Cons:

– Ventilation could be better
At Untamed Space, we're passionate about helping you have the best camping experience possible. Our team of experts have experience camping and backpacking all over the world, allowing them to provide insightful and relevant content to guide you in your outdoor pursuits.

All of our reviews are based on a combination of firsthand experience, extensive research, and an analysis of customer feedback. We are an independent website and do not receive payments or incentives from manufacturers to promote their products, and we continuously update our content to provide new information based on product availability. Wherever you are in your journey, whatever gear you're searching for, you can be sure to find unbiased and up-to-date reviews for all of your needs.
FAQ
How Do You Stay Warm in a Stargazing Tent?
Without the insulative covering of a rainfly, staying warm can be a challenge if you're intent on viewing the stars. While the shelter might not provide much warmth, that doesn't mean you can't curl up in a sleeping bag or blanket. Depending on the time of year and where you are in the world, you may even consider bringing an extreme cold weather sleeping bag.
How Do You Go Stargazing as a Beginner?
If you're new to stargazing, it's best to download an app like Stargazer to give you information on what you're seeing. Pick out the brightest object you can find and start there.
Where Can You Use a Stargazing Tent?
Depending on what tent you get, it's likely you can use it almost anywhere. Just make sure you have a footprint to reduce abrasion on the tent floor, and you're well versed in the art of picking out a campsite.
Final Thoughts
Stargazing is done best when there aren't any other strong lights drowning out the twinkling dance in the sky. Which means few places are better suited to it than a campground, ideally somewhere far away from any major city.

But in order to effectively enjoy this activity without getting eaten alive by the bugs, you'll need a good stargazing tent. Shelters that have an attached screen room are perfect for the job, but really anything with a fully mesh roof will do the trick. We like the Sea to Summit Telos the best as a versatile option that can be used anywhere for anything. With multiple ways to set up the rainfly, you can adjust the tarp until it's in the optimal position for you. The tall doors and near vertical walls make it big person friendly as well, so anyone can get out and enjoy a night under the stars.
---
Related Posts: