If you're in a rush and want to find out what the best survival tent is, we recommend the Mountain Hardwear Mineral King 2 tent.

In today's age, many of us are feeling uncertain about life and the direction the world is headed. Things we could depend on before seem a little less reliable now, and as such, there have been more preppers making an appearance on YouTube and various blogs.

Survival situations take a variety of forms, but I think we can all agree that shelter is one of the first things you need to figure out. To make sure you're taken care of in any emergency, we've laid out some of the best survival tents below, whether you need a new home away from home or just something to see you through a weeklong trip in the wilderness.
In this article, we'll be reviewing the following best survival tents:
What is a Survival Tent?
A survival tent is just what it sounds like: a tent that you use in a survival situation. However, there's no such thing as a "one size fits all" survival tent, since there are a number of different environments and circumstances that you could find yourself in. For example, you could be:

– Intentionally testing your bushcraft skills
– Desiring a tent that you can live in for months or years in a SHTF scenario
– Searching for an ultralight shelter that covers the bare bones while keeping you light and portable
– Planning an extended expedition in the winter months where heat retention is vital

And so the list could go on.

Given the wide variety of survival situations you could experience, we've laid out a wide variety of shelters to match them. As such, you'll notice that many of the products listed below don't share much in common, as they're each suitable for a specific survival situation.
What to Look for in the Best Survival Tent
Regardless of the style of survivalism that you foresee in your future, there are some universal tent characteristics that are worth noting. Here are some of the most important ones:
Durability
In order for a tent to protect you, it has to be able to protect itself first. And if you plan on living in your tent for an extended period of time, then its durability needs to be off the charts.

When gauging the strength of a tent, you first need to look at the materials used in its construction. For poles, you really have three options: steel, aluminum, and fiberglass. Steel is the heaviest and most durable, making it a perfect choice for shelters that won't be moving much. However, if you plan on backpacking or traveling to various locations, I'd recommend looking at either aluminum or fiberglass.

Well, I say that, but I honestly wouldn't even consider fiberglass at all. It's the weakest of the bunch, and not really what you want to have in a survival tent. Aluminum is a better choice, maintaining a solid structure that's lightweight and fairly inexpensive.

Then you have to consider the fabric used for the tent. Among the products we've reviewed below, you'll find both synthetics (polyester and nylon) as well as canvas. In terms of durability, canvas will win every time, but it's also a lot heavier and doesn't travel well. Synthetics can be quite durable, but you'll want to pay close attention to the denier of the material used.

Denier is just a term used to represent the thickness of the threads used to make a fabric. The higher the denier, the thicker the thread will be, and by extension, the more durable it will be as well. I usually like my tents to have a denier of at least 50, though if you plan to put it through the paces, I'd suggest going with something closer to 100 or higher.
Weatherproofing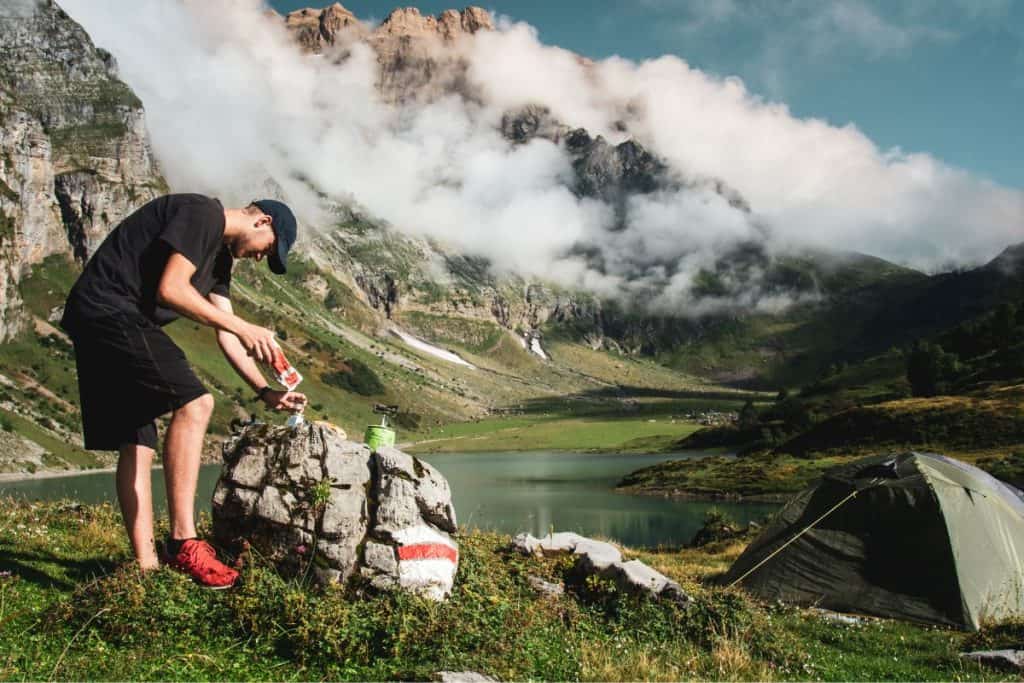 If you're looking for the best survival tent, it doesn't just need to be durable, it also needs to be weatherproof. The only reason you have a tent is for protection against the elements and the wildlife, so if your shelter can't withstand a rain shower or strong winds, it's the last thing you want to have in a survival situation.

Aerodynamics plays a big role in how well a tent will hold up in wind, with smaller shelters doing better than larger ones. The streamlined frame of the ALPS Mountaineering Mystique cuts through the wind nicely, in contrast to something like a cabin tent.

Likewise, the REI Co-op Base Camp has a sturdy frame, sporting the classic dome shape that also works well for sliding under the wind. It also has an effective rainfly that prevents water from leaking into the tent during heavy rain showers and extreme mountain conditions.
Ease of Setup
Though less important than durability and weatherproofing, ease of setup is another worthy consideration. It's not fun taking half an hour just to pitch a tent, especially if you don't have anyone else around who's willing to give you a hand.

Smaller tents are almost always easier to put together than larger ones, but I hope that won't make you shy away from big tents in general. The Whiteduck Avalon is a giant, canvas tent that will take some serious effort to put together, but it couldn't be more worth it when you're done. Shelters like the Avalon are designed to stay in one place for an extended period of time, so it's forgivable that it's hard to setup.

Most tents also have a color-coded rainfly and poles to make it obvious what corners are supposed to be put together. Little things like this help speed the process up, especially if you're not familiar with the tent yet, or you don't have much camping experience under your belt.
Color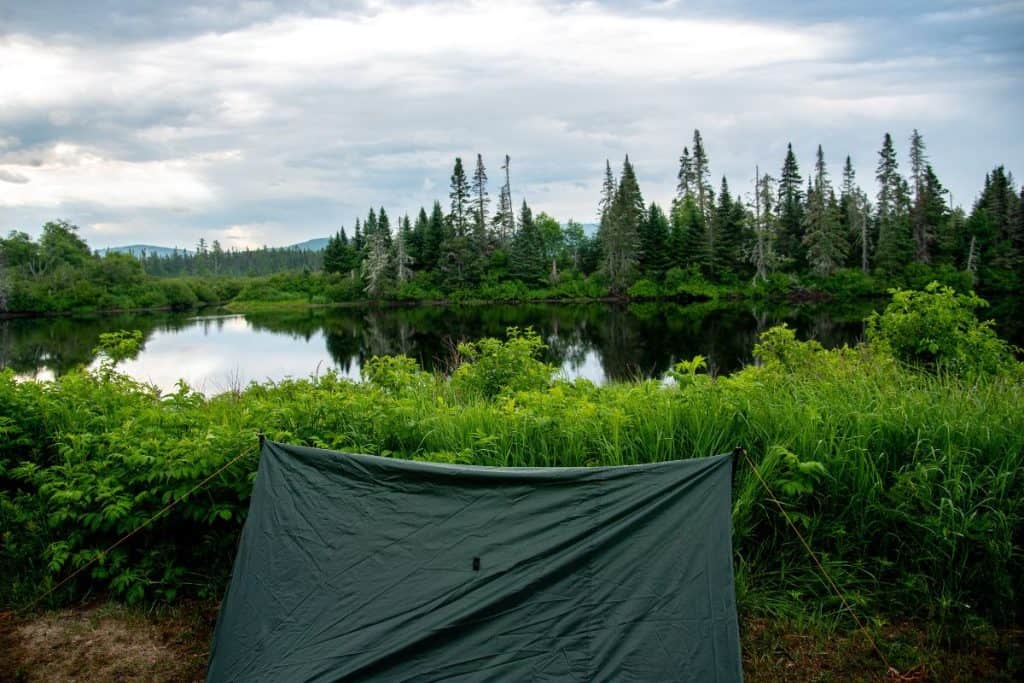 The color of your tent can also help or hurt you, depending on the type of survival situation you're in. Hoping to catch the attention of a search and rescue party? A brightly colored tent is going to be much easier for them to spot. On the other hand, if you're planning to spend an extended amount of time in the wild in a SHTF situation, you'll want a tent with earthier colors. Having something that blends in will make you less obvious to other people and wildlife.
Weight
The shelters in this review range in weight from a few ounces to several dozen pounds. Normally I'd say that lighter is better, but that's not necessarily the case when it comes to the best survival tent.

You'll hear me say this a lot, but the ideal tent is really dependent on the type of situation you find yourself in. If you're trying to stay mobile, and you find yourself moving sites on a regular basis, something like the Outdoor Research bug bivy might be all you need. On the other hand, if you plan on living in your tent full time, I'd suggest going with something like The North Face Wawona or the Whiteduck Avalon. They're much heavier, but that equates to added durability, protection, and storage space, which is what you want to have when you're living in a portable shelter.
Vestibules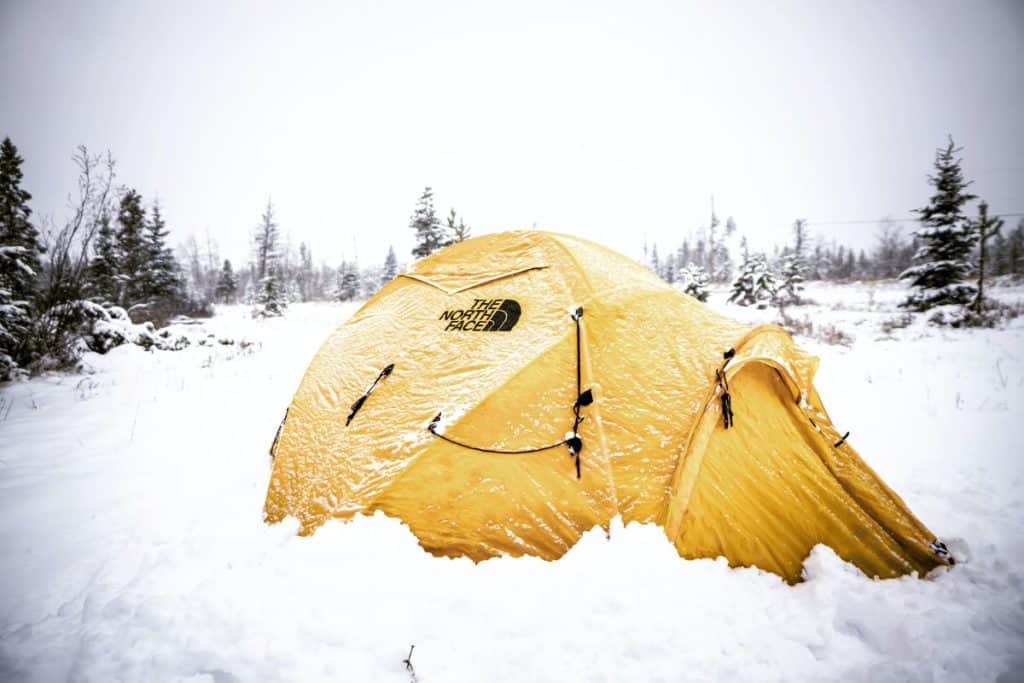 This isn't applicable for every tent in this review, but many of the backpacking and car camping shelters that you'll find on the market have vestibules. What is a vestibule, you might ask? Well, it's a protected space outside of your main tent body that's used to store gear that you don't want to keep inside.

Essentially, a vestibule is an extension of the rainfly, which stretches past the main body of the tent. While they aren't required, and many larger tents don't even have them, they can be handy if you don't have much internal space to work with.
Best Survival Tents – Reviewed
Weight: 6 Pounds
Fabric Material: Polyester
Pole Material: DAC Pressfit
Peak Height: 43 Inches
Doors: 2
It's not very often that I get to say this, but the Mountain Hardwear Mineral King is one of my favorite tents out there because of one very impressive feature. It's a two person tent that can actually hold two people!

Mind boggling, right?

But when you consider the fact that most two person tents are just 1.5 person tents (unless you're the size of a child), this extra space is a game changer. Two fully grown adults may still find that it's more cramped than they'd like, but it's a lot more bearable than what you'd normally find in a tent with this capacity.

Naturally, the extra space equals extra weight, so you'll have to shoulder a few more ounces than normal. Still, at 6 pounds, you could definitely do worse, especially when you consider all of the features that comes with this survival shelter. Not only is it easy to setup, but it also has all of the weatherproofing capabilities that you'd hope to find in a survival tent. In fact, I've always thought it was a bit shocking to see just how durable the Morrison is, considering how cheap it is compared to other high-end brands. It's not the sort of shelter that I would bring out for winter camping, but barring extremely cold temperatures, it can tackle just about anything that comes its way.

And then there's the storage options. Various pockets in the interior of the tent give you plenty of room to store your phone, a few snacks, your headlamp, and any other small item that you want to keep close by. There's also a gear loft and a number of loops to get other miscellaneous gear out of the way.

On the outside, two vestibules provide more room that you'll need for your hiking boots, backpack, and more. Again, considering the price of the Mineral King, it's hands down the best bang for your buck as you search for your next survival tent.

Pros:

– Very simple to set up
– Durable
– Waterproof
– Extremely large interior
– Lots of storage space, inside and outside

Cons:

– A little heavy
Weight: 24 Pounds
Fabric Material: Polyester
Pole Material: DAC MX
Peak Height: 78 Inches
Doors: 1
The North Face Wawona is one of those tents that just can't be fully appreciated from pictures alone. It's hard to get a grasp of the dimensions, but in typical 8 person tent fashion, it's a giant of a shelter.

The peak height is 78 inches (6 feet, 6 inches), which means that the vast majority of you will have no trouble standing up inside of it. Not only is this great for walking around without needing to hunch over uncomfortably, but it also makes it so much easier to change clothes, unpack, and create a more homey living space.

There's also 112 square feet of interior space for you to work with, providing plenty of space to throw in a queen size mattress or two, along with some cots, chairs, and table. If you want a little privacy, there's also a divider that cuts right down the middle of the tent, offering some separation between rooms.

The interior of the Wawona isn't the only thing that's massive about it, though. Even the vestibules are plus size, giving you more outdoors storage space than you'll probably need. This is actually pretty unusual, since most tents this size don't have any vestibules at all.

It's hard to find any complaints about weather resistance either. The rainfly works wonderfully, and the tent withstands strong winds very well, especially if you've taken the time to properly stake everything out. Even ventilation won't be a problem, since you can effectively keep the tent door open, even during a rain shower.

For a luxurious survival tent that maximizes on creature comforts without sacrificing mobility, I'd recommend the Wawona any day. The price is a bit hefty, but it's a reliable shelter that will see you through most survival situations with ease.

Pros:

– Spacious
– Weather resistant
– Easy to put together
– Well ventilated
– Tall peak height
– Massive vestibule

Cons:

– No footprint
Weight: 86 Pounds
Fabric Material: Canvas
Pole Material: Steel
Peak Height: 101 Inches
Doors: 1
As the only canvas tent in our review, the Whiteduck Avalon isn't for everyone, but it's very good at what it does. Given the massive size and weight, this is the sort of survival tent that I would choose if I planned to stay in one place for a long time. The canvas is highly weather resistant and durable, and all of the space will let you transform it into a home away from home.

Like most canvas shelters, the Avalon is a tent with a stove jack. This gives you the option to bring a tent stove into the shelter, allowing you to keep the interior warm and cozy, as long as you have a steady fuel supply. The jack is made from heat resistant silicone, so as long as you use it properly, there shouldn't be any chance of leaving scorch marks or burning holes through the canvas.

Large and durable, you may be able to set it up by yourself, but it's going to be a pretty strenuous process. In all, the tent weighs about 86 pounds, so unrolling it and lifting up the center pole will be a workout. However, once it's up, the design is suitable for year-round weather, regardless of where you live in the world. Cotton is naturally breathable, so the canvas won't accumulate moisture very easily. And with the water repellent coating on the outside, rain and snow won't enter when the skies turn gray.

The floor is removeable, if you would like to mix things up a bit, and you can open the windows and door for added ventilation. Unfortunately, the stakes are of questionable quality, but that's to be expected with most tents. As always, I'd suggest getting a fresh pair of tent stakes to use on any new tent that you purchase.

Pros:

– Very durable
– Highly weather resistant
– Spacious
– Stove jack
– Good breathability
– Removeable floor

Cons:

– Stakes are okay, but not great
Weight: 1 Pounds
Fabric Material: Mesh
Pole Material: Delrin
Peak Height: N/A
Doors: N/A
It wouldn't be right to have an article about survival tents and not talk about bivy sacks. While you could argue that it's not technically "a tent," it's close enough (in my opinion) to secure a spot in this review.

The Outdoor Research bug bivy is great for what it's designed for, but it's not the most versatile shelter in the world. As the name implies, its only real use is in keeping the bugs away while you sleep. Since everything is made from mesh, it won't prevent rain from falling on you during the night. As such, I would really recommend it for the mountains or more coastal regions where inclement weather is more common.

Still, as long as you keep an eye on the forecast, or you have something like a tarp to protect you from the rain, you can use it pretty much anywhere. The mesh design will help keep you from feeling too claustrophobic (a common problem with bivy sacks), and opens up your view to get a good look at the stars and your surroundings. Especially on hot nights, you'll be glad to have the no-see-um mesh to let that breeze in and cool you off. At the same time, on colder nights, you'll want to bring some extra layers to stay warm, since the bug bivy has no insulative properties at all.

The overhead pole keeps the mesh away from your face, which is a bonus that you don't always get in a bivy sack. The pole does add a bit of weight, but in all, the bivy only weighs about a pound, so you'll still be able to stay ultralight. Getting in and out is also a cinch, given the long zipper along the side of the shelter.

Pros:

– Only weighs a pound
– Great for ventilation
– No-see-um mesh keeps all the bugs out
– Single pole to get the mesh (and bugs) away from your face
– Long zipper for rapid entry
– Overall, great for desert camping

Cons:

– Not designed for rainy weather
– Funky guylines
Weight: 17 Pounds
Fabric Material: Polyester
Pole Material: Aluminum
Peak Height: 60 Inches
Doors: 2
The REI Co-op Base Camp is a rugged tent that was designed for rough mountain weather. While not classified as a true 4 season tent, it's highly insulated and durable, making it a great choice for winter conditions. The geodesic frame is a lot sturdier than what you'd normally find on a classic dome shape tent, allowing the Base Camp to withstand heavy snow loads and oppressive wind gusts.

But with that extra strength comes extra weight, putting this tent at 17 pounds, which is relatively high for a four person tent. Still, if you find yourself in an extreme climate and you don't plan on moving around very much, I'd say that extra weight is a small price to pay for the overall durability of the tent.

There's a minimal amount of mesh, which helps trap heat, keeping the inside of the tent well insulated. In fact, one of my biggest complaints about the Base Camp is that it tends to trap heat a little too well. During the warmer months of the year, you'll find that the tent will quickly become sweltering, and there aren't enough vents to bring cooler air inside. So if you plan on using the Base Camp year-round, I'd recommend investing in a tent air conditioner to keep your living space bearable.

You'll find that there are a lot of poles to contend with, but setup is pretty simple once you've got the system down. For a more luxurious option that withstands extreme conditions very well, the Base Camp proves its worth as one of the best survival tents out there.

Pros:

– Very durable
– Holds up well in bad weather
– Well insulated
– Spacious vestibules
– Easy to setup

Cons:

– Lack of ventilation
Weight: 9 Pounds
Fabric Material: Polyester
Pole Material: Aluminum
Peak Height: 53 Inches
Doors: 2
Marmot has become well known over the years as a quality camping gear manufacturer. Part of their claim to fame is the Tungsten line of tents, which is highly rated as a durable, weatherproof, comfortable set of tents. We're taking a look at the four person version here, but if you feel that might be too big for your needs, I suggest checking out the three person or two person variety.

At any rate, the four person Tungsten is a good-sized tent that knows how to maximize livable space. With 53 square feet of floor space to its name, you should be able to squeeze four adults inside if the situation called for it. Still, I'd recommend maxing your capacity at three people, otherwise you won't have room for anything else. After all, the vestibules are big, but they're not that big.

The near vertical walls let you scoot closer to the edge of the tent as well, freeing up more room that what you'd get in a classic dome tent. However, despite the sharper angles, the Tungsten stays strong in bad weather, cutting through strong winds without issue. At 9 pounds, it's also a decent weight for a four person tent, and it's easy enough for one person to set it up by themself.

Unlike most tents, the Tungsten also comes with its own footprint, which is essentially a tarp that goes under the tent. This acts as an additional barrier between the bottom of the shelter and the ground, improving durability and waterproofing. Overall, it's a fairly tanky tent that you can depend on regardless of the weather, all while maintaining a lightweight and spacious frame.

Pros:

– Large and spacious
– Durable design
– Easy setup
– Screen room
– Lightweight

Cons:

– Tends to leak
Weight: 4.7 Pounds
Fabric Material: Polyester
Pole Material: Aluminum
Peak Height: 36 Inches
Doors: 1
The smallest tent in our review (if you don't count the bivy sack), the ALPS Mountaineering Mystique is a terrific option for solo campers. Especially if you're a broad guy like me, the average one person tent can feel pretty cramped and uncomfortable. With the 1.5 person design, you're going to get a heavier tent, but it will also be a lot wider and a bit taller.

I can also tell you that durability won't be an issue at all. Aside from wintery conditions, you can use the Mystique almost anywhere, multiple times a year, and it's not going to show many signs of wear and tear. You will have to stake it out before putting the poles in, but that's not going to be a problem, unless you're camping on rock. And once you do have it staked out, it would take a hurricane level wind gust to knock it around.

The overall design is fairly simple, without many flourishes or added features. I know that many of you will appreciate it for that very reason, and I'd have to say that I agree. A handful of pockets let you store your belongings on the inside, and a (smallish) vestibule offers outdoor storage as well.

As you'd hope to find on a shelter this size, setup is incredibly simple, and can be done in a matter of minutes, even if you've never done it before. For a good-sized one person tent that can be put through the paces, you're not going to do better than the ALPS Mountaineering Mystique.

Pros:

– Large, for a one person tent
– Holds up well in bad weather
– Very durable
– Comes with pockets and a vestibule
– Good-sized door

Cons:

– A bit heavy for a shelter this size
Weight: 9.5 Pounds
Fabric Material: Nylon
Pole Material: Aluminum
Peak Height: 38 Inches
Doors: 2
We'll finish off this list by tapping into the territory of 4 season tents. And really, there's no better choice to represent this category than the Mountain Hardwear Trango, which is a tent designed for use in the harsh, alpine environment. It might be heavy for a two person tent, but that should just serve as an indication that it's sturdy enough to take a beating.

Due to the minimal amount of mesh used in its construction, the Trango is highly insulative, working wonders in wintery survival situations. In fact, you could even use it in a desert environment, since there are almost no openings for sand to enter, and the extra insulation will help when the nighttime temperatures drop. Ventilation is a bit of a problem, but that comes with the territory when you're looking at 4 season tents.

Those solid walls do more than trap heat, though. If you're not a morning person, I know how annoying it can be to have the sun wake you up as soon as those first rays of dawn fall on your face. While it might not work as well as a genuine blackout tent, the Trango is better than average at blocking those pesky rays, allowing you to sleep in a little bit longer than usual.

In terms of storage space, this tent has all of the bases covered. It's fairly spacious, for a two person tent, and has a number of pockets, gear lofts, and vestibules for both internal and external storage. At the very least, I wouldn't worry about running out of room to keep your belongings.

On the downside, the Trango is a bit difficult to put together and take down again, but that's also not too uncommon for this style of survival shelter. The sheer durability and insulative properties of this tent are benefits that far outweigh the difficulty in setup, so you're not going to do much better than the Trango, if you're looking for a 4 season survival tent.

Pros:

– Bombproof
– Roomy interior
– Plenty of internal storage
– Large front door vestibule and smaller backdoor vestibule
– Solid walls

Cons:

– A little heavy
At Untamed Space, we're passionate about helping you have the best camping experience possible. Our team of experts have experience camping and backpacking all over the world, allowing them to provide insightful and relevant content to guide you in your outdoor pursuits.

All of our reviews are based on a combination of firsthand experience, extensive research, and an analysis of customer feedback. We are an independent website and do not receive payments or incentives from manufacturers to promote their products, and we continuously update our content to provide new information based on product availability. Wherever you are in your journey, whatever gear you're searching for, you can be sure to find unbiased and up-to-date reviews for all of your needs.
FAQ
Do You Need a Big Survival Tent?
It can be tempting to pick a big tent for a survival situation, since more space usually equates to more luxury. However, that only works if you plan on staying in the same location for an extended period of time. Most emergencies will require you to stay mobile, which means a small, portable tent is the best way to go.
How Many Tents Do You Need to Survive an Emergency?
How many different types of emergencies do you plan to find yourself in? Usually one tent will do the trick, depending on what you're preparing for. However, if you want to cover all of your bases, I'd recommend going with a lightweight backpacking tent and a 4 season cabin tent. There are few situations that you won't be prepared for if you have those two.
Final Thoughts
In a survival situation, you want a shelter that will protect you from threat, whether they be from other people or from the environment. Sometimes that means staying as camouflaged as possible, other times it means standing out so a rescue party can find you. In some case, you may want to set up a semi-permanent residence on a private stretch of property, while other times, you may want to stay lightweight and mobile as you move across rugged terrain.

All that to say, it's impossible to say what the best survival tent is, because many of them are only suitable for a specific type of emergency. Still, the tent that we felt checked the most boxes and could be used with the most versatility was the Mountain Hardwear Mineral King. Extremely durable at a reasonable weight, it's a budget friendly survival shelter that won't disappoint.
---
Related Posts: