Home » Camping » Accessories »

If you're in a rush and want to find out what the best tent heater is, we recommend Mr. Heater's Little Buddy.

Whether you're an avid winter camper or just like the brisk fall evenings, it can be tough to stay warm outside. If you're a backpacker, the movement of getting from place to place is usually enough to keep you comfortable, but once you stop, it's amazing how quickly you cool off. For those of you staying in one place to begin with, it can be tough to warm up to a comfortable temperature without snuggling inside your sleeping bag all day.

To help alleviate the chill that wants to crawl into your bones, we've taken a look at some of the best tent heaters you can choose from. They're bring back a sense of warmth and life, making it easier to relax and enjoy your time outdoors.
In this article, we'll be reviewing the following tent heaters:
Fuel Type
In order to produce heat, you need some sort of energy source. Some tent heaters run off of electricity, while others use gas like propane or butane to warm up your surroundings. If neither of those are your cup of tea, you could always go with a wood burning heater as well. Let's take a look at each of these a little more in depth before we continue.
Wood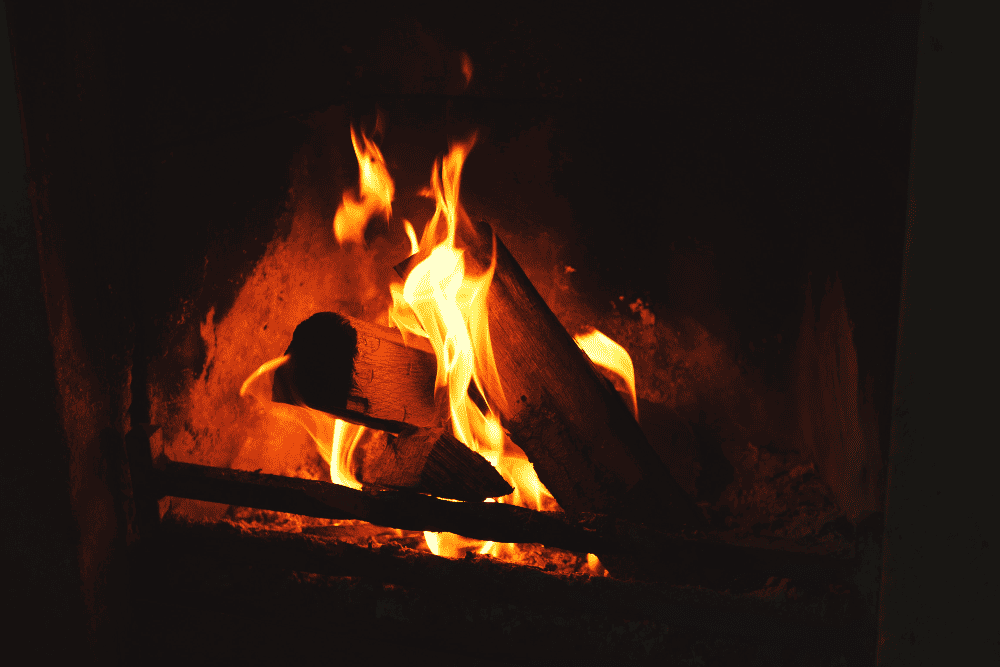 Though much bigger and heavier than the other options, I have a hard time not liking a good wood burning stove. When you're out in nature, it's a lot easier to find wood to fuel your heater than something like gas or electricity! Not to mention there's just something really soothing about the rustic vibe given off by the smell of wood and the sound of it crackling as it burns. Of course, you will need to figure something out in terms of ventilation, since the smoke has to go somewhere, but overall it's a great option for folks looking to stay in one place for a long period of time. Because of how bulky they are, though, we won't be looking at any of these types of heaters in this review, since we recognize it isn't a feasible option for most.
Electric
Fantastic if you want a nice, clean burning option for inside your tent. Electric tent heaters are usually quite portable, and they don't require fuel refills (aside from recharging), making them great for folks who just want something they can shove in their pack without worrying about anything spilling or leaking. The downside is that they can run out of charge quickly, depending on the type you get and how much you use it. There's also a bit of safety hazard if you were to get water on any exposed electrical wires or coils, so it's not something that you would want to leave unattended when in use.
Gas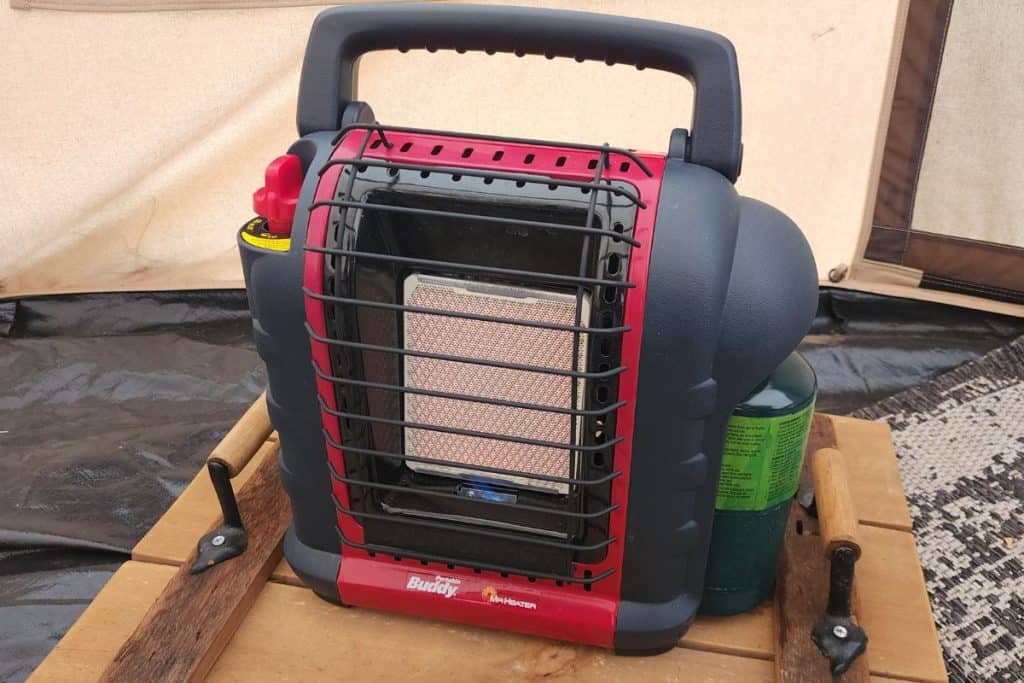 Another popular option, propane camping heaters are great because they can often second as a camp stove. This 2 in 1 capability makes them one of the better options for those of you looking to cut back on weight without compromising on functionality. Keep in mind that you will need to go out and buy your own fuel whenever you run out, and that some heaters have a specific procedure on how to do this.

Also, because you'll be burning gas, the fumes from a propane camping heater can be dangerous if left in a poorly ventilated area. That is to say, don't use it in a completely sealed tent, otherwise the carbon monoxide could injure or kill you. It can be a greater fire hazard too, if you happened to knock the fuel over and it ignited inside or outside your tent. Don't be scared off though – they are fantastic heaters and completely safe as long as you stay responsible and attentive.
Safety
We've touched on this a little bit so far, but it's a crucial topic to cover, so let's revisit a few points. To start off, remember that ventilation is key when you're using either gas or wood to fuel your heater. Unlike electricity, which isn't actually "burning" anything, these other types of fuel will emit fumes that can be harmful if inhaled in large amounts. Either find a way to keep your heater outside while letting the warmth come in, or make sure you have paid extra attention to the ventilation system within your tent.

Additionally, keeping your heater upright is very important. If you're using a propane heater, which is generally the best option for camping because it doesn't require an electrical plug-in, there is a flame that's being used to generate heat. Should the heater be tipped over, it is possible for it to catch your tent or other belongings on fire. The same caution should be applied for electric heaters as well, because the coils are also capable of starting a fire if left unattended.

Many tent heaters have a safety feature built into them that will automatically shut it off when tipped over. However, it's still good practice to keep a close eye on the product anyway, and prevent a situation that would test whether the safety feature actually works or not.
Best Tent Heater Reviews
I don't know about you, but I'm a minimalist at heart. Anytime I can get away with a product serving multiple functions, I'll pounce on the opportunity. The fact that Campy Gear made a propane camping heater that also seconds as a stove is one of several reasons that I like this product, since it will help save space and weight if you were planning on bring a stove and heater anyway.

Capable of running off of either butane or propane, you'll have a little leeway when it comes to determining what gas you want to use. You can also hook up a 1 pound propane tank via a special hose, or it is compatible with a smaller fuel canister as well. The radiant heat is emitted in a 360 degree radius, so no matter which side you're on, you'll be able to feel the warmth. And if you're interested in the stove feature, the heat is adjustable, so you can adjust it depending on what you're cooking.

Pros:

– 2 in 1 design, with both a heater and stove
– 360 degree radiant heat
– Can be fueled by either a propane tank or canister
– Warms up quickly
– Adjustable heat on the stovetop

Cons:

– Because it is gas, it should only be used in a well ventilated area
– Pumps out a lot of heat, but on very windy days, might be difficult to feel much
I really like electric camping heaters. When it comes to gas, you have to worry about how you're going to transport your fuel, in addition to the dangerous fumes released when burned in a poorly ventilated space. If the reason you want a heater is to warm your tent, it's hard to manage with a gas product, unless you have the door and vents all open.

The ISILER Space Heater is powered by electricity, but has no exposed coils for someone to accidentally touch. Small and portable, it won't do much good in a medium to large sized room, but put it in a smaller space and it'll do the job perfectly. It also has a built in safety feature, so if it gets too hot or tips over, it will turn off so it doesn't start anything on fire. With a built in thermostat, you can adjust the temperature to what you would like, and it will turn itself on and off to maintain the heat level that you set it on. Unfortunately, it will need to be plugged in for use, but for RVs and camper vans, it'll be hard to find something better.

Pros:

– Electric, coils aren't exposed
– Numerous safety features
– Adjustable thermostat
– No fumes

Cons:

– Needs to be plugged in for use
– The fan noise is a bit loud
One of the biggest problems with propane heaters is the carbon monoxide that's discharged in the fumes. When confined in a small space, like a tent, this can be a serious health concern and not nearly worth the luxury of having extra heat on a chilly night. As such, most gas powered heaters can only be safely used outside.

Though it doesn't get rid of the problem completely, Mr. Heater's Little Buddy does solve at least some of the issue. With a safety censor in place, the propane heater will turn off when it senses that the oxygen level is getting too low. Ideally, it would still be best if you didn't let it get to this point, but the safety feature will keep you from suffering severe damage to your body.

It is powered by a 1 pound propane container, which is not included. When kept on minimum heat emission, a full tank should last you somewhere around 5.6 hours.

Pros:

– Portable with a handle and stand
– Auto shut off feature when tipped over or when there's low oxygen
– Simple to use
– Odor free burning

Cons:

– Can be a little tricky to light
– Heating is great in small spaces, but not larger areas
Conclusion
Whether you're a winter camper or not, it can still get quite chilly at night depending on the season. Insulated, 4 season tents can work great to keep the cold outside, but not everyone wants to carry this heavier tent around with them when there isn't even snow on the ground. Likewise, sleeping bags and sleeping bag liners are amazing at keeping someone toasty, but who wants to be confined to their sleeping bag when they want to be warm during the day?

Tent heaters solve this problem, and among all the ones that we've looked at, the Mr. Heater Little Buddy does it best, in our opinion. It may not make much of a difference in a larger space, but inside a tent, you'll notice a big change in air temperature. Portable and easy to carry, it's great to have with you on the road, and because it runs off of propane, you don't need to worry about finding an electrical outlet. The auto shutoff is also a great feature to keep you safe if the oxygen level gets to be too low, or it happens to tip over by accident.
---
Related Posts: