If you're in a rush and want to find out what the best tent stove is, we recommend the
Fltom Camp Tent Stove.
The number of people who decide to brave the cold and camp in the winter has been skyrocketing in recent years. Given how scenic it can be, I'm not surprised by this increase – in fact, I would suggest you try it out yourself! The frosty landscape and winter activities are irresistible, though the freezing temperatures can dampen the mood a little bit.

That's why a heat source is so important. To keep you safe and comfortable, we'll be looking at some of the best tent stoves to warm you up after a fun day in the snow.
In this article, we'll be reviewing the following best tent stoves:
What to Look for in a Tent Stove
Tent stoves are going to be your cooking lifeline out in the wilderness, so it's important to pick out a good one. Before we dive into the various things to look out for, it's worth mentioning that we're (mostly) listing options suitable for car camping or glamping. While some of the products below could be used for backpacking, we still recommend going with a single propane burner for that instead. You can check out the guide that we wrote for those HERE.
Portability
By nature, tent stoves are going to have some heft to them. They're often large and bulky, and a pain to carry long distances, no matter which one you get. However, some are definitely better than others in this capacity.

Weight plays a key role in how portable an object is, and it's fair to say that many of the best tent stoves fall between 15-30 pounds. However, there are some that go as light as 4 pounds, and others that just fall shy of 75 pounds. It's not that one type is better than another – they just serve different purposes.

Depending on how strong you are, this weight might not pose an issue, though it will still be uncomfortable to carry for long distances. And once you take the fuel into consideration as well, carrying a stove is best done by two people.

Size and shape are also big factors that contribute to the portability of a stove. Many stoves are semi-rectangular with sturdy legs that fold in, making them easy to transport. Other components, like the chimney, can usually be taken off and stored inside the stove when it's not in use.
Materials
It's important to know what your stove is made out of for a number of reasons. First, you need something like stainless steel that can take a beating from the elements without succumbing to rust or corrosion. Carbon steel is also a good option, and titanium works well for lighter weight tent stoves.

It's also worth remembering that the stove material is going to be placed under a tremendous amount of heat. Warping can be an issue if you don't choose your materials wisely, but that won't be an issue if you pick something that was listed above (stainless steel, carbon steel, or titanium).

And then there's the issue with paint. While a non-heat-resistant paint might look pretty, it'll go up in flames once the temperature hits a certain threshold. When paint burns like this, toxic fumes will be released into the air, damaging your health if you breathe in too much.
Accessories
Any camping stove worth its salt will have a few extra accessories to go with it. For example, a chimney is a necessary component to any wood burning device, otherwise ventilation quickly becomes an issue. An ash scraper is also nice to have as a way to clean up the stove when it's not in use. If you don't take the time to scrape the materials out, it could become hazardous in the future. And finally, a spark arrester is important for keeping flammable debris away from combustion sources. You can think of it as a preventative measure against the ignition of dry grass and other items that could cause a wildfire.
Types of Stoves
Backpacking Tent Stoves
Thought you were stuck with a single propane burner if you wanted to cook while backpacking? Perhaps surprisingly, there are actually some tent stoves that are light enough to bring on long treks. Of course, they're still too heavy for ultralightweight backpackers (as the stoves don't really get any lighter that 4 pounds), but others will be willing to make the sacrifice.

When it comes to backpacking tent wood stoves, titanium is going to be the metal of choice. It's the lightest material that a stove can be made out of, and it's far better than lugging around dozens of pounds of steel on your back. In fact, car campers may prefer this style as well, even though they won't need to carry it nearly as far.

Military Tent Stoves
Mostly used as a heat source instead of an actual stove for cooking, military tent stoves are often barrel shaped without a stovetop. They usually have racks on the side of the barrel, allowing users to dry their socks or other articles of clothing. Like backpacking tent stoves, they are known for being lightweight and portable.

Glamping Tent Stoves
Glamping stoves are often bigger and heavier, since glampsites are long term settlements. Most have a cooking surface, and a more spacious interior, in order to accommodate a larger amount of wood. After all, they do need to pump out more heat to adequately warm the inside of the shelter.
Tent Stove Safety
Despite all the benefits that they bring, tent stoves can still cause serious health problems if they aren't properly used. Here are a few things that you should pay attention to when you get a new stove:

Toxic Paint
If your stove arrives with a coating of non-heat-resistant paint, it's not like it's unusable. However, before placing it inside your tent, you'll want to start a fire inside it after putting it out in the open air. The paint on the outside will burn up, releasing all of the toxic fumes, so that you can safely use it later.

Spark Arrester
Mentioned briefly earlier in this review, a spark arrester is like a plug that covers the chimney. It keeps sparks from flying out of the chimney – an important job, since it would be catastrophic if those sparks landed on the roof of the tent. If your stove doesn't come with one, I would strongly suggest purchasing it on the side.

Chimney and Chimney Damper
Necessary for moving smoke away from your living space, a chimney is one of the most vital components of your stove. Make sure your stove has a long enough chimney to extend through the pipe hole in your tent, and keep going past it until it's far enough away from your roof.

A chimney damper controls the airflow through the chimney, allowing you to keep warm air from escaping when the stove isn't in use. Just remember to open it back up again when you light a fire, otherwise your tent will fill with smoke!
Fire and Carbon Monoxide Safety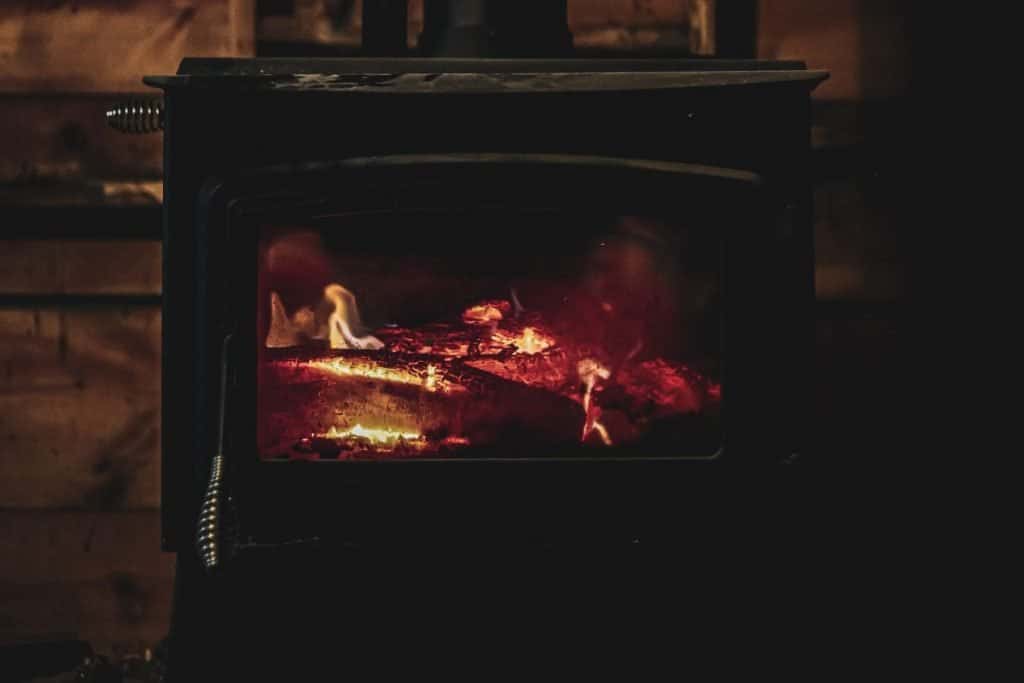 Accidents can and do happen, whether it's because of user error or a faulty product. When it comes to tent stoves, your two biggest threats are going to come in the form of fire and carbon monoxide.

We briefly talked about fire safety above, mentioning the need for a spark arrestor and chimney. However, if those features aren't enough, you still need to be prepared to put out a fire in case of an emergency. Something like the mini fire suppressor by Smoke Doctor is a good tool to have in your back pocket should a few stray sparks end up transforming your tent into a campfire.

Your other enemy is carbon monoxide, which is a dangerous gas that can build up if your stove isn't properly ventilated. Keeping the stove door open (even a crack), the damper closed, and the flue dirty and backed up is a great way to raise the carbon monoxide levels inside your tent.

Getting a CO detector can give you proper warning if levels are starting to get too high inside your tent. You don't need anything fancy, just something battery powered and reliable, like the Kidde carbon monoxide alarm.
Best Tent Stove Reviews
A highly portable design that keeps its weight to a reasonable number, the Woodlander medium tent stove is tough to beat for car camping and glamping. With 3 collapsible legs, this stove is both portable and sturdy. While it's still important to set it up on a flat stretch of ground, a few dips in the earth or poorly placed rocks won't upset the balance of this product.

The belly of the stove sits 9 inches above the ground, and there are 3 windows on various sides of the structure, which allow you to look inside the stove. These windows do have a habit of getting dirty, but they clean up easily if you perform regular maintenance. And despite the concern that some of you might have about all the glass, I can tell you that it's quite durable and won't break easily. In fact, I quite like it, because it allows light from the fire to illuminate the inside of a tent with an ambient glow.

Additionally, you can remove a panel from the top of the stove, exposing a grate that can be cooked on. The winged shelves on either side of the stove also make it possible to store various items.

Pros:

– Small and portable
– Can be used for cooking
– Plenty of windows into the chamber
– Durable
– Emits a good amount of heat

Cons:

– The metal is a bit thin
Though not a traditional tent stove, Solo Stove's bonfire fire pit still does a great job of providing warmth and light. The obvious downside is that there's no chimney to redirect the smoke, so this product can only be used outdoors. However, if you just need a way to cook, and don't need the stove to heat your tent, it's a fun way to make a campfire.

Though it's a tad heavy, this wood powered stove is perfect for channeling heat into a cooking surface. While it doesn't come with a way to prepare food, you could easily buy a grate separately, and put a pot or pan on top of that. A well-built fire will last about 4 hours inside of this container, giving you plenty of time to warm up and make dinner.

Various vents located at the top and bottom of the stove maximize the amount of airflow being fed into the fire. The fact that it comes with a stand to raise it off the ground amplifies this effect even more. Not to mention, it keeps any flames from licking at the earth, allowing you to protect the environment and reduce the risk of wildfires.

Pros:

– Come with ash pan
– Can maintain a fire for 4 hours
– Well ventilated design
– The stand lifts it off the ground
– Sleek
– Low amount of smoke

Cons:

– No chimney
– No cooking apparatus
Heavy duty and versatile, the OneTigris Tiger Roar is a tent stove that was designed to last. Made from durable stainless steel, there's a minimal amount of glass, cutting back on the number of parts that could be damaged. But even if the viewing port is damaged, this stove comes with replacement glass that you can use instead. In addition to that, it also comes with leather gloves, pipe for the chimney, and an ash scraper.

While there's no designated spot for cooking, the top of the stove is perfect for resting a kettle or frying pan. Considering the amount of heat this thing produces, you won't struggle to bring water to a boil or sauté some veggies. In fact, the inside of your tent might get so hot, you'll have no choice but to open up the door a little!

Overall, the stove is large enough to accommodate quite a bit of wood. In fact, it's big enough for you to store all of the other components inside of it, including the pipes for the chimney. This makes it very portable, which is perfect for small hikes out to the campsite.

Pros:

– Large interior
– Durable
– Throws off a lot of heat
– Adjustable air intake
– Chimney damper

Cons:

– Some of the edges are sharp
– No spark arrester
If there was a contest for the best-looking tent stove, I believe that this Danchel Outdoor stove would win first place. I love the sleek design, and the generous use of windows only adds to the effect. Because of the ceramic glass, this product is no longer just a source of heat – it's also a source of light, capable of illuminating the entirety of your tent.

With a long chimney that will extend well beyond the roof of your shelter, it's easy to keep unwanted smoke out. There's also a built-in spark arrester that separates the top of the firebox from the bottom. Not only does it prevent embers from flying out of the chimney, it also helps regulate the heat emitted from the cooking surface. And when you consider all of the protective shields that surround the firebox, it's safe to say that it won't cause any damage as long as you take care of it.

But really, its primary selling point is how lightweight it is. At 6.6 pounds, it's almost the lightest tent in our review, making it a decent option for backpacking. Of course, you have to keep in mind that the weight reduction is due to the small size of the stove. You likely won't be able to heat a large, canvas tent with this product, but it's a gem for smaller shelters.

Pros:

– Sleek design
– Lots of durable glass
– Built-in spark arrester
– Sturdy carry bag
– Lightweight

Cons:

– Doesn't emit as much heat
A tiny titan, Winnerwell's fastfold titanium tent stove is going to be your go-to option if you want to bring a stove with you while backpacking. Though 4 pounds is still a lot to be carrying long distances, it's perfect for hunters or backcountry skiers who need some heat.

The structure is foldable, and there are no loose parts that could get lost if you're trying to set it up in the dark – or in the snow, rain, or any other unfavorable weather. It's also the perfect size to fit any standard length wood that's been purchased, after it's been split. Though the cooking surface is small, there's a lot of heat transference that goes on, so it's easy to make a meal or brew your morning cup of coffee. And with that in mind, I think it goes without saying that it'll sufficiently warm the inside of your small to medium size tent as well.

Don't forget to do your initial "burn-in" outdoors, so you can clear out any toxic substances. The heat from this first burn-in will also help the chimney pipe retain its shape in the future, since it needs to be rolled up for storage purposes.

Pros:

– Small and lightweight
– Foldable
– No loose parts
– Great size for holding wood
– Emits a lot of heat

Cons:

– Tends to burn through wood quickly
A solid, double walled stove, this product by Fltom is a durable option that won't break the bank. There's a small glass window, allowing you to peak in on the fire to see how it's doing or to create an ambient glow. It's also a decent size with a great cooking space on top of the firebox with winged shelves that fold down on either side. You could easily pop a pan or two on top of the stove to cook dinner for yourself and a few others.

But personally, what I like the most about this particular stove is the secondary burn effect. For those of you who don't know, secondary burn is when waste gases higher up in the stove are burned in order to increase heat and reduce emissions. Though it's not perfect, the Fltom tent stove is capable of this phenomenon, making it a cleaner and more efficient option.

It also comes with a good amount of piping to be used as a chimney, and an ash tray to make clean up easy. The air intake feels a little redundant, considering all of the secondary intake holes that are scattered across most of the box. Still nice to have, but mostly useless as long as those secondary holes aren't covered up.

Pros:

– Double walled design
– Solid frame
– Large door
– Lots of secondary air intake holes
– Affordable

Cons:

– Stove isn't airtight
Perfect for folks on a budget, the Ganggend tent stove is a durable option that won't break the bank too badly. It doesn't have a flashy design, and it's more functional than anything else, but isn't that what you want in a tent stove? The firebox is sturdy and holds quite a bit of wood, easily heating up both your shelter and any cookware that you set on top of it.

At 22 pounds, it's not super light, but it's easy to carry since it folds up like a suitcase. The legs are also foldable, and the chimney components can safely be stored inside the stove itself. It comes with some pretty massive handles that are built to be "anti-scald," so you won't burn yourself when you're trying to adjust the air damper. And trust me, that's a pretty real concern with this stove, as it does heat up very quickly.

The stovetop is large enough to accommodate a pot or pan of any size, and there are also shelves on either side that can serve as a drying rack. Perfect for drying out socks and gloves that are wet after a fun day playing in the snow.

Pros:

– Durable
– Easy to transport
– Large cooking space
– Drying shelves
– Relatively inexpensive

Cons:

– The vents can be a little tricky to use
With that cast iron charm, Guide Gear's tent stove has to be favorite, in terms of aesthetics. Of course, we all know that cast iron is heavy, which is why this particular stove weighs the most out of all the others listed in this review. But despite the reduction in portability, I believe this still makes a great option for those of you looking to stay in one place for awhile.

There are no windows, and there's very little to break in general. However, it is a bit on the small side, suitable more for kindling than larger pieces of fuel. That being said, it's still more than enough to heat a tent, but you might find it a little lacking if you're trying to warm a larger space (like your garage).

Though it's a rarity, it's possible to have the outer paint go up in flames, releasing toxic smoke. Definitely more of the exception than the rule, but still a good reason to thoroughly burn it in outdoors before using it inside a shelter.

Pros:

– Durable
– Perfect for outdoor use
– Solid cooking area
– Good looking design
– Relatively inexpensive

Cons:

– Heavy
– Outer paint tends to burn
At Untamed Space, we're passionate about helping you have the best camping experience possible. Our team of experts have experience camping and backpacking all over the world, allowing them to provide insightful and relevant content to guide you in your outdoor pursuits.

All of our reviews are based on a combination of firsthand experience, extensive research, and an analysis of customer feedback. We are an independent website and do not receive payments or incentives from manufacturers to promote their products, and we continuously update our content to provide new information based on product availability. Wherever you are in your journey, whatever gear you're searching for, you can be sure to find unbiased and up-to-date reviews for all of your needs.
FAQ
What are the Key Features to Consider When Choosing a Tent Stove?
When choosing a tent stove, there are a few different features that you should look for. The size of the stove is important, as some are too big for certain tents and others are too small to heat your space adequately. Consider the fuel type, portability, safety, and durability as well.
What Safety Features Should I look for in a Tent Stove?
Safety features are crucial when selecting a tent stove to minimize the risk of accidents and ensure a secure camping experience. Look for stoves that have heat shields or guards to prevent accidental burns or fires – adjustable legs or stabilizers can provide stability on uneven surfaces as well. And finally, models with spark arrestors or chimney dampers help reduce the risk of fire hazards caused by sparks or embers.
What Fuel Types are Compatible with Tent Stoves?
Tent stoves are designed to be compatible with various fuel types, including wood, propane, and liquid fuel, though the most common is definitely wood. Wood-burning stoves are popular for their convenience and availability of fuel in outdoor settings, and are what you'll find listed here, in this review.
Final Thoughts
Whether you're camping in the winter, or the shoulder months have a wicked chill at night, staying warm should be one of your top priorities. Certain tent heaters work well if you have access to electricity or gas, but sometimes these aren't available. In that case, what you need is a good tent stove.

While there are lighter weight stoves that can be used for backpacking, it seems safe to assume that this isn't what most of you will be using it for. Instead, you probably want something that's strong and durable, able to handle a variety of tasks without filling your shelter with smoke. With that in mind, we felt that Fltom's camp tent stove was the best option for a heavy duty and versatile heating and cooking device.
---
Related Posts: