If you're in a rush and want to find out what the best thru hike backpack is, we recommend the Osprey Atmos AG 50 pack.

Backpacks are essential for any hike, even if you're only doing a quick 5 mile trip to the summit of the local mountain. But for longer, thru hikes, you'll have to be pickier about what you allow to sit on your back for the next several days. It will spell the difference between comfort and agony, guaranteed.

So, to make sure you're covered until your next opportunity to resupply, here are some of the best thru hike backpacks that you'll find on the market right now.
In this article, we'll be reviewing the following best thru hike backpacks:
Capacity
Along with adjustability and comfort, I believe that capacity is one of the most important things to pay attention to for a thru hiking backpack. And like most things related to camping gear, there isn't a one size fits all option to make things easy.

Instead, the backpack capacity that's best for you will depend on how you like to hike (and pack). Are you an experienced thru hiker with an ultralight setup? You could probably get away with a 35-45 liter pack, especially if the sections of trail that you're hiking are a bit shorter and easier.

Not really sure where you fall on the spectrum? It's hard to go wrong with a solid 55 liter pack. Even if you feel underprepared, there should be opportunities to resupply after most trail sections, allowing you to survive without issue. Still, if you're worried about packing too light, or you just have a lot of heavy gear that you don't mind carrying, a 65 liter pack might be a good choice. Anything larger than that is overkill, in my opinion, so I'd try to cap it there.
Adjustability
An adjustable pack is often a comfortable pack. Most thru hiking backpacks have some form of adjustability, usually in the shoulder or sternum straps. If you have an adjustable hipbelt as well, even better. Tweaking the way all of these straps fit will help the pack rest more comfortably on your shoulders and hips, giving you less pain and bruising overall.

A few options even have adjustable harnesses, allowing you to change the length of the torso. Shorter folks tend to find this feature quite useful, though the mechanism does add a bit of weight to the pack.
Weight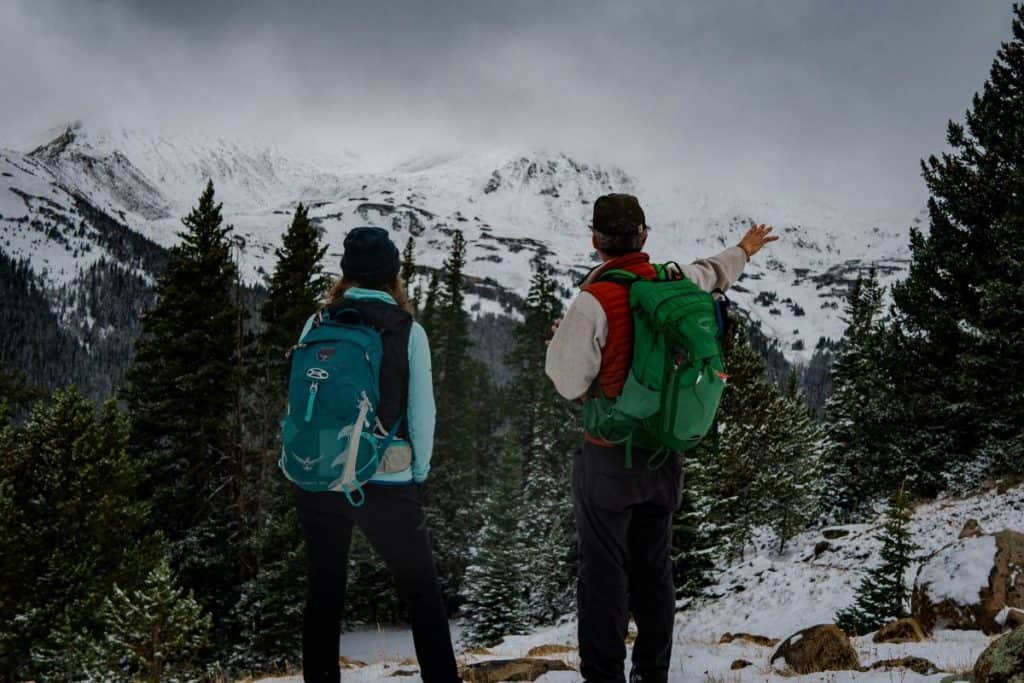 Speaking of weight, it's not something that you should glance over. I find that many backpackers (especially beginners) tally up the total weight of their gear and forget to include their backpack in the mix. It might just be a storage container, but between the fabric and the frame, it's still going to weigh a few pounds.

On average, even the best thru hike backpack is going to be between 3-4 pounds. If you go with a smaller capacity, you might be able to get that down to 2 pounds, and if you go with something larger, you might be looking at 7 pounds. There's not necessarily a right and wrong weight, as each end of the spectrum has pros and cons. For more durability and support, a heavier frame is ideal, whereas a lighter frame is perfect for tactical missions that require you to stay agile and mobile.
Gear Carry Features
A solid main compartment is vital for any backpack, but you should pay attention to other pockets, loops, and compartments too. These additional pockets make it easier to organize and separate your gear, keeping the essentials close at hand.

For example, as a thru hiker, you're probably going to lean heavily on your trekking poles (pun intended). But when you're not using them, do you really want to shove them under a mound of miscellaneous gear inside the main compartment of your pack? Probably not.

That's why most thru hike backpacks come with special loops that allow you to hang your trekking poles from the outside. This keeps them close by when the terrain gets rough, and also allows you to put them away without messing with everything else that you've kept nicely packed away.
Comfort
When you're lugging around a few dozen pounds of gear for hours upon hours, you'll be in tears if you don't have a comfortable backpack. You can find a certain amount of padding on almost every backpack, which will keep the straps from digging into your body too severely. The only exception comes in the form of ultralight backpacks, which reduce padding to cut back on weight. If you're okay with that tradeoff, go for it! Otherwise, I'd suggest choosing something that doesn't cut into your shoulders and hips.

Comfort is also related to the adjustability of the pack straps, as mentioned above. Being able to get a proper fit is essential for creating a comfortable carrying experience, so take care to choose a pack that fits you well. I always recommend going to an outfitter, like REI, to get sized by one of the employees before pulling out your wallet to buy something.
Durability
And then there's the matter of durability. It shouldn't come as a surprise to anyone that a backpack is going to take more of a beating than your average piece of camping gear. It's constantly exposed to the elements, you'll probably be tossing it around, rubbing it against sharp rocks and other objects, and it has to support the strain of several dozens of pounds for hours on end.

If you want your pack to last you more than one year of backpacking, you'll need something extra durable. Most do a pretty good job in this department, but it still pays to take a close look at the denier of the fabric being used. Higher denier equals a thicker thread, which is more durable something thinner. I like my backpacks to have a denier around 100, but for the most part, it's a matter of personal preference.
Best Thru Hike Backpacks – Reviewed
Frame Type: Lightwire
Capacity: 50 Liters
Weight: 4 Pounds
Materials: Nylon
If you asked me what my favorite backpack brand is, I'd probably shrug and say that they all have strong and weak points. But if you really pressed me, well… I'd probably have to say Osprey.

Specifically, the Osprey Atmos is one of my favorite backpacks for men, in addition to the Aether, which is more of a barebones pack. But before I get into all of the features found in the Atmos, I'd like to start off by saying that this is the "AG" style, which stands for "anti-gravity." Unfortunately, that doesn't mean that it floats (wouldn't that be cool?), but instead it comes with a tensioned back panel that flows into the hipbelt. It gives you a bit more comfort and ventilation, helping your back stay spry and dry.

On top of that, you get a few other handy features with the Atmos, such as the highly adjustable straps. It's not going to be hard to get the perfect fit, as long as you've chosen a pack with the proper torso length. There are also some well-designed compression straps on the outside, that you let shape your pack and secure your load, to prevent your center of gravity from shifting.

External storage options aren't hard to come by either. You get the standard trekking pole loops, as well as a separate attachment for ice tools, if needed. The top lid (also known as "the brain") has a convenient zippered pocket, and a special compartment at the bottom of the pack lets you keep your sleeping bag separate from everything else. A number of other odd and end storage spaces give you flexibility in the way you organize your gear, and there's a reservoir sleeve that can accommodate a 3 liter bladder.

Overall, this pack was designed to carry between 30-50 pounds, which is about average for your typical thru hiker. At 4.5 pounds, it might not be the lightest pack out there, but the superior durability, comfort, and storage options make the extra pound worth it.

Pros:

– Comfortable
– Well ventilated
– Plenty of additional storage
– Very durable
– Included rain cover

Cons:

– Hipbelt might actually be too big for some
Frame Type: Steel
Capacity: 65 Liters
Weight: 4.7 Pounds
Materials: Nylon
The Gregory Katmai was designed with an emphasis on convenience, comfort, and durability. It's one of several packs in this review that makes use of recycled materials in its construction, helping to reduce its impact on the environment without sacrificing durability. In fact, depending on what part of the pack you're looking at, the denier of the fabric will either be 210 or 420. Both of these are more than strong enough to withstand years of abrasion and abuse.

There's also the steel frame, which adds quite a bit of structure and stability to your load. Unfortunately, between the weight of the steel and the thickness of the fabric, the Katmai is a bit on the heavier side. At just under 5 pounds, it's not the best… but it's also not the worst you could do. There are enough features built into it for the sake of comfort that the extra pound won't be as noticeable as you might expect.

For example, the harness has an autorotation feature that lets the pack move with you. The harness is also adjustable, so you can tailor the fit to suit you perfectly, regardless of your height. I also like how adjustable the hipbelt is too, as it conforms nicely to a variety of girths. Which is to say, if you're something of a bigger guy (both in height and width), this is the backpack I would recommend you pick.

A lot of thought was put into the storage abilities of the Katmai as well, offering the traditional top lid, kangaroo pouch, and sleeping bag compartment. But in addition to those things, you also get a special "QuickStow" system built into the shoulder harness as a place to store your sunglasses. I also appreciate the water bottle holder, which can easily be accessed with one hand while you're hiking – rarity among most thru hike backpacks.

Pros:

– Durable
– Very comfortable
– Adjustable harness that rotates with your body
– Good for larger men
– Handy compartments for sunglasses and water bottle
– Side zipper

Cons:

– Zippers can be a little hard to close
Frame Type: Aluminum
Capacity: 60 Liters
Weight: 4.1 Pounds
Materials: Nylon
Off the top of my head, I can't think of a better women's backpack than the REI Co-op Traverse. A lot of thought was put into it, and it's an option suitable for veterans and beginners alike. While the weight is a bit higher than some thru hikers would like, I believe that 4.1 pounds is still a very reasonable weight for a pack of this quality.

It's one of the more durable packs out there, in my opinion, second only to pretty much anything made by Mystery Ranch. I'd try to keep the weight limit to 50 pounds, but if you need to go over, the pack won't struggle to carry those extra pounds.

But that's only if you need to go over 50 pounds. What if you're running pretty light, and don't need all of the storage space that comes with the Traverse? Well, you're in luck, because this is one of those rare packs that comes with a separate daypack. It's a nice feature that really opens up your selection of trails, without feeling the need to buy a separate, smaller pack.

As if the daypack wasn't enough, REI tossed in another addition, sweetening the deal with an included rain cover. A backpack rain cover might be a cheap add-on, but having one built into the pack saves you the trouble of purchasing one that has the proper size.

In terms of storage, the exterior of the Traverse sports a daisy chain that can be used as attachment points for various clip-on items. The hipbelt has oversized pockets, more than big enough for your phone, a snack, or any number of smaller gear pieces.

And while we're on the topic of hipbelts, I find that this one isn't quite as rigid as others. The softer, more flexible material doesn't dig into the hip bones quite as intensely, providing a more comfortable hiking experience. The harness and other straps are also adjustable, allowing you to tailor it perfectly for your frame. Or, if you want to loan it to a friend or family member, they can adjust it to fit their body as well. While the shoulder straps are a tad difficult to adjust, it's not an impossible feat. And with that being the only negative I can think of, the Traverse is a great deal for any woman looking to tackle her next thru hike.


Pros:

– Very comfortable
– Large hipbelt pockets
– Adjustable straps
– Doesn't create hotspots
– Color doesn't show dirt well
– Comes with rain cover and daypack
– Highly durable

Cons:

– Shoulder straps are a little difficult to adjust
Frame Type: Steel
Capacity: 50 Liters
Weight: 3 Pounds
Materials: Nylon
Almost more than anything else, the Granite Gear Perimeter is best for finetuning the fit, and the way that it rests on your body. The suspension system is highly adjustable, but this time, it's not just the torso length that can be tweaked. Even the shoulder width can be modified if you're broader or narrower, ensuring the perfect fit every time you put it on. And of course, if you want to share the Perimeter with other people, they can also finetune it to fit their frame size as well.

The suspension system and frame board provide a comfortable and ergonomic fit. In total, they're rated to withstand 40 pounds – if you load your pack any heavier than that, you'll start to have problems. Considering the slim, 50 liter frame, I doubt you'd be able to shove much more than that inside anyway, unless most of your camping gear is outdated. Still, the main compartment feels more spacious than 50 liters, and there are plenty of external attachment points as well. You won't be running out of room any time soon.

Various straps and clips are great at cinching everything down and keeping it nicely compressed. It's unlikely that you'll experience any sudden load shifts, as long as you secure everything properly. Unfortunately, when the pack is fully loaded, the side pockets get pretty tight and hard to use. You'll have to take the pack off if you want to put your water bottle back into the compartment after grabbing it for a drink. Otherwise, just make use of the hydration sleeve to hang a water bladder and avoid the outside pockets altogether.

Pros:

– Highly adjustable
– Good weight dispersion
– Feels more spacious than it is
– Effective compression straps
– Durable

Cons:

– Outside pockets get really tight when the pack is fully loaded
Frame Type: Aluminum
Capacity: 60 Liters
Weight: 4.8 Pounds
Materials: Nylon
The ALPS Mountaineering Nomad is another highly adjustable option, but for a different reason than the Perimeter mentioned above. Sporting a roll top closure, the Nomad has the ability to go from 40 liters to 60 liters, while hitting every point in between. This gives you a wide range of customization, so that you can compress as you work through your food and water, and expand when it's time to resupply again.

But hey, that's not to say that it lacks the adjustments found in the Perimeter. The harness is adjustable as well, giving you 5 inches of wiggle room to home in on the perfect length for your torso. If you so choose, you can also remove the entire hipbelt as well, or just the pockets on it, if you aren't feeling too radical.

A number of stretchy side pockets give you space for your water bottle or other similarly sized objects. There's also the daisy chain, which you can see in the photo of the Nomad. You'll have no trouble finding a place to clip your gear externally, which is perfect for microspikes and other gear that can afford to be exposed to the elements.

As a bonus, the Nomad is one of those rare backpacks that comes with its own rain cover. There's no need to scour Amazon for a rain cover that fits properly, since you'll be fully protected against popup showers and severe storms alike.

Pros:

– Adjustable capacity
– Adjustable harness
– Plenty of external storage options
– Comes with its own rain cover
– Very stable

Cons:

– Zippers are little tricky to use
Frame Type: Aluminum
Capacity: 60 Liters
Weight: 4.5 Pounds
Materials: Polyamide
Without a doubt, the Deuter Aircontact was designed to carry heavy loads. It comes with a Y frame for added control and load transfer, and the lumbar supports help shift most of that weight onto your pelvis. While the shoulder padding is pretty good, I will say that it's nice to have the majority of the weight put on the hips instead of the shoulders.

The 50 liter capacity is suitable for the average thru hiker, but Deuter understands the value of having versatility. In case you need a little more wiggle room to house all of your gear, take advantage of the expandable collar on the main compartment. It adds another 10 liters, which can be a game changer when you're constantly resupplying during a thru hike. When you don't need that space anymore, just tuck it away, and it will stay out of sight until it's needed again.

I'd also recommend bringing a good number of carabiners with, so that you have a way to attach gear to the outside of the pack. There are quite few straps and loops that work as attachment points, and if those aren't enough, there's no shortage of pockets either. I like to use the front stretch pocket (kangaroo pouch) for my rain gear, and the top pocket for my headlamp and other smaller items.

To top it all off, the majority of the backpack was constructed using recycled materials, making it eco-friendly and bluesign approved. And if you're worried about the durability of recycled materials, don't be. With a denier of 500, the Aircontact is actually one of the most durable backpacks in this review. Even if you play a little rough with it, I can practically guarantee you that it will last at least a decade.

Pros:

– Spacious
– Expandable collar
– Plenty of pockets and loops
– Very adjustable
– Comfortable fit, especially for tall people

Cons:

– A bit heavy
Frame Type: Lightwire
Capacity: 65 Liters
Weight: 3.7 Pounds
Materials: Polyethylene
You might remember me mentioning the Osprey Aether a little earlier in this review (and how much I like it). Well, the Ariel is the female counterpart to the Aether, sporting all of the features that I know and love, but with a shape and style tailored to fit a woman's body.

Constructed by using professional feedback, the Ariel includes all of the features you want in a pack while ditching the things that are unnecessary. The end result is a product that's lightweight and minimalistic, without compromising on comfort, storage, or durability.

To really cut back on weight, almost all of the components on the Ariel are removable. Don't need the top lid? Get rid of it. The compression straps and ice tool attachments feel unnecessary? Leave them at home. Don't need the sleeping bag attachment because you'll just shove it into your main compartment? Great, remove that as well. By getting rid of all of these things, you'll shave off several ounces that will put a little spring back in your step.

The large hipbelt pockets give you some nice storage space, but even these can be taken off, if you so choose. But don't worry – what materials you do have are built to last, easily withstanding the weight of a 50+ pound load. Thanks to the nicely padded shoulder straps and back panel, you'll barely even feel the weight on your body, making this one of the best thru hike backpacks you'll find.

Pros:

– Very customizable
– Surprisingly lightweight
– Durable
– Plenty of gear attachments
– Good ventilation

Cons:

– Price
Frame Type: Carbon
Capacity: 51 Liters
Weight: 5 Pounds
Materials: CORDURA Nylon
Mystery Ranch is the go-to brand for emergency responders, which means their gear needs to be extra tough. That being said, it wouldn't be an overstatement for me to say that the Terraframe is the most durable pack in this review. At 5 pounds, it's also the heaviest pack we've listed, but some of you will probably be willing to shoulder the extra weight once you hear about all it's capable of.

The most obvious difference comes in its ability to hold gear outside of the main compartment. If you check it out on the REI website, you'll notice a photo that demonstrates the pack expanding away from the frame. In the gap created between the pack and frame, you can shove a number of other items without intermingling them with the contents of your main pack.

Speaking of the main pack, it's a top loading design with side zipper access so you can get at buried items without unpacking everything on top. It does feel a touch small, so if you're someone who values extra space, I'd recommend bumping up to the 65 liter version. A variety of compression straps keep your load stabilized, and the large number of daisy chains and straps on the outside give you plenty of options for external storage.

Padded shoulder straps rest comfortably on most people, and the adjustable torso length comes in handy when you're trying to get the ideal fit. The hipbelt is also very well cushioned, making this a surprisingly comfortable pack to wear long distances, despite the heavier weight.

Pros:

– Durable
– Tri-zip feature
– Expandable capacity
– Weatherproof
– Comfortable

Cons:

– Feels a bit small
At Untamed Space, we're passionate about helping you have the best camping experience possible. Our team of experts have experience camping and backpacking all over the world, allowing them to provide insightful and relevant content to guide you in your outdoor pursuits.

All of our reviews are based on a combination of firsthand experience, extensive research, and an analysis of customer feedback. We are an independent website and do not receive payments or incentives from manufacturers to promote their products, and we continuously update our content to provide new information based on product availability. Wherever you are in your journey, whatever gear you're searching for, you can be sure to find unbiased and up-to-date reviews for all of your needs.
FAQ
How Do I Choose the Right Backpack?
Backpacks are very personal items. You spend a lot of time with it, hiking endless miles as it hugs your back, so it's important to make sure it fits well and meets your other needs. Start by determining what capacity is right for you, whether you're going on a day hike, a weekend trip, or an excursion longer than 5 days.

Since backpacks get tossed around a lot, it also needs to be durable. The internal frame (or lack thereof) should provide stability and comfort, and the padding needs to be thick enough to provide the desired amount of cushion.
Do You Need a Pack for a Thru Hike?
Yes, you always need a pack for a thru hike. Even if the section you're currently hiking is short, a pack is essential for carrying food, water, and other gear that you'll need throughout the day.
Final Thoughts
Thru hikes can be a tough ordeal, so you need a backpack that's up for the challenge. It should be big enough to hold all of your gear, be ergonomic and padded enough to stay comfortable after many long hours, and durable enough to withstand years of heavy use. When considering all of these points, we believe that the Osprey Atmos fits the bill as the best thru hike backpack.
---
Related Posts: