If you're in a rush and want to find out what the best water bladder is, we recommend the Gregory Mountain Products 3D Hydro Reservoir.

We all know how important it is to stay hydrated. Especially while backpacking, due to the loss of fluids through sweating, maintaining a proper intake of liquids is vital for health and survival.

Still, it's hardly convenient to carry a bunch of water bottles on a trek. Even something like a refillable filtration bottle will only carry a few fluid ounces, which is barely enough to get you through a couple of hours. That's why backpackers will want to invest in one of the best water bladders to help them stay hydrated on the trail. Here are a few of our favorites.
In this article, we'll be reviewing the following best water bladders:
What is a Water Bladder?
Many outdoorsmen would tell you that a water bladder (or hydration bladder) is the best way to stay hydrated on the trail. Essentially, it's a pouch that securely holds your beverage of choice, functioning sort of like an oversized IV bag. Once the pouch is full, you can hang it inside your hydration pack, carrying it with you everywhere you go. When you get thirsty, all you have to do is suck from the tube that connects to the pouch, and you never have to take your pack off or stop what you're doing.

Personally, I find it much easier to stay hydrated when using a water bladder. Putting a tube to your mouth and sucking is incredibly convenient, and there's no need to tilt your head back, so it's more comfortable as well. Just be careful if you decide to pursue this route. You may like your bladder so much that you start to use it everywhere you go!
Fluid Capacity
The majority of hydration bladders come in a variety of capacities, ranging between 1.5 and 3 liters. Each capacity has its own strengths and weaknesses, which is why it's important to know your route before choosing a bladder.

For example, you might think that having more water on hand is the better choice, but a 3 liter bladder is bulky and heavy when full. It will take up a decent amount of space inside your backpack, and it may throw off your weight distribution as well. However, such a large capacity is perfect for backpacking trips where you don't expect to have easy access to a water source.

A 1.5 liter reservoir is perfect for runners who want to stay lightweight and mobile. Obviously, you're going to go through that water a lot faster, so it's not a size that you often see among backpackers. At the end of the day, a 2 liter water bladder is going to be the most common, as it combines the best of both worlds. You get a decent capacity without sacrificing on weight and bulk.
Ease of Use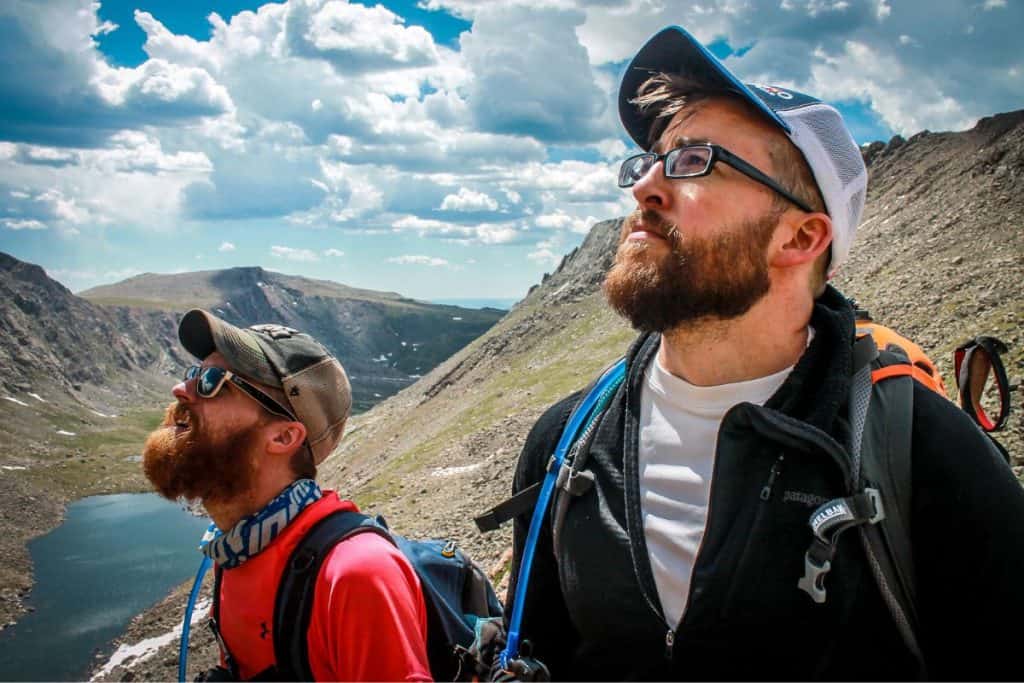 Is the water bladder easy to fill? Certain lid styles can throw some people off, but screw cap lids are usually pretty easy to manage. Zip lock lids require a little more practice, but once you've got the hang of it, they're not too difficult to use either.

The other factors to consider are ease of cleaning and ease of drinking, both of which we'll cover below.
Bite Valve
The bite valve is the mouthpiece at the end of the tubing connected to your water bladder. Very few are created equal, and not all of them are pleasant to use. You'd be surprised by how many accidental leaks occur at this point in a hydration system, simply because you sat on the valve or there's a flaw in the seal. As such, we highly recommend finding an option that has an on/off mechanism to prevent leaks from occurring.

These on/off mechanisms come in various styles as well. Some sport a twist style while others make use of a switch, though there's no real difference in their effectiveness. However, we tend to prefer the switch style, since it's easier to use with one hand, when compared with the twist mechanism.
Maintenance
How easy is it to clean your hydration bladder? You'll need to do it every so often to prevent the buildup of harmful bacteria. Not to mention, if you're using anything other than water inside of it, there will be residue and sticky gunk making it hard to get any liquid through the tube.

Zip lock lids are the easiest to clean, since the opening is larger than what you'd find on a twist cap lid. You'll be able to reach your hand all the way inside, and more often than not, you'll be able to flip the reservoir inside out for easier cleaning. Some are safe in the dishwasher, but washing them by hand is an easy task as well.

Bladders with twist cap lids might be harder to clean, but that doesn't mean it's an impossible task. A long-armed dishwashing wand works wonders on items like these, or if your hand is small enough, you may be able to get in there and give it a good scrub.
Weight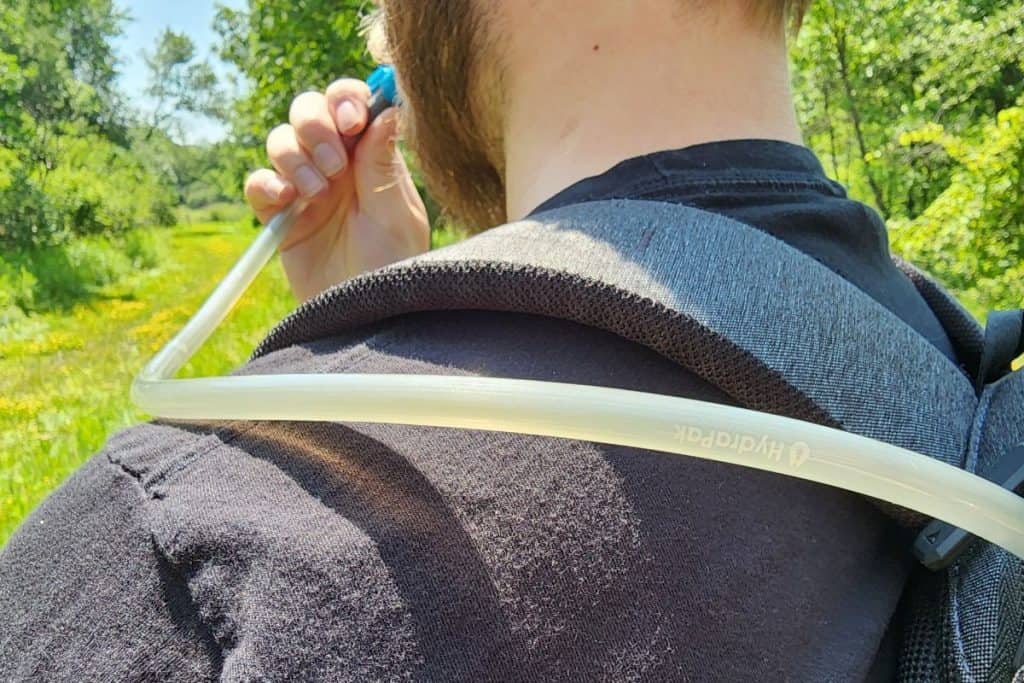 Naturally, a water bladder is going to have some heft to it even when empty. When it comes to backpacking, few things are more important than weight, since you're responsible for carrying all of your gear on your back. Seasoned explorers know that every pound adds up quickly, which is why it's nice to be able to shave off a few ounces where you can.

Generally speaking, a hydration bladder isn't going to weigh more than a pound, though there are some that weigh as little as 6 ounces. These are usually the 1.5 liter bladders used for running, but there are quite a few 2 liter bladders out there that weigh a mere half pound as well.
Durability
Even hydration bladders need to have a certain level of durability. You'll want yours to last for several years, right? For the most part, you won't have to worry about a bladder's longevity, as long as you take care of it. Given how thin the material is, it's important to keep it away from sharp objects. That includes various rocks and other environmental hazards, of course, but it also means you need to keep it away from microspikes and trekking poles. The sharp points on these pieces of gear could puncture your water bladder, which is the last thing you want to have happen, especially when you're on the trail.
Best Water Bladder – Reviewed
Capacity: 2 Liters
Bite Valve Shut Off: Yes
Weight: 14.4 Ounces
BPA Free: Yes
While it might be the most expensive product in our lineup, the CamelBak Crux reservoir is well worth the price. There are a few reasons why I say that, but the most prominent has to do with the built-in filtration system that comes courtesy of LifeStraw.

I've backpacked all over the world, but most notably in the Himalayas where the mountain river was my only water source. Bacteria from cow manure seeping into the water was a real concern, so I know how important it is to have a filter you can trust. LifeStraw is a reputable filtration brand, so you can feel confident about its ability to filter out bacteria, parasites, and microplastics. The carbon in the filter also helps to remove any odors, but I'd still be careful about where I'm sourcing my water. A stinky bog is never ideal, and this isn't the sort of product that can remove dirt and larger particles.

The 2 liter capacity is suitable for most adventurers, and the baffle down the reservoir helps keep it low profile. With a shut off switch, the bite valve won't leak, even if you happen to sit on it. When disconnecting the drink tube, there's also an auto shut off valve that prevents leakage.

Due to the filtration system, the Crux does run a bit heavier than most 2 liter reservoirs, coming in at 14.4 ounces. However, since you don't have to bring an additional filtration device, you're actually saving weight overall.

Pros:

– Comes with LifeStraw filtration
– Good weight
– Baffle keeps in small and packable
– Shut off valve
– Easy to fill

Cons:

– The filtration system does make it hard to suck water, compared to other water bladders
Capacity: 2 Liters
Bite Valve Shut Off: Yes
Weight: 7.4 Ounces
BPA Free: Yes
The Osprey Hydraulics reservoir is almost the exact opposite of the CamelBak mentioned above. While it shares some similarities, like the on/off valve, the Hydraulics sports a twist design, while the Crux has a switch. Despite having a preference for switches, I have to say that the 1/4 twist valve does work quite well on the Hydraulics.

Another point of dissimilarity comes in the form of the lid. While the Crux is a twist, the Hydraulics is a slide seal. To open it, all you have to do is slide off the gray seal and unfold the pour shield, pinching it open to fill it. As mentioned earlier, this is the easiest style to clean in between treks, since it opens up wide enough for you to shove your hand inside without resistance.

This water bladder also comes with a backer plate, which provides some stiffness to one side of the bag. It's a handy feature that lets you shove a full hydration bladder into a small and cramped space without too much difficulty. The drinking tube can also be secured to either side of the bladder so that you can have it in the location that's most convenient for you. The bite valve comes with a magnetic clip which can be attached to your backpack's sternum strap. This lets you keep the mouthpiece close by, and also prevents it from swinging around and getting dirty when not in use.

Pros:

– Comes with a stiff backer plate
– Easy to clean
– Good storage ability
– Bite valve prevents leaks
– Comes with magnetic clip

Cons:

– May have a plastic taste at first
Capacity: 3 Liters
Bite Valve Shut Off: Yes
Weight: 6.5 Ounces
BPA Free: Yes
Another slide seal hydration bladder, the Platypus EVO is the first 3 liter bladder to make it onto our list. For the most part, it's a great product that gets the job done marvelously. The tubing is wider than what you'd normally find, allowing you to get more water with every suck. This makes it easier to use, less likely to clog, and you can satiate your thirst that much faster – a very real bonus in its own right.

Silver ions are embedded as a way to protect against mold and bacteria. I wouldn't give up on using a real filter if you're concerned about getting sick, but it's better than nothing, if you have to pull water from a questionable source. The EVO is also one of those few bladders that doesn't really taste like plastic when you first use it. Still, I would recommend putting some lemon juice inside with water, freezing it, and draining it to fully get rid of any unwanted taste.

The bite valve works well, and it's self-sealing, but it has a history of being one of the less durable components of the EVO. Unless you baby it, I'd expect it to break sooner or later, which would be rather unfortunate when you're out on the trail. Even so, the Platypus customer service team is good at what they do, so getting a replacement won't be a problem, if it does happen to break.

Pros:

– Large capacity
– Doesn't really taste like plastic at first
– Wider tubing
– Embedded with silver ions
– Easy to clean

Cons:

– Not very durable valve
Capacity: 3 Liters
Bite Valve Shut Off: Yes
Weight: 8 Ounces
BPA Free: Yes
For being a 3 liter water bladder, the ALPS Mountaineering Reservoir is surprisingly cheap and lightweight. In fact, it's only half a pound, despite the 101 fluid ounce capacity.

As you'll probably notice from the picture, the Reservoir comes with a screw cap for easy filling. And as we've also mentioned, this design can be rather tricky to clean when you're in between treks. ALPS Mountaineering recognized this problem and made a rather interesting solution: dual caps. One (smaller) cap is what you unscrew for filling, while a much larger cap can be undone when it's time to clean the bladder. You could also unscrew the big valve when you need to dump water quickly, whether for cooking or some other purpose.

The drinking tube is insulated, so you can use this bladder all year without worrying about any water freezing inside of it. Though the tube clip is a little tricky to use, it's functional enough where you really can't complain. And unlike the actual reservoir, the tube can be a little difficult to clean. However, considering the price of this hydration bladder, you can't expect to do better than the ALPS Mountaineering Reservoir.

Pros:

– Affordable
– Easy to clean the bladder
– Very little resistance when sucking water
– Insulated tubing
– Lightweight

Cons:

– A little difficult to clean the tubing
Capacity: 3 Liters
Bite Valve Shut Off: Yes
Weight: 8.8 Ounces
BPA Free: Yes
Looking for a hydration bladder with all the bells and whistles for a reasonable price? You might just find that the Gregory Mountain Products Hydro reservoir is the product for you. Though it's one of the larger bladders, coming in at 3 liters, it only weighs 0.7 pounds. The design is fairly minimalistic, and it was created in a way that really helps it sit flat against your back. In terms of comfort, it's definitely one of the better options out there.

On the front of the bladder, you'll find a convenient handle that can be used to grab and maneuver the pouch. It's soft-molded, along with the baseplate, giving it a flexible design that's comfortable to grab and is able to flex with your pack. It's a nice addition that makes it much easier to move the bladder around, while keeping the overall weight relatively low.

Like many bladders, the Hydro comes with a hanger that will allow you to hang it from a number of different places. Whether it's inside your backpack or at home, the design is sturdy enough to get the job done nicely. It's especially handy when you're trying to dry the bladder after cleaning it, as it opens up the inside of the reservoir to speed up the drying process. This prevents the build-up of bacteria, mold, and odor, which are all things that you definitely don't want to find inside your water source.

Pros:

– Lightweight
– Convenient handle
– Great hanger
– Fast drying
– Magnetic bite valve

Cons:

– Bad water flow
Capacity: 3 Liters
Bite Valve Shut Off: Yes
Weight: 8.8 Ounces
BPA Free: Yes
One of the better affordable options out there, the Water Buffalo bladder hits a lot of the key points that you want to see in an item like this. It has insulated tubing which helps keep your water cool in hot temperatures and prevents it from freezing when you're out on a winter expedition. The bite valve also comes with a cover, allowing you to protect the mouthpiece from getting dirty when you're not using it. Overall, I find the tubing to be a little easier to drink from, as it provides a somewhat stronger flow compared to other products mentioned in this review.

The actual bladder portion of this item is highly durable, and easy to clean, thanks to the slide-top opening. Likewise, the tubing is easy to remove as well, which is another bonus when it comes time to clean the bladder.

I also have to say that I'm a big fan of the top-filling design. While there are some other options out there that don't require you to flip your bladder after it's been filled, many of them do, including some by CamelBak and Platypus. After sealing my bladder, I'm not a fan of flipping it upside down, just because I'm paranoid about leaks. However, with the Water Buffalo Oasis, that really isn't something that you need to worry about.

Water is held evenly throughout the bladder, instead of forming a bulge at the bottom of it. Considering the size of a 3 liter hydration bladder, this feature makes it so much easier to shove it into a full backpack without needing to adjust much of your gear.

Pros:

– Affordable
– Durable
– Easy to clean
– Doesn't leak
– Water stored evenly through the bladder

Cons:

– Parts of the bite valve are a little cheap and break easily
Capacity: 2 Liters
Bite Valve Shut Off: Yes
Weight: 8.5 Ounces
BPA Free: Yes
The HydraPak Force water bladder is definitely the toughest product in our review. It can expand up to 8 times its normal size without bursting, and the material itself is fairly resistant to punctures. I still wouldn't put it next to microspikes, crampons, or trekking poles, but it will survive a few accidental brushes against sharp rocks without any problem.

Like the Water Buffalo Oasis, the tubing on the Force is insulated, which helps prevent your water from freezing during the winter. The tubing is also slightly wider than average, creating a better flow of water for those moments when you need to chug in order to quench your thirst.

The seal comes in the form of a slide-top, which can be removed, allowing you to open up the bladder for easy filling. Another bonus is that the bladder is fully reversible, making it very easy to clean when you're in between trips. In fact, you don't even need to exert any effort to wash it. Once you've flipped in inside out, just toss it onto the top rack of your dishwasher and let the machine do all of the work.

But perhaps best of all is the lifetime warranty that comes with all HydraPak reservoirs. On the off chance that you get a leak in your bladder, HydraPak will send you a replacement, no questions asked.

Pros:

– Very durable
– Reversible
– Easy to clean and dry
– Lifetime warranty
– Insulated tubing

Cons:

– The drinking hose is too short
At Untamed Space, we're passionate about helping you have the best camping experience possible. Our team of experts have experience camping and backpacking all over the world, allowing them to provide insightful and relevant content to guide you in your outdoor pursuits.

All of our reviews are based on a combination of firsthand experience, extensive research, and an analysis of customer feedback. We are an independent website and do not receive payments or incentives from manufacturers to promote their products, and we continuously update our content to provide new information based on product availability. Wherever you are in your journey, whatever gear you're searching for, you can be sure to find unbiased and up-to-date reviews for all of your needs.
FAQ
Should I Get a 3 Liter Hydration Bladder?
The capacity of your water bladder should be determined by the length and location of your trek. If you're spending time in an arid location where water is scarce, a 3 liter hydration pack is a great option. Likewise, if you don't mind the extra bulk and weight, there's no harm in carrying more water. Just make sure you know the pros and cons before choosing this option.
How Much Water Does a Hydration Bladder Hold?
Hydration bladders measure their capacity in terms of liters. Your options range between 1-3 liters, with some half steps in there too. It's worth noting that a liter of water weighs approximately 2 pounds, so it's important to keep that in mind when planning your gear list.
Final Thoughts
On the trail, there are few things more important than hydration. A lack of water can be dangerous, but carrying around smaller water bottles can be inefficient and uncomfortable. That's why backpackers across the ages have sought out the best water bladder to add to their gear collection, as a way to comfortably store and drink a large amount of water.

When looking at features like weight, packability, capacity, and ease of use, we really liked the Gregory Mountain Products Hydro reservoir. With its 3 liter capacity, you'll have the flexibility to tackle more rugged and arid terrain with confidence.
---
Related Posts: