After shelter and water, few things are as important in the wild as food. Freeze dried food packets are certainly an option, but let's be honest… Would you really choose that over a freshly made meal that doesn't taste like chalk? Yeah, didn't think so.

Such fine dining might seem impossible to accomplish in the backcountry, but that's no longer the case. With the best campfire cooking kit, you can bring the savory flavors of your home kitchen out into the wild. Here are just a handful of options that we believe stand out from the crowd.
In this article, we'll be reviewing the following best campfire cooking kits:
Materials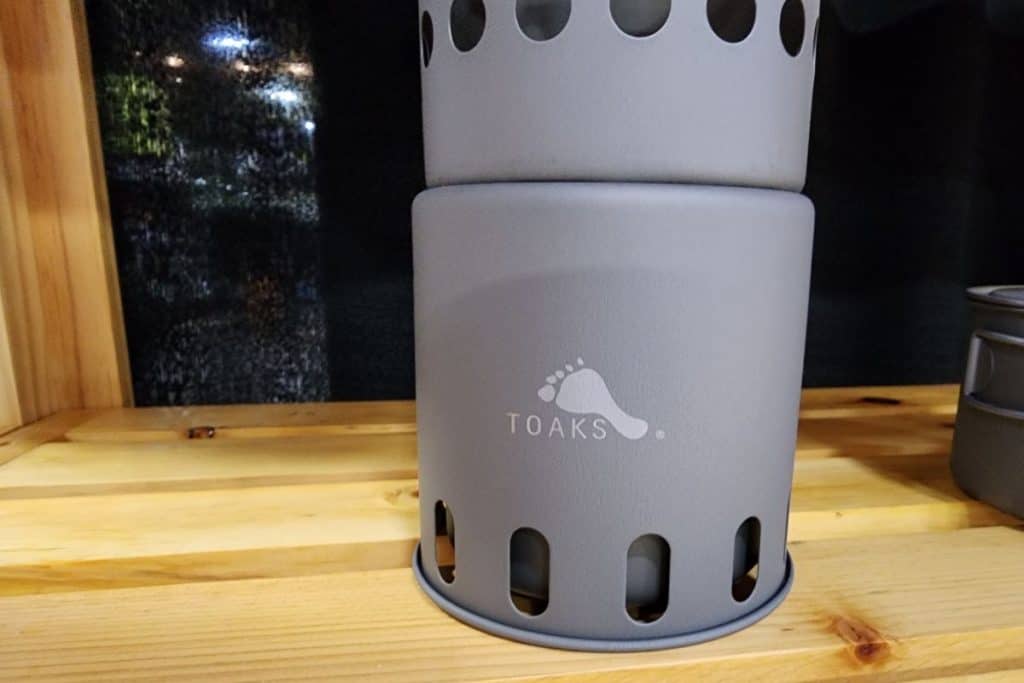 The material of your campfire cooking kit might not be the first thing you think to check, but it will impact every part of the cooking process. Some materials are more lightweight, others are more non-stick, and still others do better in higher heats…before they start to melt.

In general, your options for a cooking kit will be limited to aluminum, stainless steel, cast iron, and titanium. Titanium is the lightest and most heat resistant, but it's also very expensive and somewhat difficult to cook on. Cast iron is very non-stick when seasoned properly, but the weight can be a killjoy for anyone looking to carry it medium to long distances. Stainless steel and aluminum tend to fall somewhere in the middle between titanium and cast iron. We'll talk about the differences between these materials below, and why you might choose one over the other for your campfire cooking kit.
Components
But first, let's take a look in the box. What exactly are you getting in your kit, and do you have everything you need?

A pot or two is standard, but some kits leave it at that, often for the sake of saving space and weight. But you have to ask yourself: are two pots enough for the meals I plan to make? With a little creativity, you can certainly make just about anything work. However, it won't be fun or convenient, and that's what we're looking for here.

A few kits include a pan or two, and perhaps some cutlery, plates, and bowls. These are perfect for more complex meals, for feeding larger groups of people, or for those of you have don't have any camping kitchen gear to your name. There's nothing wrong with either extreme, or the kits that fall somewhere between. Just make sure you consider what setup will suit your needs to the best.
Weight
A campfire cooking kit is the sort of thing that can be used just about anywhere. For car camping, you can get away with heavier stainless steel or cast iron, since it's a simple matter to carry it from your car to the fire. But for backpacking, lighter is better, so you'll want to stick with aluminum and titanium.

While material plays a big role in the weight of the cooking kit, the components have a hand in the matter too. If you plan on bringing two pots, a pan, bowls, and utensils, it's going to weigh a lot more than the Snow Peak Mini Titanium solo cookset, which is simply two pots of varying sizes.

On the other hand, the beauty of something like the Stanley Even Heat Camp Pro cookset is that you can customize what you want to bring. Just because you have a whole kitchen's worth of pots and pans doesn't mean you need to bring all of them.
Melting Point
Cooking over a campfire means that you need to be conscious of the melting points of various metals. A campfire usually hovers around 1,000 degrees Fahrenheit, though it can go higher or lower depending on how it was made. For reference, here are the melting points of various metals that can be used in cooking kits:

Aluminum – 1,220 degrees Fahrenheit (660 Celsius)

Copper – 1,984 degrees Fahrenheit (1,085 Celsius)

Cast iron – 2,060 degrees Fahrenheit (1,126 Celsius)

Stainless steel – 2,750 degrees Fahrenheit (1,510 Celsius)

Titanium – 3,034 degrees Fahrenheit (1,667 Celsius)

As you can see, aluminum is the one you'll have to worry about the most. It has a much lower melting point than the others, but it's high enough where you shouldn't encounter any problems. Still, if you happen to make an exceptionally hot fire, you could run into problems with aluminum.

Read More: How Hot is a Campfire? Everything You Need to Know
Ease of Cleaning
Sometimes it feels like making food is 20% cooking and 80% cleaning up. When camping, clean up can feel even more overwhelming than usual because you don't have the typical resources that you might find at home (like running water). Instead, you're left with a damp rag and a bit of soap, if you remembered to bring any.

Non-stick pans are very convenient, but I would try to avoid them as much as possible. The coating can be harmful to your health, and I don't feel comfortable recommending something like that to you. But unfortunately, many of the materials that you have to choose from are going to be difficult to clean…other than cast iron. When properly seasoned, cast iron is one of my favorite options because of its natural non-stick tendencies. So if you can afford the weight, I'd suggest getting something made from that, purely from a cleanup perspective.

Read More: Top Tips on How to Keep Bears Away from Your Campsite
Durability
From personal experience, camping cookware has a tendency to get beat up pretty quickly. If you don't pack it in your backpack properly (or if you hang it on the outside) it can bang around with every step you take. Pulling it out, putting it up against the fire, sliding it, dropping it… Well, point being, you need something durable for your campfire cooking kit.

Of the materials listed, titanium is arguably the most durable, especially if you're looking at a "strength to weight" ratio. As you might expect, stainless steel and cast iron also do pretty well in this regard. Really, when it comes to durability, the only material you really need to worry about is aluminum. And since many cooking kits are made from aluminum, it's a good idea to treat your gear with extra special care, if you want to get the most amount of life out of it.
Best Campfire Cooking Kit Comparison Table
Best Campfire Cooking Kit – Reviewed
Best Use: Car Camping/RVing
Material: Aluminum
Non-Stick: Yes
Weight: 3.6 Pounds
It's a little overwhelming to look at, but the GSI Outdoors Pinnacle camper cookset is the most expensive product in our review for a reason. Here's a quick rundown of what you can expect to find in the package: a 3L pot, a 2L pot, two lids, a frypan, four plates, four bowls, four mugs with sip-it lids, a pot gripper, and a storage sack. Quite the list, isn't it?

What's even better is that you get all that in a lightweight package that measures in at roughly 3.6 pounds. The generous use of aluminum certainly contributes to the weight reduction, along with the BPA-free plastic used to construct the plates, bowls, and mugs.

Unfortunately, this is one of the few products in our review that makes use of Teflon to create a non-stick coating on the cookware. It makes cleanup fast and easy, but if that's not a tradeoff you're willing to make, I wouldn't blame you. Though it's heavier and made from a different material, I'd suggest looking at the next product in our review: the Stanley Even Heat cookset.

All that being said, you'd have to scrape away at the surface with a metal utensil before any scratching occurred. It's a very durable set, and fairly large as well, offering plenty of surface area to prepare a gourmet meal for you and your travel partners.

Pros:

– Lightweight
– Very compact
– Good surface area
– Comes with plates, bowls, and mugs
– Easy to clean

Cons:

– Use of Teflon
– Price
Why You'll Want It
Need the full kitchen kit? The GSI Outdoors Pinnacle cookset comes with everything you'll need to make food off the grid, other than a heat source.
Best Use: Car Camping/RVing
Material: Stainless Steel
Non-Stick: Yes
Weight: 8.2 Pounds
In my opinion, the Stanley cookset is one of the best stainless-steel kits that you'll find. Well designed, high quality, with all the components you could ever need, this cookset covers all of your culinary bases. Like I said, it's made from stainless steel, but the real kicker is that it's actually non-stick too! And not the sort of disgusting, Teflon coating that you're probably used to by now. This makes cooking a breeze, and cleanup even breezier, saving you a lot of time that I know you'd rather be spending on other things.

In the picture above, you've probably noticed the spoon and spatula mixed in with the assortment of pots and pans. Those are included with the set, saving you the hassle of finding an alternative, or bringing whatever you use in your home kitchen. It's always nice to have a distinction between "home kitchen" and "camping kitchen," when it comes to your tools. For easy transportation, everything nests perfectly inside of the large stock pot, allowing you to carry all 8 pounds of cookware in one trip.

The stainless steel is durable, and has a nice heft to it, so I wouldn't be too worried about it dying on you in the first handful of trips. Of course, weight it going to be a concern for backpackers, but you certainly don't have to bring all of the components. Since they all nest together so nicely, it's pretty easy to pick and choose what you want to carry.

Pros:

– Very high quality
– Comes with everything you need, including a spatula, spoon, and cutting board
– Everything nests within the stock pot
– Non-stick
– Dishwasher safe

Cons:

– Saucepan handle is a little flimsy
Why You'll Want It
Made from high quality materials, the Stanley cookset is the premium choice for outdoor cooking, making it our choice for best overall.
Best Use: Backpacking/Car Camping
Material: Aluminum
Non-Stick: No
Weight: 1.9 Pounds
A smaller campfire cooking kit than the ones we've touched on so far, the Sea to Summit Alpha cookset 2.2 is perfect for preparing meals for 2-4 people. Just shy of 2 pounds, it's incredibly lightweight and perfect for backpacking, the aluminum really proving its mettle in harsh environments. Despite being softer than something like cast iron, it doesn't bend or scratch easily.

For better or worse, the surface is not non-stick, though that doesn't mean that everything you try to cook will burn itself to the bottom of the pots. Generally speaking, if your heat is high enough and you're not trying to melt cheese, food will slide right out. Cleanup isn't too difficult either, and you don't have to worry about Teflon chipping off into your meals.

The price is also pretty reasonable, though you are getting few components. Still, there's a lot that you can do with two pots, and the bowls and mugs are a nice bonus. Silicone rubber grips make the pots safe to manage after they've been over the campfire, and the lids even have slits that can be used to drain water.

Pros:

– Lightweight
– No Teflon
– Durable
– Nesting ability
– Rubber grips

Cons:

– Not as non-stick as other cooksets
Why You'll Want It
The Sea to Summit Alpha cookset 2.2 covers the basics, providing a lightweight cookset that works well for backpackers.
Best Use: Car Camping
Material: Aluminum
Non-Stick: Yes
Weight: 3.25 Pounds
The GSI Outdoors Bugaboo Base Camper cookset has quite the assortment of products. Two different pots (a 5L and a 3L) with lids, a frypan, a pot gripper, and even a cutting board all come as a package deal. In particular, the cutting board is something that I feel most campfire cooking kits neglect all too frequently, despite being an immensely useful item.

Weighing just over 3 pounds, it's a nice option for backpacking, especially if you limit yourself to one of the pots and the pot gripper. It would be nice if there was more than one pot gripper, since it does limit how many pots you can have over the fire at once. However, despite how flimsy it looks, the one that you do get is pretty effective.

The coating is Teflon, so it's non-stick and easy to clean up. Just remember not to use any metal utensils inside of it, because the coating will scratch with minimal effort. Overall, it's not a bad option for a family of four (or so), giving you plenty of capacity to feed that many hungry mouths. The pan is too small to make enough eggs for four people, though, but it seconds as a convenient serving platter if you can't find another use for it.

Pros:

– Lightweight
– Non-stick
– Easy to clean
– Pot gripper and cutting board included
– Versatile

Cons:

– Teflon coating
– Pan is a little small
Why You'll Want It
Sporting its own cutting board, the GSI Outdoors Bugaboo Base Camper is versatile, easy to clean, and a great bang for your buck.
Best Use: Backpacking
Material: Titanium
Non-Stick: No
Weight: 6.38 Ounces
As the only cookset made from titanium on our list, it should come as no surprise that the Snow Peak Mini Solo is also the lightest product in this review. Weighing in at a mere 6 ounces, this kit was designed for backpackers on the go. It will take up a small amount of space inside your pack, and the beauty of this cookset is that you can perfectly fit fuel canisters inside each of the pots. Your entire kitchen setup will only fill a 20 square inch space, leaving plenty of other room for you to pack your other camping essentials.

The handles don't have any rubber or silicone around them, so they will get a little hot if you run your propane burner on full throttle. I'd suggest keeping your burner at half throttle to solve the issue. Your water will take longer to boil, but you'll save fuel and prevent your hands from getting burned.

From my experience, titanium isn't the easiest to cook on or clean, but the ultralightweight durability of the material balances out the negatives and positives. The thin titanium might look flimsy, but it would take a lot of effort to scratch, dent, or ding it significantly. Because there isn't much metal, the pots cool down very quickly as well, so you can pack it away after your meal and get back on the trail without delay.

Pros:

– Ultralightweight
– Very durable
– Portable
– Perfect size for housing fuel canisters
– Cools down quickly

Cons:

– A little pricey for what you get
Why You'll Want It
As the only titanium cookset to make our review, the Snow Peak Mini Solo is super lightweight, durable, and great for campers who play rough with their gear.
Best Use: Backpacking
Material: Aluminum
Non-Stick: Yes
Weight: 1.5 Pounds
A cute little cookset by Mountain Summit Gear, this product is a great companion for backpackers and mountaineers. Wire handles and aluminum cooking surfaces keep the weight at a modest 1.5 pounds for the entire set. The rubber handle covers allow you to grab the pots without burning yourself, so you can run your propane burner at full strength to get your food cooking as fast as possible.

The Teflon coating keeps food from sticking, which is nice for cleanup. Just don't use metal utensils in the pots (you'll hear me say that a lot), otherwise you'll scratch the coating and the toxic chemicals will leach into your food. The various components nest together nicely, making storage simple and easy. There is only one lid that works across both pots, which is a little unfortunate if you wanted to use both of them at the same time. Even more unfortunate is that the pan doesn't even have a lid at all, and the one for the pots doesn't fit it.

However, it's very efficient in its use of space, and the carry bag prevents it from clattering around in your backpack while you walk. For the price, it's a convenient cooking kit that's well suited for any solo campers or groups of two.

Pros:

– Portable
– Lightweight
– Rubber coated handles
– Non-stick
– Versatile

Cons:

– Only one pot lid, and it doesn't fit everything
Why You'll Want It
Backpackers need to eat too, and the Mountain Summit Gear Hard-Anodized cookset has a nice assortments of cookware that works well on the trail.
Best Use: Backpacking
Material: Aluminum
Non-Stick: No
Weight: 6.1 Ounces
The final product in our review, the GSI Outdoors Halulite Minimalist II cookset is also the cheapest. Which makes sense, since so little is included that you can barely call it a cookset. Putting it simply, the Halulite Minimalist is just a 0.6L pot/mug with a silicone gripper and spoon. In all, it only weighs about 6 ounces (not including fuel), which is light enough to bring many backpackers to tears.

Made from aluminum, you certainly can put it over a campfire, but it's most convenient to pair with a small, propane burner. Given the size, I'm not sure I'd use it for anything more extensive that boiling water either. Mac and cheese is an option, but I like to reserve products like this for tea and coffee.

Graduations molded onto the pot make it easy to measure water levels. The pot itself is also compatible with a 110g fuel canister, easily storing your entire kitchen setup inside. I will say that the Halulite does a lot better on weight reduction than space reduction, but at least you can store quite a few things inside of it. It's not my first choice for a campfire cooking kit, but for a backpacker on a budget, it might be a lifesaver.

Pros:

– Affordable
– Simple to use
– Ultralightweight
– Multifunctional
– Nesting ability

Cons:

– You're pretty limited with what you can do with it
Why You'll Want It
The GSI Outdoors Halulite Minimalist II cookset is insanely lightweight, so if you need a cookset on the go, this is the one for you.
At Untamed Space, we're passionate about helping you have the best camping experience possible. Our team of experts have experience camping and backpacking all over the world, allowing them to provide insightful and relevant content to guide you in your outdoor pursuits.

All of our reviews are based on a combination of firsthand experience, extensive research, and an analysis of customer feedback. We are an independent website and do not receive payments or incentives from manufacturers to promote their products, and we continuously update our content to provide new information based on product availability. Wherever you are in your journey, whatever gear you're searching for, you can be sure to find unbiased and up-to-date reviews for all of your needs.
FAQ
What is a Campfire Cooking Kit?
A campfire cooking kit gives you everything you need to prepare a meal in the wild, using nothing more than a campfire for heat. Usually, you can count on at least one pot and one frypan being included in the kit, but components will vary by product.
How Do You Choose the Best Camping Kit?
Camping kits come in all shapes, sizes, and weights. Car campers will find more value in stainless steel and cast-iron pots and pans, given their weight, durability, and ease of cleanup. Backpackers will want something smaller, usually made from either aluminum or titanium to save on weight.
What Can You Do with a Campfire Tripod?
A campfire tripod is a useful tool that allows you to hang a pot or kettle over an open fire. If you don't have a stove or a grate, this is the best way to cook over an open fire.
Final Thoughts
We all need to eat, and out in the backcountry, food options can be somewhat limited. Hopefully you did some meal planning, buying some fresh ingredients for your trip, but that doesn't mean anything if you don't have a way to cook it.

Since a campfire is a classic feature of most campsites, it's good to get a campfire cooking kit to help you prepare your meals. Ideally, you'll get something with all the components that you need to feed yourself and your crew, something that's relatively lightweight, easy to clean, and durable. Putting all of those together, we felt that the Stanley Even Heat Camp Pro cookset did it best. With an assortment of pots, pans, lids, and utensils, you'll always have what you need to make something delicious.
---
Related Posts: