Home » Camping » Accessories »

If you're in a rush and want to find out what the best camping chair for kids is, we recommend the Moon Lence backpacking chair.

When camping, it can be difficult to find a comfortable place to sit. Fallen trees, an oddly shaped rock, or the ground itself aren't really ideal locations to rest after a long day of hiking, playing games, and exploring.

For children especially, it's nice to give them a relaxing place to crash after they burn through all their energy for the day. Try picking out a good children's camping chair, and once you see how much they love it, you might want to get an adult version for yourself!
In this article, we'll be reviewing the following camping chairs for kids:
Choosing the Right Chair for Your Child
You may think that a camping chair is an easy thing to pick out, especially if it's for your child. After all, it's not like they'll be sitting in it for hours at a time, where you need to be super concerned about comfort, posture, and a whole host of other factors…right?

We'll talk about these things, in addition to a number of other considerations you should keep in mind when looking for a camping chair for your kids.
Weight Limit
Every camping chair has a weight limit. If you're looking at adult camping chairs, that limit is usually between 300-500 pounds, but for many children's camping chairs, the range is closer to 100-200 pounds. However, just because a chair says it can hold a child that weighs 100 pounds doesn't mean I would feel comfortable testing that claim. As a rule of thumb, take the marketed upper limit and subtract 20 pounds from it to find the "actual" upper weight limit. So if a chair says it can hold 100 pounds, I wouldn't want to put my child on it if they weigh more than 80 pounds.
Stability
Ground around a campsite is rarely flat and even, so you'll need to get a chair that is able to stay upright in spite of that terrain. Most 4 legged chairs will get the job done just fine, though you'll want to make sure it's been constructed from high quality materials. Put a cheap chair with plastic legs in a campsite, and I can almost guarantee it's not going to survive the trip.

Beach chairs are also a bad idea. Because the legs only consist of 2 horizontal bars, tipping over is incredibly easy when you're resting on uneven ground. This style of chair is designed for use on the sand, which is far more secure and can be flattened out for more stability.
How Long Will It Last?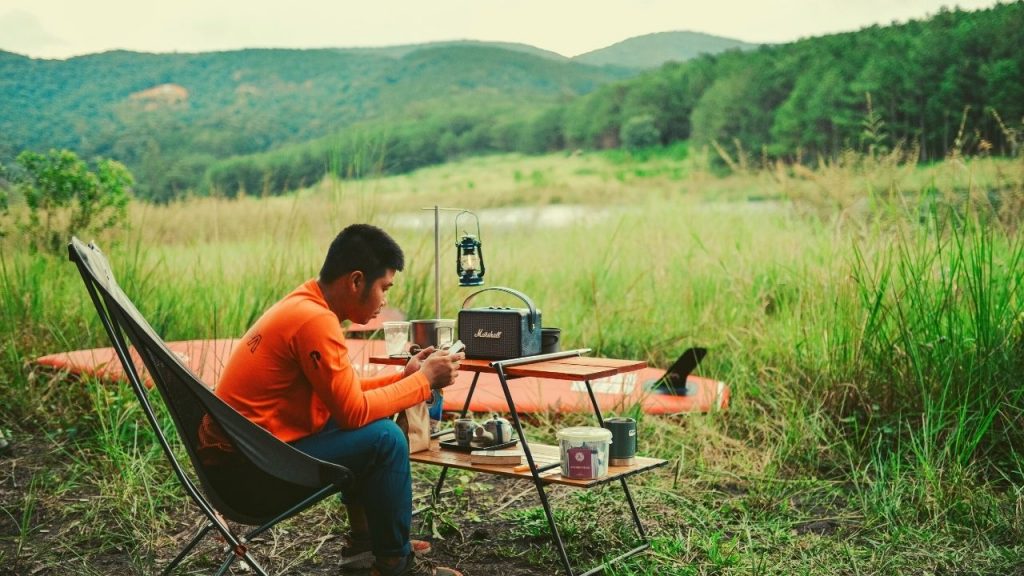 If you decide to get a children's camping chair, chances are you'll want to get more than a handful of uses out of it. Because children outgrow their belongings rather quickly, you'll probably want to get an "oversized" chair for them initially, knowing that they'll eventually grow into it. They might feel like a midget in a giant's chair when you first get it for them, but it's not like it's harmful for them to have more room than they need. And you'll be happy because you don't need to replace their chair every year or two when they get too big for it!
Comfort
Just because you're getting your child a portable camping chair doesn't mean you have to get them something uncomfortable to sit in. Saggy bottoms and a poor design don't have to be in your future, if you're willing to take the time to look for something better than what your friend's bring to tee ball practice. There are plenty of comfortable options out there that won't break the bank, especially since you'll be purchasing the child size version. Who said lumbar support was only for folks who have bad backs?
Seat Height
For whatever reason, it's often felt like chair designers believe children are just as tall as adults. Unfortunately, many camping chairs for kids are designed to be so tall that any child who wants to sit in one needs the help of an adult to get them up there. This extra height also raises the chair's center of gravity, making it easier for a squirmy child to tip it over with minimal effort.

Before purchasing a camping chair, take some measurements of your child when they're sitting down. How many inches off that ground does the seat of their chair need to be in order for them to comfortable rest their feet on the ground? Keep these numbers close at hand when figuring out what size chair to get for them.
Best Camping Chairs for Kids Reviews
Coleman is a well known and loved brand that's been making outdoor gear for many, many years. They've got their system down to a science, and that translated to their camping chairs as well, providing the perfect mix of comfort and durability.

The Quad chair is able to withstand up to 250 pounds of weight, which is more than suitable for most kids, and even some adults. The seat is higher than what you find in many other chairs, with a 18.1 inch sitting height, so I'd say that this is a better choice for older kids. That way, your child will easily be able to touch the ground and keep a low center of gravity. This alleviates many of the risks that could make the chair topple over on uneven surfaces.

Because the frame is made out of steel, it's likely that this chair would last you for as long as you need it. Steel is heavier than many other materials, though, so the 7 pound weight is a little high. Still, for the price, it's an option that can't be beat, as long as you don't plan on lugging it any significant distance.

Pros:

– Reputable brand
– Strong and durable
– Low seat height
– Lightweight design
– Built in cup holder
– Glow in the dark symbol

Cons:

– Definitely for kids, not for toddlers
You might have taken one look at this chair and thought, "There's no way this chair is for kids!" And strictly speaking, you would be correct in that assumption. However, upon closer inspection, you may discover that this chair is actually more suitable for kids than for the adults that it was originally designed to hold.

With the ability to hold up to 400 pounds, you won't need to worry about your child outgrowing this camping chair. The seat only rises a few inches off the ground, making it easy for a little one to climb in and out, though I would still recommend this more for kids, not for toddlers. The seat itself is a little too big and sloped for most 2 year olds to be able to feel comfortable in! That said, any older children will fit nicely inside, and since the chair was originally designed for adults in the first place, you could say that they'll never grow out of it.

Weighing a meager 2 pounds, it's an incredibly portable seating option that's great for anything from backcountry to backyard camping. The side pockets can also accommodate anything from a small toy to a bottle of water or juice as well.

Pros:

– Lightweight aluminum material
– Sits really low to the ground
– Can be used by both children and adults
– Convenient side pockets
– Breathable mesh seating area

Cons:

– The feet sink into the ground easily
A nice, cheap option for smaller kids, the Pacific Play kid's camping chair is great as a temporary option for fast growing children. It's got a low weight limit, coming in at 100 pounds, so I would say it's really only suitable for younger children. But while it is on the small side, it does sport a durable steel frame that can still withstand the rigors of camp life.

A safety lock on the legs is built in, so you don't have to worry about the chair folding up around your child while they're sitting inside. In addition to that, there are leg spacers that prevent fingers from getting pinched while the chair is being folded back up again.

At about 3 pounds, the weight of this chair is what I would consider average, though it's nice that it's light enough for your kid to carry it on their own. It even comes with its own carry case, so they can easily pack it away and sling it over their shoulder for easy transportation.

Pros:

– Very affordable
– Safety locks
– Leg spacers
– Sturdy steel frame
– Convenient carry case

Cons:

– The feet are plastic, and may wear out quickly
– Only a 100 pound weight limit
This camping chair for kids is about what you'd expect a standard chair to look like. As far as these sorts of things go, this is definitely a no frills sort of product, focusing more on functionality than anything. In fact, the only pop of style that comes with it is the choice you have to make between the variety of colors.

But frankly, style means nothing if the chair is no good as a stable place to sit, and this Redmon camping chair meets those requirements just fine. With seat height designed for 2-5 year olds, this chair rides pretty low compared to some of the other products we've mentioned in this review. That's exactly what you'd hope to see in a camping chair for this age range, as it really helps prevent the chair from tipping over if your child likes to squirm a lot.

You'll notice in the picture that there's a matching umbrella with the chair, which is included with the purchase. Great for beach days or sunny camp spots, it works well in keeping the sun from hitting too much skin. And on the chair itself, the polyester fabric is also very easy to clean with just a few wipes from a rag. No matter how dirty it gets on your adventure, you can have it looking like new with minimal effort.

Pros:

– Comes with an umbrella
– Easy to clean
– Sturdy frame
– 2-5 year age limit
– Coated with a scratch resistant enamel

Cons:

– Smaller than expected
I thought I would top off this list with a fun option developed by Toy to Enjoy. This children's camping chair sports a Jurassic Park style T-Rex across the entire seating area and leg flaps that were installed to keep your child from hitting their legs against the steel bars.

When it comes to picking a size, I would suggest going bigger, even if it seems like it might be too large at the moment. The fabric is quite sturdy, and hearing it lock into place when fully opened is a relieving sound if you worry about it folding up around your child while they're sitting on it. To pack it away again, all you have to do is press the button on the side, and it shrinks down small enough to fit inside the carry case.

The seat height is 11 inches, which is a tad higher than I'd like to see for younger children, but for 5 year olds and older, I would say it's about perfect. It comes with a built in cup holder as well, though it is a bit smaller than what you might expect, so you won't be able to fit larger bottles inside as easily.

Pros:

– Fun design
– Sturdy materials
– Locking mechanism
– Comes in multiple sizes
– Leg protectors

Cons:

– Cup holder is a bit small
– Seat height is a little tall
At Untamed Space, we're passionate about helping you have the best camping experience possible. Our team of experts have experience camping and backpacking all over the world, allowing them to provide insightful and relevant content to guide you in your outdoor pursuits.

All of our reviews are based on a combination of firsthand experience, extensive research, and an analysis of customer feedback. We are an independent website and do not receive payments or incentives from manufacturers to promote their products, and we continuously update our content to provide new information based on product availability. Wherever you are in your journey, whatever gear you're searching for, you can be sure to find unbiased and up-to-date reviews for all of your needs.
Final Thoughts
Proper seating arrangements are often the most overlooked part of any given camping checklist. Having a secure, comfortable place for your child to sit is especially important for their own safety and happiness, but it can be difficult to find a product that meets all your requirements. Most kid's chairs are a bit flimsy, too small, or high off the ground, which is why our favorite chair wasn't even designed for kids in the first place.

The Moon Lence backpacking chair took first place for a number of reasons. To start, since it was created for larger folk, it's a chair that your child can use for many years – perhaps even into adulthood, if they like it and take care of it. But despite being made for adults, it has the lowest seat height out of any chair mentioned in this review, making it the perfect option for children. It has a weight limit of 400 pounds (the highest of any chair we mentioned as well), and is the most lightweight product too. Aside from being a little plain in terms of style, it's got every other children's camping chair beat…by a long shot.
---
Related Posts: