Whether you live in the city or on a remote piece of land, the call of the wild will tug at your heart and seize your imagination when you least expect it. To satisfy this desire, perhaps you've thought about taking up the ever-popular hobby of camping. After all, 77 million households in the US have at least one person who camps, and maybe it's been on your bucket list for awhile.

Before you hit the trails, though, it's important to recognize that camping isn't something you should just walk into blindly. To get ready for your maiden voyage, here are some of my top camping tips for beginners.
Key Takeaways:
Begin with short camping trips to ease into the experience.
For traditional campgrounds, make reservations in advance, especially for weekends.
Keep it simple – overpacking can lead to unnecessary stress and clutter.
Familiarize yourself with setting up your gear before the trip.
Arrive early to set up camp in daylight.
Follow Leave No Trace principles, store food properly, and be aware of wildlife.
Keep meals simple, consider takeout (if possible), and plan for snacks and easy-to-cook food.
Dig a hole and pack out used toilet paper when using the bathroom.
Layer clothing, wear sturdy shoes, and bring waterproof options.
Camping Tips for Beginners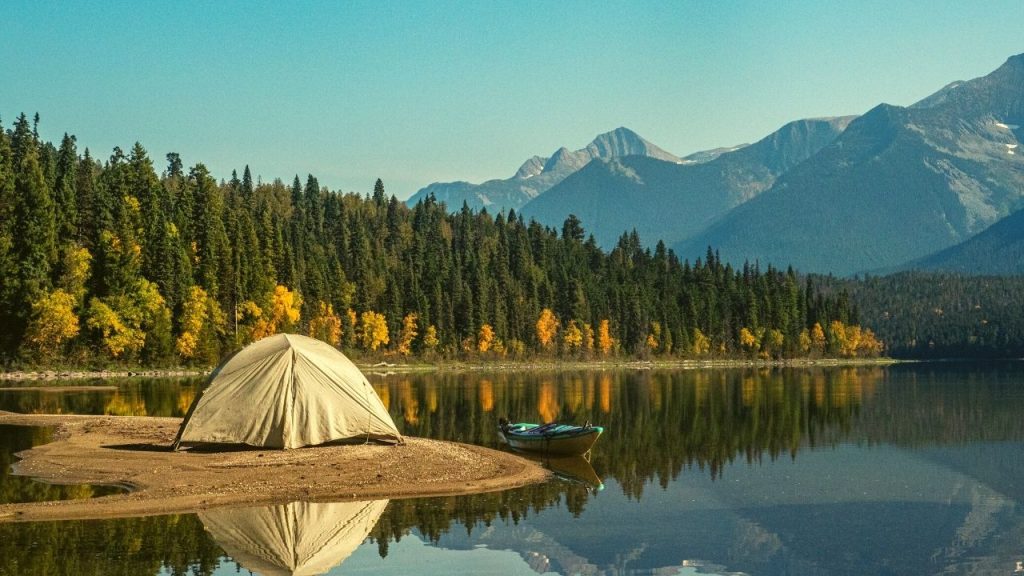 Never been camping before but want to give it a try? Such a rugged activity can be a little intimidating at first, but the satisfaction you'll feel after spending a few nights in the wild will be worth the anxiety plaguing beforehand.

From my experience, proper preparation works wonders when it comes to reducing the stress you experience from trying something new. That's why I thought I'd share some camping tips for beginners that I've picked up after years of backpacking all over the world.
1. Keep Your Trip Short
There's no need to throw yourself in the deep end when it comes to camping. Start small, keeping your trip to one night (or a weekend, if you're feeling ambitious) to test the waters and get a feel for how things work. If you're going with a friend or family member who's a veteran camper, you're more than welcome to extend your stay, though I would still keep it relatively short. Even when you have someone who knows what they're doing, living in the wild for the first time can still be a shock to the system!
2. Get High Quality Gear
Whether you borrow or buy your camping gear, it's good to make sure it's been designed properly, using high quality materials. This might mean that you'll have to spend a little more than anticipated, but if you find yourself in rough weather, you'll be glad you did!

Before you rush to the store with list in hand, though, try to plan for the future as well. Do you plan on camping again after this initial trial run? Will you be sticking to the warmer months, or do you want to try winter camping? Is backpacking in your future? How you answer these questions will influence the gear that you buy, so it's good to have a sense for your future plans before you pull out your credit card. To give you some ideas, here's a brief rundown of the equipment you'll need:
Tent
I'll get the obvious one out of the way first. Your tent is going to serve as a barrier against the elements, bugs, and other animals – something that's essential for almost every camper. If you can afford it, I always like to suggest that you get a bigger tent than you think you'll need. A 6 person tent will be just enough room for a family of 4 to fit comfortably, and a 3 person tent will better accommodate you and your significant other than a 2 person tent.

The seasonality of the tent is also worth considering, going back to the question, "Will I be camping in the winter at all?" You'll find that 3 season tents are the most popular, mostly because they tend to be lighter, are well ventilated, and often have more internal space. However, 4 season tents are well insulated and have a sturdier design, making them perfect for winter.

For a new camper, I would suggest going with a 3 season tent (let's be honest, you probably won't want to camp in the cold right off the bat!) You can always upgrade to a 4 season tent later, if cold weather camping is in your future.
Sleeping Bag
Comfort, warmth, and weight are going to be your primary concerns when looking for a sleeping bag. For a good all-purpose sleeping bag that you can use in most environments, I'd suggest sticking to a down filled, mummy bag. These will be warm and lightweight, which can be used on backpacking trips, and colder, alpine climates. In hotter areas, you can unzip your bag, or just sleep on top of it – something you would probably be doing regardless of the sleeping bag that you get.
Sleeping Bag Liner
More of a "nice to have" than something absolutely essential, a sleeping bag liner will give you a little more warmth and comfort when you go to sleep. Even if you're happy with your sleeping setup the way it is, you may want a liner anyway, just to act as a dirt and sweat catcher. It's much easier to wash a liner than a sleeping bag!
Sleeping Pad
Don't underestimate the importance of a good sleeping pad, even if you don't plan on camping in cold weather. Not only do they work as an insulator between you and the ground, but they'll also provide a bit more comfort to your earthen bed. Trust me when I say you'll feel every rock, root, and mound of dirt underneath you, so you'll be happy to have every ounce of comfort you can get.
Trail Stool
Going back to the theme of "comfort," a trail stool isn't a requirement, but you will appreciate sitting on a real chair instead of a rock. It will be softer on your backside, and serve as a way to keep your pants clean. Using the ground, or some other natural surface, as a seating area is a great way to muck up your clothes. And when you don't have an easy way to wash or dry them, it can get pretty uncomfortable wearing dirty clothes for multiple days at a time.
Lighting
When you're camping, it gets pretty dark once the sun goes down. There aren't any light fixtures in the great outdoors, which means you'll need to bring your own, if you want to see anything. Lanterns are great for ambient light, while a headlamp will free up your hands and give you a stronger source of illumination. To add a bit of mood, you can also bring fairy lights or candles to spice up the atmosphere.
Camp Stove
You'll need a way to cook food at the campsite, unless you planned on surviving off of trail mix and granola bars. For car camping, nothing beats a double burner gas stove, pot, and pan to cook up a tasty meal for you and the family to enjoy. Just remember to bring a cooler as well, to store all the ingredients you'll be using, since you won't have access to a refrigerator.

If you're hoping to stay on the move, you'll need something lighter and less bulky than a massive camp stove and cooler. I always bring a single propane burner with me, along with some dehydrated food that I can toss into a small pot over the flame.
3. Reserve Your Campsite
Traditional campgrounds require a reservation, so you'll want to take care of that well in advance. Bear in mind that weekends tend to be incredibly busy, so if you're waiting until the last minute to book your spot, you may be disappointed. If you're planning to stay sometime during the week, you can get away with a bit more procrastination, but I still wouldn't push it off too long.

You can essentially disregard this entire section if you're hoping to do some dispersed camping, though. Also called dry camping and boondocking, this is when you're camping outside of a designated campground. No reservations are required because there are no spots to reserve – if you're on public land, you can set up almost anywhere, as long as you follow a few basic guidelines. If anything, you'll only need to make arrangements for parking your car overnight, and check an app like the Dyrt Pro to make sure you're in a location where you can camp legally.
4. Don't Overpack
Overpacking is a common practice among camping beginners, so I'm going to encourage you to do your best on this one. As a rule of thumb, the more stuff you bring with you, the more stressed you'll be. Not only will you be wondering if you remembered to pack everything, you'll also be worried about losing some of the smaller items in a random bush or ditch. More items mean more weight, and more clutter to sift through to find the thing that you want. You might think you're just being prepared, but in the process, you're shooting yourself in the foot.

If you're concerned about underpacking, remember that you'll only be gone for a night or two initially. While forgetting your toothbrush might be unpleasant, all you really need to survive are the pieces of gear I've laid out earlier in this guide.
5. Practice Using Your Gear Beforehand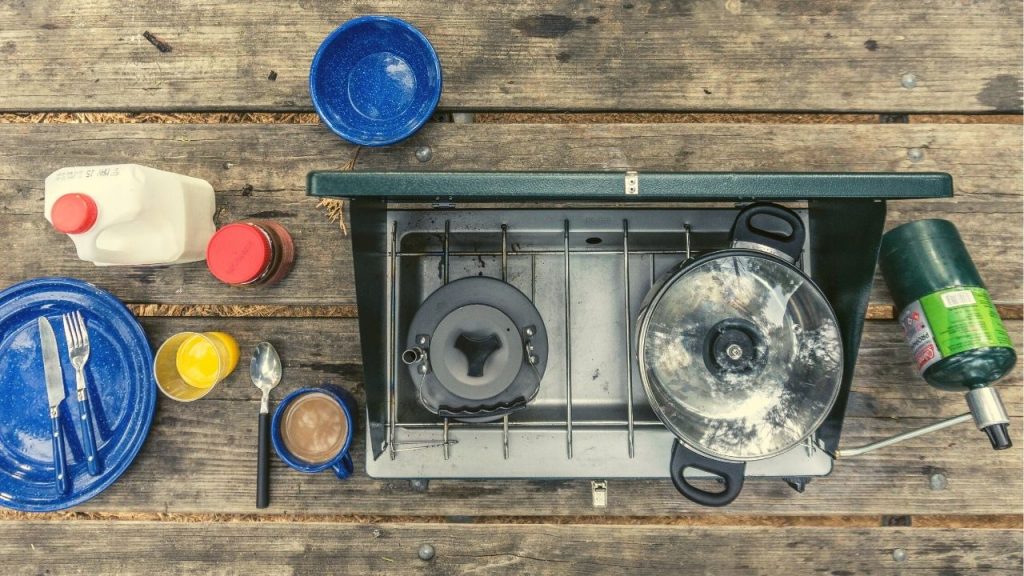 Never had the opportunity to pitch a tent or use a camp stove before? You'll want to take some time to work out the process prior to arriving at the campsite. Even if you do know how to set up your camping gear, it's always nice to practice in the backyard and brush away those mental cobwebs.

Most tents come with instructions, but sometimes these can be too complicated or confusing to follow. If you're struggling, I'd suggest checking out YouTube to see if anyone has made a video walkthrough to show you how it's done! The same can be said for your stove or any other piece of equipment that you don't feel confident using.
6. Set Up While There's Daylight
Making camp is hard enough if you've never done it before, but it's even worse if you have to do it in the dark. You'll be fumbling around, blood pressure on the rise, while you haphazardly throw your shelter together. And if you're really unlucky, high winds or a rain shower might make you throw in the towel altogether, as you resign yourself to sleeping in the car for the night (if the option is available to you).

I say this from firsthand experience, which is why I urge you to be aware of the time and how much daylight you have left. External factors can sometimes prevent you from arriving as early as you'd like, though, which is why it's important to practice setting up camp from the comfort of your own home before you leave.
7. Be Mindful of Wildlife
Bears will be your primary point of concern, but it's good to be aware of other scavengers like foxes and raccoons as well. Properly storing your food is a necessary skill, if you want to keep these critters away and protect yourself (and them!)

Remember that nature is their home, and you're just visiting for a few days. Feeding the animals and damaging the landscape can shorten the lifespan of the local residents, so do your best to follow Leave No Trace procedures while you're camping. If you avoid them, they'll often avoid you, which is a win-win situation for everyone involved.

When it comes to bear safety, keep an eye out for any signs that they've been through the area recently – tracks, scat, and animal carcasses are good indicators that you should find another place to set up camp. Always carry bear spray with you, and hike in groups when you're able.
8. Meal Prep
Cooking in the wild is a lot different than cooking at home, and the best advice I can give you is to keep your meals simple and bring a lot of snacks. When possible, consider eating at a nearby restaurant, or grab takeout on the drive down to the campsite. For actual cooking, as long as you have a stove and cooking utensils, you can make just about any boxed or canned food that you feel like bringing. On shorter trips, fresh food is also nice to have, especially if you have a cooler to store it in.

Needless to say, you probably won't have the capacity to make extravagant meals, but it isn't too hard to get by. Just make a detailed meal plan beforehand, pack all the food items that you'll need, and never forget to bring the fixings for s'mores!
9. Bathroom Business
It might be a little smelly and uncomfortable, but consider yourself lucky if you have access to a bathroom facility at your campsite. There are few greater luxuries than having a designated hole for you to do your business and forget about it, but if you aren't so fortunate, there are a few steps you'll want to follow.

When no outhouse is available, find a private location that's a good distance from your campsite. You should also stay at least 200 feet away from any water source, to prevent contamination. Grab a shovel (something worth adding to your camping checklist) and dig a hole about 6-8 inches deep, making sure to fill it back up again when you've finished. Don't forget to bring a bag to store your used toilet paper in as well, so you can pack it out and throw it away at your earliest convenience.
10. Dress Properly
Without the benefit of climate control, you'll need to be pickier with what you decide to wear. Layering is the best option, as it allows you to add more clothes when you're cold and take layers off when you get warm. You'll also need a waterproof option for if it rains, or you need something to block out the wind.

Aside from that, it's good practice to wear things that you don't mind getting dirty. You won't really have many opportunities to clean your clothes while camping, although filling a plastic storage bin with water can work well. This bin can also be used to wash dishes or other items as well, making it a surprisingly versatile tool.

As far as footwear goes, sturdy shoes are the way to go. If you walk around a lot, go on a hike, or decide to take the backpacking approach, a pair of waterproof boots are a lifesaver. At night, if you need to find the outhouse or local tree for a bathroom stop, a pair of slip-ons are a lot more convenient than putting your boots back on.
11. Don't Forget the First Aid Kit
Accidents are bound to happen, whether you scrape your leg on a rock, get a thorn poking into your skin, or you burn yourself at the campfire. Having a first aid kit on hand, or even just a collection of bandages and disinfectant, can prevent tiny injuries from getting worse. Or, in a more severe scenario, you can wrap yourself up well enough to get you to the nearest hospital.
12. Stay Safe and have Fun!
Camping can be a blast, if you've taken the time to prepare for it. However, once you've got all the proper gear, and the knowledge needed to use it, there are still a few more things worth learning before you head out.

Learning how to build and manage a campfire, for example, is an age-old skill that every outdoorsman should have in their toolbelt. On the one hand, how could you possibly go camping without making a fire? It's practically a mandatory activity at this point. On the other hand, creating a wildfire is a legitimate concern, so it's important to keep your fire small and have a bucket of water close at hand.

Even if you aren't planning on spending too many nights in the wild, it's also helpful to have a system in place for purifying water. Most often, boiling is enough to kill microorganisms, but it won't do anything to filter out dirt and sediment. That's why an actual filter is my go-to method for creating drinkable water – specifically, Grayl's ultralight water purifier. I've taken it all over the world with me, and never had any problems drinking the water that it filters.

Finally, having some navigation skills can also be beneficial, especially if you decide to pick up backpacking in the future. Your phone GPS can get you through most things, but keep in mind that there usually isn't a power source available for you to recharge it. To make sure you don't get caught unaware, always keep a topographical map and compass with you, and take some time to learn how to use them.
---
Related Posts: