Think of just about any type of climate out there. Beaches, mountains, ocean, desert, forest…there are so many to choose from, all with their own charm and appeal. Well, what if I told you that there's a place that has all of these and more, within the borders of one state?

California has stirred the hearts of many across the years, and it's home to several of the world's greatest athletes and outdoor enthusiasts. It's a nature lover's paradise, and home to more scenic locations than you could hope to visit in a year. Though there are certainly more than what we've laid out, here are 10 of the top extreme activities you can enjoy next time you stay in this great state.
1. Surfing
With 3,427 miles of coastline, it's impossible to talk about California without mentioning its wide variety of water sports. We'll talk about a couple of them in this article, but to kick off this list, we'll start with the most famous of them all.

Surfing.

Mankind has been riding the waves on makeshift flotation devices for thousands of years. Though originally used for jobs like fishing, they eventually morphed into a form of recreation, and turned into the sport we all know and love today. Though originally developed by the Polynesians in Hawaii, surfing made its way to the Californian coast, where it's been nurtured and practiced by many.

There are so many great surfing locations in California that it's hard to know where to start. Perhaps you'd like to check out Newport Beach, a ritzy part of Orange County known for having plentiful surfing opportunities. Or maybe you'd like to visit Rincon Point, a famous place for genuine surfing that was even mentioned in the Beach Boy's classic song Surfin' Safari. There's also Huntington Beach Pier, which is home to the Vans US Open of Surfing, a 9 day surfing celebration that draws hundreds of athletes to compete.

For more surfing options, consider checking out some of these locations:
Swami's Beach – found within San Diego County, and known for having great winter swells.
Pismo State Beach – just a quick hop from the quaint town of San Luis Obispo, the water here is good all year, but is most ideal in the winter as well.
Mavericks at Half Moon Bay – the waves here are often big enough to be recorded on a seismometer when they crash. For big wave surfing, you won't find anything better.
Steamer Lane – located in Santa Cruz, this place has great options for both beginner and advanced surfers.
2. Via Ferrata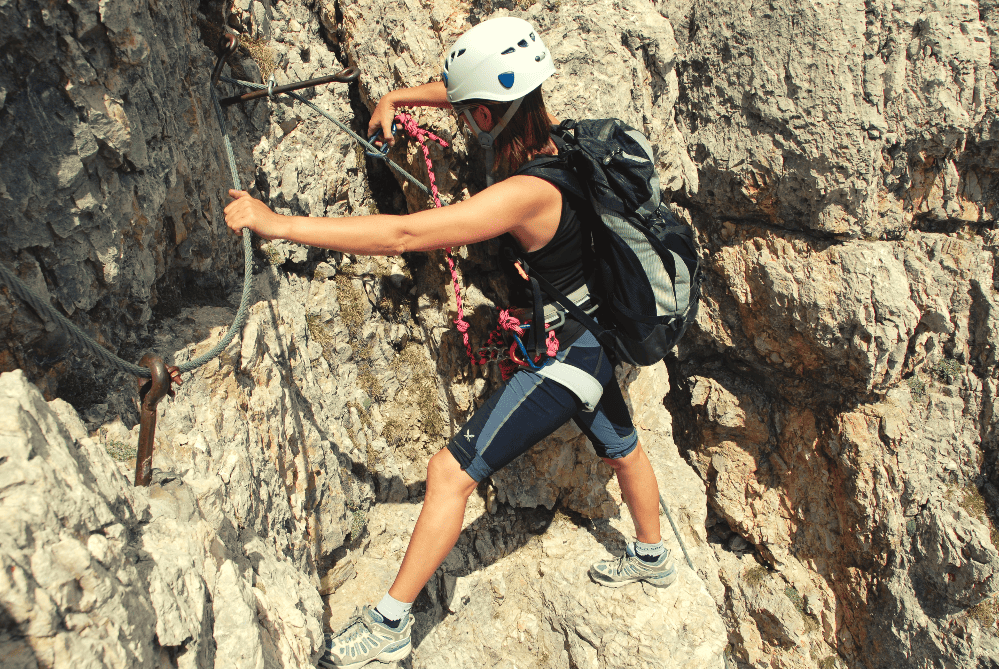 One of my personal favorites, via ferrata is Italian for "iron path," and it certainly live up to this name. Developed in the Dolomites during World War I, soldiers would traverse nearly impassable mountain ranges by bolting metal cables and ladders into the rock. Portions of these can still be climbed today, for an unmatched view of the Alps in Italy and Austria.

Later in the 20th century, more of these alpine routes were created for recreation, as people started to appreciate the novelty of this form of exercise. Generally speaking, a via ferrata is able to give you the views that were exclusive to rock climbing, without needing to exert yourself as much. While it's still recommended to have a guide for your first time out, it's a much more accessible way to experience the massive outdoor rock faces without straight up rock climbing. All you need to do is throw on a harness and helmet, attach a "via ferrata lanyard," and clip into the metal cable. There will be iron rungs to aid you on your journey.

In California, you have a few options, if you're in the market for a via ferrata. My favorites are the Tahoe via ferrata (located near Lake Tahoe), and the Mammoth via ferrata on Mammoth Mountain. Both will provide stellar views of the surrounding California landscape, and you can tailor the difficulty by picking a route that's best for your activity level. No experience required! A guide will help out as you go.
3. Flyboarding
Something that I've never done but always wanted to do, flyboarding is a such a unique way to experience the water. Developed in 2012 by a French water craft rider, flyboards rely on pressurized water jets to keep the rider suspended in the air. It's possible to fly as high as 22 meters (about 72 feet), but it's not just for letting you fly through the air – you can use it to propel yourself underwater as well.

If this is something you would be interested in trying, consider check out California Flyboard, a company with professional guides that teach you how to use a flyboard. It's fairly easy to use, and most beginners can pick it up within a handful of minutes or less, depending on if they have prior experience with wakeboarding or similar sports.

If you find yourself more in the southern reaches of the state, consider check out Aquatic Aviation for lessons in San Diego.
4. Skydiving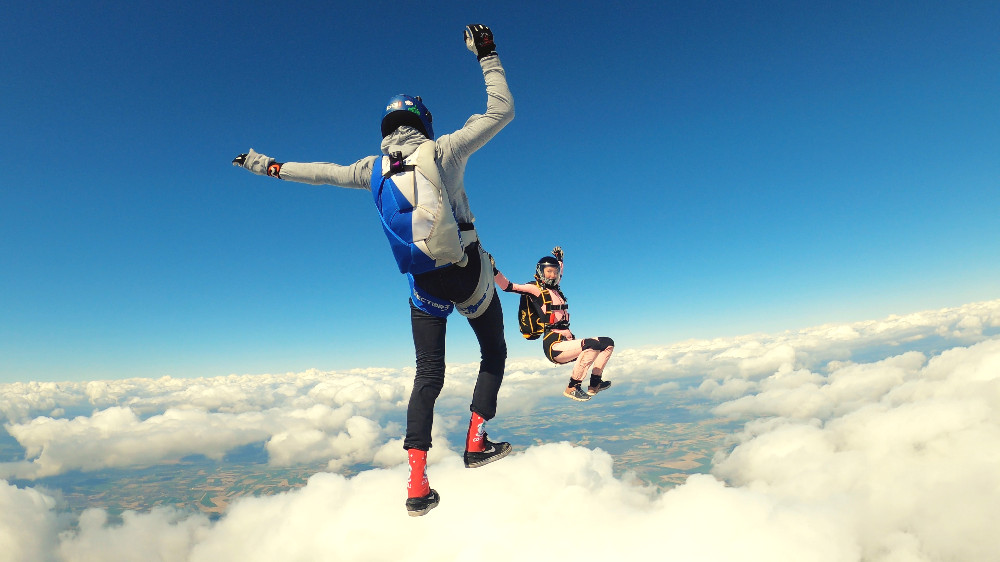 If you like the Californian views from the ground, you'll absolutely love them from the air. Skydiving is an exhilarating way to catch a glimpse of the vast landscape while freefalling at a breathtaking 120 miles per hour. If you've done it before, who could say no to doing it again? If you haven't tried it yet, looking down at the San Francisco Bay area or other scenic location from several thousand feet up will make you glad you did.

There are a little under 30 drop zones in California that you can choose from. Many skydiving outfits are happy to take first timers on tandem jumps, but keep in mind that most require you to be at least 18 years old. For a few good options, consider checking out Parachute Center and Bay Area Skydiving.
5. Whitewater rafting
Back on the water, rafting in the rapids is a surefire way to get your adrenaline pumping. It also offers a unique view of your surroundings, as the land and trees drift by while you float down the river. Just make sure to grab some Dramamine beforehand if you're prone to seasickness like I am!

All Outdoors White Water Rafting is a great resource for guided rafting tours, and they have options for all skill levels. Whether you're an expert rafter or just want an unforgettable outing for you and your family, there's something for you. Multi-day trips are also available, which is a a great way to really get the most out of the experience. Packages range anywhere from $100 to just shy of $1,000, depending on the difficulty you want and the number of days you'll be out.
6. Trekking
California is home to an endless number of National Forests, parks, lakes, mountains, and much more. In terms of sheer natural beauty, it's definitely up there in my top 10. Considering the rugged landscape, one of the best ways to explore this state is on foot, sometimes for several days straight with nothing more than the clothes on your body and the pack on your back.

Personally, backpacking is one of my favorite extreme activities. It allows you to enter places that might have been inaccessible otherwise, and offers a chance to really experience nature on a more personal level. If I were to make a list of everywhere you should backpack, we'd be here all day, so I'll try to keep it short. For any locations that you think should be added, feel free to mention them in the comments below!

In northern California, consider checking out Sky High Lakes. The rim trail is about 12 miles that goes out and back, offering stunning views of the lakes, mountains, wildflowers, and much more. It's fairly easy to hike, making it kid friendly for folks looking to have a nice, family vacation. It's located within the Marble Mountain Wilderness, which is home to many other incredible hiking opportunities as well.

The Redwood National Park is also a must see. Consider hiking on the coastal trail, a multi-day endeavor with primitive camping options spread out every 10 miles or so. It's a surprisingly undeveloped area, making it perfect for nature lovers who want to escape the tourist traps.
Canyon Creek Lakes – an absolutely stunning trail, if you enjoy the sight of lakes nestled between mountains.
King Peak Trail – a pretty forest hike with a good amount of elevation changes.
Cone Peak via Sea to Sky – an iconic hike that provides an unmatched view of the coastline. The peak is over 5,000 feet high, and the sea is only 3 miles away.
Desolation Wilderness – about 64,000 acres of beauty within El Dorado County. Check out Waterfall Camp, a fairly remote area with 50 waterfalls to explore.
7. Rock Climbing
One look at Yosemite National Park would have any avid rock climber drooling. In fact, Yosemite is the birthplace of American rock climbing, with the first route being completed in the 1800's at Cathedral Peak. The next was at Half Dome, and since then, almost all of the legendary valley has been scaled by climbers of all skill levels.

Of course, there are plenty of other hot spots for climbers to enjoy. Check out the Hoover Wilderness just north of Yosemite for a very remote and mountainous climbing experience. Real Hidden Valley is also a climber's paradise located within Joshua Tree National Park, and naturally, the Sierra Nevada's have more than their fair share of routes. For a complete listing of all the climbing routes in the state, download the free Mountain Project app on your phone for details about route locations, ratings, and much more. Once you've discovered the best spot for you, grab your harness and hit those crags!
8. Kitesurfing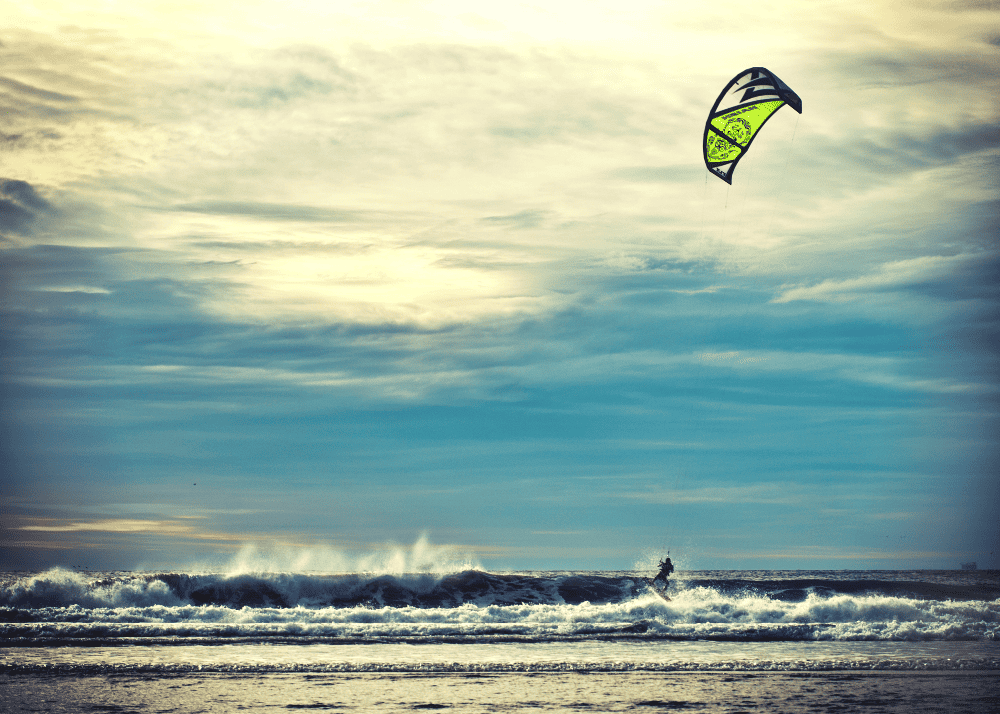 The perfect combination of air and sea, kitesurfing allows you to fly in the sky and glide across the water. Unlike regular surfing, where you're limited to the waves you can catch, kitesurfing is fully dependent on air flow. If there's a good breeze, you're guaranteed to have a lot of fun.

Since this sport relies on the wind so much, the best time to try it out is in the summer. When the hot air meets the cold ocean, it creates air movement that you're able to capitalize on. And despite the kite constantly pulling against your arms, you don't need to be in super great shape to take part in this activity. A higher fitness level and stamina will help you last longer out on the water, though.

If you've never gone kitesurfing before, taking lessons is crucial for your success. Most people who pick up kitesurfing have had no prior experience with water sports, and in many cases have never even put on a wetsuit before! Check out SoCal Kitesurfing for lessons if you need someone to teach you the ropes.
9. Skiing
Winter sports in California? Might not necessarily be what you originally had in mind. But despite the mild temperatures that are present year round in much of the state, there are still plenty of amazing skiing and snowboarding opportunities during the winter months. Even places as far south as Los Angeles can quench your desire to shred some powder, if you know where to look. The San Bernardino mountains, for example, are a great place to visit ski resorts like Bear Mountain and Snow Summit.

A little farther north, in the eastern Sierra's, Mammoth Mountain is like a paradise for winter activities. But ultimately, even it can't quite compare to the splendor of the Lake Tahoe region, which has the highest concentration of ski areas in the entire state. If you don't mind the crowds, it's definitely worth a visit to this neck of the woods.

Other notable locations are Kirkwood and Sugar Bowl Resort, which are both known for receiving high amounts of snow each year.
10. Mountain Biking
To cap off this list, I just had to talk about one of my personal favorites. Mountain biking is such a fun way to make your way through the wilderness, offering a unique perspective and more than a couple of thrills. But make sure you have proper technique before hitting the trails! If you've only ridden on paved or gravel trails up to this point, mountain biking might be a rude awakening when you try it for the first time. The paths are narrow and composed of dirt, roots, rocks, sand, mud, and a variety of other sketchy materials.

Unless you're pedaling on relatively smooth terrain, you'll probably find that your backside doesn't really touch the seat very much. During high intensity moments especially, keep your weight evenly spread out on the pedals while you stand. Your hips should be shifted back, while you keep your arms at a 90 degree angle. This is called ready position, and is what you'll want to use when the trail starts to get more technical.

Like hiking trails, there are countless options for mountain bikers to choose from. The Old Cabin Trail, just outside of Santa Cruz, is a nice intermediate bike ride that goes through the forest. It's a single track that isn't too tricky – really just one left turn in there that you should watch out for, followed by a moderate climb.

The Tahoe Rim Trail is also a path with an incredible view. As far as trails around Lake Tahoe go, there aren't many that are better that this one. It's an intermediate route that requires good fitness and advanced technical skills, but it's worth the ride if you're feeling up to a challenge. Here are a couple of others that are worth checking out:
Guadalasca Loop – a fun 26 mile ride just outside of LA. Suitable for all skill levels.
Valley Oak Trail – another good one for all skill levels, there are a fair number of segments that don't have trees, offering great views of the valley below.
Shoreline Trail at China Camp Loop – an intermediate trail located just outside of San Francisco. You'll find yourself with a nice view of the bay on this loop.
Final Remarks
Well, that's all we've got for the Golden State! As always, we'd love to hear what your favorite activities are in this part of the world. Feel free to drop your top pick in the comments below with a sentence or two describing what you like about it!

Love the arid landscape but don't feel like visiting California? Check out our top camping picks in Utah here!