If you're in a rush and want to find out what the best extreme cold weather sleeping bag is, we recommend the Therm-A-Rest Questar 0 Degree Sleeping Bag.

While it's not for everyone, winter camping can be a great way to get out of the house until you're infected with a healthy dose of spring fever. It might be chilly, but there's something enchanting about a frozen landscape that offers a whole new level of excitement to your outdoor adventures.

Naturally, you'll want to be thoroughly prepared for such a hardcore (and potentially dangerous) activity, especially as it relates to your sleeping arrangement. Check out our list of extreme cold weather sleeping bags below to make sure you'll stay warm at night even as ice crystals are forming around you.
In this article, we'll be reviewing the following extreme cold weather sleeping bags:
Rectangular vs Mummy Bags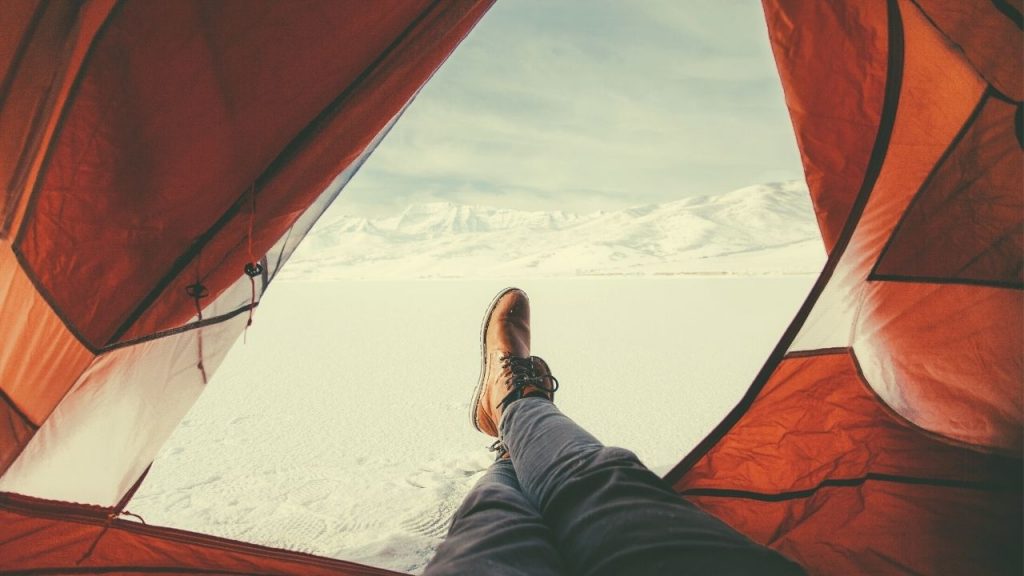 When it comes to sleeping bags, there are really only two options for you to choose from: mummy and rectangular. Now, there are some variations, such as the semi-rectangular sleeping bag, but even bags like these find themselves somewhere within those two main categories. So, what's the difference? And is one better than the other, especially if you're looking for an extreme cold weather sleeping bag?
Rectangular Sleeping Bags
Most commonly found among car campers, rectangular sleeping bags are great for family outings. They're spacious and comfortable, offering more than enough room to stretch out during the night, even allowing you to sleep on your side without feeling cramped. Pair it with a camping cot, and you may even forget that you're not in your own bed back home! Many rectangular sleeping bags are even able to combine with another, similar sleeping bag, so you can make one big space for you and your significant other to sleep in.

Naturally, though, all this extra space and material expresses itself in the form of weight and bulk. While they make phenomenal options for 3 season car camping, they're quite difficult to lug around on an extended backpacking trip. Not only that, but they also aren't the best when it comes to winter camping. With so much open space around your neck, body heat can escape quite easily, making it difficult to maintain a warm sleeping space when it's cold outside.
Mummy Sleeping Bags
Mummy bags are shaped just like they sound, and you may feel like a mummy trapped in a sarcophagus when you're inside! However, despite the confinement, this style is my go-to for almost every season in the year. Because they're designed to hug your body, there's a lot less material than what you'd find inside of a rectangular sleeping bag. This means they're both lighter and easier to pack down and carry than their bulkier counterpart.

Since a mummy bag will stick closer to your body, there's less space inside there with you, meaning you'll be able to retain heat better. Nearly all mummy sleeping bags also have something like a drawstring around the neck area, and a hood to go over your head. That way, the only part of your body exposed to the outside is a small portion of your face. This effectively traps most of your body heat inside with you, allowing you to stay warmer for longer. If you're looking for a sleeping bag to keep you cozy in freezing temperatures, you'll likely want to choose something from this style – a key factor that we kept in mind when choosing the products for this review.
Fill
As it is for winter coats, sleeping bags either have a down fill or a synthetic fill to help keep you insulated. Each have their own pros and cons that make them useful in different circumstances, but here's a little breakdown to share some of the general differences:
Synthetic fills are usually made from polyester, a material that's non-allergenic, unlike down. It also tends to be cheaper and dries more easily, making it a popular option for folks looking to stay warm without breaking the bank. For wet, humid climates, this is definitely the option I would go with for a sleeping bag.


Down fills are usually made from either goose or duck feathers. In terms of raw insulation capability, it's noticeably superior to any synthetic fill that you'll find, keeping you just as warm despite having less fill overall. Because you don't need as much down to stay toasty, and due to its overall characteristics, it also packs down far better than synthetic. Unfortunately, down does become quite useless when wet, which is why I would suggest making it your primary option for cold, dry climates. 
At the end of the day, both types of fill will keep you warm when put in a mummy sleeping bag. However, for maximum heat retention, I would recommend going with a down filled mummy bag when camping in extremely cold temperatures.
Sleeping Bag Liner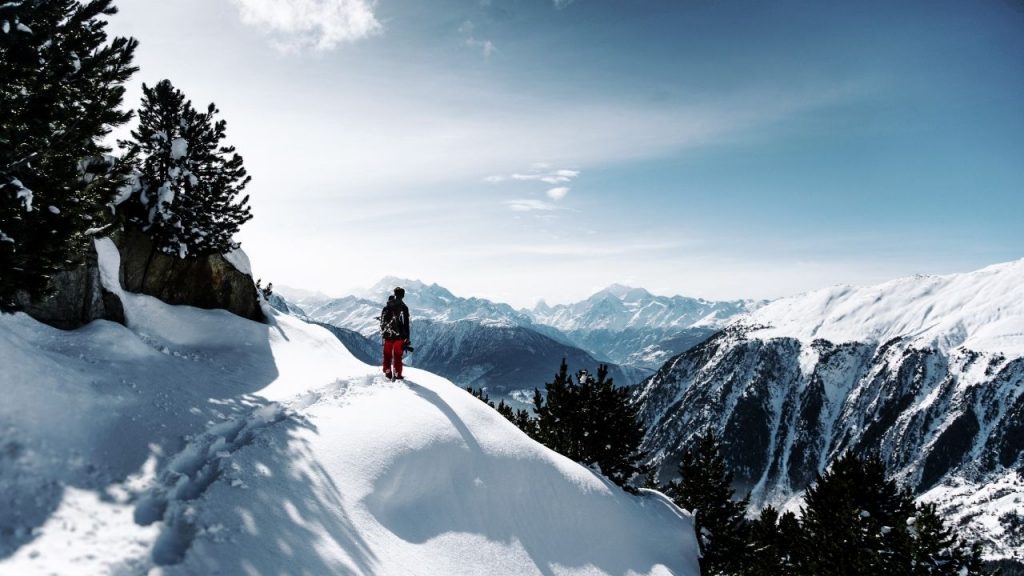 No matter how good your sleeping bag is, it never hurts to toss in a sleeping bag liner for even more warmth when you're camping in extreme temperatures. Liners are a separate item that you can buy for your sleeping bag – they wrap around you, acting as a sort of bed sheet. Not only are they great for keeping you warm during the night, but they also improve the overall comfort level of your sleeping bag.

The temperature rating system for liners tends to confuse people, so I'll just briefly explain how it goes. Let's say you find a liner that says it's rated at 14 degrees. This doesn't mean that it's able to keep you warm down to that outside temperature; rather, it tacks on an additional 14 degrees to what your sleeping bag is capable of keeping you comfortable at anyway. If you have a sleeping bag rated for 30 degrees, and throw in a 14 degree sleeping bag liner, you'll now stay snug down to 16 degrees.
Best Extreme Cold Weather Sleeping Bag Reviews
Material: Nylon
Weight: 3.37 Pounds
Temperature Rating: 0 Degrees
Insulation: Down
Compressed Volume: N/A
As a bag rated for temperatures down to 0 degrees, Hyke and Byke put a lot of effort into the Eolus. And in the process, they made it practically unusable in temperatures above 60 degrees, simply because of how hot it gets inside.

But you're not reading this review because you want a sleeping bag for summer temperatures anyway. At just over 3 pounds, you'll definitely feel it in your pack, but most of that weight comes in the form of goose down – something you'll be happy to have when temperatures drop below freezing! And if the wraparound footbox and multi-baffle hood aren't enough to keep you warm, there are a couple of pockets inside the bag where you can stuff hand warmers.

Unfortunately it doesn't pack down as small or as easily as other 3 season sleeping bags, but that's also partly due to all the extra fill inside. However, I have no excuses to make for the zippers. Those are definitely something that Hyke and Byke needs to work on fixing for their products.

Still, if you're on the taller side of the spectrum, the long design of the sleeping bag and the wide shoulders make it perfect for big guys. That alone makes it worth the price tag, in my books.

Pros:

– Really warm
– Internal stash pocket
– Nylon shell with water repellent finish
– Extra short zipper on the right side that makes it easy to access the hood
– Long and wide

Cons:

– Weight
– Snagging zippers
Material: Polyester
Weight: 6.75 Pounds
Temperature Rating: -20 Pounds
Insulation: Synthetic
Compressed Volume: N/A
As a somewhat rare -20 degree sleeping bag, the ALPS Mountaineering Blaze immediately stole my heart. As the warmest of 4 sleeping bags in the "Blaze series," I actually found it somewhat surprising that they were able to make such a warm bag with nothing but synthetic materials. The outer shell is polyester, which is common enough, but the insulation is also a synthetic polyester fill – something that they call Tech Loft Silver. This is most likely how they were able to keep it at a price unheard of for extreme cold weather sleeping bags.

At about 6 pounds, it's quite heavy for a sleeping bag, but that's to be expected if you want to stay comfortable in such cold temperatures. It was constructed with two layers, and an insulated chest and zipper baffle to prevent cold spots from developing. Overall, it's a really big sleeping bag, so it can be difficult to shove it in your backpack during a winter trek, especially since other supplies like food and extra layers will take up more room than usual. However, despite how large it is, you'll find it's rather constricting when you get inside. Despite being a bit uncomfortable, this is a good thing, as it allows your body heat to stay closer to you for better insulation.

Pros:

– Very warm sleeping bag
– Incredibly affordable
– Comfortable to sleep in
– Great for car camping

Cons:

– Very, very big and bulky
Material: Polyester
Weight: 2.7 Pounds
Temperature Rating: 0 Degrees
Insulation: Down
Compressed Volume: 6.9 Liters
As part of the award winning Questar line of sleeping bags, you won't be disappointed in the quality of this product. The Questar 0 degree sleeping bag is thoroughly insulated with hydrophobic down, keeping you warm and snug without filling up your pack with too much weight. In fact, the Nikwax down inside of this sleeping bag absorbs 90% less water than traditional down, without the use of harsh chemicals. Since water is the mortal enemy of this type of fill, having something so hydrophobic significantly reduces any cons that might otherwise be associated with it.

Additionally, a major complaint with mummy sleeping bags in general is how little space there is inside to toss and turn. Most often, sleeping on your back is the only viable option, which makes it hard to have a good night's rest. Since extreme cold weather sleeping bags are supposed to hug you tighter than normal anyway, this is especially true for this particular style.

The Questar 0 degree bag was able to solve this issue by providing enough room for you to sleep in multiple positions without the risk of losing heat. On the underside of the sleeping bag, there are even a couple of straps that you can wrap around a sleeping pad for added insulation and security during the night.

Pros:

– Weighs 3 pounds
– Ultra warm hydrophobic down fill
– Enough room inside to sleep in multiple positions
– Additional connects to integrate a sleeping pad
– Baffled pocket to warm feet in the footbox

Cons:

– A bit expensive
Material: Nylon
Weight: 3.1 Pounds
Temperature Rating: 0 Degrees
Insulation: Down
Compressed Volume: 8.9 Liters
Nemo is one of my favorite outdoor brands, especially if I'm looking for cold weather gear. The Sonic 0 degree sleeping bag is yet another success by this brand, and what I love most about it is that you can use it in a variety of temperatures. Naturally, we're looking at sleeping bags for the extreme cold, which the Sonic accommodates nicely. However, for nearly every product on this list, the extreme cold is practically all that they're good for, simply because they're too warm. The minute temperatures rise above 40 degrees, you'll be hot, sweaty, and uncomfortable.

The Sonic solves this problem with the addition of two thermal vents that stretch across the chest section of the sleeping bag. Freezing outside? Keep them zipped to trap body heat and stay snug. Too hot? Unzip them to release some of that warm air generated by your core, without letting any cold air inside. It's a -20 degree sleeping bag that can still be used in temperatures above freezing, without feeling like you're going to get steamed all night.

Stretch construction in the knees will allow you to spread out and sleep in multiple positions without feeling too cramped. And the 3.5 pound weight of this product is still suitable for any winter backpacking that you might have planned.

Pros:

– A sleeping bag rated for -20 degrees
– Thermal vents allow you to release warm air if you get too hot
– 3.5 pound construction is suitable for backpacking
– Stretchy material lets you sleep in different positions
– Stuffed with hydrophobic down

Cons:

– Quite expensive
– The fill is warm, but not as warm as some would like
Material: Nylon
Weight: 8 Pounds
Temperature Rating: -40 Degrees
Insulation: Invista Tactel Quallo
Compressed Volume: N/A
At 8 pounds, the Cascade is the heaviest extreme cold sleeping bag that we've covered in this review. But even so, it's also one of the most powerful, perhaps because it has more heft than the other sleeping bags we've mentioned. With 6 pounds of filling, the Orion will keep you safe against temperatures dropping as low as -34 degrees Fahrenheit. Hopefully you don't find yourself in a situation where you have to test that claim, but at the very least, it's a bag worth having even if you're barely dipping into subzero temperatures.

At the foot of the bag, you'll find a 2-way zipper that you can open for extra ventilation. While this alone might not cool you down enough for use during Spring and Fall, it'll certainly extend the amount of time you can use the Cascade past those occasional freezing cold days. Inside the sleeping bag, you'll also find a discreet pocket, perfect for storing your phone or other belongings, in case you'd like to check the time or messages without leaving the warmth of your cocoon.

Pros:

– Great for extremely cold temperatures
– Lightweight
– Easy to pack away
– Extra neck and chin padding
– Internal pocket

Cons:

– Would be nice if the vent on the bottom let heat out, but not cold air in
At Untamed Space, we're passionate about helping you have the best camping experience possible. Our team of experts have experience camping and backpacking all over the world, allowing them to provide insightful and relevant content to guide you in your outdoor pursuits.

All of our reviews are based on a combination of firsthand experience, extensive research, and an analysis of customer feedback. We are an independent website and do not receive payments or incentives from manufacturers to promote their products, and we continuously update our content to provide new information based on product availability. Wherever you are in your journey, whatever gear you're searching for, you can be sure to find unbiased and up-to-date reviews for all of your needs.
Final Thoughts
No one wants to stay cooped up all winter just because there's snow on the ground and the temperatures are uncomfortable. Winter camping is a pastime I would encourage anyone to try, though how it looks will differ from person to person. Perhaps your version involves pitching a tent in your backyard while making frequent trips back inside the house to warm back up again. Or, on the other end of the spectrum, maybe you want to go backpacking through a barren wasteland where the temperatures never get above 0, even during the warmest part of the day.

If you're leaning more toward this intense version, you're going to want an extreme cold weather sleeping bag to help you survive the night. Mummy bags will be your best option for trapping heat, especially if they're stuffed with a down fill. With these things in mind, the Therm-A-Rest Questar 0 degree sleeping bag met the most requirements that we had going into this review. Not only is it warm, but it's also light for this type of sleeping bag, while offering you enough room to sleep in a variety of positions.
---
Related Posts: