On the trail, few things are as important as clean water. And considering water is one of the heaviest things that you'll carry on your trek, it's often easier on your body to filter water as you hike. There are a number of different ways to do this, but few things beat the convenience of a filtered water bottle for hiking. With everything you need built into the bottle itself, these products are convenient and versatile. So, let's dive in and check out some of the best ones on the market!
In this article, we'll be reviewing the following best filtered water bottles for hiking:
Best Filtered Water Bottle for Hiking – Reviewed
Weight: 15.9 Ounces

Filter Medium: Activated Carbon

Removes/Destroys: Protozoa, Bacteria, Viruses
A filter bottle that's kept me alive all over the world, the Grayl GeoPress is the best filter/purifier combo bottle that you'll find on the market.
Grayl is the brand of water filter that I've depended on for years. In my opinion, all of their products are top of the line, mostly because of how easy they are to use and how effective they are at removing anything harmful from the water.

The GeoPress has a couple of layers to it. The outer container (what you can see in the photo) is what you'll dunk in a river or fill up by using a tap. You'll have to remove the inner layer first, which is comprised of another container with a filter on the bottom of it. Once you've filled the outer container, you push the inner container into it, allowing it to fill up with water after it's passed through the filter. It only takes a few seconds to purify all of the water, giving you 24 fluid ounces quickly and efficiently.

The GeoPress weighs about a pound, which is good or bad, depending on how you plan to use it. Backpackers, I know you're cringing at that number, which is why I recommend you check out the Grayl UltraPress mentioned a little later in this review.

Effectively removing all harmful substances (microorganisms,, particulates, chemicals, and heavy metals), I believe Grayl has one of the best filters on the market. One filter can effectively purify about 250 liters of water before it needs to be replaced, and the replacement filters are fairly inexpensive and easy to switch out.

Pros:

– Great filter
– Quickly purifies water
– Durable
– Intuitive use
– Decent weight

Cons:

– A little difficult to push down to filter
Weight: 7.8 Ounces

Filter Medium: Activated Carbon

Removes/Destroys: Protozoa, Bacteria
If it's made by LifeStraw, you know it's going to be effective. The Go is a solid filter bottle that removes many harmful microorganisms for a modest price.
One of the more popular water filtration brands, LifeStraw didn't hold back when they made their Go water filter bottle. It has the same purifying power that you know and love from their patented "straw" filter, except within the confines of a 22 fluid ounce bottle.

The bottle is made out of plastic, but it's BPA free, so you don't have to worry about anything harmful seeping into your water. All of the components are dishwasher safe (excluding the filter), which makes the bottle very easy to clean in between hikes. I also like that the mouth of the bottle is fairly wide, which makes it easy to get your hand in there to scrub out any buildup.

Weighing just 7.8 ounces, it's one of the lightest products in this review, coming in at half the weight of the Grayl GeoPress mentioned above. However, it's worth noting that, while the LifeStraw filter works great at removing protozoa, bacteria, and other impurities, it doesn't work quite as well at filtering out heavy metals. In this way, Grayl has got the Go beat. Even so, heavy metals usually aren't going to be your biggest concern, especially if you're familiar with the water sources in your area.

I will say that, if you like to chug your water, you'll be disappointed with the Go. Every time you suck through the straw, the water passes through the filter, minimizing the flow that enters your mouth. It can be irritating when you're parched, or if you were hoping to use the bottle to fill up a bladder with filtered water.

Pros:

– Lightweight bottle
– Wide mouth
– Easy to clean
– Filter is effective at removing most impurities
– Dishwasher safe

Cons:

– A little hard to suck water through the straw
Weight: 2.3 Ounces

Filter Medium: Hollow Fiber

Removes/Destroys: Protozoa, Bacteria
Not only is the BeFree the lightest water filter bottle in our review, it also packs down the smallest when empty, making it perfect for hikers and backpackers on the go.
The lightest of them all, the Katadyn BeFree weighs a mere 2.3 ounces, occupying almost no space inside whatever pack you decide to shove it in. The tradeoff is that it lacks a defined shape, making it a little difficult to use as a normal water bottle. However, for a lightweight, minimalistic filter that works in a pinch, you're not going to do much better than the BeFree.

In all, there's really not much to say. It's a simple bottle with a small filter that purifies water as you drink. It's like LifeStraw in that way, keeping the water raw inside the bottle until you're ready to consume it. While it does work fine, I do have a preference for Grayl bottles, which filter the water first. Especially if you have a bladder that you want to fill with clean water, you'll need something like the GeoPress. Both the LifeStraw Go and the Katadyn BeFree are unable to work as an intermediary between the river and your bladder.

Still, if all you need is a lightweight and affordable filter to remove microorganisms from your water, the BeFree is one of the better options. It's not the fanciest option out there, and it certainly doesn't have the best filter, but it works well purifying clean rivers and lakes, in addition to drinking fountains and tap water.

Pros:

– Lightweight
– Packs down small, when empty
– Affordable
– Good filter for microorganisms
– Simple and effective

Cons:

– Filter doesn't catch everything
– A little difficult to use
Best Bottle for Base Camp
Weight: 8.5 Pounds

Filter Medium: Hollow Fiber

Removes/Destroys: Protozoa, Bacteria, Viruses
A big guy that can be used to filter 5 gallon of water at a time, the LifeSaver Jerrycan is the perfect choice for water filtration (and showers) at base camp.
It's big and bulky, but the LifeSaver Jerrycan is a great option for purifying water before a hike. While you're certainly not going to be carrying this 18.5 liter container with you on a hike (especially when it's full), it's a great reservoir to keep at base camp.

Making use of a special activated carbon filter, the Jerrycan removes parasites, cysts, viruses, and bacteria to create safe drinking water. Which is to say, it doesn't remove other chemicals and heavy metals, so still be careful about where you're sourcing your water. But if you're fairly confident in the quality of your local river, I'd say you can definitely use it to fill the can up with water.

Filtering is as easy as filling the container, pulling on the pump a few times, and pouring from the spigot. There's even a shower attachment (not included) that you can put on the Jerrycan, making it easier to clean off at the end of the day. For reference, when you're filtering the water in the Jerrycan, it takes about five pumps to purify a liter of water. That means it will take about 93 pumps to filter the entire Jerrycan, assuming you've filled it as full as possible. 93 pumps might sound like a lot, but for 5 gallons of drinkable water? It's totally worth the effort, in my opinion.

Pros:

– Fairly easy to filter the water
– Is compatible with a shower attachment
– Effective filter
– Large capacity
– Can purify 5,280 gallons before filter needs replacing

Cons:

– Doesn't eliminate heavy metals and chemicals
Weight: 12.5 Ounces

Filter Medium: Activated Carbon

Removes/Destroys: Protozoa, Bacteria, Viruses
Another bottle that I've gotten extensive use out of, the UltraPress is just as good as the GeoPress mentioned above, just smaller and more portable.
The filtered water bottle that I've personally relied on more times than I can count, the Grayl UltraPress is a magical piece of gear. Weighing about 0.75 pounds, it's one of the lighter options out there when it comes to filtered water bottles. And since it's made by Grayl, you can be sure that the weight reduction doesn't mean that corners were cut with the filtering ability.

Like the GeoPress mentioned above, the UltraPress has two different layers – a container to fill with raw water, and other that goes into it that filters the liquid. In fact, the GeoPress and UltraPress are identical in a lot of ways, with the most notable difference being their size. While the GeoPress is a 24 fluid ounce bottle, the UltraPress is a 17 fluid ounce bottle. This smaller size is where a lot of the weight reduction comes into play, which is a handy feature for backpackers.

Having used mine extensively in the Himalayas while trekking on the Annapurna trail, I can attest to the durability of the bottle. Despite being used quite aggressively, it only has a couple of scuff marks that are hardly noticeable. The filter is second to none, removing everything that might be toxic or harmful, all while making the water taste great, regardless of the source.

Pros:

– Lightweight
– Very effective filter
– Durable
– Intuitive design
– Versatile and convenient

Cons:

– A little difficult to push the filter down
Best UV Light Filter Bottle
Weight: 1.06 Pounds

Filter Medium: UV Light

Removes/Destroys: Bacteria, Viruses
A self-cleaning water bottle that makes use of UV light for purification, the LARQ is a little pricey, but well worth the cost for what you get.
The only water bottle in this review that makes use of UV light to kill microorganisms, the LARQ bottle is also one of the most expensive. It's a fancy setup that works well when you want to kill pesky bacteria and other microorganisms that might be contaminating your water. But the UV light doesn't just purify water – it also cleans the inside of your bottle in between uses.

The mechanism is quite simple, requiring nothing more than a touch of a button to start the process. In all, it will take roughly a minute to clean the contents of the bottle, using a special UV light mounted in the lid. All of the components are mercury, BPA, and plastic free, so you can have peace of mind knowing that you aren't putting toxic elements into your body for the sake of removing others.

The UV light is charged via USB cord, which is convenient for campers and hikers. All you need to do is bring a portable power bank, and you'll be able to recharge the bottle enough times to purify water across the length of your trek. However, it's unlikely that you'll need to recharge it, even if you're gone for a couple of days. The battery in the UV light lasts for about a month, so as long as it's fully charged before you leave, you shouldn't run into any trouble.

Double walled insulation keeps your water cold for a full day as well, and if you wanted to put something hot in there instead, it will remain steamy for a good 12 hours. The mouth of the bottle is a tad small, and certainly too small to fit normal ice cubes inside, but if that doesn't bother you too much, the LARQ is a great option for getting relatively clean water fully purified.

Pros:

– Self cleaning
– UV light battery lasts for a month on full charge
– Decent insulation
– Recharges using USB
– Simple to use

Cons:

– Small bottle mouth
Cheapest Filtered Water Bottle
Weight: 1.16 Pounds

Filter Medium: N/A

Removes/Destroys: Chlorine
While the only thing it removes is Chlorine, the Brita bottle is still useful for removing that nasty taste left in the water when you use chemical purification.
More of an honorable mentioned than anything else, the Brita bottle is a water filter…but not in the same way as all of the others we've mentioned so far. Instead, the Brita bottle removes chlorine from the water, and that's it. No purifying heavy metals, other chemicals, bacteria, protozoa, viruses, etc. It just removes chlorine.

Still, for some of you, that's all you really need. If you're getting your water from a trustworthy source, the Brita filter is a great option for improving the flavor of the water, even if it doesn't remove any other harmful components. And for the price (it is the cheapest in our review), it's totally worth getting for everyday use, in addition to hiking.

What makes it really great for those extended treks is its insulation ability. If nothing else, the Brita bottle will keep your drink chilled for a good 24 hours, and that's no exaggeration. The cap and hinge are made out of plastic, which is durable enough, but I still wouldn't press my luck with them.

While it might not be anything terribly special, the Brita bottle is easy to clean, well-insulated, and makes water taste better. For such a small price tag, I believe it's still worth listing among the best filtered water bottles for hiking.

Pros:

– Affordable
– Wide mouth
– Great insulation
– Versatile
– Makes the water taste good

Cons:

– Doesn't remove anything other than chlorine
Filtered Water Bottles for Hiking Comparison Table
| Filter Bottles | Weight (oz) | Filter | Removes | Use |
| --- | --- | --- | --- | --- |
| Grayl GeoPress | 15.9 | Activated Carbon | Protozoa, Bacteria, Viruses | Outdoor Activities, Travel |
| LifeStraw Go | 7.8 | Activated Carbon | Bacteria, Protozoa | Camping, Hiking |
| Katadyn BeFree | 2.3 | Hollow Fiber | Bacteria, Protozoa | Hiking, Backpacking |
| LifeSaver Jerrycan | 136 | Hollow Fiber | Bacteria, Viruses, Protozoa | Car Camping, Emergencies |
| Grayl UltraPress | 12.5 | Activated Carbon | Bacteria, Viruses, Protozoa | Travel, Everyday Use |
| LARQ Bottle | 17 | UV Light | Bacteria, Viruses | Everyday Use |
| Brita Insulated | 18.5 | N/A | Chlorine, Sediments | Everyday Use, Sports |
Filtered Water Bottles for Hiking – Buyer's Guide
If you're looking for a filtered water bottle for hiking, there are some components that you'll want to pay attention to.
Weight
As it is with any and all camping gear, weight is a factor that shouldn't be overlooked – especially for anyone getting ready to load up a backpack for a multiday trek. Now you might be thinking, "Well hey, it's a water bottle…it's not like any of them are very heavy to begin with."

And that's true. Car campers probably won't need to put any consideration into the weight of their water bottle, since they won't need to carry it very far. However, I've known backpackers who cut off a portion of their toothbrush handle to save on weight, so a lighter filtered water bottle is useful for some.

The products in this review range anywhere from a handful of ounces to 8.5 pounds, depending on their style and size. Regardless of how you plan on using it, we've made sure to include a filtered water bottle to suit your needs.
Type of Filter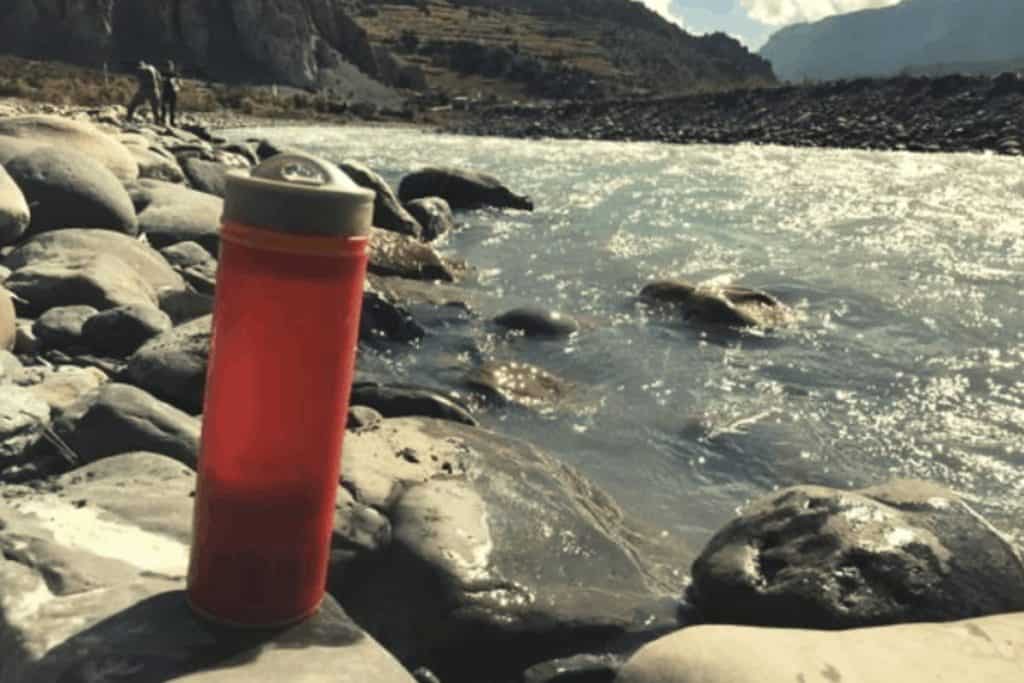 There are a number of different ways to filter water, but activated carbon and UV light are by far the most common. Ion exchange is rarely found in portable water bottles for camping, but it's still an interesting method that's worth discussing.
UV Light
While UV light isn't a super common way of purifying water, we have included the LARQ bottle in our review, which makes use of this method. Basically, ultraviolet light is shot into the bottle, which kills all forms of bacteria and microorganisms. There's no danger in using this method (the UV light doesn't leave behind anything toxic), though it's worth noting that the light is only effective for killing living things. It won't remove any particles, metals, or chemicals, so you'll still have to be careful about where you're sourcing your water. I would recommend sticking to a tap when using this method.
Activated Carbon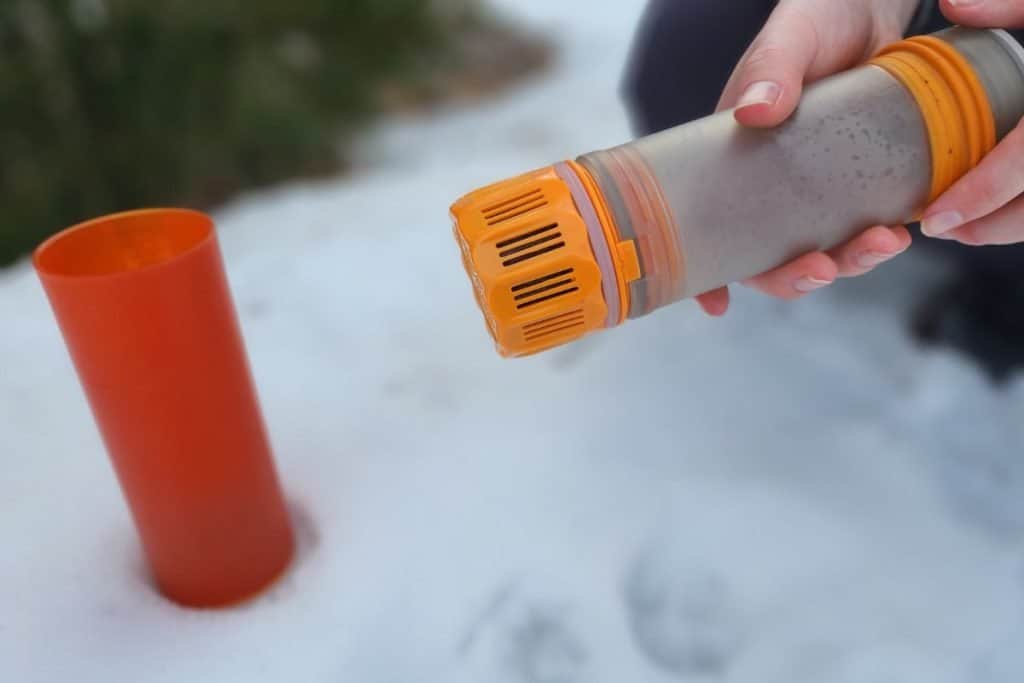 By far the most common form of water filtration, activated carbon is great at removing chemicals, pesticides, particulates, microplastics, and much more. However, the downside is that they do become unusable after filtering a certain amount of water. The Grayl water filter bottle can plow through 250 liters (65 gallons) of water before the filter needs to be replaced. However, some activated carbon filters are only effective up to 100 liters, so make sure you read the specs before purchasing anything.
Ion Exchange
You don't find too many ion exchange filters in water bottles for hiking, but it is a method often used in conjunction with activated carbon. The Grayl filter is one example of this, making use of both activated carbon and ion exchange.

The way that this method works is by using a positively charged substance (usually sodium) to attract negatively charged chemicals. These filters don't remove heavy metals or organisms, which is why they need to be used alongside another filtration process, like activated carbon.
Water Source
We've alluded to it a few times, but not every water filter is able to remove all the harmful elements from your drinking water. Always look for the clearest water source possible, such as a hose or a river, since moving water tends to be cleaner.

On top of that, be aware of what your water bottle filter is capable of removing. Something like the Grayl water bottle can effectively cleanse water from almost any (relatively clear) water source, giving you full protection against sickness and other health concerns. As someone who's used it all over the world, I can attest to that.

However, something like the LARQ bottle is much more limited in its capabilities. Always use tap water, if you plan on bringing a bottle like that on a camping or hiking trip.
Durability
Any time you're buying gear that you plan to use outdoors, you need to consider the durability of that object. Like anything else, water bottles get banged up with enough use, especially if you're prone to dropping things. My wife has dropped her water bottle more times than I can count, and somehow it's still functional despite all the dents!

Metal bottles are usually pretty good when it comes to durability, and hard plastic works well as long as it doesn't receive too much damage. However, it'd still take care not to rough the bottle up too badly, as it may compromise the effectiveness of the filter inside.
Price
And of course, we can't forget about price. Most filtered water bottles for hiking manage to stay under $100, but there are a few exceptions. In particular, bottles that make use of the UV light method of filtration tend to be more expensive, so you can expect those to land in the three figure range. However, most of the others are pretty reasonably priced, especially when you consider how important they are for a safe trek.
At Untamed Space, we're passionate about helping you have the best camping experience possible. Our team of experts have experience camping and backpacking all over the world, allowing them to provide insightful and relevant content to guide you in your outdoor pursuits.

All of our reviews are based on a combination of firsthand experience, extensive research, and an analysis of customer feedback. We are an independent website and do not receive payments or incentives from manufacturers to promote their products, and we continuously update our content to provide new information based on product availability. Wherever you are in your journey, whatever gear you're searching for, you can be sure to find unbiased and up-to-date reviews for all of your needs.
FAQ
What is a Water Filter Bottle and How Does It Work?
A water filter bottle is a container with a built-in filter that removes impurities from the water. These filters use different technologies, such as activated carbon or UV light, to remove bacteria, protozoa, and other contaminants. This makes the water safe to drink, no matter where you sourced it from (for the most part).
How Often Should I replace the Filter in My Water Bottle?
How often you replace the filter in your water bottle depends on the type of filter you have and the usage it's received. Most filters need to be replaced after a certain number of uses or when they reach their maximum capacity. You can always check the manufacturer's instructions for specific recommendations.
What Should I Consider When Choosing the Best Water Filter Bottle?
When choosing a water filter bottle for hiking, consider the size and weight of the bottle, the type of filter, the filtration capacity, and the durability of the materials. Also, make sure it is easy to use and clean, and fits well in your backpack.
Final Thoughts
Of all the 10 essentials, water is probably the most important. Even if you're only going on a day hike, forgetting about your water is a sure way to become dehydrated and miserable, perhaps to the point of genuine danger.

For convenience, filtering your own water on the trail is typically thought to be the best option. However, to ensure your safety, having a proper filtered water bottle for hiking is essential, especially if it's able to remove heavy metals and chemicals, in addition to microorganisms. With that in mind, we believe that the Grayl GeoPress is the best option out there for purifying and filtering your water.
---
Related Posts: